2019 was a huge year for Thinkific course creators who collectively saw 6 million students enroll in courses 23 million times last year!
To support all those amazing course creators in providing an incredible experience to their students, Thinkific added a *ton* of new functionality in 2019. These changes include enhancements to the student experience, improved features for course creators, and additional integration capabilities.
New & Improved Student Experience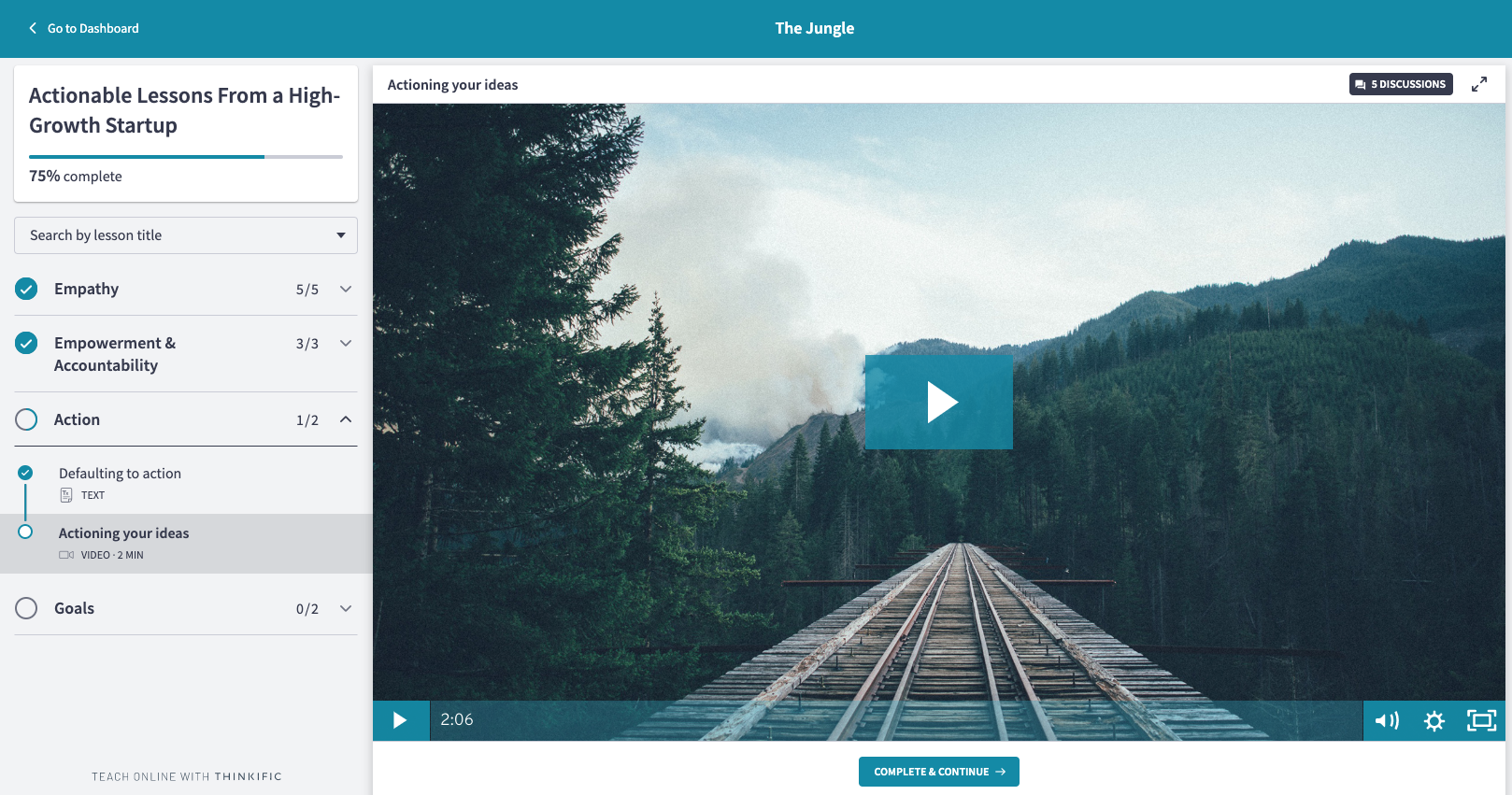 Early in 2019 the brand new student experience launched with a more modern look designed to better promote and track student progress. Course progress is now elevated — with progress buttons entirely rethought to help students track their progress and remain engaged.
Plus, the Course Player became more customizable than ever with more options to let your brand and messaging shine.
The new student experience also included on-lesson Discussions, allowing students to interact with you and each other wherever you want.
Course Progress Compliance & Lesson Improvements
You may remember that Thinkific launched Prerequisite lessons in 2018, which allows course creators to set certain lessons as required in order for students to proceed to the next.
To further help those course creators that want to ensure their course content is reviewed before completion you can now set a required viewing percentage for both video and presentation lessons.

Video lessons can now also be set to autoplay to allow a more seamless progression experience for your students. Plus, you can now add optional text and downloads to your video lessons.
Presentation lessons also got some big improvements this year including giving you the ability to swap out individual slides and audio, and upload files with greater than 20 slides. On the student side, presentation lessons are easier to navigate with anchored progress buttons and keyboard and swipe commands.
Course Customization & Content Security
Being able to create the perfect, on-brand student experience for your audience has always been hugely important to our course creators.
In addition to the many other ways course creators can easily build custom student experiences with Thinkific, you can now also customize the Course Player on a per course basis. That means you can have a differently customized student experience for the different courses that you offer. For example, if you want to have different branding like fonts, colors, and logos across your different courses, it's easy to do that with the updated course player.
Another small change is the ability to customize lesson labels and icons. That means if you have multiple content types within one lesson you can decide how to label that lesson. Also, if you prefer your own names for lesson types, you can adjust them to what works best for your audience.
As part of Thinkific's ongoing efforts to ensure your course content remains secure, you can now disable copying and pasting text from your course. Downloading PDF content is also now disabled by default (but you can always choose to make it downloadable if you'd like).
Assignments
Assignments brought a whole new level of engagement to online courses this year — they're the easiest way to collect, assess, and give feedback on student submissions in your online courses. They also help you facilitate real-world practice and let you provide expert feedback to your students.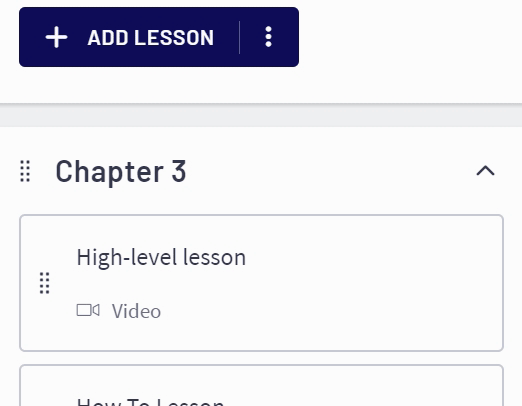 Engaging your students with assignments can boost completion rates by helping people achieve their learning outcomes.
Assignments let you check-in, give useful feedback and coaching, and control student progress in your courses. Plus, everything is managed in one place so you (or your team) can review submissions — and approve or reject them — and message your students right from Thinkific.
Course creators can use assignments to review anything from sketches for an art class to a strategy plan for a marketing course or a writing sample for a storytelling course. They're great for assessing learning outcomes that can't be judged only by retention.
Communities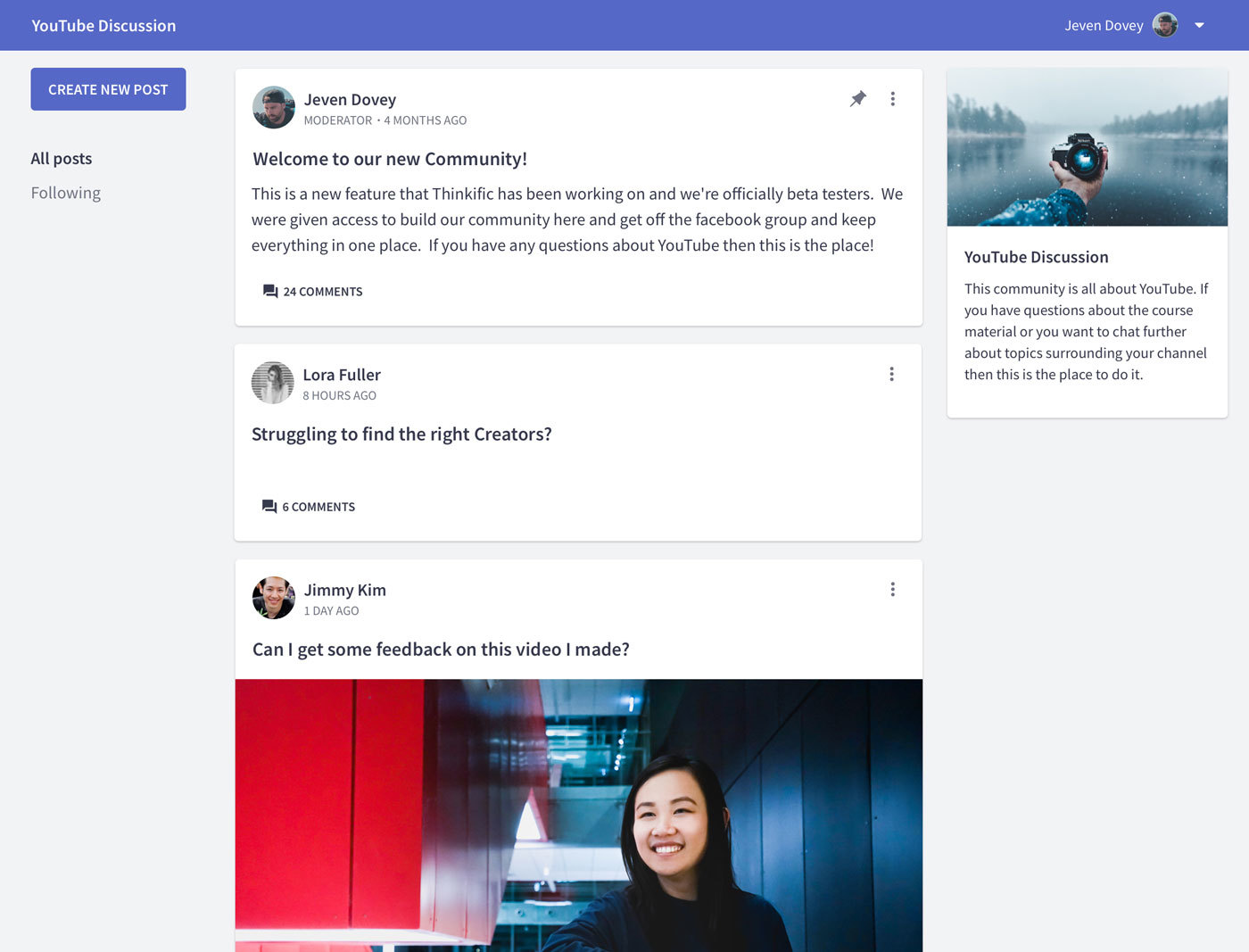 Continuing the theme of engaging your students, Thinkific's new Communities feature lets you add even more value to your online courses with meaningful conversations — both from you to your students, and between your students. Building an online community around your courses is an excellent way to drive student referrals and retention.
Why use Thinkific to host your community over social platforms? Jeven Dovey, Adventure Filmmaker & YouTuber, is one of our early Communities users whose students were tired of dealing with Facebook groups: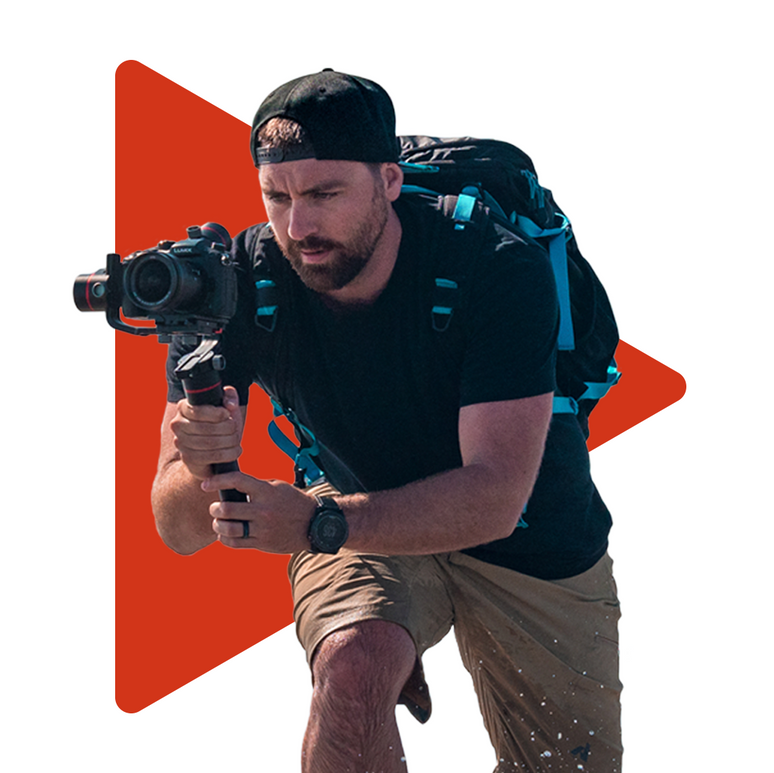 "Communities is the perfect way to keep the conversation going with your students without leaving your site. It gives your students direct access to you and provides a learning environment where they are free from distractions that come up when you're building out groups on other platforms."
Thinkific lets you build your own on-brand community, without the distractions of social platforms. Plus, community membership can automatically be assigned however you'd like. So you can have site-wide communities, course or bundle communities, tiered membership communities, and you can even assign community membership based on different sales cohorts using Groups in Thinkific.
Students can access your communities via direct link, or through their student dashboard where they'll automatically see all the courses and communities they have access to.
Integrating Other Tools
In order to giveall course creators the freedom to build and customize the exact experience they want, Thinkific partners with other best-in-class tools that expand even further what can be accomplished. Here are some new integrations that were added in 2019: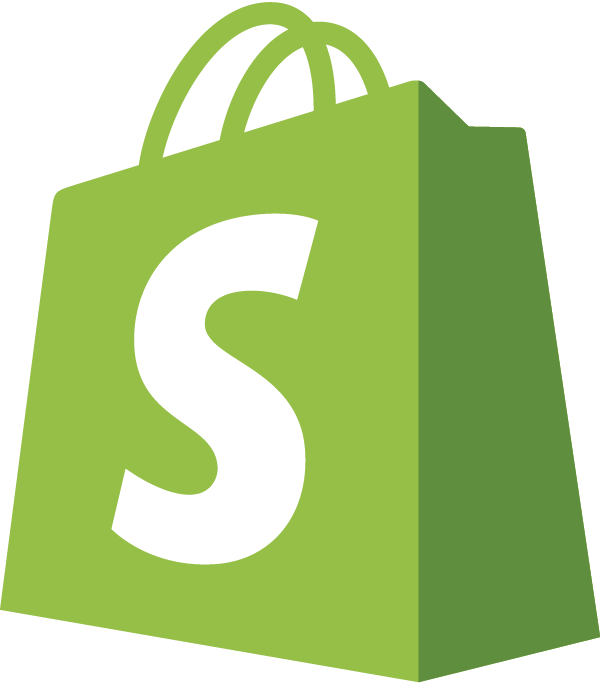 Shopify is the leading commerce platform that lets everyone from entrepreneurs to enterprises sell online (and in‑person). You can now sell Thinkific courses directly through Shopify using the Thinkific Shopify App.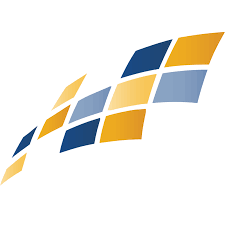 Constant Contact is a marketing platform that now integrates directly with Thinkific allowing you to send beautiful, high-performing emails to your students.

On top of all the other webhooks you can use to trigger actions in other tools, there is also now a 'lesson complete' webhook. That means you can trigger actions (like tags or emails) in outside tools (like CRMs or email platforms) when a student finishes a lesson.
Course Creator Experience
On top of all those incredible features that will help you attract even more students (and keep them returning to your site), we've also made a ton of updates on the back end to make building and maintaining your site even easier.
Building your courses
You can now start a content drip schedule based on a student's course start date (in addition to enrollment date or a specific calendar date)
The Course Builder is now easier to navigate (particularly for those with many lessons) with more detailed information available at a glance and new compact or expanded view options
Tracking and reporting
You can now assign a Group Analyst user role to let someone track progress within a Group
The Admin Dashboard you see when you login now has all the information you need to quickly get a pulse check on your business
The Orders Report now more clearly displays revenue, plus subscription and payment plan transactions are better indicated
Even More
Thinkific Plus
At Thinkific, we've always focused on serving the SMB and solopreneur market, and that isn't changing. Thinkific's core offerings will continue to lead the market and help solopreneurs and small businesses provide the best online education experience available today, and into the future.
While we'd never want to shift our focus away from small businesses, mid-sized companies share many of the same core technology needs as our current audience. In 2019 we introduced Thinkific Plus that lets us continue our core focus on solopreneurs and small businesses, while giving high-volume Thinkific users what they need from the platform as they scale. It also gives mid-sized companies, focused on revenue generation or customer education at scale, a cost-effective alternative to bigger, clunkier, traditional LMS platforms.
Educating customers at scale means Thinkific Plus will focus on the more intensive infrastructure required to support a higher volume of students concurrently. We want to give high growth, high volume businesses the scalability, reliability and flexibility they need, without all the hassles, long timelines and expense of the legacy enterprise LMS providers.
More To Come In 2020!
We can't wait to see the amazing things Thinkific course creators achieve in 2020 and we'll be here every step of the way.