At Thinkific, we take great pleasure in shining the spotlight on online course creators that have achieved success with the help of our platform. This article was sent to us from Amy & Michael Harrison, an inspiring couple that recently added an online training component to their therapy business. Here is the story they were kind enough to share with us, in Amy's words:
---
Eighteen months ago we were standing in front of our group of 30 people on the last night of The Soul Adventure, our guided meditation course, and someone asked us "Can you please record these meditations for us so we can keep doing them?" Everyone else agreed.
Michael and I had already talked about it because we have lots of clients who work shift work or who had small kids or other commitments preventing them from being able to come to classes at the same time each week who wanted to do our course but couldn't make it. We even had to organize baby-sitting for our own kids to be able to deliver these classes. So I said to them "Yeah sure, give us three months and we'll get these meditations recorded and online for you".
After all how hard can it be? We've already got this amazing course that people love and want. Some of the people sitting there that night were there for the third time straight. In my mind we just needed to work out how to record these meditations and then it would be as simple as uploading them "online" and there'd just be this wondrous "online" place that the meditations and lessons would then be that all our clients could listen to them from.
Oh boy.
You know what? We're really good at what we do, we've been doing it a long time and we've helped thousands of people through our clinic. We are NOT good at tech. We came home and started googling "how to create an online course". I wasn't even sure if what I was reading was in English. There was all this talk about plug-ins and coding and WordPress and my heart sunk deeply into a little ball of "I don't think I can do it".
But we rallied and resigned ourselves to the idea that it might take a little longer than three months but we'd get there. We read and researched and did courses in creating e-courses and eventually we realized we'd need some help and started talking to web developers about creating a membership site for us.
Finally we thought we were getting somewhere!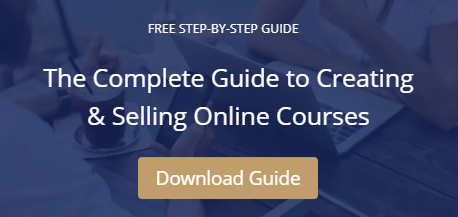 That is until we got the quote back. $12,000. We just didn't have $12,000. We've got four kids, two of whom we're supporting to go to uni in different cities. We've got a mortgage on a half renovated house and a heap of other expenses fighting for our finances.
My heart sunk into that despondent place once more. It really felt like we were standing on one side of the chasm with our amazing vision for our course sitting in full view on the other side, but with absolutely no way to build a bridge to reach it.
It sat in the too hard basket for a few months and then one day I decided to Google once more and this time, for the first time, I found Thinkific. It was like finding a rainbow that spanned that chasm to reach our personal pot of gold, our online course, at the other end. This was the magical "online" place I envisioned putting our course a year ago when we stood in front of our class.
All of a sudden we could see how to do it and we could do it all ourselves without any massive start up costs, we wouldn't have to rely on anyone else to do any of it for us, and there wasn't a thing that needed coding or plugging in! We'd learnt by this stage all of the functionality we needed to have to be able to run, market and sell our courses optimally.
We needed to be able to drip feed content, have multiple media options to deliver content, options for downloading content, an ability to sync with an email scheduler, the ability to deliver multiple courses and packages, personalize our branding and manage affiliates. Every feature we wanted, Thinkific has. Every. Single. One. I actually cried with relief.
So we finally set about writing and recording our course.
We had a few learning curves getting the right equipment because we need our recordings to be of the highest quality. We also had a few rewrites of our course to ensure we had it set up right for the online world, but all of a sudden we had movement. Then very quickly, the realization snuck up on us one day that we were ready to launch.
We hadn't finished recording all of our modules but we didn't need to. When you're drip feeding content out you just need to be ahead of your first enrolments and we'd already recorded the first four weeks of twelve.
We had a web page I'd been working on that would be our sales page with all the info about our course and links to sign up (you can do this within Thinkific but we chose to create a separate website). We'd done our branding colours and a logo with the help of one of our clients.
We already had customers – we've got all our clients and past participants in our live workshops. We have all their emails on our database which at that time had 696 email addresses on it. These are people who know us and love our work and wanted more from us.
It was so surreal to realize we were actually ready to go live. After so long it all became so easy once we found Thinkific. So we clicked publish on our course, linked our sales page and emailed our database letting them know The Soul Adventure in it's online incarnation was finally ready for them to buy.
We gave them a 50% off coupon code that was valid for one week only as a thank you for their loyalty and to acknowledge that many had already done the live version. We also invited them to share that coupon with their family and friends.
We had 78 enrolments in the first week and made back all of the money we'd invested in equipment, training courses and subscriptions to that point – plus some. It was absolutely the motivation we needed to finish recording the rest of the modules too. We were also able to take the initial feedback we got and use it to ensure the future modules were exactly what people wanted.
We've now got a free introductory course to guided meditation to introduce people to us and the work we do, we're working on some more free content as well as other paid course versions of our other live workshops.
We have a private Facebook group set up for participants of The Soul Adventure and it is such a buzz to see people posting their breakthroughs and successes in there, knowing we've been able to help them while we're doing other things (like sleeping!). We're also creating a community where people get to connect with other like minded people.
It's great seeing people who we know would get along but would never cross paths when we're just working with them one-on-one in clinic, being able to connect with each other in our private online group. All of a sudden we are also able to reach the whole world with the work we do, and not just the small part of the world where we live in the tropical northern tip of Australia.
We can't wait to see where we go from here.
Inspiring story of Amy & Michael Harrison adding online courses to their offline business.
Click To Tweet
---
Amy and Michael Harrison are therapists who help people make their lives better. Amy is a kinesiologist and Michael is a hypnotherapist and they specialize in helping people understand their subconscious minds, clear their sabotage patterns and identify and switch their limiting beliefs. You can find out more about them and their work at www.amyandmichaelharrison.com and their online guided meditation course, The Soul Adventure, can be found at www.thesouladventure.com