Ah, Black Friday and Cyber Monday! The holiday created so that businesses could put their products on sale and consumers could trample over each other to buy them before stocks run out.
Thankfully, you won't need to leave your house to get the Black Friday / Cyber Monday deals that we've curated for all creators alike!
Looking for something specific? You can use this directory to jump to a section in the article:
---
Get the Thinkific Black Friday deal. Everything you need to launch for less, plus a head start for just $396 USD.
60 days of expert online course training + 6 months of Thinkific Pro* + Free LinkedIn training & VIP webinar
All for just $396 USD for a limited time. BONUS: $100 in Fiverr credit

---
Black Friday Online Course Deals For Creators
Marketing Courses
Once you've created your content, the fun part begins – marketing! These courses will teach you marketing strategies to promote your products.
Instagram Reels Course
The Reels Course is a training program to help entrepreneurs, creators, and social marketers leverage the power of Instagram Reels to grow their business! For Black Friday, The Reels Course will be $150 off ($347)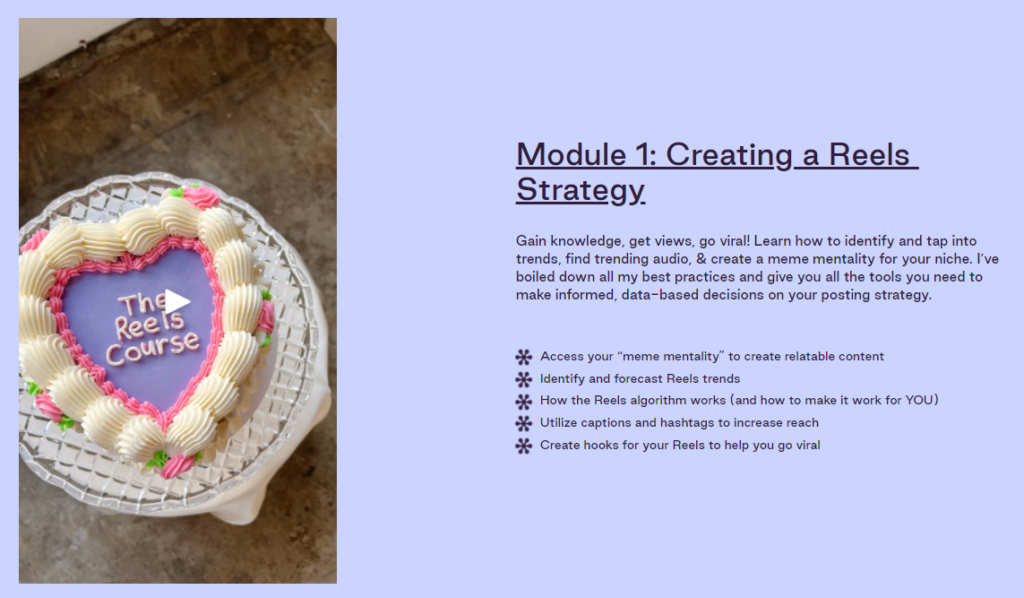 Benefits
✓ Learn how to film and edit scroll-stopping Instagram Reels
✓ Create and execute a Reels strategy to help you get more followers and engagement
✓ Gain the confidence you need to show up on camera and create content that is cool, and not cringe
Promotion
Reg: $497
Promo: $347
Bonus: Reels Planner

---
How to Build Your Personal Brand
Personal branding is not a luxury. It's a requirement to generating new business and scaling your lead pipeline as a real estate agent and it's building, shaping, and defining your reputation. In the Sell it Like Serhant Brand Strategy course, How to Build Your Personal Brand, you'll master the entire three-phase Serhant Brand Strategy System. You'll generate a compelling identity, develop a content strategy for social media, and amplify your message through the power of PR and community outreach. At the end, you'll have a complete, self-made brand portfolio to put your new brand into action.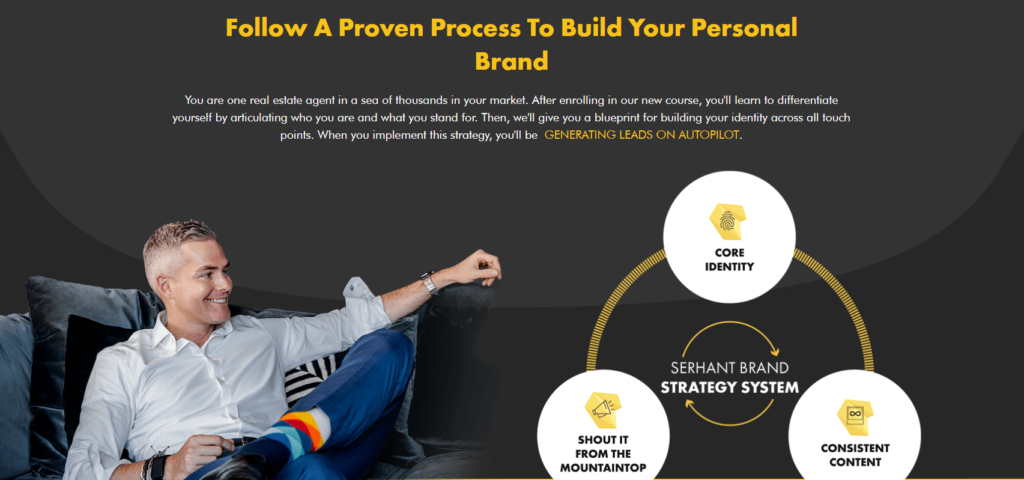 Bonus: The course will come with guides, case studies, and workbooks that complement the video content portion to help students take their brand even further
Benefits
✓ Differentiate yourself by clearly articulating who you are and what you stand for.
✓ Blueprint for building your identity across all touch points.
✓ Generate leads and stay top of mind by creating regular social media content and an email newsletter.
✓ The roadmap to help you build credibility, get coverage, and stand out from the competition in your community.
Promotion
Reg: $997
Promo: $397

---
Webinar Sales Funnel Course
Overwhelmed with marketing and selling your course? Get a proven example of a high converting sales funnel.
It can take a lot of time and money to find something that works. We're here to help speed up the process with a proven method.
Get the roadmap to Neil Patel's $6M sales funnel. We're pulling back the curtain and revealing Neil's high-converting sales funnel with easy-to-replicate examples and actionable guidance.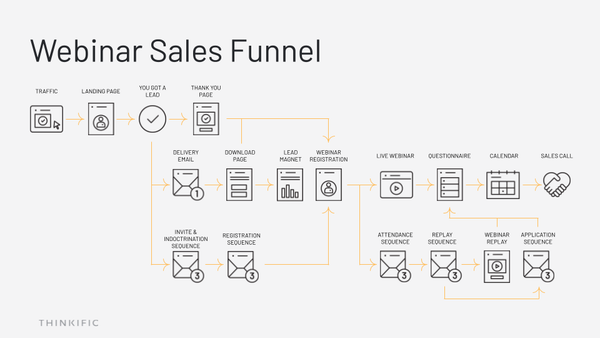 Benefits
✓ Understand the framework of a high-converting sales funnel
✓ Checklists and steps on how to build your sales funnel over time
✓ Hone in on your audience and brand
✓ Identify which traffic source works best for you
✓ Learn 3 simple strategies for growing traffic with proven success
Promotion
Create a free account on Thinkific, and it's yours for free!

---
Courses on how to create a course
Looking to expand your training business? Or monetize your content in new ways? Why not take a course on how to create a course! Here are a few Black Friday course deals being offered by Thinkific partners for 2021.
And if you're new to course creation, these Thinkific Examples should help inspire you!
---
Course Creators Success Bundle
The Ultimate Course Creators Success Bundle! You're thinking of creating an online course, coaching program or membership academy and need the 'how-to' steps for doing it RIGHT?
The' Ultimate Course Creation Success Bundle' contains:
ONLINE COURSE: "How To Create Profitable Online Courses" (Usually $497)
ONLINE COURSE: "The Thinkific Set-Up Guide"
ONLINE COURSE: "Create Your Course Outline in 5 Days"
eBOOK: "EDUPRENEUR: How To Monetise Your
Expertise & Profitably Educate Your Market"
eBOOK:"How To Build a Facebook Community & Sell More Online Courses"
eBOOK:"The Ultimate Learning Management System Set-Up Guide 2021"
eBOOK: "The Theory and Principles of Creating Effective Training Courses"
eBOOK: "Online Course Marketing Blueprint: The Million Dollar Marketing Strategy for Online Courses"
eBOOK: "Maximising Staff Training on a Minimum Budget"
eBOOK: "Awaken Your Course Creation Mojo: Stop Procrastination and Ignite Your Motivation"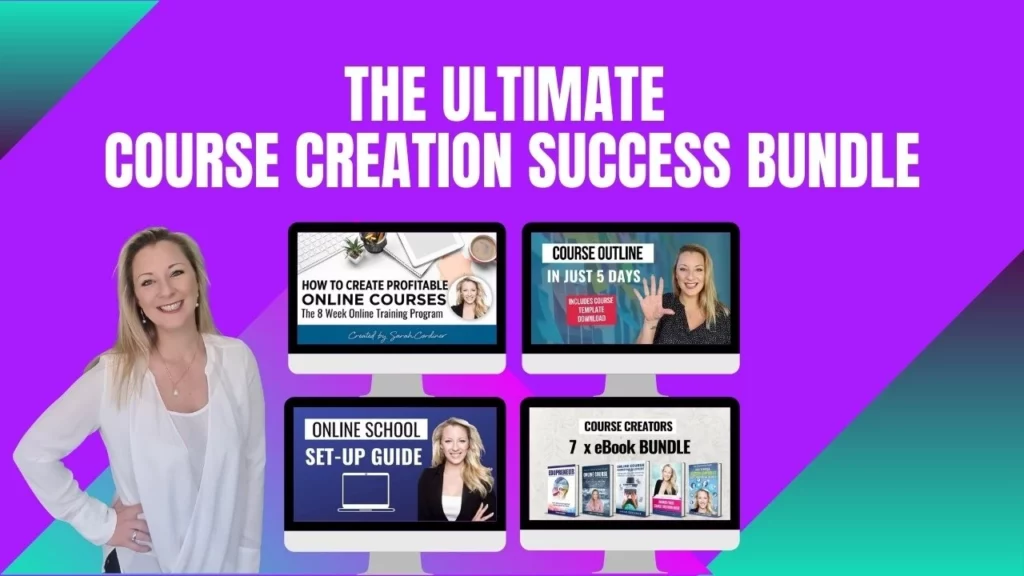 Benefits
✓ 3 x online courses
✓ 7 x eBooks
Step-by-step walk through the exact process to create and launch your own profitable online program – that your learners will absolutely LOVE.
Promotion
Reg: $600 USD
Promo: $49 USD

---
Online Business Launch Lab
Two great Black Friday offers: the launch of the Online Business Launch Lab at 50% off, as well as "The Vault"; all of Latasha James' self-paced courses for just $147.

Benefits
✓ Step-by-step launch instruction and support for online educators, coaches, or service-providers
✓ A cohort of fellow online business owners to cheer you on through your launch journey
✓ Instruction from a multi 6-figure business owner on everything from content marketing to business operations, sales funnels to business mindset
Promotion
✓ Online Business Launch Lab reg: $597; Promo $299
✓ The Vault: Reg $230; Promo: $147

---
Course Creation Intensive
Course Creation Intensive helps service-based business owners create a course (that sells) in 30 days or less. We'll spend one full day mapping out their course topic, content, and tech stack. All the details are on the landing page.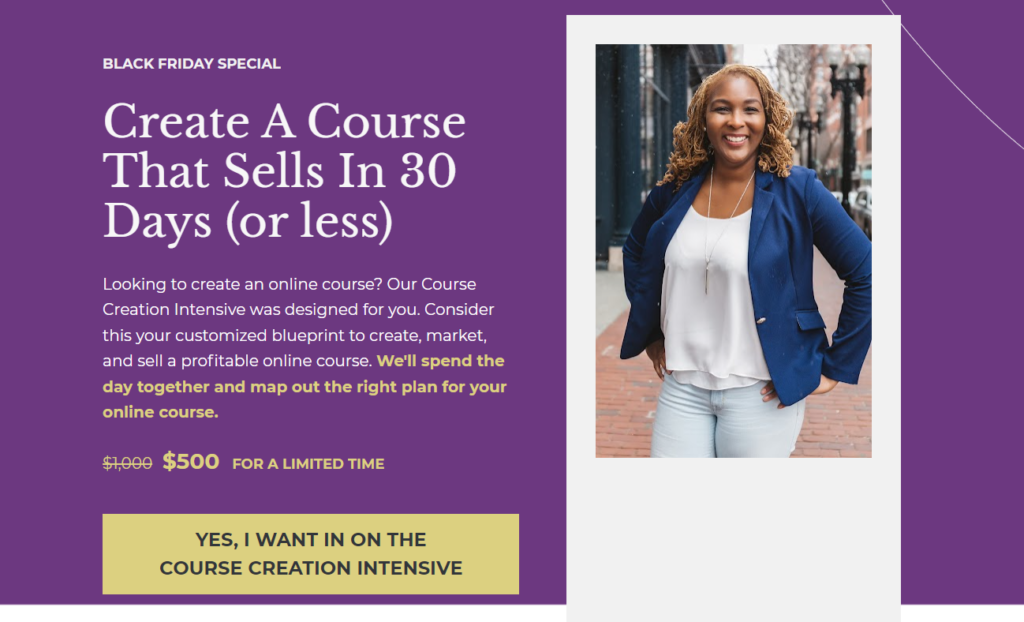 Benefits
✓ Learn how to create a profitable course without wasting time Googling and searching YouTube.
✓ A proven solution to expand your business offerings without being limited to 1:1 clients.
✓ A customized plan that will show you exactly how to launch your course now and as your business grows.
Promotion
Reg: $1000
Promo: $500
Bonus #1: 30 Days of Post Intensive Support
Bonus #2: (1) Complete & Comprehensive Course ~ Launch Plan
Bonus #3: Tech Systems Recommendations
Bonus #4: 30 Days of Thinkific Pro, Free

---
Online Course Script Template Course
Stop struggling to figure out how to organize your content, get our Course Script Template. It will give you the structure you need to lay out your course content with ease and without missing important details in how a course should be laid out. Normally $47, on sale for 40% off ($27).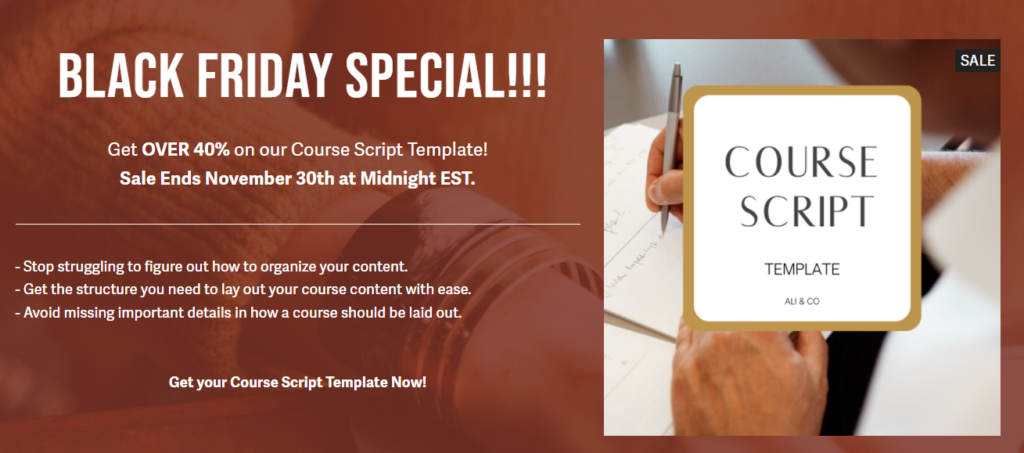 Benefits


✓ Stop struggling to figure out how to organize your content.


✓ Get the structure you need to lay out your course content with ease.
✓ Avoid missing important details in how a course should be laid out.
Promotion
Reg: $47
Promo: $27
Bonus: Video Guide to walk you through the process.

---
Visionary Course Builder Program
Signature offering that walks clients step by step through the course building and launching process. It's an integrated approach that includes: business coaching, accountability, systems set up and done-for-you assets (aka we build your website, edit your course videos and help you design your brand).
Normally $5,950 but for Black Friday you can get $750 off! (payment plans available)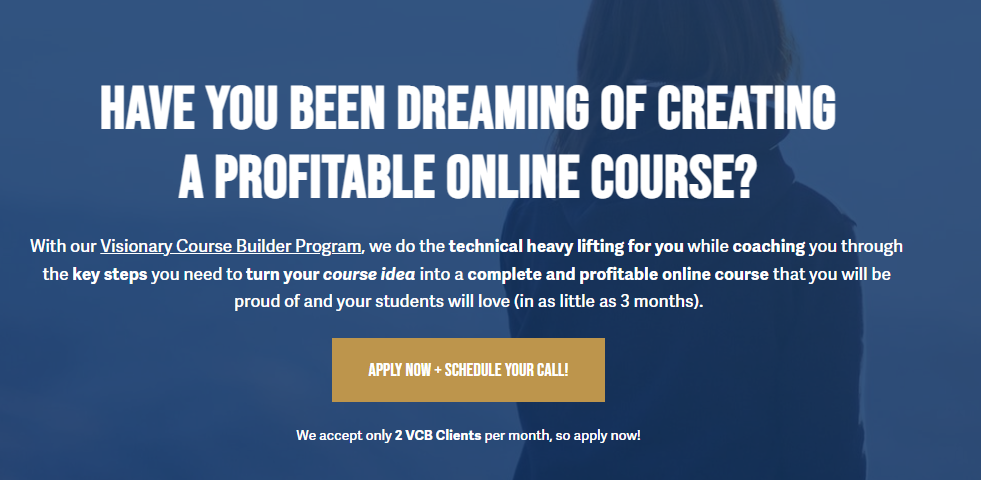 Bonus: Access to Ali Co. Exclusive Promotion opportunities once your course is ready to launch!
Benefits
✓ 1:1 support
✓Done-for-you assets
✓ High quality content coaching to help you translate your expertise into a valuable learning experience.
Promotion
Reg: $5,950
Promo: $5,200

---
Building Your Digital Workspace
Are you trying to figure out how to get started with your online course? Or do you have some experience but are confused about how to structure the content? Are you trying to figure out how to manage all of the amazing knowledge you have and harness it into something transformational that your students can actually learn from?
Introducing: Build a Digital Workspace to Help You Work Smarter, Not Harder
A cohort-style course that will help you redesign the way you work so you can easily set goals, manage your content, tasks, and more, and finally launch a transformational course!
Available at a special Black Friday discounted rate!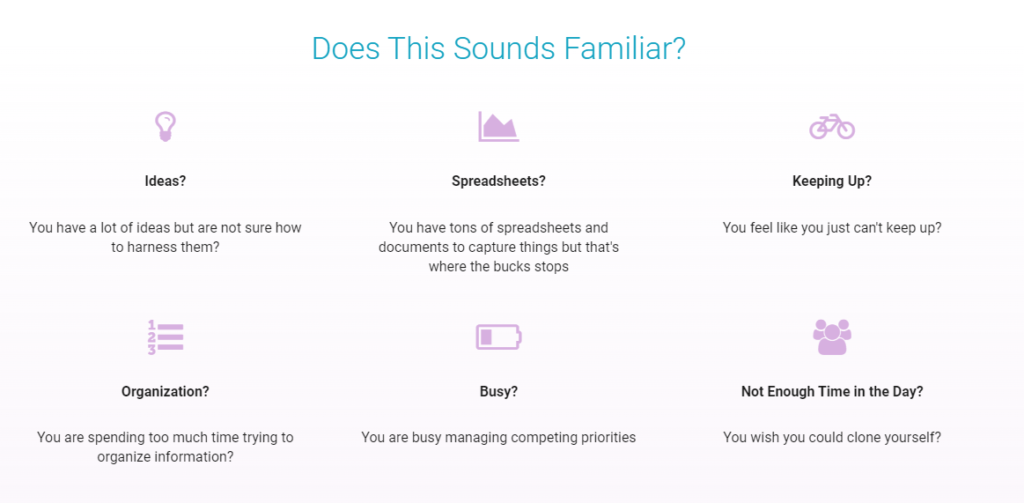 Benefits
✓ Learn the 5 steps to increasing productivity
✓ Learn key concepts to better manage your content
✓ Create a digital workspace to manage tasks, projects, content, courses, clients and more
✓ Automate and outsource tasks
Promotion
Reg: $99
Promo: $69

---
Treat Your Online Course Academy Like a Startup
"Build your Thinkific site like a VC-funded start-up – FREE! We'll set up MixPanel analytics and create a SaaS dashboard so you can monitor key metrics."
Benefits
✓ More visibility into your customers and how they spend time on your Thinkific web site
✓ Clear set of improvements to implement – driven by data backed insights
✓ More customers and clients!
Promotion
Reg: $3,000
Promo:  FREE

---
Personal Development Courses
Impact of Wisdom Bundle
The Impact and Wisdom Bundle is a 12 month Pass to Clive and Linda's courses in their course library excluding their membership offering. You will get access to courses, their eBook libraries, and webinars on demand.

Benefits
✓ Webinars on Demand
✓ The Business Wisdom eBook Library
✓ The Marketing and Impact eBook Library
✓ And 9 Courses to help you, Market, & Grow Your Business
✓ Including 5 Minute Marketing, Working with the Media, The P's of Podcasting, Growing with Gratitude and Sales doesn't have to be scary
Promotion
Reg: over $1000
Promo: $297 (launch offer)

---
Public Speaking, Branding, & Side Hustle
Giving gifts to everyone else this season? What about you? Check out this 4-course bundle that's all about personal development (public speaking, personal branding, and how to start a side hustle, and get unstuck) for 75% off.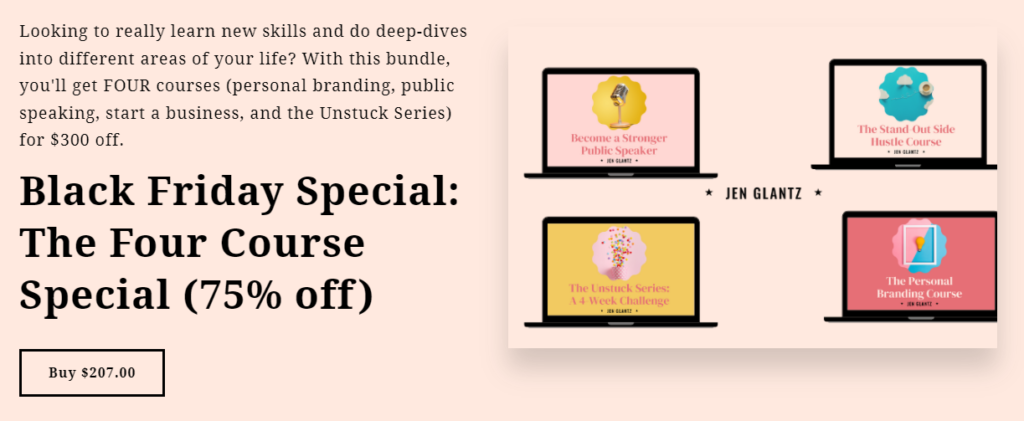 Benefits
✓ Learn how to create a personal brand that helps you understand your value and land new opportunities.
✓ Get actionable and useful public speaking tips for the virtual world and for in-person meetings
✓ Start brainstorming a money-making side hustle that's perfect for your 2022 goal list
✓ Find ways to get unstuck from habits that are holding you back
Promotion
Reg: $800
Promo: $207

---
Black Friday Software Deals For Creators
Thinkific (Hey, that's us!)
Create, market and sell your expertise with a single platform that gives you total control of your brand and business.
Control every aspect of the course site to align to your business needs and put your branded expertise front-and-center. The best part — you control the pricing and you keep all your revenue, with no hidden fees.
On the Thinkific app store, you can integrate your course business with app partners you already know and trust to create and manage growth.
With student data analytics at your fingertips, you can inform your future course content and marketing efforts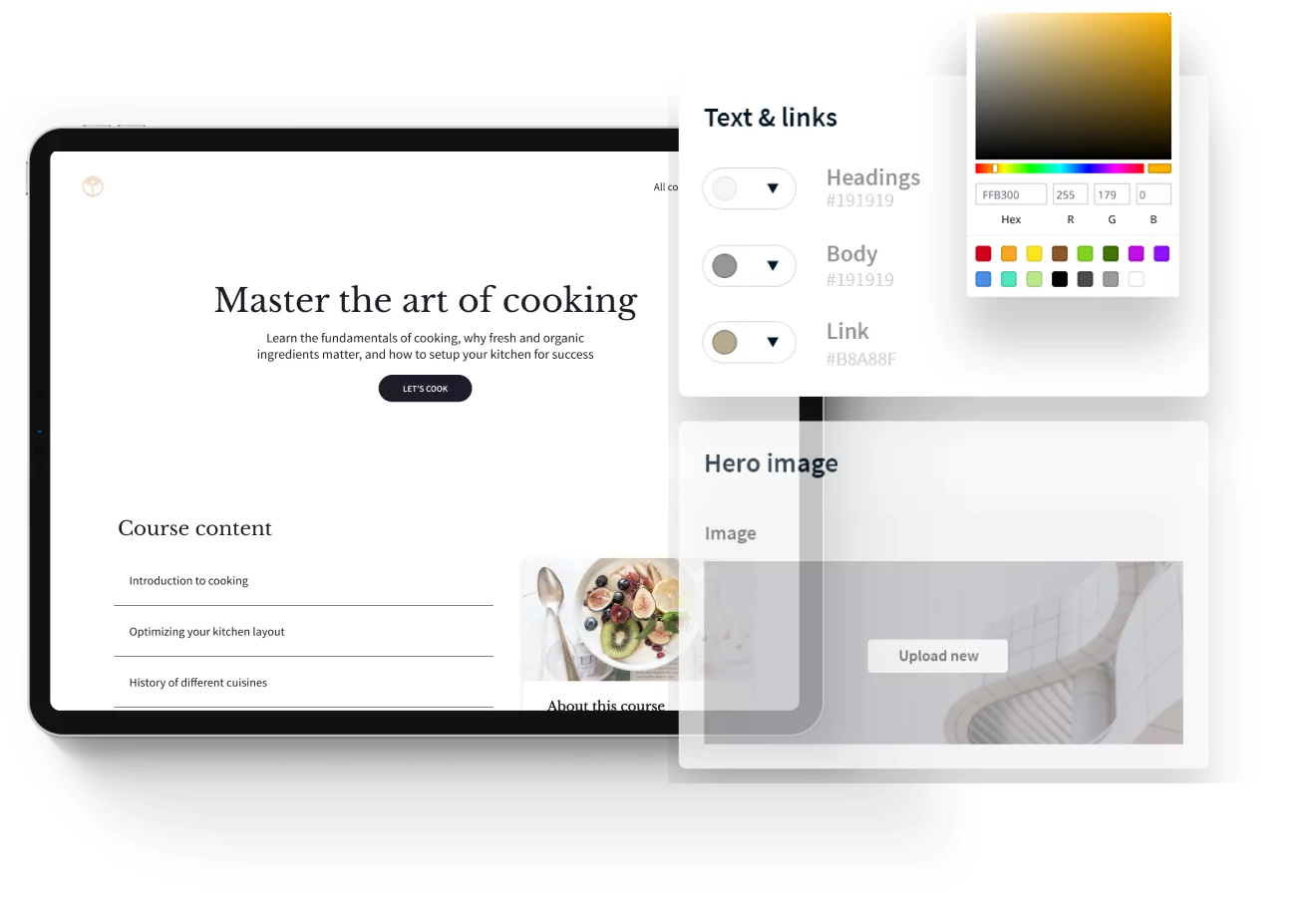 Get more online course launch support, when you get in early. Our all-in-one bundle plus an early $100 Fiverr credit will help you get your course launched by the New Year, for less.
Benefits
60 days of expert online course training
+ 6 months of Thinkific Pro*
+ Free LinkedIn training & VIP webinarBONUS: $100 in Fiverr credit
Promotion
$396 USD per month for a limited time.
Bonus: $100 Fiverr credit.

---
Motrain
Motivate your students with your own personalized rewards program. Motrain helps boost student enrollment and engagement, tailor rewards to student's personal interests, and provides dynamic marketing tools to grow your program
Benefits
✓ Increase course registrations (ie. sales) with Welcome rewards and Friend Referrals
✓ Increase course completion rates
✓ Reward actions on other platforms, including e-commerce sites.
Promotion
Reg Trial: 2 weeks
Promo Trial: 4 weeks
Bonus: Free 30 min gamification strategy call

---
Poptin
Poptin is a user-friendly pop up builder that lets you create high converting popups and embedded forms in minutes. It offers a no-code drag and drop interface that has a collection of beautiful customizable templates that you can use to promote your courses or add value to your customer's carts.
Optimize your website for maximum conversions by utilizing the power of lightboxes, overlays, slide-ins, countdown pop ups, mobile popups, social pop ups, exit intent pop ups, and more.
You can even supercharge your Thinkific pop up and contact form with robust features, such as exit-intent technology, smart triggers, targeting rules, A/B testing, analytics.
With Poptin, your Thinkific website can significantly increase sales, reduce cart abandonment, boost lead conversions, and improve your email list for business success.
To get the deal, use this coupon code "BFannual2021" and get up to 35% OFF when you upgrade to any of Poptin's annual paid plans! This is on top of the usual 20% of the annual plan discounts. Definitely a huge thing you shouldn't miss!
Benefits
✓ Boost your learning website's overall conversion rate
✓ Create beautiful pop ups to promote your courses and discounts
✓ Use exit-intent technology to reduce cart abandonment, increase visitor engagement, and improve sales
✓ Convert the right customer by using the most relevant smart triggers
✓ Monitor your popup and contact form performance with analytics
Promotion
35% off any of Poptin's annual paid plans, on top of 20% annual plan discounts

---
ActiveCampaign
ActiveCampaign's category-defining Customer Experience Automation Platform (CXA) helps over 145,000 businesses in 170 countries meaningfully engage with their customers. The platform gives businesses of all sizes access to 500+ pre-built automations that combine email marketing, marketing automation and CRM for powerful segmentation and personalization across social, email, messaging, chat and text.
Benefits

✓ Discounts on tools and templates to run a holiday campaign with minimal effort.

Promotion

20% off 3-months on Plus and above plans thru end of Feb 2021.

---
eWebinar
eWebinar is an automated webinar solution, set on a schedule, which combines pre-recorded video with real-time interactions and live chat to deliver a delightfully engaging experience for attendees.
Sell 24/7 to anyone in the world without hosting live webinars, scale your business without being tied to your computer, and answer every question through live chat or email. Use interactions like questions and polls to collect feedback about your presentation and offering.
Give attendees a chance to "meet" you and get a feel for your teaching style by delivering a free workshop. Workshops are a great way to indirectly sell your course.
Increase course completion rate by offering a different lesson type outside the normal course platform to keep things interesting. Students can reach out to you through eWebinar's chat and you can build relationships with people who purchased your course to get feedback and improve your program.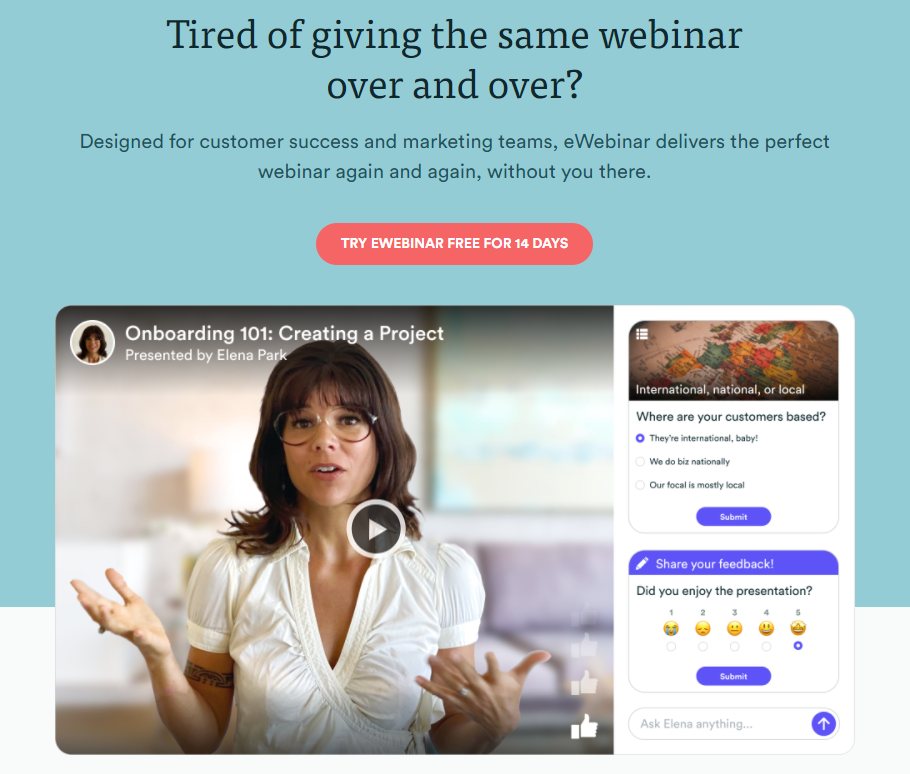 Benefits
✓ Sell your products on autopilot and get feedback from attendees
✓ Deliver free workshops with upsell opportunities
✓ Use eWebinars to deliver your course content!
Promotion
14 Day Free Trial and a $25 Dollar Credit added to your eWebinar account.

---
Bonjoro
Bonjoro makes it simple to send videos to your students at just the right moment to keep them motivated and excited.
Connect Bonjoro to your Thinkific account to send personalized videos at key moments in your student's journey. Use Bonjoro to onboard new students, thank buyers, improve course completion rates, and more
Welcome new students and build loyalty with truly personalized videos, and add call-to-actions to your videos to drive students to take action
Send personal videos to your customers based on events inside your Thinkific account. Get more replies and build deeper relationships with your customers.
Benefits
✓ Send personal videos to your customers based on events inside your Thinkific account
✓ Add call-to-actions to your videos to drive customers to take action
✓ Get more replies and build deeper relationships with your customers
Promotion
Starter plan for just $1/mo, first month
Valid until Monday, November 29th, midnight PST.

---
Pop Ups (Call to Action)
Popups (Call To Action) is one of the most powerful and advanced popup solutions on the market.
With this app, you can convert more traffic, collect more emails, and get more sales. How? Through engaging popup windows and banners triggered by user behavior, like page loading, scrolling up and down, user inactivity, AdBlocker detection, and a prediction on when the user is about to leave your site! All without any coding or development skills. Just install and go.
Benefits
✓ Build a larger email list and foster customer loyalty through a newsletter signup popup
✓ Automate your email marketing or text (SMS) services (we integrate with more than 50 other services)
✓ Create popups for special promotions with a coupon triggered just when a user is about to leave your site
✓ Highly customizable including a drag-n-drop popup builder
✓ Need some inspiration? Use more than 250 pre-build popups from the Library
✓Mobile responsive on any device, so that your popups always look engaging
Promotion
Reg trial:  7 days
Promo: 1 month

---
Mailchimp Setup
Get help setting up your Mailchimp, with mailchimp Email Integration + Welcome Email Automation. Includes setup of 1 Mailchimp account, integration with one Thinkific course and setup of one Welcome Email automation.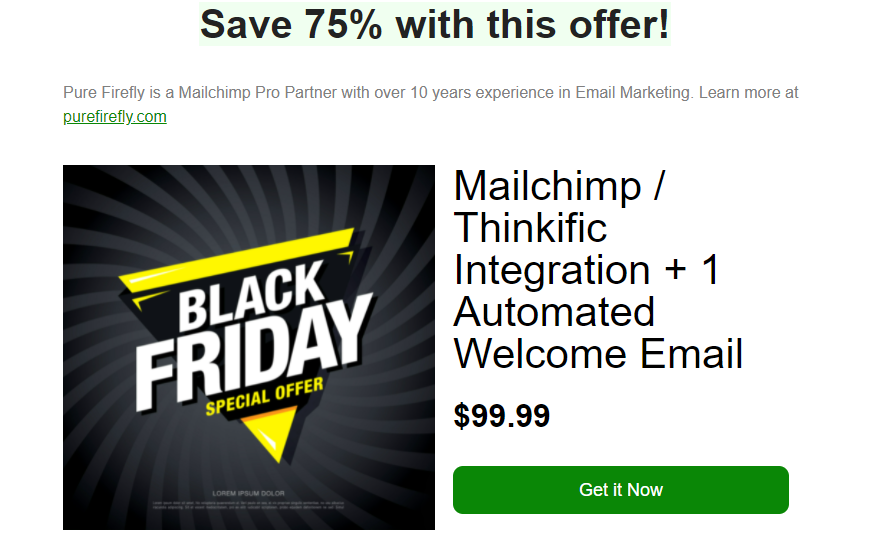 Benefits
✓ Automate your welcome emails using Mailchimp and instantly engage with your subscribers.
Promotion
Reg: $299
Promo: $99.99

---
Black Friday Deals on Recording Equipment
These deals on equipment for your home video studio will help you maximize the quality of your production, without breaking the bank!
Cameras
These cameras are great for stills and video – perfect for enthusiasts and pros. And they're on sale for Black Friday!
Panasonic Lumix DC-G95 Mirrorless Camera

Regular Pricing: $1197.99
Special Pricing: $699.99

Canon EOS R (body only)*

Regular Pricing: $1,799
Special Pricing: $1,599

Lens purchased separately
Microphones
Viewers will forgive poor video quality, but are unforgiving when it comes to audio – so we recommend using the best microphone you can afford.
Yeti Nano

The Yeti Micophone's name precedes it. They offer broadcast-quality sound for everything from podcasting, YouTube Videos, and training videos.

Regular Pricing: $99
Special Pricing: $79.99

Rode NT-USB USB Microphone

If you're recording outdoors, this compact microphone comes with a Mini windjammer Kit that reduces distracting background noise.

Regular Pricing: $123.95
Special Pricing: $109.95
Tripods & Ring Lights
Lighting is flattering, and can drastically improve the quality of your video.
Selfie Ring Light with Tripod Stand

This ringlight / tripod stand combo comes with a dimmer, and multiple color options.

Regular Pricing: $119.99
Special pricing: $32.99

Zhiyun Smooth-XS Stabilizer Kit

This stabelizer kit will keep your shot still, even when you're not!

Regular Pricing: $74.99
Special Pricing: $54.99
---
Editing Software
After you've created your footage, you'll need to edit it! And that's exactly what these best of breed editing tools will help you do.
Adobe Creative Cloud (All Products)

Black Friday special: Save 40% on 20+ creative apps (first year only)

Regular Pricing: $52.99/month
Special Pricing: $29.99/month (now through Nov 26th)

Camtasia & Snagit Bundle

Buy Camtasia and Snagit together and save!

Regular Pricing: $362.98
Special Pricing: $329.99
---
Get our best deal of the year
Get the Thinkific Black Friday deal. Everything you need to launch for less, plus a head start for just $396 USD.
60 days of expert online course training + 6 months of Thinkific Pro* + Free LinkedIn training & VIP webinar
All for just $396 USD for a limited time. BONUS: $100 in Fiverr credit