Online learning doesn't have to be a solo activity! Online education can deliver highly social and collaborative student experiences. With some attention towards shared activities, you can set the stage for a strong community for your students.
Stronger student communities result in improved learning outcomes as students are more engaged and more likely to complete each lesson, and engaged students are happier students!
Foster long-term friendships among your students with community building real-time activities
Click To Tweet
Long term friendships often form as a result of taking classes together, and the same can absolutely be accomplished in online groups when instructors build in the opportunity for students to interact.
Learn More: What Is Blended Learning? Models & Best Practices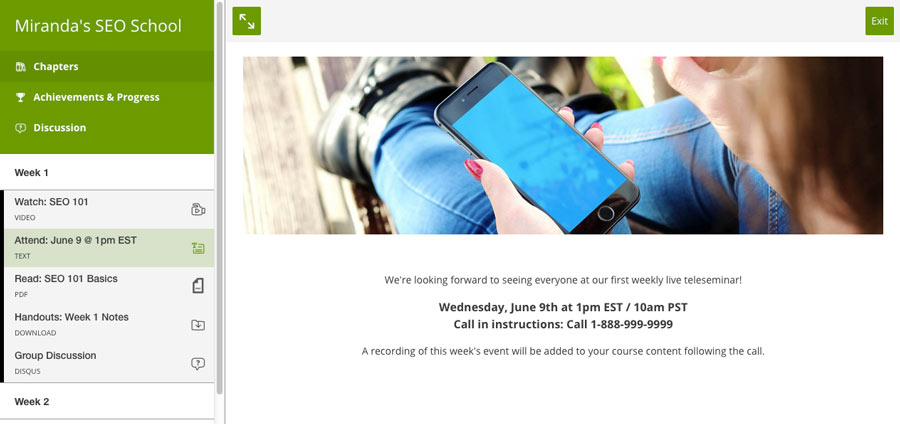 ---
Launch your online learning product for free
Use Thinkific to create, market, and sell online courses, communities, and memberships — all from a single platform.

---
Ideas for scheduled group activities for your class:
Host a Thinkific Live Lesson with our Zoom integration to further class discussion
Set up a private live chat with up to 150 people or a video call for up to 10 people using Google Hangouts
Host a Twitter live chat with your audience. Pick a hashtag, ask starter questions, and chat away! This one gets bonus points for making it easy for students to connect 1v1.
Schedule a live teleseminar. Calls are a great way to meet your students, and to literally give students a voice with some open discussion time. Tara's got a great primer on setting up your calls here.
Plan a webinar. Webinars are a way to combine live chat with visual slides or a screenshare. We are fans of GoToMeeting and Easy Webinar, and we've heard good things about AnyMeeting to get you started. Make it social with community chat during the call.
Meet face to face. When setting up a blended classroom, you can combine face to face classes and meetings with online content for an integrated student experience. Schedule formal classes or even social activities.
Take a virtual field trip. There are so many valuable learning resources online, you can get REALLY creative with online learning activities. Combine a google hangouts live chat with another online activity, like a virtual walk through an art gallery. In this example, you could post a link to an image of a painting and prompt the group to discuss for 5 minutes before moving on to the next painting. The sky is the limit!
Ever heard of a virtual field trip? Get creative with rich experiences for your online students!
Click To Tweet
Setting Up Your Thinkific Scheduled Class
Scheduled classes allow a cohort of students to all start and go through the course at the same time. These classes are well suited to coordinated marketing launches to maximize the number of students in the group.
From a technical perspective, scheduled classes are best setup with the use of Drip Content. Drip Content lets you set your course lessons to be released on a certain day. You can choose to either release all of the content on day one, or to release individual lessons on specific days. This encourages your students to work through the course material together, which improves discussion and keeps everyone on the same page.