The education business has evolved rapidly in the wake of the pandemic and has adapted to the needs of the hour. This means most educators and their students have turned to the online world for their need fulfillment. Education businesses have found interesting and efficient ways to connect with their target audiences.
Education businesses have identified the need for a platform that offers a variety of courses through a platform that can help delivering educational materials AND engageing their students.
One of the most effective tools in making online education easy and accessible is a chatbot. Let's learn more about chatbots and the education business.
Want to skip ahead?
What are Chatbots?
A chatbot is a computer program designed to simulate natural conversations with human users over the internet. Chatbots can be deployed on websites and apps to help serve customers.
Why are Chatbots Important?
Chatbots have become a staple for companies when it comes to extending efficient support to users or website visitors. However, their significance extends beyond providing an excellent customer experience.
Today 80% of marketers include chatbots in their strategy in one way or another. Let's examine and understand why are chatbots essential for businesses. According to recent research by DigitasLBi, more than 1 in 3 Americans are willing to purchase from a chatbot and the average of $55.80. Do you want to miss out on it?
Chatbots are not the typical machine-like software anymore. They can engage with customers and hold a human-like conversation with them. In fact, an average chatbot generates about 35-40% response rates.
Related: The Top 6 Must-use Thinkific Apps (Or Tools) To Level Up Your Online Academy
Chatbot Benefits for Your Course Business
Customer communication needs to be quick, whether it is for sales, marketing, or support. If you cannot engage your customers, they're going to churn out before you notice.
Hence, implementing an AI based chatbot for your business may be an idea you should explore. If you are running a course business, it is a good idea to ask and answer the question – what are the typical benefits of chatbots for a business?
SaveTime and Offer 24/7 Virtual Assistance
Chatbots solve all your customers' basic queries without having to involve a human agent which saves your and the teams's time. In fact, your chatbot remains available around-the-clock for your customers to offer them timely assistance and even resolve some of the queries.
Reduce Costs/Resources
Since most of the scut work can be handled by your chatbot, you need to hire fewer people and hence save a significant amount of money.
Balance Automation with Personalization
Chatbots can help you automate multiple functions that are critical to your business operations which naturally saves productive time and resource costs. However, chatbots also have an uncanny ability to personalize the interactions where the customer experience is special, as opposed to being mechanical.
Scale Your Business
A chatbot can help you scale your business as your demands and needs increase. In fact, even during the peak hours as the traffic increases, a chatbot can easily handle it for no added expenses.
Instant Responses Increase Customer Satisfaction/Loyalty
Customers today expect instant response and any delay frustrates them leading them to find a collusion elsewhere. Chatbots respond instantly which can help you satisfy and retain customers for longer.
Related: Launch Your Dream Course Faster with the Thinkific Store on Fiverr
Chatbots for Marketing
There are multiple ways you can use chatbots for business, and one of the most effective and popular ways to do this is to use them for marketing. The marketing world has a lot to thank chatbots for, but I am listing the top 4 here.
Brand Personality and Voice
Your chatbots can serve as a medium to perpetuate your brand personality and voice. Use the content, the avatar, the colors, and the flow in a way that would remind the customers of the brand they're talking to
Quick Checkout with Call to Actions
A chatbot lets you infuse CTAs in a conversational manner. This strategy reduces friction significantly and improves the conversion rate for any marketing campaign.
Increase Leads in Your Content Strategy
A bot asks for user information in a natural manner as compared to a stodgy old form that may induce hesitation for a site visitor. In fact, 27% of consumers are interested in AI powered tools like a chatbot.
Answer Customers Instantly on Social Media
By setting up a chatbot on your social media accounts, you can respond to customers instantly. Your followers do not have to wait for your work hours to get a reply and can get an immediate response. Needless to say, this improves the overall customer experience considerably.
Chatbots for Business
We know chatbots are awesome! We already know so many businesses that are using chatbots on their websites and applications. But the question we need to find answer for is – why? Here, we will discuss the major benefits of chatbots for businesses and the reasons for their popularity.
Grow Audience and Engagement
A chatbot gives instant response and speedy resolutions. Who wouldn't like that? When you offer an elevated experience, you can easily expand your audience size and improve engagement levels, simply by being there!
Automate Sales Funnel & Nurturing
Automation can save you time and money – both precious resources for any organization. You can employ conversational marketing strategies through AI powered chatbots to move potential customers through the sales funnel by nurturing them.
Reduce Costs for Customer Service
Chatbots can be programmed to address and resolve all the basic queries and FAQs. They can direct the users to relevant articles or videos that would answer their questions. This prevents a skilled resource from spending time answering the same questions repeatedly and you can do with fewer resources who can work on the truly complex issues!
Chatbots for Education
The education sector has evolved and is rapidly moving online. This means most of the prospects are looking for education solutions and courses online. Your website, no matter how well structured, can intimidate a prospective student. A chatbot can be programmed to guide a prospect about the best suited courses while answering any questions they may have about your platform, courses, tutors, and pricing. Let us now discuss the benefits of chatbots in education.
Personalization – Assess a Student's Learning Individually
A chatbot can be used to analyze ands assess the learning experience of each student individually. The entire experience can be personalized and tailored to the needs of an individual student.
Increase Student Engagement
By making sure that every student gets instant response, personalized recommendations, and quick query resolution, an AI chatbot in education offers an engaging experience, retaining them for longer.
Instant Help as a Teacher's Assistant
TAs or teacher's assistant often get overloaded with commonly asked questions, screenings or even assessing multiple choice questions. A chatbot can be designed to help the TAs with these mundane tasks so that they can focus on the truly complex queries.
Best Chatbot Examples
Whether you are looking for an inspiration or simply want to research before start building your education chatbot, these three can be a great starting point for you!
Mindvalley
A unique learning platform, Mindvalley offers the customers courses that teach them about the power of human transformation and entrepreneurship. The platform teamed up with Natasha Takahashi, the founder of School of Bots, and built an Instagram bot aimed at generating leads. The deployment of this Instagram chatbot resulted in  522% increase in signups and a 99% reduction in response time.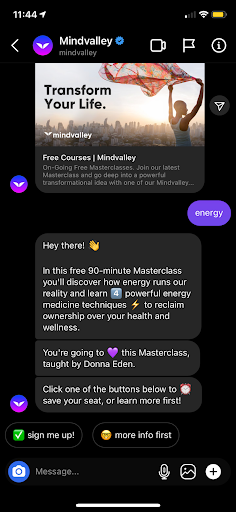 Frazer Brookes
A network marketer himself, Frazer Brookes teaches other network marketers how to grow their social media reach. It is impossible for him to respond to every Instagram DM or comment himself. Hence, he automated his Instagram messaging to streamline conversations while responding to each message instantly. His automated chatbot helped him achieve 40% enhancement in story engagement.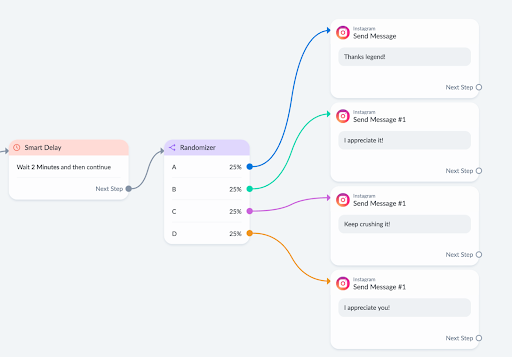 World Health Organization
As the pandemic broke out, it also birthed countless fake information, rumours, and baseless information about COVID 19. By building a WhatsApp chatbot WHO Health Alert, the supreme health organization, WHO found a way to share genuine information about the pandemic with the public. The chatbot brought down the panic by busting myths and disseminating authentic information.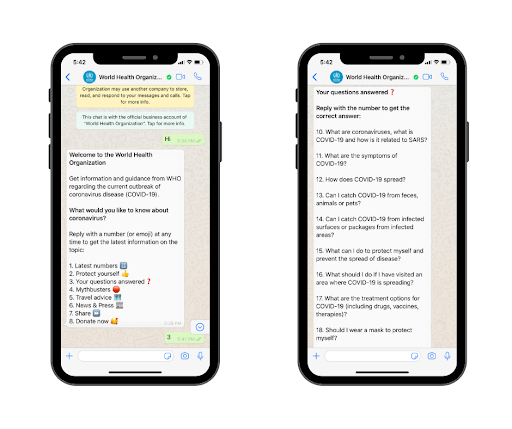 Best Chatbot App
One of the best chatbot apps for online educators is Appy Pie Chatbot because it integrates with other tools you're using.
The platform offers the following features which has helped it make some of the best chatbots for small businesses. 
Needs No Coding – Create your education chatbot without writing even a single line of code.
Multilingual Support – Talk to your site visitors in any language they are comfortable with.
Lead Management – Manage all your contacts and leads in one combined space.
Email Tracking – Track your user emails the moment they hit your inbox.
Analytics – Keep an eye on user behavior and bot performance to improve the bot experience and user satisfaction.
App Integrations – Scale up your chatbot by integrating your chatbot with other useful apps like Google Sheets.
Multiple Chatbot Options – Instead of confusing the site visitor, you have the option to create separate chatbots for separate purposes like inquiry, appointment, live chat, and more.
Appy Pie's chatbot is one of many helpful tools that integrate with Thinkific in the App Store.
How to Get Started Building Chatbots in Education
If you are planning to harness the benefits of chatbots in education it only makes sense to go for one that integrates with other tools you use in your education business. And Appy Pie is a great option!
Here is how you can build your own chatbot for education business using Thinkific and Appy Pie.
Go to Appy Pie's Chatbot Builder
Enter the name of your chatbot here, but don't worry you can change it later.
Choose the Right Chatbot Category
Since you are starting an education chatbot, it is important that you choose the right category.
Tweak and Customize
You can customize the bot flow, content, colors, avatar, and the brand logo. Once you are happy with how your bot looks, it is time to go live!
Now that your bot is ready, all you have to do is copy and paste the chatbot widget code into the source code of your education portal. That's it! Now you can sit back and relax as your chatbot can start engaging with the site visitors.