Michael Pedone grew up with the dream of becoming a rockstar. From humble beginnings, Michael imagined a life of luxury, but more importantly, a lifestyle in which he had achieved financial freedom. Over time, this dream turned into a hobby, but Michael discovered a career path that enabled him to live like a rockstar—sales.
For 25 years, Michael has worked as a straight commission sales representative—a rep whose entire income is based on commissions earned from closing deals. This comes as no surprise, as to his core, Michael has always lived the entrepreneurial lifestyle. He launched his first business amid the 2000-dot-com crisis and sold it for a staggering 7 figures. He then went on to start a company that he is proud of today—SalesBuzz. 
"Of all the business ideas I had, this is the one I kept coming back to. I know what it feels like to have the phone feel like a twenty five-pound weight and you don't want to pick it up anymore, and I know the pressure of needing to pick it up because you have a family to support."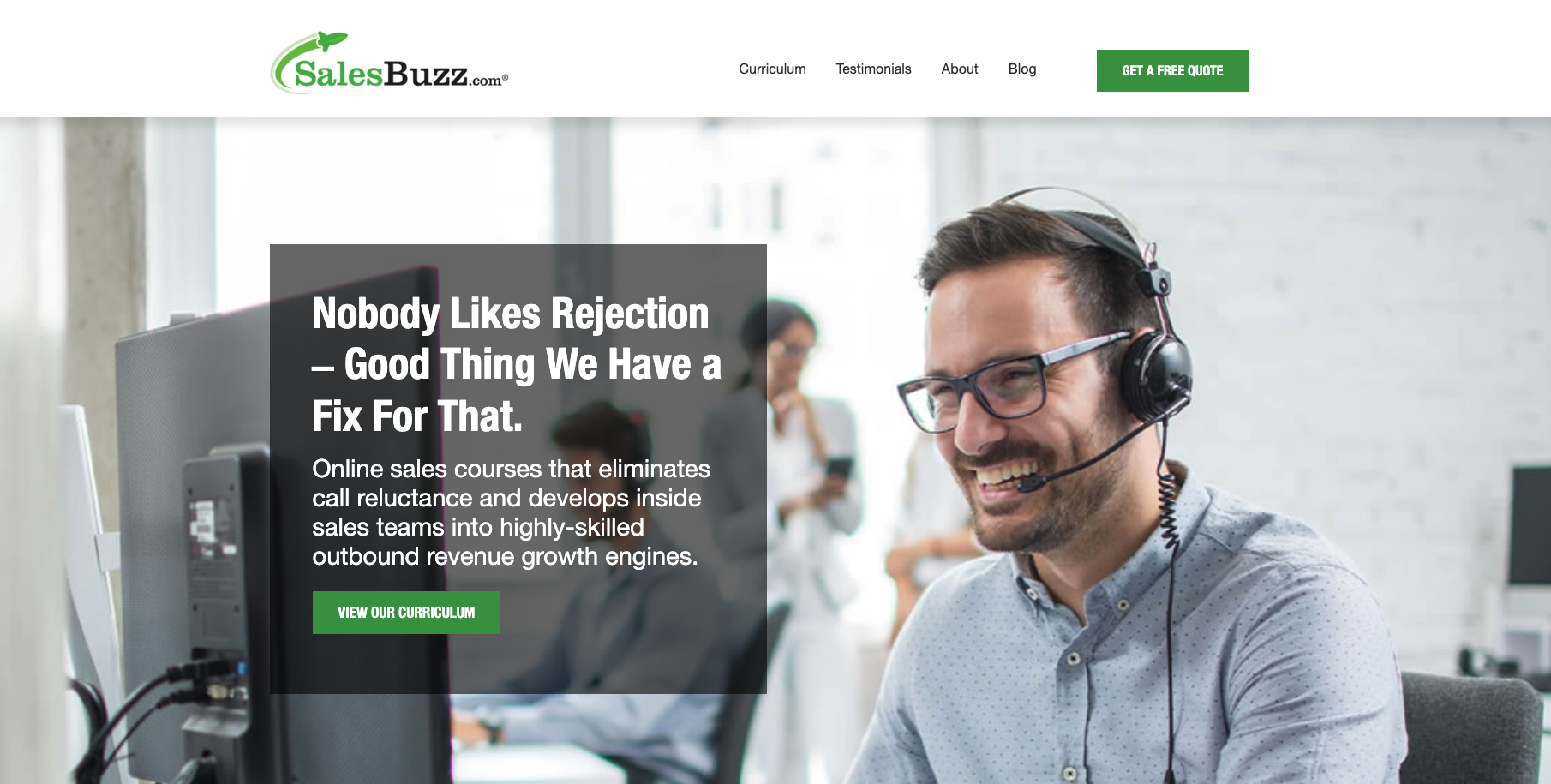 SalesBuzz is the first company of its kind to offer online sales training to sales representatives across the globe. For over 10 years, Michael has been running live, eight-week courses for companies both big and small. But facilitating live courses has an eventual ceiling based on Michael's capacity. He knew there had to be a way to sustainably scale his business to help even more people, which led him to evaluate Thinkific Plus.
"Out of all the platforms we looked at, Thinkific Plus was the best fit to help other companies get their sales reps the training they need in a very quick fashion, with a very affordable solution," explains Michael. 
Consisting of a team of two, Michael, Founder and CEO, and Brittany, Training Coordinator, SalesBuzz built their online education offering from the ground up on Thinkific Plus. Approaching course creation with their clients and students in mind, this small but mighty team has been able to create their high-quality Engagement Selling course in 9 different languages for 1081 students and counting!
"I come from a teaching background, not a computer background. But Thinkific is easy to use—it's easy to set up, the support is good, and it's very user and learner-friendly," explains Brittany who has built SalesBuzz's Thinkific website in its entirety.
But platform aside, how exactly has SalesBuzz achieved its success with limited resources? 
Michael has the unique insight of both a sales rep and a business owner, both perspectives which he applies to SalesBuzz. Underneath it all, their success boils down to three essential factors:

Understanding your students

Michael knows what drives his students. He knows what they want to learn, how they want to learn, and what obstacles might get in their way.

"When I was a struggling young sales rep, I just wanted to learn how to close. I was a little wet behind the ears and had to learn that you close more when you don't skip steps early. So, you really have to master each step, one at a time. If you start doing that, you're going to close more with less resistance."
Using his past experience and insider knowledge, Michael and Brittany have built their courses using features that support and enhance the learner experience. For example, to counteract the desire to "skip ahead," they've enabled drip content, which allows students to proceed only after they've finished certain sections of the course. To encourage accountability and completion, SalesBuzz provides a certificate upon completion which their students can then display on their LinkedIn profiles.
Michael also understands that enhancing your sales skills takes practice. This is exactly why he offers his students access to the program for an entire year so they can go back and get a refresher whenever needed.
"You can't just consume something and then get it just like that, it requires practice," he says. "If you're going to learn something, especially when it comes to sales skills, you can hear something once but it doesn't mean you're going to master it."
Understand your customers
Understanding your students is essential, but understanding your customers is critical. SalesBuzz is a B2B (business-to-business) company whose target audience is small business owners to Sales Directors of Fortune 500 companies. Having an understanding of who the customer is and what they value has helped SalesBuzz make decisions that impact their clients' user experience as well.
Being able to track progress, report on results, and integrate checks and balances like exams and quizzes are all factors that Brittany and Michael considered when selecting their course platform. In fact, one of the primary reasons Michael and Brittany selected Thinkific Plus was because of the unlimited Group Analyst feature.
"Money is being invested and if the company is going to invest in their team, then you want to make sure you have the tracking mechanism to make sure that they're actually putting in their part to learn. Being able to give each manager the ability to log in, see how their group is doing, and keep track of their progress is critical," states Michael.
The Group Analyst feature allows SalesBuzz to give their clients access to progress reporting for groups or teams that are participating in the training course. This helps them understand exactly where their investment is going and offers additional accountability for their students.
Deliver valuable content
The final piece of the SalesBuzz approach is delivering valuable and actionable content. This factor has been crucial to the success of SalesBuzz and is truly what makes Michael's business thrive. Over the years, he's learned a lot about crafting content and since including an "on-demand" model for course delivery, they've found that "more people are preferring it" and their "new clients are loving it."
But what defines valuable content? According to Michael, it's quality over quantity.
"It has to be valuable at every stage," he explains, and "there is no need to create fluff just to expand it. If you can teach someone something in 3 hours, then there is no sense creating 30 hours of content."

Michael and Brittany have broken their content into bite-sized chapters and have implemented various engaging lesson types like presentation decks with audio voice over, downloadable PDF worksheets and guides, and quizzes and exams.
According to Michael, having quizzes at the end of each chapter is an important feature for both his students and his clients. Having the ability to include a variety of options in a question bank ensures that his students aren't just memorizing answers but actually learning and this has become a key selling point for his business.
"They have to know the material. So it's another huge benefit for our customers. When they hear that these checks are in place it makes a big difference because it's not just about going through it and fast-forwarding and taking an exam and memorizing. They really have to learn this stuff!" Michael explains.
Discover how to create engaging course content with this helpful guide.
The winning combination
"Our clients are loving the training and they are loving the platform—that's a winning combination right there."
Michael has drawn from his 25 years of sales experience and 10 years of teaching to build out content that he knows his clients and students will value. By understanding his students and his customers, SalesBuzz has been able to expand and deliver value-packed courses to clients across the globe. As they continue to reach new heights, one thing is certain, a team of any size and a platform dedicated to student and customer satisfaction are key to facilitating a best-in-class learning experience.
Learn more about SalesBuzz and their online sales training or sign up for their free objection handling course!