Managing a high volume of courses or students is no easy task. All the demands of a course creator are amplified, as are the consequences of not meeting those demands. Students depend on you to deliver, and we're here to help you do exactly that, as easily as possible.
We've recently rolled out new features that help high volume course creators like you manage your workload and deliver your students with a world-class learning experience.
Streamline your workflow with Course Filters
The new course filter feature helps you quickly find the course you need, or streamline your workflow when editing multiple courses. Along with searching courses by name, these filtering options allow you to quickly locate courses that share particular attributes.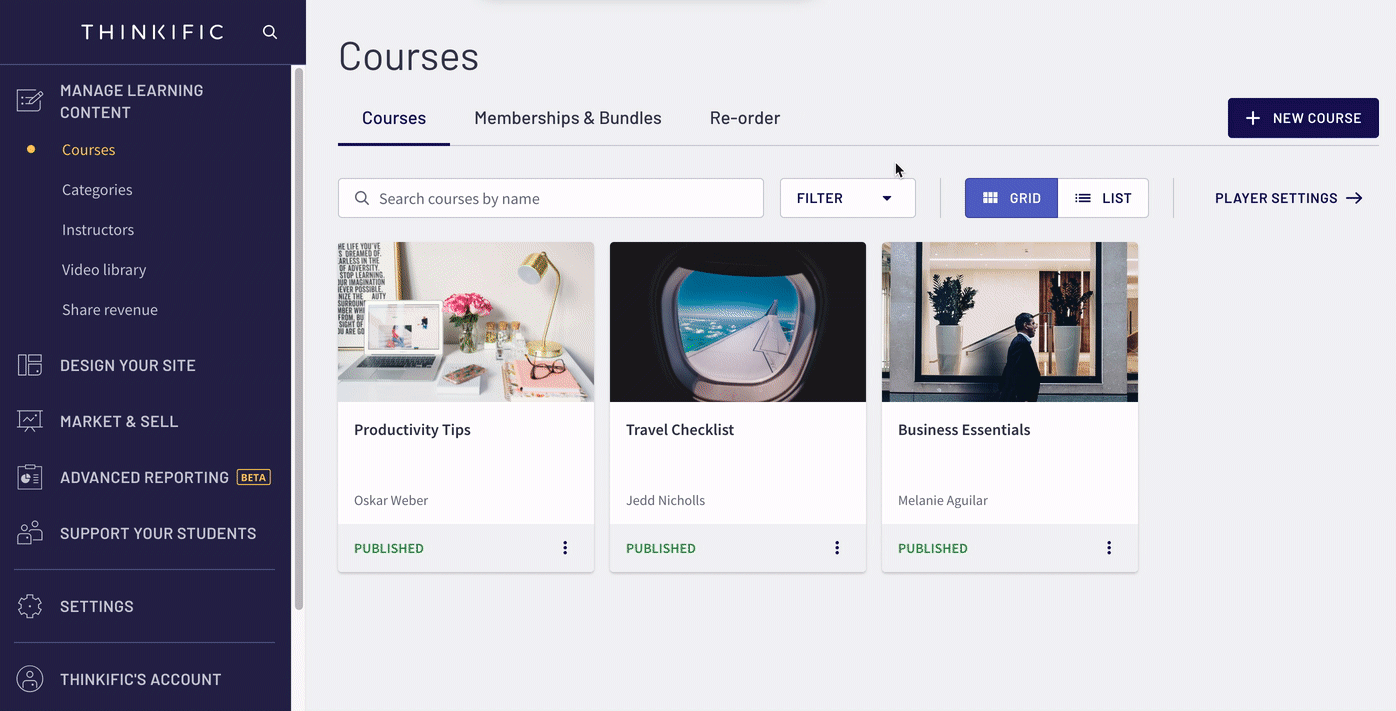 You can filter your courses by:
Status
Pricing
Instructors
Categories

Published

Draft

Pre-Order

Private

Hidden

Free
One-Time Payment
Monthly Payment Plan
Subscription/Membership

Search by instructor
Search by your custom categories
That means you can:
Search the course library for all the courses that are still in draft mode that need work.

Filter for only the active courses if you regularly duplicate and rework old courses (perhaps in B2B sales).

Make changes to one instructors courses as their content evolves.

Use your custom categories to organize and search your library however makes sense to your business! (region, language, product area, etc.)
Control access with Private Bundles
The new Private Bundles feature is ideal for when you want the bundle landing page to be public for marketing or informational purposes but don't want students to be able to enroll in the course directly.
When a bundle is set to Private, the Thinkific checkout is completely blocked and students are directed to reach out by email.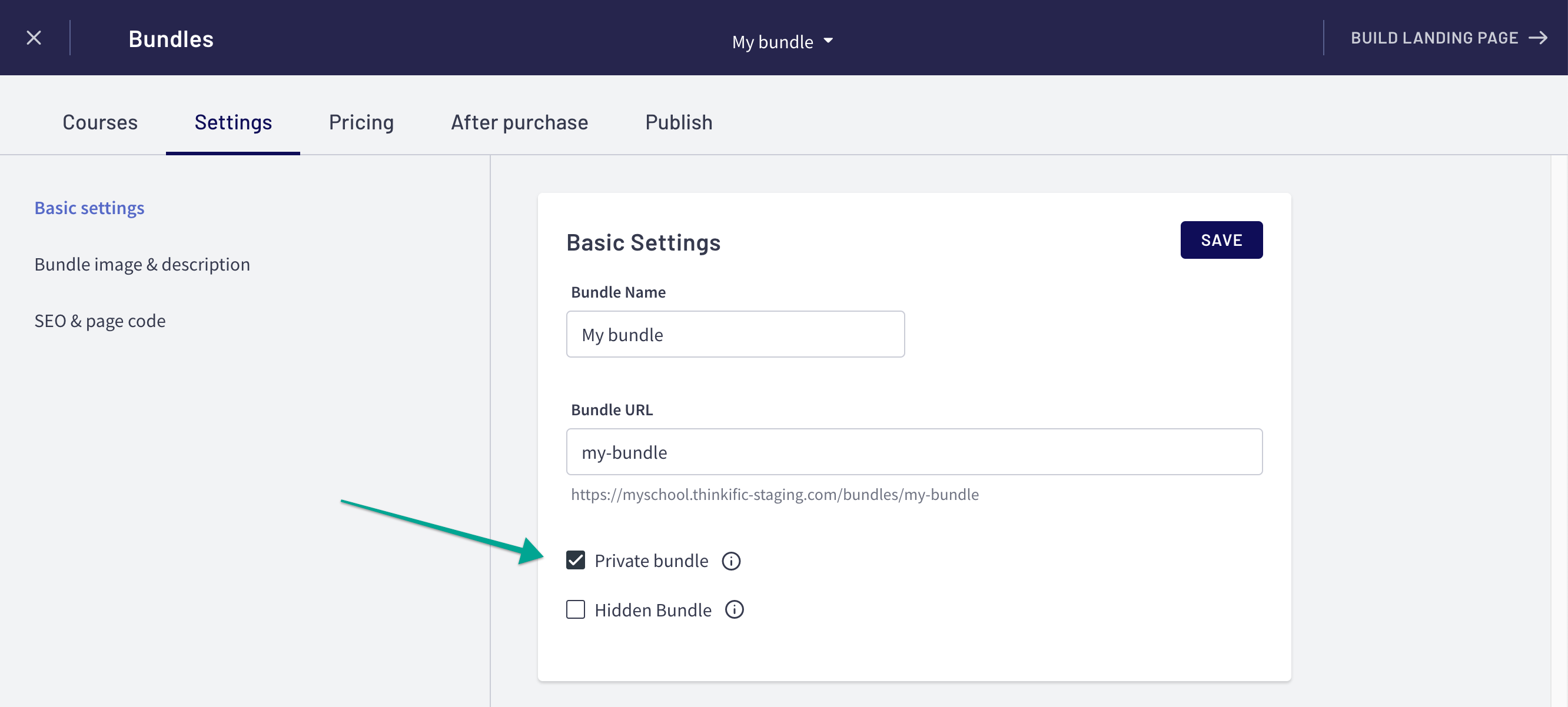 Some reasons you may want to make your Bundle private:
The bundle isn't ready for enrollment yet.

You may still be working on your content and not quite ready to launch but want your students to know that the new bundle is coming.

You want to limit the number of enrollments.

Perhaps you run cohort based classes or just like to keep an intimate class size. You can control the number of students who access your course by changing the status of the bundle to Private one you hit your limit.

Only accept students who meet specific criteria.

You may have an application process or just want to speak your potential students first to ensure suitable fit.

Value based pricing.

In higher end or B2B selling you may want to have a sales call first to discuss their needs, tailor your offering and pricing accordingly.
Bundles set as Private will still be displayed on the site, so any visitors will be able to access them. However, the bundle won't have the usual Buy or Enroll button. Instead the visitor will see a message encouraging them to email the creator and request access.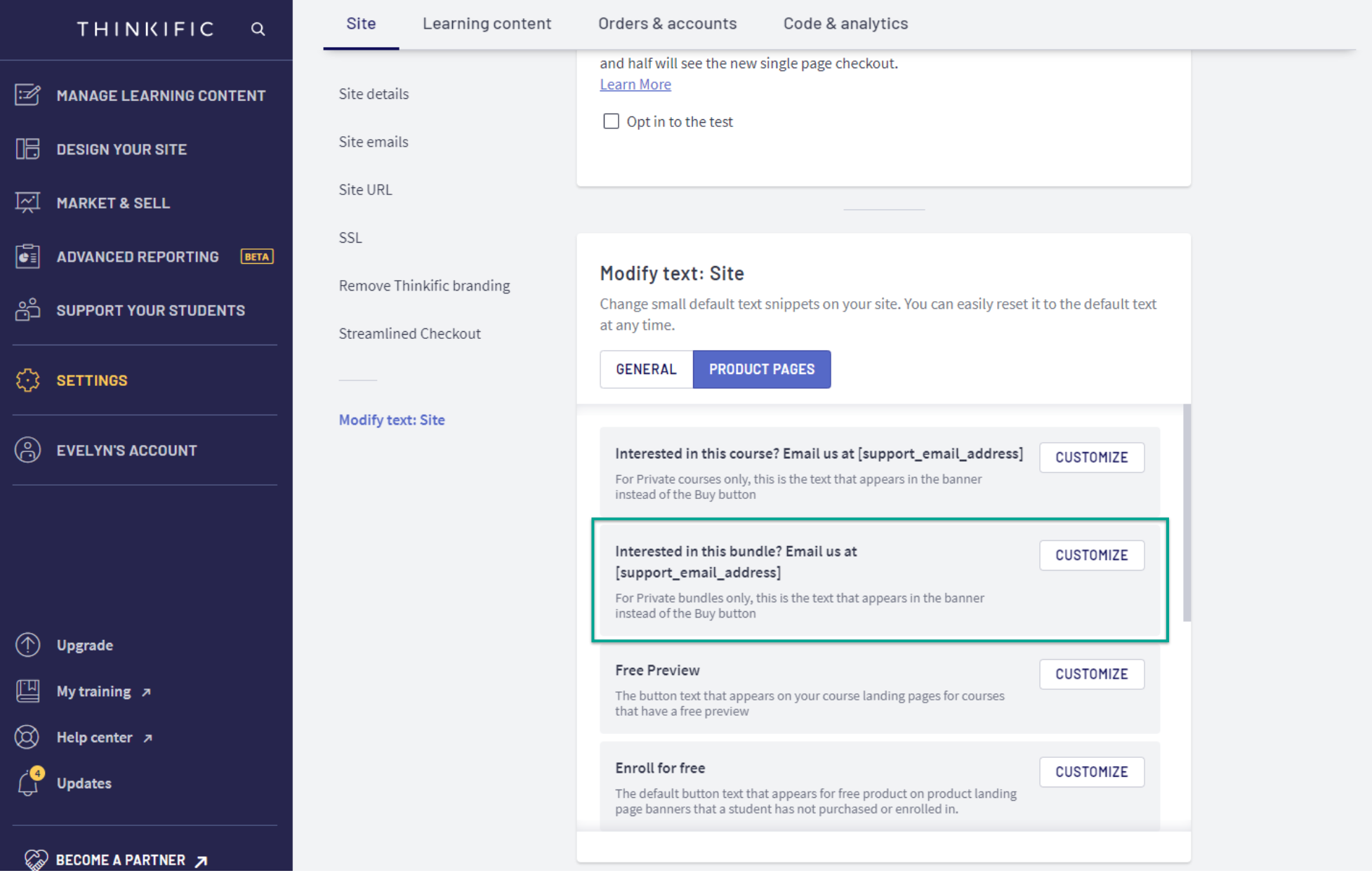 Hidden Bundles
Unlike Private Bundles, Hidden Bundles will not appear on your site at all and are only accessible with a direct link to the bundle landing page. From this hidden landing page, they will be able to buy or enroll on the bundle as usual.
Use Hidden Bundles when:
You have specially tailored content (B2B):

If you're developing courses for specific clients (or even your own employees or partners), you don't want just anybody finding the link and signing up. Simply hide the bundle so that that you can control access!

You want to offer some bonus content

. Looking to offer some complimentary extras as a bonus to people who've bought other products? Adding these courses to a bundle allows you to make sure that only those people receive the direct link can enroll.

Bulk enrollments: Now you can add one or many students to multiple different courses.

Engage your students with the Intercom app
Intercom is a great business messaging tool that helps you engage with your students at scale, using live chat, email, bots and more. It livens up your student relationships by making the flow of messaging and communication more fluid and conversational.
The new integration means no more flipping between windows when talking with your students. You can now both see critical account info and manage those accounts, adding students to new courses or bundles. Everything is now at your fingertips so you can give the best service to your students.
Learn more about the new Intercom integration here »
These new features are available on Pro and Pro + Growth Plans.
On a Free or Basic plan and don't see these new features? Upgrade your plan to gain access»