When the Covid-19 pandemic forced much of the world indoors early this year, businesses found themselves staring down a new challenge: staying profitable and engaged in a brave new socially-distanced world.
Many companies made a seamless transition to remote work, some even making the call to make their remote workforce an indefinite arrangement. Twitter's CEO Jack Dorsey led the charge by telling his employees they can continue working from home "forever," while Shopify announced themselves "digital by default" and proclaimed that "office centricity is over".
For tech-driven companies like Shopify and Twitter, a distributed consumer base is barely a blip on the radar. But for entrepreneurs and small businesses, the loss of client contact meant they had to adapt their businesses to survive and thrive in a new normal.
From small businesses to online community
Girl. Strong.

Girl. Strong. is a non-profit organization that empowers young girls with the life skills to become limitless women.
Before Covid-19, they held workshops in public schools, covering topics such as positive habits, growth mindset, public speaking, and entrepreneurship – until widespread school closures forced them to change their strategy on short notice. "Now with schools being closed, we quickly pivoted to providing the program online. The change was quick and without a cohesive plan," explains founder Yollanda Zhang.
After offering their program online for 3 weeks with more than 250 unique audience members, Girl. Strong. turned to Thinkific and the Entrepreneur Growth Fund to help them build out live virtual classes and create evergreen online courses. Now with a proven product in an online setting, their reach is limitless.
"Before Covid-19, we were delivering our program live and locally. Now we know that by building a strong online presence, Girl. Strong. can reach girls worldwide, and we hope that Thinkific will be a part of it." Yollanda Zhang, Founder, Girl.Strong.
PUFF School of Pastry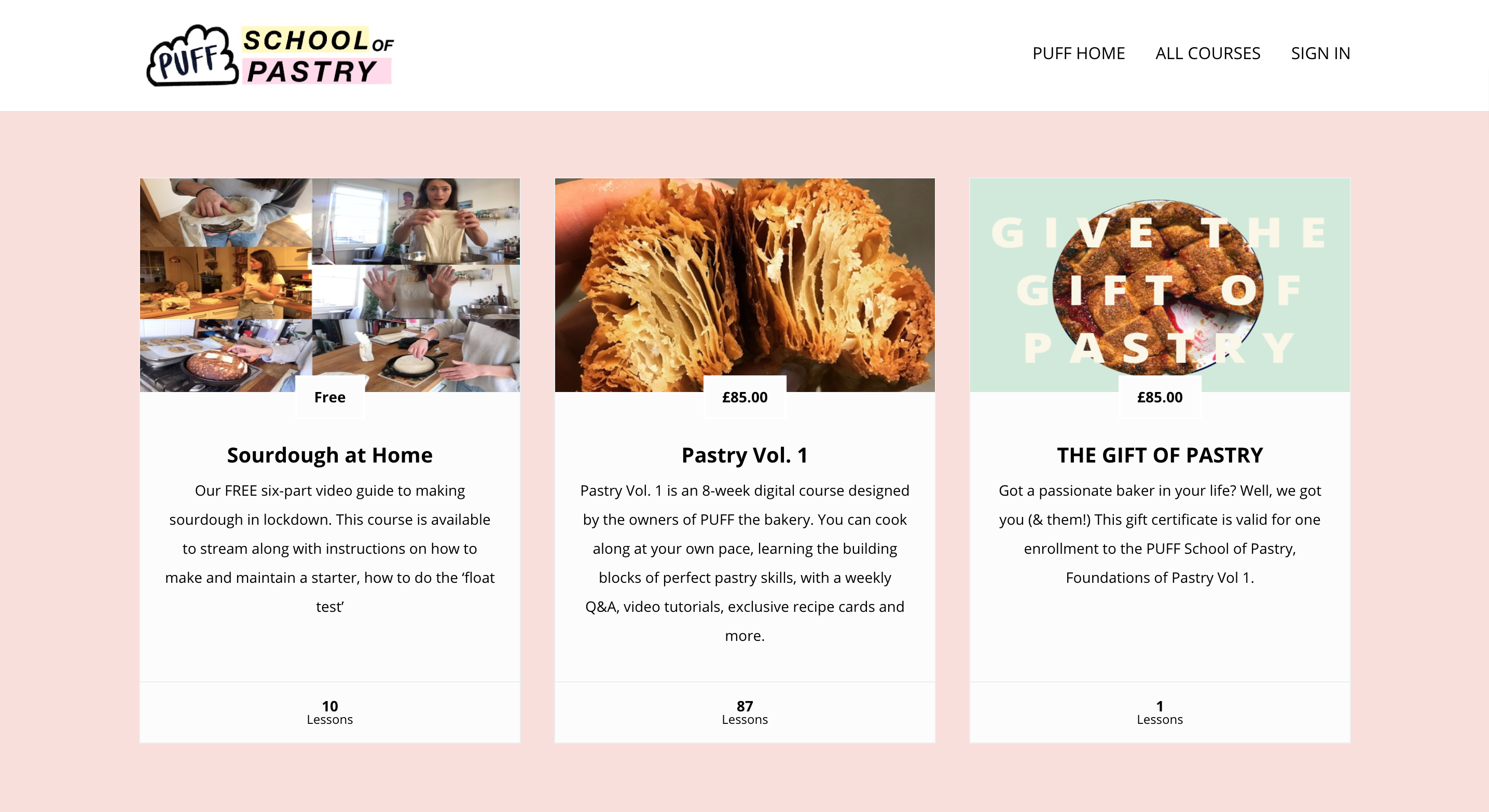 After meeting each other on the job in London's thriving foodie business, pastry chefs Ravneet Gill and Nicola Lamb dreamed of one day opening up their own venture to share their love of sweet things with the world. In February 2020, their dreams came true and PUFF was born – a series of pop-up bakeries packed with delicious treats that sold out within two hours each week.
Fast-forward a few weeks to London's lockdown measures, and PUFF's plans ground to a halt. Not to be deterred, Ravneet and Nicola decided to take their joy of desserts to the web.
Turning to Thinkific's digital teaching platform, Ravneet & Nicola launched the PUFF School of Pastry, an online destination for all their pastry know-how. They started with a free Sourdough School to guide all those quarantined bakers, and followed it up with an 8-week course called The Foundations of Pastry. All filmed and edited in their home kitchens, Rav and Nicola didn't let a pandemic come between them and their passion for pastry.
"We are amazed by the response of the course," says Nicola, "and are so thrilled to be building this incredible community of pastry lovers. Every Friday we host a Zoom chat where hundreds of students join us to talk all about pastry. We also diagnose any kitchen issues they have. We've become dessert agony aunts."
D&D Inclusion Consulting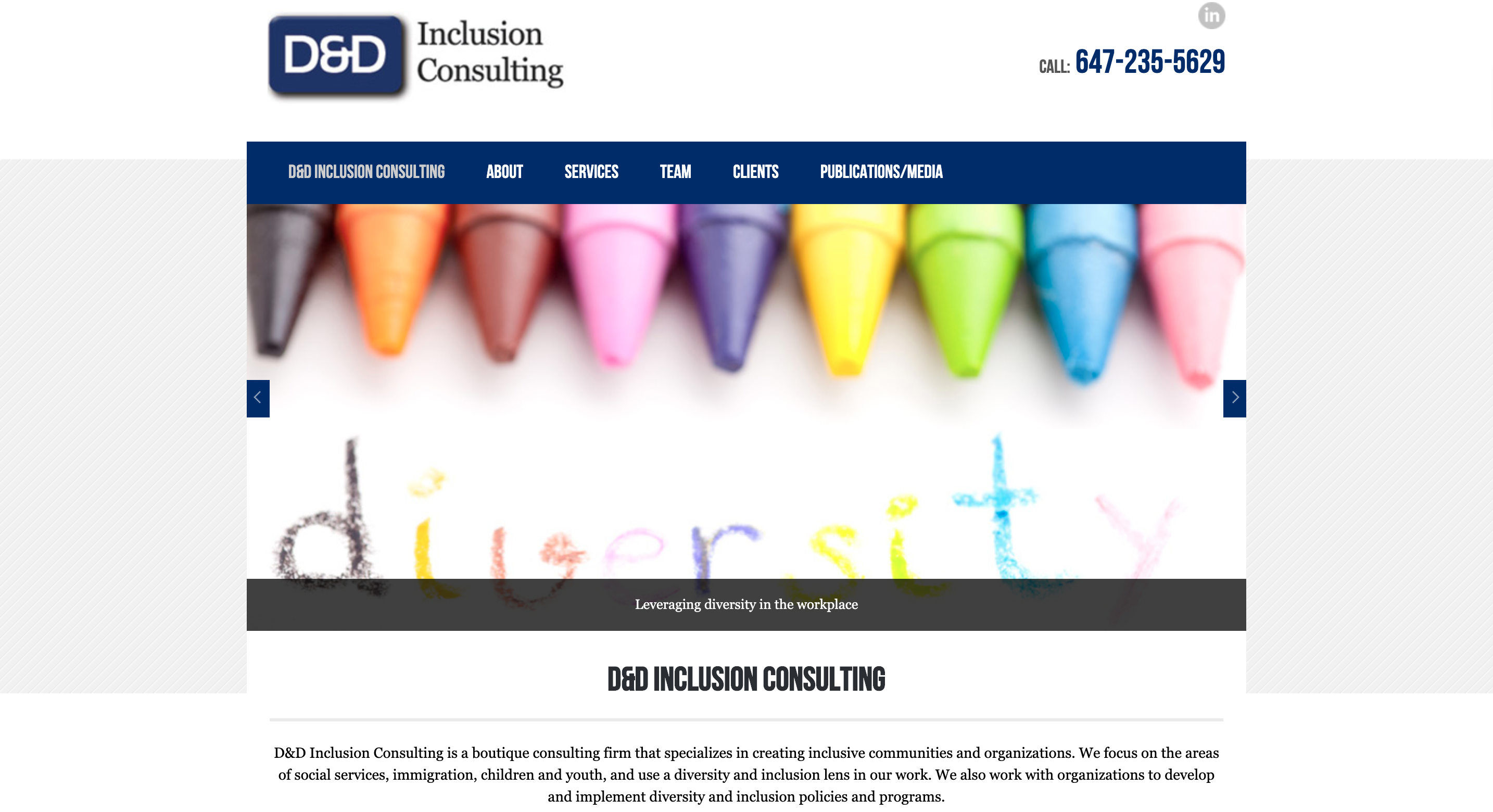 D&D Inclusion Consulting has offered diversity and inclusion training, research, and audits for organizations across Canada since 2014. Early this year, founder Dipal Damani made plans to expand the training side of the business, but "after COVID-19 hit, organizations quickly shifted to remote work and in-person training opportunities dried up. I realized quite quickly that if I wanted to survive I would have to change my business model and take my training online."
Damani was introduced to Thinkific by an online course creation expert. She was excited to find it very easy to use and navigate, and decided to apply for the Entrepreneurship Growth Fund. "I am very thankful that I got accepted as I've been matched to an amazing mentor who is helping me enhance my course. My goal in using Thinkific's platform is to deliver online courses that help organizations around the world create more inclusive workplaces, whether that is through virtual teams, in the office, or a mix of both."
"Pivoting to online training is new territory for me. But, I love it! I get to grow as an entrepreneur and do a lot of learning. At times it is stressful to navigate curriculum development, as conducting in-person training is very different from delivering an online course. However, I'm excited to take my training online and learn new ways to design and deliver the content so that it's engaging for the user. Furthermore, I feel that by moving my training online, I will have an opportunity to work with organizations that I wouldn't have otherwise had I stuck to my old business model." Dipal Damani, founder, D&D inclusion consulting
How Thinkific is helping entrepreneurs succeed
Thinkific launched the Entrepreneur Growth Fund to support entrepreneurs as they build, launch, and market their courses. We're giving eligible entrepreneurs a launchpad to shift their businesses online by matching them with expert content creation mentors to guide them through the process, completely free of charge.
Setting up their site
Mentors guide entrepreneurs through the design and technical setup of their course website, and coach them through great copywriting to make their business value sing on the page.
Creating their course content
Entrepreneurs don't have to figure it out on their own – mentors can walk them through mapping out a lesson plan or creating their first piece of course content.
Attracting students
We provide premium training so entrepreneurs can learn how to maximize the value of digital advertising to market their course – and we'll even match their advertising spend to help bring the first students on board.
The pandemic may have changed the game plan for many businesses, but together we can get their online courses off the ground and their businesses back on track – because entrepreneurs don't let other entrepreneurs fall.
---
Are you ready to pivot your small business for an online audience? Apply for the Entrepreneur Growth Fund today!