Shelley Paulson — equine commercial and editorial photographer, mentor, and educator — was seeking a better work-life balance. "I liked the idea of teaching a group of people and having passive income," she says. 
She decided to gauge whether or not her audience — 9.6K Facebook followers and 8.7K Instagram followers — was interested in having her run online mentorship. Once learning that there was a need for it, she proceeded to sign up with Thinkific and create two courses: A three-month accelerator program, the Wings Mentorship, and her more advanced, six-month program, the Pegasus Mentorship. 
Since launching her Thinkific courses in 2020, she's made nearly $35,000 in revenue. 
"I was watching TV the other day and I called out to my husband, 'I just made over $4,000!'" she says. "I want to be able to be out riding my horses, traveling or doing whatever I want — while making money. Creating mentorship programs makes this possible."
But before creating what are now her signature programs, she had to test the waters. 
Her first program was taught live every other Monday night and included a four-day, in-person retreat. However, the skill levels of those in her program were too broad, and she realized her model needed fine-tuning. 
Seeking guidance, she hired a coach who helped her to create a more niche offering. Then came the idea for her accelerator program, followed by a more advanced course that the accelerator funneled into. 
Here, we dive deeper into her course structure, customer journey, content creation process, and advice for those interested in creating — and launching — a successful online mentorship program.
Combining synchronous and asynchronous learning
Both of Paulson's programs combine synchronous and asynchronous learning and run once per year. 
In her Wings program, she teaches a maximum of 15 photographers to uplevel their equine photography and editing skills. This program will start every January and includes a mix of online lessons, group coaching, community, and extra resources.  "Wings is about bridging someone's knowledge in photography with horses," she says. "It's for those who want to learn how to take better photos of horses — even if it's just a hobby. But Pegasus is really geared towards the business owner."
This accelerator course requires students to have a camera and be able to take basic photos. It covers camera settings, posing, editing, workflow, and all of the photography foundations. This program is priced at $1,500 and acts as a funnel for her more advanced Pegasus program, which begins in April. 
Pegasus is an intimate experience with only six photographers and focuses on how to build a successful equine photography business. This program includes a mix of online lessons, one-on-one coaching, group coaching, community, extra resources, and an in-person, five-day retreat in Minnesota. With a bigger price tag of $5,600, Pegasus helps students figure out their ideal client, create videos, and work with studio lighting. "I'm not the kind of person who only lets people into Pegasus who run their businesses full-time and make six figures," she says. "Some people are nearing retirement and simply want a side hustle to still be out in the world and do what they love."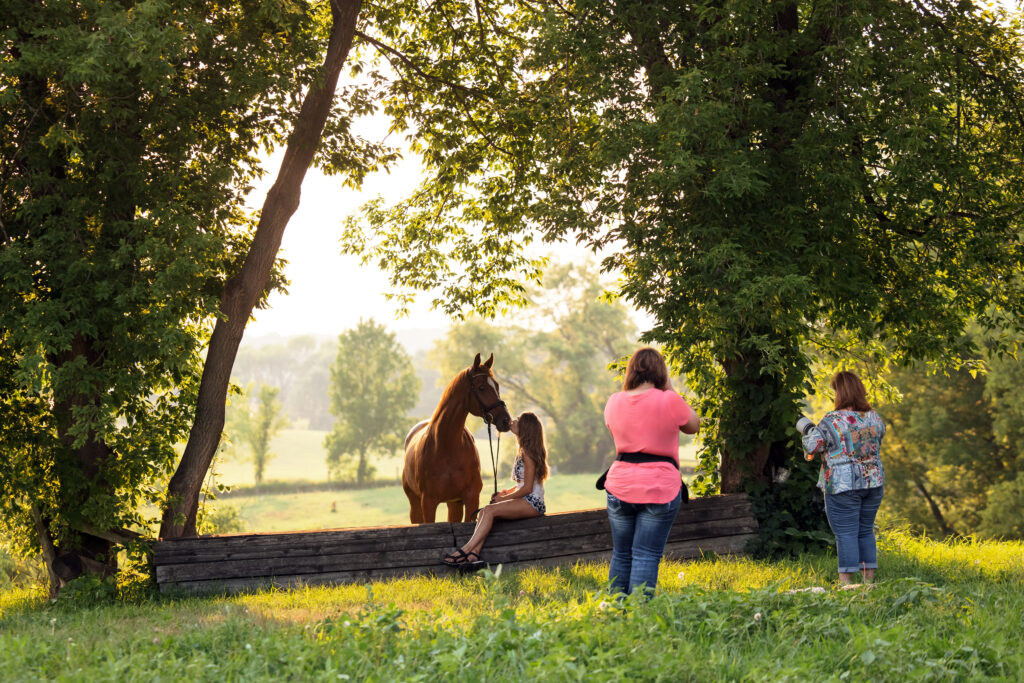 She says that the people who go through her Wings program have first priority in landing one of the six spots in Pegasus. "I chose six people because it's a manageable number when you have a bunch of people trying to take pictures at the same time at the retreat," she says. "It's hard to not want to add more people because it's obviously going to add more money. But it's really important to me that people have a great experience."
Creating a monthly membership
Alumni of both programs are funneling into another membership that she calls the Pegasus Circle, which is a monthly membership that costs $35. 
This group is meant to create community and encourage continued learning. She posts in the group five days per week and provides freebies and tips. It acts as a place in which members can share their work, ask each other questions, receive support, and celebrate one another. "My goal is that over the years, the group continues to build," she says. "Then, if I get 20-30 people in there at $35 per month, it will begin to pay off. But right now, I'm having to put a lot of time into it without there being a related income; currently, it's not balanced to the amount of effort versus the revenue, but it'll get there."
Choosing the right price
When it came to pricing her courses, she says that she used Google Sheets to crunch numbers. She also bounced ideas off of her coach.  "For most of my business, I've been someone who's worked off of intuition and have pulled numbers out of a hat. But with these programs, I went the extra step and ran numbers by my coach, who encouraged me to charge more."
In the future, she's considering selling the lessons in her programs as standalone courses, since there is a cap on how many people she can handle for mentorship at one time. This would also help her to make extra, passive income. 
Shifting to Thinkific
When she initially launched her online mentorship programs, she used Mighty Networks Vimeo, since the Mighty Networks platform didn't allow for video streaming. "My students weren't having a good experience with Mighty Networks and that was not okay with me. I'm happy I shifted over to Thinkific," she says. 
"Thinkific is so much easier to use," Paulson continues. "The design is easy and classy. I haven't had a single person not be able to find what they're looking for."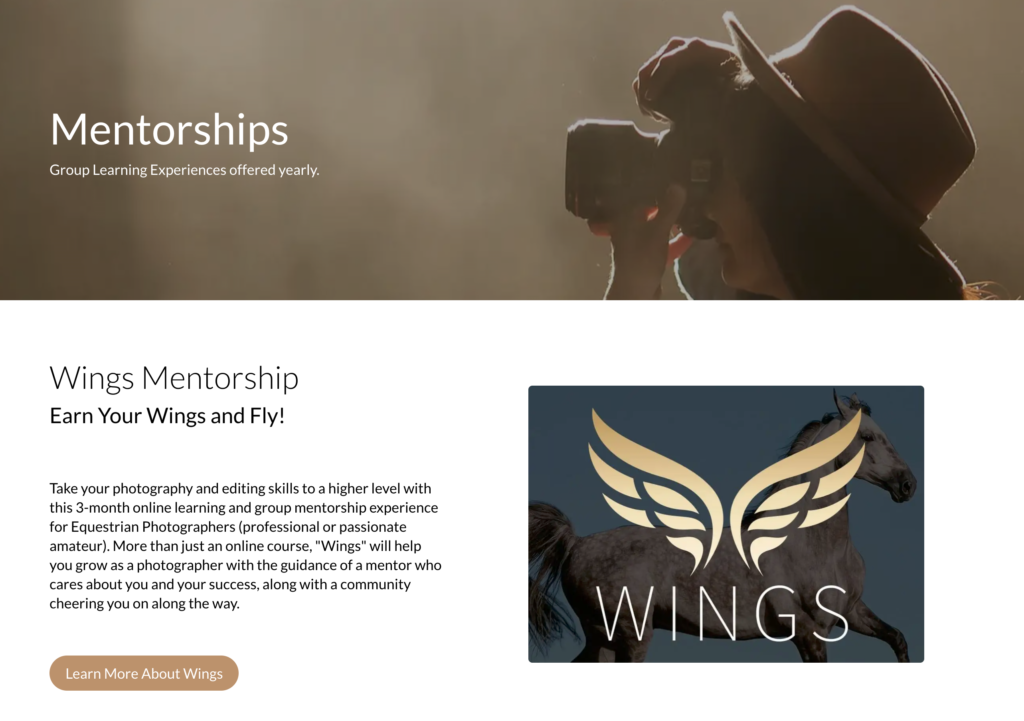 She says she uses Facebook groups to build community, whereas Thinkfic is mainly used for online lessons, as a resource library, and to sell her ebook. "There's a sense of ease when using Thinkific," she says.
Growing her audience — organically
Paulson says that building her audience has been an organic process; it started via her YouTube channel —  where she's shared equine photography tutorials for the last six years — as well as through Facebook and Instagram. "I'm one of the older people in my industry and I've had a lot of great opportunities. I work with some pretty big name clients, like Horse Illustrated, which is how a lot of people know me," she explains.
She says that posting on social media consistently — meaning every day of the week — has been one of the biggest contributors to building her audience, which is made up of equine photographers as well as those who simply own and love horses. She mainly attracts women aged 30-50, however, she's also had some men interested in her programs. 
When it came to increasing her following, her biggest challenge has been working with the Instagram algorithm. "I hate feeling like I have to play all these Instagram games if I want to win and get eyes on my posts," she explains. "The biggest frustration is wanting to get out there and create amazing content, but not having the right people see it."
She also says it can be a challenge figuring out how to speak to her audience, since she splits 50% of her time doing photography, and 50% of her time doing mentorship. 
"Figuring out how to speak to both aspects of my work on social media and determining what to post can be confusing at times," she says. 
Launching a photo challenge
When it came to building her email list, she did so by offering a free email course, 4 Keys to Growing a Successful Equestrian Business, which people can sign up to on her website. When she launched Wings and Pegasus, she sent out an email campaign which included testimonials and wording that her coach helped her with. 
She's also part of several Facebook groups for equine photographers in which she's posted in to promote her mentorship programs. When she decided to hold a seven-day photo challenge that served the dual purpose of an email funnel, she was able to gain interest in her mentorship programs. She also wanted it to motivate people to get out and take photos, despite it being a colder, darker time of year. 
She put the challenge together in three days, promoted it in December, and launched Wings in January.  "I thought, I'm just going to throw this together and see if it works," she says. "I'm not afraid to dive in and try to figure things out."
The challenge included seven days of themes, and participants had to go take a photo that correlated to the theme each day and post it in the group. Then, whoever completed the challenge was included in a vote for the best photos. The winning image won that person a prize package, which included either a mentorship session with Paulson or a discount on the Wings and Pegasus programs. "People loved the challenge," she says. "The person who won entered both of my programs. Now, I've turned it into a 52 week challenge with a weekly photo theme. It's a great way for me to continue to be on people's radar in a group of 433. There are 75-100 people who are regular photo challenge participants in the group."
Promoting her course
To compile the email list gathered by the challenge, she used Flodesk. On the first day of every month, she sends out an email that includes photo tips and resources. "It's a lot of throwing stuff at the walls and seeing what sticks," she says. 
Her membership coach helped her to word her emails and format them properly when promoting her course. Plus, when it came to creating clear, concise sales pages, she experimented with wording and created it herself on WordPress, thanks to her past experience as a web designer.
Next year, she says that she'll begin promoting Wings in September. She's also planning on pulling quotes from people who've been through the Wings accelerator to talk about what they learned and how it helped them to uplevel their skills.
The content creation process
When it comes to creating course content, Paulson lives by the motto, 'done is better than perfect.'
Each video in her course starts with her in her studio introducing the topic, followed by a PowerPoint presentation where she goes through the lesson using ScreenFlow. Then, she inserts video clips of her demonstrating the topic in action. 
When creating content for her Wings program, she says she used a teleprompter. "It was a total game-changer. I used to spend hours on my YouTube videos because I'd be talking about complicated things and would have to do so many takes. When I asked my students at one of my retreats if they knew I was reading from a teleprompter, they said they had no idea."
She's thankful for her experience speaking in front of a camera via YouTube, as well as her time spent teaching at conferences and teaching workshops. "I think if I hadn't ever done YouTube, I may have been more afraid of putting myself on camera," she says. "But you get over that pretty quickly when you edit your own videos.  Plus, I knew how to teach from my experiences running in-person workshops."
One thing that's challenged her is teaching on topics she's never taught on. "To take what I've learned and mastered over the years and communicate it in a way that somebody else can understand is difficult, especially when I assume it's common knowledge."
After a big year of creating content and launching both programs for the first time, she's excited for the years to come. In the future, she'll be able to simply tweak the content and re-record certain sections of it that need updating.
The customer journey
Once people purchase her program, they're entered into a Facebook group where they watch a welcome video. Then, she kicks off the course with a Zoom group chat. Once they go through their first lesson, homework is assigned and due before the next bi-weekly Monday night call. These deadlines help to keep students engaged and hold them accountable. Students upload their homework to an album in the Facebook group. Then, she provides feedback on their work and the students critique each other's work, too.
After noticing that some important information is often missed when posted in the program's Facebook group, she started using Flodesk to send weekly emails. This ensures that everyone receives necessary instructions. 
The need for support
Currently, she has a virtual assistant who helps her out. However, only Paulson can complete many of the tasks in her business. "I like to do all of my own photo editing and I'm the only photographer," she says. "But next year, I'm going to have someone at the Pegasus retreat who's there to manage the chef, schedule, and clear up after the meals to help me out."
She has big plans in her business, but she's careful with how much she takes on. "I'd like to create educational reels but right now, I'm just one person and I have a certain capacity. Most of the time, I'm at capacity," she says. 
Next year, she plans on selling a physical product; she wants to create a set of cards on a ring that includes camera settings and posing ideas for the equestrian photographer. She says that her virtual assistant will help to make this vision possible. "It will be helpful to have my virtual assistant do all of the shipping and order fulfillment requests. I just need to make the time to create it."
Advice for course creators
Like many other Thinkific course creators, Paulson suggests that people don't wait for the perfect time or opportunity to put their knowledge into a course. "I would suggest that people build as they go and remember that done is better than perfect," she says.  "This is a trend I'm starting to see across folks who are successful in what they're doing. It doesn't have to be fancy. Just put it out there and don't worry about it being a hundred percent perfect."
"If you go back to my very first YouTube video, it's so awkward," she laughs. "But the only way to get better is to continue to practice."
---
Feeling inspired? Check out more Thinkific Creator Stories!