Most businesses have had to navigate challenges since the beginning of the pandemic. Loss of revenue, shipping delays, and the urgent need to pivot to online spaces have forced many to change the way they sell. Thankfully, the Thinkific App Store can help entrepreneurs thrive. If you're looking for a way to increase your revenue by selling physical and digital products in one place, this is the answer.
Thinkific App Store offers a variety of tools that seamlessly integrate with your course business, giving you complete control. With the ability to easily integrate tools without needing a developer, there's no limit to your ability to customize, grow, and evolve your physical and digital offerings.
For these course creators, integrating Shopify with Thinkific has allowed for increased sales, scaled marketing efforts, and more time to do what they love—create.
Why Shopify and Thinkific?
Sheryl Gatzke, founder of Beauty Inc. Canada, believes that passion for teaching, coupled with the right tools, makes people successful in the online course industry. "If you love education, people are always looking for explanations. YouTube doesn't allow you to monetize in the same way that Thinkific does. Get creative, get your materials together, and then upload your content."
When it comes to selling digital and physical products with Shopify and Thinkific, Joeel and Natalie Rivera, founders of Transformation Academy, stress the importance of understanding your niche. According to Joeel Rivera, determining who your target market is, what their needs are, and what their paying point is, is essential. By using the tools in the Thinkific App Store, course creators can then go to their consumers directly.  "Don't wait until everything's perfect to launch," he says. "Focus on what difference you want to make in someone's life with what you're creating."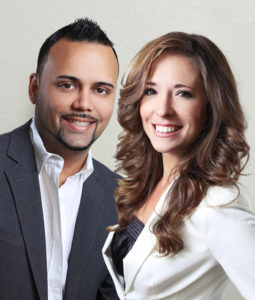 The Riveras entered the online course space after Joeel Rivera fell ill and could no longer do in-person training. Now as instructors of their life coach training business, they've created over 85 personal development courses with the intention of impacting as many lives as possible.
"Getting sick made me think about what legacy I'm going to leave behind, so we started creating online courses without ever imagining that it would take off the way that it has," says Joeel Rivera.
With courses up and running on Thinkific, the pair looked for a way to scale their advertising, allow students to add several items to a cart, and purchase physical and digital products together—without breaking their budget. Connecting Shopify with their Thinkific site became the solution.
Without Shopify, Natalie says that they would have relied solely on Zapier. She says, "We have a lot of volume, so if every single transaction was coming through Zapier, it would be very expensive."
Transformation Academy sells physical products, like books, in addition to online courses. While their books are currently sold on Amazon, they'll be transitioning to selling them themselves. "There's no way that we would be able to have somebody check out a book and a course at the same time without using Shopify and Thinkific together," says Natalie Rivera.
Gatzke was also looking for a way to sell her beauty courses and products in one place. As an entrepreneur and mother, she didn't have time to run multiple websites that sold different products in separate places; she needed an efficient solution.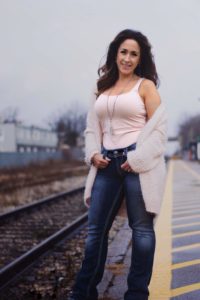 Inspired to teach more people in less time, she launched her first online courses in January 2020. Despite the chaos that ensued three months later upon the onset of COVID-19, her business brought in six figures that year.
Integrating the Shopify app with her Thinkific site made life easier, according to Gatzke. It became an easy platform to sell her products alongside her courses and exponentially increase her revenue. "I had all six courses up on Thinkific within a week and I integrated Shopify right away," she says.
How course creators are using Shopify
Transformation Academy
When the Riveras were looking to scale their offerings, they began researching several integrations, including WooCommerce. However, Shopify's ease of integration with Thinkific and its ability to meet the needs of their growing business, is what sold them. 
"Shopify has been the most important integration for us. As we've been working on scaling and increasing our marketing, we realized that we needed a solution that was going to fit into our bigger vision," says Natalie Rivera. "We've never had Shopify misfire, and everyone's been enrolled properly. It works and makes us able to do what we need to do."
The Riveras use several marketing channels, but focus primarily on Facebook. With their revenue spanning from $15k to $100k per month, they needed an integration that they could optimize.

"Our most important result from using Shopify is our Facebook ad pixels tracking properly," says Natalie Rivera. "The sales of our add-on courses have also gone up since making it easier to buy more than one course at a time."
Since integrating Shopify with Thinkific, their tracked conversions have increased 30%. Plus, their newfound ability to have visibility into users' abandoned carts allows them to be more intentional in their marketing efforts.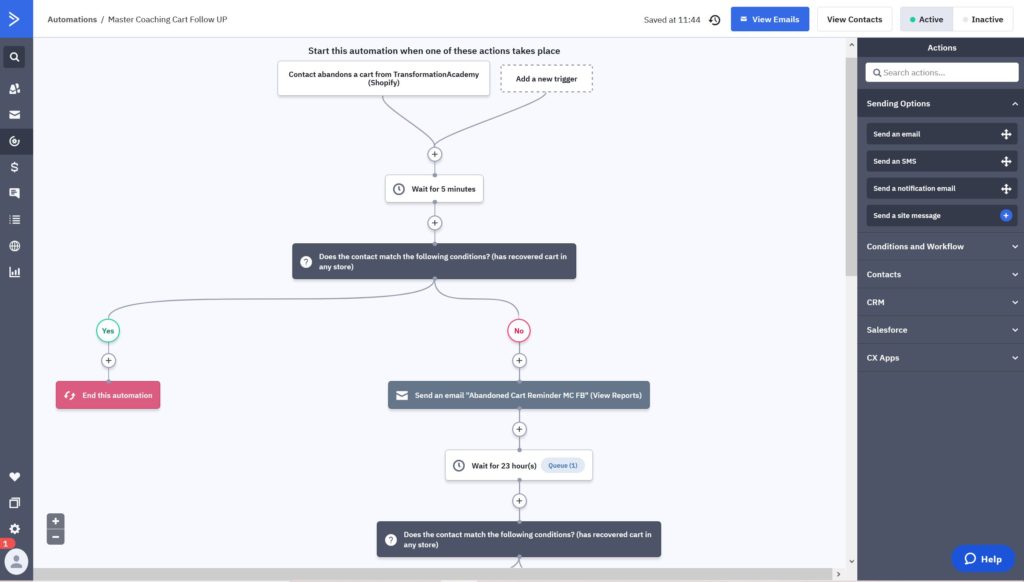 "The abandoned cart process has made a huge difference already. There is work involved in getting customers to the cart; now, we're going to be able to keep more of them and have a higher conversion rate. There was no functionality to do that previously," says Natalie Rivera. 
Plus, integrating Shopify with Thinkific was simple, according to Natalie Rivera. 
"It was easy. When we first set up the integration, it imported all of our courses automatically, which saved us a lot of time." she says. "We were able to start using Shopify to sell our courses without needing a developer. Most people would be able to easily set it up on their own. It's user-friendly, even for people who aren't able to hire a contractor."
Beauty Inc. Canada 
With Ontario still in the red zone, the beauty industry has been hit hard during the pandemic. While it can be difficult to find a silver lining during this challenging time, many business owners have undergone successful online pivots, like Gatzke. 
"Without Thinkific, we would have been dead in the water," she says.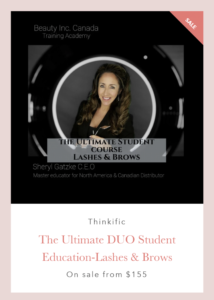 For Beauty Inc. Canada, the shift to online course content was driven by logic. "If I can teach 100 people in a day as opposed to doing it myself and teaching four people a day, it's a no-brainer," she says. 
Gatzke was set on finding a course hosting website that could be integrated with Shopify. "I wasn't going to build a whole new website just to integrate courses. It was really important for me that it was able to just be slid right into Shopify," she says. 
According to Gatzke, integrating Shopify into Thinkific was straightforward. Plus, she uses all of the Shopify tools to her full advantage. 
"I'm technically illiterate, but integrating Shopify was so easy. I could pump information into that software while out for coffee on a Tuesday afternoon," she says. 
If you're selling physical and digital products, are wanting to scale your marketing efforts, and are looking for something easy and user-friendly, consider integrating Shopify into your site. Learn more about how the Thinkific App Store can help you grow your online business.