As a busy entrepreneur, you're constantly looking for new ways to increase your revenue. But what if there was a way to sell more without investing all your time? 
The Thinkific App Store can help you do just that. With apps that help you automate your busy work, you gain more time to hone in on your craft and do what matters most: create courses that make a difference in your students' lives.
These apps help creators sell more courses by improving membership functions, increasing lead generation, and saving time. 
eWebinar and Thinkific: Saving time
For those looking for an automated webinar solution that combines pre-recorded video with live chat and real-time interactions, integrating eWebinar with Thinkific is the answer. Not only does this app deliver an engaging learning experience for your students, but it can also help you save time, increase lead generation, and boost revenue. 
For Carly Adams, a professional organizer, and owner of Tidy Revival, she switched from in-person to digital offerings when the pandemic hit. Although she tested course launches initially, she decided to create evergreen courses that are accessible anytime, anywhere instead. By connecting the eWebinar app with her Thinkific site, Adams has saved over 76 hours by not having to manually host her webinars. "I'm able to reach people a lot faster and easier. It's just overall so much better," she says.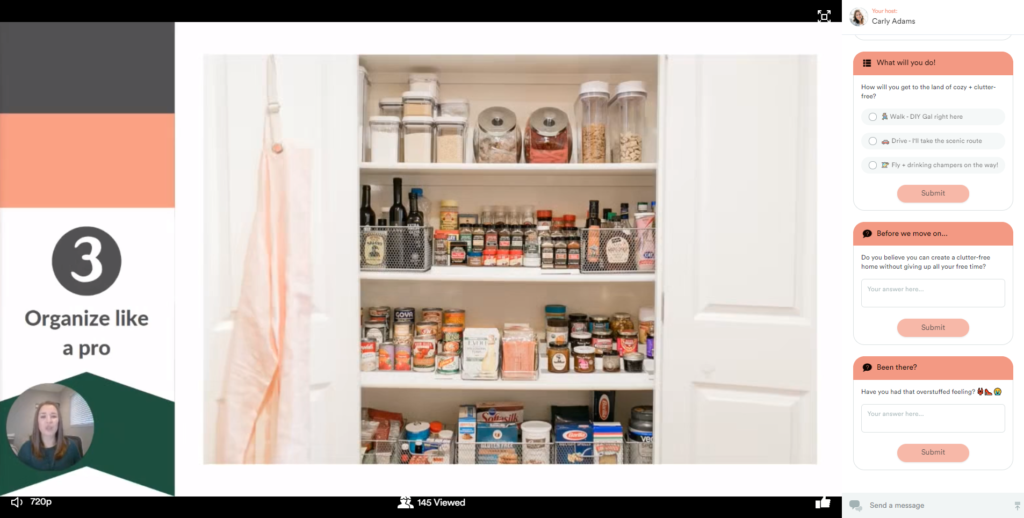 As a busy entrepreneur, Adams is constantly looking for ways to save time. "It's important for me to unload as much of the administrative responsibilities as possible into automatic integrations. This helps me to reduce my workload with tasks that can be handled by AI."
Adams also leverages Zapier and Flodesk in order to save time. Based on what her students purchase, they enter into specific lists in Flodesk. Then, Zapier ties it together with Thinkific so that she doesn't have to manually put people on each list. 
Not only do these Thinkific apps help creators save time, they're also easy to set up. "I never considered myself to be a tech-savvy person. The Thinkific apps are straightforward and the UX is amazing. If I can do it, anyone can do it." 
Adams believes that those who want to have a successful digital product must create a solid foundation for their courses. This means taking advantage of the offerings in the Thinkific App Store and setting yourself up for success. "Set aside a few months so that you can give your digital product time to grow. It may not be an overnight success, but when you know that this is something that is going to really be helping people, the long haul will be worth it."
eWebinar and Thinkific: Increasing lead generation
Kyshira Moffet, owner of The Power Collective, is a business coach who specializes in helping emerging coaches get started with their practice. Despite being in the midst of a global pandemic, Moffet saw an increase in revenue since the start of COVID-19 with an influx of people turning to online learning. Due to her recent (and rapid) growth, she says she's had to learn how to scale fast. According to Moffett, eWebinar helped her increase lead generation and speed up the buying process.
"I've been able to repurpose some of my masterclasses and webinars that were previously done live and make them more interactive with pop ups and questions," she says. "What I love about eWebinar is that there is an option for me to have an enroll now button that pops up at different points in the broadcast to help people directly sign up."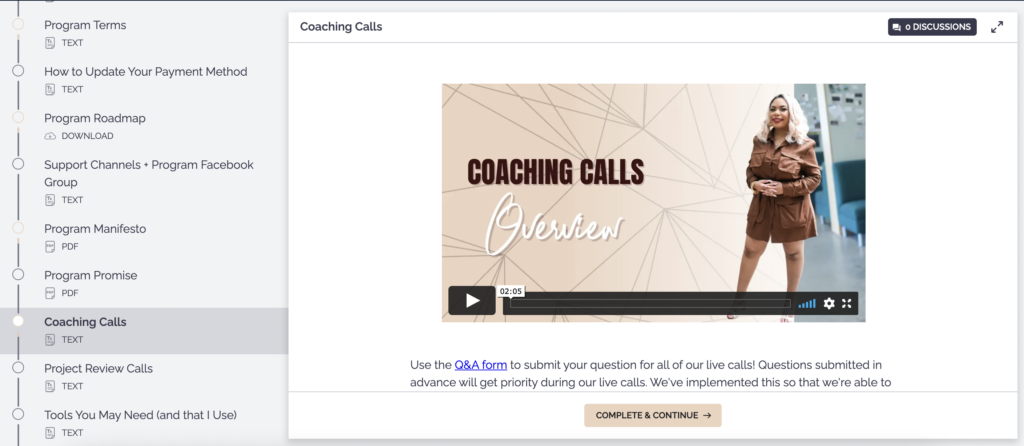 Integrating technology like eWebinar into her Thinkific site has been helpful in boosting her sales. "Using the eWebinar app resulted in nearly $15,000 in sales within the first week, which was great," she says. "I didn't have to do sales calls for that; all they had to do was watch the webinar, apply, and enroll."
Since integrating eWebinar with her Thinkific site, Moffett has had over 200 people who've purchased course bundles in collaboration with other creators enroll in her programs. Without eWebinar, she says she wouldn't have been able to engage with these people and help them get to know her and her offerings. As a busy entrepreneur, she's realized the need to take advantage of automation tools as much as possible. "We would have missed out on new prospects by not leveraging eWebinar with Thinkific to get people into our funnel. We would have missed out on nurturing the leads who are there, too," she says. 
Like Moffett, Adams uses the eWebinar app to increase course sales. "I love the way eWebinar's made evergreen webinars more fun from the user experience side. They have so many personalized integrations and details throughout the webinar experience. It makes it a more fun experience for the user and easier for a digital creator to gather information through surveys and questions."
Using webinars as free opt-ins, Adams uses eWebinar and Thinkific together to engage with people. By taking polls, getting people's opinions, and answering questions, she's able to see what's working and what's not. Then, she can take this data and tweak the webinar for future use. "The eWebinar app is basically like my 24 hour sales tool," she says. 
Adams says that asking questions through eWebinar not only gives students a chance for them to share what they want to know, but it also allows her to gain insight into her audience, potential clients, and learn what's important to them and how she can add value. 
She also loves how customizable the eWebinar apps are with Thinkific—you can get notified when someone is going to start the webinar so that you can jump into the chat if you're available. "I opt to have a message in there that asks them to enter questions, and that I'll reply via email in a few hours."
Stunning and Thinkific: Improving membership revenue retention
With a reliable payment system, course creators are able to run their membership programs smoothly. This also helps them to scale their offerings and increase revenue. 
Natalie and Joeel Rivera, co-founders of life coaching training certification business Transformation Academy, rely on connecting Stunning with Thinkific to keep their membership running smoothly. The Stunning app helps to recover failed payments for businesses with subscription services. "If somebody has a card that's about to expire, or if their payment declines, Stunning sends them emails to let them know what's going on. It then invites them into the system to update their billing," says Natalie Rivera.
According to the Riveras, integrating Stunning from the Thinkific App Store has helped to retain members. Natalie Rivera says, "If it wasn't for Stunning and Thinkific, members might have just forgotten about their billing issues. Stunning helps keep our membership functioning."
If you're looking for simple ways to boost your online course sales by improving your membership functions, increasing lead generation, and saving time, consider integrating an app with the Thinkific App Store.