Launching a virtual event is a great way to bring an in-person event online and grow your business. In light of the coronavirus pandemic, more conferences and meetings are going digital.
Some companies have already fully transitioned their onsite events online. Microsoft converted its Build Developer Conference into an virtual event. Google transformed its three-day Google Cloud Next 2020 conference into a digital experience. And Facebook's F8 Developer Conference shifted its content online using livestreams and webinars.
If you're looking to move your event online, it can feel overwhelming. What exactly is a virtual event, and how much value can it provide? How can you transfer an in-person experience online, and what tools do you need to make it happen?
In this article, we'll walk through tips for creating a virtual event, tools to get you up and running quickly, and pointers for creating memorable digital learning experiences.
What is a virtual event?
A virtual event is an interactive, online event that brings together top experts to deliver content on a topic that solves a problem for your audience.
While webinars, livestreams and online courses fit into this definition, virtual events are differentiated by a few things. They often span multiple days and include a community component.
At Thinkific, we've hosted many virtual events such as Amplify 2020 and Think in Color. We've also seen many entrepreneurs and mid-sized companies use Thinkific as their virtual event platform of choice—we'll get more into those helpful examples and best practices below!
Before we jump into those examples and how-to's, let's get clear on what your needs are and how a virtual event can help you.
How a virtual event can benefit you
Generate leads
If you're like many event organizers, one of your primary motives for running an in-person event is to generate leads. If your event has been canceled, know that you can also achieve this through virtual events!
For example, one of Thinkific's online summits Amplify 2020 brought in 10,000 leads within eight weeks of launch. While it took time to round up the speakers, build the registration page and a few hundred dollars on social ads, we not only saw the event be a great revenue driver, but a consistent stream of qualified leads.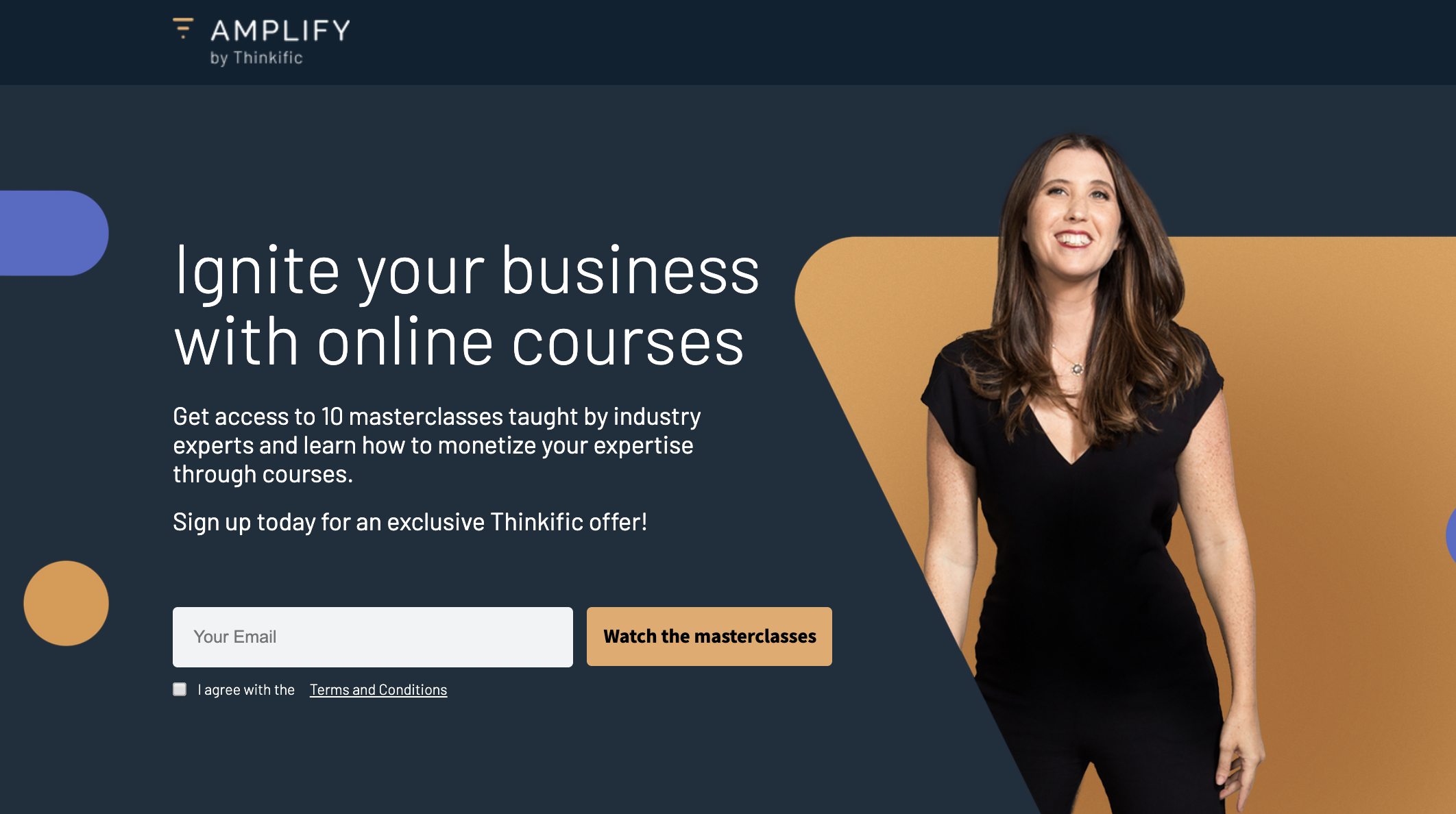 Grow your audience and community
If connecting with the community is your main goal in holding an in-person event, you're in luck—virtual events are also amazing community-builders. Since they lessen barriers for people to attend by decreasing travel expenses and time away from work, virtual events widen the demographic of your potential attendees.
Virtual events are also great at engaging people beyond the conference. By setting up interactive elements, you can create an online community that lives on months and years after the live event.
Generate revenue
Lastly, if your goal is to generate revenue with your event, virtual events can help you get there too. While event cancellations certainly incur significant expense, pivoting to a virtual event quickly can recuperate some of those losses. No additional venue reservations, catering, or transportation costs required. With relatively low margins to produce and operate, selling virtual tickets can help you turn a profit quickly.
With these benefits in mind, let's dive into how to create a virtual event that generates these results!

How to turn your physical event into a virtual event
1. Set up your virtual event platform
First, you need a digital home that makes it easy to market your event, deliver your content, and communicate with your attendees.
We've seen a range of businesses create amazing digital summit experiences on Thinkific. To help you envision what the set up could look like on our platform, we've put together a few examples. While each operates differently in its marketing, delivery schedule, and content types, they all house their content on Thinkific:
Regardless of your event program, one of the first steps you can take in moving your event online is building an event landing page. You can create a sales page right on your Thinkific site, making it a seamless experience for your attendees to register for your event and access the content all in one place. For example, see this one by SLP Summit.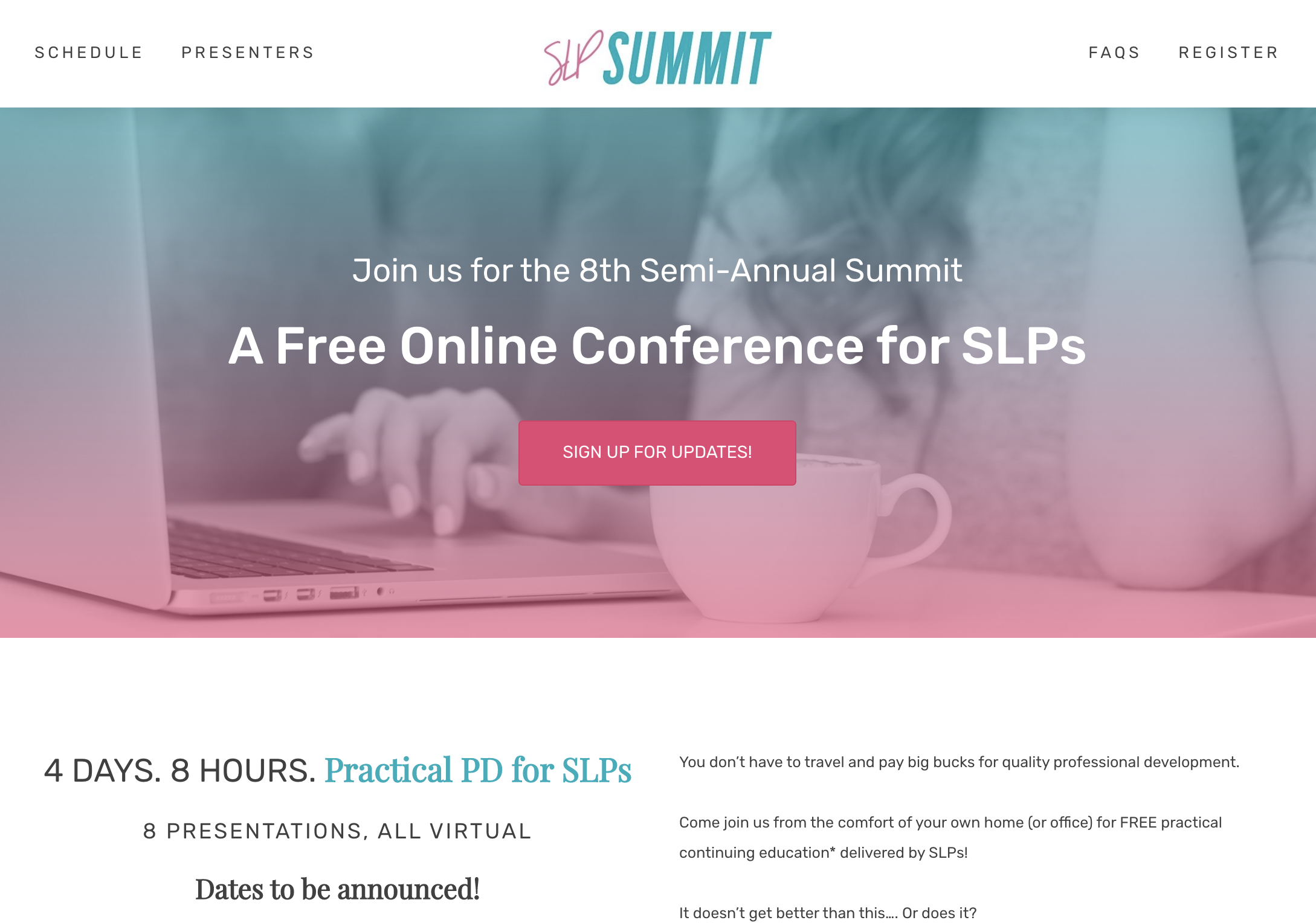 Virtual event registration page on Thinkific.
2. Use livestreams to engage your virtual audience
To recreate fireside chats, panel discussions, live Q&A, or hands-on sessions online, use a live-streaming tool to ensure questions from your audience are addressed in real-time.
You can use an online chat to moderate audience questions before allowing them into the conversation. A great example of this is the Virtual Harp Summit.
This virtual event is designed for harpists all over the world to connect, learn, and improve the mastery of their craft. A key component of the event includes a "social hour", where attendees connect with mentors for a live performance critique through Zoom. All attendees were welcome to join the video call where one harpist will play their instrument and receive feedback on their performance from a mentor. This interactive element has a huge impact on audience engagement.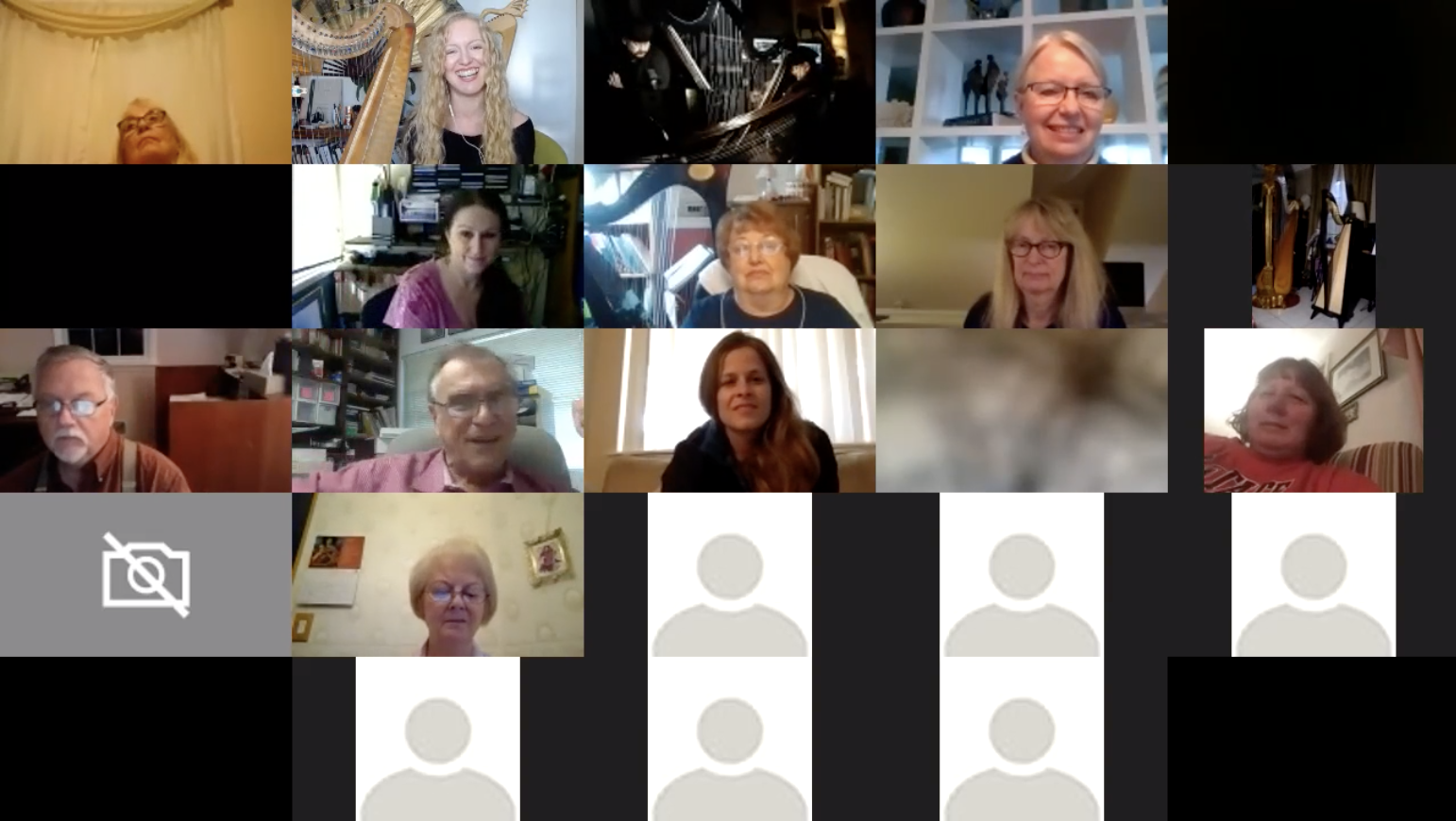 People loved the live social hours so much. They felt really connected to the harp community around the world, and were inspired by the feedback.

DIANA ROWAN, VIRTUAL HARP SUMMIT

Live-streaming tools that can be used with Thinkific:
Zoom – reliable online meeting software. They have a variety of free and paid options.
Jitsi – free, open-source video conferencing tool.
Streamyard – engage your Facebook, or YouTube, Live audience with branded interviews and online chat.
Ecamm Live – branded broadcast studio to go live on all social platforms.
YouTube live – a great platform to go live on with a ton of reach.
Facebook, Instagram, LinkedIn, or Twitter live – go individually on your social media platforms
Related article: New to livestreams? Check out this article on how to run an engaging live-stream session!
3. Pre-record high-quality videos
This is a great strategy for shifting multi-track events, keynotes, and in-depth masterclass style sessions online.
Having content pre-recorded allows you to upload and schedule it to be distributed at specific times. This makes your life much easier as an event organizer and ensures your attendees have a high-quality experience learning online. Let's look at a couple of use cases that work well with pre-recorded content.
Keynotes and masterclasses
The Simply Coaching Summit on Thinkific provides professional development for coaches. The founder, Nicole Turner, decided to get 100% of the content from speakers filmed in advance. She then scheduled out all the content to be dripped out on the specific 'live event' dates.
She did this over the course of four days, scheduling batches of content to release throughout the day. Participants received access to the content for 24 hours, then could pay for an 'All-Access' pass to view the content on an ongoing basis. Having high-quality content pre-recorded made it easy for her to execute a seamless event, and drive revenue after the event date passed.
Multi-track events
If you're wondering how to put a multi-track event online, the Millions Collective event is a good example of this done through Thinkific. The event organizers structured the event into two tracks, with multiple sessions in each. Attendees could choose their track when they register.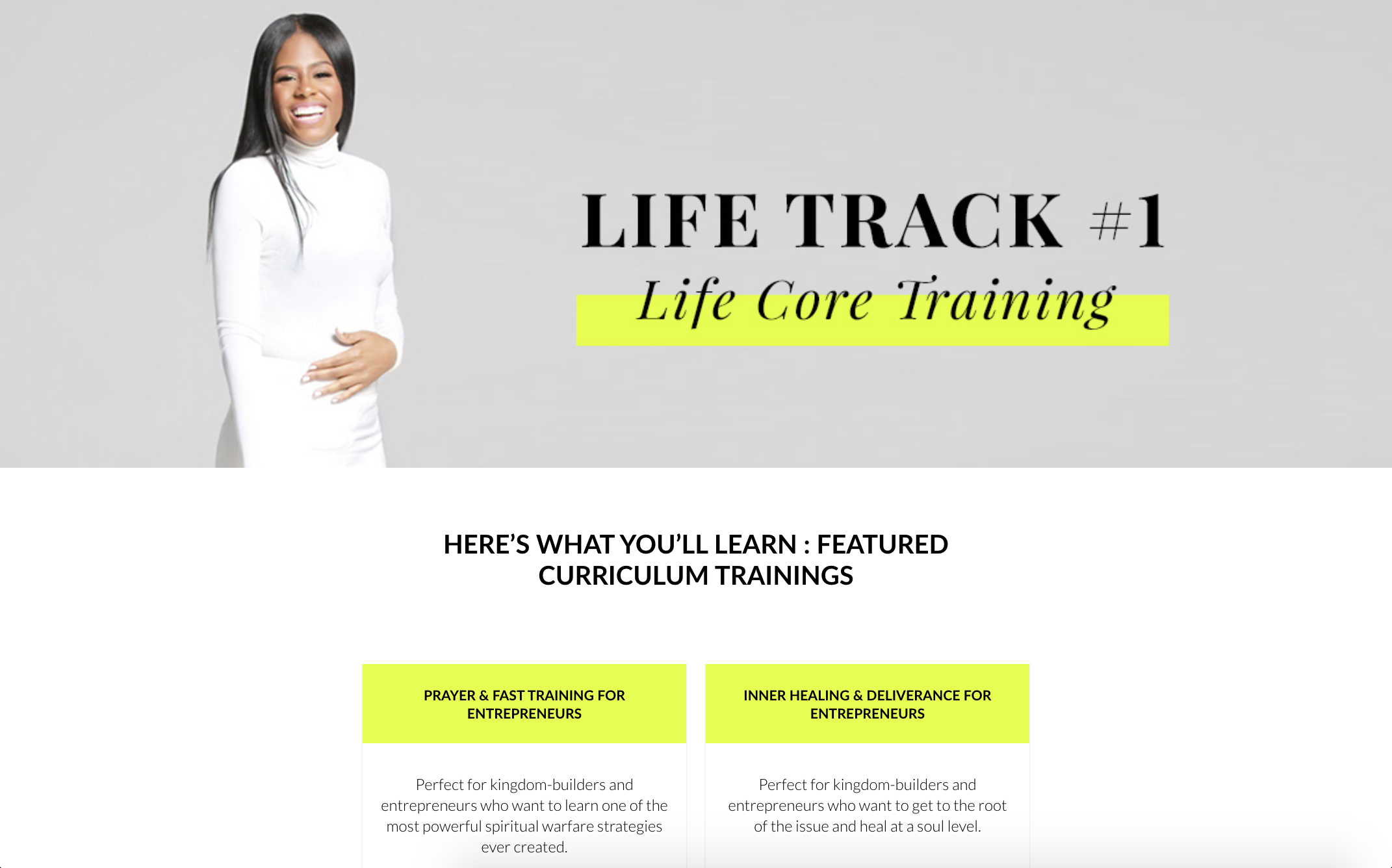 Pro tip: Even though your content is pre-recorded, you can still create a sense of urgency through your event promotion strategy by limiting the days that participants can access the content. Typically the most successful virtual events use a combination of livestreamed and pre-recorded content.
Related article: check out this guide to recording high-quality video content for online learning.
4. Provide a hosted virtual event experience
Putting a bit of effort into creating a memorable online experience for your attendees can do wonders for their engagement. Here are some tips for bringing an in-person feel to your virtual event.
Film a welcome video
Plan to deliver a welcome video that introduces the event and tells your attendees what to expect. This can really help set the tone for your virtual event and make your audience feel connected. You can pre-record this, or hop on a livestream to introduce the event in real-time.
Check-in with attendees between sessions
For the Thinkific Amplify 2020 summit, our team ran a live-stream between sessions each day to debrief learnings and do audience Q&A. The live-stream was active throughout the four days of the summit and was a great way to connect with the audience and announce exclusive Thinkific offers.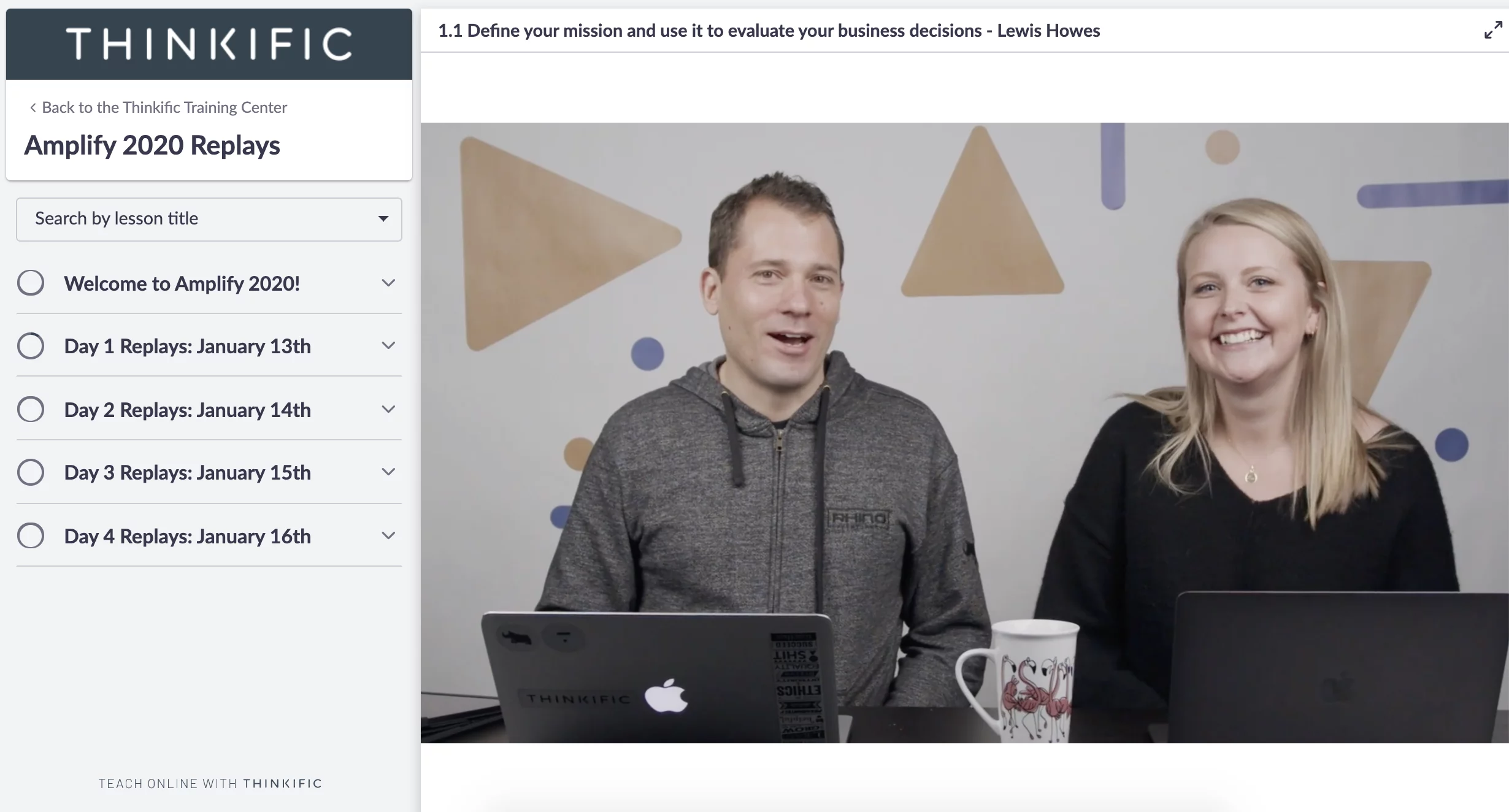 Curate your content experience
As with in-person events, successful online summits present each session as part of a curated theme or storyline for your attendees. If you have a theme for your event, schedule your sessions so that they build on one another. Using Thinkific, you can easily set up different session tracks and groups by bundling content together.
Here's an example of the Simply Coaching Summit structured their virtual event with the theme, 'get in the game' for coaches. They achieved this by sandwiching shorter sessions between keynotes and a 'half-time' interview.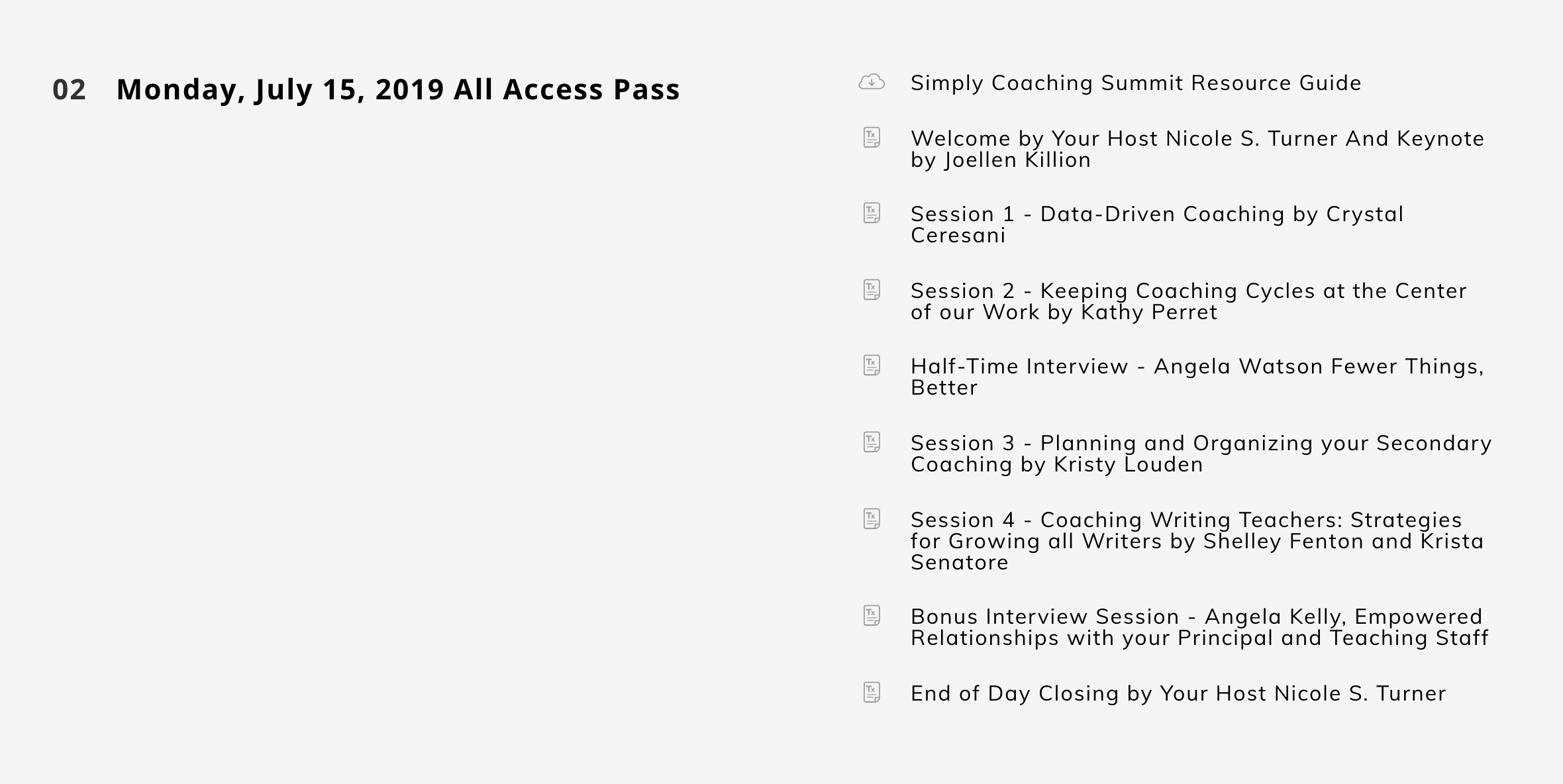 5. Build community into your virtual event
If networking and community building are big parts of your event plans, don't worry—there are many tools available to help you foster community online.
Whether you plan to facilitate curated networking opportunities, or create touchpoints to engage with people beyond the event, here are some helpful tools.
Thinkific Communities
Thinkific offers a built-in online community feature that makes it easy for attendees to communicate with you and each other right in the event platform. You can brand the digital community with your own font, colors, and images to make the experience fit seamlessly with the rest of your event. People can view and comment on each others' posts, discuss learnings, and share files like videos and images.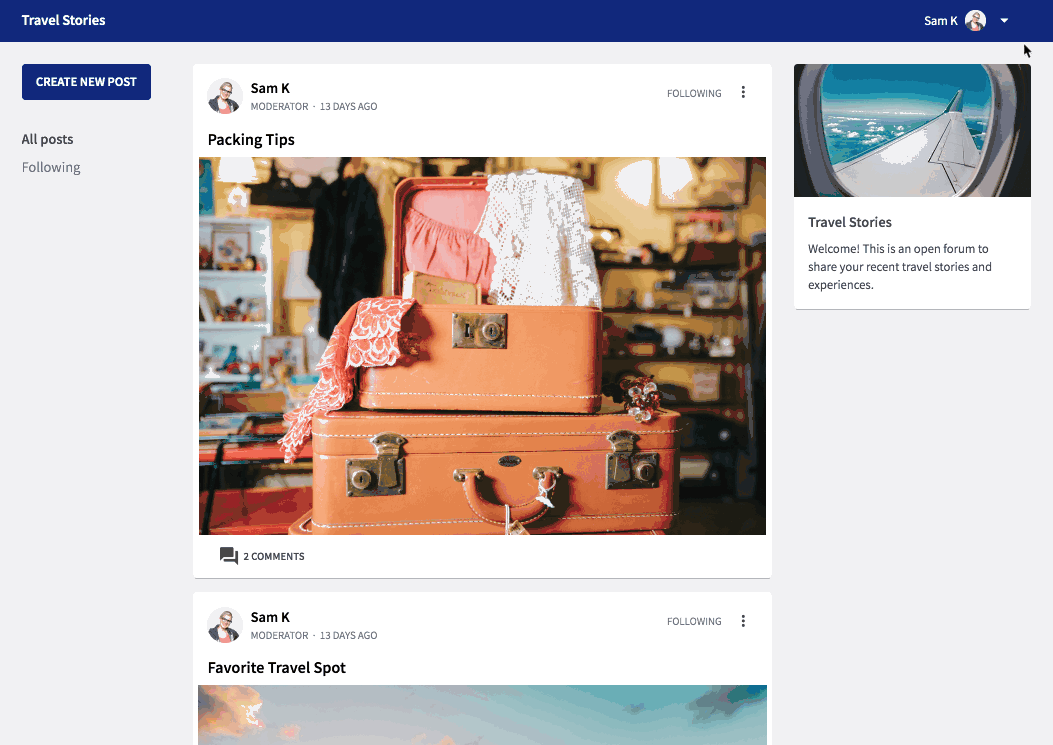 Facebook Groups
Facebook Groups are also powerful tools for creating virtual event communities. At Thinkific, we've also used Facebook groups to connect with attendees of our own virtual summits.
For example, Think In Color was a virtual event we designed to celebrate, connect, and educate underrepresented women who are thriving as entrepreneurs and online business owners. The event was attended by 10,000 people, many of whom joined the designated Facebook group. The group now has over two thousand members who continue to chat around related topics like diversity, business, and women in leadership over a year later.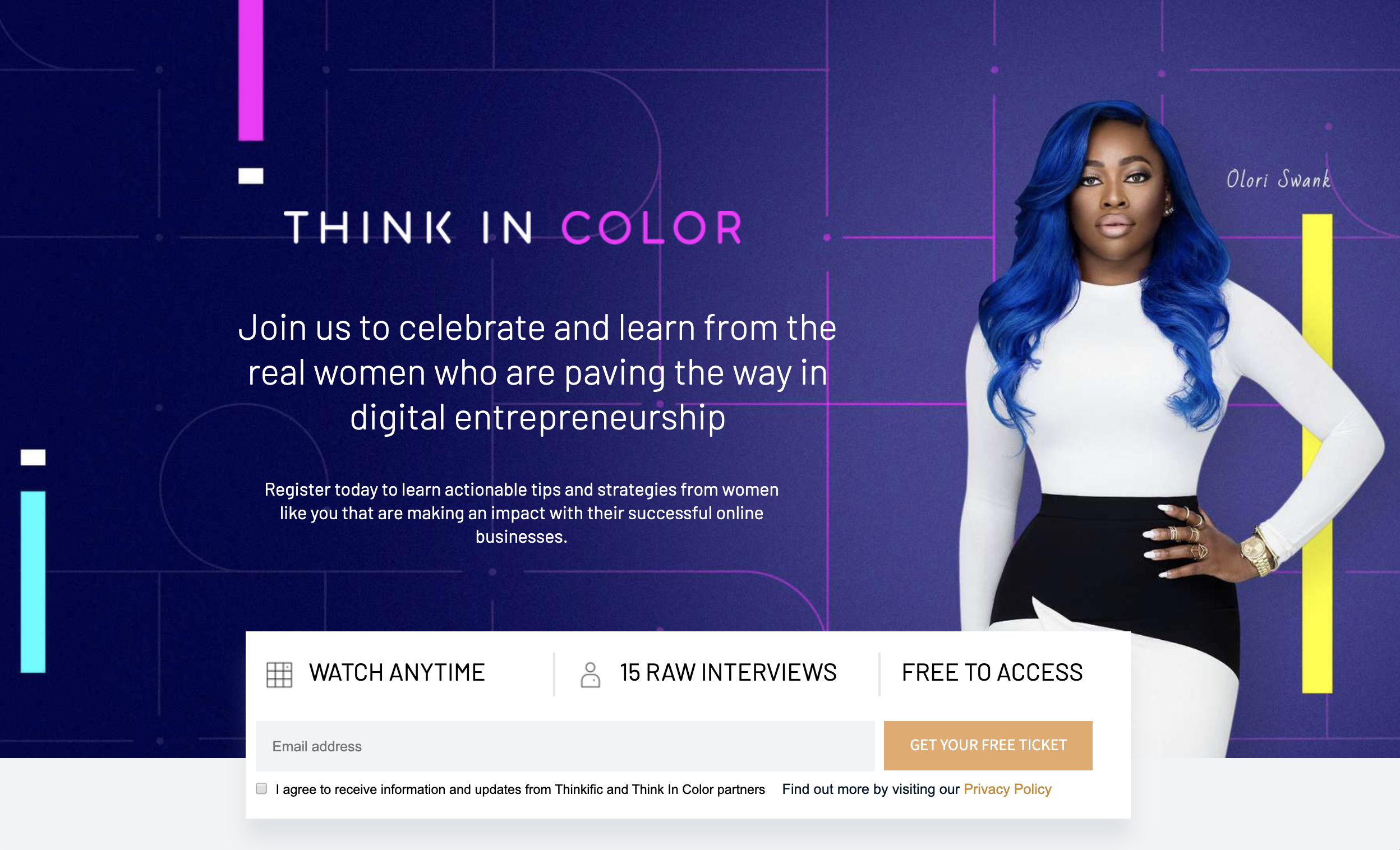 Slack
Slack is a great choice if you want to facilitate virtual networking and give attendees the ability to chat one on one.
With Slack you can create channels for different topics or attendee groups, allowing people to choose how to connect based on their interests. Attendees can easily float in and out of the channels, and decide which conversations they want to be a part of.
Slack also makes it easy for attendees to message each other individually and form their own groups, making for a rich digital networking experience.
6. Use resource materials and guides
Providing handouts, worksheets, and branded/sponsored collateral are often part of the typical event flow. How do you carry over those plans when you shift to a digital event experience?
On Thinkific, it's easy to upload materials like PDFs, worksheets, and other supplementary session materials right into your virtual event site. As long as you can convert these assets into digital equivalents, you can specify how attendees get access to them.
Pro tip: After studying thousands of online learning experiences at Thinkific to understand what makes them great, we found that including interactive materials helps your audience stay more engaged with your content.
7. Set up and integrate your virtual event tools
As we've seen, running an event online will likely require you to use a variety of different tools. From doing marketing and email management to processing payments, and attendee communications, you'll want to connect the dots between your systems as much as possible.
Thankfully, Thinkific integrates with thousands of apps and other platforms, making it easy for you to coordinate your virtual event logistics.
Here are a few additional tools helpful to virtual event organizers:
Unbounce – for launching landing pages
Active Campaign – email marketing & CRM tool
Google Analytics – for tracking campaign insights like traffic and conversions
PayPal & Stripe – for ticket payment processing
EarlyParrot – referral marketing tool for social
To see a full list of the apps we integrate with, visit our integrations page.
Converting your in-person event to a virtual event may seem daunting. But by following these tips, you can get an amazing virtual event running quickly that still provides value to your attendees.
---
Want to put your event online with Thinkific? Get started for free today!