YouTube Video marketing is a hot topic among entrepreneurs right now, and for good reason.
According to Cisco, video content will account for 80% of all internet traffic in 2020. Since more than half of the world's population is now using the internet, that's a lot of traffic.
Not surprisingly, the growing demand for video content has many businesses scrambling to create a video marketing strategy to increase their exposure, traffic, and sales. Several entrepreneurs recognized this trend early and are already way ahead of the curve.
Our CEO Greg Smith, for example, has been quietly generating between $3,000-$5,000 per month in sales of his Alpha Score course (an online course that helps law school students prepare for the LSAT), all thanks to traffic from YouTube videos he published over 6 years ago: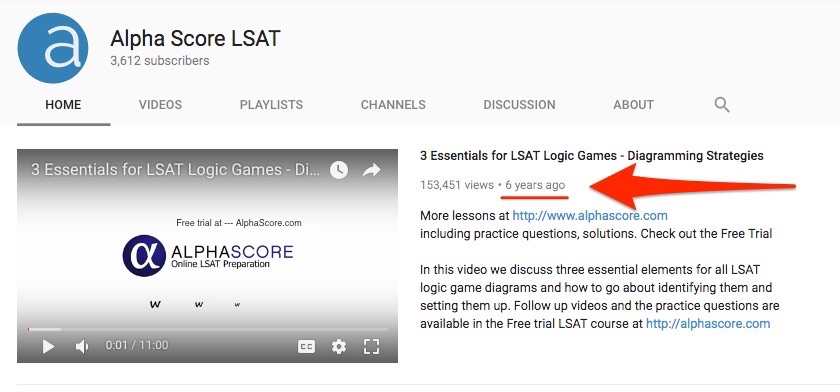 So yes, video marketing works.
If you haven't started creating video content to promote your business yet, don't fret. You're definitely not alone.
In the U.S. it is estimated that only 9% of small businesses use YouTube, leaving plenty of room for newcomers to start creating videos and start gaining some serious traction.
Before we created this guide, we reached out to several top video marketing experts and YouTube channel owners to find out exactly what they're doing to create high-quality videos, get more views, and leverage YouTube to grow their business.
You'll find several of their insights and examples from their YouTube channels throughout this guide.
Here's what we're going to cover in this guide:
Feel free to skip ahead to any of the sections in this guide that will be most helpful for you right now.
Why publish videos on YouTube?
Although most social media platforms encourage the creation and sharing of video content, YouTube is without question the number one source of video content online. Second only to Google, it is the second largest search engine in the world.
So although there are certainly benefits to publishing video content on other social platforms (live streaming and Instagram stories are both great options worth paying attention to), for this guide we're focusing exclusively on YouTube.
Here are a few advantages of having videos on YouTube:
Traffic: With over 1 billion users, YouTube processes over 3 billion searches every single month (that's more search traffic than Yahoo!, Bing, Ask and AOL combined!).
Website Engagement: According to a study by Shareaholic, visitors who navigate to a website from YouTube spend the most time on site, view the most pages, and have the lowest bounce rates compared to any other social media platform.
Google search results: Since YouTube is owned by Google, you will usually see one or two YouTube videos in the top ten results of a Google search.
Repurpose content: If you have content in other formats (such as blog posts or podcast episodes), you can easily repurpose that content into videos. The visual learners in your target audience will certainly appreciate it.
You can advertise: If you're getting tired of diminishing returns from other advertising platforms, give YouTube's video ads a shot. The cool thing about YouTube's video ads is you only pay if someone engages with your ad.
People love sharing videos: YouTube videos are extremely easy to share. They can be embedded in Facebook posts, blog posts and tweets, and all those views still show up on your YouTube channel.
YouTube Video Marketing Strategies that work great in 2020 Click To Tweet

The 3 Main Types of YouTube Videos
The majority of the videos on YouTube fall into one of the following categories:
1. Educational videos (helpful how-to advice about a specific topic)
2. Inspirational videos (pulls on your heartstrings and inspires you to take action)
3. Entertaining videos (captures your attention, meant for enjoyment)
Assuming the goal of your video marketing strategy is to increase sales for your product or service, that means your videos need to attract your target market. So while inspirational and entertaining videos can certainly attract more views, they won't necessarily attract your target audience. For that reason, we're going to focus on creating helpful videos for a specific target audience.
This doesn't mean that your video can't be inspirational, or entertaining, or both (remember that Dollar Shave Club video that went viral?). It just means that you should prioritize being helpful to a specific target audience – your ideal customers – above being entertaining or inspiring.
"Make it for the audience. Know the audience, make it shareable. Would you share it if you didn't make it? Always ask yourself that."

– Devin Graham, Devin Super Tramp
How YouTube Ranks Videos in Search Results:
Since the goal of your videos is to be found by the people who are searching for your topics, we need to understand a little bit about how YouTube decides to rank the videos that appear in the search results for specific search terms (aka keywords).
Basically, there are two main criteria that YouTube considers when deciding where to rank a specific video in their search results: relevance and popularity.
Relevance tracks how relevant a video is to the search terms that someone uses to search for videos. If you search for "funny cat videos", for example, YouTube's job is to show you a list of funny videos that have cats in them.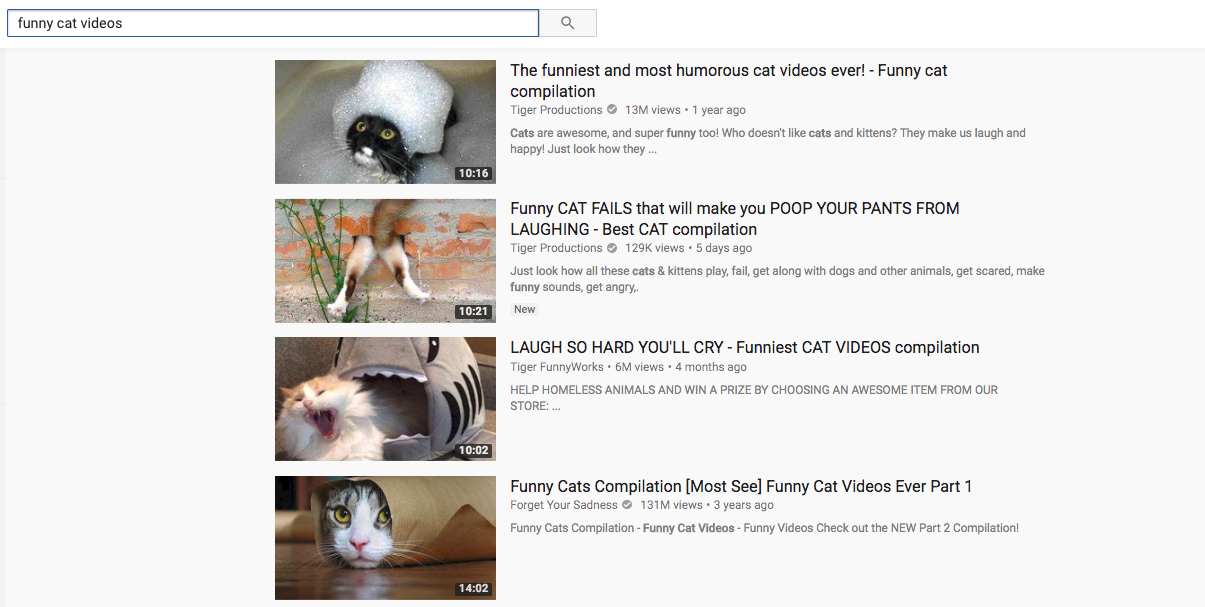 Here are some of the main attributes YouTube uses to evaluate how relevant your video is to specific search terms:
Your video title
Your video description
Your video tags
Your video closed captions
Your video thumbnail image
Popularity tracks how popular a video is and uses this to push more popular videos to the top of the search list. So a cat video with millions of views and thousands of comments will likely rank higher than a cat video with a few hundred views and no comments.
Popularity attributes include:
% watched (video retention)
# of views
# of ratings (likes/dislikes)
# of comments
# of subscribes after watching
# of shares
# of favorites
If you're publishing videos to promote your business, you're probably going to lean more heavily towards relevance than you are towards popularity in your videos, and that's okay.
When your goal is to attract customers from your YouTube channel, you likely won't need millions of views to generate a positive ROI on your video marketing efforts. For many businesses, a few thousand or even a few hundred views per video can be enough to increase their website traffic, leads and sales.
This has certainly been the case for Carissa Hill, an online entrepreneur that was able to scale her coaching business to more than $100,000 in monthly revenue with the help of video marketing. She achieved this with less than 2,000 subscribers on her YouTube channel.
"I started my online coaching business with videos and my company has grown by 4X consistently every year since I started. The more subscribers I get, the higher my revenue gets. I only have about 1,400 YouTube subscribers but my sales are over 6 figures per MONTH consistently. I use YouTube videos for my content marketing and email them out to my list. I also use them as private paid trainings (online courses) that I sell. Video has allowed to me to build a wonderful relationship with my followers and clients and I have made it the main part of my marketing and sales strategy."
5 Steps to Creating YouTube Videos That Attract Customers For Your Business:
Unless your only reason for publishing videos on YouTube is to increase exposure for your business, the total number of views you receive isn't nearly as important as the number of views by your target audience.
With that in mind, here is the 5 step process that top video marketers and entrepreneurs are using to create YouTube videos that attract their target audience:

Step 1: Choose Your Video Topic
The key to choosing video topics that your target audience will want to watch is to remember that your product or service is a solution to a specific problem.
This is why understanding your target audience, and more specifically, your ideal customer is so important. If you understand what problem they are facing, then you can create videos to help them solve that problem and learn about your business in the process.

Here are a few ways that you can identify potential topics to create videos about:
Ask your email subscribers what they want to learn from you.
Ask your past and/or existing customers.
Ask your customer support and/or sales teams what the most commonly asked questions they receive are.
Scan the top blogs, podcasts and YouTube channels in your industry for popular content. Read the comments to identify gaps in their content that you can cover in more detail.
Join a few Facebook and/or LinkedIn groups about your industry. Look for popular discussion topics and questions.
Once you have some topic ideas in mind, we recommend doing some additional keyword research to validate the demand for those topics. The higher the popularity and search volume there is for your topic, the higher the potential for organic traffic to your video.
Here are some of our favorite tools for validating the demand for a specific keyword/topic:
Google's Keyword Planner – great for estimating the total number of global monthly searches for your chosen keyword, as well as recommended other similar keywords.
YouTube's search bar – type your keyword into the search bar on YouTube. Look at the similar keywords that show up in the dropdown list.
BuzzSumo – use this to search for other popular websites and content on the web that cover the same topic and have received lots of social shares and backlinks. This tool is also great for monitoring top performing content on your competitors' websites.
Let's pretend that you need to create a video to help promote your pet nutrition company. Assuming dog treats are one of your products, you might select "healthy dog treats" as a potential video topic.
Here's what we found when we researched this topic using these tools:
Google keyword planner:
According to Google's Keyword Planner, the keywords "healthy dog treats" receive 6,600 average monthly searches. Although this is certainly a decent amount of monthly searches, if we look at the list of related keywords below it we see a few others that get more searches each month. "Dog treats", for example, receives 33,100 average monthly searches, and "homemade dog treats" receives 27,100.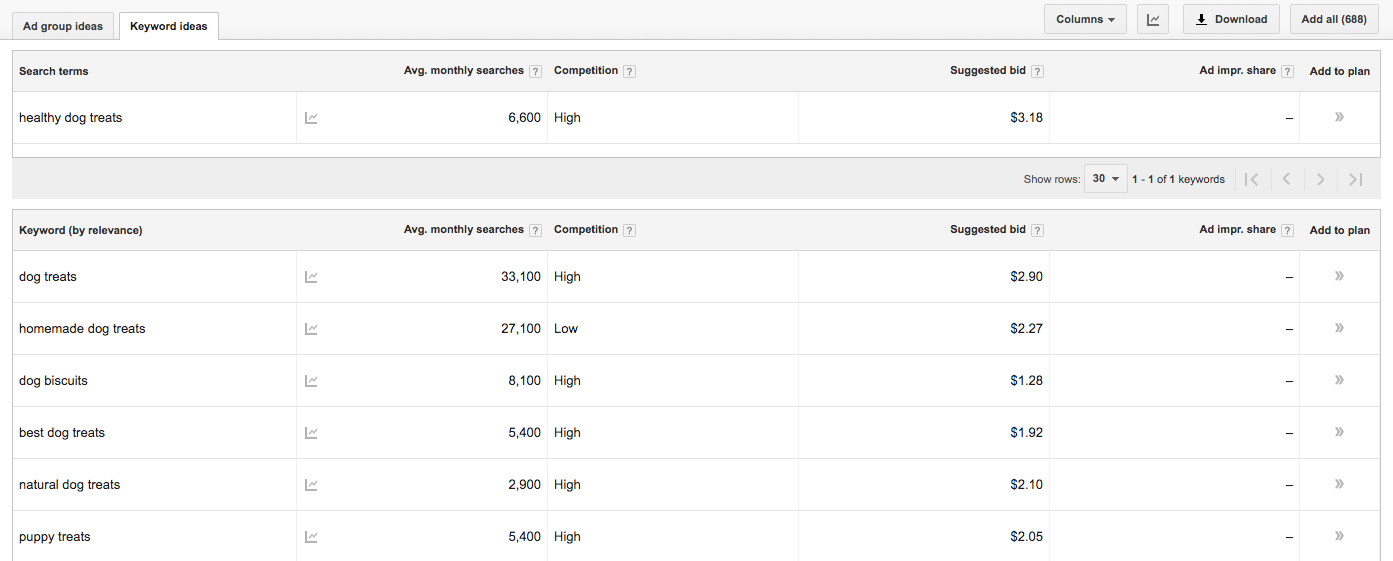 YouTube search bar:
When we type "healthy dog treats" into the search bar on YouTube, a dropdown list of similar search terms appears. These are great suggestions for potential video topics and titles.
Notice the word "homemade" appears in 2 of the suggestions in the dropdown list. This is a sign of strong demand for healthy dog treats that are homemade.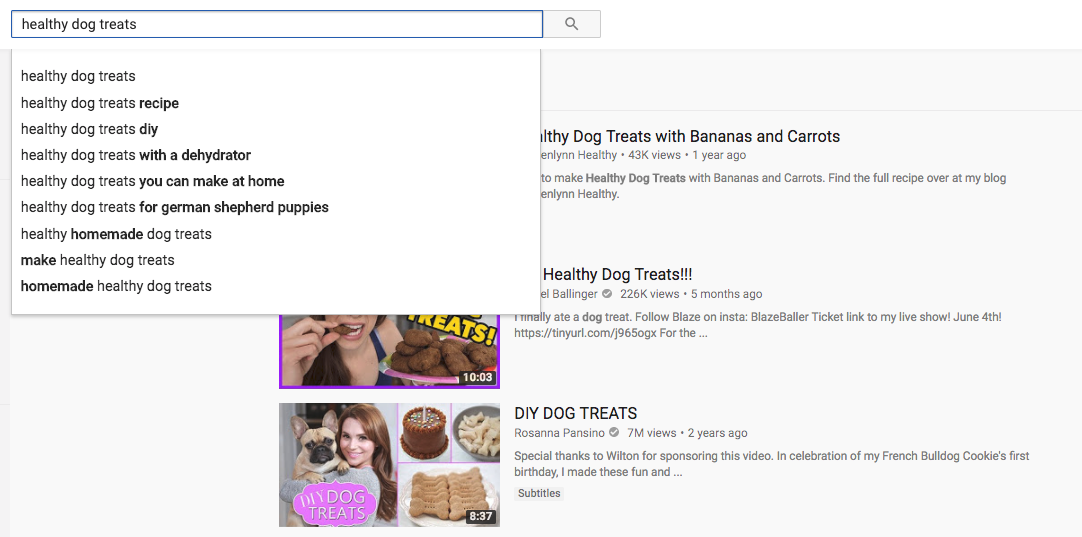 "Do your research on what topics are trending in your space, what your customers want to know from you, and what kind of content gets engagement in your niche. Using tools like Google Keyword Planner will allow you to see how many people are searching for your video per month and that will guarantee an audience before you even hit record."
BuzzSumo:
When we type "healthy dog treats" into BuzzSumo, we are presented with a list of content that contains these keywords in their headlines, ranked in order of the number of social media shares.
As you can see from the screenshot below, 2 out of the top 3 pieces of content include the word homemade in their titles. I think we might be onto something here…

With the pro version of BuzzSumo, you can also export a list of people that have shared this content on social media, and a list of websites that currently link to it. Those lists come in handy when it's time to promote your video (more on that later).
Validate demand for your topic, then move on to Step 2
As we can see from doing this research, "healthy dog treats" is a topic that thousands of people search for each month. As a pet nutrition company, having a video on YouTube that ranks for this search term can result in additional exposure to your target audience (presumably dog owners) and qualified traffic to your website.
"Review other content that performs well for a target audience and either make the same kind of content but way better, or see what's 'missing' and make content to fill that space."

– James, Casually Explained
Step 2: Record Your Video
Once you've selected a specific topic, it's time to start recording your video.
Remember, your primary objective is to create a video that is helpful for your target audience. Creating videos that are entertaining and/or inspiring should be your second priority.
Video structure:
We recommended scripting your video before you start recording (not necessarily word-for-word, but at least have an outline). This will help you stay focused during your video and not ramble in different directions.
Every video you create should contain 3 distinct parts:
1. An Introduction
Introduce yourself and the topic you are going to cover in your video as quickly as possible. Most people who search for and find your video won't know who you are before they watch it. They want to learn about the topic, not about you. Keep your introduction brief and tell them exactly what the outcome of the video.
"Hey, John Smith here from XYZ.com. In this video, I'm going to show you how to (insert topic) so you can (insert benefit). Okay, let's get started…"
2. Your Main Content
Share your best advice on your chosen topic. If you can be entertaining or inspiring at the same time, great. But above all, share practical advice (no fluff!) that answers a specific question, helps your audience solve a problem, or achieve a specific result.
"Context always matters. You have to be relevant and engaging to your target audience."

– Roberto Blake, Always Be Creating
3. A Call-To-Action
At the end of your video, give your viewers something to do. Ask them to leave a comment, share your video, visit your website, watch another video, download a free resource, subscribe to your email newsletter, etc. Never leave a viewer without a specific next step to take.
"Always include a call to action at the end of the video so your audience can like and subscribe. In order to get comments, ask a specific question then prompt them to respond in the comments."

– LaTisha Styles, Young Finances
Video length:
You might think that most people have short attention spans, and in many circumstances, you're right. According to Time, for example, 55% of blog visitors spend less than 15 seconds reading an article.
On YouTube, however, the data speaks for itself. From Omnicore's 2019 statistics, the average viewing session is 40 minutes, up 50% from last year. So if you've been told that you should create short YouTube videos, you might want to ignore this advice.
YouTube is very interested in keeping people on YouTube, and longer videos help them accomplish this. Therefore, we can safely conclude that on YouTube, longer is better.
In fact, after analyzing over 1.3 million YouTube videos, SEO expert Brian Dean discovered that the average length of a video that ranks in the first page of search results on YouTube is 14 minutes and 50 seconds long.
"Most people say that people won't watch long web video, but that's absolutely not true. Like with text content, people want a comprehensive answer in one place. And a long video allows you to do just that."

– Brian Dean, Backlinko 
With that in mind, we recommend creating videos that are at least 5 minutes long. If the top ranking videos for your target keyword are longer, you might want to create a video that is longer than those competing videos. Remember, as long as your video is helpful, most viewers won't mind how long it is.
"Get right to the point. Length doesn't matter but make sure each video starts off with a clear thesis so that viewers know exactly how they're going to spend the next 5, 10, or 60 minutes of their lives."

– Clayton Morris, Morris Invest
Video recording equipment:
The majority of the video marketers we reached out to have relatively simple and inexpensive recording equipment.
Many of them created their first videos using only their phones and gradually purchased additional recording equipment as their audience and business grew.
That being said, it doesn't take a ton of equipment to record high quality, professional looking videos. At a minimum, we recommend purchasing a high definition camera, a tripod, a microphone, and a lighting kit.
For specific cameras, microphones, and lighting recommendations check out our list of recording equipment recommendations here.
"Your viewer cares more about finding helpful content than a high-end production. YouTube is a search engine, and your ideal customers are searching for answers to their questions and solutions to their problems. There are videos that have millions of views that were shot on an iPhone."
Step 3: Edit Your Video
Whether you're creating videos for your own business or personal brand, or on behalf of a client or employer, just because you're the one creating and/or appearing in those videos does not necessarily mean that you should also be the one who edits them.
As a marketer or entrepreneur, a better use of your time is creating and promoting videos. You're welcome to edit your own videos if you want to, but in most cases, we recommend leaving this step to a professional.
If you don't have a video editor in-house, you can find plenty of freelance video editors on Upwork and other freelance marketplaces. That being said, it's still good to have a basic understanding of the video editing process before you delegate this step to someone else.
Every video has both an audio and a video component. Therefore, there are actually two types of editing that need to occur:
1. Video
The purpose of this step is to optimize what your viewers see. In this step, you'll do things like remove filler or irrelevant content, change camera angles, add graphics, transitions, screencasts, b-rolls, bullet points, etc.
2. Audio
The purpose of this step is to optimize what your viewers hear. The audio quality of your videos should not be taken lightly. Poor audio quality really detracts from someone's viewing experience. In this step, you'll do things like adding a voiceover to specific parts of your video, sounds effects, music, fade in/out, etc.
To edit your videos, you'll need video editing software. Fortunately, there are plenty of free and inexpensive options to choose from. Here are some popular ones:
To give you an example of a well-edited video, check out the video about recording equipment by video marketing expert Sean Cannell below. Notice his use of different camera angles, transitions, sound effects, background music, etc. These are all a result of good editing!
Once your video has been edited, save your video and include your main keywords for the video in the file name. This can help your video rank higher in search results for your main keywords.
If you want to learn more about video editing, simply search for "how to edit videos for YouTube" and you'll find plenty of helpful tutorials.
"Plan it, script it, shoot it, edit it, re-edit it, then re-edit it again. When you finally killed all the crap no one cares about, re-edit it again until it does and says what you meant it to. Now add a ton of b-roll, graphics, etc. Then quit messing around with it and post it."

– Kevin Filmmaker, The Basic Filmmaker 
Step 4: Publish Your Video on YouTube
Once your video has been edited and it's ready for publishing, it's time to upload it to your YouTube channel.
We recommend uploading your video as "Unlisted" until you complete the following steps. Once these steps are complete, go ahead and set your video to "Public" for the world to see.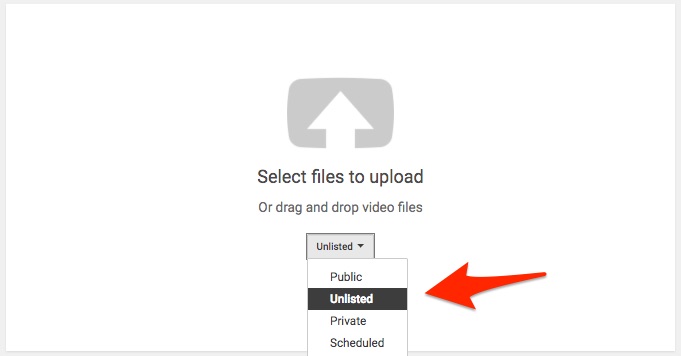 1. Add your video title
Give your video a compelling title that includes the main keyword that you chose for your video. Try to keep your title to 70 characters or less (anything longer will be truncated in most search results).
If you need some help coming up with a compelling title, CoSchedule has a great Headline Analyzer tool that gives your headline a score out of 100. You can use this to test a few different headline ideas and pick the one with the highest score.

2. Add your video description
Your video description appears below your video. YouTube currently has a 5,000 character limit on video descriptions, but that doesn't mean that you should use all 5,000 characters.
Some SEO experts will tell you to write long descriptions for your videos and stuff them with the keywords that you want your video to rank for. But according to Brian Dean, this approach doesn't work.
"We found zero correlation between keyword-optimized video descriptions and rankings."

– Brian Dean, Backlinko
One possible explanation for this is that YouTube is now much more capable of understanding what a video is about based on the video itself, and they don't actually rely on the text in a video description.
With that in mind, we recommend writing a brief paragraph (100-300 words) to describe the content in your video. Use the rest of the available space in your description section to include specific CTAs, links to your website, additional resources, your social media profiles, and so on.
Here is the screenshot of the description of a video by real estate investor Clayton Morris on the downside of buying turnkey real estate (a great topic for his target audience, by the way!). As you can see below, he uses the first paragraph in his description to describe his video, and the rest of the space to provide specific CTAs and additional links for his viewers: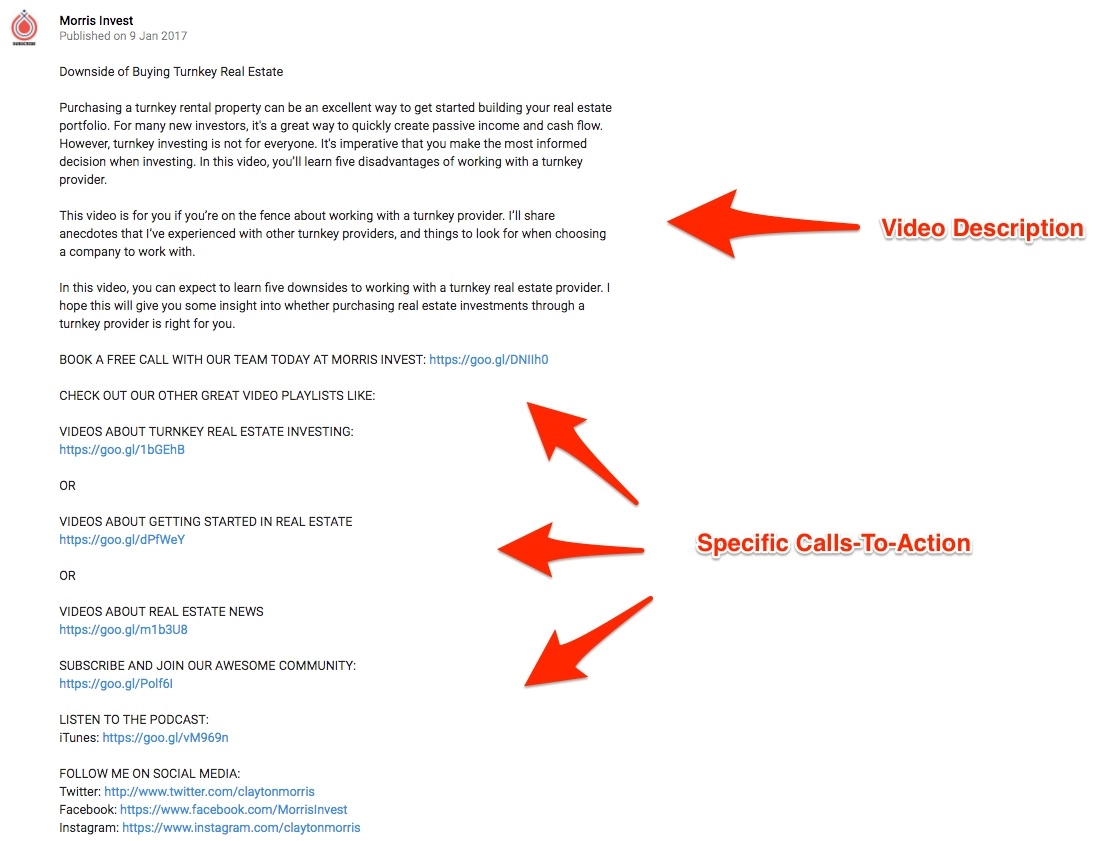 3. Add your video tags
The appropriate place to add specific keywords to your video (like the ones you identified when you researched your video topic) is in your video tags. We recommend including at least 5-10 similar keywords in your video tags.
When we did our keyword research for the term "healthy dog treats", we discovered several similar keywords that people are using to search for that topic. For that video, would use those keywords in our video tags: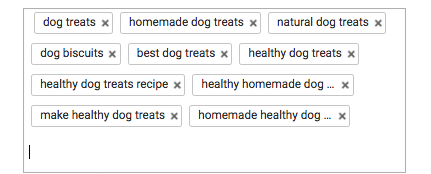 4. Upload a custom thumbnail
Your video thumbnail is the image that people see before they click to watch your video. An attractive thumbnail, along with some text that helps describe the video, can help entice potential viewers to click on your video.
If you don't upload a custom thumbnail for your video, YouTube gives you 3 choices of random screenshots from the, which most of the time are not very flattering.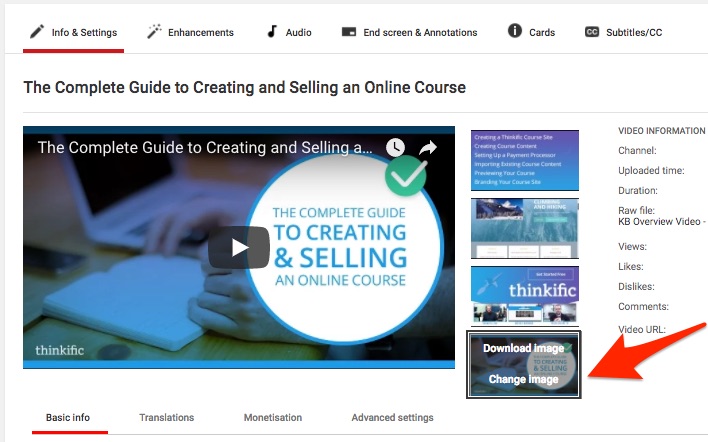 You can use tools such as Canva or Snappa to easily create attractive thumbnail images for your videos.
YouTube Video Marketing Strategies that work great in 2020
Click To Tweet
5. Add cards & an end screen to your video
YouTube has two great features that you can use to help increase engagement with your videos: cards and end screens.
Cards can be added to any point in your video. They are used for pointing viewers to specific URLs, showing custom images, titles, and calls to action, depending on the card type. Cards are a great way to encourage your viewers to click on something during the video, such as a link to a specific product or resource that you mention in your video. You can learn more about adding cards to your videos here.
End screens appear in the last 5-20 seconds of your video. They are great for giving your viewers a next step to take, such as to subscribe to your channel or watch other videos. You can learn more about adding end screens to your videos here.
Here's a screenshot of an end screen that appears at the end of one of Marie Forleo's videos. As you can see, it contains a link to watch another one of her videos, and a few other calls to action (subscribe to her channel, follow her on social media, and visit her website) below.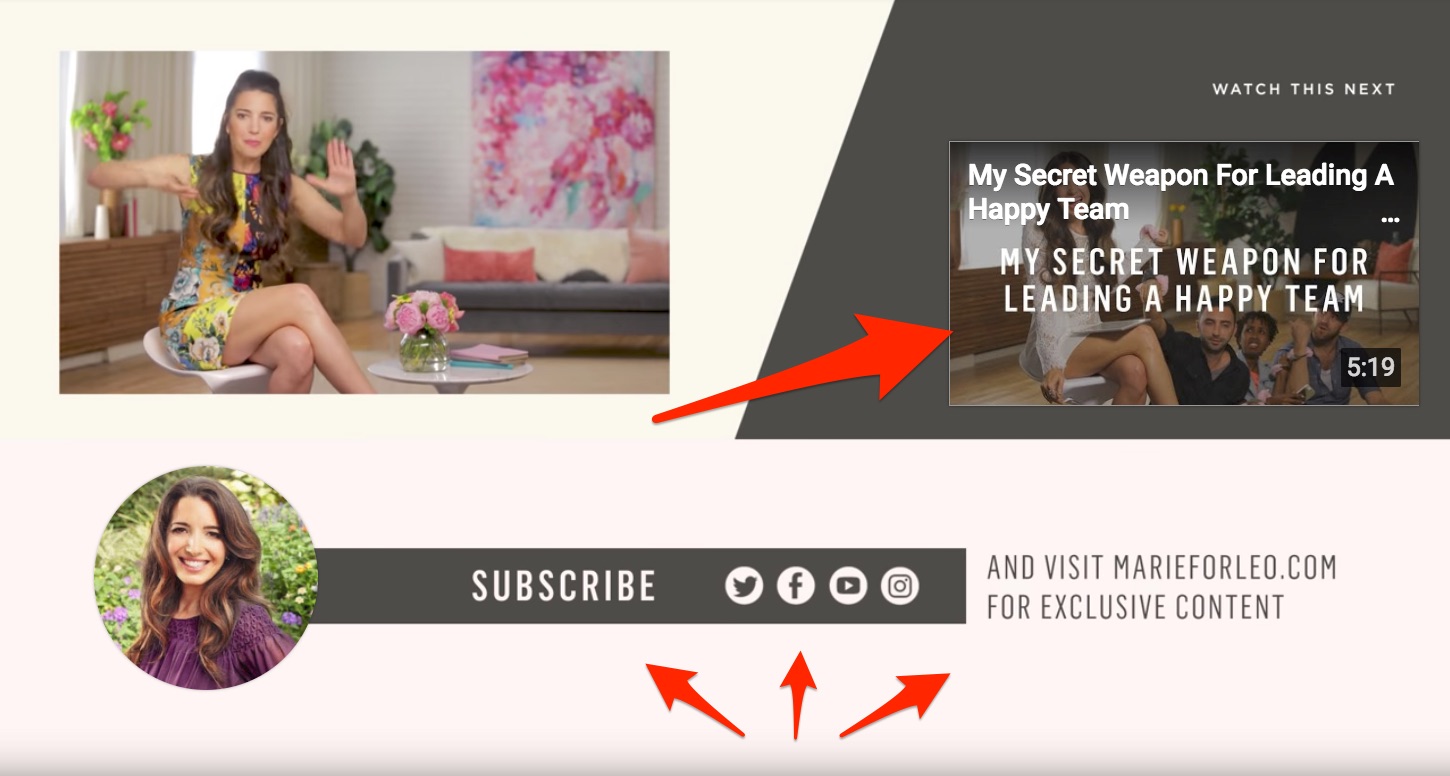 "Show your other related videos at the end of the video. This is the moment when your viewers are most engaged in your content. If you linked to 2 other videos of yours on every video you make, you end up with a huge network of interlinking videos that boost their rankings and traffic."
6. Add subtitles/closed captions to your video
Adding subtitle/closed captions to your videos helps YouTube to better understand what your video is about, which will help it rank better in search results for your video topic/keywords. They also help people who can't hear (or choose to mute your video) understand what is being said in the video.
There are a few ways you can add subtitles/closed captions to your video:
Upload a file: upload a text transcript or timed subtitles file. You can use a professional transcription service such as Rev to obtain an accurate transcription.
Transcribe and auto-sync: type or paste in a full transcript of the video and YouTube will set the subtitle timing automatically.
Create new subtitles: create subtitles and closed captions by typing them in as you watch the video.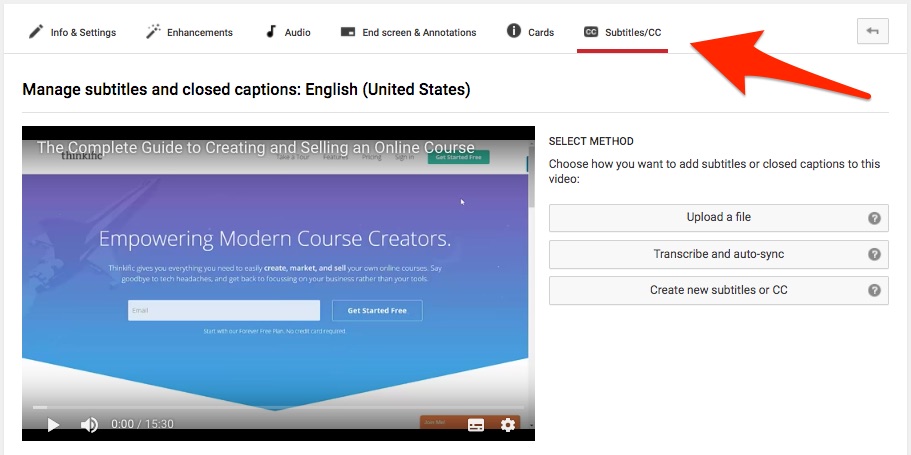 To learn more about adding subtitles and closed captions to your videos, check out YouTube's tutorial here.
"Be consistent. Be present. Be personal. Be real. Be vulnerable. Be yourself. Be awesome."

– Bryan Elliott, Behind The Brand
Step 5: Promote Your Video to Increase Views and Shares
In the long-run, the goal of your videos is to attract organic traffic by ranking the search results for their respective keywords/topics.
To give your videos the best chance of consistently attracting new viewers on a long-term basis, it helps to promote them as soon as they are published. Promoting your videos as soon as they are published helps give them an initial boost of traction, which helps encourage YouTube to rank your video higher than competing videos.
Here are some things you can do each time you publish a new video to help increase views and shares:
1. Send the link to your video to your email list
Send an email to your list of email subscribers with a link to watch your video. Share a quick story about why you created this video, what they will learn from it, and the benefits of watching it. Encourage them to comment on the video, ask a question, or share it with someone that would also enjoy it.
2. Share your video on social media
Share your video with all of your fans and followers on all of your social networks. Some video marketers create separate promotional videos to encourage their audience to watch their latest video on YouTube. You could also create a teaser video to show a short clip from your main video, and include a link to your main video in their post.
Sunny Lenarduzzi, for example, often shares short teaser videos on Instagram to promote her latest YouTube videos: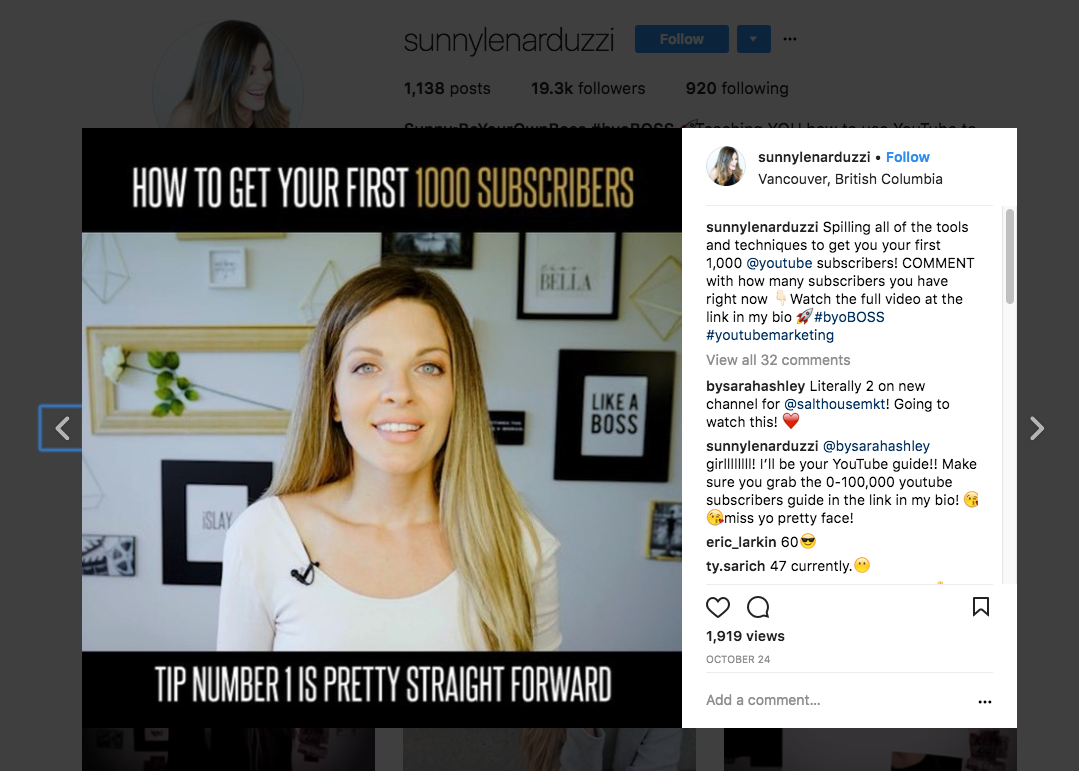 "We personally run YouTube ads but you can always add a CTA at the end of your video asking people to like, subscribe, and share! And don't forget your email list and social channels."

– Eric Siu, Growth Everywhere
3. Embed your video in a blog post
If you have a company website and/or blog, publish a blog post that summarizes our YouTube video and includes a link to the video itself. This simple act of publishing a blog post that includes a link to your YouTube video can help to increase its ranking on YouTube.
4. Collaborate with other experts
Although this is technically accomplished during the video creation phase, featuring other people in your videos can help increase exposure to new audiences, especially when the people featured in your video help to share it.
Interviewing other experts and content creators in your industry is a great way to accomplish this. Video interviews can also easily be re-purposed as podcast episodes, blog posts, and case studies.
Lewis Howes, for example, regularly interviews guest experts for his School of Greatness Podcast. Since these interviews are recorded in person, the videos are a great addition to his YouTube channel, helping him to attract more views and subscribers for his channel,

We've implemented this technique with Thinkific's YouTube channel as well. We regularly invite guest experts to discuss various aspects of online course creation, marketing, and entrepreneurship. We've also interviewed several of our customers, which serve as inspiring case studies for our audience.
5. Reach out to people that have shared and/or linked to similar content
Remember the BuzzSumo tool we introduced you to in Step 1? If you have the pro version or above, you can export a list of people that have shared and/or linked to similar content online. From there, you can reach out to each person individually (email and Twitter are both great ways to do this) and invite them to check out your video.

Although this can be a relatively time-consuming promotion technique, it can be very effective and is generally a great way to initiate relationships with other people that are interested in your video topic.
6. Advertise your videos on YouTube
If you have a Google AdWords account (if not, learn how to set one up here), you can pay to promote your videos on YouTube itself. Just like on Facebook, you can target your ads by age, gender, location, interests, and more.
The great thing about advertising on YouTube is you only pay when someone engages with your ad. If they skip it before the 30-second mark (or before the end of your video) you don't pay anything. You can learn more about advertising on YouTube here.
"YouTube has excess inventory for its advertising right now and often you can get very cheap views, clicks, and conversions by running advertisements to custom audiences on YouTube."

– Ben Wier, BluMaan
Branding Your YouTube Channel
Now that we've discussed how to create videos that attract your ideal customers, let's discuss optimizing your YouTube channel.
Whether you're creating a YouTube channel as an individual/personal brand or on behalf of a company, it's important to brand your channel in a way that makes your target audience feel like they've come to the right place.
Your Channel Icon
The channel icon is a small image associated with your channel and videos. It appears on the top left of your homepage and next to your channel name below each of your videos.
If you're creating a channel for your company, it's common practice to use your company logo as your channel icon. If you're using your channel to build your personal brand, use a professional headshot. The recommended channel icon image size is 800 x 800 pixels.
Your Channel Art
Your channel art is the banner image that appears along the top of your channel's homepage. This will typically be the first thing a new visitor to your channel sees, so it's important to make a strong first impression.
BluMaan. Their channel art does a great job of communicating what they channel is about and how often they publish new videos. They include a "Subscribe!" call-to-action, which helps encourage viewers to subscribe to their channel:

You can use tools such as Canva or Snappa to create your channel art. The recommended banner image size is 2560 x 1440 pixels.
Your Featured Video
The featured video appears near the top of your channel and, since it plays automatically, it will likely be the first video someone sees when they visit your channel's homepage. A boring, unprofessional video will turn people off and leave a bad impression of your brand. Do your best to create a high-quality video that welcomes a new viewer to your channel.
Dr. Roger Seheult, for example, has a great featured video for his MedCram YouTube channel where he shares medical lectures and educational videos. In less than 2 minutes, he clearly explains what his channel is about and where his viewers can find additional resources and online courses that he's created. Feel free to watch his video here.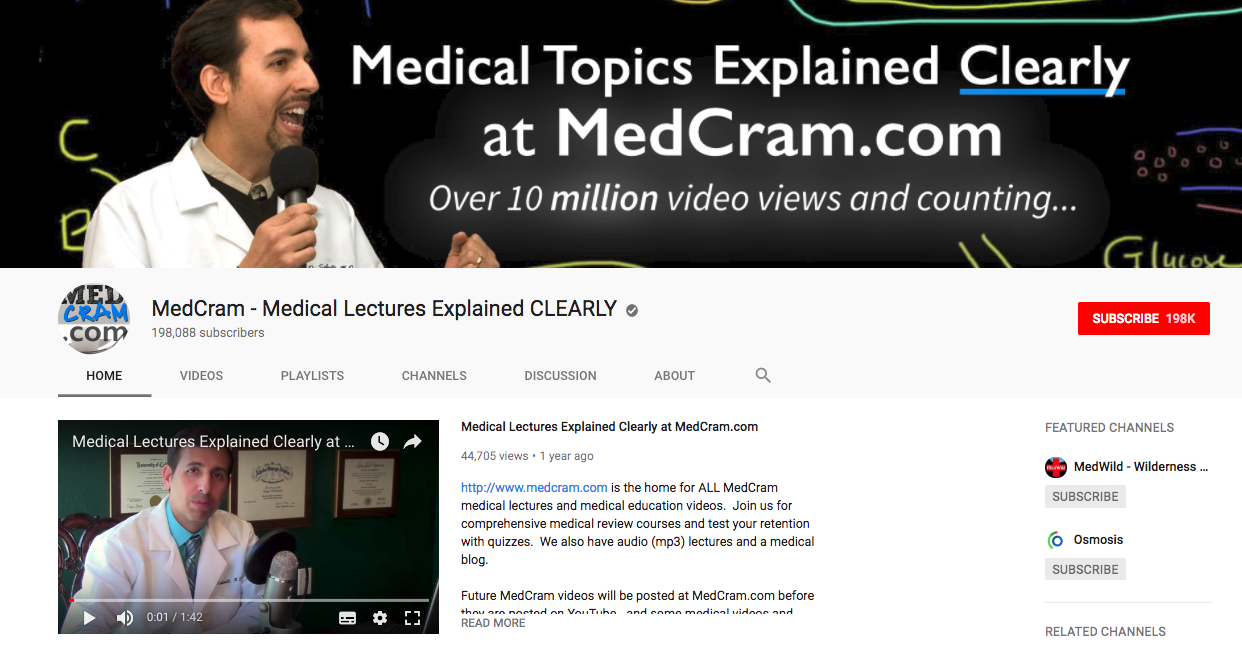 Your Channel Description
Your channel description belongs in the About section of your channel. Use this section to explain what your channel is about, why they should subscribe to it, and any additional calls-to-action you'd like to include.
There's also a section for custom links where you can add your social media profiles, websites, and other links. You can also specify which ones you want to be overlaid on your channel art banner.
Here are some tips for optimizing your channel description:
Include some of your main keywords in your description
Add a call to action (like visit your website, for example)
Link to your site and other social profiles
Add your contact details
Here is a screenshot of Hootsuite's YouTube channel description, as an example:
YouTube Video Marketing Strategies that work great in 2020
Click To Tweet
Playlists and Sections
Organizing your videos into specific playlists and sections makes it easier for viewers to find and watch specific types of videos.
Playlists are also a great way to help YouTube better understand what your channel is about, so make sure you are intentional about the keywords you use in your playlist titles. Sometimes, entire playlists can show up in the search results for specific keywords.
Fashion & lifestyle blogger Mimi G, for example, publishes free sewing and DIY tutorials on her YouTube channel. Here is a screenshot of some of the playlists she created for her videos: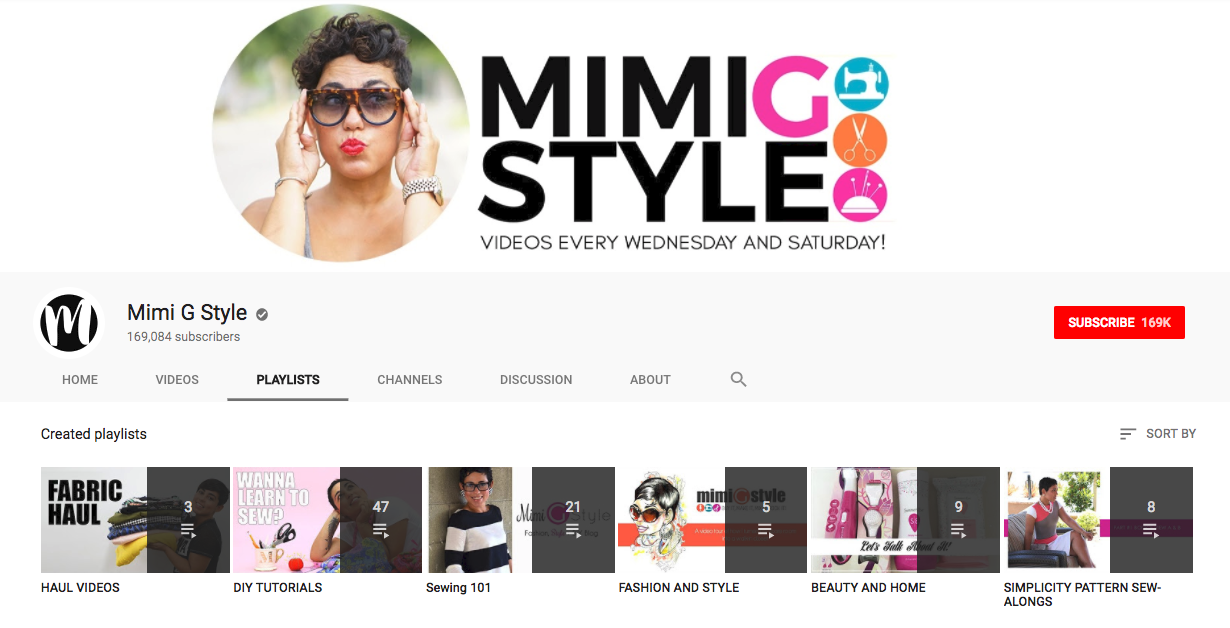 "Your channel is a direct representation of your brand, and you want to make sure that customers see you at your best. Don't present them with a messy, disorganized YouTube experience, but rather a well-curated and well thought-out channel. One of the best ways to do this is to create playlists to organize your content."

– Dara Fontein, Hootsuite
How to Turn YouTube Viewers Into Paying Customers
Now that we've discussed how to create, publish and promote videos that will attract your target audience, let's talk about converting those viewers into paying customers for your business.
But first, a quick note about YouTube's partner program and the potential to earn ad revenue from your videos.
According to Influencer Marketing Hub, the estimated earnings that the average YouTube creator can expect to receive by allowing ads on their videos is $4.18 per 1,000 views. This assumes that every viewer watched the ad on their videos, and the advertiser paid the average $7.60 CPM (cost per thousand views). Since Google keeps 45% of advertising revenue, this leaves $4.18 for the channel owner.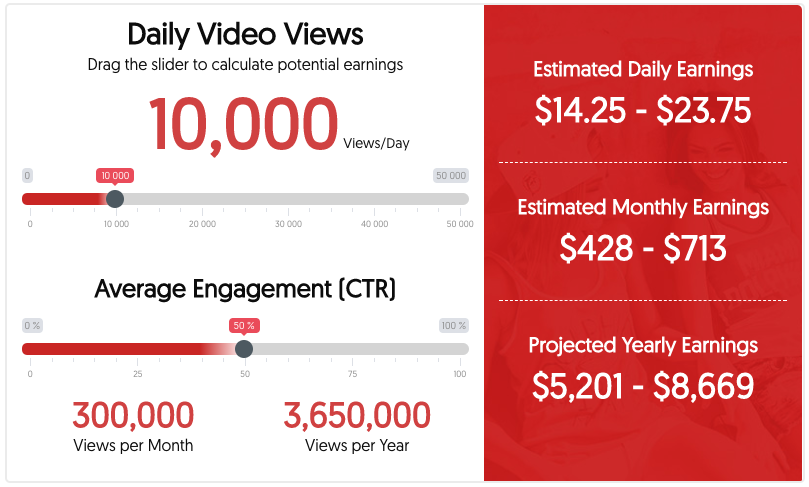 As you can see from the sample calculation above, unless your YouTube channel receives tens of millions of views or more per year and your viewers are actually engaging with ads on your videos, monetizing your YouTube channel using ads is probably not the most lucrative strategy for your business.
Instead, your goal in publishing videos on YouTube should be to attract and acquire customers for your own products and services. To do this, you need to get your viewers off of YouTube.
Make sure there is a clear path from your YouTube videos to your website, email newsletter, or even a sales page for a specific product or service.
As a business, it's best to view YouTube as a source of traffic to your website and business. Create videos to attract, add value to, and build trust with your target audience. From there, make sure you have the conversion mechanisms and sales funnels in place to guide your viewers down the path of becoming your customer.

The Best Time to Create a YouTube Video Marketing Strategy
The best time to start marketing your business on YouTube was probably a few years ago, but the second best time is today.
Remember, 81% of all internet traffic will be video content by 2020. The trend is indisputable. Every day, more and more people are consuming video content online.
If you're not publishing videos on YouTube to help your target audience and attract more customers to your business, you are missing a huge opportunity.
By following the steps outlined in this guide, along with the advice from all of the video marketing experts that we featured in it, you are well on your way to creating a YouTube marketing strategy to help grow your business and attract more customers in 2020 and beyond.
As a quick recap, here are the main steps outlined in this guide:
Identify a specific target audience for your videos (your ideal customers)
Choose specific topics to answer their question or help them solve a problem that is relevant to your industry/business
Record, edit and upload your videos on your YouTube channel
Promote your videos to help increase views and engagement
Give your viewers a clear path to becoming your customer
"Be consistent. Plain and simple. If you start a weekly show then you have to be producing and publishing that show every week. Also, longer form content is starting to work better and better, so don't be scared to create longer videos – just make sure they're all content. No fluff!"
The secret to getting more views on YouTube
Lastly, to leave you with one final "secret" to getting more views on YouTube…
To succeed on YouTube, stay focused on two things: quality and consistency.
Create videos that are relevant and helpful to your target audience. Publish and promote new videos consistently. Check out our guide to the top customer success strategies used by successful companies to help you understand the desired outcomes of your viewers and design experiences to help them achieve those outcomes.
Publishing videos on YouTube should be part of your long-term content strategy (not a short-term marketing gimmick). And when you do it right, every video that you publish becomes a digital asset that works 24/7 to increase your exposure and attract customers to your business.
As Marie Forleo, a highly successful entrepreneur and host of the award-winning online show Marie TV often says: success doesn't come from what you do occasionally, it comes from what you do consistently.

The Ultimate YouTube Video Marketing Guide for Entrepreneurs in 2020
Click To Tweet

Related Posts: