"D'you want fries with that?"
How many people have been tempted to expand their drive-thru order with those seemingly simple words?
Or consider the last time you were buying a new phone or laptop. Apple always asks if you would like to purchase Airpods with your new iPhone, or AppleCare+ with your new laptop. …And there's a reason for that! It's been proven time and time again that once a customer is ready to purchase a product, a lower cost (and complementary) item is an easy sell.
But how can you achieve this online? You can emulate the in-person shopping experience by embedding products directly into the virtual checkout. In e-commerce, this is called Order Bumps. Order bumps are offers presented on the checkout page, which the customer can add to their order with a single click. They are one of the most impactful strategies in e-commerce because you increase average customer spend while also improving the shopping experience by providing complementary products that meet your customers' needs.
Order Bumps are available to creators on TCommerce—Thinkific's suite of integrated selling and bookkeeping tools that help you scale efficiently.
Related: TCommerce: Less Time on Admin and Selling—More Time Teaching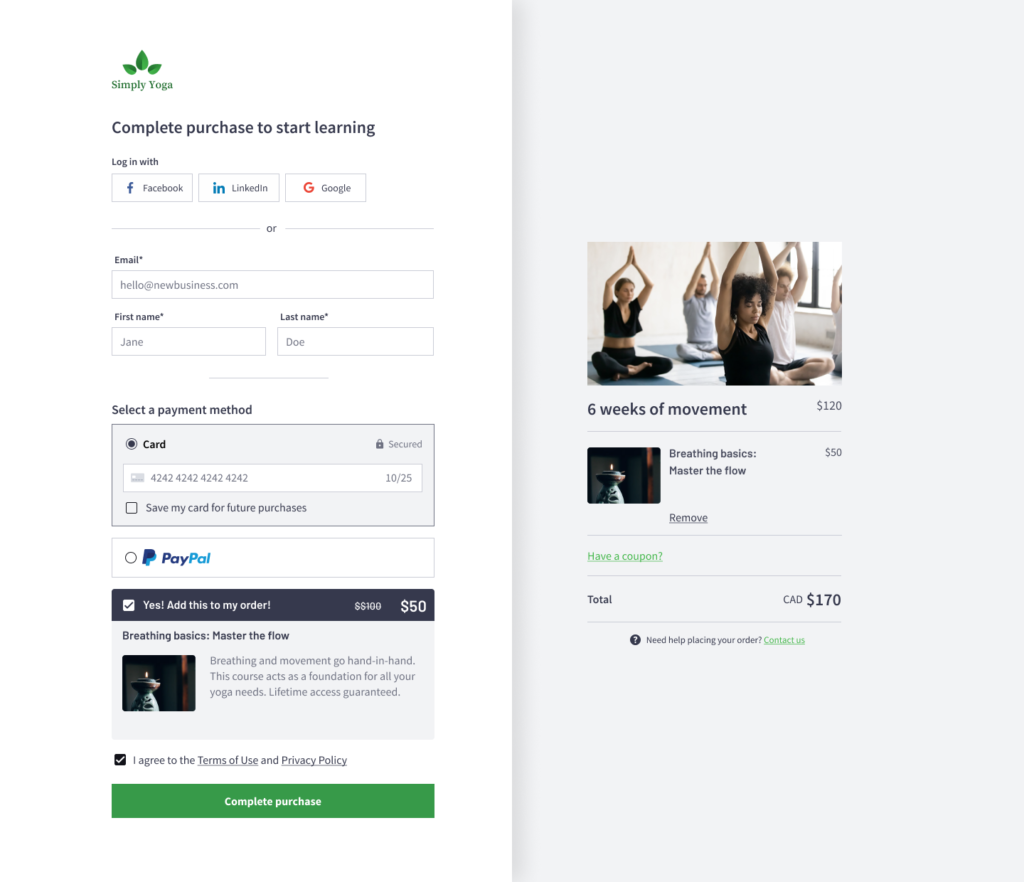 ---
We know Order Bumps are used by all companies… but how big of an impact could it really make?
A huge impact! Amazon revealed in 2014 that 35% of their revenue is generated through upsells, cross-sells and order bumps. Imagine what 30% growth could do for your business!
Going back to the Apple example—AppleCare Warranty makes up a significant portion of the company's services sector, an area of the business that's growing most rapidly at 40% year over year. And it makes sense! If a customer is going to purchase an expensive laptop, they are likely to add in a warranty at the last minute.
Thinkific creator, Brandon Doerksen from Thrive Institute, also explains how order bumps will impact his business in a major way:

While there's no denying that order bumps are a great opportunity to scale your business, the question is: what type of product should you sell as an order bump and how can you use this strategy in your business?
Types of Order Bumps—how to decide what to offer
1. Templates
Offering a Template as an Order Bump is a great place to start. They are relatively easy to develop and can be a great resource to supplement a student's learning journey.
For example, if you're teaching a course on marketing, suggest the customer adds a Content Calendar Template to hit the ground running with social media. If you are teaching a course on Nutrition, you could provide a Meal Planner Template as an Order Bump so your students feel organized and excited to start cooking.
Since templates are often easier to develop (compared to a book or another course), you can also price them at a lower cost, making the product seem like a no-brainer when your customer is moving through the checkout.
HELPFUL TIP: Create a Blank Course in Thinkific and select Download Lesson. Upload your PDF Template to this lesson and click save (much like you would traditionally upload a video). You can also repeat these steps to sell other content assets such as worksheets or eBooks.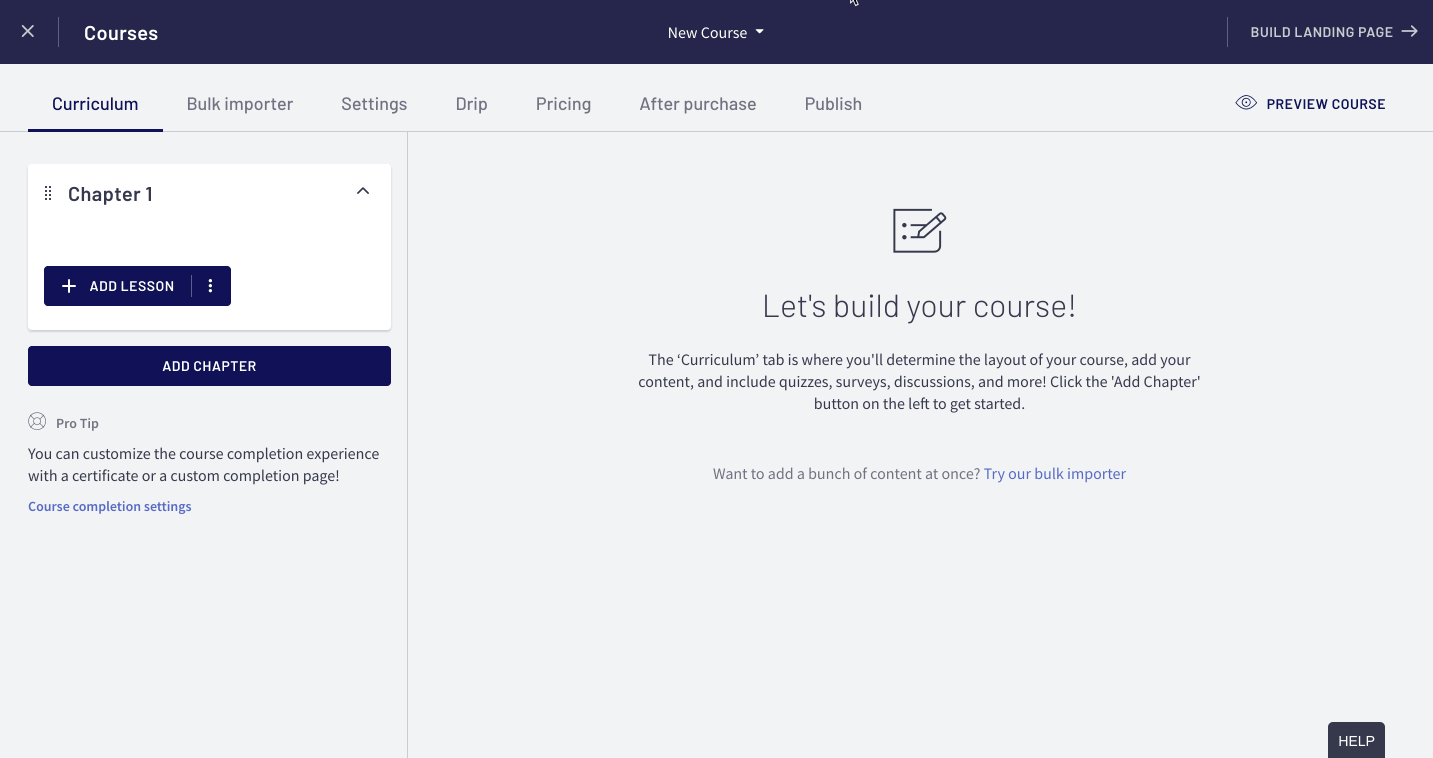 2. Worksheets
Worksheets are another great option to sell as an Order Bump as they complement the course experience and can be used to enrich learning.
For example, you could create quizzes to test the student's knowledge at the end of each module, or questions and journal prompts that require the student to think deeply about the course material and apply the lesson to their own life. Just like Templates, Worksheets are another easy and impactful way to get started with Order Bumps!
HELPFUL TIP: Create a Blank Course in Thinkific, select Download Lesson, and upload your worksheet as a PDF. 
3. Coaching:
Selling 1:1 coaching alongside your course is another great way to not only increase order value, but improve the customer experience. You could offer a one-time coaching session to new students, or weekly coaching sessions that students can book throughout the duration of the course. 
For example, a Thinkific Creator, Ginger Lockhart, uses coaching to provide students with individual consultation and support as they work through the course material. It also allows her to  build stronger relationships and turn her students into lifelong learners. Ginger explains:

HELPFUL TIP: Create a Blank Course in Thinkific and instead of uploading video content, create a Text Lesson. Within the lesson, include clear information on the coaching session and how your students can schedule a call. 
Even better, you can embed a Calendy Link so your students can easily see your availability and request a time. You can either use a Multimedia Lesson to embed calendy forms directly into the course, to create a custom page that is only available to logged in, enrolled students that contains an embedded calendy form.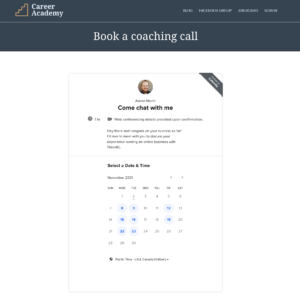 4. Books: 
Do you have an existing eBook or Book? This could be a great order bump opportunity. A customer has found your website, resonated with your brand, and is about to purchase a course. It's a great indication that they might also be interested in deepening their knowledge through a different medium.
HELPFUL TIP: Upload your eBook as a downloadable PDF. If you have a physical book and want to send them a hard copy, create a course named something like 'How to receive your [product name]' and then set the pricing as usual. Within this course, you can include a survey for collecting the customer's shipping address.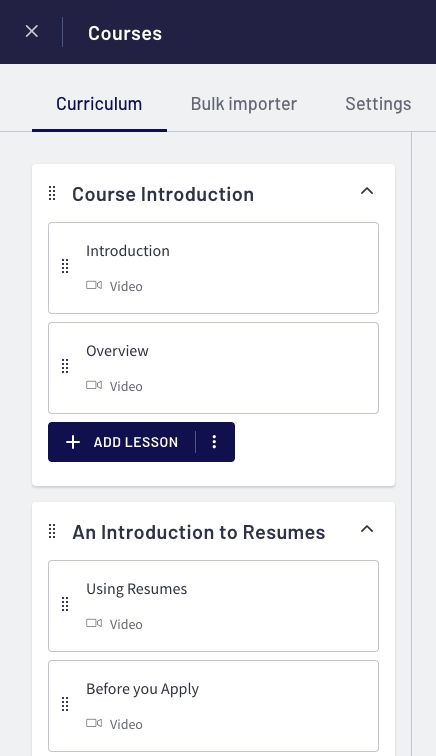 5. Complementary Course or Mini Course
One of the most common order bumps in online learning is selling another, complementary course.
For example, if you are selling a course on Puppy Dog Training, you could offer a course on Teaching Your Dog Tricks as an order bump. While these courses solve different problems, most dog owners are not only interested in house rules but also having fun with their pup and learning new tricks.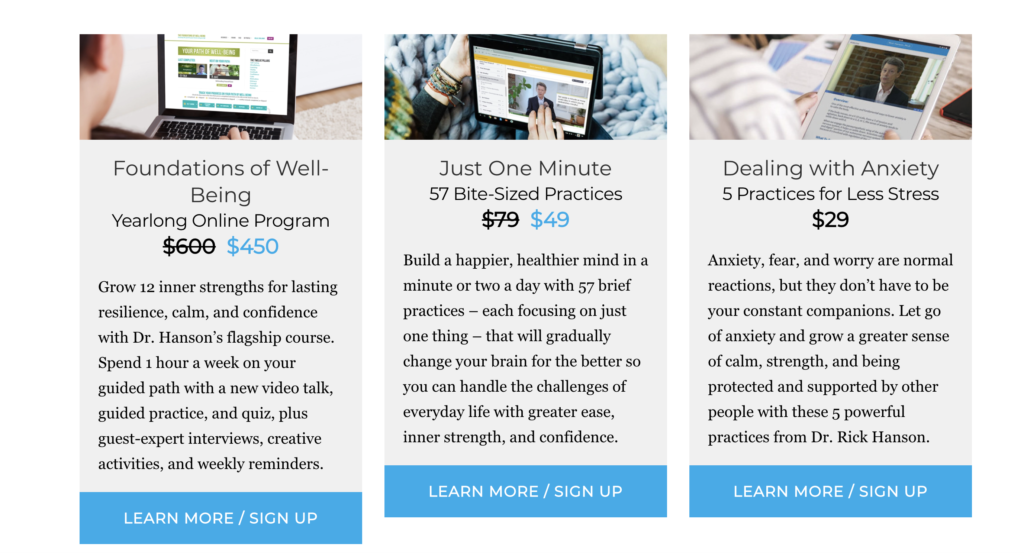 Stephanie Veillon offers online courses from Dr. Rick Hanson in Positive Psychology. In addition to their core training courses, like "The Foundations of Well-Being" ($450) they offer Mini-Courses like, "57 Bite-Sized Practices" ($49) and "Dealing with Anxiety" ($29). These smaller courses make for a great order bump and allow students to dive deeper on a specific topic. Stephanie explains:

6. Free Donations:
Do you offer your Thinkific courses for free? You could still use an Order Bump strategy in the checkout to ask for donations and support for your work. Think of it as the "tip jar" at your local coffee shop! It's a great way to let your customers show their appreciation for your work.
HELPFUL TIP: Create a Text Lesson and set the price to $5, $10 or whatever amount makes sense for your business. You could provide some additional copy in the lesson, thanking the student for their support.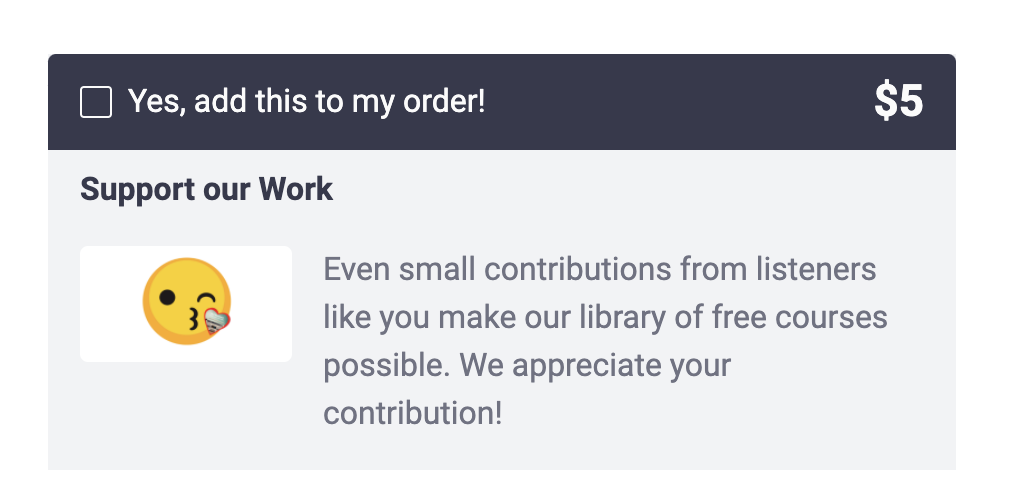 Bottom Line: There are endless opportunities for order bumps! We've outlined some of the most common examples, but you can really sell anything, as long as customers recognize the value they receive in paying for it.  If you still have questions about different examples or how to build them in Thinkific, drop us a line, or check out our Tips & Tricks blog post on how to price your Order Bump and craft high converting copy. 
Related: TCommerce: Less Time on Admin and Selling—More Time Teaching