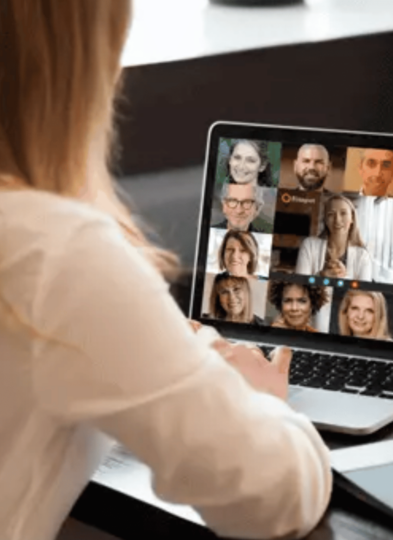 Well-being software as a service
Blisspot is an online well-being solution — a learning and personal development portal that connects users with resources to support their mental, physical, and emotional health.
Within the platform, users can access content like courses, podcasts, and meditations independently, or connect with other learners. They can also do wellness self-assessments, set goals, and track progress toward them.
Blisspot provides instant, easy access to leading experts in different personal development topics, like Dr. Margaret Paul's work on self-love. "These are high-level experts — if you booked in a one-on-one session, you'd be paying a lot of money if that was even something they offered," explains Blisspot founder Deborah Tyson.
"But through Blisspot, you can access these ideas in a very accessible and affordable way," she continues. "We provide people with skills, tools, and practical ideas that they can implement straight away to create a positive difference in their life."
A three-time business owner herself, Tyson knows how powerful these interpersonal, emotional 'soft skills' are to improving personal well-being, and ultimately team performance.
At Tyson's first company, a design agency, she emphasized this kind of skill-building and saw her business results transform. "I really realized that as well as the typical hard skills — which you definitely do need — you also need motional skills to provide balance," she recalls.
QUICK STATS
20+
MEDITATIONS AND PODCASTS
20 +
EXPERTS
80+
COURSES
"Through Blisspot, you can access ideas and well-being resources in a very accessible and affordable way. We provide people with skills, tools, and practical ideas that they can implement straight away to create a positive difference in their life."Deborah Tyson, Founder and CEO of Blisspot
Employee wellness for companies of all sizes
Blisspot's main customer base is companies, who purchase group subscriptions for their employees. These are primarily small to midsize companies who don't have in-house wellness programs — many don't even have dedicated HR departments.
Through Blisspot, companies can offer people much-needed wellness support in a sustainable way, without putting undue strain on their own time and resources. "Blisspot is a SaaS solution," Tyson explains. "We sell wellbeing software as a service. If you take on the Blisspot solution, you've got a very comprehensive way to support your team."
Employees can move through Blisspot's resources in a personalized, self-directed way, or take part in group programs and challenges, such as to improve sleep quality or mindfulness.
"Companies are realizing how important wellbeing is," says Tyson. "If you can be at your best in your work environment, you'll be more creative and more innovative. You're going to drive the company forward in a stronger, more stable way."
People are also able to access Blisspot individually outside of their respective workplaces by purchasing a monthly membership to the platform for only $17 dollars a month, increasing accessibility to the platform for all.
Pivoting To Online Learning
THE OPPORTUNITY
At first, Blisspot experimented with live events, workshops, and seminars. But they soon realized that online learning would allow them to have the largest impact, and reach as many people as possible. 
Before finding Thinkific Plus, they were using another online learning platform. But it didn't deliver the seamless experience they wanted to give their users. 
Because their prior platform lacked a single sign-on feature (SSO), customers had to sign in and out repeatedly to access different content, adding friction to the user experience and breaking focus as users were trying to learn. 
It also didn't integrate with the rest of the Blisspot experience. Blisspot's product includes a community element, where users can interact with and learn from each other. This is a crucial part of what makes their Blisspot special, but it wasn't integrated into their original learning platform, adding to the cumbersome, inefficient user experience. 
Nor could the original platform connect to other business tools Blisspot relied on, like WordPress for blogging and Acuity for scheduling. 
Deborah knew she needed to find a better system. With an online-only business like Blisspot's, the user experience is the brand's first and only chance to make a good impression. She needed a platform that would support their mission, rather than hinder it. 
Blisspot's users are looking to build resiliency and fight stress — and the company was looking to reduce the possibility of them wasting time and energy fiddling with a frustrating, poorly-designed tool.
"Single sign-on was one of the main reasons we came to Thinkific Plus. With the paid membership we now offer, the Blisspot experience is like a Netflix of wellbeing and we've also been able to connect it to other tools we use through the open API."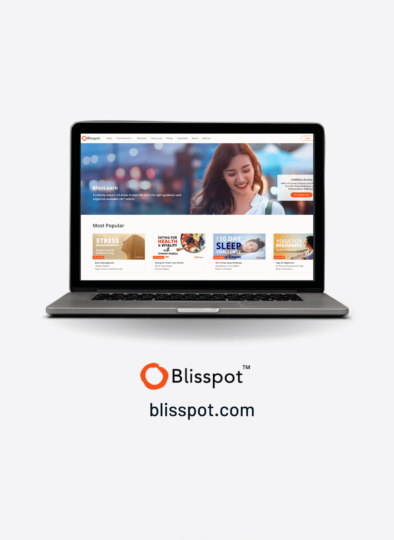 An integrated experience and comprehensive support
THINKIFIC PLUS AS THE SOLUTION
Thinkific Plus was the integrated, out of the box solution Blisspot needed to improve their customer's lives.
Because they've created a seamless, fully integrated online environment, Blisspot has been able to offer other personalized features, like content recommendations tailored to users' interests and goals.
Thinkific Plus's customer support was another major deciding factor. Since getting started with the platform, Blisspot has had a dedicated customer success manager, providing strategic advice, and best practices and making sure they were getting full value from Thinkific Plus and making the most of its capabilities.
"A lot of the customizations we wanted to do were really stretching the boundaries, like adding a side menu," Tyson shares. "The first [Customer Success Manager] we had was Andrew, and he was just so fantastic. Since then, we've had a couple of different success managers. It's made all the difference to us being able to do what we want — and do it in a way that's not overly stressful."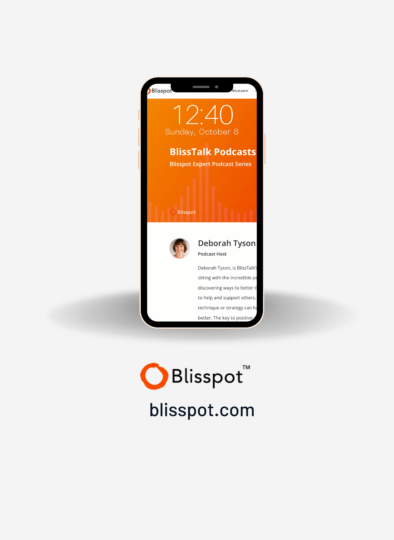 The Netflix of Well-Being
THE VISION
"My vision was for a seamless, accessible, comprehensive wellbeing platform," Tyson continues. "Thinkific Plus has allowed me to fully realize that vision."
Companies are expected to support their employees, and invest in their wellbeing. It's not just about enabling better work — it's about doing the right thing, and creating healthier, more positive workplaces.
It's a worthy goal, but for smaller companies and startups, it can often feel out of reach. That's a problem Blisspot wanted to fix, and with a seamless platform that's flexible, easy to use, and tailored to the individual, they're well on their way to doing so.
"We've got Thinkific's whole platform, fully integrated — it feels like a bespoke solution," says Tyson. "Because we are so customized, it really feels like part of our product. Users just sign into Blisspot, then access all the content and courses through Thinkific Plus, seamlessly. That was important to me, as a designer. I care about what things look like and about staying true to our brand."
Deeper support, built for the individual
BUSINESS GROWTH WITH THINKIFIC PLUS
Thinkific Plus has allowed Blisspot to deliver even more enriching dynamic content that improves users' lives. For example, Tyson wanted to offer users more meditations, which is easy within the platform. 
But beyond just adding more content, Thinkific Plus's features made it easier for users to find the right content for them. 
"We want to make well-being fun and interactive," says Tyson. "And now, we have technology to help you get to your most important goals. You'll get a playlist of support that's made for you, and a well-being assessment that measures your growth, so you can better see your own journey."
In the past, offering this kind of support was completely out of reach for smaller companies. With Thinkific Plus, Tyson has built Blisspot as a way to change that.
"It's very flexible, very tactical, and very tailored to the individual," she says.  "Even though most of our customers are companies, the journey is very individual, still."
"I want people to become more empowered, and realize that they don't have to be stuck in any situation," she shares. 
People can access a little bit of well-being content or go very deep with tailored one-on-one sessions, with a range of options in-between.
Whatever they're struggling with, they can learn skills, take action, and feel empowered to make positive change in their lives at their own pace in their preferred learning style."
"I love that with Blisspot, people can start wherever they are on their well-being journey.They can begin in a very small way such as reading a blog and if that helps them, they can try a course, podcast, or meditation—in many cases by the same expert who wrote the blog. If they love the online content they may even be able to book a one-on-one session with the same expert."Deborah Tyson, Founder and CEO of Blisspot
Blisspot's entrepreneurship lessons
As a three-time business founder, Deborah Tyson has plenty to share about entrepreneurship. Here are some lessons from her journey as a woman in business — who cares about all kinds of success, not just the bottom line.
The importance of great tech partners: "First, get a really solid platform. Once you've got that, you don't have to worry about it anymore," she shares. "Before choosing Thinkific, we spent a lot of time, probably three months, researching different options and trying to work out which one we wanted. I'm happy to say that it's been very successful — we've been really happy with the offerings and the way that we've been able to grow."
On marketing: "Nothing really happens without marketing," Tyson shares. "You've got to have the right tech, and content that resonates with your audience. But then you have to match your product with people who are looking for it — people who have the right need. For me, it always helps to get out and about, such as giving talks. I think having a presence is really important, your marketing and branding are essential in letting customers know who you are and what you stand for."
On the ups and downs of the entrepreneurship journey: "If I had to go back, in time, I wouldn't change anything. The lessons are a part of it," she recalls. "That really ties in with my overall philosophy — if we're struggling, or in a difficult situation, it's a chance for growth and to do something a bit differently. This is my third business. The other two are successful, and I was able to sell them, but they were definitely full of highs and lows. Those challenging times are like a gift in strange wrapping paper. They actually help you become more resilient, and help you grow."
Blisspot's favorite Thinkific Plus features
Dedicated Customer Success Team
ONGOING SUPPORT
All Thinkific Plus clients get personal, consistent support from their dedicated Customer Success team. Blisspot's Customer Success Manager acts as their partner as they scale their business, and guides their team in getting the most value from the Thinkific Plus system.Once onboarded, Blisspot had direct access to their Success team via email. The Success team worked closely with them from the very beginning and got to know their business deeply to advise and support them along their business journey."[Our success manager] was very knowledgeable, and had good technical skills," shares Tyson. "And if he didn't know something, he would always go deeper, research and find out.""Thinkific's culture is very enthusiastic and capable," she continues. "That's been good for us, because we've done some complicated projects, like using an API, partnering with another major company, and launching sophisticated AI coaching. It would have been hard to do those things by ourselves."
Customization and Single Sign-On (SSO)
SEAMLESS USER EXPERIENCE
With Thinkific Plus, Blisspot had the ability to make their website their own. The platform offers users with full customization power, access to HTML and CSS, advanced API and webhooks.Blisspot integrated Thinkific Plus seamlessly with their existing website to create a cohesive student experience. Using SSO, users can sign in to their website and Thinkific school in just one action."The reason we chose Thinkific was because of the single sign-on, and because of the heavy customization," Tyson explains. "People can seamlessly move between our website, and the Thinkific portal, and not really know they're in a different technology solution."