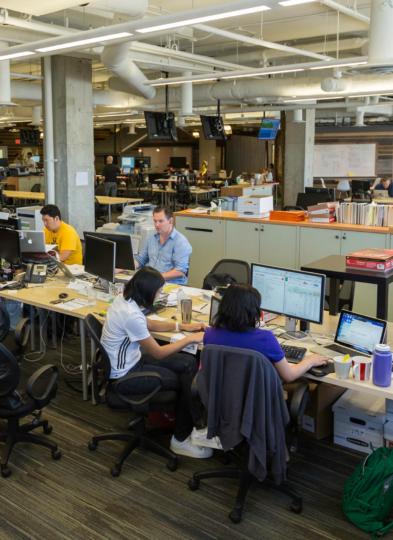 Product education through online courses
Hootsuite is one of the world's most widely used social media management platforms. With over 16 million users, this powerhouse company equips businesses around the world with the knowledge and tools to succeed on social.
The company uses Thinkific Plus to host their Hootsuite Academy – an online training site with courses on social media marketing and Hootsuite platform training.
With the goal of attracting new customers and nurturing current ones, Hootsuite's online Academy has played an important role in customer success, and seeing their customers into brand advocates.
Since launching their Academy on Thinkific Plus, Hootsuite has seen reduced churn, and increased engagement for customers on their platform.
QUICK STATS
500,000
STUDENTS
72,000
SOCIAL MEDIA CERTIFICATIONS
1,000+
UNIVERSITIES ENROLLED
"Thinkific Plus offers the power and flexibility to help us achieve the business goals that we want. If we had started using Thinkific Plus 1 or 2 years previously, we would have gotten to where we're at now much faster." Ryan Chynces, Online Education Manager, Hootsuite
Taking education beyond product training
THE OPPORTUNITY
Hootsuite's Academy began with the goal of teaching customers how to use the Hootsuite Dashboard. But goals evolved once the team realized how many different ways they could leverage online training to not only help their existing customers, but help their business thrive overall.
Hootsuite recognized there was an opportunity to use education to connect with customers at any point of their journey, attract new customers, as well as build their brand as a leader in the social media space.
With a goal to invest in education, Hootsuite aimed to achieve better retention, less churn, and building a scalable training program, Hootsuite decided to look into online courses.
"We get excited about educating the next generation of social media pros. Through
integrating online learning into these higher education classrooms, students come out with a certification they can showcase...and land their dream job in social."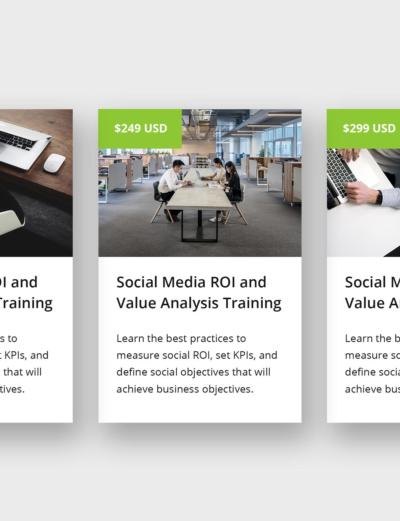 Choosing a top-notch course delivery platform
THINKIFIC PLUS AS THE SOLUTION
Before Thinkific Plus, Hootsuite experimented with different ways of offering education such as in-person training and webinars. The team settled on using video content within online courses, since they found it to be the most customer-centric and scalable way to train en masse.
Hootsuite chose Thinkific Plus to set up their online Academy based on a number of features. They needed to be able to educate thousands of students at once, and upload a range of rich multimedia content like videos.
With an ever evolving SaaS product, Hootsuite also wanted the ability to easily update course content and make changes quickly. Using Thinkific Plus's student feedback features, the team was also able to glean insight into how students were progressing and enjoying the content, feeding back valuable suggestions of how to improve the experience.
Reaching more customers and increasing revenue with online courses
BUSINESS GROWTH WITH THINKIFIC
Since beginning their education program in 2011, Hootsuite and Hootsuite Academy have trained over 450,000 students.  The social media certification program has been completed by over 72,000 people. 
The Academy's student program, which works to partner with higher education institutions, has integrated Hootsuite Academy courseware into over 800 universities worldwide, teaching over 85,000 students.
Since investing in online education as a customer attraction and retention strategy, Hootsuite has seen less churn, and an increased number of customers who become active brand advocates.
"In 10 years, we want every single one of our customers consuming Hootsuite Academy education content. And even beyond that, we want to become the world leader in social media education."Sarah Whyte, Education Marketing Specialist, Hootsuite
Hootsuite's favourite Thinkific Plus features
Easy course and site builder
CONTENT MANAGEMENT
Hootsuite's team found it very easy and quick to get their courses up. "Hootsuite Academy looks like a big team, but in fact we only have six people on our team. So we really appreciate platforms that make it easy for us to build out courses," shared Hootsuite's Education Marketing Specialist Sarah Whyte.
Certificates for course completion
STUDENT EXPERIENCE
With Thinkific Plus's certificate feature, Hootsuite Academy is able to give their customers something tangible to showcase their social media success. Students come away with a tangible certificate that shows they have the skills and knowledge to go out and land their first job in social media.
High-volume course sites
ROBUST PLATFORM
With 16 million active users, it was important for Hootsuite to choose a platform that could handle those high-volume needs. "One of the first reasons we chose Thinkific Plus was that it can handle our high-volume student base – thousands of students are taking courses for free. It's great that Thinkific Plus can manage all that," shared Ryan Chynces, Online Education Manager, Hootsuite.