Writer, activist, and thought leader Cicely Belle Blain (they/them) is on a mission to drive powerful conversations and create change. They do so through their anti-racism and anti-oppressive work via Bakau Consulting Inc.—and the subsequent online courses they created under its umbrella. 
Aside from providing much-needed DEI (diversity, equity, and inclusion) training to organizations through online and live workshops and training, Blain is noted for founding the Vancouver chapter of Black Lives Matter and being listed as one of Vancouver's 50 most powerful people by Vancouver Magazine, BC Business' 30 Under 30, and one of Refinery29's Powerhouses of 2020. They're also the author of the debut poetry collection, Burning Sugar (Arsenal Pulp Press, 2020), which helps people see the connections between history and systemic oppression. 
Coming from a long line of feminist educators, they developed a passion for social justice early on in life. After graduating from University of British Columbia in 2016, they worked in a nonprofit supporting queer, trans and Two Spirit youth across the province of BC. "I was really passionate about creating inclusive environments for 2SLGBTQ+ folks," says Blain. 
Their favourite part of the job was workshop facilitation. "I knew that was something that I wanted to pursue more," they continue. "And I also wanted to bring in more of an anti-racism and anti-oppression lens into that work."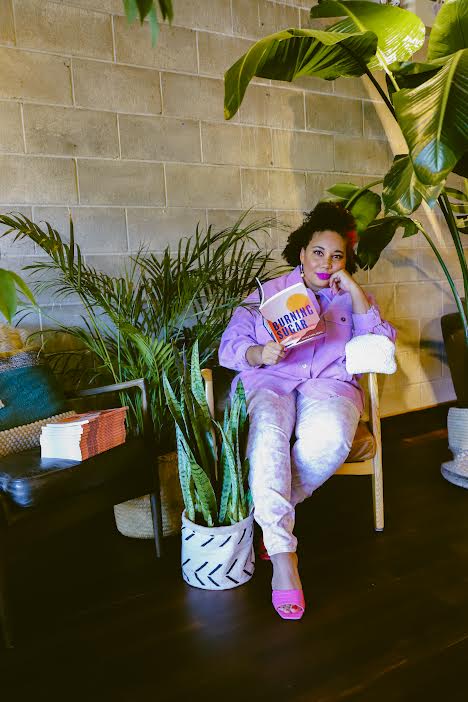 They decided to start their own consulting business—which became Bakau Consulting. This business is a full-service equity, inclusion and anti-racism consulting company based in Vancouver, BC. Since launching the company in 2018, it's served thousands of clients spanning different industries, such as nonprofit organizations, corporate companies, and universities. "Lots of different types of organizations come to us looking for advice and consultation on creating more equitable, accessible, and inclusive working environments," they say.
Now, the company offers four online courses—with one more coming soon—to help promote collective liberation. In June of this year, Blain launched a fourth course—Living Room—which offers a transformative journey for practitioners of DEI and anti-oppression-centered work in a small, intimate setting. Here's how:
Skip ahead
Not only was 2020 the year that covid-19 hit the world, it was also the year that innocent Black folks like George Floyd, Breonna Taylor, and Ahmaud Arbery were murdered—bringing liberation movements and anti-oppression work into greater focus. In turn, DEI work became a bigger priority in many workplaces. "2020 was a big awakening for a lot of folks," says Blain. "Since, DEI is an industry that has grown dramatically."
When the pandemic happened, the Bakau team quickly pivoted to virtual learning. The team members worked together to launch four self-paced, pre-recorded courses: Disrupting a Culture of Appropriation, Confronting Anti-Asian Racism, Locating Patriarchy, and RISE: Exposing the Intersections of Racism and Sexism. 
These courses act as foundational learning for Bakau's clients. "They help to reduce the labor of the team; we encourage clients to take these courses, allowing us to facilitate less," says Blain.
Blain chose to host courses via Thinkific over other elearning platforms because of how user-friendly it is.
"I had good experiences with it as a learner, and it felt really streamlined," they say. "We had a student from Adler University's social justice program do a comparison of different elearning platforms as part of their internship with us, and Thinkific allowed for the most customization as well as simplicity in the uploading of content. We knew uploading content would be a more challenging part for us, because we don't have a tech team. We felt that Thinkific was the most straightforward for us."
Blain wanted to offer a course that would help people grow together rather than alone. Thus, the cohort-style Living Room course was launched this year to help folks get together, talk about what they're experiencing, and form a supportive community. "The idea for Living Room had been percolating in my mind for a long time," they explain.
"There's a lot of content out there specific to certain topics, such as anti-racism, disability justice, or 2SLGBTQ+ inclusion," continues Blain. "For me, Living Room is more about the 'how' of the work, such as how do you take care of yourself? How do you facilitate in a particular way? How do you navigate the power that you hold or the power that you don't have? How do you deal with the emotional aspects of talking about topics that maybe are personal to you—and that the audience is reacting to in emotional ways as well?"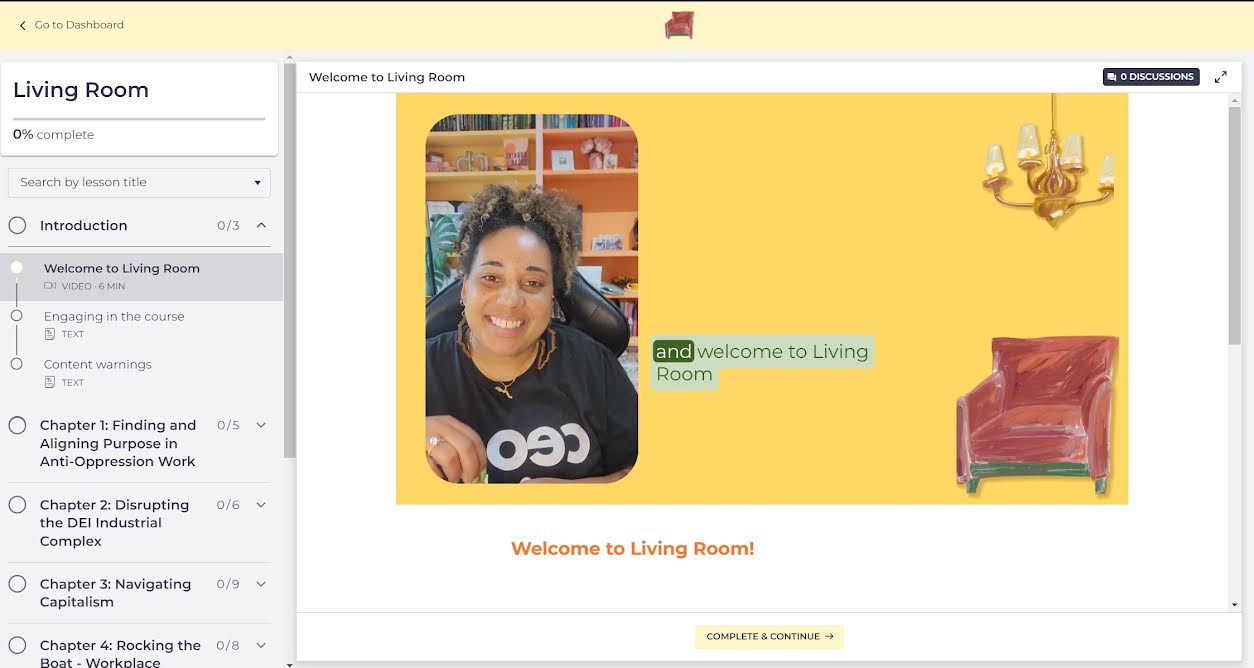 Living Room primarily attracts leaders working in and around anti-oppressive strategy and social justice mobilization. 
While Bakau's content is notably very approachable, Living Room is presented in a more intentionally casual and warm way. "As someone who's kind of introverted, I love working from home—and I think a lot of people do as well," they continue. "I wondered if it would be possible to feel connected to people and feel a sense of warmth and learning virtually."
This warmth is reflected in the website's wording as well as the course content itself. For example, the about section of the Living Room landing page reflects the inviting vibe that they instill in their course. 
They write:
"I want to invite you to my living room. 
As a neurodivergent introvert who has somehow found themselves doing emotionally intense front-facing work, my living room is my sanctuary. 
The walls are adorned with art that grounds me—a sepia photo of my mum's hands cupping my tiny baby fingers, a custom portrait of me and my partner by one of my favourite local artists, a print of my best friend's film photography, a "no police in pride" poster. 
Each corner has a vibe and a meaning. The window seat has a plush pink blanket, perfect for reading YA fantasy by candlelight. In another corner is the dining table (because who has a separate dining room these days?) with soft yellow chairs where I mostly paint and collage (dinner is almost always on my lap – isn't yours?)
My favourite corner is to the right of the fireplace – a memorial altar dedicated to my late Nana, Jean. I memorialized her in a ray of sunlight; a warm, yellow shelf adorned with her favourite books, her glasses, trinkets from her extensive travels, and a little golden urn."
They chose the name 'Living Room' because of its double meaning. "It represents a cozy room, as well as room to live; we are creating space to breathe and live together," says Blain.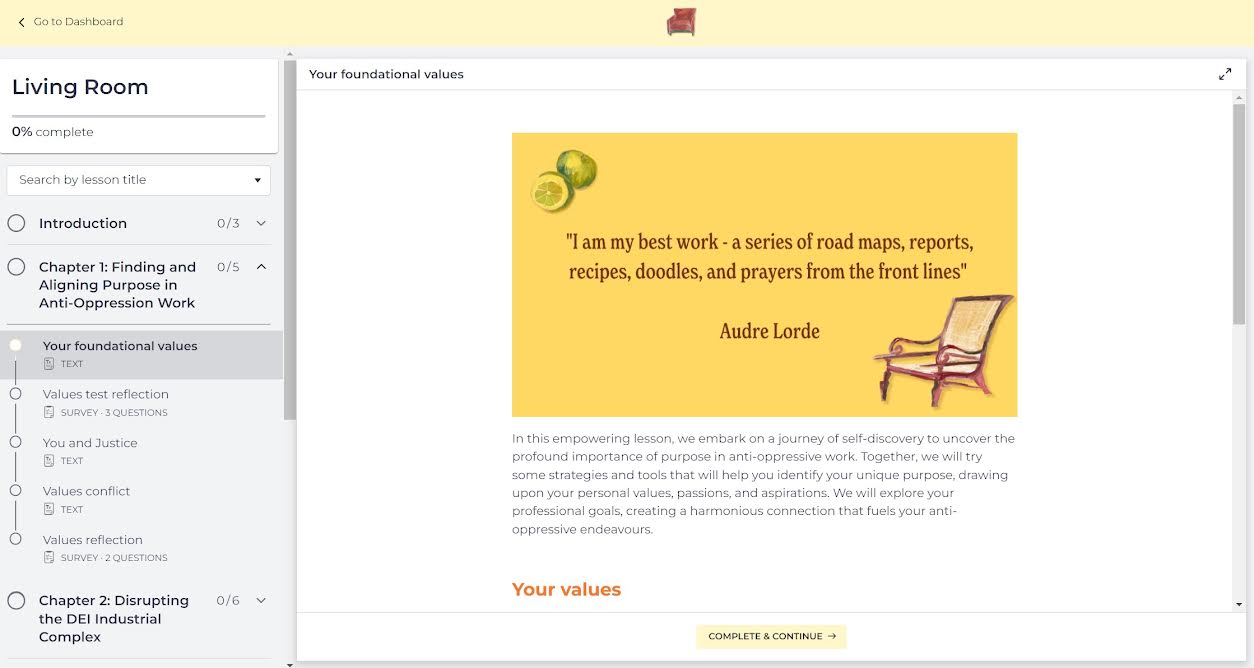 Further, the way they present their content is slightly different from the norm. "With Living Room, I was trying to disrupt the traditional way that we learn. It's more about reflection and connection than content," they say.
Since their goal was to translate their values into a warm virtual environment, Blain recorded themselves talking into their phone—mimicking the style of an Instagram Live—rather than uploading content via Powerpoint.
"I realized that if I was trying to create a more casual vibe, I had to do things differently," they say. "Sometimes I'd speak when putting on my makeup or doing random stuff while talking through the content. Then, I'd put that video of me on a slide, and add captions and key points."
"This wouldn't work for our courses where we're trying to pitch corporate clients," continues Blan, "but in this case, I thought it would be refreshing for people to have something different than a PowerPoint presentation. I had a lot of fun with it."
Further, when Blain would write a text lesson in the course, they treated it as if it was a blog post. "I think the learner finds that more fun and approachable because it's not like reading a textbook," they add.
Aside from developing original ideas—which Blain says is vital as an online course creator—they also curate other content for learners.
"It's important to come up with original ideas," they say, "but it's also a good skill to be someone who can curate resources as well. It's amazing to come to a course where somebody else has put together everything you might need to know in one space, even if they create it all themselves."
Plus, curating content allows Blain to bring in different perspectives and lived experiences into their course. "I would encourage people to tap into other knowledge that's out there," continues Blain. "You don't have to come up with every idea yourself; you can credit other people for their work."
When developing and curating content, Blain created everything directly in the Thinkific course builder. "It felt like it cut out steps of doing a lot of writing and formatting in a Google doc and then copying it over and reformatting," they say. "That's a personal preference, but I do think it's kind of reduced the overwhelm and gave me more instant gratification."
At the time of launching Living Room, Blain offered several options for course delivery. 
The first was the cohort tier, which was the full access program. In this option, a group of 15 learners gathered for five weeks, going through live workshops on topics like navigating capitalism and intergenerational storytelling, as well as a guest speaker series. The group also had access to a pre-recorded course on Thinkific, as well as a community on Slack. "We're still in the early phases of this course, but I'm really happy with how the first cohort went and I'm very excited to explore its potential," shares Blain.
While their next cohort was originally scheduled for January 2024, they're reconsidering the delivery of Living Room—and considering pivoting into a membership program instead. "Five weeks didn't feel like enough," explains Blain. "The connections that were developed were so meaningful. I'm thinking that this may be a more year-round offer where people continue to have access to the community and can have these types of conversations, and perhaps the online content will expand as well."
The next tier offered was the flex learning option. This allows participants to sign up just for the online course and get access to two keynote talks. "It's a less intensive way to participate in the program if folks don't have as much time to commit," says Blain. 
Then, the third tier was just the pre-recorded, online course on its own. 
Blain offered the cohort tier at a sliding scale rate. The regular price was $599 CAD, with a "generous rate" of $899 CAD. "The generous rate is for those whose companies are sponsoring them to attend," says Blain. "This allows me to give more scholarship options to other folks—such as a full scholarship and a few 50% scholarship options."
The flex learning tier was priced at $199 CAD, and the online course on its own was $99 CAD. 
When pricing their courses, first they looked at what other organizations were charging—but they said that prices were "all over the place."
"We couldn't come to a conclusion of what the average price was," they say. "We thought about charging a lower price point so that it was a quick access type of thing for folks, but when we reflected on how much work we put into it and the quality of the content, we knew that this should be more of an investment."
Careful not to devalue the importance of DEI work, they wanted to ensure that Living Room wasn't priced too cheaply. "We landed on a price point that was roughly the same value as if people were attending a series of our workshops," they say. 
To collect payment, they integrate Stripe with Thinkific. 
Blain says that Living Room attracts both individuals—like activists, community organizers, volunteers, humanitarians, or just empathetic people who want to learn about other people's experiences—as well as organizations which need support with this type of work. 
They get the word out about Living Room through their live workshop facilitation with Bakau Consulting. They also promote it through live workshop facilitation through Bakau consulting, their newsletter—which has over 2,000 subscribers—and Blain's personal Instagram account. "When we promote the course on social media, it usually attracts individuals who are signing up on their own accord," they say.
They use the newsletter to promote their courses, as well as speak about events like Pride Month or Black History Month.
"Our newsletter is probably one of our most successful ways to encourage people to access our content," they say. "I think we have a pretty consistent and loyal following of folks there."
If Blain could go back and do anything differently, they would be more organized with how they promote not only Living Room, but their other courses. "We're in the process of thinking more about our marketing strategy," they say. "For so long, we had such a positive experience based on word of mouth and never put much of a budget into marketing. But our next step is to keep up the consistency of promoting our digital products to ensure that people are still coming across our content, adapting to the changing landscapes, and making sure that we remain relevant and interesting."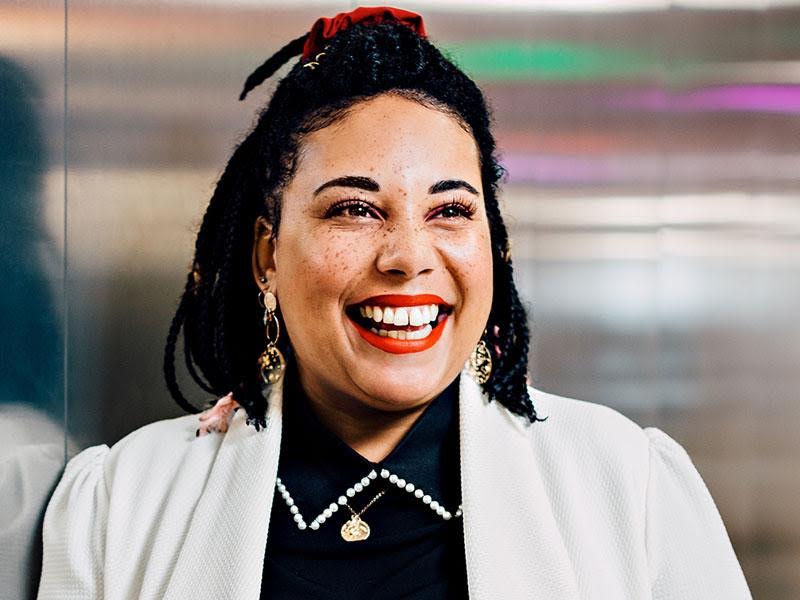 This marketing strategy will remain top of mind as they launch their next course, Processing Rage — which will be hosted on Thinkific and is available for pre-registration. 
While Living Room was mainly created by Blain, the other courses in Bakau were a collaborative, team effort. Bakau has multiple team members, ranging from strategists to facilitators to research analysts. "We started working on them last November and we basically shut down for two weeks, gathered in person, and did lots of brainstorming," they say.
When Blain looks back on creating Living Room, they're excited for the future—and the potential change it can bring to folks. "In evaluating how much I enjoyed the first cohort and the good feedback, hopefully it can expand and be a larger part of Bakau," says Blain. 
To step into an online course creator role, don't wait. The world wants to hear your message—sign up for Thinkific today, for free.