Whether you're an online coach or you work with clients face to face, you know that every case is unique. Depending on the type of coaching you do, clients may need your professional help to propel their careers, reach personal goals, grow their businesses, or develop healthy habits. But even if you cater to a very specific niche, each individual comes to you with different needs and expectations. 
Thankfully, this doesn't mean that you have to develop a new coaching strategy from scratch for each of your clients. Using a coaching program template is a much more efficient way to deliver a great personalized experience every time. 

In this blog, we'll go over the building blocks of an effective coaching program and explain how using a template can help you scale your coaching business while improving the quality of your services. We've also included a fool-proof, fully customizable template that you can use to design your signature coaching program.
Why do you need a coaching program template?
First things first — do you even need a coaching program template? You might be thinking that, for best results, you should structure a new program for each client. And that's not exactly wrong — you should customize your approach to address each client's needs. But you can save a lot of time by developing a basic program structure, and tweaking it accordingly on a case-by-case basis. 
Below, you'll find the most important benefits of using a coaching program template.
Organize your process
When building your template, map out all of the non-negotiable elements of your coaching strategy, from initial client assessment, all the way to collecting post-coaching feedback. This will help you stay organized when planning coaching sessions with new clients.
Create a signature experience
Your coaching program is your secret sauce. Make sure it reflects your unique value proposition (a.k.a. how your coaching services are better than your competitors'). Following a well-structured process with each client will help you consistently deliver a high-quality service that is uniquely and recognizably yours.
Save time (and money)
Depending on your location, specialization, and an array of other factors, you can be charging your customers anywhere from $80 to upwards of $500 per hour of coaching. These numbers speak for themselves — your time is better spent on coaching than on admin tasks. A good program template will help you keep prep time to a minimum and open your calendar to new clients.
Scale your business
Perhaps the key benefit of having an easy-to-replicate process is that it will help your business to grow. A good coaching template will make onboarding new clients a breeze. It can also help you branch out into group coaching and online coaching courses, effectively unlocking new revenue streams for your business.
How to structure a coaching program
Regardless of your niche or the type of coaching you offer, your coaching program should include these elements:
1. Initial assessment
During your first meeting with a client, you have to find out who they are and what needs they're looking to address through coaching. 
Your coaching program template should include an outline of this initial conversation, covering your client's:
Current circumstances

Frustrations

High-level goals

Expectations
You might also want to find out whether they have any previous experience with coaching. If they do, find out what they liked and disliked, and whether they have a preferred way of working with a coach. For example, do they find workbooks effective? Are they open to "homework?" 
2. SMART goals
Based on the initial assessment, define what success will look like for the client. Identify and prioritize the skills they need to improve to achieve their desired outcome. 
Frame these skills as goals, using the SMART (Specific, Measurable, Achievable, Relevant, Timely) methodology when possible.
The way you map out your client's development will depend on the type of coaching you practice. For example, a running coach might frame a goal like this:
Run 10 kilometers in under 50 minutes in 6 weeks.
On the other hand, a life coach working with a client who wants to build confidence might set this type of goal:
Speak up in team meetings at least once every week.
3. Tactics and activities
This section of your coaching program covers the tactics you can employ to help your client succeed. They can include:
One-on-one coaching

Exercise plans (if you're a fitness coach)

Diet plans (if you're a nutrition coach)

Self-guided activities using the resources you provide

Roleplay, storytelling, etc.
4. Resources
In this section, list all of the materials you will use in your coaching program. Including them in your coaching program template will ensure you always have them on hand to easily pick and choose based on each individual client's needs.
You can include proprietary resources as well as other useful materials. When using resources you haven't created yourself, make sure to credit the authors.
Your list of resources could include:
Worksheets

Checklists

Templates

Team exercise plans

Roleplay scenarios

Videos

Additional reading

Exercise plans

Calorie calculators

Examples, stories and anecdotes

Additional reading materials

Journaling prompts
5. Week-by-week session plan
Once you have established your goals and rounded up tactics and resources, you're ready to map out the step-by-step journey to your client's success. 
Define milestones that you are hoping to achieve within every session. For example, someone looking to advance their career might need to reach three major milestones:
Improve time management skills

Improve communication skills

Build up confidence
Each of these milestones may require a separate session — and each session will come with its own goals that will require a unique mix of tactics and resources. 
Here's an example:
Milestone

Improve time management skills

Discussion topics

Benefits of good time management for mental health and productivity

How to prioritize tasks

How to set and communicate boundaries

Goals

Revise list of tasks with manager and plan a realistic to-do list for the week, complete with achievable deadlines

Key resources

Productivity hacks

Roleplay scenarios
Repeat this planning process for every milestone. This is your week-by-week program outline.

6. Progress evaluation
Wrap up your coaching program by reflecting on your client's progress. 
Go back to your initial assessment questions, and invite your client to discuss how your coaching program affected their circumstances. This exercise will help reinforce their newly gained skills. It's also a great time to open up the floor to any questions they may have before you part ways. 
7. Collecting feedback
To make sure that you're meeting your clients' expectations and continuously improving the quality of your services, ask every client for feedback as soon as they complete your coaching program. 
If you're coaching face-to-face, you can simply ask your client some questions and take notes. Otherwise, you can create a simple Google form that includes questions such as:
How would you rate the quality of this program?

What are the things you found most helpful?

What is something you would improve?

How likely are you to recommend this coaching program to a friend or colleague?

Do you have any additional comments or feedback?
Free coaching program template
To make the process of mapping out your coaching program easier, we've put together this fully customizable free template: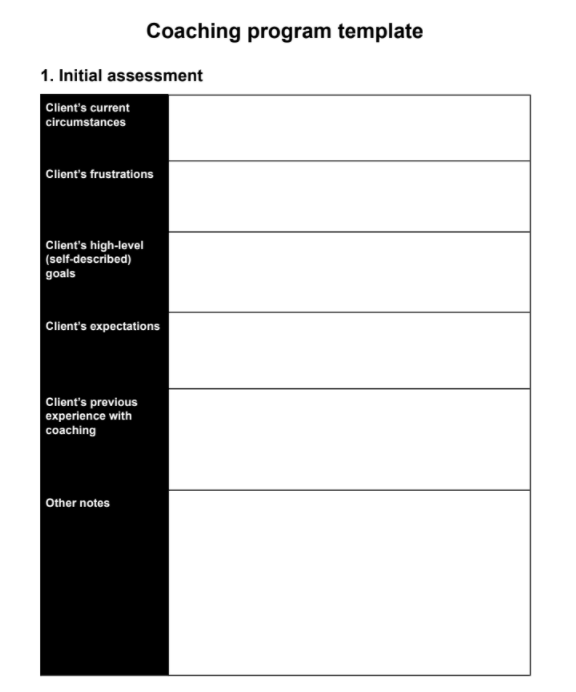 Download it here:


So, what's next?
Once you've created a signature coaching program, you're ready to scale your coaching business. The easiest way to do so and start generating passive income take your coaching online. 
With Thinkific, you can grow your business by adding self-guided coaching courses to your repertoire. Our easy-to-use online course design platform helps coaches, educators, and digital content creators build engaging, custom eLearning experiences and grow sustainable businesses online. 
Get started for free today, and see how Thinkific's course creation, marketing, and selling tools will help you grow your business. No tech skills required.
---
Scale your coaching business for free
Use Thinkific to make a bigger impact on your clients and earn more revenue — without trading your time for money.

---