Meredith Austin's entrepreneurial journey started in a Texas classroom. As a schoolteacher of over 10 years, she has spent the majority of her professional career advocating for gifted students' personal success in the areas where their needs have gone unmet.
"It is quite common in the public education system for gifted students to languish and their fullest potential and talents to go underdeveloped," Meredith explains. "Students who may not look like the 'typical' gifted student deserve teachers trained to understand their nature and needs. They deserve to have their eccentricities, ideas, cultures, and intensities honored and respected."
Through her in-classroom experience, Meredith realized that there was a gap in services within her area of expertise. There were no high-quality online professional learning subscriptions that could train teachers in gifted education best practices.
Two years ago, Meredith decided to expand her passion for gifted education beyond the classroom. Equipped with nothing but her teaching degree, she launched Academity — an online learning community that offers well-designed, researched-based courses that fulfill the basic requirements of gifted education teacher training.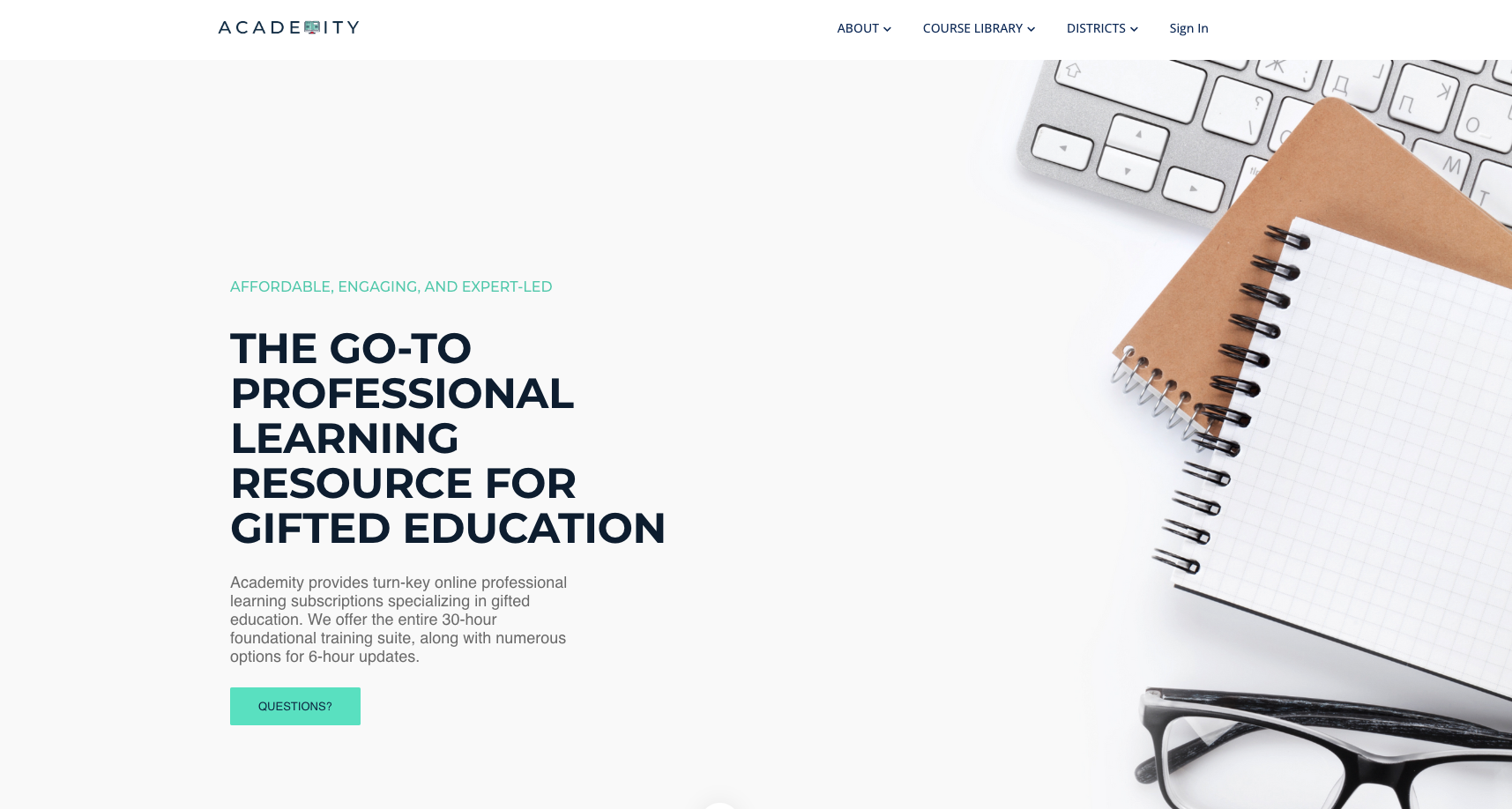 Since then, over 12,000 educators have enrolled in her courses. Here's how she did it.
Jump ahead:
To this day, Meredith remains transparent about the fact that she had no previous business experience before embarking on her online course journey. But she has since learned to embrace that as a strength.
"It may sound crazy, but I don't have a huge background in anything business-related. I come from the education world and I'm a techie. I love technology, I love learning new things, and that sense of curiosity led me here," she says.
"I'm very comfortable jumping into something even if it's scary. Coming from an education background, I really try to instill this whole sense of, 'It's okay to fail. Good things can come from things not going well. If something goes wrong, I can always improve it.'"
Even without the traditional business skillset, Meredith was able to identify a gap that she could fill.
"Within my home state of Texas, there's 30 hours of minimum training that educators need to complete in order to specialize in gifted education. For teachers in general, there's a lot asked of them within this training and there's not a lot of time or rewards given to it," she explains.
At the time, Meredith's school district had a very outdated training system that had proved to be a nonstarter. It wasn't until the pandemic that Meredith started playing around with online courses. 
"When the pandemic started, there were dozens of school districts in the Houston area that needed their teachers to have training, but there was no access to it because it was all face-to-face. So I was like, 'Whoa, let me try creating a course. I'll kind of see how it goes,'" she recalls.
 "Everyone loved it. The type of feedback I was getting was, 'This is actually the best course I've taken. It was very engaging and interesting."
After that initial positive response, Meredith realized that she had landed upon something special. She continued to flesh out her curriculum and elective courses to serve the Houston area, and eventually, she branched out to other state districts.
Meredith attributes a good amount of her success to her organic marketing methods.
"Word of mouth is extremely important. Teachers aren't exactly rolling in the dough, so I worked that into my marketing methods. What I like about that messaging is just the fact that all of these teachers have a shared equity mindset."
Compared to the more traditional methods she has utilized, Meredith found this personalized, relational form of marketing resonates with her audience in a far more meaningful way. 
"Me and my audience both share a desire to teach gifted kids and expand the definition of gifted education. When putting that into practice, we know that we're positively affecting so many districts — that all comes down to the shared messaging I promote."
To further this organic messaging element, Meredith was intentional about connecting with her pre-existing contacts in the education world. As a fellow educator, she partnered with various parent groups and the Texas Association of Gifted Children to make appearances at events, be featured in newsletters, and gain exposure.
In addition to this, Meredith established a sales funnel through Thinkific that enabled her to turn her organic audience into loyal, paying customers. 
"I was intentional about making one of my smaller course offerings free. It acted as a really effective trial where teachers who haven't fulfilled their required hours can enroll in a free three-hour course," she explains.
"I've gotten numerous customers that way for a couple of reasons. One because they're like, 'Oh, I've already completed this many hours, I might as well complete a little bit more. But also because these tester courses are really good at getting valuable feedback. I've been pretty deliberate when I've been creating these courses to try and keep that feedback loop active."
Ever since her student numbers started to climb, Meredith realized that she was in a unique position when it came to her course curriculum. While there was already a pre-existing training framework out there, she had the tools and expertise to level it up. 
"When I established my curriculum, I was aware that there were different standards out there. I created a mind map and outlined the foundation of what should be included in the required 30 hours. From there, I was able to flesh out the engaging additional pieces," she says.
"I'm very committed to being on the newer side of things when it comes to research. When I wrote these courses, I continually asked myself, 'What are they saying right now about this? Do we need to keep repeating this? How am I going to teach these standards in an engaging way? What needs are my core understandings fulfilling? What understanding do I want my teachers to come away with?"
Meredith felt equipped to answer these crucial questions not only because of her expertise, but also because of her equity mindset.
"I have a doctorate in gifted education, so that allowed me to trust myself to fill in the gaps when it came to course content creation. In addition to that, I was intentional about approaching my curriculum with an equity mindset. I always made sure that I'm not writing the curriculum solely from a white, female, Texas teacher's perspective. I try to incorporate lots of diverse ideas." 
From Academity's origin until now, Meredith has placed great importance on her key value of destigmatizing the structures around gifted education. Ultimately, this personal goal of hers has laid the foundation for her course curriculum and business model.
She explains that there is no state definition of gifted education in Texas, however, the Academity community is forging its own.
"Several definitions of gifted education are super outdated and limited. I subscribe to the framework that describes a kid who needs more than what the standard curriculum is giving them — they're ahead of their peers, but they're languishing. My goal is to bring life into this definition." she says.
Meredith made it her mission to ensure the entirety of Academity's team and instructors share this common goal. She believes this has significantly contributed to her platform's success.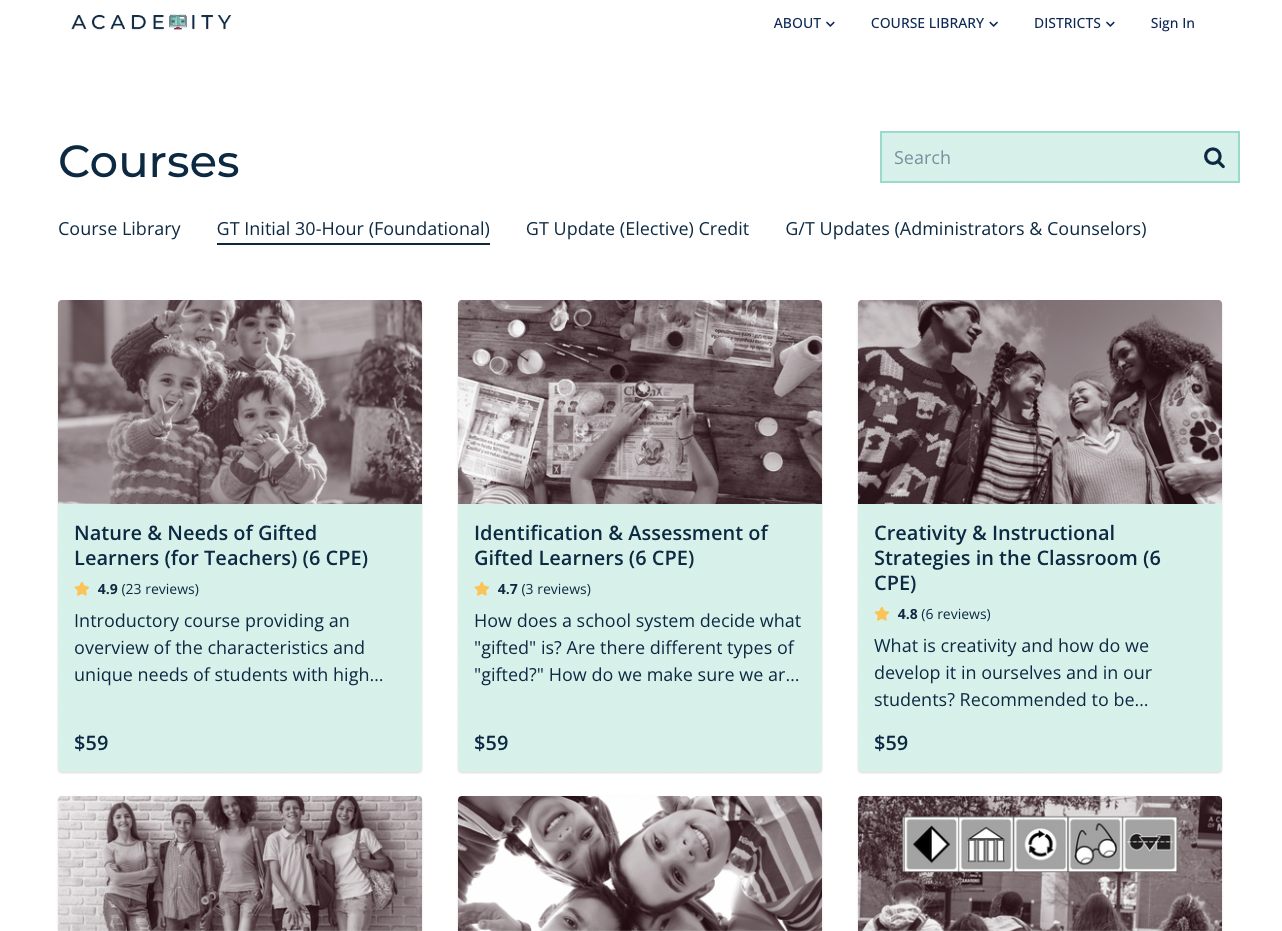 "We defy the mainstream point of view that claims giftedness means weird. There are several ridiculous stereotype that permeates through politics and populism. For so many years, gifted education has been ripened with discrimination and inequity. Our goal is to rebrand this narrative and find kids who need more than they're currently getting," she says.
This common understanding of Academity's core value proposition ensures the team is always working towards the same goal. Without a clear purpose it
This shared goal permeates every layer of Academity's community. Meredith hopes every member of her 12,000-strong community aligns with her redefined approach of gifted education. 
"One of my favorite parts of my course offerings are the various discussion boards that look at the question of, 'What is gifted?' Educators contribute from all over the state of Texas about what their impressions of giftedness are. We pose the questions: 'Is a kid bright or are they gifted? What do you mean by bright vs gifted? Does this kid need more than they're currently getting?'" she says.
"By having that discussion, people tend to share the same overall tone and come away with a new form of understanding."
7. She took advantage of Thinkific's advanced and accessible features
Meredith is confident that Thinkific's platform has unlocked endless possibilities for Academity's platform — whether looking at the past, present, or future.
In Academity's early days, Meredith longed for an intuitive platform that could bring her vision to life. Like thousands of other course creators, she has found that Thinkific's offering is the perfect fit for her and her business needs.
"One of the main things I love about Thinkific is that it's only a very small learning curve to figure out how to utilize the platform to its fullest potential. For me, as the developer and designer, but also for my students taking it, there's been very few technical obstacles that I've come across," she says.
"Right off the bat, I was able to tailor my vision for Academity and create a very simplistic, modern-looking interface. The course templates have also been extremely valuable, as well as the support resources in place," she says. "Thinkific has made all of this possible."
Inspired by Meredith's story about building a thriving online course business? Ready to take the leap yourself? Sign up for Thinkific and start today.
---
Want to read more creator stories? Sign up for the newsletter below, or check out more stories here.