Discover how Ariane Cap took her course completion rates from 4% to over 50%.
Ariane Cap is passionate about playing the bass guitar — so much so that she's on a mission to teach others how to play, too. 
Growing up, Cap played piano and the flute for a variety of funk, blues, pop, and rock bands. When one of the bands lost their bass player, Cap tried filling in. "I never looked back," she says. "I immediately fell in love with the instrument."
Alongside her passion for music, she grew up equally interested in teaching; as a teenager, she tutored others in languages and math to make extra money. When she became a professional musician in her adult life, she began teaching music, too.
In between touring with Cirque du Soleil, she'd teach students outside of her house. With demand for her lessons increasing, she rented a two-story building and quickly grew her business into a thriving music school alongside several other music teachers. "It was a pretty big operation," she says. "But then everything started moving into the online world, and I caught that train pretty early."
In 2012, she moved her business to a virtual format: Ari's Bass Blog. Not only was online teaching growing in popularity, pivoting her business online helped her to stay in touch with her students when she was on the road.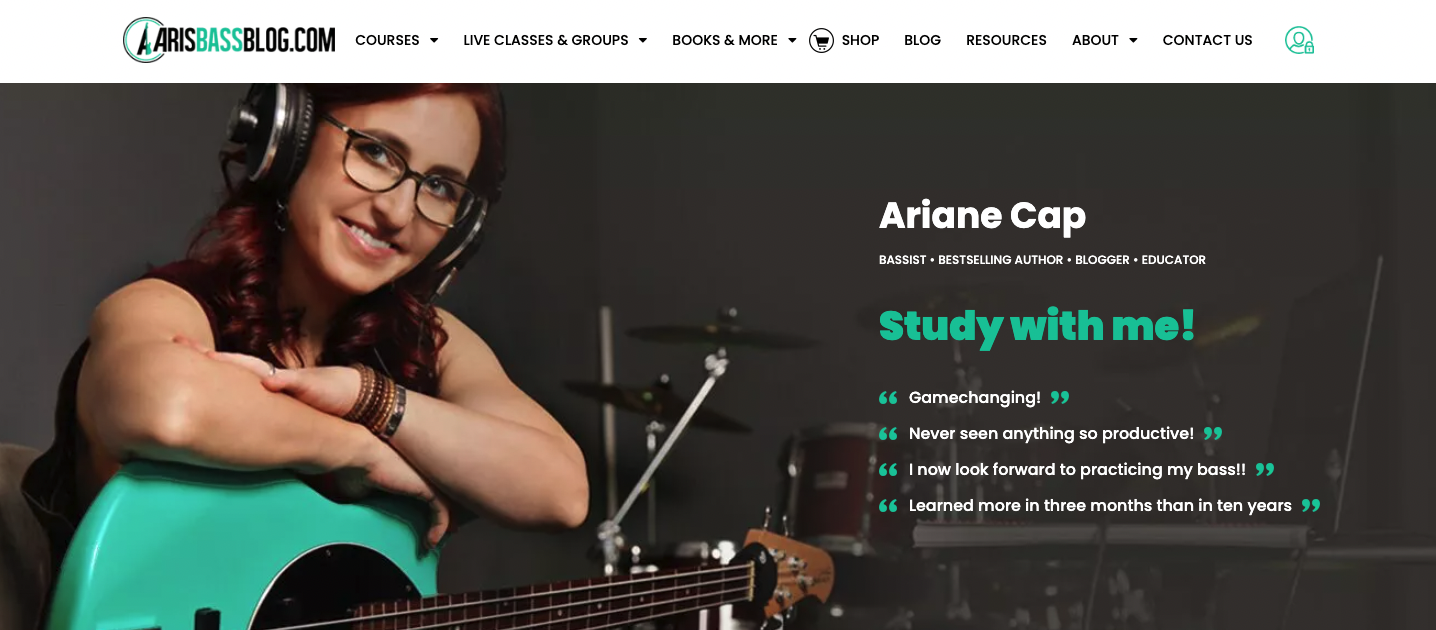 Now, Cap has a team, several online courses, and does what she loves everyday. But perhaps one of the biggest contributors to her recent success is building a community for her bass students; not only did this community help to 10x her course completion rates, it also helped to provide a supportive space in which her students could better learn. Here's how she did it.
Jump ahead:
Eager to help her students become musicians, Cap wrote and self-published a book, Music Theory for the Bass Player: A Comprehensive and Hands-on Guide to Playing with More Confidence and Freedom, in 2015. A year later, she created video lessons that accompanied it. It became a bestseller on Amazon. In 2021, she wrote and self-published her second book, The Pattern system for the Bass Player: Sharpen Your Musical Mind Through Fretboard Proficiency, Improvisation and Mental Practice, which also included video lessons. 
At first, she hosted these video lessons in WordPress, but this setup wasn't ideal. As her audience began to grow, she decided to look for a course-hosting platform instead. In 2017, she moved everything over to Thinkific. "I did extensive research into platforms such as Kajabi and Teachable," she says. "I was bringing a lot of students with me who had access to the free courses that went with my book, and I needed a way to easily host those students."
When she found Thinkific, she thought it was a user-friendly platform. Plus, she says customer service was responsive. Right away, her Thinkific content was received well by her audience. "On WordPress, students couldn't mark which sections they'd completed and the lessons didn't flow as nicely as they did on Thinkific," she explains. 
Alongside her books' video lessons, Cap now has several online courses that she hosts on Thinkific. 
She offers a mix of self-paced and live offerings. Her signature course is her self-paced 20-unit theory course that she sells in bundles of five units using Thinkific's bundle feature. Students can purchase each bundle for $250 USD, or all 20 units for $850 USD. They can enter this course whenever they want, or they can join as part of Cap's annual New Year's Cohort, where she gathers a group of aspiring musicians whose new year's resolution is to learn how to play the bass guitar. 
She also has four smaller, self-paced courses that are offered at lower price points — starting at $29.99 USD — and that can be completed fairly quickly. 
Then, she runs live practice groups. Students can either enter a ten-week live practice group for $370 USD, in which students meet weekly to practice together over Zoom, or they can enter live practice groups via a subscription format and pay $75 USD per month.  If people want even more support, they can hire her for a one-on-one lesson. 
Since it can be difficult to maintain motivation to complete self-paced courses, Cap wanted to find a way to encourage accountability. "We discovered fairly early that it takes a certain type of person to get through it on their own," she says. 
She decided to ask students who completed the course if they'd be interested in acting as coaches for the other students. This worked well; every student was assigned a coach.
Plus, students were asked to submit biweekly homework on a bulletin board that Cap had a developer create and input into the course. 
But the bulletin board was "clunky," as Cap's team member, Fred Pucci, describes it. Although the coaches helped to increase engagement and course completion rates, it wasn't enough. When Thinkific launched Thinkific Communities, Cap scrapped the bulletin board and used Thinkific Communities instead. According to Cap, integrating Thinkific Communities allows for more engagement with "much less tech burden."
As well as getting alumni to coach Cap's students, integrating Thinkific Communities increased the completion rates of her 20-unit course — from 4% to over 50%. 
While drip scheduling, email sequencing, and offering a certificate at the end of the course helped in the past, she says that Thinkific Communities was the key to 10x-ing her completion rates.
"We can say with total certainty that adding the community piece got people further into the course. Even if they didn't finish, we dramatically improved the finishing stats."
Cap isn't the only one finding value in Thinkific Communities; 86% of Thinkific students say they get more value out of online courses that integrate learning communities, and 45% say that in a course setting, they learn as much from their peers as they do from their instructor. 
Now, instead of students submitting their homework to the bulletin board, they submit it in the community.  "Here, they have an opportunity to record themselves and put themselves out there  — even if it's not perfect and they struggle their way through it," she says. 
Cap believes that Thinkific Communities helps students to see that everyone is supposed to struggle at the beginning of learning; she says that when people are first gaining a new skill, they often have expectations that they're supposed to understand something right away. 
"This reality check has been helpful for a lot of people. It's helped to give them hope and realize that it's normal that they're going to struggle and take a few wrong turns before they get it right."
Thinkific Communities gives Cap the opportunity to provide her students with a safe space to share their learning journey. It also allows her to offer feedback — which she believes is a crucial part of a student's learning experience. However, she's careful to frame feedback in a supportive way. She learned early on that people get discouraged if there is too much feedback all at once, and she gives people the option to decline it.
Her audience is mainly made up of middle-aged adults. Many are hobbyists, while others are people looking to go down a professional path. She also teaches many retired folks who have extra time and are looking for a new passion.
But Cap's audience didn't grow overnight; she's gained popularity as an educator in a number of ways. Early on, she recognized the value of being a guest content creator on other people's platforms. "There's always an online magazine or blog somewhere that has a big audience and is looking for content," she says.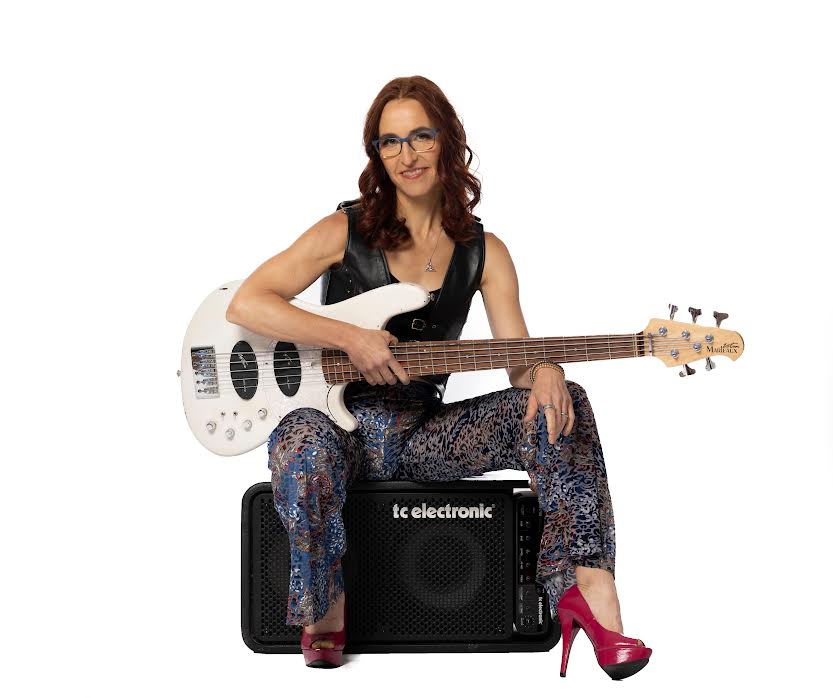 In her case, she started a biweekly contribution to a popular music blog and then ended up doing a series of content for an online bass magazine. "That gave me a lot of opportunity to be in front of people," she says. 
Her books were also instrumental in bringing new people into her sphere. Plus, she's been blogging since 2016 and shows up consistently on platforms like Quora, where she answers people's questions and points people toward her courses. 
She also leans heavily on social media to promote her courses; Her Facebook group has 6,400 members, her Instagram account has over 7,700 followers, her Twitter account has nearly 2,500 followers, and her YouTube channel has over 7,800 subscribers. 
When building an audience, Cap's best piece of advice is to be consistent. "It's easy to come in with a lot of energy and big dreams, only to burn yourself out within just a few short months and give up," she says.  "Start small. Don't blog every week, blog every other week. Every now and then, go on a forum and make a post. Just keep consistently putting yourself out there."
Once prospective students find her courses and land on her website, Cap tries to learn about them. "I like engaging people," she says.
"I want to learn as much as I possibly can from my audience."
She has a form on her website that asks people questions, such as their playing level and whether they like learning solo or in a group. "Then, we can advise them on which course to choose," she says. "We want to determine if it's a good fit."
Once they fill out the form, her site starts an automated email drip. The drip's main purpose is to welcome people into the Ari's Bass Blog community, gauge their interests, and encourage them to sign up for a course. 
Cap believes that quality trumps quantity when it comes to content creation. 
She creates online course content with her students' needs in mind. "I've learned to make sure that the student immediately sees the impact and results that are benefiting their playing," she says. 
Over the years, she's developed a curriculum that she feels is the best path to learning the bass guitar. She creates her content with her husband, who is also a bass player, and tests new exercises and content in her live practice groups. Plus, her team member, Pucci, helps her to edit content, coach students, and moderate the community. She also has other team members, like social media managers, graphic designers, and IT folks who help her ensure that all of her content — and overall operation — runs smoothly.
She suggests that online course creators focus on creating content that's actionable and that provides value. "Create content in a way that is relevant and appropriate for students' immediate next step," she says. 
When Cap first launched her courses, she priced them for "way too cheap" due to her beginner jitters. "That was a bit hard to get out of," she says. 
While she's raised her prices since she offers students the option to pay in installments to make her courses more accessible. "I want as many people as possible to be able to take part in this," she continues. "And your bass lesson budget might not be something you have lying around. Spreading out payments makes it easier for a lot of people."
Plus, she gives her students lifetime access to her self-paced courses, as well as a money-back guarantee; if they aren't happy with her course within the first month, she gives them a full refund. 
She's also experimented with putting her courses on sale and using Thinkific's coupon feature. However, it began to dawn on her that every time she discounted her course, it cheapened her offering. "I know for a fact that what we're offering works, and that we are deeply about the success of our students," she says.
When it comes to increasing sales of courses, she recommends that course creators ask people for referrals to encourage organic, word-of-mouth marketing. She also advises that they position themselves as experts and contribute to online boards, Facebook groups, and forums. "Quora was really successful for us," she explains. "I often got selected to answer certain questions."
She used Stripe and PayPal when she first started out, but has since used Thinkific Payments to "keep things close to home."
When using Stripe, the arduous tasks of changing subscriptions, credit cards, and providing refunds didn't feel intuitive to her. "Stripe is a bit of a jungle," she continues "When I heard that Thinkific would offer that from within the platform, I jumped on it."
She finds Thinkific Payments easy to use. "It's all in one place," she adds. "I can see what someone's payment history is and I can refund them straight away. It's been wonderful."
She also plays with Thinkific's after purchase flow and order bumps. "We composed a bunch of ringtones, which is an easy add-on we've been experimenting with," she says. 
When reflecting on her online course creation journey, Cap believes that the most difficult part has been keeping up with the ways in which the Internet is continually changing. However, the success of her students is what keeps her motivated.
"Never take anything for granted because the Internet changes. It's important to pay attention to how learning changes, how people's needs change, and what they may be missing from an online course."
Pucci believes that for an online course creator to be successful, they must not only keep up with the constant changes of the Internet but also make sure that they prioritize their content — and make it as good as possible. "Make sure content comes first," adds Pucci. "It's easy to get off track and focus on the wrong things to get people in the course."
Although Cap has built a successful Thinkific business, her journey is nowhere near the end; she hopes to create an even more comprehensive learning path and says that she has a few more books up her sleeve that she plans on writing. "It's still unfolding," she explains, excitedly.
If you're ready to turn your passion into an online business and build a thriving community of students, sign up for Thinkific today — free!
---
Want to read more creator stories? Sign up for the newsletter below, or check out more stories here.