Certification courses are an excellent way to prepare for your future career. They can help you build the skills you need to succeed in a new role and get the credentials you need to prove that you're qualified. Or, if you're already employed in your dream career, they can help you develop the skills you need to succeed in your field.  
To help you get started, we've gathered 10 of the best certification courses out there. In this list, you'll find a range of certification courses for various fields, including medicine, hospitality, and education. Each listing will share the minimum duration of the course, cost, and info about the course and the skills you'll learn. Let's get started!
Skip ahead: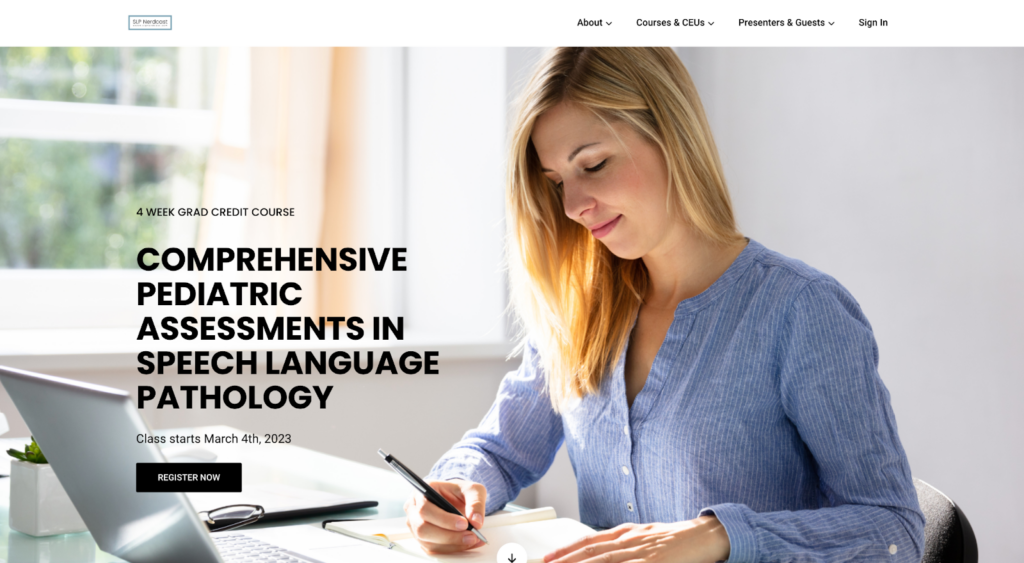 Course creator: Kate Grandbois
Duration: 4 weeks 
Price:  $475 or 3 monthly installments of $175 
About this course:
The Comprehensive Pediatric Assessments in Speech-Language Pathology course is designed to help students learn best practices for evaluating young complex learners. You'll review various assessment types and learn how to efficiently document the information that matters beyond a standard score. This course is excellent for graduate students and professionals looking to earn college or pay-scale credit. 
The course is 4 weeks long (for scheduling, see the website) but is entirely asynchronous. Each week includes 1 webinar, a quiz, 3 discussion board posts, 1 to 2 articles of required reading, a 1 to 2-page essay, and optional office hours. 
What you'll learn:
This course has 4 units:
Foundational knowledge related to ethics, EBP, and assessment 

The pros and cons of the standardized assessment

Assessment strategies beyond the standardized test

Comprehensive documentation strategies
In addition to these 4 units, you'll cover ethics and assessment, appropriate use of standardized assessments, language sampling strategies, informal assessment techniques, and more. 
Skills you'll gain:

Appropriate use of standardized assessments

Dynamic assessment techniques

Informal assessment techniques

Custom assessment techniques

Data collection as assessment techniques

Language sampling strategies

Comprehensive assessment documentation skills
See what Kate's students are saying:
"I loved this course! The topic of assessments is universally relevant, no matter what setting or population we are working with. I have felt that I have not developed my skills in this area since entering the field and focusing largely on continuing education for treatment. This was a great foundational course for increasing and updating my depth of knowledge."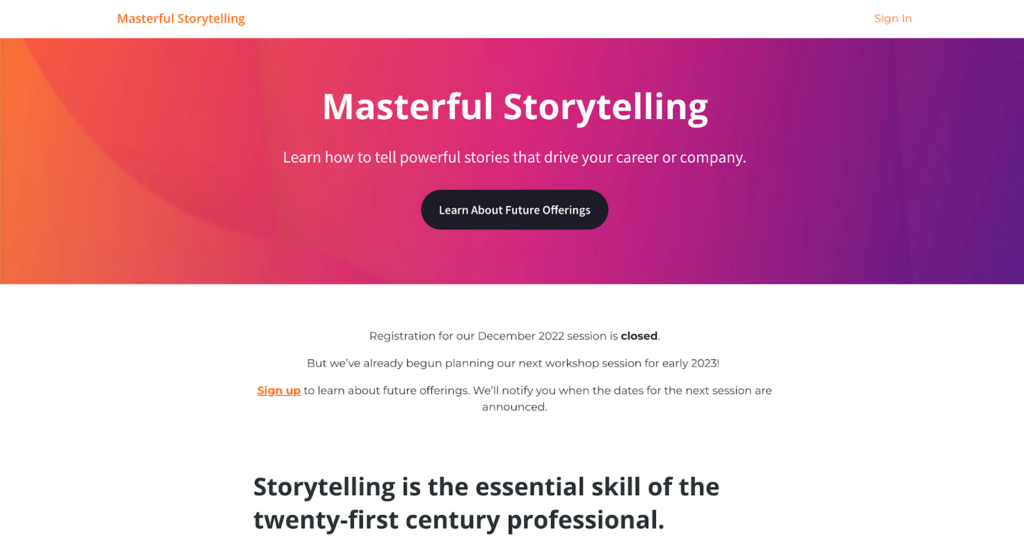 Course creator: Adam Davidson
Duration: 1 week
Price: $950.00
About this course:
Masterful Storytelling was created to help you…well, tell a better story. Contrary to popular belief, storytelling is a skill, not a talent, which means it can be learned. This course is a workshop that gathers on Zoom for three 90-minute sessions over the course of eight days. These sessions go into the mechanics of how to tell a story. Following your successful completion of this course, you'll attract the right opportunities, raise capital faster, impress customers, and land your dream job. 
What you'll learn:
At the end of the course, you will walk away with your Minimum Viable Story and a set of tools to tell compelling stories in any context. Need a quick media post, chatting with a potential client at a dinner party, giving a pitch to colleagues? Just use the right elements of the storytelling framework, in various levels of depth, for maximum effectiveness. In this course, Adam will show you how to do it.
Skills you'll gain:
Story crafting

Story frameworks

Storytelling
See what Adam's students are saying:
"I have tried to learn the art of better storytelling over the years. It is critical to my success at work, and I have spent many hours trying to refine my art through TedTalks (Duarte), books, and MOOC. Adam's course made it easy for me to understand what I was doing wrong and needed to do right. He has distilled his implicit storytelling expertise into simple frameworks that everyone can learn, practice, and adopt. Frameworks you can instantly apply to the stories you want to tell and level up your skills." – Anmol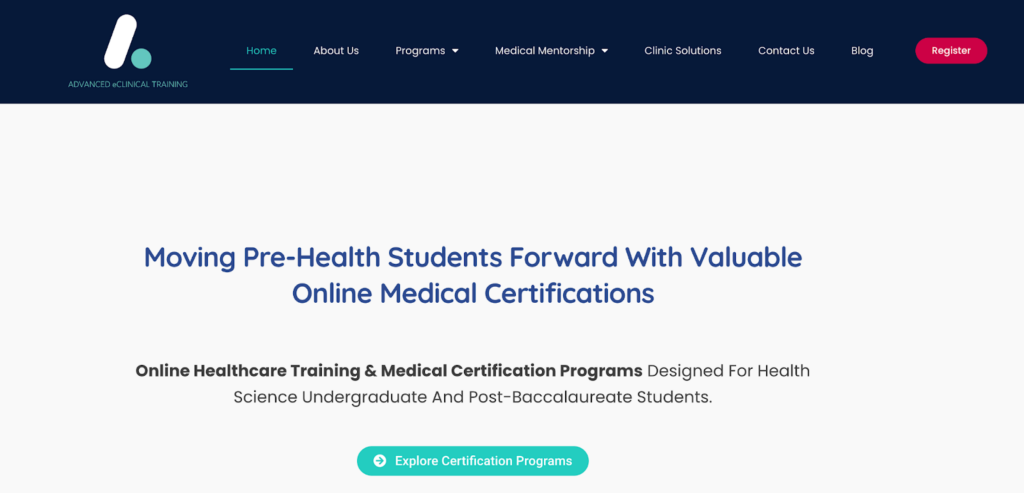 Course creator: Shabnam Safarzadeh
Duration: 8 weeks
Price: 
CCMA Course – $3,100 or 3 monthly payments of $1,033

CCMA Course & Venipuncture / Injection Practice Kit – $3,300 or 3 monthly payments of $1,100

CCMA Course & Customized Pre-Med or Pre-PA Mentorship Program with MD or PA Advisor – $4,500 or 2 monthly payments of $2,250
About this course:
The  Online Medical Assistant Certification (CCMA) Course for Pre-Health Students provides a nationally accredited certification that will allow health science students to obtain direct patient care roles as a Certified Clinical Medical Assistant (CCMA). The course includes 15 modules with 4 to 8 lessons each. Students will receive unlimited access to all included learning materials, textbooks, practice exams, and skills simulations for 12 months following the initial payment. 
What you'll learn:
This course features a comprehensive curriculum that provides students with the essential skills necessary to enter diverse medical fields as Certified Clinical Medical Assistants (CCMA). After completing the course, students can begin gaining healthcare experience/ patient care hours vital for their respective programs.
Skills you'll gain:

Instrument sanitization and sterilization

Patient interview

Telehealth appointment

Aseptic handwash

Application and removal of PPE

Vital Signs and body measurements

Eye and ear procedures

Minor surgical tasks
See what Shabnam's students are saying:
"I enrolled in the CCMA course in January 2021 and finished the program by the end of May. I sat for the certification exam the first week of June (passed on the first attempt) and just completed my first week at my full-time CCMA position. I'm grateful for this program for allowing me to start gaining patient care hours for PA school directly from my college. Don't miss out on this opportunity!" – Dezira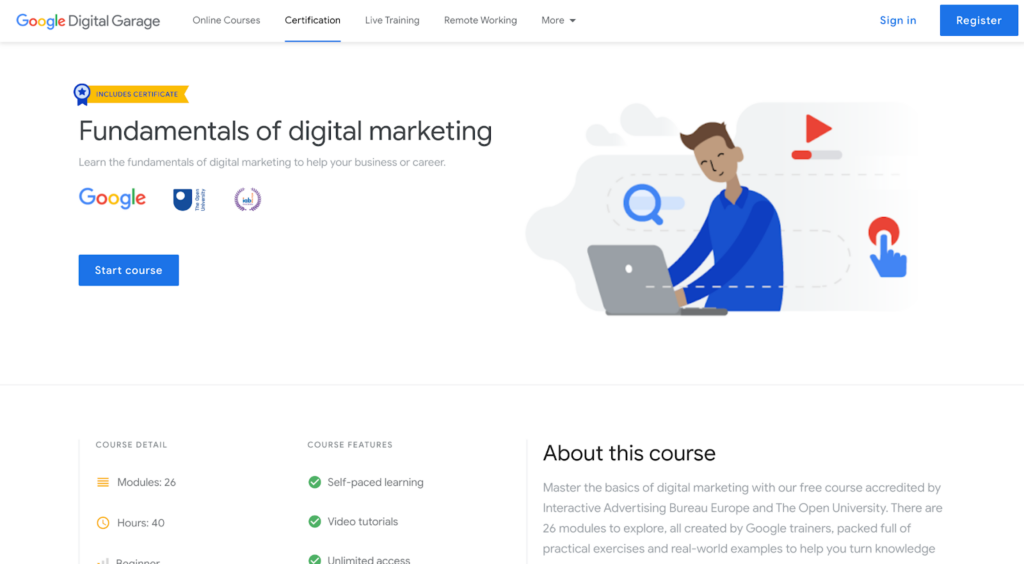 Course creator: Google Digital Garage
Duration: 40 hours
Price: Free
About this course: 
The Fundamentals of Digital Marketing course teaches beginning marketers digital marketing techniques. The course is aimed at helping students improve their CV, find a job, and develop their careers.  
Google's course includes twenty-six modules created by Google trainers, full of exercises and real-life examples to help you put what you learn into practice. After working through the video tutorials, you'll be tested, quizzed, and have to pass a 40-question exam to earn your certificate. Students that pass will receive a downloadable certificate. 
You'll learn how to:

Collect and analyze user data

Define and track goals, segment audiences, and improve online marketing efforts

Grow brand awareness

Get noticed by identifying the right audiences and ad networks

Master email marketing basics

Create landing pages and use A/B testing
Skills you'll gain:
In addition to all of the content you'll learn in this course, Google explicitly lists 13 skills you'll learn. They are:

Analytics and data insights

Business strategy

Content marketing

Display advertising

E-commerce

SEM

SEO

Email marketing

Web optimization

Local marketing

Social media

Mobile

Video
See what Google's students are saying:
"Conducting business online has become one of the most sought after skills. I joined the program to expand my knowledge in internet marketing. The platform is a good tool for people who are just starting in internet marketing . The workshops were an excellent opportunity for me to take a new role at the company I was working at. The program helped me perfect my marketing and analytical skills, and secure my position as a Content Marketing Manager." – Sylwia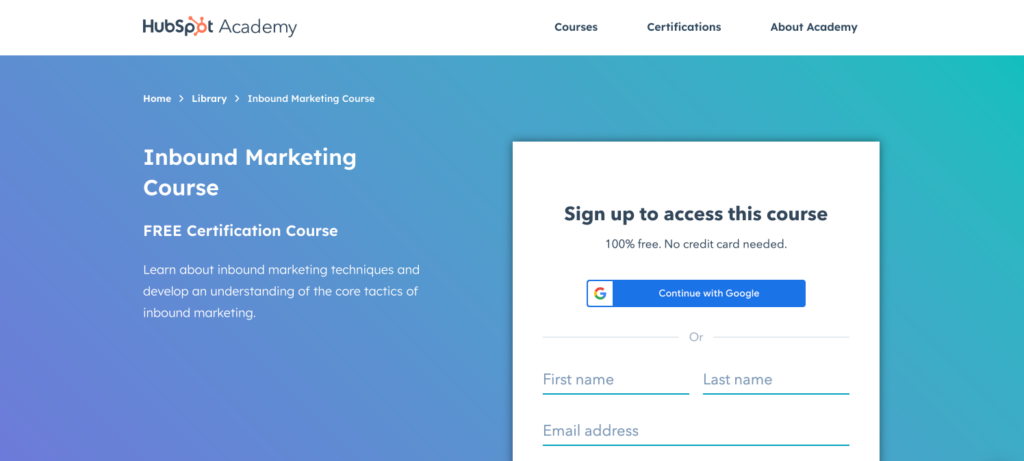 Course creator: Hubspot Marketing
Duration: 5 hours
Price: Free
About this course:
The Hubspot Inbound Marketing course is known industry-wide. Created for inbound professionals and marketers, it teaches marketing professionals all about the customer journey. This free course includes 7 lessons, 24 videos, and 7 quizzes.
What you'll learn:

Inbound marketing fundamentals

How to create content for the buyer journey

How to get to know your customer

Behavioral marketing and customer segmentation

How to maximize your ROI with attribution and experimentation
Skills you'll gain:
This comprehensive course will help you develop the skills and knowledge to create a strategy that generates leads without relying on paid channels. You'll learn how to increase traffic and conversions with content marketing, how to ensure your website is easy-to-use and effective, and more. You'll also gain an understanding of how to manage customer relationships through email marketing, social media management, lead nurturing, and more.
See what Hubspot's students say:
"On a scale of 1-5, I'd give this course a 5. If you're starting out in your career and considering taking a digital marketing certification to strengthen your resume, I highly recommend HubSpot's Inbound Marketing Certification. It is a great starting point for up-and-coming marketers looking to increase their skillset in various topics. From here, you could easily jump into social media, email marketing, CRM, SEO, or sales management certification and be a step ahead. If you're a more seasoned digital marketer, I still recommend it. It's easy to stay up-to-date with inbound best practices and won't take you very long to complete. It's a win-win!" – Mussottn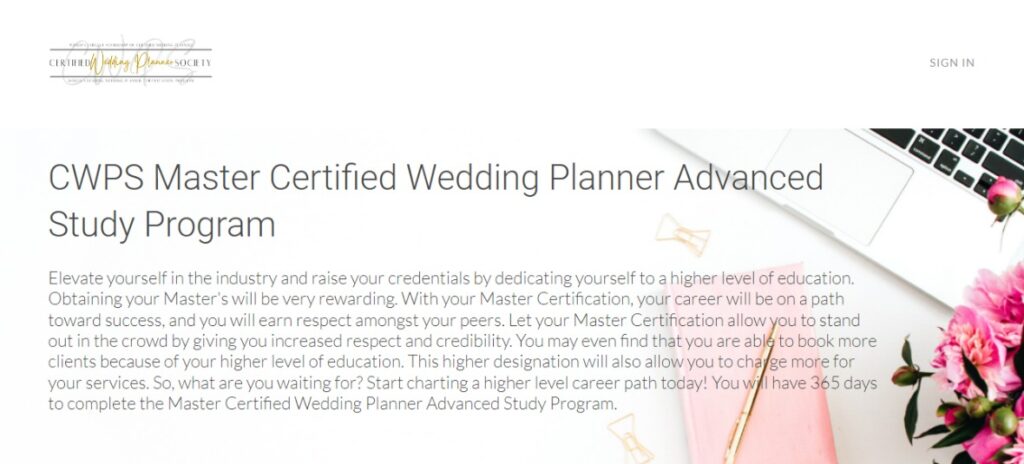 Course creator: Laurie Hartwell
Duration: 2-3 months
Price: $600 or 2 payments of $300
About this course:
The Certified Wedding Planner Advanced Study program is a comprehensive course that covers 12 modules with everything you need to know about wedding planning. You'll be able to move through the course at your own pace as you work through 20+ hours of video instruction, and students will have 1 year to complete it. 
You'll master:
Your company's culture

Business essentials

The psychology of engaged couples

Your website and marketing materials

Business contracts

The booking and onboarding experience

Business finance

The wedding details
Skills you'll gain:
This in-depth course will help you develop skills in two major areas: business and human-to-human interaction. Regarding business, this course covers how to collect payments, design a website, and determine your ROI. But being a wedding planner isn't a desk job, so you'll also cover skills like managing client expectations, onboarding couples, and wedding etiquette. 
See what Laurie's students are saying:
"I consider myself to be a constant student. I am always on a quest for more information to better myself and provide a meaningful impact to those around me. This certification program provided me with so much information on how I can attract new clients, surprise and delight current clients, and maintain meaningful relationships beyond the wedding day. I feel this new title reflects how much I love this industry and how I want to continually learn and improve in all that I do. This title and education will only enhance the level of service my clients receive, which is my top priority—my clients' satisfaction." – Matt Mitchell of Mitchell Event Planning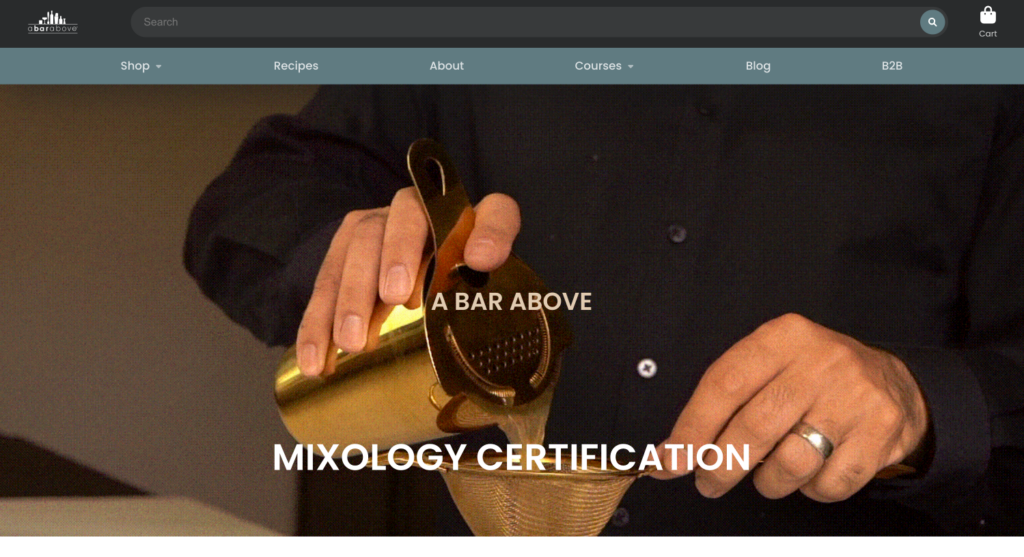 Course creator: Chris Tunstall
Duration: 3-8 weeks
Price: 147.00
About this course:
The A Bar Above Mixology Certification course is focused on teaching you how to create your own cocktails. The course is broken down into 3 steps: 
Mastering your ingredients

Mastering balance and flavor

Earning your certificate
Step 1 will teach you about flavor profiles and how to work them into your signature cocktails. Step 2 will take you into mixology 101, where you'll learn about flavor and balance and how to map cocktails out on paper before mixing. And in the final step, students will convey their newfound knowledge and earn their certificate after completing an exam. 
You'll learn:

How to make a balanced cocktail 

How to combine ingredients in a recipe

How to express your creativity

About common ingredients and their flavor profiles 

How to get noticed with original cocktail creations
Skills you'll gain:
This course will give you the skills to create creative and inspired recipes from even the most common ingredients. While you will learn some of the mixology basics, you or your bartenders will walk away with the ability to create confidently. 
See what Chris' students are saying:
"I loved the idea of being able to complete the mixology course at my own pace! The course was very informative, and I learned a lot from the videos, all of the printed info, and the homework I could download. I also love that I can always go back and log into the course again to watch any videos, and go over any information that I would like to review again."  – Joseph Covello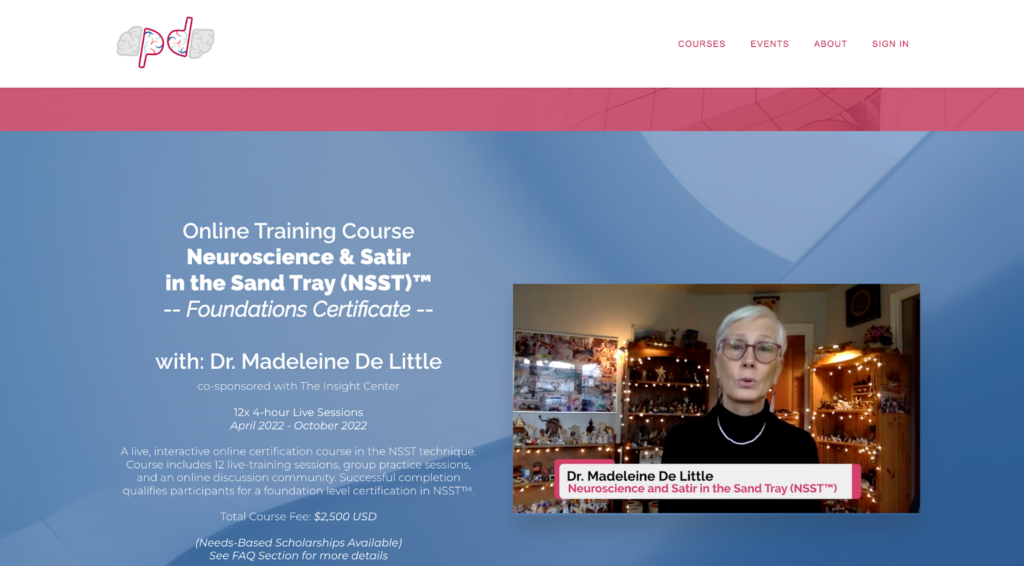 Course creator: Dr. Madeleine De Little
Duration: 12 4-hour sessions
Price: $2,500
About this course:
The Neuroscience & Satir in the Sand Tray (NSST) Certification is a foundation certification that will span 6 months. It will teach you how to apply modern neuroscience techniques through the Satir and Sand Tray model. The course teaches students how to access stored trauma and shame in patients by using figurines in a sand tray to bring about lasting change. After successfully completing this course, students can earn 24 CE credits in the U.S. or 48 CE credits in Canada. 
You'll learn:

How to transform loss and grief

How to transform trauma

How to transform shame

How to work with families

What the autonomic defenses look like

How to transform anxiety and depression



Skills you'll gain:
In this course, you'll begin to develop the neuroscience behind a method called satir in the sand tray. Trained medical professionals will learn about how patients' unconscious minds affect their choices as they engage with figurines in sand trays and can begin to help their patients transform trauma and shame. 
See what Dr. Madeleine De Little's students are saying:
"This online course presents psychotherapists with a remarkable training and certification opportunity! No other program offers the unique combination of play and creativity, combined with brain research, all within a highly relational approach toward healing trauma." – Terry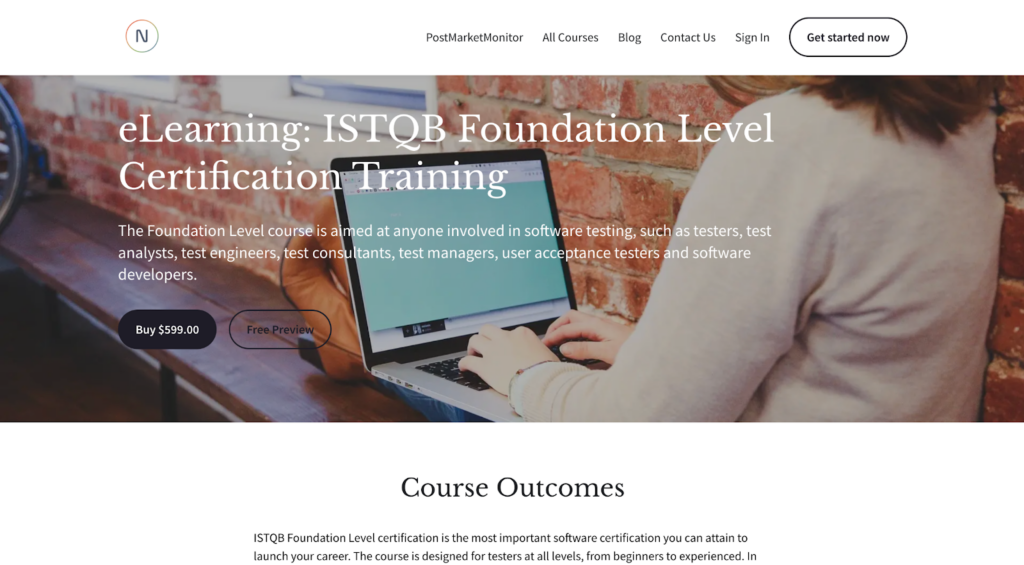 Course creator: Niranjan Maharajh
Duration: 15 hours 
Price: $599
About this course:
ISTQB Foundation Level Certification is the largest offered course of its kind and is designed for testers of all levels, from beginners to experienced. In this course, you will get a real experience of what software testing is, and how to prepare for the ISTQB Foundation Level certification exam. The course focuses on ISTQB concepts, terms, and methods and covers everything you need to be confident and successful in your work as a software tester.
You'll learn how to:

Understand the value that software testing brings to stakeholders

Promote efficient and effective communication for software testing

Understand fundamental concepts of software testing

Contribute effectively in reviews

Write and communicate clear and understandable defect reports

Assist in the selection and implementation process of testing tools
Skills you'll gain:
Students of this course will leave with foundational skills for a career in software testing. They'll start by reviewing the testing fundamentals, test processes, and principles. Then, they'll learn the static testing basics and software development lifecycle models. By the end of the ISTQB certification, students will have the necessary skills to succeed in a software testing career.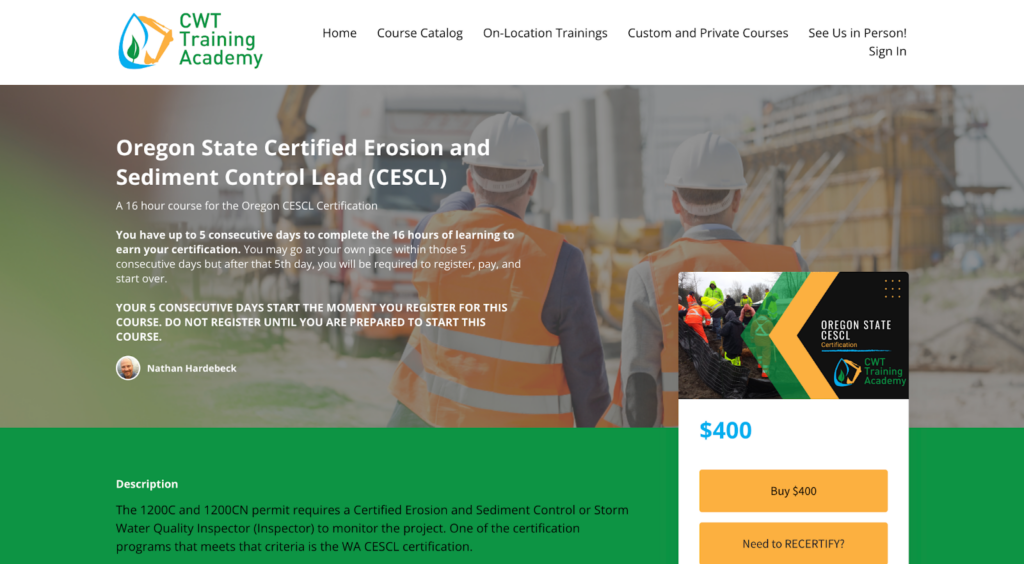 Course creator: Nathan Hardebeck
Duration: 16 hours
Price: $400
About this course:
Permits 1200C and 1200CN require sediment monitoring and sediment control or a water quality inspector (analyst) to inspect the project. The Washington State CESCL Training program meets these standards; this course is a modified CESCL WA that includes all WA criteria but provides a dedicated section for the 1200C/1200CN license. This certification program provides information on stormwater regulations and an overview of Oregon state permit requirements (1200C and 1200CN), identifies inspector duties, and reviews a long list of different BMPs available on the market.
What you'll learn:

Permit requirements

Inspection requirements and frequencies

Physical BMPs – Perimeter, covering, conveyance, etc.

Requirements of an SWPPP or ESCP

Operational BMPs – Process water management, phasing, solid waste management, etc.

Treatment BMPs – flocculation, filtration, etc.
Skills you'll gain:
This course will allow you to meet the training and certification requirements of the Washington State Department of Ecology's Construction Stormwater General Permit (BMP C160) and the Oregon 1200C and potential 1200CN requirements for the Inspector (Section 6.1 of the permit).
Final Thoughts
And that concludes our list of the best certification courses! 
Online certification courses are an excellent way to go if you're looking to stand out among other candidates in a hiring process, learn more about your field, or earn a promotion at work. They can demonstrate your commitment to your career and your willingness to learn. 
If you're ready to take the next step, pick the right course for you (either from the list above or with more research), and get started!