Building fantastic landing pages is no easy feat. Everything from the page load speed, the quality of your content, and the alignment of the page's messaging to the user's needs – they all impact how long your user is likely to find the page, stay on the page, and convert. Even minute details can make or break their experience.
If you're new to building landing pages for your business, or you just want to get inspired by great landing pages – you've come to the right place. Here, we're diving into everything about the top landing pages on the internet today and what makes each of them value-driving for a potential customer. 
Click to skip ahead:
Why a good landing page matters
Almost every business today exists online, at least partially. And 97% of people learn more about businesses through Google searches. Having a powerful, insightful landing page will help your overall site score and search engine optimization (SEO) to make it more likely that these search users are going to see your site first – and then click into it. 
From there, the quality of content you have on the landing page can impact their engagement/interest in your company's offering, nudge them towards purchasing or trialing the product, and possibly even encourage them to share the webpage or product information with people in their network! Essentially, it's a no-brainer way to boost your digital sales conversions.
Things that great landing pages have in common
Clear CTAs
This one feels like a no-brainer, but it's actually frequently forgotten. Once your potential customer lands on your page, you should provide them with a clear, actionable next step. Possibly you could convince them to "Book a Demo," "Start a Free Trial," or even directly, "Buy Now." It's important that your call to action (CTA) is straightforward, non-ambiguous, and in an easily visible spot (such as the top of your page). Sometimes it helps to have a deal or promotion to further encourage people to push that button.
Defined value propositions
What value can the user get out of your product? Why should they try this specific product, from your specific business, right now? If you're struggling to answer these questions, it might be time to step back and do some more market research to understand who your customers are and why they love using your product. 
When you do have these answers, pick a maximum of four value propositions to share on your landing page. Make these as specific and niche to your ideal customer profile (ICP) as possible so that they can relate and feel more inclined to purchase something specific to their needs. Having too many feature benefits or using vague value propositions can feel disingenuous or overwhelming for the user, and decrease their likelihood of conversion.
Visually appealing
Of course, the page should be nice to look at! You don't always need to go for the "wow factor," but the first 3 seconds do matter. Having an image or video at the top of your landing page helps improve the visual aspect. Great contrast, high-quality graphics, and easily visible text/buttons all help to make navigating the site much easier. 
Interactivity & usability
It's one thing to get someone onto your page, and another to keep them there. Making the site easy to navigate is done by focusing on great user design. Integrating interactive elements can maintain a user's engagement and improve the visual element of your site. As people spend longer on the page, they consume more of the information which can increase their likelihood of conversion. 
Some examples might be an interactive tool (ie. Input X and we'll tell you Y!), a customizer option (ie. car companies do this for visualizing different models), toggle bars, parallax images, carousels, embedded content (ie. maps, podcasts, social media), and more.
Not too long
Unfortunately, most people's attention spans aren't as long as all the information you want to share with them. In fact, you should plan for your landing page to be easily skimmable within 15 seconds. Within that time, the user should be able to quickly analyze if the page is for them and see if the information they need will be found through further reading on the page. To help this, place important information at the top and keep the page generally short (no more than 3-4 minutes reading time. If you have more information to add, consider putting in a CTA to another page to learn more.
25 inspirational landing page examples by industry
B2B Software-as-a-Service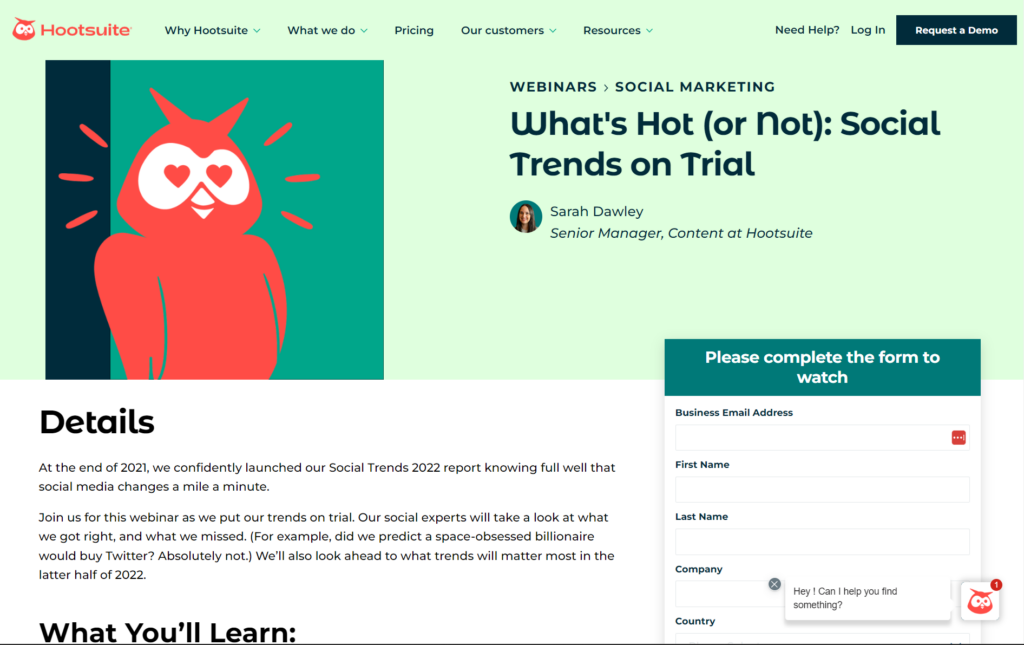 Building landing pages for webinars

is tricky, because they need to generate a lot of traffic and conversions in a short time frame. 

This page is short and sweet – you get exactly the information you need about the webinar only and doesn't overwhelm you by also selling the product. 

The owl GIF at the top of the page is a great visual element, and aids in building interest when you first enter the site.

The form to register for the event is in clear sight and near the top of the page. This makes use of short attention spans by getting them to register right away.

Contains speaker information, which is a nice added bit of information. It's just enough to help the user build interest in the event to register, but not so much that it's overwhelming or takes the user's focus away from actually registering for the event.

An area to test out is having less fields in the form. Requiring users to input too much information can decrease conversions. Often, the faster and simpler it is to get started, the more likely you'll see high conversion rates.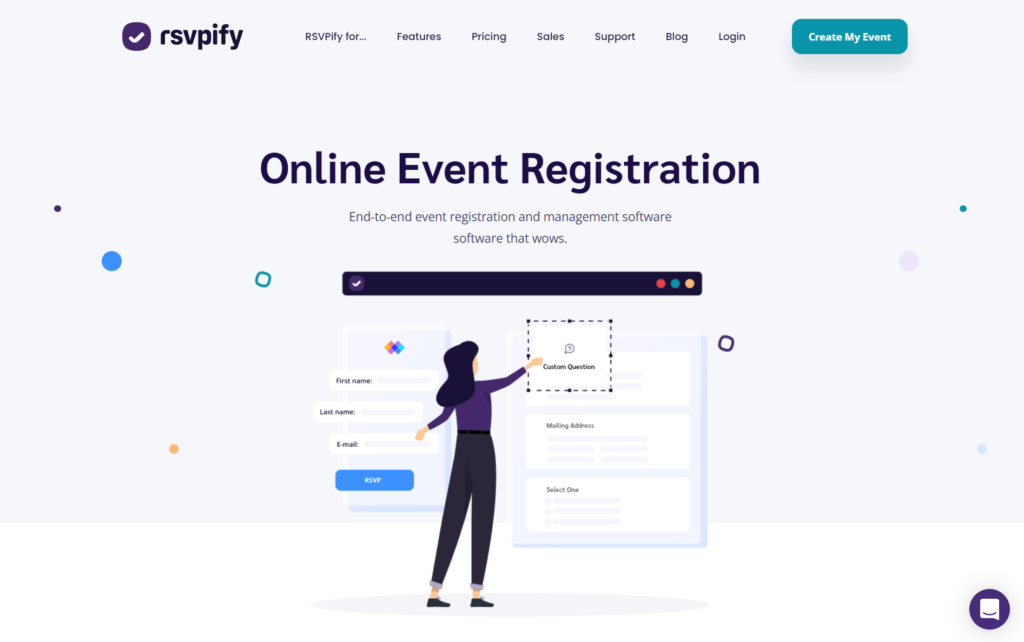 Extremely easy to read the page due to well-spaced media elements and use of high contrast colours. 

Simple, direct benefits that customers can derive from the product are outlined early in the page. This helps the customer understand why they should keep reading to learn more about how the product helps them meet these goals.

Includes awards at the end of the page. While this isn't the most important deciding factor for a customer, it is a last-push attempt to build some reputation and trust with the customer, which can be especially important for smaller brand names.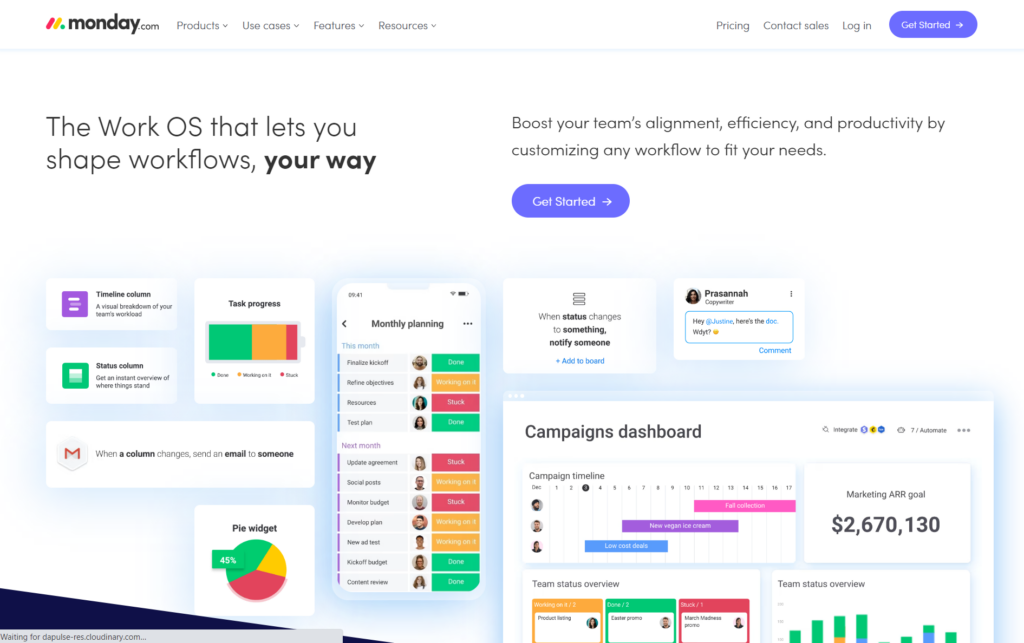 Very visually engaging with lots of screenshots of the app in-action. Users looking for a productivity app are often seeking specific user experience (UX) features, so this is a great way for them to know if it's the right product for them right away

On top of that, it breaks it down for users to see what each page view looks like (ie. board view, page view, integrations, etc.)

There are 5 CTAs in columns at the end. Each column is catered to a different type of user including a description about who the product is for. This makes it easy to navigate to learn more based on the buyer's context

Only thing to test on their page is that the "Get started" CTA might make a user feel like they have to pay right away with no option to start a free trial (ambiguity can decrease conversions)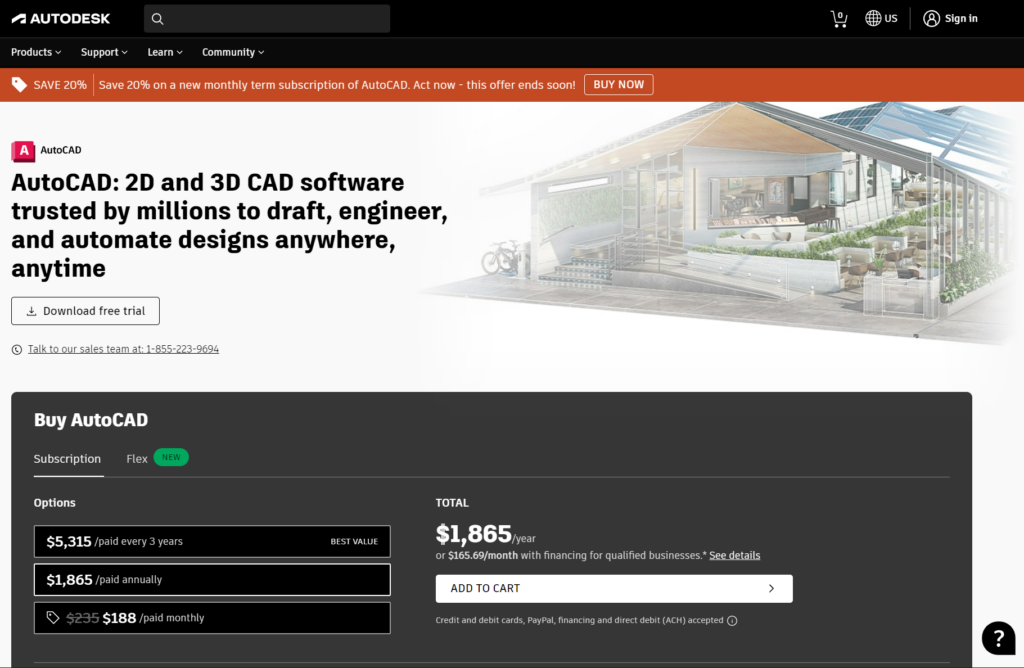 AutoCAD is usually purchased by procurement teams at large organizations so it's great that pricing is placed up high (this is the first priority for these buyers – the company already knows the features because of the reputation of the tool in the industry)

Fantastic that the page also has a banner for any special offers and a CTA to call the sales team to further drive the sale at that exact time

Provides just enough feature information & comparisons to the "LT" (lite) version of the product, which would be helpful for procurement teams to make sure they're making the right purchase but not getting too technical.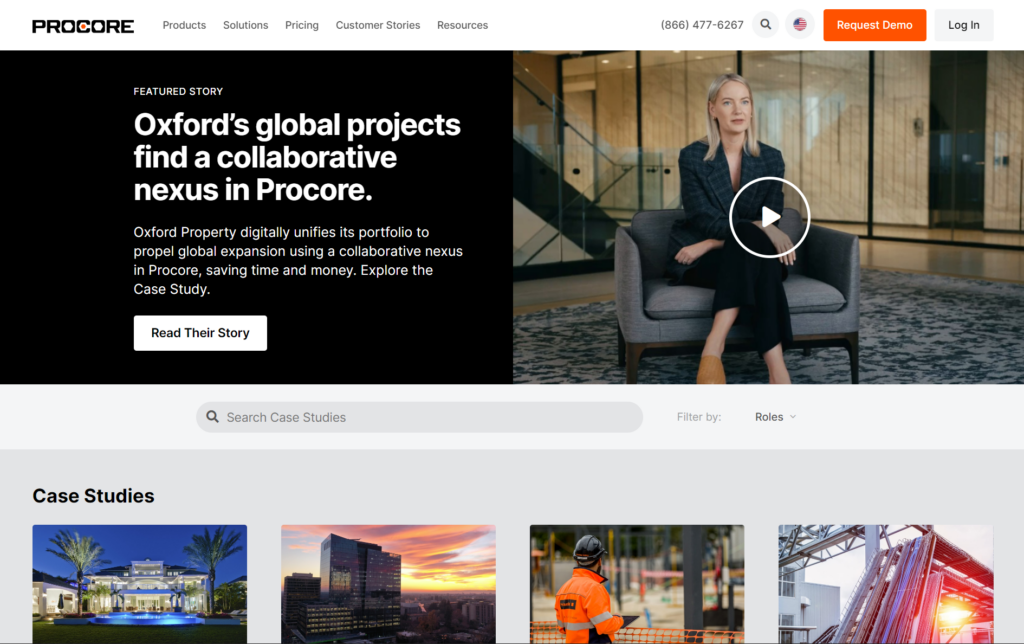 Visually symmetrical and aesthetically pleasing. It's also very easy to navigate through the content and there is an option to sort by various filters. This makes it even easier to get to what is most relevant, very quickly.

It's understood that the purpose of this page is not to push the demo sign-up on customers, but to help them build trust with the company from past customer stories so they have a CTA that aligns well with that ("Read their story.")

The CTA to "Request Demo" is still available as an option at the top of the page so it is not limiting the user's ability to talk to sales.

Only thing here is there may be too many case studies. It's possible that they might want to focus on their top 10 or so, especially if they find that only a selection receives a significantly higher viewing than others.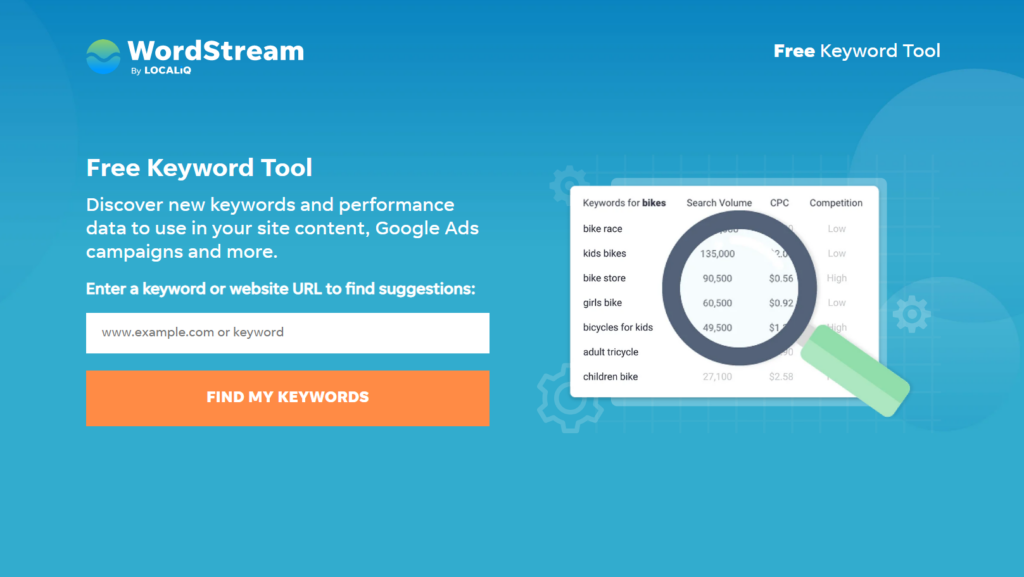 Having an interactive tool is so great for SEO and makes for a great reason for the web user to engage with the page and share it to others.

The interactive tool is right at the top of the page so it's easy to access over & over again, every time the user wants to visit the page and measure a new keyword.

They make a great case for themselves by having a section of support from Google and other search engine tools/journals. This reputation builder sells the quality of the product, and by placing all of these reputation-builders together, they maximize the impact it has on customers. Important to note that they don't drag on too long about their support from Google and other industry leaders. They make it known, but still keep it simple.

They could improve on moving their bottom paragraphs of text/FAQs under toggle headings so it's easier to read through the information.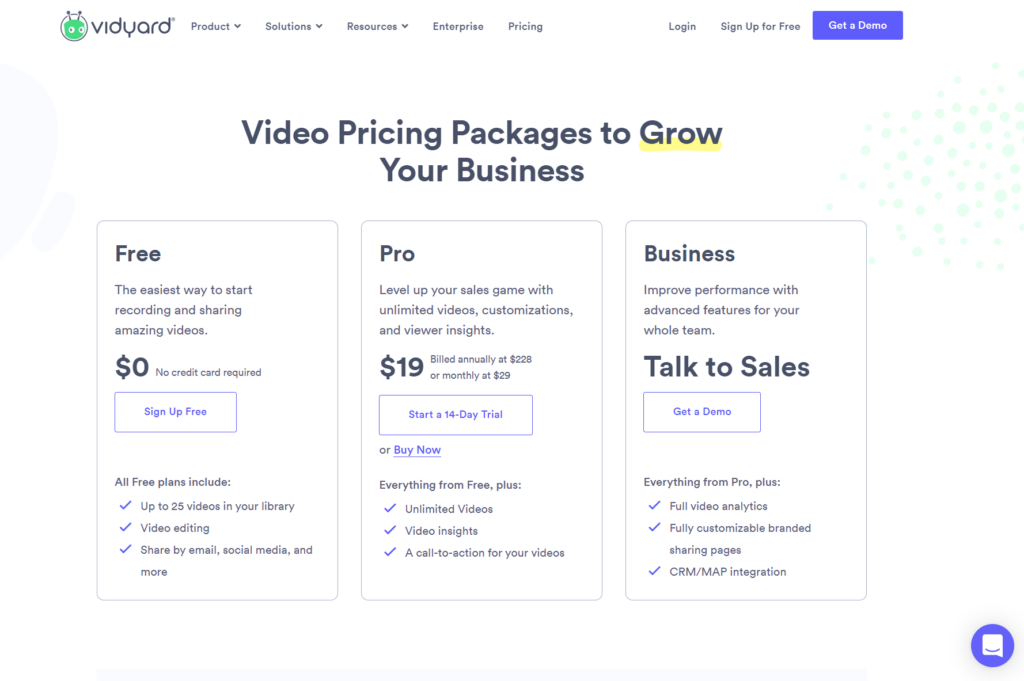 Pricing is obvious – in bold and at the top of the page, customers can quickly get the information that they're looking for. In a lot of cases, customers might feel frustrated if pricing isn't available on the pricing page.

They change their CTA to suit each pricing option. Each price tier comes with a different thing that customers should do and this customization helps them stand out. It's a much better alternative than saying "Get Started" or another vague CTA for each pricing level.

There's a comprehensive comparison chart. Again, this is what customers specifically come to this page for. It doesn't have to be this detailed for all products, but VidYard did a great job of taking a huge pile of feature comparisons and sorting them out nicely so it's easy to digest.

One thing to test could be having toggles on each comparison chart, in case customers want the page to be more skimmable. This hides details for customers that don't need it.
B2C Software-as-a-Service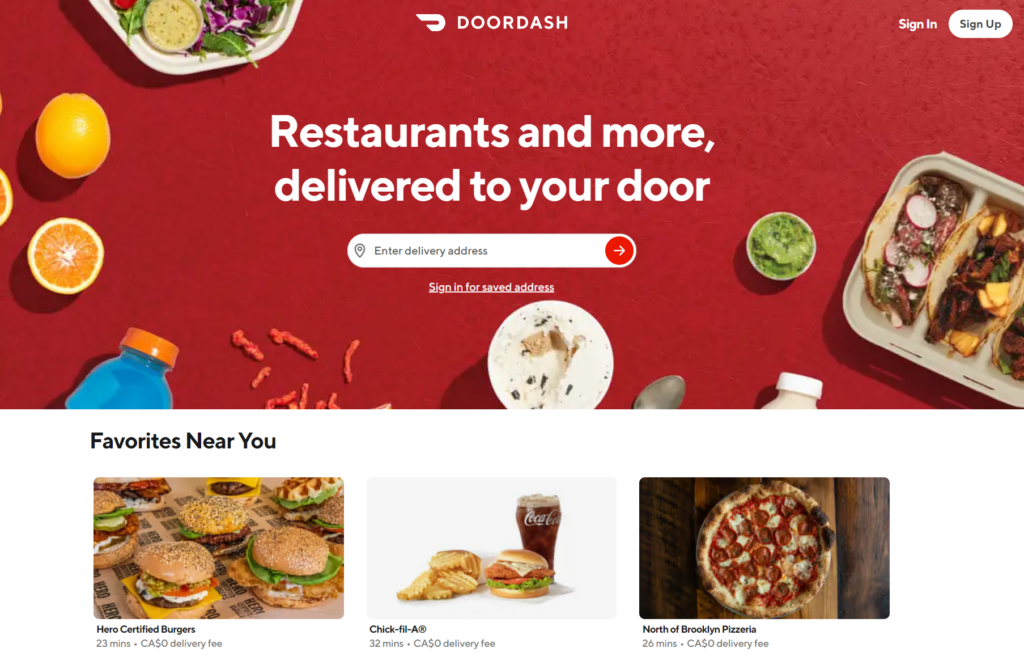 Definitely caters to customers who order through the app rather than the restaurants or delivery personnel. However, the page is quick to offers links to redirect you based on why you came to the landing page (ie. become a dasher, become a partner, test the app). They do this at the top of the page to maintain low bounce rates and keep the right people on the most relevant pages of their site for longer.

Because they cater to customers who are looking to place an order, they have a search tool as the first thing that is presented on the site. This is very convenient for a large majority of their site viewers.

Inspiration ideas are placed just below the search bar to help people answer the question of "what should we have tonight?" when ordering takeout.

Use of red on the CTAs creates a feeling of urgency. Speed is an important factor when ordering food for delivery.

If Doordash has promotions, they could consider adding it on this page to encourage people to order a certain amount, order through a specific restaurant, complete a transaction by a certain time, etc.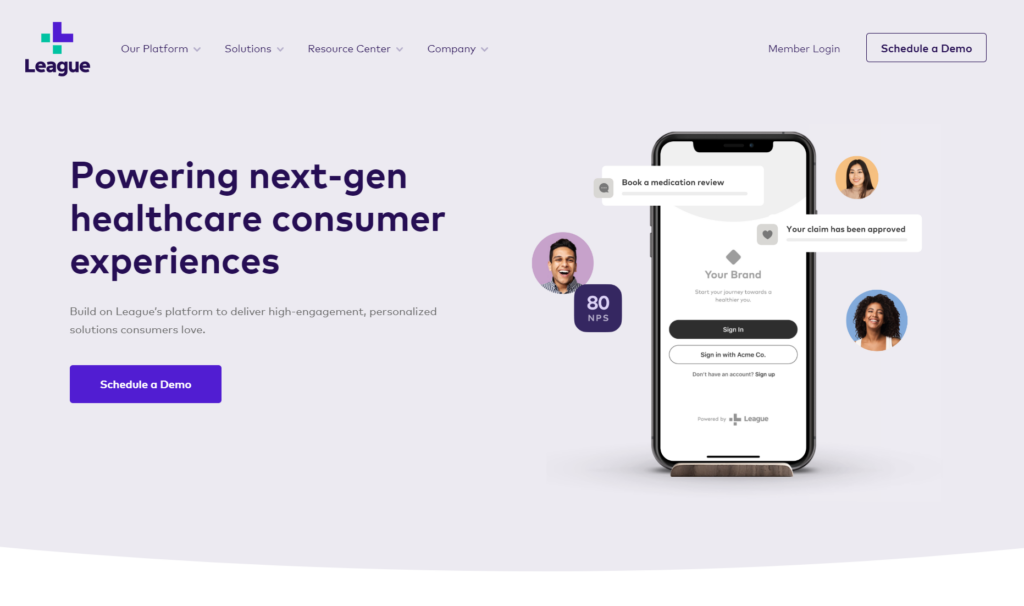 Since the product caters to multiple ICP's depending on their use case of the software, League immediately attempts to direct users to the information page that will be most useful to them. 

A small menu at the top of the page makes it very easy for the user to navigate to another page during their visit.

They showcase a lot of reference to the support they have from top brands & customers. They know the healthcare industry relies a lot on trust and reputation, so they build this throughout all of their content on the page.

Aside from the top of the page, the CTAs throughout the rest of the page aren't very bold. They may consider testing the design of their CTAs to see if affects conversion rates.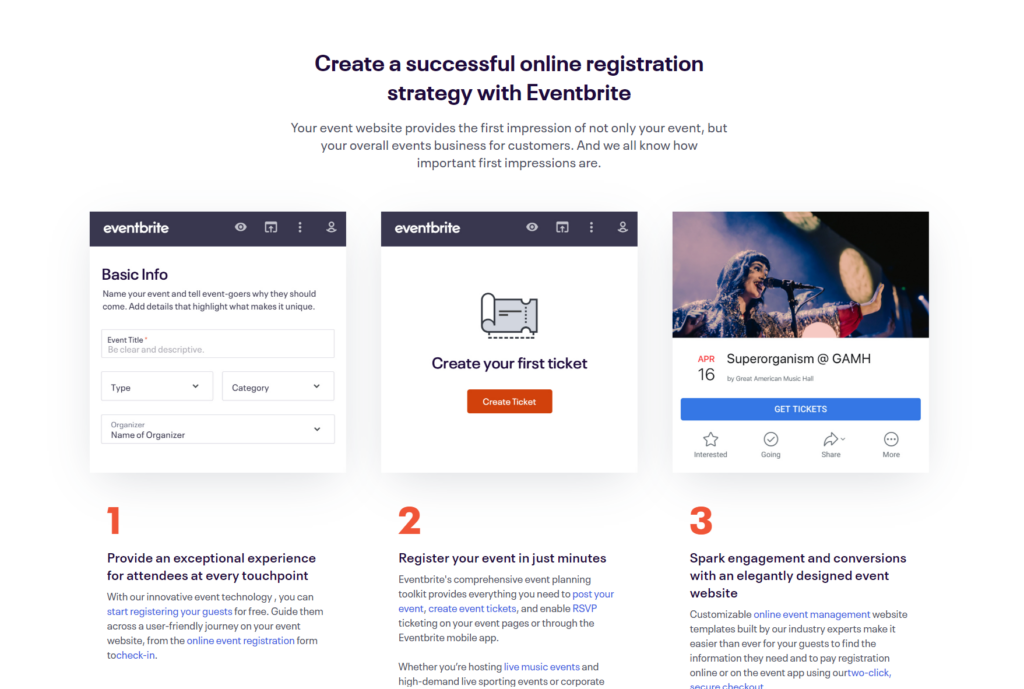 A very clear headline at the top makes an impact. It's easy for the user to quickly read and decide if it relates to them or not. 

Breaks down the solution into three easy steps, showing the user how simple it is to use the product. Also shows the direct benefits that come from using the product. 

Has an informational "What to look for when comparing vendors" section, indicating that they know their target audience well, and their ICP is likely doing online events for the first time so they're unsure how to evaluate competing tools. This added information can build trust with the user and help them convert. 

It's easily skimmable. Even though there's a lot of text content, users can quickly read headlines to get to where they want – fast.

One area to test is putting a CTA for signing up or learning more at a mid-point throughout the page. There's a CTA desert for a big section of the page, and users might want to convert at some point in there.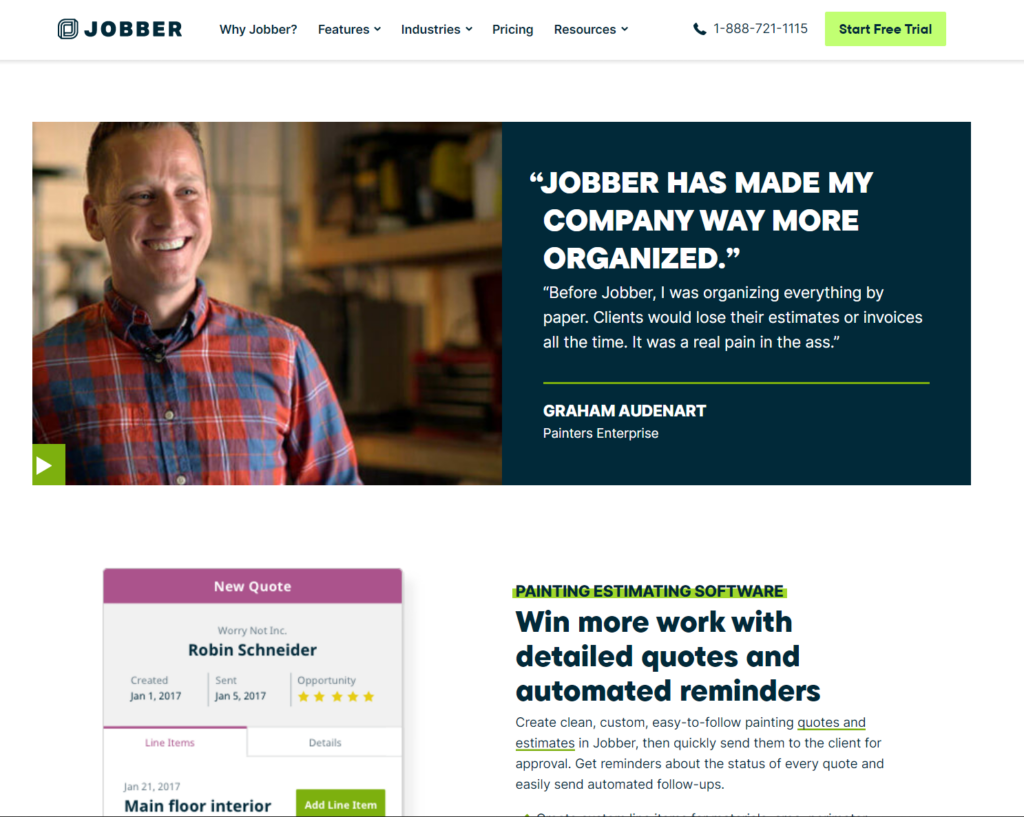 Jobber has a unique landing page for their product for each type of tradesperson that would use it (ie. painting contractor, residential cleaning, tree care). This shows tradespeople that they are represented by the product and makes them more inclined to want to sell through it.

The page identifies a clear benefits description of how it helps someone running their own business, which again targets the ICP perfectly.

An area of consideration is that the page possibly puts too many "start free trial" CTA buttons. This can feel overwhelming to the user and makes it difficult to get to other information if it's spread out across to many other areas of the site.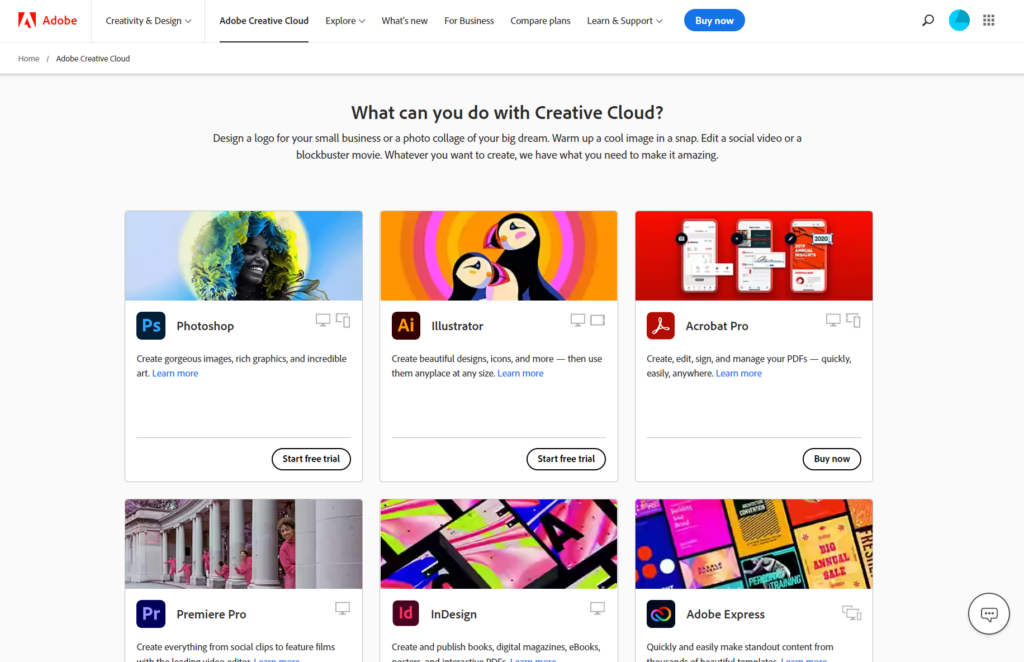 Having a video/GIF as the visual element at the top of the landing page grabs attention quickly and aligns very well with the theme of creativity/artists that Adobe wants to work with

They have two CTAs – one for a "Free Trial" and one to "Buy Now." Both are side-by-side but they have the "Free Trial" one in black and the "Buy Now" in blue. The blue is a lot more noticeable, meaning they hope to encourage people to buy instead of free trial. This is an efficient visual use of colour to direct people to a preferred CTA.

Also great use of colour to divide up content sections, making it easy to navigate through the page.

Would be great to test using a page that hones in on the top six apps that individuals use versus this landing page which tries to appeal to individuals, students, and business teams.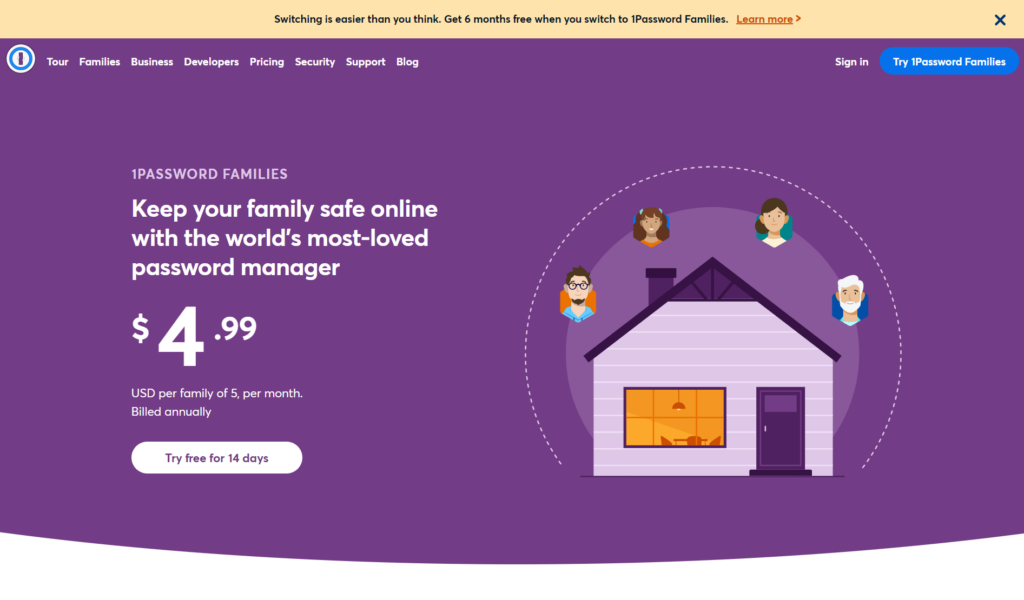 Having a prominent CTA at the top of the page with the low price clearly listed is very attractive for families. This is especially true for larger families, who usually are more conscious of their budget.

The free trial option is the second-most prominent CTA, which appeals for the same reason as the low-price CTA. This provides families with a risk-free opportunity to build trust with the product before purchase.

The page hones in on features that appeal to families only, they leave out feature benefits that would appeal to students or businesses. Having this niche focus makes potential customers relate better to the product, which can increase conversions.

Trusted reviews also help build trust before purchase. There's an option to test using testimonials directly on the site rather than the embedded Trustpilot testimonials (which are faceless and nameless).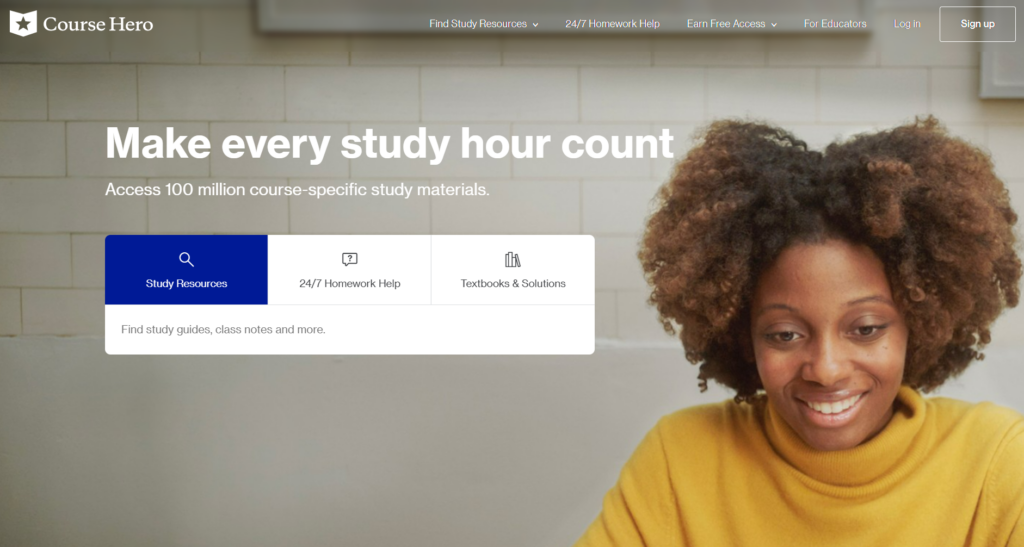 Keep in mind that this site is targeted at students who have specific questions or topics to research. As such, it's a great idea to start the landing page with a search bar so they can try to get directly where they need right away.

Search bar is not obstructed or hidden by other busy elements on the page – it's super clear where it is.

Another alternative search method (to search by course) is available as soon as you scroll down (just in case you didn't have a specific topic in mind above).

The bright pink CTA stands out a lot and is great for this case scenario. The bright pink is similar to red, which is used to convey a feeling of urgency. However, pink feels less stressful than red, so it recognizes the importance of getting homework support without triggering the stress responses that red would.

There's no pricing information on the homepage, so users might be led to believe that the tool is free. Whereas in reality, it's either paid or "earned" by supplying new resources into the site.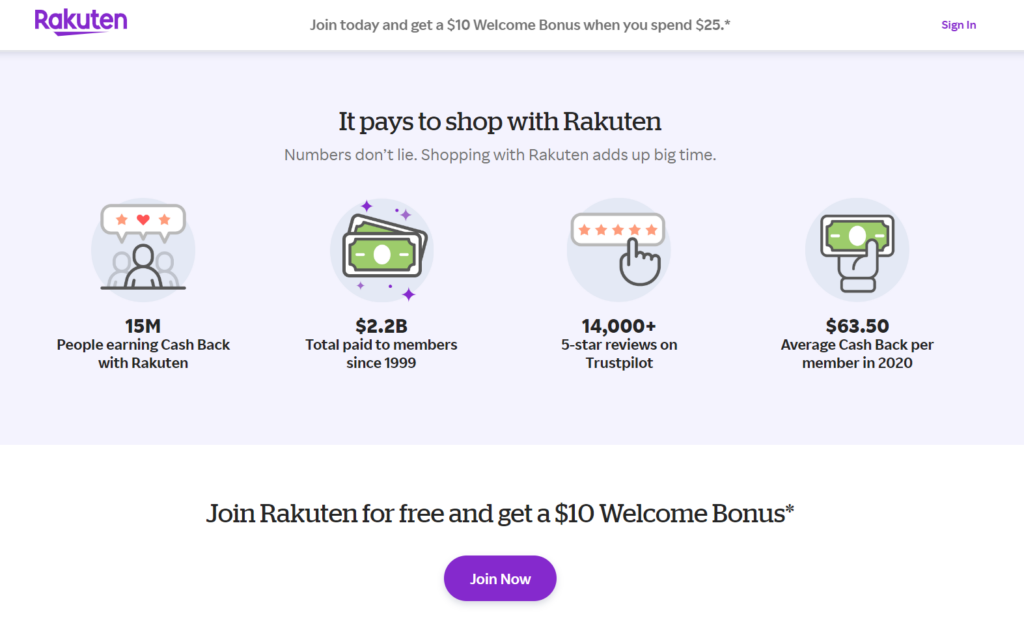 Clear CTA options to "Join Now" and "Add to Chrome." This is flexible for current and new customers, to ensure that both can use more of the product.

Makes it easy to get started with the product and explains this to the user with the simple 3-step process near the top of the page (less steps to start using = higher conversion!)

Short page so users are forced to explore more of the website or click a CTA to get further information. This holds the users attention and encourages them to see what other areas of the site have to offer.

Lots of logos of popular brands that middle class people shop at frequently to help build trust between the brand and the users.

The use of white and bright purple is attributed to "cheap" and "deals" so consumers feel like they are on the path to saving money as soon as they enter the site. 

The homepage doesn't explain too much about how the CashBack program operates, and they don't have a CTA to this on the homepage itself. Might be a consideration if their audience likes to look into details!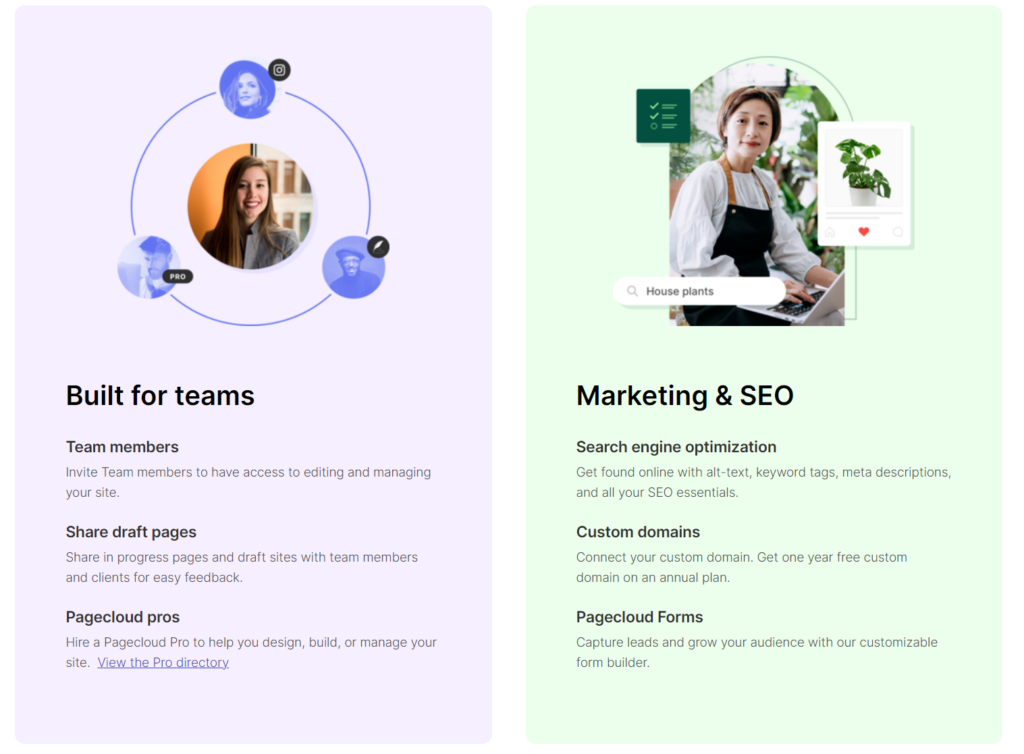 As a website builder tool, we're sure glad they made this list! 

Despite having a lot of information and copy on the homepage, they break this down well by using coloured sections to break up the text. It's important that the colour is subtle, so it doesn't really distract you from the words and not one section really gets a lot more attention than the other when two vertical sections are side-by-side. This means all important information gets equal attention.

Better yet, it's easy to skim through this page to find what you need. Big headlines help you get the gist of the product's offering and benefits, and then smaller copy is underneath in case you need the details.

CTAs are front and center, with high contrast so they stand out on the page.
Consumer Products & Services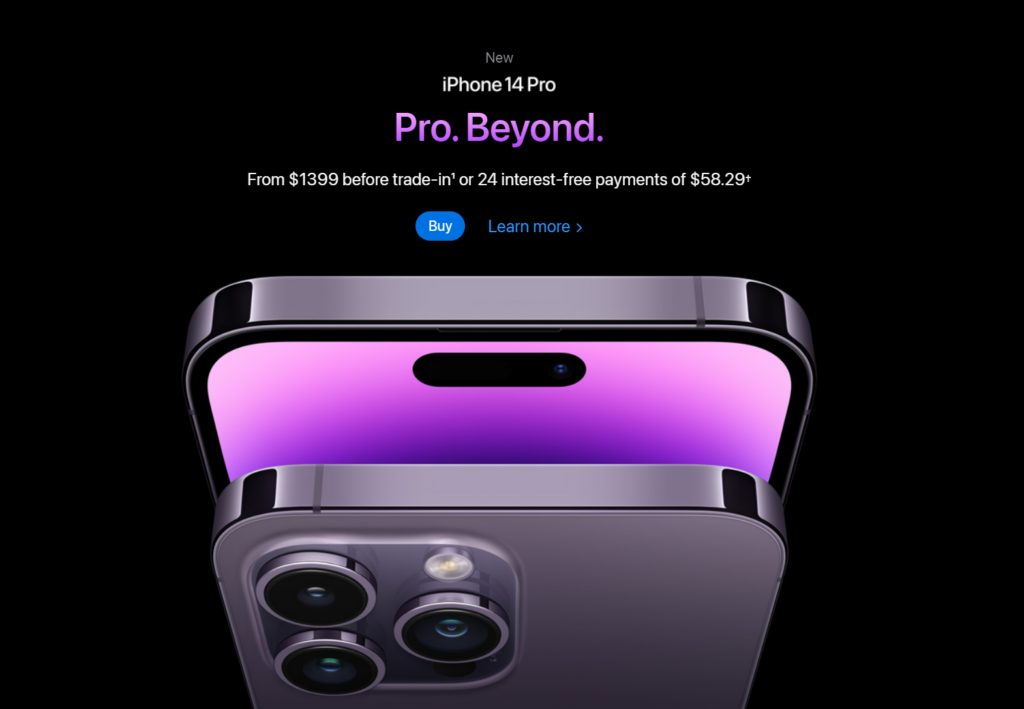 Incredibly visually engaging with large graphics. They know their users come to the site and purchase iPhones for the brand experience, so they lean into this with a lot of large-size images, GIFs, and other forms of rich media.

The CTAs are visible frequently throughout the page. Apple prefers that customers "Buy" versus "Learn more" so the preferred CTA is bolder, in a blue bubble. The less preferred CTA is still present, to keep the option open for customers, but is less noticeable.

Dives deep into technical specifications to help users understand how the new version of the phone is different (or better) than previous versions. This is a top question that customers seek to answer, so Apple provides the comparison chart for easy access to that information.

Pricing support information throughout. All copy about pricing is organized so that it seems affordable to the user (ie. From $579 before trade-in). 

Apple intentionally doesn't offer sales or deals, but they could test by making more obvious links to student discount offers near the bottom of the page or other seasonal discounts to see if it further drives conversions. Though, they often sell out on new products – so not sure if this is needed!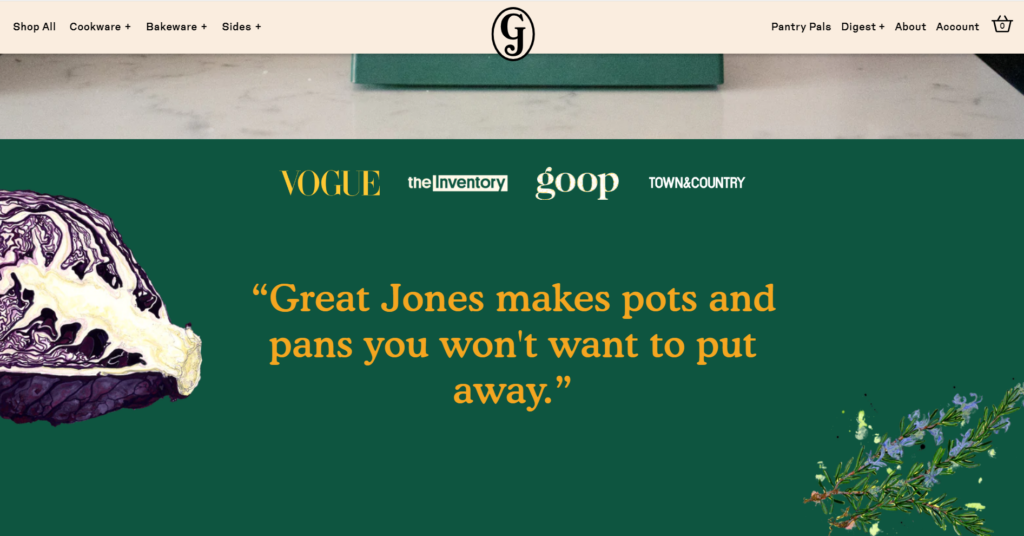 Caters well to an audience that wants to "level up" their at-home cooking environment. The colours, fonts, and visuals all align well for this aesthetic-loving, experiential-driven ICP. 

Immediate pop-up for newsletter sign-up and a deal. As they sell more expensive products, customers likely know this upon entering the site and they hope to create higher conversions by offering a 10% discount immediately. Seasonally, they also have deals immediately at the top of the page for this same reason.

Includes well-known logos (ie. Goop) that support the brand to give it reputation boost. This is especially important for consumer brands that target customers to be a part of a bigger or trendy experience.

They could test making the 60-day free trial a bit more of a focus on the site, especially if they have a lot of customers who are new to purchasing high-end cooking equipment.
Very visual and colourful, which is a great display of unique branding.

Maintains consistent shapes and sizes of content blocks throughout which makes it easy to navigate through the page.

High contrast on the CTAs so it's easy to see. As an e-commerce site, it's good to have options for CTAs – both to click into individual products, and to go to categories pages (ie. Bestsellers, All Skincare, All Makeup, etc).

They do have two ways to access the menu. The first is that there's a burger bar on the left corner and the second is through a full menu extended across the top – this might be something they're testing to see which one users prefer. However, it can be confusing for a user to have two menus at once, so recommend only one.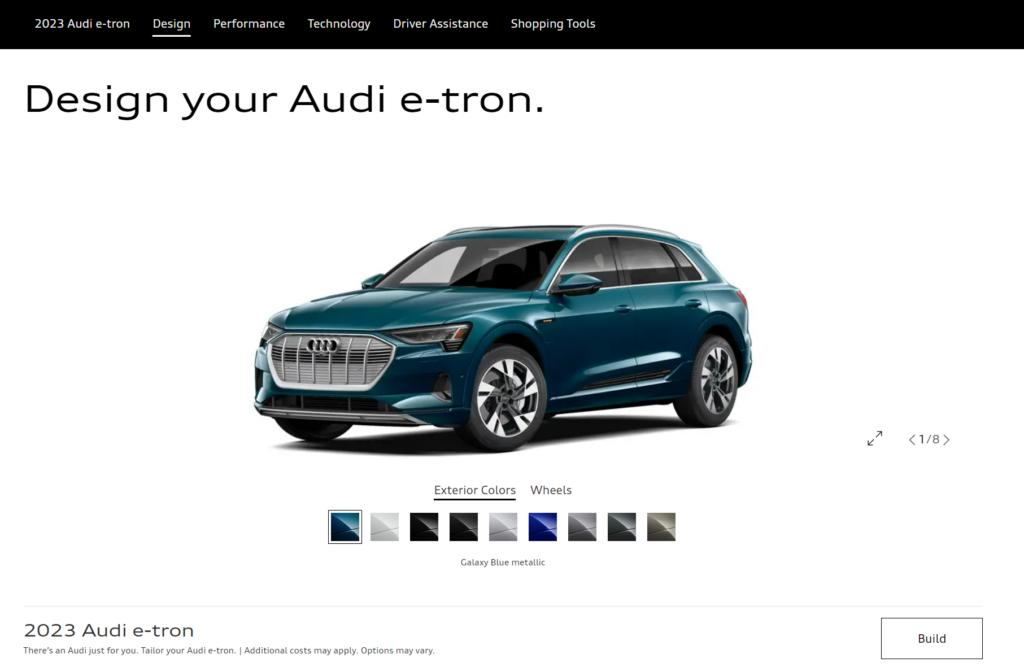 Great interactivity with the ability to customize the colour and features of the car. This keeps the user on the page longer and helps them see that the option they're looking for exists, meaning they will continue their research or inquire to learn more.

Large visuals create a feeling of power, luxury, and intensity, which aligns really well with a fast-car brand and related to their ICP.

Focus on technical features around the electric battery (the unique aspect to this car over another from the Audi range). This is specific to the product and the ICP. 

Area for testing with the white space between sections is a bit unbalanced and takes away from the overall visual aesthetic. Possibly better ways to organize the content on the page.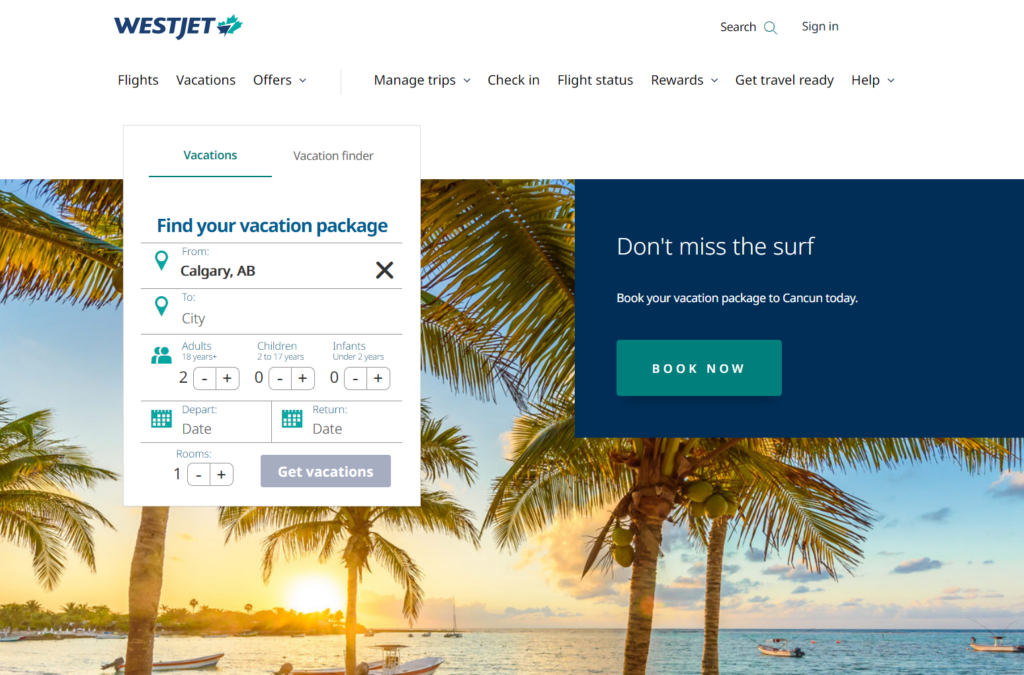 Compared to a lot of other airlines and travel agencies, this page is easy to navigate. Immediately, the user is presented with a form to fill in preferred travel information and help them find a vacation soon. There are no competing heavy text blocks or pop-ups that interfere with their ability to search for vacation deals fast.

Very clear CTA to "Book Now" in large text. This makes the user feel excited about purchasing an upcoming vacation. A small or hidden CTA simply wouldn't do justice to the feeling of taking off on a big trip!

Below the fold are some inspiration ideas and offers, but only a few. This is enough to make the user feel inspired, but not distract them from searching for trip options or actually getting something booked.

An area for potential improvement is making the recommended hotels section a bit smaller. This isn't the main purpose of the page and takes up quite a lot of space. It would be better to have this condensed so that the page becomes more skimmable and traffic doesn't bounce mid-way down the page.
Government and Education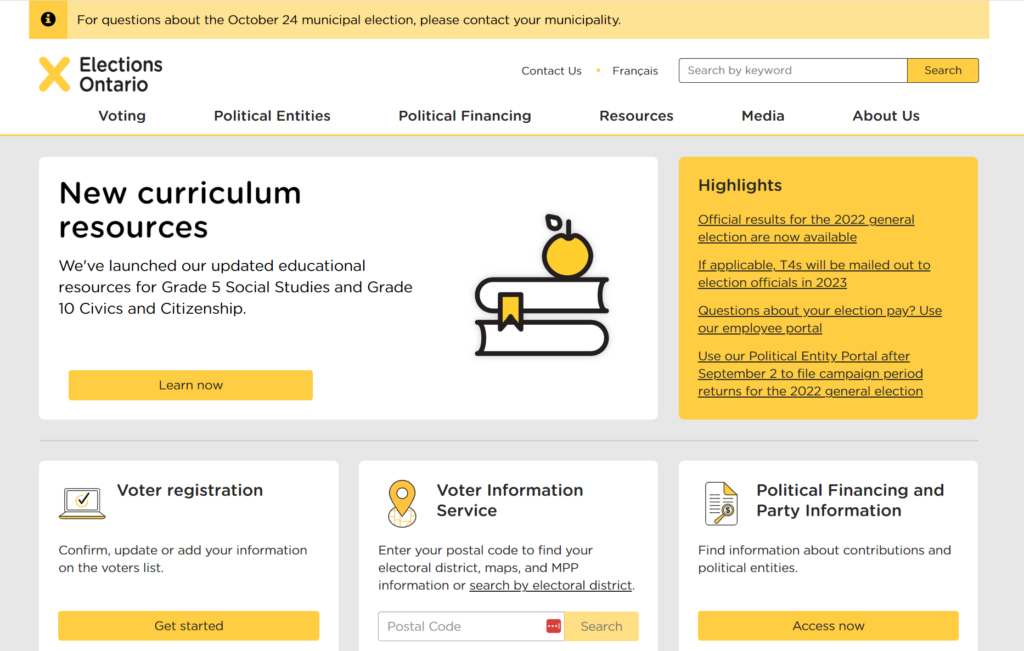 The great thing about this page is how well-suited it is for its target audience. As a government elections website, they know they need to cater to all demographics, including those that aren't tech savvy at all. 

They keep the homepage simple, with high contrast, large text, and only a few options to click on (each with their own CTA).

All information is above the fold, which is important as non-tech users may not recognize that you need to scroll on a site. 

There are no pop-ups or chatbots which would also further confuse a non-tech user.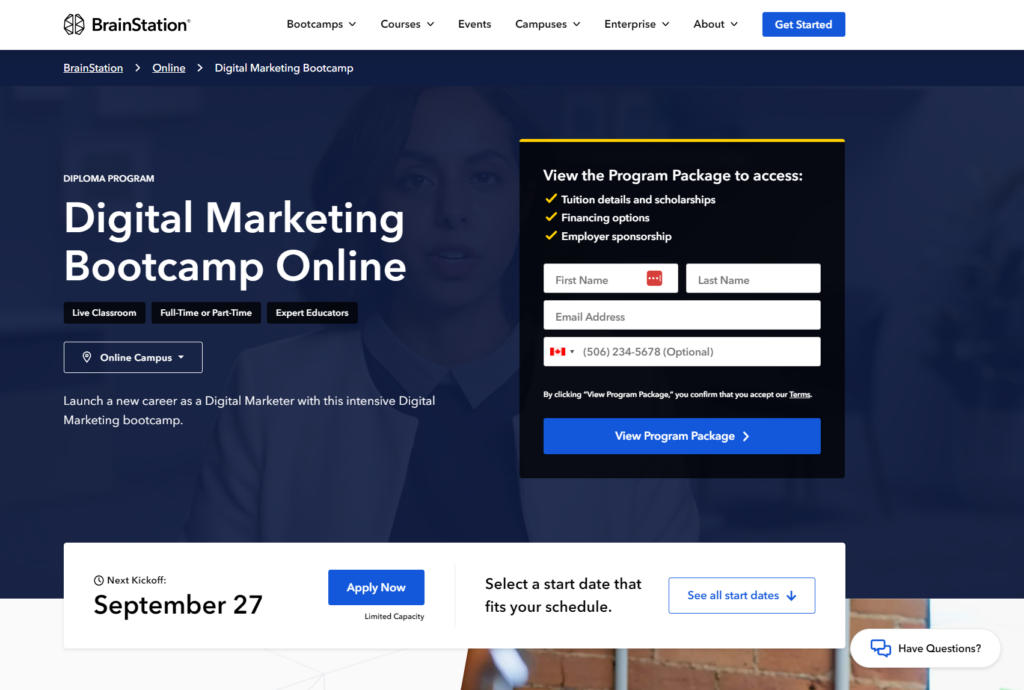 Very appealing visually. Great flow between content blocks, uses the same colours throughout the page, and leverages video in the background to help hold the  user's attention. 

Has the top pieces of information before the fold. This includes the class information (live, remote, in-person, etc), the content topic, and the next course kickoff date. Essentially, the three pieces of information the user needs to know to evaluate if the course is for them or not.

Has the form right at the top so users can easily find it and submit interest in the program.

If there's one area to test, it might be minimizing the partner content that is not directly relevant to what will be learned in the course, because it significantly increases the amount of content to read through and can be slightly overwhelming to a new user on the page.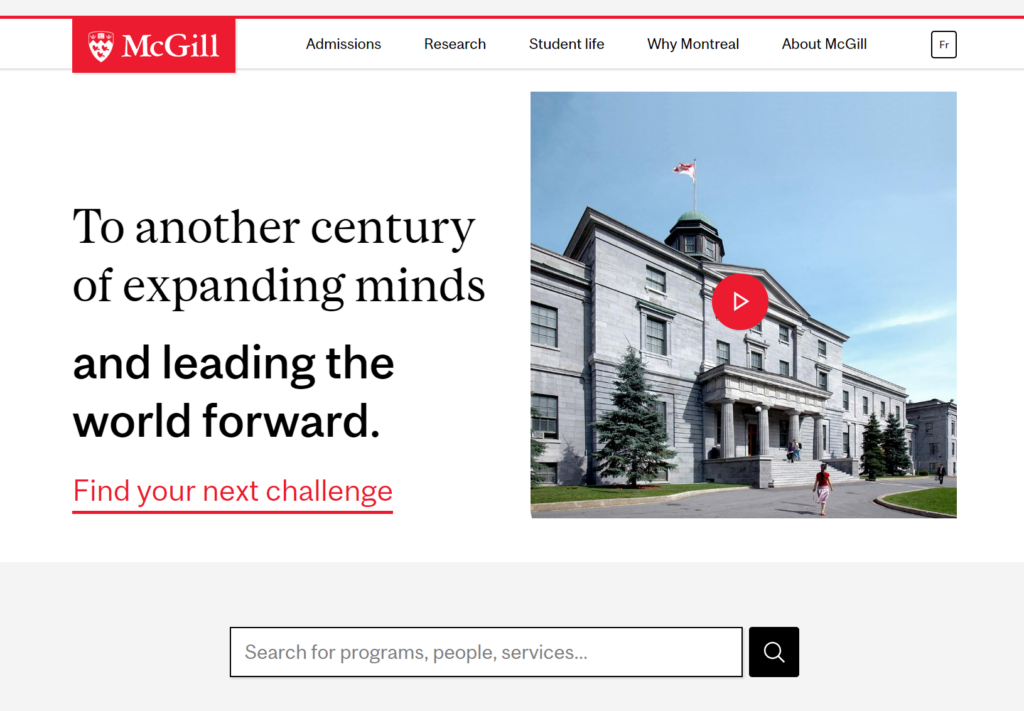 High contrast and large text make it really easy to see the selling points of this university. 

The menu is simple with a relatively small number of options and clear titles so that the user can easily navigate to the page they need.

Having a search bar in the middle of the page and near the top still keeps it accessible for those that are coming to the site to search for something specific, but it is more noticeable than many other university sites, who tuck search bars away on unique landing pages or in the footers.

The page overall is short, so it encourages users to learn about something specific in more detail on another page, and does not overwhelm the user at first glance.

I'm unsure about the mixing of two different fonts, especially if they are used together in the same headings. It's usually a good rule of thumb to have one font for all headings, and one font for all body text.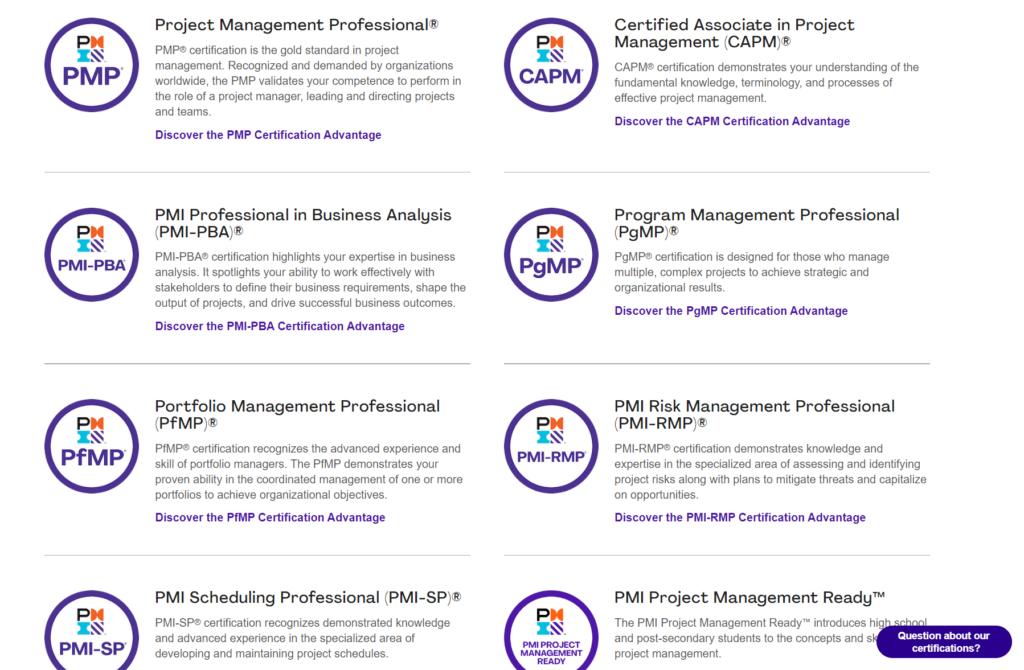 The Project Management Institute (PMI) offers certifications globally so it's unique (and amazing) that they add an option to translate the page right above the fold. This makes it incredibly easy for an international user to access the site in their language.

The individual certifications are organized very neatly, and each with a unique description to help the user find what's relevant to them. 

I like that there's not an overload of supplementary information or focus on study guides, testimonials, etc. The purpose of this page is to showcase all the options that are available for training and certification. The PMI displays this very well, and gives an opportunity to showcase more detailed information on the landing pages of the individual certifications.

An area that they might consider for improvement is having different visuals for each certification. At first glance, they all look alike and it would be more skimmable if there was more differentiation in the visuals.
Conclusion
Building an effective, engaging, and high-converting site is no easy feat! In fact, many digital marketers run continuous testing on their landing pages in an attempt to find the best features, copy, and visuals that appeal to their audience. It's very likely that you're not going to have the "perfect" page right off the bat. But continue experimenting, running A/B testing, and using data to improve your site each week – soon enough, you'll also have an inspiring landing page of your own.
Want to learn more? Check out this course on high-converting landing pages here!