If you're building an online course, you need to know the basics of marketing in order to sell it.  
We've compiled a list of the 10 best marketing courses for creators and marketing professionals. Each listing will feature the creator, duration, price, and info about the course and the skills you'll learn. So go ahead, find the right course for you and start learning!
Skip Ahead: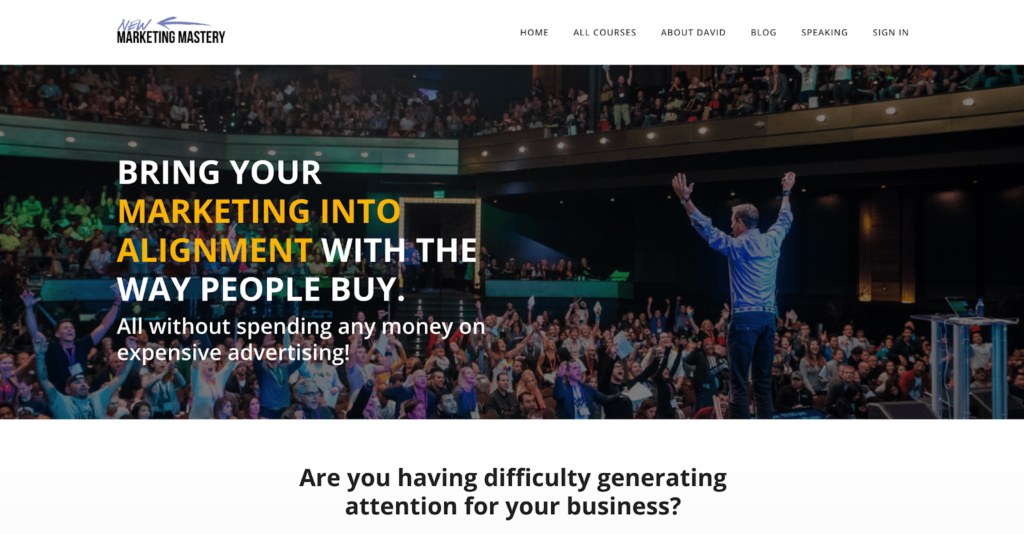 Course Creator: David Meerman Scott
Duration: 6 hours
Price: $2,495
About this course:
In New Marketing Mastery, Wall Street Journal bestselling author David Meerman Scott helps students navigate the confusing landscape of modern communication and social media by laying out meaningful, measurable, and low to no-cost strategies. These strategies help you to reach your audience directly.  This course also includes quality examples of success from a variety of both large and small organizations, from the B2B space and nonprofits to rock bands and entrepreneurs. 
You'll learn how to:

Get your content discovered

Generate media attention

Inject your ideas into a breaking news story (newsjacking)

Understand your buyers

Time your outreach to match your target audience's readiness

Turn your customers into fans
Skills you'll gain:
The Oxford English Dictionary credits David as the inventor of the "Newsjacking" technique; he teaches you how to use this technique to ignite your content. New Marketing Mastery will also give you the skills to tackle marketing with a modern understanding of the internet. This course is all about aligning your marketing techniques to the way people currently buy. You'll learn how to time your sales strategy and marketing so that you're in front of your target audience when they're ready and excited to engage with you. 
See what David's students say:
"Immediately upon hearing David speak about this program, we went into action with his ideas, and we never stopped. His ideas and action steps were instrumental in taking our company from $200 million in assets under management to over $1.1 billion in less than 4 years, leading to a $26 million-plus sale of the company. David's techniques helped us stay fresh, relevant, and, most importantly, timely, allowing our marketing to capitalize on current events in our vertical. David receives my highest possible endorsement to any business owner looking for fresh ideas to rapidly scale their client base." – Tom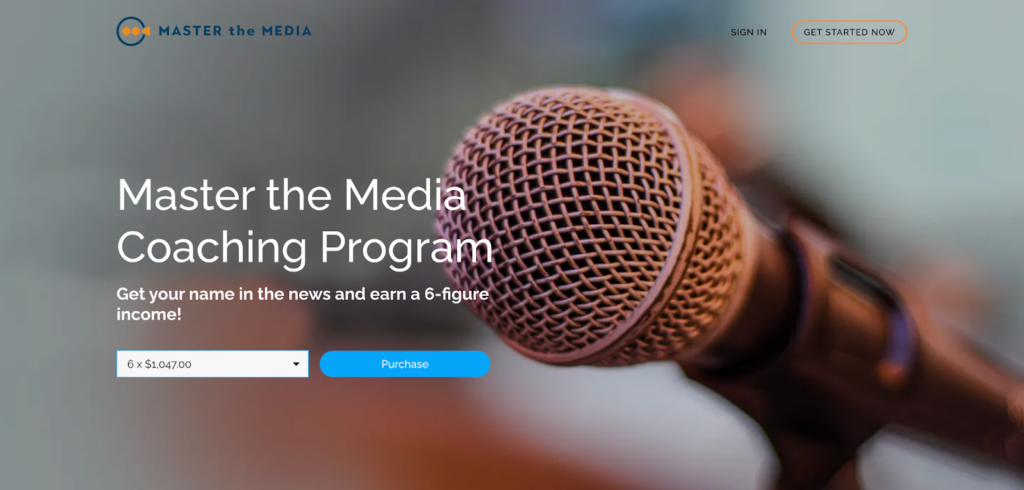 Course Creator: Amy Gorin
Duration: 6 months
Price: $5,997 or 6 installments of $1,047
About this course: 
The Master the Media Coaching Program teaches health professionals how to get their names in the news and leverage media attention to earn a 6-figure income. Learn how to land high-paying brand partnerships, freelance writing gigs, speaking opportunities, and more. With this course, you'll get lifetime access to the program's educational materials, 6 months of weekly group coaching from media dietitians Amy Gorin and Samantha Cassetty, and a private Facebook community.
You'll learn how to: 

Pick a niche

Create a media kit

Pitch yourself to media and brand partners

Draft a paid services list

Write and record a TV interview sample

Create an ideal custom avatar



Skills you'll gain: 
In the Master the Media Coaching Program, you'll develop skills that will help you recognize, negotiate, earn your worth, and position yourself as a media and brand partnerships expert. This course will show you how to drive income from freelance writing projects, social media, blogging, and media work. Learn the insider secrets to pitch producers, editors, and brands successfully.
See what Amy's students say: 
"The Master the Media program gave me the guidance and education I needed to feel confident talking with brands and promoting my services. Before taking the course, I didn't have a single paid partnership with a brand. In the past few months alone, I've had paid partnerships with 5 different brands! And I now have an agent and publisher for the book of my dreams, and I know I wouldn't have been able to accomplish this without the motivation and push from the Master the Media coaches. Private practice can be lonely, and I can't explain enough how helpful it has been to have mentors like these coaches along the way." – Angie

Course Creator: Kim Anderson
Duration: 2-3 Hours
Price: $49
About this course:
The Just Start Blogging course helps writers create a blog from scratch and publish their first 25 articles. Kim designed this course for everyone, so you don't have to be a blogging pro or tech-savvy to get every bit of value from this affordable course. Rather than piecing together your blogging education with info across the internet, this course consists of Kim's  "House Method" and lessons learned from failed blogging attempts, helping you avoid pitfalls and mistakes new bloggers make every day. 
You'll learn how to:

Pick a domain

Pick the best hosting service

Build your own website

Publish articles to your site

Monetize your blog

Attract readers
Skills you'll gain:
This course will help you develop the skills needed for a successful career in blogging, from the startup phase of creating your website to the ongoing stages of content creation. You'll develop content strategy skills, confidence in your writing and online presence, and skills necessary for building a blog primed for monetization. 
See what Kim's students say:
"Kim can walk that fine line between explaining everything you need to know without assuming anything while at the same time not being condescending or boring. She doesn't just throw out terms without explaining them, but she doesn't over-explain or become redundant. Her teaching manner is easy to read and engaging with stories and analogies. I took this course after establishing my blog just to ensure I had everything in place. I'm easily distracted and don't always finish courses, so it says a lot that I went completely through the course all at one time. Even after blogging for 2 years, I still learned some elementary things I had missed or misunderstood." – Joni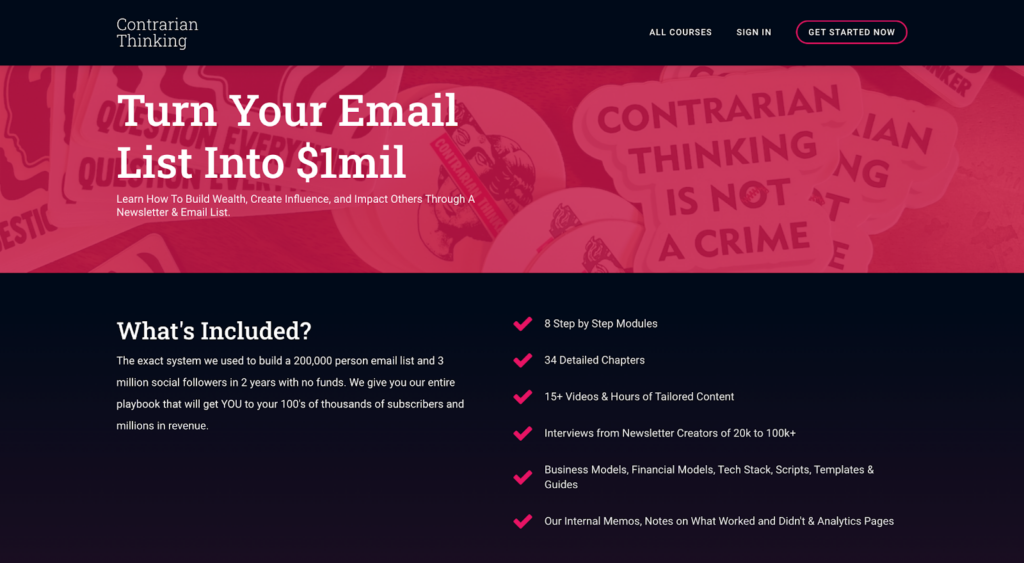 Course Creator: Codie Sanchez
Duration: 6 hours
Price: $1297
About this course:
Turn Your Email & Social into $1 Million+ is a course created by  Contrarian Thinking for people looking to build passive income with a newsletter and media company. In this course, Codie shares everything the Contrarian Thinking team wishes they'd known when launching their original business. You'll receive editable templates and guides on team hiring, financial projections, and revenue models. You'll also get access to exclusive presentations from guests with successful newsletters of 20,000 to 100,000+ members.
You'll learn how to:
Grow your email list using social platforms and collaborations

Build a newsletter that earns money

Replace your income with your newsletter and media company
Skills you'll gain:
In this course, you'll develop and strengthen your tech, marketing, and entrepreneurial skills. The course curriculum includes 34 detailed chapters and hours of info to help you develop your tech stack, build a business plan, and define the foundations of your who, what, how, and why. 
See what Codie's students say:
"This is an incredible guide for anyone looking to start their own newsletter and community. Codie has built an incredible group and literally provides the exact playbook for you to do the same. Everything you could possibly need is in this course. I cannot recommend this product, or everything else she produces, enough! 10/10." – Taylor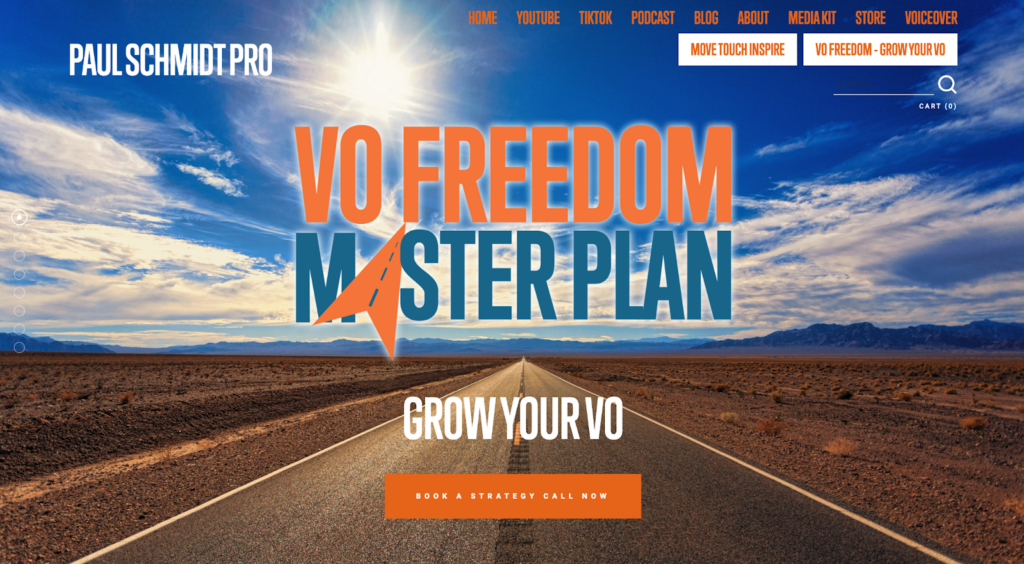 Course Creator: Paul Schmidt
Duration: 1-3 weeks
Price: $1,500
About this course:
The VO (voiceover) Freedom Master Plan gives voice actors without a marketing plan a proven system to grow relationships that lead to more consistent booking, business, and revenue. This course gives students a ton of content, resources, tools, guides, worksheets, and videos. Paul partnered with a local university and education consultant to create a course that excels in teaching his students asynchronously. 
Please note that this course is designed for trained and working professional voice actors with a professional-grade commercial demo, narration demo, and voiceover website. 
You'll learn how to:

Have a proper growth and sales/marketing mindset

Target and generate quality leads at scale

Grow your relationships with your leads

Build loyalty among your clients

Increase repeat booking
Skills you'll gain:
In this course, Paul emphasizes sales and marketing skills like lead generation, growth at scale, tools for growth, client management, and more. You'll learn best-in-class strategies with the included live coaching calls and mastermind community, putting you in contact with other professionals in the field. The program aims to provide you with all the steps and support you need to create a highly profitable voice-over business leveraging proven marketing strategies.
See what Paul's students say:
"Such a great and comprehensive course! I thoroughly enjoyed all the insight and am already incorporating many procedures into my daily routine. I am beyond convinced that the materials Paul covered are essential to building a successful voiceover business." – Jim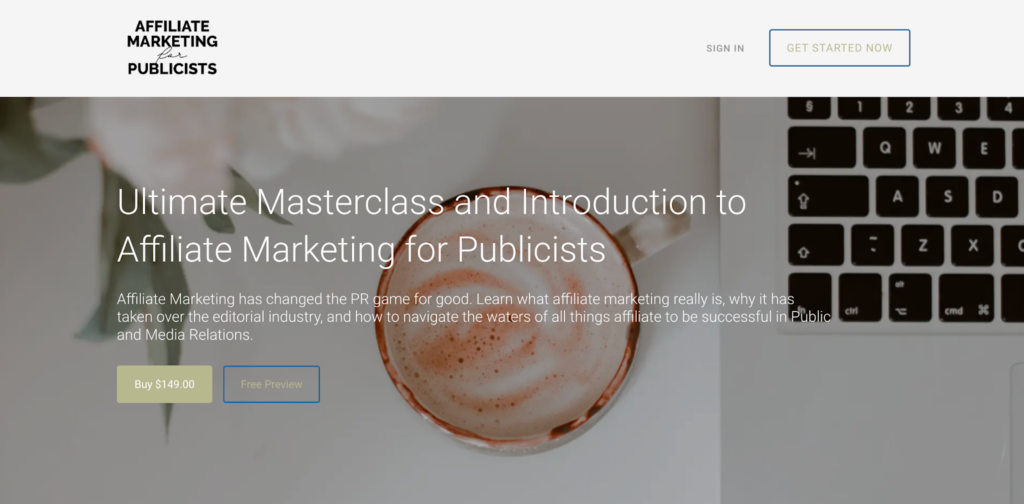 Course Creator: Sarah Karger
Duration: 1 hour
Price: $149
About this course:
Like the VO Freedom Master Plan, Affiliate Marketing for Publicists is a course designed for a specific set of professionals, namely, publicists. It's intended to serve as an introduction to affiliate marketing. This course recognizes the emerging importance of affiliate marketing in the public relations field and aims to give publicists the working knowledge to navigate this new marketing method. 
You'll learn:

How to take your communications with editors and e-commerce managers to the next level

What affiliate marketing is

Why affiliate marketing has taken over the editorial industry

How to get acclimated to and own the world of affiliate marketing
Skills you'll gain:
At its core, Sarah's course is focused on helping publicists understand affiliate marketing, which is now a mainstay in mass media. The course will help you understand whose job affiliate marketing falls under in your organization, why you should care about it, and how to craft the perfect pitch checklist. You'll graduate with a deeper understanding of your industry and the skills you need to navigate this new territory. 
See what Sarah's students say:
"As more and more top-tier publishers require products to be part of affiliate programs to be considered for media coverage, it's become essential for publicists to understand how affiliate marketing works. This course presents an excellent and fun overview for anyone who does product PR. I highly recommend it!" – Jodie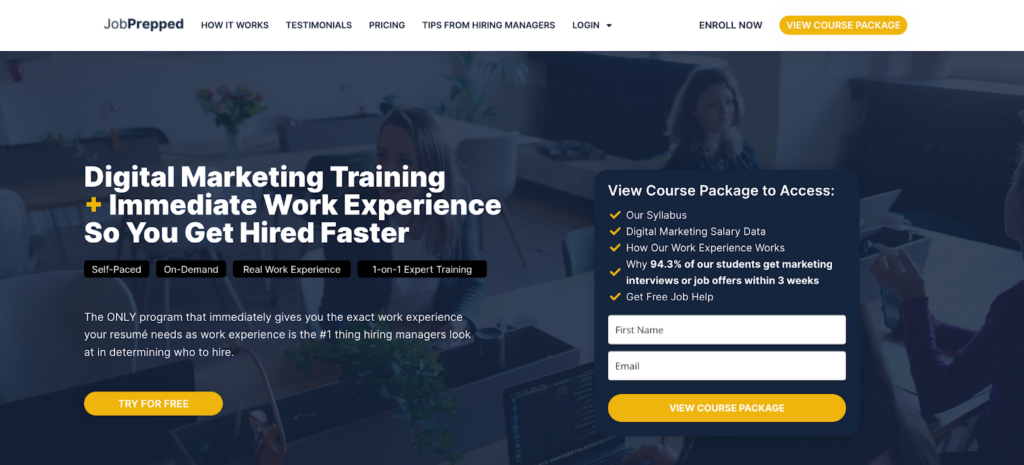 Course Creator: Joseph Blanco
Duration: 2 weeks to 3 months
Price: $1099 
About this course:
The JobPrepped Digital Marketing training is a comprehensive course covering most, if not all, of the most important topics in digital marketing. It's designed for those that want a full-time job in marketing and is formulated for people with a college degree or experience in marketing or sales. This program includes on-demand video content, 1-on-1 feedback from a marketing expert, career guidance, and more.
You'll receive 7 digital marketing certifications in the following areas:

Social media marketing

PPC marketing

Email marketing

SEO marketing

Search engine marketing

Influencer marketing

Content marketing
Skills you'll gain:
The course website lists over 25 examples of real-world skills you can include on a formal resume after completing this program. These skills include creating a brand awareness campaign, various forms of content, image posts, memes, infographics, targeted PPC ads, and more. You will also develop design skills as you design email templates, email automation workflows, top-of-funnel video ads, and backlink strategies.  
See what Joseph's students say:
"This program is a GREAT investment! I really wish that I had enrolled a lot sooner. Without JobPrepped, I don't think I would have been able to land my job at Alation. I learned the implications of differing marketing aspects, marketing techniques, and the proper strategies to deliver during my interview to help me stand out from the rest of the applicant pool." – Joshua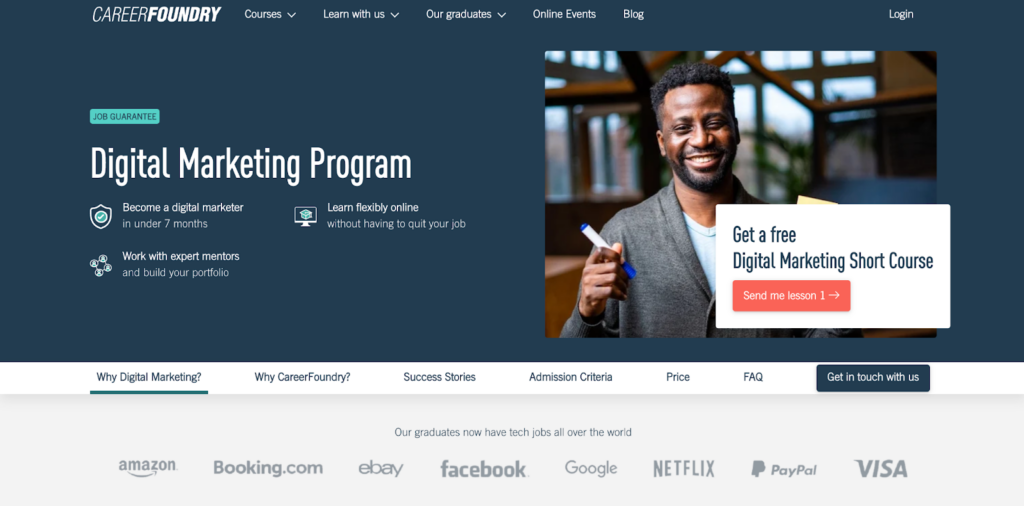 Course Creator: Martin Ramsin & Raffaela Rein
Duration: 7 months at a minimum of 15 hours per week
Price: $6,210-$6,900 
About this course:
Digital Marketing Program is a course designed to teach you to become a digital marketer over a 7-month high-contact period. In this course, you'll be paired with an expert mentor and work 1-on-1 together as you build a portfolio, complete real-world projects, and kickstart your digital marketing career. Unlike other courses, this one is dedicated to students looking to land a career in marketing. It boasts a money-back guarantee if you don't land a job as a digital marketer within 180 days of graduating. 
You'll learn:

How to build a solid foundation in digital marketing

The fundamentals of a digital marketing strategy

How to navigate the job market in your area

The ropes of SEO, content, email, performance, multi-channel,  and social marketing



Skills you'll gain:
In this course, you'll follow a project-based curriculum that develops real-world skills. As you complete the program, you'll work with a mentor and tutor that gives you personalized feedback and coaching. By the end of the course, you'll have a portfolio representative of the skills you've developed that will help you land a job as a digital marketer. 
See what their students say:
"I learned a lot of valuable information. I like that I could put into practice everything I learned and that it was easy to understand because the content was organized and clear." -Adelina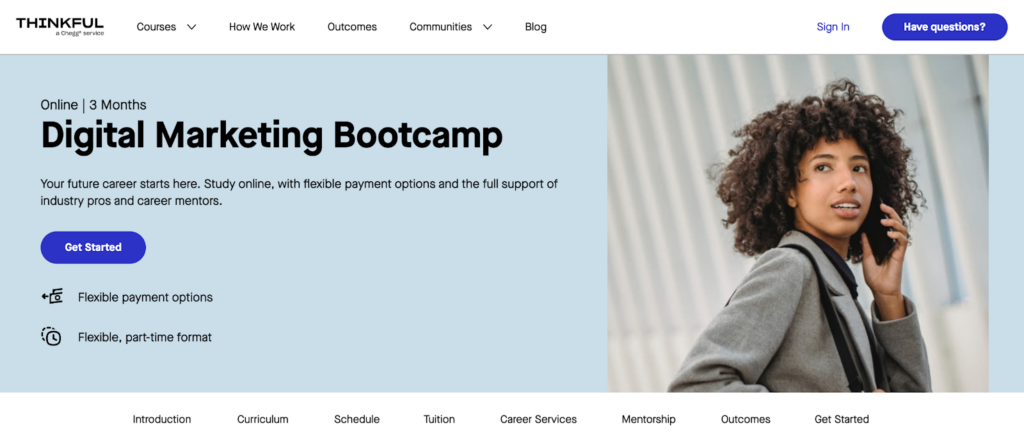 Course Creator: Darrell Silver, recently acquired by Chegg
Duration: 3 months
Price: $4,900 or 3 installments of $2,066 
About this course: 
Thinkful's Digital Marketing Bootcamp teaches critical marketing skills to help people prepare for careers in the tech industry. This course's curriculum includes content on campaigns, customer insight, branding, content marketing, email, social media, and search engine marketing. Students will take self-paced lessons and have access to live video mentor sessions and optional office hours. 
You'll learn:

About the responsibilities of a digital marketer

How to use web analytics, ad campaigns, and social media to better understand your target market

How to create and adhere to branding 

How to target audience, create compelling content, and boost ROI for your company

To create and manage digital marketing campaigns

About search engine optimization (SEO) and how to rank content
Skills you'll gain:
This course will help students develop job-ready skills like search engine optimization, content marketing, social media marketing, PPC ad creation, and email marketing. The curriculum includes a dedicated unit to the student portfolio, where a capstone project will allow the student to build a career-relevant portfolio and practice one-on-one interview skills. 
See what their students say:
"In two months, I had two job offers and a third on the way. I think we all want to do satisfying work but also have a life. This job enables me to have a balanced life." – Allyson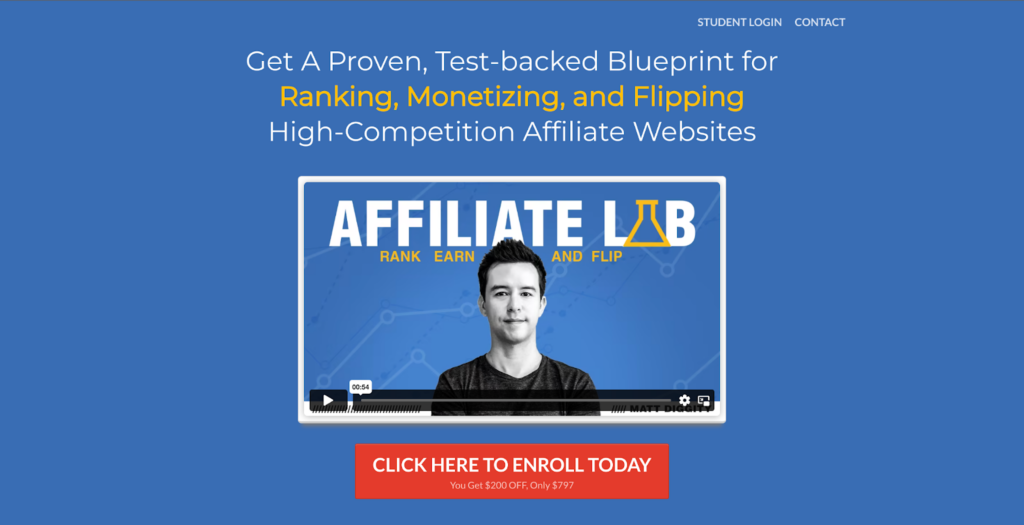 Course Creator: Matt Diggity
Duration: self-paced
Price: $997 or 2 payments of $597
About this course:
The Affiliate Lab is a course dedicated to teaching others about growing affiliate websites to sell, a practice called flipping. If flipping a site isn't your goal, this course will still teach you how to grow a profitable site that generates passive monthly income. Both beginner and experienced SEOs have found value in Matt's training videos, templates, tools, checklists, standard operating procedures, and exclusive Facebook group. And like any great course, this course is constantly updated to match current algorithmic trends. You'll have access to the course and all its updates for life.
You'll learn how to:
Rank in competitive niches

Monetize your website

Get unstuck with a set of resources that safeguard future progress
Skills you'll gain:
By using a test-based system, this course will help you develop the skills to rank in high-competition affiliate niches. You'll also follow the Affiliate Lab's process as it's demonstrated on an actual website within the course curriculum. 
See what Matt's students say:
"The first site I built using the lab's framework has gone from a brand new domain and 2 users to now, 7 months later, 200+ users a day. It went from negative profits to crossing the $1,000 mark last month. And after some conversion optimization, it's projected to cross the $2,000 profit mark this month. Setting myself a goal of getting it built up for a 6-figure flip by December, and I've got a portfolio of others on the same trajectory. I still can't believe how much this group has changed my life." – Julie
Final Thoughts 
And there you have it: our top 10 best marketing courses list! 
Marketing is a broad industry with many different occupations, niches, and opportunities. Online courses are one of the many ways you can begin your career, uplevel your skills, or change career paths, all from the comfort of your home. 
Hopefully, we've helped to jumpstart your research and pushed you even just a little bit closer to finding the right course for your marketing goals.