If you're looking to improve your accounting skills, you're in luck. There are a number of great online accounting courses available that can help you gain the knowledge and expertise you need.
In this article, we'll take a look at 10 of the best online accounting courses currently on offer. We'll dive into all the details, including who it's best for and what to expect from each course. Let's get started!
Skip ahead: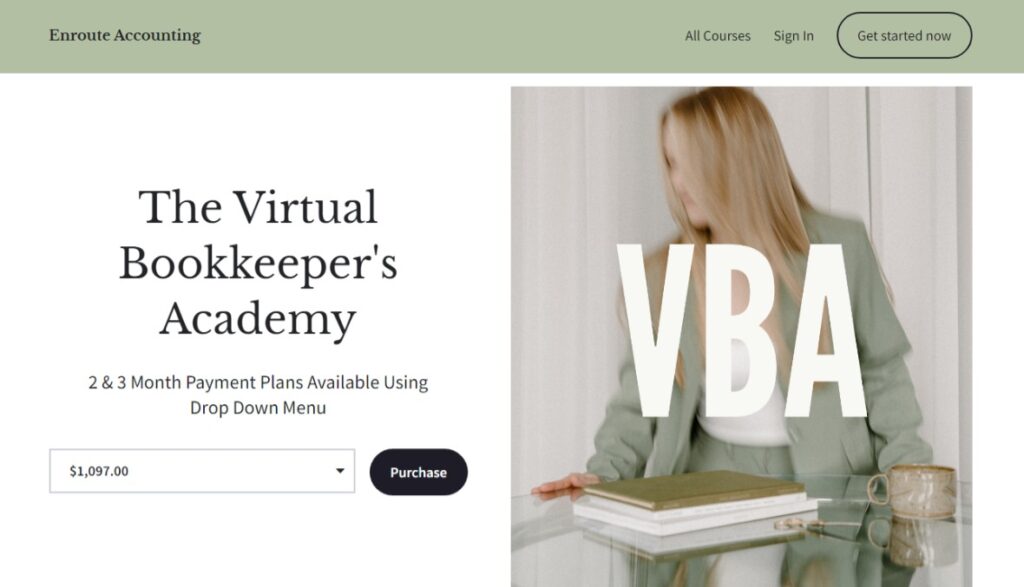 Created by: Enroute Accounting
Duration: Between 40-50 hours
Price: $1690
Description:
This program is for the next generation of bookkeepers ready to ditch the traditional path and replace it with a high-level, comprehensive program that teaches you the ACTUAL skills needed [without any fluff] to start your own thriving bookkeeping business and create the life of your dreams.
What you will learn:
VBA breaks down the what, when, why, and how surrounding bookkeeping tasks in order for you to serve your clients and feel confident in your bookkeeping skills and abilities.
Skills you will gain:
Bookkeeping

Critical thinking

Customer experience
Social proof:
"The VBA is a game changer! This course covers EVERYTHING! Being able to offer bookkeeping services 100% online will change my life forever."
"The VBA is exactly what the bookkeeping world needed! Informative, up-to-date, and easy to follow. Whether you want to become a bookkeeper or just want to fine-tune your skills to improve your own business this course is for you."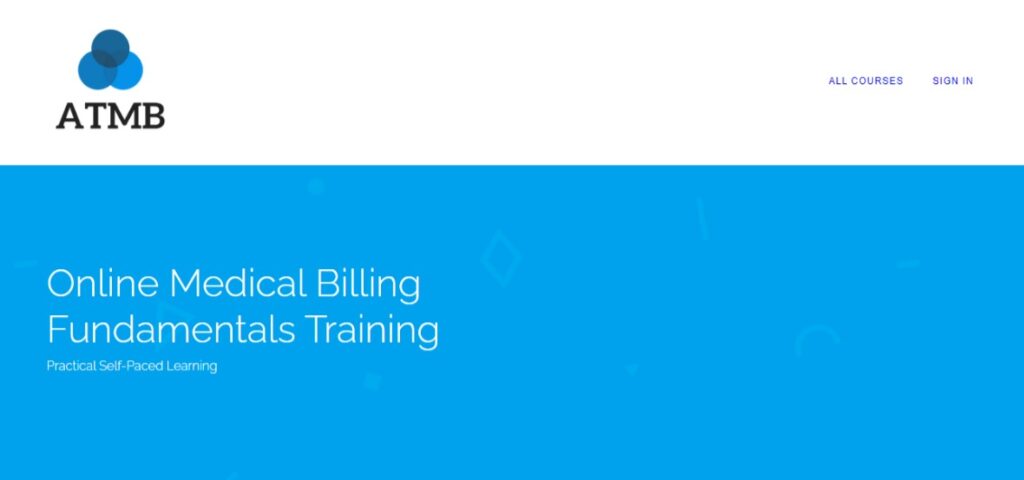 Created by: Online Medical Billing Training
Duration: 20 hours
Price: $147
Description:
All Things Medical Billing was designed to educate anyone on how to adhere to medical billing and coding guidelines for the US healthcare market. With the medical outsourcing market growing an average of 12% each year, the Medical Billing industry is an excellent career choice.
What you will learn:
Students will learn common health insurance plans, medical coding basics, utilizing proper claim forms, creating and submitting claims, and much more!
Skills you will gain:
Medical Billing and Coding

Using Practice Management Software

Health Insurance Plan Claims and Processing
Social proof:
"Great introduction to a complex process! The fundamentals are covered clearly and concisely — easy to understand. Great way to learn a skill that will be in high demand these coming years."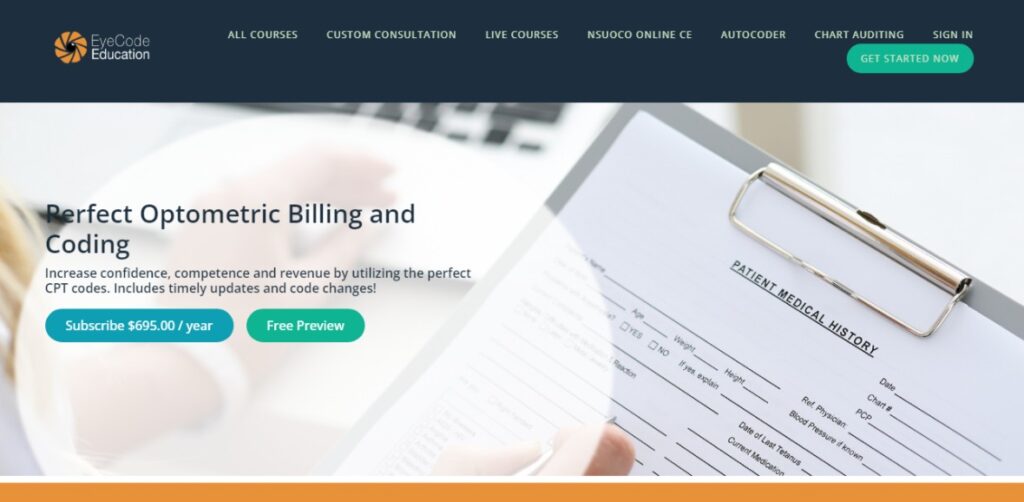 Created by: EyeCode Education
Duration: 2 hours
Price: $595/year
Description:
On average a provider sees anywhere from 15 to 30 patients a day. Practitioners understand the importance of billing but not the nuances of coding. This course is designed to increase confidence, competence, and revenue by utilizing the perfect CPT codes.
What you will learn:
This course will empower optometrists and their staff to code appropriately and accurately for every patient encounter based on solid foundations of billing and coding.
Skills you will gain:
The VALUE of your services

When and why to use 99-codes and 92-codes with quick clinical examples

How to protect against audits

When to use modifiers

What to look for when signing insurance contracts
Social proof:
"EyeCode Education has truly helped me gain confidence in the way I handle billing and coding. I no longer hover between two different procedure codes wondering which is the most appropriate. It has also inspired me to re-train my pretest staff on how to gather a complete ROS and PFSH. I placed a Simple Coder Sheet in each of my exam rooms and refer to it daily. Thank you for breaking down this topic in a way that is easy to understand." 
"Dr. Wolfe was very knowledgeable, worked at a good pace, and most importantly, was excellent at communicating. I would definitely recommend EyeCode Education to others, and I hope to have the opportunity to attend more training classes with Dr. Wolfe!"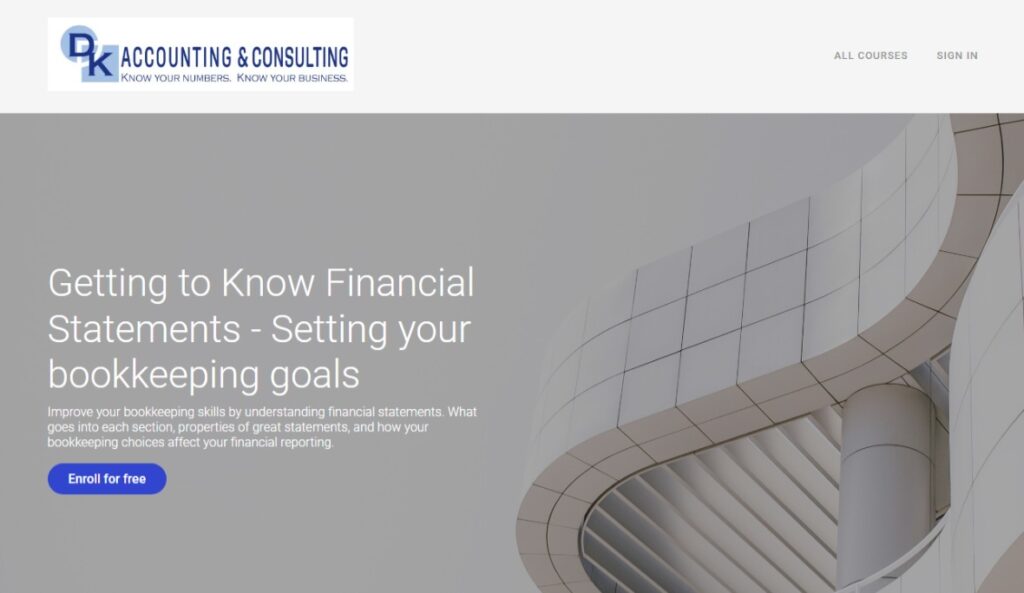 Created by: DK Accounting Learning Hub
Duration: 1 hour
Price: Free
Description:
Improve your bookkeeping skills by understanding financial statements and what goes into each section, the properties of great statements, and how your bookkeeping choices affect your financial reporting.
What you will learn:
You will learn how to read and prepare financial statements for your business.
Skills you will gain:
How to create a financial statement

How to read a financial statement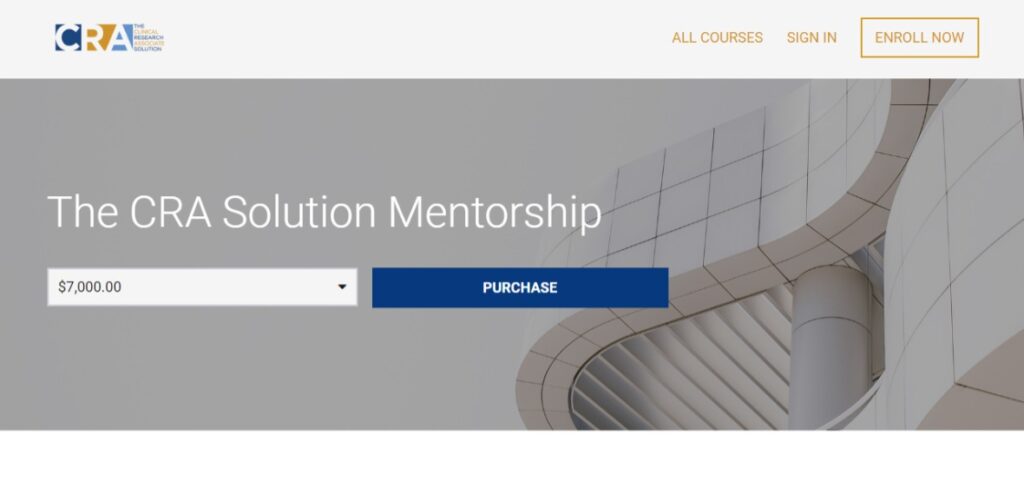 Created by: The CRA Solution
Duration: 15 hours
Price: $7,000
Description:
Becoming a CRA requires an in-depth knowledge of what goes into the role. This course will help banish imposter syndrome and prepare you for a new career.
What you will learn:
Learn how to get your head in the game, prepare your resume, give a great interview, and be the most attractive CRA candidate on job platforms like LinkedIn.
Skills you will gain:
Confidence

Resume building

Interview skills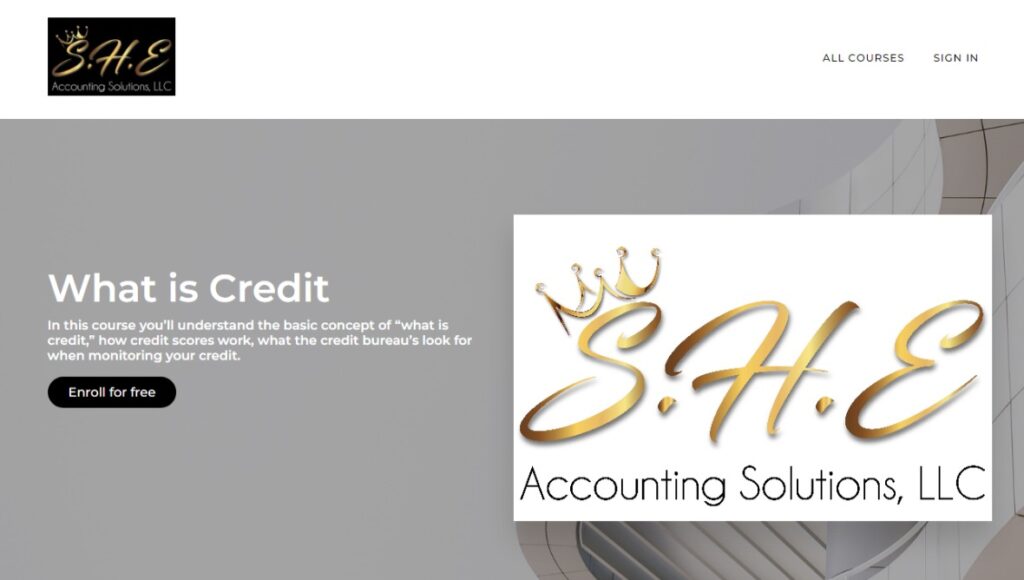 Created by: SHE ACCOUNTING
Duration: 3 hours
Price: Free
Description:
In this course, you'll understand the basic concept of "what is credit," how credit scores work, and what the credit bureaus look for when monitoring your credit.
What you will learn:
You'll learn all about credit repair including how to read and understand your credit score and how they are impacted.
Skills you will gain:
Complete understanding of credit report details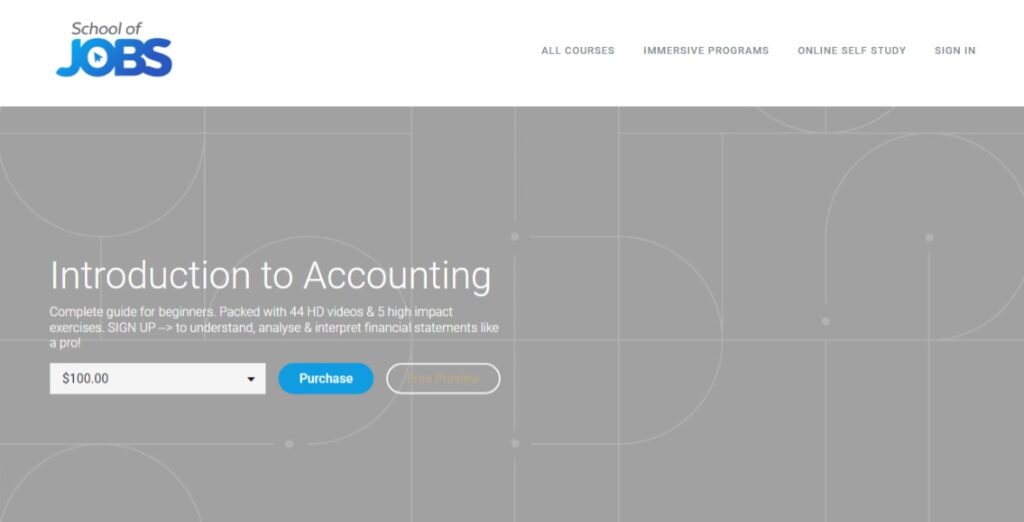 Created by: School of Jobs
Duration: 3 hours
Price: $100
Description:
Introduction into everything you need to know to understand the basics of accounts and how to apply the principles to your learnings.
What you will learn:
Learn what goes into a financial statement, balance sheet, income statement, and other types of accounting documents.
Skills you will gain:
How to understand and prepare accounting documents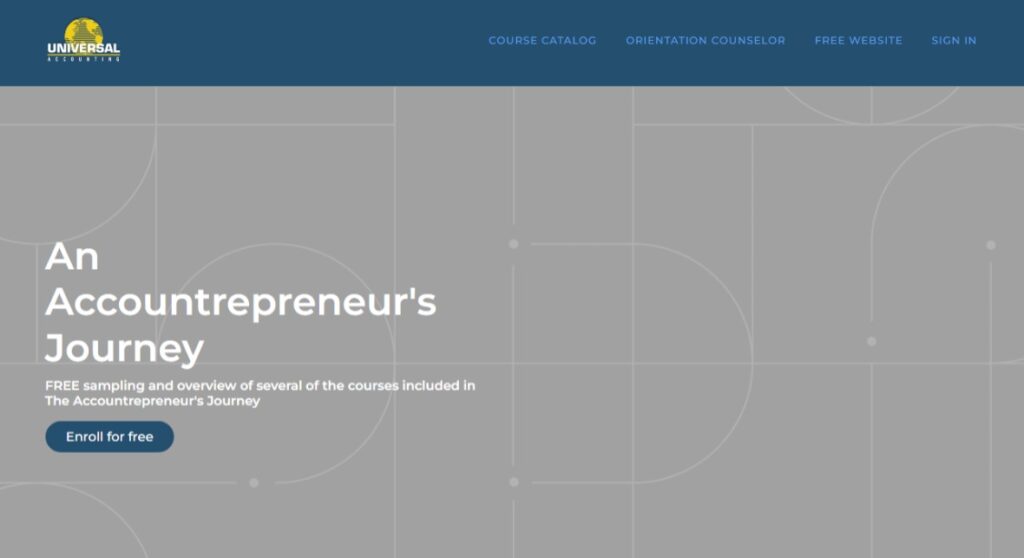 Created by: Universal Accounting Courses
Duration: 42 lessons
Price: Free
Description:
Learn how to build a premier tax and accounting firm with this helpful journey that guides you through all aspects of financial accounting.
What you will learn:
Learn your way through color accounting, QuickBooks, taxes, virtual bookkeeping, profit and growth, and building a business.
Skills you will gain:
Learn how to build a tax and accounting firm

Basic understanding of all aspects of accounting and taxes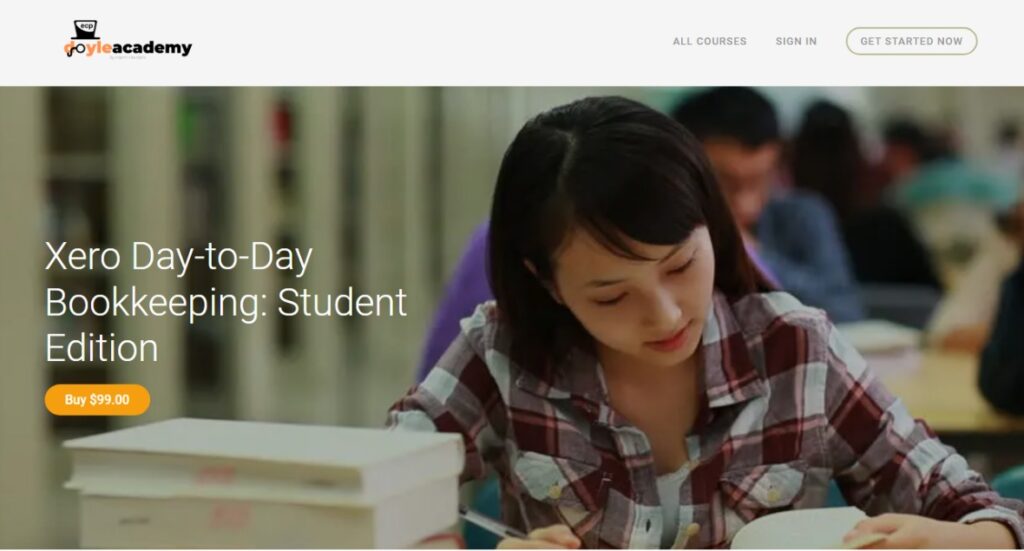 Created by: Doyle Academy
Duration: 4 hours
Price: $99
Description:
Be a master of the millennial breakthroughs in accounting-related technology by joining us in this 4-hour hands-on Xero Cloud Accounting Software Workshop to be facilitated by one of the experts in utilizing the #1 cloud accounting software in the world today – Xero.
What you will learn:
This 4-hour hands-on workshop includes creating your own Xero account – which you can take home and use for free forever – including Xero's uniquely-designed learning account to enhance your skills on how to use Xero Cloud Accounting Software.
Skills you will gain:
How to use Xero for all things accounting

Reconciliation

Matching payments and multiple bills

Bank rules & cash coding
Social proof:
"There is so much knowledge that I have learned and acquired for a 4-hour training.
It is not your typical class, that you will eventually get bored. There are many tricks and techniques that you will know in this masterclass." – Michaela, Accounting Associate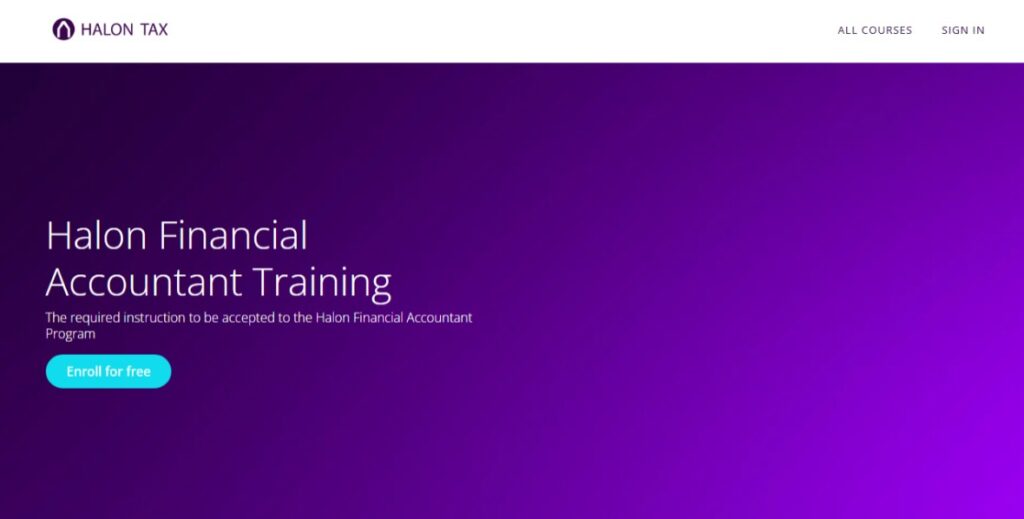 Created by: Small Business University
Duration: 4 hours
Price: Free
Description:
The Halon Financial Accountant Training Courses are the required curriculum and exams to earn the Certified Halon Tax Advisor Credential.  
The Certified Halon Tax Advisor Credential (CHTA) allows for access to Halon Tax software discounts, Halon Defender, use of the Halon CPA Tax Team, and much more.
What you will learn:
Inside the course, you will learn the key elements of providing financial accounting to S-corporations as well as cutting-edge marketing strategies and practice management workflows.
Skills you will gain:
Marketing skills

Practice management

Advanced accounting skills
Accounting course for all levels
Whether you are a beginner or an experienced accountant, these online accounting courses are designed to help you become a more capable and confident accountant. With the right skills and knowledge, you will be able to manage every aspect of your finances with ease. So take advantage of all the resources available online and get started on your journey towards becoming a better accountant today!
---
Want to try building your own course? Try Thinkific free today!