When Maryland-based Diamond Lee was 19 years old, she became a mother. She was faced with a decision: finish college or find enough financial stability to take care of her daughter.
She chose the latter and got married a year later. By 23 years old, she filed for divorce. At that point, she was working for the Department of Homeland Security in an entry-level position; she wasn't making as much money as she needed, and her divorce had shattered her two-income household into one. Stretched for money, she began experimenting with side hustles. It wasn't until the day she scrolled through Pinterest and clicked on a post about ebook millionaires that her career trajectory—and financial reality—completely changed. 
At the time, she was already curious about digital marketing and was in the process of teaching herself everything she could about the topic. Discovering the world of digital products—like ebooks—lit a new spark in her. 
She decided to create a digital marketing consulting company, which is now HerDesign Media Co. When she joined a female entrepreneur group whose participants were struggling with using Clickfunnels, she created a 20-page ebook, which she sold for $27, that taught them how to create converting sales funnels on the platform.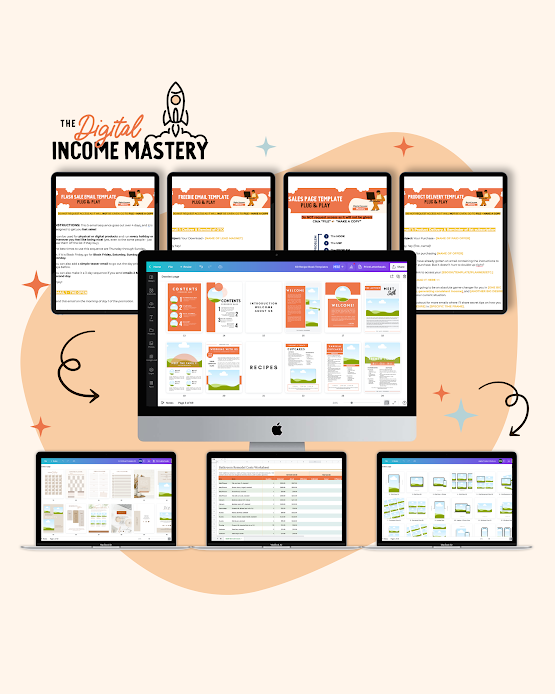 "It went absolutely nuts," she tells Thinkific. "Within 59 days of selling the ebook, I made $19,983."
Flash forward seven years. Lee now offers two online courses that have provided her the means to be able to retire her husband from the military frontlines, start another business that helps families find shelter after natural disasters, and serve over 10,000 students. 
Keep reading to learn how Lee found success through online course creation:
Following the rapid success of her ebook sales, Lee was able to generate passive income each month. 
She continued to evolve her suite of digital products; she went from selling an ebook to a $197 sales funnel template, which her students were able to buy in conjunction with the ebook.
But people began wanting to work with Lee one-on-one.
"So many people said, 'I have your guide and template, but I'm still stuck on how to execute everything,'" she shares.
She decided to create one-on-one VIP Days for those who wanted individualized support, which she sold for $3,500. While she was floored by how many people were signing up, she began craving more time to spend with her family; since starting her business, she had two more children, got remarried, and was looking after her ill father full-time. Her life had been put into perspective, and she didn't want to miss out on key milestones.
Plus, working one-on-one only let her reach a small audience, and she wanted to spread her message far and wide. "Between covid and my dad being diagnosed with a tumor, it was clear that you never know how much time you have left," explains Lee. "I wanted to be more present for my family."
Online courses were her natural next step. 
She decided to use Thinkific to host her courses. "When I was doing research and comparing Thinkific to other platforms, it completely blew me away," she says. "The user interface is so easy, and it's not a large learning curve."
First, she created a workshop called the Digital Income Mastery, which is for beginners and is a one-time fee of $197. This workshop acts as a lead magnet for her higher-ticket program. It takes students step-by-step through her strategies, and they learn to build and launch a successful digital product business by the end of 45 days.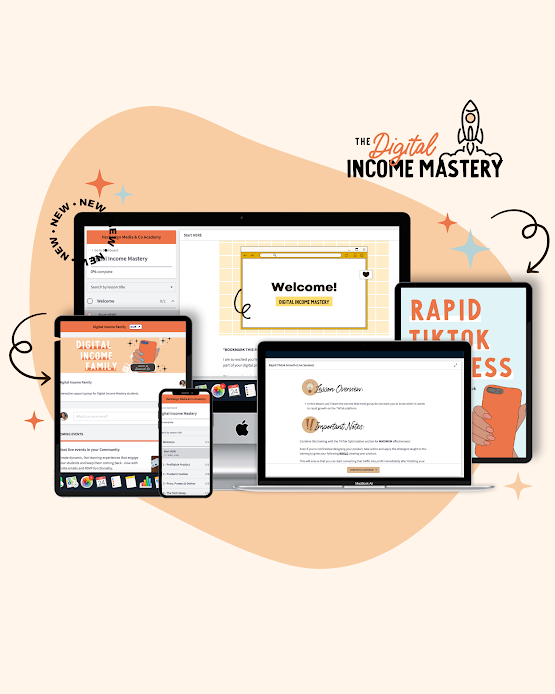 Through this workshop, students learn how to develop a profitable niche, design a digital product, set up a quick funnel, craft a story through copywriting, and market it to their target customer. "We've had students go through the program and within two days they were already profitable," she says. 
"I play on people's strengths," she continues. "I teach them a bunch of different strategies, and we figure out what works best. Some people are camera shy and would rather write featured or sponsored posts for blogs. Or someone may be a great orator and want to take over a podcast. There are so many different methods that you can use to drive traffic."
In this workshop, there is a mix of pre-recorded and live content; Lee meets with students twice per month for three hour calls to conduct digital product audits. 

Once students go through the workshop and are able to consistently create five-figure monthly income for themselves, they're ready for her next course: The Launchpad Accelerator. 
This program is an 8-week, entirely live intensive program. Students meet twice a week for a total of 16 calls. "It's a lot different than the beginner's program," explains Lee. "It includes robust strategies that require a lot of time, effort, and financial resources because it mirrors my business."
"I'm really big on making sure that you don't have a bunch of fluff in your product—that you're not just making it look pretty—but you're actually concerned with the content inside of it. That's what this program helps with," she adds.
People can purchase it for either three payments of $597 or one payment of $1,497.
"I want to make my programs affordable and give enough people the opportunity to really use this information to transform their lives," she says. "In the current state of the world, not everyone has financial liquidity or the ability to invest such a large amount into gaining more income."
A couple years into running her business, something clicked. She started seeing so many people make generic products, which weren't selling. "They would all complain about the same thing," she shares. "They'd say, 'I'm making sales, but it's not consistent. There's no projected revenue, and I don't know if I'll be able to sustain it.'"
She realized that she'd never had a problem with making sales. "I started to compare a lot of the companies I was working with and we all had something in common: we solved a need," says Lee. 
She says that the reason she was able to make money every month was because she focused on solving problems— problems that "kept people up at night."
"You'll never run out of business if you focus on serving others before serving yourself," she continues. "My ebook and subsequent products sold well because they were things that people needed, and if they didn't have it, they weren't going to be able to get to where they wanted to go." 
"I try to get anyone working in the space of digital products to reframe their mindset; it's not about quick sales or pretty products," adds Lee. "It's about providing a solution where if someone didn't solve the problem, it would greatly affect their life."
For Lee, the big draw to using Thinkific over other platforms was the integrated community via Thinkific Communities. "Having it built into the platform was something I'd been longing for," she says. 
She prefers using Thinkific Communities over an external group since it keeps everything in one place. "Students are able to go from their course dashboard to the community without having to download an app. The convenience of it makes a world of difference," she adds.
Communicating with her students is a big part of her teaching style. In fact, she feels that communication is a key part of the learning process, "I'm a big proponent of reaching out to students," continues Lee. "I want to see how they're doing, if they have any issues, and what setbacks and roadblocks they're experiencing."
Plus, using Thinkific Communities helps her students get in touch with each other.
"When people hit rough patches, they're able to coach each other through it," she explains."It's a community for the students to be able to go on their learning journey together."
Lee describes her audience as vast; there are folks who are New York Times bestsellers, hypnotherapists, lawyers, real estate developers, and business coaches, all between the ages of 18 to 60. "There are so many different people from all walks of life, and it's amazing to see," she says. 
She mainly markets herself via her TikTok account; she says that using this platform completely transformed the way she does business—and she wishes she started using it earlier. "You can just press record on TikTok and it doesn't have to be perfect," she explains. "It's real and raw, and people know me for being a transparent and genuine person."
On TikTok, she has nearly 330,000 followers and she's been using it for a year and a half. 
Her aptitude for solving problems doesn't only show up in her digital products, but also in her social media content. She searches Quora and Reddit to learn about what people are struggling with in digital marketing. Plus, she listens to her audience's questions surrounding digital products and building a business online, and then crafts content that speaks to those experiences.
To help people solve problems, she does so through humor. 
"I share a lot of funny, light-hearted content on TikTok," she says. "I'm a jokester because I know that laughter is one of the only things that can transcend barriers, whether that barrier is religion, political views, or language."
"I expose people to the power of digital products and how transformative it is while getting you to laugh and open up, making you more receptive to the possibility of success happening in your life," continues Lee.
Through her social media content, she encourages her students to not take themselves so seriously. "Life is hard enough. We don't need to make it harder on ourselves by creating this image that we're so professional and rigid; no one can connect with that," she says. "We need to be personable and connect with our target audience because they'll probably never meet you in person."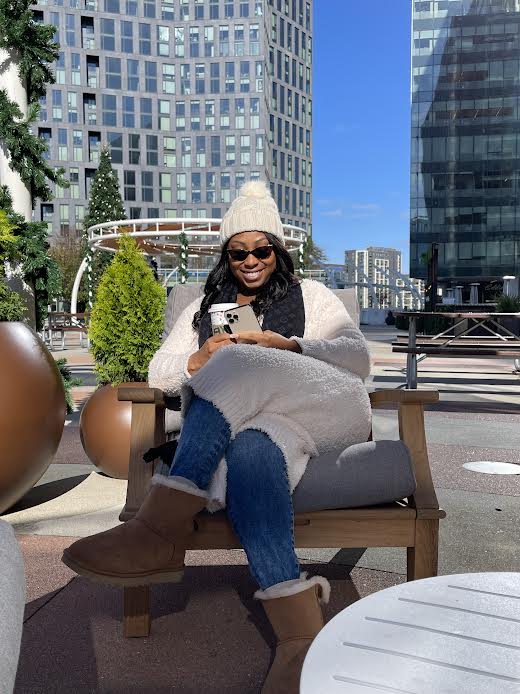 While so many people are trying to feign perfection, Lee urges people to show the real them. "I display my slip-ups, my setbacks, and my journey on every level because I'm still on a journey," she shares.
For Lee, remaining authentic to herself has been paramount throughout her business journey. "Don't do something because you see it working for others," she says. "Examine where you are and where you want to go. Then, get honest and willing to be your most authentic self."
"I'm an uncommon business coach because I don't like to follow what everyone else does," she continues. "I like to go against the grain because you have to find your marketing voice—that thing you're going to be good at to drive traffic for your business."
When asked what tips she has for other online course creators, Lee advised that they find a way to teach in a way that only they can teach it. "Myself and 15 other people could be teaching the same thing, but they're not going to be me. So if you just sit with yourself and realize that thing that's different about you—that you're known for—you'll be successful," she says. 
"Figure out what that thing is and incorporate it into your content or teaching style and watch how you build a layer of visibility and credibility based off of being authentically you," she continues. 
Plus, focusing on serving others—rather than just herself—has been the key to her success. "I think a lot of people go into business or launch companies for selfish reasons," she says. "Success will come when you're in your business for the right reasons, meaning when you're not just being self-serving, and you've crafted a business around serving others. Keeping others in mind before yourself is what I think helped me to build an indestructible foundation for my business."
Her biggest piece of advice? Get into a solution-oriented mindset. "If you focus on finding that one thing within a profitable niche that people are trying to find a solution to, you'll never have to scratch and claw for sales in your business—nor will you have to convince people that they need your product," she explains. "Then, when you craft the message, it will feel like you've read your target customer's mind."
If you're ready to step into the realm of online course creation, the time is now. Sign up for Thinkific today—for free!