It wasn't so long ago that customer success roles made headlines as some of the fastest-growing and most promising jobs of the future. They appeared on high-profile lists alongside other high-profile careers such as data scientist, artificial intelligence specialist, and robotics engineer. 
The latest numbers from ChurnZero showing customer success teams continue to grow in size and influence. Their budgets are growing, too. So if now seems like a great time to advance your career in customer success, you're in good company. 
Customer success skills are in demand.

Communication, empathy, organization, customer education, and creative problem-solving are vital skills in customer success. They're highly transferrable and desirable skills in other roles, too.
Customer success is a pathway to leadership

. If you have your sights set on executive leadership roles, customer success is becoming a more obvious way to get there. (

Success Coaching

predicted this back in 2022, and they stand by that prediction today.)
Customer success embraces different backgrounds

. Sales, retail, hospitality, IT, consulting… you name it, and there's likely a customer success demand for the skills you've already built.
Related: Best Customer Success Courses (Free And Paid)
But there's one big string attached. As customer success gets more popular as a field, the job market gets more competitive, too. 
That's where training and certifications make a difference. Not only are they opportunities for you to learn and hone valuable skills you'll use every day, but they also tell the world: I'm great at what I do. I'm dedicated to what I do. I'm invested in my own success. What better way to stand out in an increasingly crowded marketplace? 
There are tons of training and certification programs for customer success. Yes, you can even go to university for it! The thing is, many ask you to make a commitment via your wallet. Nothing wrong with that – but sometimes you want to dip your toes into the pool before taking a full dive. And sometimes, that full dive just isn't possible with the resources you have. 
The good news is, there are free options out there for you to try as well! And that's what this article is all about.
Skip ahead:
Free customer success training programs
The perfect free customer success training program depends on what you want to get out of it. Starting out fresh on the job? Look for an introductory program that offers an overview of what you'll be doing day-to-day. Want to hone a specific skill? There are free options that dive into the nitty-gritty, too. 
We've done the legwork for you and found three free customer success training programs that cover a variety of topics important to the customer success world.           
Program description and overview
We've designed our own comprehensive online course to help you create a dynamic customer education academy and take your customer success program to the next level – in just a matter of days. 
This course is packed with cutting-edge customer success strategies, expert insights, and practical exercises delivered by customer success professionals with real-world experience. You'll learn how to retain and engage customers, paving the way for increased product and service usage, reduced churn, and a loyal customer base. 
Key topics covered
This course hits all the highlights, focusing on using customer education to take your customer success program to the next level:
Understand who your customers are and how to meet their needs

Make onboarding a breeze using customer journey maps

Use various structures and techniques to build a customer education academy

Create compelling course content across different formats

Master quantitative and qualitative metrics to measure your success
 Benefits and features
Here's what we love about this course:
Top to bottom

: It's a comprehensive dive into understanding customer education and putting it to work in your business

At your pace

: Binge your way through or take it piece by piece. This program fits your schedule – not the other way around.

The latest and greatest

: This isn't last year's information. These strategies and techniques are up-to-the-minute.

Community connection

: Students can network and exchange ideas with a community of like-minded professionals

Immediate impact

: We've designed this course to guide you toward real, measurable results without a lengthy ramp-up
How to access the program
Easy! Enroll right here and you'll get access to this course right away.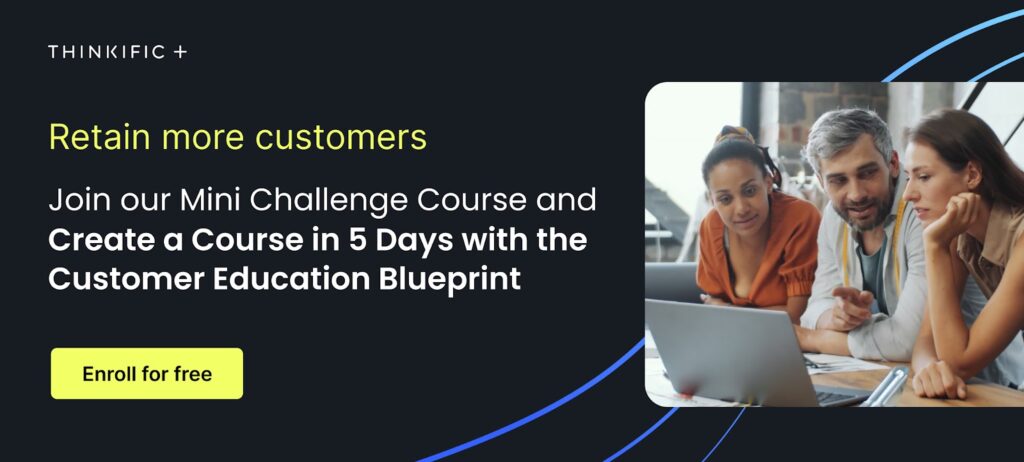 Program description and overview
Aspireship is a reskilling and upskilling platform that offers both foundational and intensive programs for up-and-coming careers – customer success included. They focus on real-life learning, discussing important topics with experts who practice in the field. 
You can access the first course in both the Customer Success Foundations and Customer Success Intensive programs for free. They cover the need-to-know basics for getting customers started on the road to success. At just over 1.5 hours each, it's an easy time investment to make. 
Key topics covered
Both foundational and intensive programs follow the same curriculum at different levels of depth. For this first course, however, they keep it simple:
The customer lifecycle and each phase within it

Smooth onboarding experiences for customers

Defining customer success and setting expectations around it
 Benefits and features
The first course is a good way to get your feet wet if you're new to customer success, whether you're pursuing it as a career or launching an initiative within your business. 
Get perspective

: Learn tried-and-tested strategies and techniques from a variety of professionals who walk the walk

But wait, there's more:

Through their free membership, you also unlock their full video library with titles like "Achieving mental health and emotional balance as a CSM"

Dive deeper:

If you like the free courses, you have the option to dive deeper into customer success as a specialty through their full programs (that's a paid plan, though)
 How to access the program
Simply create an account by selecting "Sign up" on Aspireship's website. Fill in your details, complete your email confirmation, and start learning!
Program description and overview
This super-simple reading-based program focuses on creating a stellar onboarding experience for new customers, from initial activation to long-term adoption. It's delivered via email over five weeks… or if you're like us, you can binge it all at once. 
There's value in here whether you're new to customer success or a seasoned professional looking to sharpen those new customer skills. And with the price tag – $0 – there is no wasted investment. 
Key topics covered
Here's a sneak peek into the five lessons Userpilot delivers to its students:
Understanding the building blocks of effective onboarding

Mapping every stage of the customer journey

Fixing friction points where customers drop out

Exploring different digital user experiences

Setting goals and measuring progress
Benefits and features
The Product Adoption School is easy to pick up when you have a moment to spare:
A reader's delight

: If you're a learner who does best with text and images, this is one of the few options designed just for you

Weekly or self-paced:

Complete it on your own terms, or get an extra push from the weekly email cadence

Quick knowledge hits:

Summaries and key takeaways at the end of each module help cement learning in your mind

Knowledge meets action

: Each lesson comes with recommended next steps to start improving your onboarding as you go
How to access the program
Give Userpilot your email address via their program page and they do the rest – no other information required. 
Free customer success certifications
Customer success certifications are proof that you've achieved an industry-accepted level of skill and knowledge. They show you've put in the work and reached a high degree of competency that'll make you a valuable employee. 
Because they often require standardized study materials, live sessions, and exam sittings, many customer success certifications come with a price tag. It can range anywhere from $99 per year for your level one Certified Customer Success Manager (CCSM) credential to over $1,795 to earn a CSA-accredited certification. 
Free certifications may not be as widely recognized or highly regarded by employers as their paid counterparts. That said, they still look great on a resume and help you build skills that'll make you a great asset to any team!
Overview and requirements
Monday.com's career development programming spans customer success, social impact, and business development. Their Monday U Customer Success certification program is all about building strong relationships with customers so you can uncover their needs and help them succeed. 
A foundational program that takes you from zero to hero over seven weeks, this certification includes 55 hours of classes and hands-on workshops. 
No previous experience is required, making this certification well-suited for students learning about customer success for the first time. 
Skills and knowledge covered
By the end of this course, you'll be well-versed in:
Navigating the customer journey

What customer data is and how to use it

Connecting and engaging with customers

Mastering product features and handling objections

Preparing regular reviews with customers

Landing a job in customer success
Benefits of completion
Sure, you get the LinkedIn bragging rights. You can add it to your resume, too. But perhaps the biggest benefit of completing this course is their focus on launching a career, with top graduates set to receive a full-time job offer from the company itself.
 It also sets you up for success across several roles within customer success, including implementation consultant, client relations manager, customer success manager, and renewal manager. 
How to obtain this certification
Monday U limits each class to 40 spots. You'll need to submit a resume and go through an online hiring process with their team. Once accepted, students must attend at least 80 percent of their sessions and complete the main course assignments. 
Overview and requirements
HubSpot Academy, the education branch of the well-known CRM company, numbers over 483,000 certified graduates in courses across sales, marketing, service, and operations. 
The Inbound Certification Course is a Swiss army knife of all things customer-centered. It provides focuses on creating a continuous flywheel of happy customers who keep coming back for more. 
There are no prerequisites to earn this certification – just sign up and start watching in one of five languages. 
Skills and knowledge covered
This certification covers skills and knowledge around using customer-centered strategies for company growth. By the end, you'll know:
The fundamentals of inbound sales and marketing

What HubSpot's flywheel model is and how it works

How to find and articulate your company's purpose

How to create shared business goals

What buyer personas are and how to create them

How to develop a buyer journey for your business
 Benefits of completion
The HubSpot Academy is globally-recognized and easily displayable on your website, email signature, or LinkedIn profile. 
At just over two hours in length (excluding exam time), you can knock this certification out in a single afternoon. 
You'll also get a broader understanding of how sales, marketing, and service strategies work together to create a culture of customer success.
 How to obtain this certification
Technically speaking, you need only pass the exam to earn this certification, though it's recommended that you watch the video modules and take the quizzes. Once earned, the Inbound certificate is valid for 25 months. 
Free Customer Success Training Courses
Don't have time for a full-sized training program or certification? How about a free customer success training course that's completable in two hours or less? 
While these courses don't go as in-depth as the other programs and certifications we've covered, they're just right if you're looking for bite-sized learning that gives you a high-level overview and a solid launch point. 
Course details and description
In addition to certifications, HubSpot also offers individual training courses; in this case, focused exclusively on customer experience, success, and service. This one-hour session is all about engaging modern customers, guiding them to success, and turning them into promoters.
 This is entry-level training that covers the fundamentals of inbound customer service. It gives beginners enough information and tools to get started right away. 
Curriculum and modules covered
Over the course of six videos and two quizzes, you'll hit these strategic and practical highlights:
Customer journey maps across different industries

Customer engagement in today's world

Guiding customers toward success

Earning promoters to help your business grow
 Target audience
Think of it as a 101 course on the basics of customer success. It's a great fit for people who are taking their first steps in a customer success career, as well as business owners who want to explore customer success strategies. 
How to enroll in the course
All you need is an account with HubSpot Academy. Signing up is free, and you'll have access to their entire course and certification catalog.
Course details and description
This course breaks down the raison d'être behind customer success, the best practices behind it, and the key principles that drive it. You'll walk away knowing how and when customer success makes the biggest difference. 
At just under an hour, you can take this self-study course over a lunch break – and you'll get a shareable certificate of completion at the end. 
Curriculum and modules covered
The course is split into two parts that cover a wide range:
What customer success management is all about

Different business models that benefit from customer success management

How customer lifetime value works

The 14 tenets of customer success management (their secret sauce to successful implementation)
Target audience
For newcomers to customer success, those looking to add new skills to their toolkits, or those building a customer success business case, this course is an excellent resource that lays out the central purpose of customer success. 
How to enroll in the course
LinkedIn Learning offers one month of free learning, meaning you can sign up for this course (and many more) for a grand total of $0. Simply click "Start my free month" and you're all set!
Course details and description
Don't let the name fool you – though this training course is built with Salesforce's AppExchange folks in mind, its lessons apply way beyond. In this text-based, B2B-focused course, you'll read through expert knowledge and advice that goes further in-depth than most introductory courses do, at an easily accessible level. 
The goal is to "help your customers succeed and turn them into advocates for your solutions." Salesforce estimates it'll take a total of 45 minutes. 
Curriculum and modules covered
The course is split into three sections, each with a long list of topics. We've highlighted some of our favorites, but we encourage you to explore on your own:
Understanding customer lifecycles

Defining customer churn (and how to avoid it)

Building a customer success team

Tracking and monitoring customer success

Turning customers into advocates

Improving your customer success approach
Target audience
This course does well at introducing and explaining the essentials of customer success, making it helpful to customer success beginners. That said, it's primarily geared toward managers who want to understand how they can successfully integrate customer success into their organization. 
As a text-forward course with no video component, it'll be most effective for those who prefer learning by reading. 
How to enroll in the course
You can review all course content by visiting the website – no sign-up is needed if you skip the prompts. But creating an account gives you a few perks, like access to quizzes, additional resources, and displayable badges. 
Related: Best Customer Success Courses (Free And Paid)
Make the most of your free customer success training
Excellent – you've found a free customer success training program, certification, or course! But how do you make sure you get the most out of it? We've got a few tips to share about learning and skill development from our own experience delivering online education: 
Manage your time wisely. Flexibility comes with responsibility. Many online courses are self-paced, meaning it's up to you to make sure you get everything done.
Create a schedule for watching videos, reading course material, completing assignments, and community participation

Limit your distractions as much as possible by switching off notifications, using a website blocker, or downloading a focus app

Reflect on how things went. Did you stick to your schedule? What distractions threw you off? How will you handle your time next week?
Make the most of the resources available. Some courses come with additional resources that complement or supplement your learning. Don't sleep on these! Look for:
Guides that help you nail what you're learning step-by-step 

Templates that give you a jumping-off point to put what you learn into practice

Reports that peek deeper into industry context and the latest trends

Access to other courses and tools offered by the organization

Certificates of completion that you can add to your resume or LinkedIn profile
 Leverage online communities. Online learning may happen while you're alone. But that doesn't mean it has to be a lonely process when you can connect with other learners in places like:
Course-specific communities that enable student discussions, questions, and feedback

LinkedIn groups that provide access to professionals who do what you're looking to do

Study groups where students collaborate and enhance each other's learning
The free customer success training and certifications advantage
Customer success isn't just a nice-to-have. In a world where customers hold more power than ever before – and where their expectations are sky-high – many companies are rising to the challenge by embracing customer success. 
By investing in a free customer success training or certification program, you can harness that rising tide to propel your career forward. 
Not only will you gain highly sought-after skills, but you'll also set yourself up for highly sought-after positions. You build a reputation as a credible, industry-recognized professional who excels at what you do. And they're proof you can put front-and-center on your resume or LinkedIn profile to impress future employers (and boost that earning potential, too).
 
The best part? That potential is one click away. So go ahead – build a stronger career starting with The Customer Education Blueprint by Thinkific Plus.