What is a mission-driven membership site
A mission-driven membership site brings together a community of like-minded individuals and empowers them to participate in courses and networking opportunities that help them reach their collective goals. Content is key with all membership sites, but connection is critical for the success of a mission-driven membership. These communities have the ability to create a dynamic shift in the lives of the members of your community and start a domino effect of positive impact worldwide.
Why is a mission-driven membership beneficial
More profits – Members that feel a part of something spend more money, for a longer amount of time because of the emotional connections and shared values they have with their community.
Authenticity and branding – Businesses in the digital era have no where to hide, and a mission driven membership doesn't need to hide anywhere!
Do well while doing good – The paradigm has shifted. Earning revenue doesn't have to come at the expense of having a positive impact. You can do both.
Download Your Guide To Building A Membership Site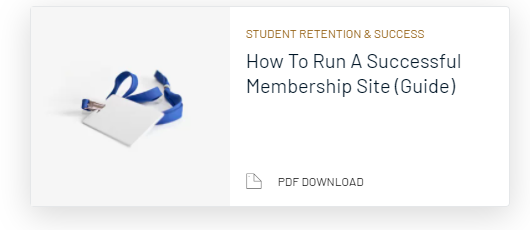 Related: Top 5 Membership Retention Strategies For Sustainable Growth
How to pick your mission
So, how do you pick your mission? You can start off by asking yourself 3 key questions. This was the formula to my success when I set off on the journey of creating a mission-driven membership. 
1. What is your area of expertise?
It may be helpful to start with the industry you work in. Do you work in healthcare, technology, legal, real estate? No matter your industry, this is your first clue to creating your mission-driven membership. Starting with the industry that you currently work in as well as considering the industries you have worked in previously is a great starting point for skills that you have already acquired. These are areas that you can leverage your expertise to start your path to building a mission-driven membership.
2.
What problem do people naturally come to you to solve?
This is key to understanding how people view you and your expertise. What are you constantly getting questions about? What are people asking you at work or sending you LinkedIn messages about? What are the common questions that you find yourself answering repeatedly? This is usually what people are in need of and will pay access to receive your valuable advice.
For example, I constantly received questions about my career journey as a woman in the project management industry, how to connect with other women & women of color in our industry, and how to pass the Project Management Professional (PMP®) Certification.
Today, my membership has masterclasses about my career journey & the journey of many other women & women of color in the industry. In turn, we can all get further faster as a community. We have women that find connection through our member directory, and coaches inside the membership making sure the women of our community have all the support they need to get their certifications to achieve their career goals.
3.
What area of expertise do you enjoy talking about the most?
This is a tricky but important question! Most people think about the topics that they talk about the most within their specialty and equate that to their area of expertise. Never confuse what you're good at doing with what you enjoy. My suggestion is that you build a mission-driven community based on your specialty that you are truly passionate about and the topics that excite you the most.
Reflecting back on all three of these questions, what do your answers have in common? What topic lands in the crosshairs of all 3 answers? This answer is an essential clue to building your mission-driven membership!
Related: 13 Membership Site Examples That Will Inspire You
Overcome challenges with easy-to-install apps
There are challenges when creating & building a mission-based community from scratch. Fortunately, the Thinkific App Store includes apps that have enabled me to both create and nurture my community with ease. 
Community Box
One of the challenges of building a community is nurturing relationships virtually. Community Box is the easiest way that I have been able to allow the women of my community to be seen and connect with one another seamlessly. Community Box is an app available in the Thinkific App Store that has allowed women inside my community to build relationships, network within niche industries, find mentorship, as well as collaborate on projects. Now, a woman working in the project management industry in Atlanta can network, collaborate, or get advice from another woman in the project management industry in South Africa easily. Our member directory is part of the foundation of our thriving community. 
PowerUps
Most recently, I've started using a series of apps called PowerUps designed by Thinkific Expert Rob Galvin. These apps—specifically Ding, Flix, and plaYEAH!—have allowed me to transform the look and feel of my Thinkific site and create personalized popup notifications for members. With Ding, I make sure that members are receiving notifications that greet them by name while delivering the latest updates in our community. plaYEAH! also helps me add celebratory messages throughout the course experience so that my members stay motivated throughout their learning journey. Flix enabled me to showcase all of our courses like a Netflix dashboard—my members love it! 
Stunning
Member retention is a significant challenge for any membership-based business. My members are busy, professional women. Sometimes they haven't noticed that their credit card has expired or that their credit card is no longer working. With the Stunning app in the Thinkific App Store, I'm able to retain more subscriptions and monthly payment revenue by prompting my members to update their credit cards themselves when their current card on record is no longer working, or even before their credit card expires. My members are alerted via text, email, as well as a banner displayed inside my Thinkific community regarding a payment action that needs to be taken.  
As a solopreneur, I need to be able to automate communications to my customers of a failed payment, prompt customers to update their payment details, and send subscription emails automatically. That's why Stunning is a game-changer in my business—customer retention related to payments is dramatically improved with little work on my end. 
Related: How To Price Your Membership Site To Maximize Profits
Building a mission-driven membership is not as out of reach as you may think. With the right mission, a learning platform like Thinkific, and apps to build your community, you can create a thriving business and change the lives of others with your mission-driven membership site.