Maile Naehu and Kalani Ho-Nikaido are on a mission to reintegrate Hawaiii's language — Ōlelo Hawai'i — back into modern society. 
They're doing so through their business, Ka Hale Hoaka. By teaching timeless Hawaiian wisdom and culture to children, parents, educators, and businesses through Thinkific online courses, together they're helping to break down the barriers to using 'Ōlelo Hawai'i in everyday life. 
According to Naehu, bringing indigenous language into modern times is essential if we want to be better stewards, community members, and people in general.  "I think connecting to your land and culture – no matter where you are or where you come from – has to happen," she says. "I always say, we have to be innovative but still grounded in the past; the answers for our future are already laid out for us."
Their goal: have 'Ōlelo Hawai'i be spoken in every single Hawaiian home. "When we get to the point where we hear it in the bank, the grocery store, and on the beach, we'll know we've made an impact," says Ho-Nikaido.
Want to skip ahead?
Learn more: Hear the interview with Kumu Maile Naehu on Radio Kingston!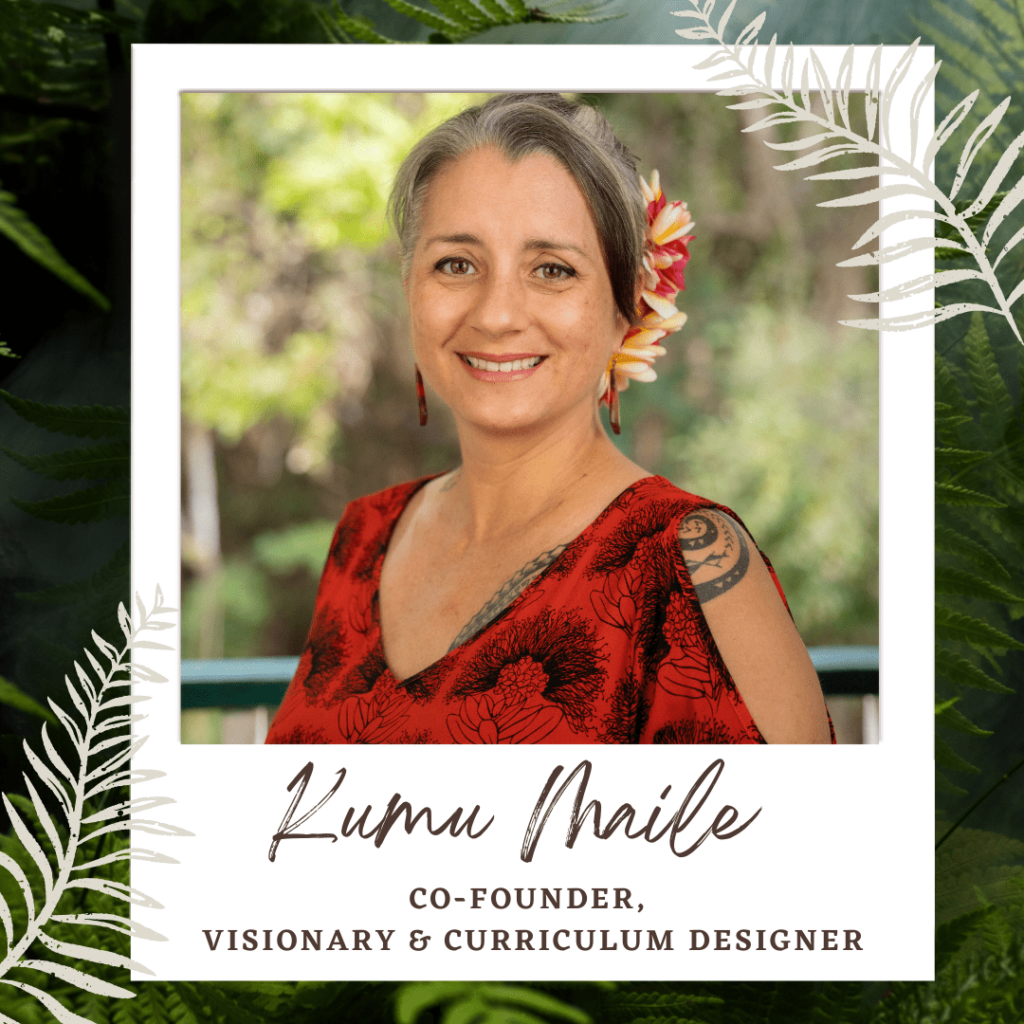 The need to bring back Hawaiian language
To understand the need to reintegrate 'Ōlelo Hawai'i back into modern Hawaiian society, it's helpful to look at the region's history.
After the Hawaiian kingdom was overthrown in 1893, a law was passed in 1896 that declared English would be the primary language spoken in Hawaii. It wasn't until the Hawaiian Rennaissance in the late 1960s and early 1970s that the community experienced a resurgence of Hawaiian culture, which was initially driven by artists who wanted to reclaim traditional Hawaiian arts, music, and dance. 
At this point, there were as little as 2,000 Hawaiians who spoke the native tongue fluently. "For 80 years, people were completely deprived of who they were, their story, and their identity," Naehu tells Thinkific.
Now, the total number of fluent Hawaiian speakers is approximately 24,000, and 24 of Hawaii's public schools teach exclusively in Hawaiian. Plus, there's a major effort now to incorporate Hawaiian culture and language into all classrooms.
But Naehu wants to see these numbers grow even more; language, she believes, is what will help to connect Hawaiian people back to their roots and sense of identity and place. Plus, as an oral tradition, much wisdom has been passed on through the telling of stories in the native language.
"These stories lose some meaning once they're translated to English. When you know 'Ōlelo Hawai'i, you can understand all of the deep metaphorical layers in our language. It's mind-blowing. I feel like I see things completely differently because I think, dream, and interpret in my own language — and in the world where this language derived from."
The phone call that changed everything
Ho-Nikaido was feeling a strong call to integrate 'Ōlelo Hawai'i into her home; she and her husband — who passed away four years ago — wanted to connect their children with the language and culture of Hawaii so that they grew up with a strong sense of identity.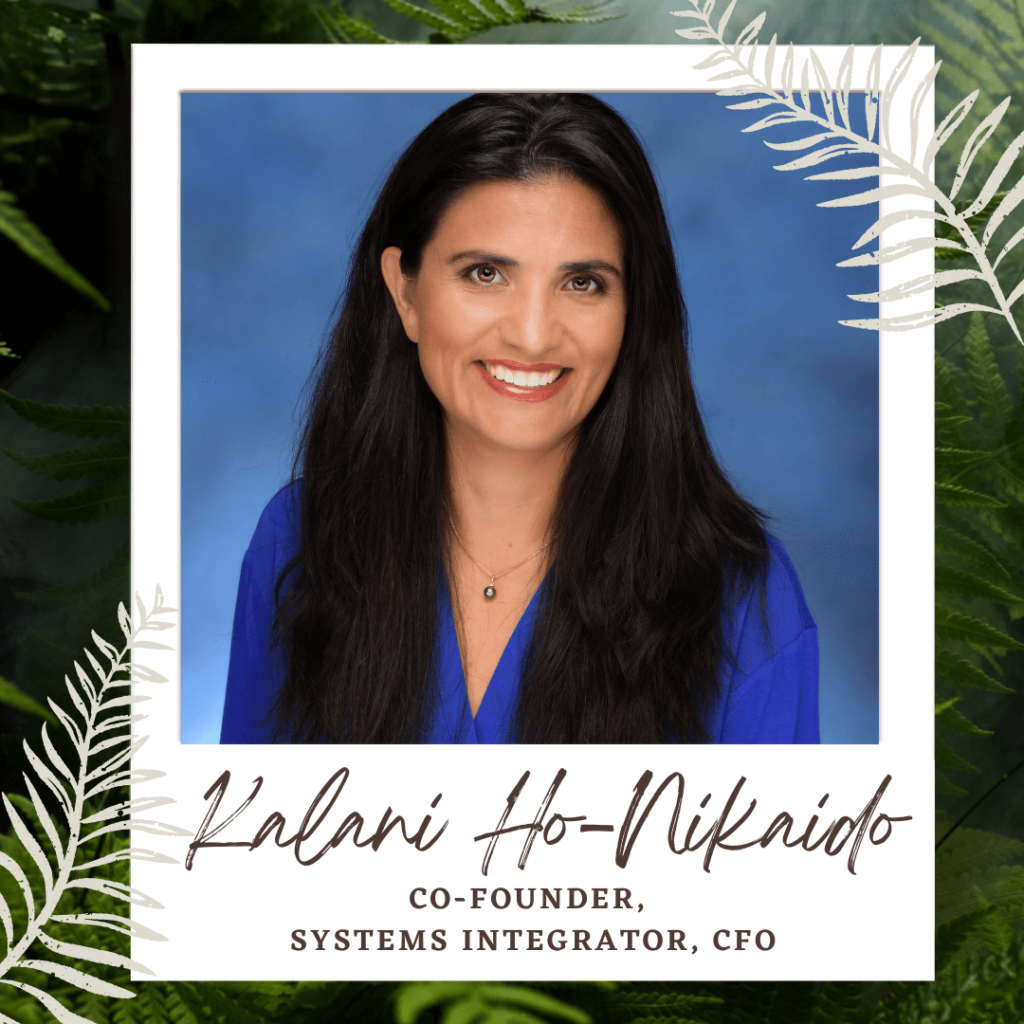 When the schools shut down due to the 2020 covid-19 lockdown, she figured that it was the perfect opportunity to start learning. She decided to reach out to Naehu, who she'd met in her senior year of high school on the island of Maui. Ho-Nikaido and Naehu had briefly worked together at a Hawaiian Luau at the start of their careers, with Naehu as a performer and entertainer and Ho-Nikaido as the general manager.
For the last two decades, they'd parted ways as their careers took them in different directions; Naehu pursued educating and performing, whereas Ho-Nikaido focused on building business through leaning on her finance and administrative skills. "The first person I called was Maile," shares Ho-Nikaido, as she recounts her reaction to the pandemic lockdown. "I said, 'you're phenomenal, and I need someone to teach our language to my children and I. So please, will you?'"
But this phone call brought to fruition more than 'Ōlelo Hawai'i tutoring for Ho-Nikaido's family; when Ho-Nikaido hung up the phone, she thought about how many other parents needed help integrating the language into their homes, too.
The pair decided to blend their opposing – yet complimentary – skill sets to launch a free, six-class course on Facebook. Naehu would do the teaching, and Ho-Nikaido would help set up the classes behind the scenes on Zoom. "Marrying our skills is what's allowed us to shoot out of the gate, because I know how to build businesses and Maile knows how to teach and create curriculums," says Ho-Nikaido.
How a free class led to a business launch
They each posted about the free class on their personal Facebook accounts, announcing that it would run in two weeks. 
They describe simply throwing up the class without needing it to be perfect or glamourous. Although they had no idea if anyone would even be interested, 400 people signed up. Surprised by the turnout, they realized that they were providing something that people really wanted — and needed.
"The greatest entrepreneur stories are about going in and serving when everybody's running away," adds Ho-Nikaido. "That was really our mission; we thought, let's go in and serve our community and be beacons of hope and connection because parents are flipping out right now."
Two weeks after creating their first course — and upon realizing the market's need for what they were offering — they officially launched the Ka Hale Hoaka business. Naehu became the company's visionary and curriculum designer, and Ho-Nikaido became the CFO and systems integrator. "Most people think you need tons of money to start a company" says Ho-Nikaido. "For us, it was just two moms who picked up the phone, used a computer, and were in business. We're bootstrapping this."
The teachings: leaning on ancestral wisdom 
The word 'hoaka' can be translated as the waxing crescent moon's ability to cast a shadow during the second moon phase of the Hawaiian lunar calendar. It can also mean 'spirit' or 'to shine brilliantly,' and the Ka Hale Hoaka teachings are rooted in the belief that ancient wisdom of our ancestors is the answer to our modern-day problems. 
This journey of connecting with ancient, ancestral wisdom began early for Naehu; although she grew up going to a school for native Hawaiian children on the Island of Oahu, her school was still westernized. "I was very aware that I was Hawaiian, but I didn't know that it meant to live that way," she says. "I always had this curiosity to know more."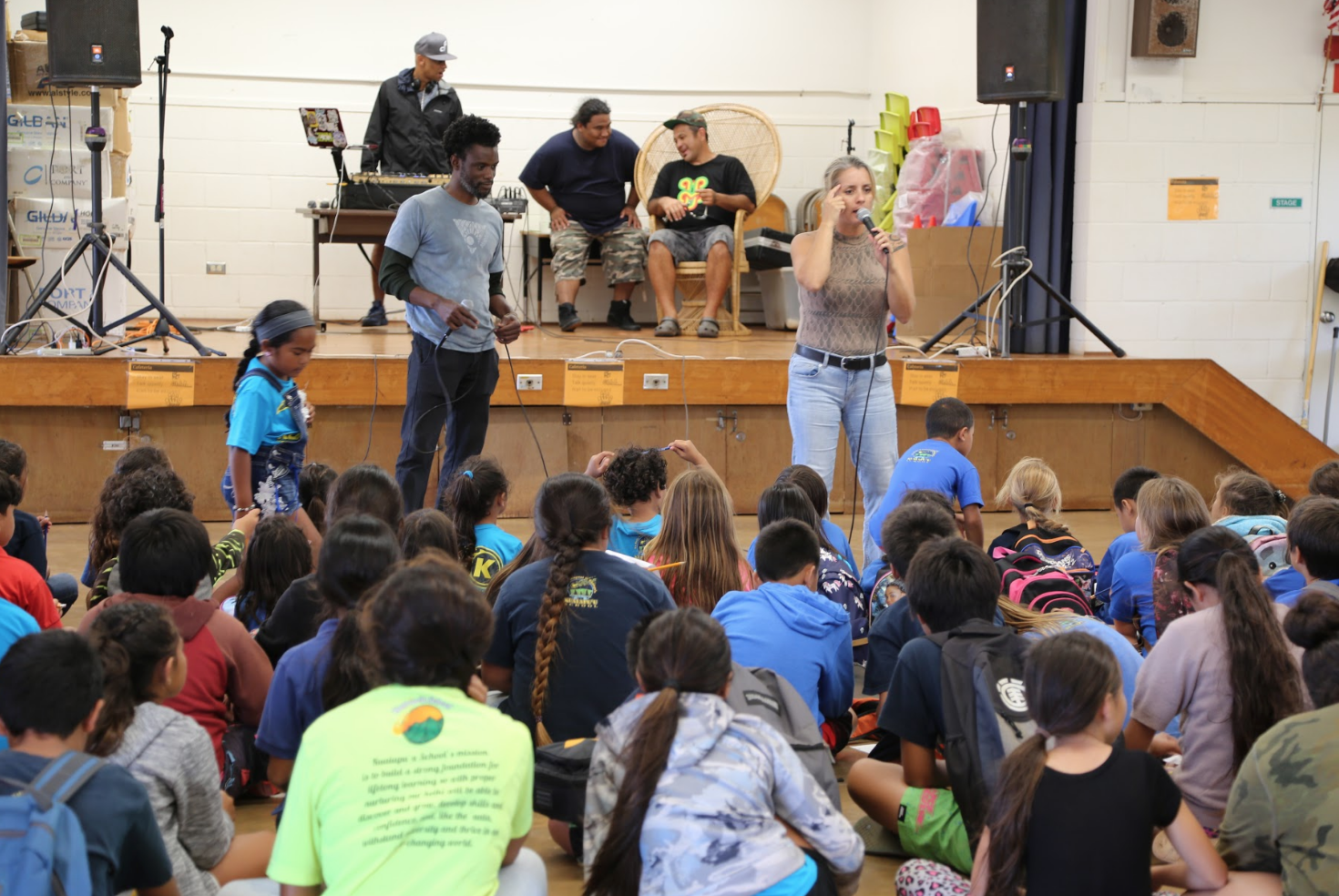 Inevitably, the stripping of Hawaiian culture in the nineteenth century is still heavily felt.
"If you visit Hawaii, you'll realize that there are only little pockets of what Hawaii really is," Naehu continues. "A lot of it is developed and colonized. And we grew up as products of that."
Since growing up during the Hawaiian Renaissance, she says she was lucky enough to be able to search for answers and find out more about who she really was. This journey led her to get a degree in traditional Hawaiian Society at the University of Hawaii at Manoa, majoring in Hawaiian studies and language. 
For Naehu, the way she teaches is rooted in the way she lives; residing on an off-grid property on the island of Molokai with her husband and three kids, she's uncovered answers that her ancestors have left through living off the land and teaching traditional Hawaiian philiosophies. "We keep looking for new answers through technology and science," she says. "But the answers are already there. If we just stop fiddling with nature and listen to what was already left as a gift, ancient wisdom can guide us into the future."
Raising the next generation
After launching their first free course, they built their database and decided to create paid classes, the first of which sold eight seats. Since then, they've grown their enrollment to approximately 800 paid students. "Ka Hale Hoaka is one of those overnight successes that really took 25 years to develop," says Ho-Nikaido. "Both of us went our own ways, working and developing our own skill sets and careers." 
Although Ka Hale Hoaka has courses for parents, educators, adult learners, and businesses, their primary audience is children. "The foundation of our business is really about raising the next generation," says Ho-Nikaido.
While the courses are targeted towards children, Naehu and Ho-Nikaido started to notice that the whole family began learning together. Now, they have products to service different people — from babies up until those aged 90.
"Our students like the engaging way that we approach teaching, and they enjoy how simple, comfortable, and easy we make it. We're seeing elders join our adult classes – or even take our children's classes because it's easier — to learn the language. For me, that was the most unexpected surprise. They're now getting the chance to learn the language that was taken from them."
Scaling their course sales
Upon realizing that selling courses to individuals was a slow process, they added a corporate model to provide faster ROI. They began to pique the interest of schools and started offering a curriculum product. "Now, we can pick up a school account and sell 270 seats with one client," says Ho-Nikaido.
They also target tourism industry businesses. "The tourism industry needs to get on board and be the driver of making 'Ōlelo Hawai'i be heard everywhere," Ho-Nikaido continues. "As stewards and people that are benefitting tremendously financially, they have a responsibility to be honoring the Hawaiian culture in a real way."
They market themselves on several platforms: Facebook, Instagram, YouTube, and they just launched their LinkedIn initiative and Google ads for a few products. 
Letting technology evolve with them
When they first launched Ka Hale Hoaka, they used ClickFunnels as their original system. But when they began to scale, they realized they needed a different backend system. In October 2021, they moved their courses to Thinkific for its user-friendly backend system and reporting features.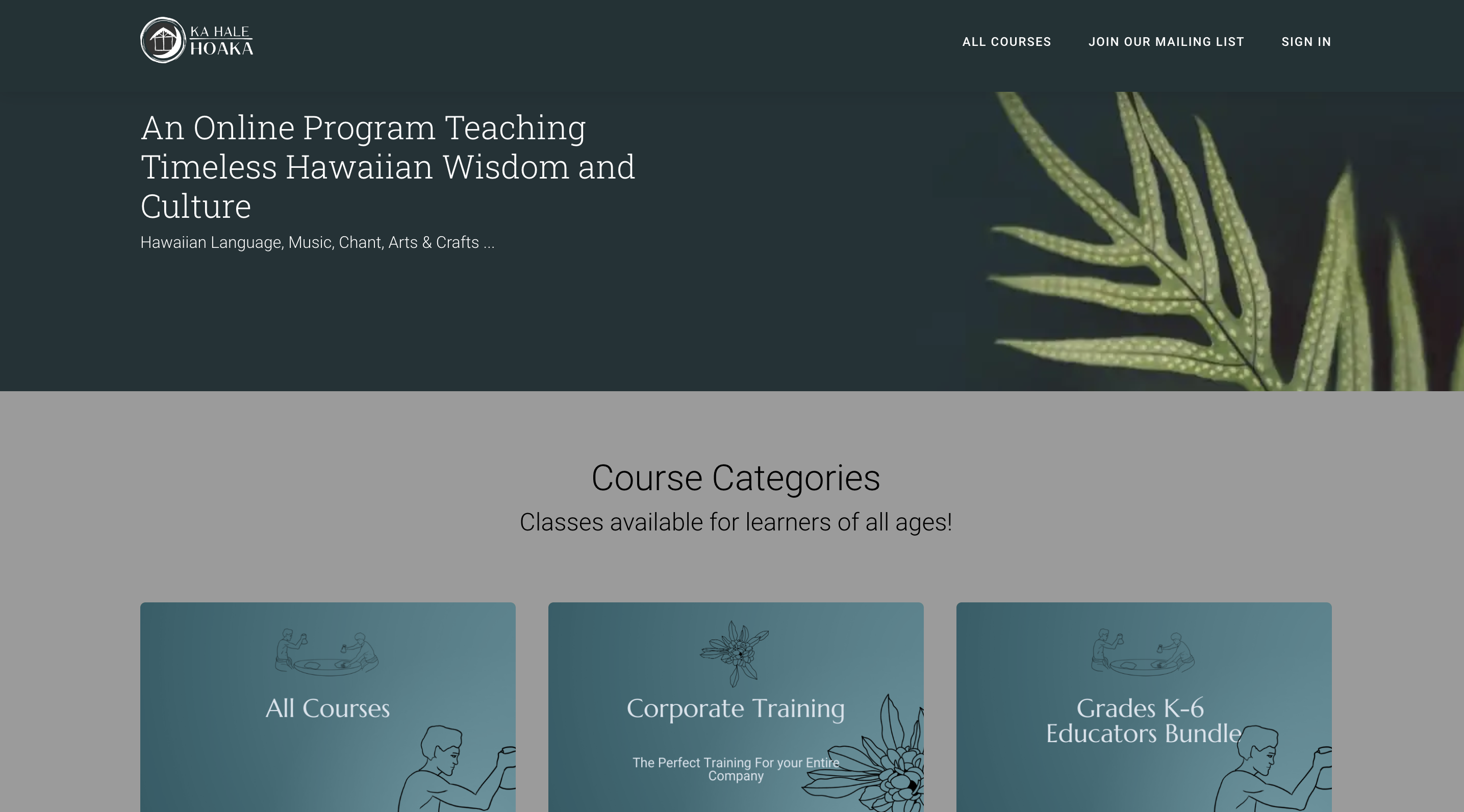 They decided that instead of being intimidated by technology, they'd apply a 'done is better than perfect' mentality. This helped them avoid overwhelming themselves with trying to get everything right on the first try. In fact, when they look back on some of their first course's videos, they describe them as 'comical.' "In the first few videos, I'm filming myself in my bedroom, and there's no fancy lights," says Naehu. "Now, they're more professional and we have a studio with proper equipment."
"Just charge forward and start producing stuff the best way you know how," Naehu advises. "It will evolve if you have a good support system."
Now, some of their courses are already on their third iteration, as they're committed to continuous improvement. "Because it's a soft format, you can always go back and remake videos," continues Naehu. "Students will be tolerant of your learning curve because they want to get the information from you. Don't be held back by your tech skills. You can outsource that and utilize resources. But if you have a story to tell or information to give, start now and worry about the tech part later."
Bundling evergreen courses
For the first year of business, they were mainly focused on course creation. However, this constant production caused Naehu to stretch herself too thin. Eventually, they realized that they'd created enough content that they could put together evergreen bundles as a way to avoid creative burnout, repurpose their existing content, and continuously bring in cash flow.
Now, Ka Hale Hoaka has 15 courses, which include their main courses, bonus courses, and free workshops that they edit and keep in their library. "Maile does art, songs, and chants throughout the courses, and so we've spliced those and made a learning library with supplemental bonus courses in addition to the primary ones," says Ho-Nikaido.
Bundling courses is something they love most about Thinkific. "Bundles have allowed me to get a lot more creative when I market and package something," says Ho-Nikaido "For example, I recently packaged together one of our live crash courses with our self-paced course, and then renamed it. Now, I'll turn that into another evergreen funnel."
Structuring their course content
When it comes to structuring each course, they allow learners to access all course content upon purchasing rather than using Thinkific's drip schedule. "We noticed with our courses — particularly with the curriculum — the teachers really like the flexibility of seeing the whole thing," says Ho-Nikaido.
While most of their learners aren't pushing for a drip schedule, Ho-Nikaido foresees them using the feature for adult learners in corporate trainings. She also plans on gamifying the content to increase engagement, accountability, and course completion rates.  "With the corporate folks, I want to be able to demonstrate our ROI," she says. "Companies are going to want to know that their corporate trainings were actually used."
According to Ho-Nikaido, there are still Thinkific features that they haven't yet tapped into. However, they have all the mission-critical systems in place. "I'm always looking at workflow and how we can streamline our backend so that there's less management," she adds.
Engaging students throughout the course
Engaging with students is an important part of the Ka Hale Hoaka online course delivery; they leave their email at the end of each video so that students can get in touch, and personal answers to each question are provided by Naehu.
"I tell students, if you're part of this, you're part of our family. We're always here for our students if they need help navigating through the content."
They also host live tutoring and Naehu runs a monthly, 30-minute Q&A session to stay connected with students. Then, once students go through the course, they get a series of emails with discount codes to apply to future courses, which helps them stay engaged.
The Ka Hale Hoaka team also sends weekly newsletters to their entire student database, which includes information about time-sensitive special offers, events, worlskops, and opportunities. "We're always adding value to our email database," says Ho-Nikaido.
Learn more: Hear the interview with Kumu Maile Naehu on Radio Kingston!
Hiring a team
With the firm belief that hiring a team with diverse skill sets is the key to growth,
Naehu and Ho-Nikaido started with hiring two free interns that helped them with  their first paid course launch. Then, they hired part-time college students who eventually became full-time employees in January 2022. "We were so excited that we had created something that was interesting enough for them to want to pick us as their first out-of-college job," says Ho-Nikaido.
Besides their two full-time employees, they have three more people on the team who help to create the curriculum. "I have a hearty curriculum team and it's because I did everything myself from the beginning," says Naehu. "There's been a huge evolution in the film, worksheet, and slide quality since hiring a team, which I used to do by myself without an extra set of eyes."
Hiring a team has allowed Naehu to feel extra supported when creating course content; she and her three curriculum helpers have monthly meetings where they help flesh out ideas, leaning on their Hawaiian language college majors to help.
For creators who don't yet have the capacity to grow their team, Ho-Nikaido has some advice.
"If you're a solopreneur, get into a mastermind group so you have accountability of people that are also building courses. That weekly rhythm of accountability will help you progress."
Advice for online course creators
Aside from enrolling 800 students, the Ka Hale Hoaka team is making a considerable impact on Hawaiian society. "People in the political and educational world who didn't talk about this stuff two years ago are now emailing me asking for more information," says Naehu. "I can now see the impact we're making; these are people who make big decisions for large student bodies and institutions."
According to Naehu and Ho-Nikaido, as long as you — the online course creator — have skills and experience behind you, you have the right ingredients to create a successful online course. And, if you're serious about scaling your online course, Ho-Nikaido advises that you begin with the end goal in mind. "We decided in the first couple of weeks that we were going to go big," she says. "From day one, we looked at software that would allow us to scale."
"If you have a vision of where you want to go, start with the right system. Even if you're scared of the price, it will allow you to achieve your goal faster."
Naehu and Ho-Nikaido are perfect examples of those who owned their skills and knowledge to make an impact through Thinkific. If you're ready to do the same, don't wait. Get started with Thinkific today. 
---
Want to read more creator stories? Sign up for the newsletter below, or check out more stories here.