First launched in 2016, Linktree is the original link-in-bio (or one-link-to-many) tools. Like many software projects, its creators grew frustrated with a specific problem, couldn't find a solution, and decided to make their own. In this case, those people are Alex and Anthony Zaccaria, as well as Nick Humphreys, who ran Instagram accounts through a digital agency.
Platforms like Linktree allows content creators, professionals, and anyone else who monetizes their social media accounts, to use the single link in their profiles to give their audience access to multiple links. For example, a fashion influencer might list their agency's contact information, their affiliate links, and shopping links of brands they are sponsored by. Similarly, other content creators might include links to their various social media platforms, and whatever products or services they sell.
Whether you've been using Linktree and you're in the market for a different platform, or you've just started looking into link-in-bio tools and want to cover all your bases, check out some of the best Linktree alternatives below.
Skip ahead:
Why use a Linktree alternative?
Despite Linktree's popularity, it's far from being the only option out there — and it's not necessarily well-suited for everyone. Cost might be an issue for some, since many of Linktree's features are locked behind some of its pricier plans.
If Linktree doesn't fit your needs exactly, don't feel like you need to use it just because it's popular. Explore other link-in-bio tools and see what works best for you.
7 Best Linktree alternatives
As we go through this list, we'll break down the tools' key features, review their pros and cons, and give you an idea of how much they cost. Let's dive in!
The Leap is the latest tool from the leading creator educator platform Thinkific. It's a link-in-bio storefront that also functions as an easy-to-use digital product builder.
Designed with lead generation, product promotion, and sales in mind, The Leap helps creators monetize easily, allowing them to sell their digital products and process payments directly through their landing page.
The Leap is a great Linktree alternative especially for creators looking to jumpstart their monetization journey. And if you leverage all of its features in tandem, you'll have yourself an income engine that'll power your business and earn you even more money over time.
Biggest advantage over Linktree: AI-powered digital product builder
The Leap is more than just a link-in-bio tool. Its AI-powered authoring tool allows creators to bring their digital products to life easily, whether they're looking to create mini-courses, guides, tutorials, and more. The Leap's user-friendly digital product builder makes it easy for creators to produce lead magnets, which in turn helps them grow their email list — and make more sales.
The platform also offers creators an array of audience analytics, including sales and leads reports, that give them the insights they need to create digital products that will fly off the (digital) shelves.
Biggest drawback compared to Linktree: limited customization features
With The Leap being a relatively new tool, currently, it offers fewer customization options than Linktree. For example, while Linktree users can select between multiple themes, use a video background, or change the font style and color for their link-in-bio pages, The Leap allows you to only insert a description and add a banner photo to your storefront. Watch this space for future product updates from The Leap!
Pricing
The Leap is free to use — no subscription fee or revenue sharing. Sign up for free today!
---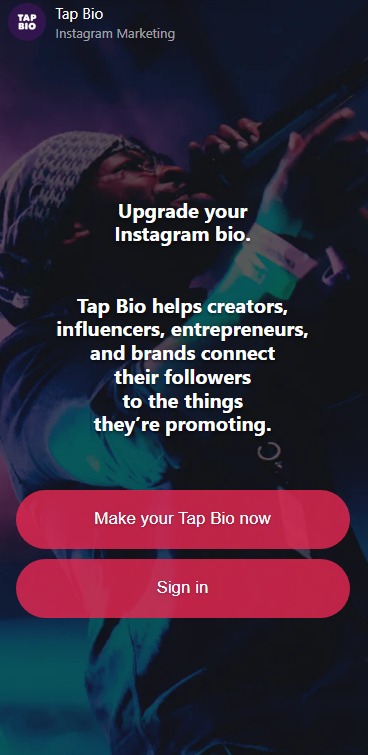 Tap Bio is an Instagram-focused link-in-bio tool that lets you create a mini website reminiscent of Instagram Stories, giving your audience a seamless experience as they browse through your profile. When you create your Tap Bio, you'll add individual cards that your audience can swipe through — like a profile card, link cards, and even email collection cards. With its mobile-first interface, Tap Bio is a great Linktree alternative for creators who like to work exclusively from their smartphones.
Biggest advantage over Linktree: the Instagram focus
If your content creation game is Instagram-first, then Tap Bio might be the exact platform you need. Because its design is so similar to Instagram itself, your followers will be able to swipe through it the same way they would with your regular content, which can make them more likely to tap through one of your links. Even better, Tap Bio works seamlessly with Google Ads, Instagram Ads, and Facebook Ads, meaning you can use it for advertising, too.
Biggest drawback compared to Linktree: also the Instagram focus
Creators who don't see Instagram as a big part of their content strategy or don't even use the platform might find Tap Bio a bit light on features compared to its competitors. While its cards are pretty flexible — meaning you can add quite a few links — it's not as robust as some other Linktree alternatives. That makes it a solid option for the Instagram crowd, but less so for everyone else.
Pricing
Tap Bio has a free plan, which will give you access to a profile card plus one additional card. It also offers a Silver plan for $5 a month, which gets you three additional cards. But if you want to remove Tap Bio's branding card and get unlimited cards, you'll need the Gold plan, which will set you back $12 a month.
---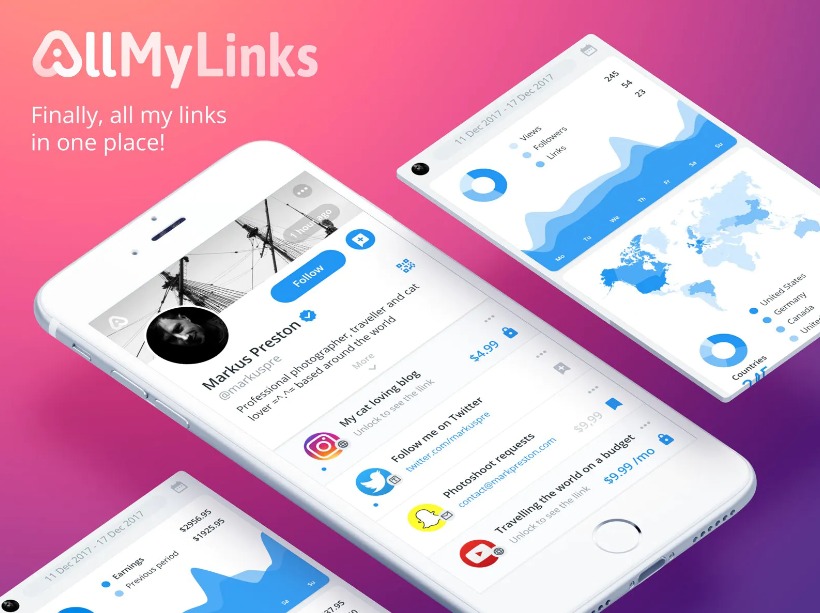 Launched in 2020, AllMyLinks is one of the newer link-in-bio tools on the market. It's one of the simplest, no-fuss tools for creators and other professionals who need more than a single link in their social media profiles. It's a one-stop shop for all your links, and it gives you detailed analytics to know which links are working and which ones are falling behind.
Biggest advantage over Linktree: the price
AllMyLinks is free. The app's branding isn't slapped over all your links — except for a small logo in the corner — and there are no obnoxious ads. You get access to all link types and all features without paying a dime.
Biggest drawback compared to Linktree: low on features
You can add a ton of links to your page with both Linktree and AllMyLinks. Whether you're a content creator who needs to share half a dozen social links, a musician dropping your latest album on SoundCloud, or a professional accepting payments through Stripe, AllMyLinks supports, well, all your links. But Linktree has features that let you turn your link-in-bio page into something more like a full-blown website, with deeper analytics, email collection, affiliate programs, and more. For some, some of these missing features could be dealbreakers.
Pricing
AllMyLinks is free to use.
---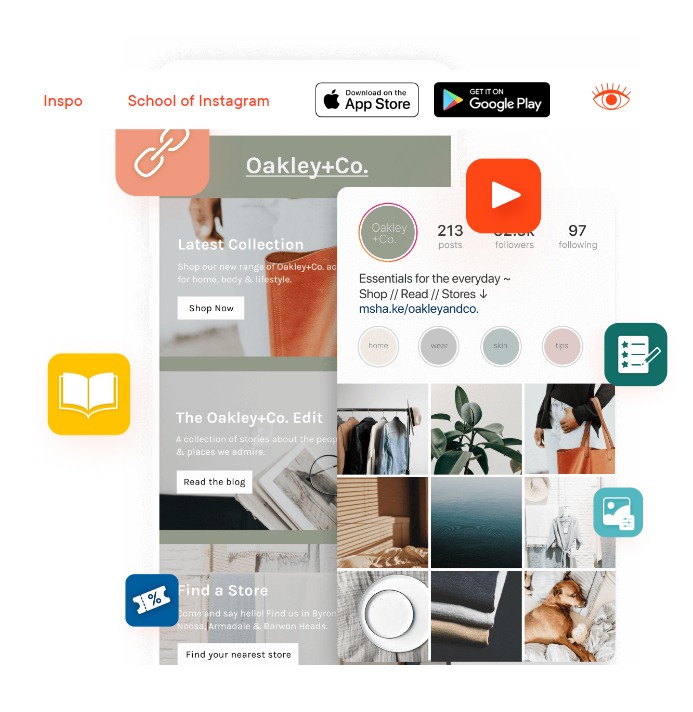 While Milkshake calls itself a "free website builder," it works great as a link-in-bio tool. It lets you use a series of cards to build a tiny online experience for your audience that'll guide them to your other links, show them an embedded YouTube video, and more. Swiping through these cards is a lot like going through an Instagram slideshow.
Biggest advantage over Linktree: the price
Milkshake offers a free plan that gives you access to all its features and every type of card. With the $2.99/month subscription, however, you'll be able to removing the Milkshake-branded card at the end of your slideshow.
Biggest drawback compared to Linktree: scaleability
While it's free and easy to use, Milkshake just doesn't scale as well as Linktree. While Linktree offers a ton of different links, analytics, and other features, you'll hit a ceiling with Milkshake pretty quickly. So if you're looking for a scalable link-in-bio tool, Linktree might be a better option.
Pricing
Milkshake is free to use. If you want to remove its branding from your links, however, then you'll need to pay $2.99 a month.
---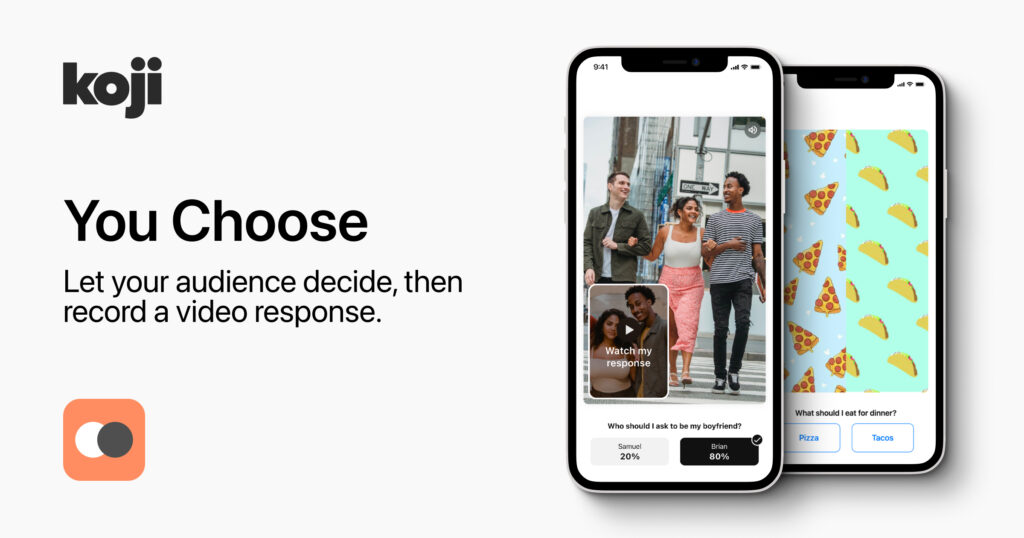 Koji is a Linktree alternative that's all about the money. That's because it's not just a link-in-bio tool, but a full-fledged digital storefront that empowers anyone to start selling content, digital products, and even merch from a single platform. If you want to turn that one link in your profile into a money-maker, then Koji might be what you need.
Biggest advantage over Linktree: monetization features
Everything on Koji is built with one goal in mind: helping creators and other professionals bring in more revenue from their audience. Koji offers purpose-built templates that start with a type of link — from ebooks to affiliate links and crowdfunding — and lets you quickly deploy them to your profile. That cuts the setup time down significantly.
Biggest drawback compared to Linktree: storefront-first
While not every link has to be a product or a paid service (there are templates for media embeds and giveaways for instance), with Koji, there's certainly a big focus on raking in the dough. If you're looking for a tool that'll help you monetize in every possible way, then Koji might be exactly what you need. But if you want a link-in-bio tool with a bit more flexibility, you'll want to stick with Linktree or use one of the other alternatives on this list.
Pricing
Koji is free to use, but you'll have to pay transaction fees every time you make a sale through the platform. These fees range from 5% to 15% depending on the template you're using and the type of product you're selling.
---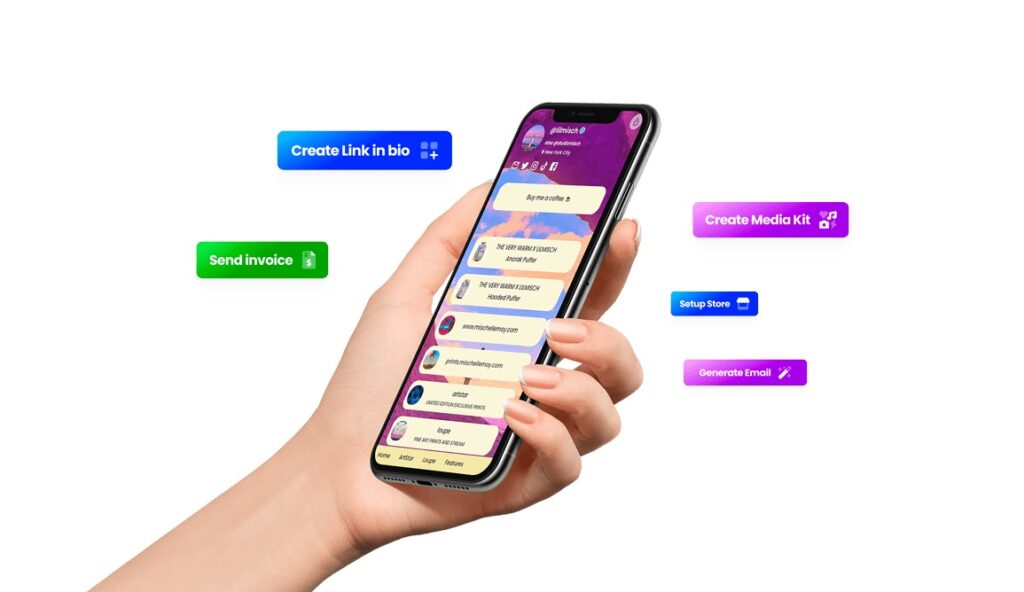 Beacons is not just a link-in-bio tool, but an all-in-one platform for running your content creator business. Sure, it gives you a place to keep all your links, but it's also got everything from an invoice builder to an AI-assisted brand outreach tool and even a W-9 tax form generator.
Biggest advantage over Linktree: all-in-one tool
If you're a content creator and you know you're about to need a ton of tools to reach that next step in your journey, then Beacons might be a good option for you. When you don't already have a solution for selling digital products, sharing your portfolio, or collecting contact information, a single platform that does it all can be helpful.
Biggest drawback compared to Linktree: lack of focus
But if you just need a link-in-bio tool that can support absolutely any kind of link anyone can think of, Linktree might be a better choice after all. It's the oldest tool in the game and offers features specifically for improving your link-in-bio page. So if you don't need an invoice builder or a QR code generator, then you still might want to go with Linktree — or try one of the other options on this list.
Pricing
You can start using Beacons for free, but many of its features are locked behind paid plans, ranging from $30/month for its Marketing Bundle, to $100/month for its VIP plan. 
---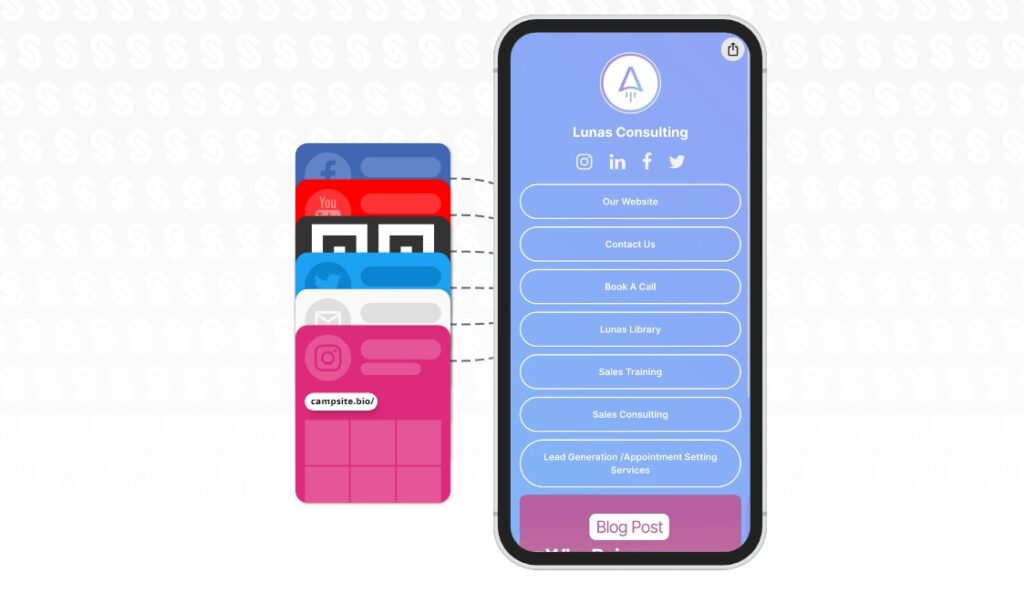 According to its website, Campsite is a blazing-fast bio link tool built for conversion. It lets you add most of the links you need to your page, including website links and embedded media links, as well as carousels and other custom options. 
Biggest advantage over Linktree: a full-fledged tool for professionals
Linktree — and many of its alternatives — can sometimes feel like they're built with content creators in mind. That's great for creators, but not necessarily so for everyone else. Between the ability to work with other collaborators, the multiple profiles you can set up, and the advanced desktop tools at your disposal, Campsite feels like a tool built for professionals and businesses.
Biggest drawback compared to Linktree: no mobile app
Surprisingly, Campsite is one of the few Linktree alternatives on this list that doesn't have a mobile app, either on iOS or the Google Play Store. So while the desktop version has a smooth interface that lets you quickly add all the links you need, you won't be able to make quick edits on the fly from your smartphone. Not necessarily a dealbreaker for everyone, but this could be a huge downside to creators on the go.
Pricing
With Campsite's free plan, you'll be able to build your link-in-bio page with no limit to the number of links you can add, though the types of links you have access to will be limited. The Pro plan gives you access to all link types, plus in-depth analytics and premium integrations for $7 a month. The Pro+ plan, at $24 a month, lets you share access to your page with up to four collaborators, gives you more advanced analytics, and up to six different link-in-bio profiles.
Found your Linktree alternative?
While Linktree is the OG link-in-bio tool, that doesn't mean it's necessarily a good fit for everyone. Whether you're looking for a tool that helps you easily create and sell digital products on an online storefront (like The Leap), or one that has a hard focus on a single social platform (like Tap Bio), there's a lot of choices out there. So try them out and see what works for you, and you'll never have to change your link again.
Follow The Leap on TikTok, Instagram, and YouTube for more creator tool and platform reviews. We also make a newsletter.