When the pandemic hit, Kat Norton needed a creative outlet. On June 7, 2020, she made her first TikTok video under the handle @miss.excel to teach people how to use a program that changed her life. 
By combining practical Excel tips with creativity, fun, and enthusiasm, Norton posted a new video once a day. To her surprise, one of her videos hit 100,000 views by the fourth day. Gaining momentum, on the sixth day the CEO of a company asked her to create courses for G-suite products. Three weeks later, she had her first video go viral; Within 24 hours, it hit 3.6M views and she had 100,000 TikTok followers. 
"I didn't know how to be any sort of influencer; I'd just made my first TikTok video a few weeks earlier and had only told my mom and boyfriend about it," she laughs. "I truly had no idea what I was doing."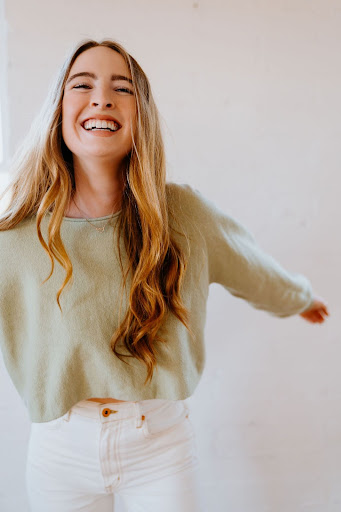 Despite still living with her parents and being under a mountain of student debt, Norton began to sell courses — shot with an iPhone and ring light in her childhood bedroom — to her growing social media following in November 2020. As her business grew, she gained publicity in notable outlets like Morning Brew and Business Insider, and even won the Microsoft MVP Award. With an influx of Thinkific course revenue coming in, Norton quit her corporate day job in January 2021.
Now, Norton works full-time as Miss Excel, and had her first six-figure month in April 2021, bringing in over $105K. She sells five courses on her Thinkific site: The Excelerator, The Advanced Excelerator, The Ultimate Excelerator Bundle, The Dashboard Mini Course, and Smart Sheets (for Google Sheets). 
"Before Miss Excel, I was putting in 80 hours a week at my day job and traveling for work every Monday morning. I was literally in the corporate matrix, grinding it out because that's what I was told to do," she says. "Becoming financially free has been my biggest success. It's the best thing that's ever happened to me."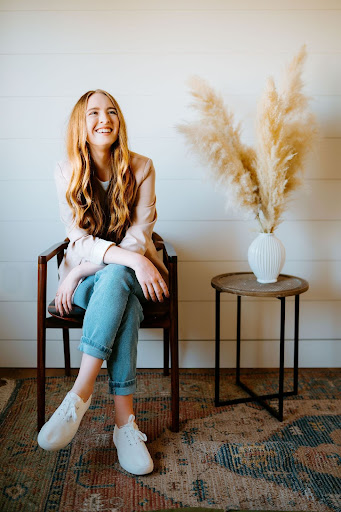 While on the outside it looks like Norton is simply teaching people how to use the Excel program, she says that her mission is bigger than that. "Teaching Excel is a way that I can help people land their dream job, get a promotion, and build more confidence," she explains.
Related: Tips From Successful Course Creators Making $20,000+ Per Month
When her corporate travel halted due to covid-19, the extra space in her schedule was the perfect opportunity to hone in on creating resources and branding herself as an Excel teacher. An increasing need for Excel training by the public combined with her quickly-growing social media following soon led Norton to transition from a 9-5 corporate worker to a six-figure business owner in less than a year. Here's how she did it:
1. She became an expert
As a kid, Norton was the type to make study guides for each student in her class. It's no surprise, then, that her eager attitude led her to create her own business teaching people to become so efficient that they can then spend more time doing what they love.
But her passion for Excel didn't grow overnight; her interest in the program began while she was studying her MBA at Binghamton University in upstate New York. 
On her first day of classes, her professor asked if she'd taken any of the prerequisite statistics courses. She recounts being the only one in her class who hadn't. Her professor advised that she drop the class, warning that she'd likely fail her data analytics major. Rather than dropping the course, she decided to put 110% of her effort into it, instead. "I really wanted to major in supply chain management with a focus on data analytics, even though I'd have to try harder than everyone else. I went all in on Excel, making spreadsheets for absolutely everything. I ended up graduating with the highest grade in the class," she says.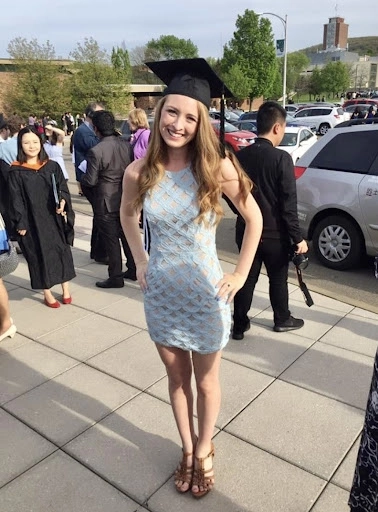 Each semester, Norton had six classes — all of which relied heavily on Excel. With the constant practice, she became an expert in the program; Following graduation, she worked at a consulting firm doing securitization reviews for banks all over the US and building Excel courses on the side. 
Turns out, there's a huge market for those wanting to learn the program. "Excel is such a commonly used program; There's nearly a billion users across many different industries. However, it's a program that so many people just aren't comfortable with," she says. 
2. She honed in on her content creation process
At the time that Norton's TikTok video went viral, there was talk about then-president Donald Trump banning the platform. Not wanting to lose her audience, she decided to create an Instagram page with hopes of her following transferring over. 
"My TikTok audience didn't really transfer to Instagram, which I thought was interesting. The following was completely different; I had around 2,000 Instagram followers when I started it. Shortly after starting the page, I had an Instagram reel go viral and I grew 50,000 followers per week from there after."
Her audience —  aged 18-35 — skews mostly towards those in their mid-twenties. Over 65% is female, and 40% is from the US. The rest is based in India, Europe, Canada, and Australia. 
Her audience didn't grow by using any five-step, get-rich-quick schemes, though. It was built by leveraging the power of creative content and gaining her audience's feedback.  "When I polled my audience to see what they cared most about, I realized they wanted to learn how to be more efficient so that they could have more time to do what they love," she says. "I just want people to do what they're passionate about. I'm a big believer in providing value for my audience. This fuels my content creation process."
Norton includes several videos in her courses — approximately 100 — as she believes that learning Excel is a visual process.
She structures her courses in a way that people can use as an ongoing resource, and does everything herself, such as editing and recording her videos, writing social media copy, and adding graphic design elements to her content. 
Her process for creating her courses is simple: First, she makes a course outline of what she wants to teach. Then, she sits with the outline, meditates with it, and gets into a creative mindset. "I ask myself, 'what creativity can I infuse into each video?'" she explains.
Next, she sets up her ring light and records her videos on her iPhone. "The main piece of feedback I get is the level of uniqueness and creativity that I bring to each course. After I shoot the video, I add in different examples, creative elements, music, dance, and anything I can to make it captivating and entertaining. Then, I pop the course up on Thinkific," she says.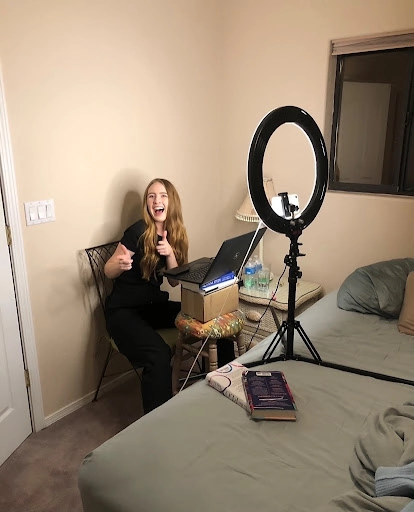 Along with videos, Norton's courses include shortcut guides, templates, workbooks, and access to her in a private Facebook group, which she says is a big selling point for many people. In her Facebook group, students can ask questions and participate in a discussion board. She doesn't include gamification in her courses, but upon completion, students receive an automatically generated certificate that she made in Canva. 
3. She broke the rules
When asked what her social media strategy is to generate five and six figures in revenue per month, she laughs. "I break all the rules," she says. "My whole following has been built on viral content. I focus everything on firing content that grows itself. I don't post every day or use specific hashtags. When I get an intuitive hit to post something that will blow up, it does. Each time that happens, I grow my following exponentially."
This attitude of ease extends to her sales strategy; so far, purchases have been made organically through her social media platforms — specifically Instagram. "With TikTok, you're more at the mercy of the algorithm. They don't like to push the videos with ads or free webinars, whereas with Instagram you have a little more control," she explains.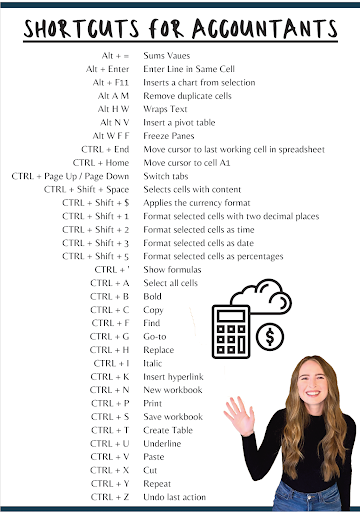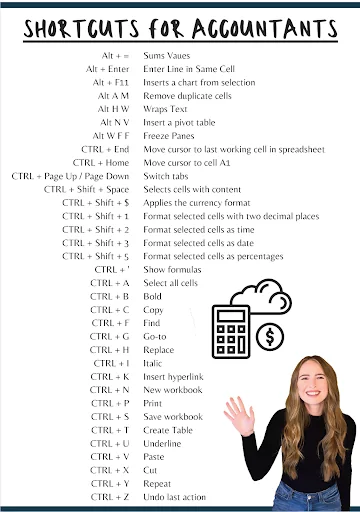 Along her journey, she's learned a few social media secrets that have helped her to increase her reach. For example, she makes her videos slightly too fast so that people watch them several times. "This pushes the videos up in the algorithm," she says. 
Another trick she's learned is to gather testimonials from Thinkific data. Once collecting information of the people who've completed a course, she creates a segmented email list and asks them for feedback. Then, she shares this feedback with her social media following to increase her credibility and gain the trust of her audience.
Currently, she's entering the paid advertising space to scale her business even more, and has hired a marketing firm to help her do so. 
Learn more about monetizing TikTok via the Leap.
4. She became clear on her best revenue-boosters
According to Norton, one of the keys to scaling a business is to keep your overhead low.
Between paying for software such as Thinkific, FloDesk, WebinarJam, as well as a virtual assistant, she only spends about $1,000 per month to run Miss Excel.
Another one of her tricks to gaining consistent revenue is to always keep her courses open for enrollment. She chooses to price her products on the higher side, believing that it's harder to increase prices later on. She also bundles her products for just slightly higher than the price of one course. This bundle includes the Excelerator Course, the Advanced Excelerator Course, and the Dashboard Mini-Course. The bundle accounts for over 80% of her sales and is her best-selling product.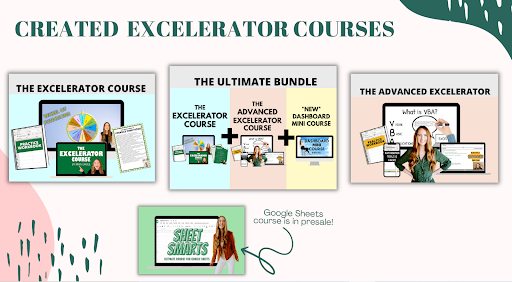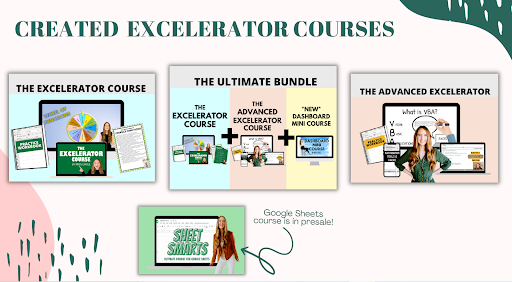 Every few months, Norton also uses a webinar launch method as a quick cash injection in her business.  She hosts a free Excel training and, at the end of the training, offers her students each course for half the price as well as the option to purchase the bundle for just $50 more. 
Related: How To Use Webinars To Promote Your Courses
Webinars have proved to be the most impactful action for her revenue; the last webinar she launched generated $50,000 in 24 hours. "This launch method is awesome. I did two webinars in April, granting me my first six-figure month," she says. "99% of the revenue was from core sales on Thinkific."
Norton makes her webinars feel like a party; music comes on when people join, and she gets them to each bring their favorite beverage. "It's a great time, and it's also my chance to really connect with the audience, too," she says. "I usually start off with a two to three-minute presentation about who I am, followed by a 45 minute in-depth Excel lesson. Then, at the end, I ask them if they want to learn more. I don't use a sales page; I just pop everyone straight to the checkout at the end of my webinar. This is also when I upsell my bundle."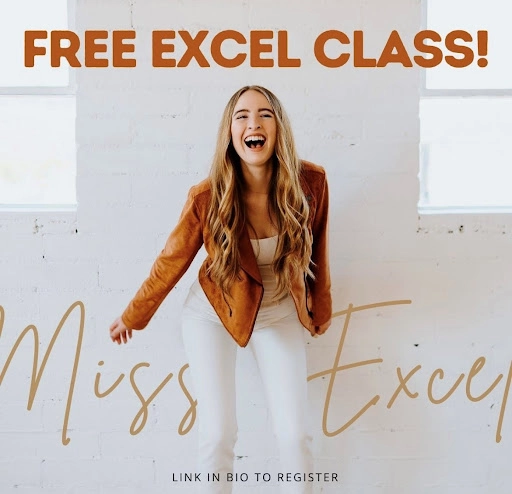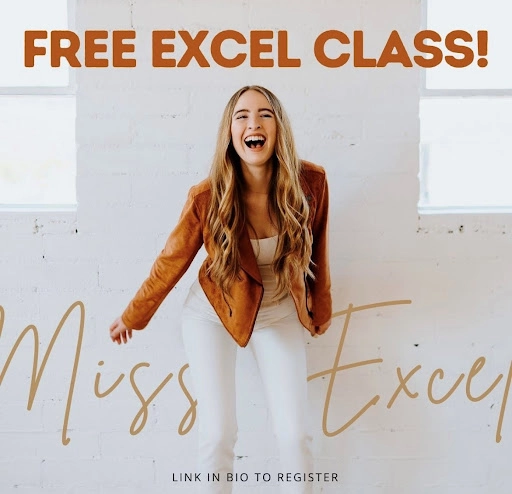 The webinar launch method also allows her to have more control; instead of offering a coupon code that someone can Google and use, students simply purchase her courses immediately after the free training. 
She hosts the training on WebinarJam, explaining that this platform allows her to teach thousands of people without crashing. "It's a little pricey, but it's been so worth it; it makes my life a lot easier. I hit a button and my offers come up on the screen, generating sales immediately," she says.
During the months when she doesn't do a webinar launch, she'll run a sale, offer a promotion to her mailing list, continue to grow her following, or do a corporate training. "My corporate training is a small percentage of my revenue at this point. Now, I only take big names for a high price since it takes away from my course creation time," she explains.
5. She nurtured her leads
Like her sales, most of her leads come through her social media following and a free guide — Top 31 Excel Functions to Increase Efficiency — that she offers as a lead generation tool.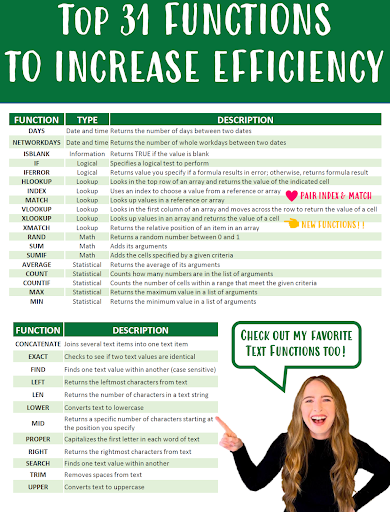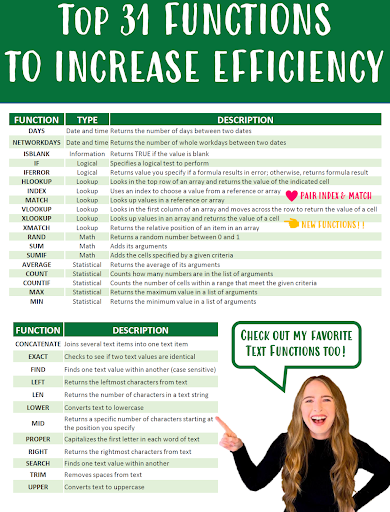 People either find her freebie by visiting her site or by clicking a link in her Instagram bio and inputting their email address. 
She also promotes her freebie using the click funnels method from Russell Bronson. This method involves five emails that generate a sale at the end using a coupon code. "The first email's intention is to make customers fall in love with you. The second presents them with a problem and gets them involved in your story. The third and fourth ones present the product with a discount — $100 off if bought through the freebie — and the final is a 'hey, don't forget to purchase' kind of email," she explains.
6. She did business
her
way
Norton's business strategy is one of ease rather than hustle; she says that she runs her entire company based on her intuition. 
A dedicated meditator and practitioner of spiritual and mindset techniques, her creativity stems from her committed personal development practice. "My strategy is 50% business, 50% spirituality. I think the spiritual piece is what most businesses are missing, and that's what I've leaned on heavily to scale Miss Excel," she says. "I get visions in my meditations of what will go viral, and then I run to my computer and make the content. These visions guide my entire course creation process, even when and how to launch."
Norton says that she separates her day between doing and receiving mindsets. "The 'doing' energy is when I've got my iced coffee and to-do list. The 'receiving' energy is when I don't work, and instead wake up, meditate, and get myself into a creative flow state," she explains.
Now, Norton says she only works 20 hours per week. "Half of my week is spent in a creative flow space; in my receiving energy. Ironically, I make the most money on the days I don't work. When I tap into the energy of receptivity, I can use it as a lever to make a bunch of steps forward and allow money to come in," she says. 
This receptivity has revolutionized Norton's creative process, and she describes it as her business' 'secret weapon.' "When I had my corporate job, I used to grind out work all day, have dinner, and then expect myself to make a viral TikTok video at 8 p.m. It was so much harder. I soon learned to separate my schedule between these two energies, and now everything flows so much better," she says.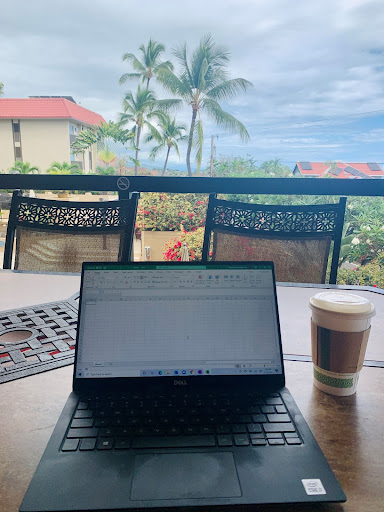 She's also a big fan of setting intentions to bring what she desires to fruition. For example, when she wrote down that she wanted to get featured in Business Insider, two weeks later, the publication reached out to her. "Getting into Business Insider was one of my biggest wins. People asked me how I got in touch with them, assuming I'd sent hundreds of emails. In reality, all I did was meditate with my intention. This is how I conduct my entire business," she says. 
7. She committed to her inner work
According to Norton, she had to work on her self esteem and confidence before she was able to make big leaps in her business. "I had to get myself to a place where my self worth was high enough for my nervous system to be able to hold the level of success that I desired," she says. 
She believes that her financial success is a byproduct of the inner work she's done, crediting her momentum to the way in which she's removed limiting beliefs that were placed on her in childhood. "I got myself to a clean slate and thought about what I wanted to do with my life. Then, I tore it up. Now, my crusade is to scale this business as big as I can so I can teach people how they can do it, too," she says. 
Like a true digital nomad, Norton uses her newfound freedom to live in different places, such as Hawaii, California, Arizona, and Texas. She stresses that creating a successful business and free lifestyle is much easier than people think. "The only limits people have are the ones they place on themselves," she adds. "Now, my boyfriend and I travel every month all over the world, make our own hours, and do whatever we want. All I wanted was to be free, and now I am."
As Norton continues to make progress with Miss Excel, she's excited for the future. "All of these things are happening; c-suite level people of massive companies are reaching out and I hardly feel anything because I'm 10 steps ahead of this business. I just know I'm creating a multi-million dollar company," she says. 
Next, she plans on getting into coaching and building out a program on Thinkific. She says,"I want to help people find their purpose, passion, and do what they love in life. And first, I want to show them how Excel can help them get there by saving hours in their week."