During her 20-plus years as a successful therapist, Sara Hammond found herself continually facing an ethical dilemma. In building her practice, she realized that mainstream marketing completely conflicted with her values inside the treatment room.
This clash of values made her feel uncomfortable actively promoting her practice through traditional social media marketing and influencing behavior. For years, she felt alone in her stance.
"I felt as though there was one set of meaningful values inside the treatment room, but when it came to building my business outside of the treatment room, I was expected to partake in unethical and emotional influencing," she explains.
"There wasn't an alternative, clearly laid-out path to follow that other people were on. Marketing wasn't something that was taught as part of my professional therapy training, so it was overwhelming and I didn't know where to start."
After sharing her dilemma with other self-employed therapists, she realized many others were experiencing a similar conflict of values.
"I was part of a really big community of therapists who were all feeling the same way. There was this general feeling of, 'Well, what are we meant to do?' Because we either go with our gut and end up avoiding marketing entirely, or we roll out a marketing approach which doesn't sit well with our values."
Very quickly, Sara realized something was missing — and How Humans Heal was born. 
Click to skip ahead:
How Humans Heal offers a pathway course on ethical marketing for therapists. Not only did Sara's approach land her a fully-booked practice in less than two years, but it also closed the gap between her personal and professional values.
"As therapists, in order to feel truly comfortable with what we're promoting and share our message in a non-pushy way, our message needs to feel like an extension of who we are when we're helping someone heal," she explains.
"Rather than trying to randomly follow a set of sales tactics or run special offers from a place of scarcity, How Humans Heal actually takes the things that are about human connection, integrity, and authenticity and finds a way to build on them."
How Humans Heal was born from a place of authenticity and curiosity. At the beginning of lockdown, Sara sat down and identified what core principles resonated with her and her clients.
"I asked myself, 'What matters to me? What are my values? How do I apply those values to every stage of a client's journey when they come to my practice?' I realized that I needed to put more energy into doing those things, rather than selling myself." 
"I simply decided to stop and notice what was actually happening — why my clients were telling me that they were coming to see me, and why my clients kept coming back again and again. What I kept hearing was, 'I feel safe with you. I feel like I'm learning to trust myself. I don't feel like you're trying to fix me. I feel like you're helping me to find my own way.' These universal principles laid the foundation for How Humans Heal."
During her period of self-reflection in lockdown, Sara thought, 'Right, now is the time to actually take all of these principles and start sharing them with other people.' 
"I had to close my practice for 5 months when we first went into lockdown — it was that unexpected time that allowed me to flesh out my concept. It had been at the back of my mind for so long, but with running a full-time clinic, I never had the time to really get to it," she explains.
With nothing but time on her hands, Sara knew she had to start somewhere.
Before launching her nine-part pathway course on Thinkific, Sara started offering free online seminars, along with a free five-day email course and a newsletter.
"My goal with these sales funnels was just to start talking about these universal principles because there wasn't a language for it within our field. I just started sharing my ethos, and what it means to be open about what you stand for as a practitioner. All of my original methods gave me the opportunity to practice and actually start talking about my approach to see what the response was."
The positive response to Sara's tasters clearly showed that there was a demand for How Humans Heal.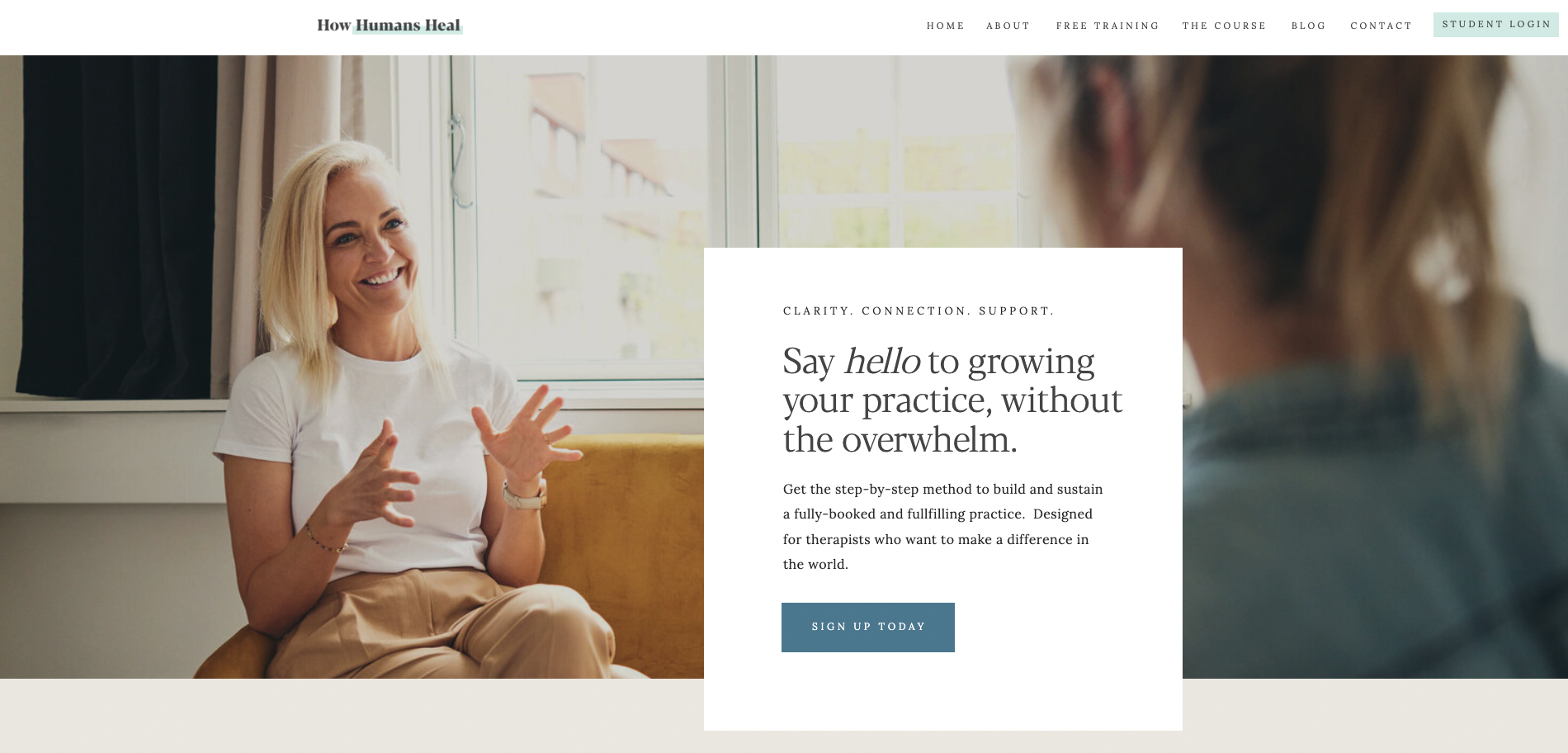 "I was so excited to hear people saying, 'Oh, wow, I never thought I could be inspired by actively trying to build my practice. I normally want to run a mile away from marketing, but this feels like it aligns with my values.' That was what led me to start looking for an online education platform," she says.
After confirming the demand for How Humans Heal, Sara knew she needed to transition her framework into a teachable online format. Like many other creators looking to start their online course journey, Sara started researching.
"Thinkific completely stood out to me in terms of accessibility, the ethos of the company, and all the great reviews. It felt easy to begin. One of my core values is empowerment — I want to empower my students and, as a therapist, I want to empower my clients. I felt as though empowerment is quite a central part of Thinkific's approach for course creators, so I really appreciated that," she says.
For the first time since embarking on her entrepreneurial journey, Sara felt equipped to transform her ethical framework into an online course pathway. 
"I was finally able to envision the structure of my course and act upon it. I now have pre-recorded video lessons that are released weekly over the eight-week course, and accompanying emails that go out twice a week. I've also got PDF assignments and downloads, as well as a resource library that accompanies the course materials and templates." 
"One of the main reasons why I love Thinkific is because it has been so easy for me to start building on these aspects. Creating video lessons is quite a big undertaking when you're starting out, but Thinkific makes it manageable. It's easy to roll out all of these elements because you can just build them bit by bit. It wouldn't have been possible without Thinkific."
From the get-go, Sara understood the importance of community, both inside and outside of the therapy industry. With her course approach, she made it her mission to provide a space where like-minded students can make meaningful connections.
"I've invested a great deal in aspects outside of my core structure, which has been huge. Community and connection are part of how we heal — having a safe space where people can learn together and discuss what they're learning is really central to How Humans Heal. Thinkific Communities brought a different level of engagement, participation, and confidence to my students," she says.
"It's the best of both worlds — my students have the structure of the guided week-by-week pathway course, while also being able to participate in Thinkific Communities and having a chance to get feedback through live Q&As as well. Thinkific Communities offers a space for the students who don't necessarily feel brave enough to show up and ask questions — it reinforces that our Community is there for them and they can ask anything that they want."
Not only has Thinkific Communities added a layer of value to Sara's students' learning experience inside the course, it's also formed a movement outside of the course.
"Our Community is an antidote to the guru model of wellness marketing. It's created a little culture of people who all feel the same way and are dedicated to this revolutionary approach for therapists. It's created a space where we can come together and say, 'You know what, the mainstream model of marketing doesn't work for us, and it really doesn't work for a lot of therapists. We're not gurus — we're not here to fix people. Rather, we're here to hold a safe space for them.' Our Community allows us to actively practice talking about these values," Sara explains.
Since launching How Humans Heal at the start of this year, over 100 people have successfully completed Sara's pathway course. Her business' success has allowed her to take the leap full-time. 
"I actually closed my therapy practice last December, just before Christmas. I transitioned from full-time practice to full-time teaching not because I don't love being a therapist, but because I knew I wanted to teach my values, and I found a way to be able to do that," she explains.
"Being a therapist has been life-changing for me, but it felt important to share these ideas and support other therapists too."
When offering advice to fellow entrepreneurs who are embarking on their course creation journey, Sara explains that perfectionism can often be a barrier to success. 
"What held me back from taking the leap was my own idea of how I wanted things to be. The ultimate dream isn't something that you can simply switch on. You need to be brave enough to start with something small — not to wait, but to start," she says.
"If you have a strong feeling or opinion about something, and you wish it was different, go with that. When you believe something is missing, chances are you're right. It all comes down to trusting that you can make a substantial difference. Other people may be talking about it, but you can be the person to do something about it."
Inspired by Sara's story about building a thriving online course business? Ready to take the leap yourself? Sign up for Thinkific and start today.