At some point, every course creator feels as if they've hit a ceiling in their audience size; like there aren't any more students who are interested in their courses. 
This is the time that many creators feel defeated and wonder how to grow their audience amidst the saturated online market. Many seek new content to catch their target market's attention and spend money on ads without a strategic plan in place. But what if there was an easier solution? 
Turns out, there is. 
When we spoke with Thinkific course creators, they said their number one key to audience growth is nurturing their customers. With the apps available on the Thinkific App Store, they're able to do just that. 
Our apps have helped these course creators grow their audience by nurturing and retaining students, making marketing easy, and automating communication. The result? Increased audience size and revenue. 
Here's how these apps can help you grow:
App: ActiveCampaign
Audience segmentation
Natalie and Joeel Rivera, owners of Transformation Academy, sell over 85 personal development and life coach training courses on their Thinkific site. By using the ActiveCampaign app, which is a tool that automates marketing, emails, sales, and CRM, they've been able to build their email list and segment their audiences. 
"Every time somebody enrolls in a course, ActiveCampaign adds them to a list in our email system. This makes it easier to segment our marketing," says Natalie Rivera.
With the number of courses sold on Transformation Academy, the Riveras say that marketing can be a headache. Thankfully, ActiveCampaign has helped to make it easier. "One of the things that's allowed us to grow the way we have is to have course suggestions available based on which course the student has purchased. Even if they've just purchased two or three courses, we have them automatically added to an email list that suggests similar courses for them. It's a way for us to cross-promote different products," says Natalie Rivera.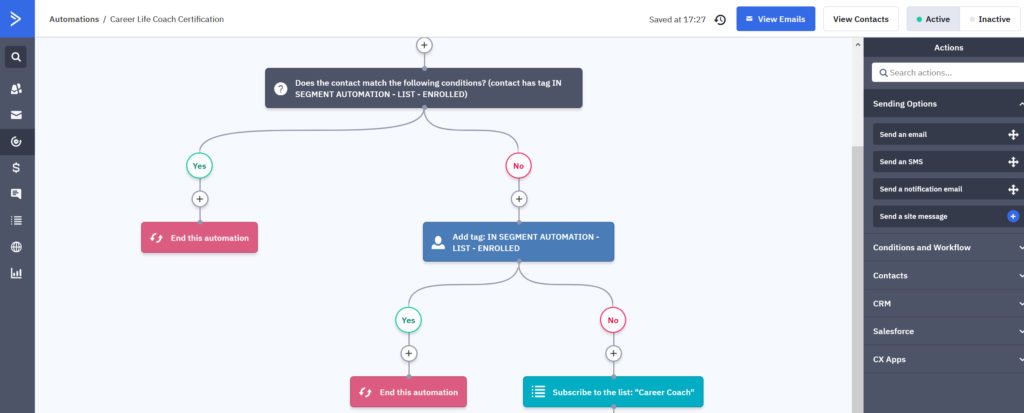 Dotto Tech owner Steve Dotto teaches baby boomers how to grow an online business. Like the Riveras, he uses ActiveCampaign to help make audience segmentation easier. He says, "We use the dynamic funnel capabilities of ActiveCampaign by asking people questions and classifying them into different categories. Then, we insert these snippets into the email sequence when we follow up with them for a personalized touch."
Relationship building
Geoff Murphy, owner of Master Your Medics, provides online education for EMT and paramedic students, as well as continuing education for those that are already in the field. Murphy was able to grow his membership to over 5,000 members and hire a team of 12 by maintaining and nurturing his member relationships. According to Geoff, this was largely thanks to accessing the resources in the Thinkific App Store, like the ActiveCampaign app.
"ActiveCampaign is a data-driven type of tool," says Murphy. "I believe that without connecting ActiveCampaign with Thinkific, we wouldn't be able to track and develop our member relationship further through email."
Steve Dotto of Dotto Tech also helps him to build relationships with his online community. Dotto uses his Thinkific site not as not only a course hosting platform but, also as a content management system and a way for him to nurture his Patreon community with the ActiveCampaign app.  "Connecting with Thinkific for us has been crucial," he says. "Long before we generate revenue from online courses, we use Thinkific to deliver high-quality list builders. We also use it as a content management system for our Patreon campaign."
Student activity tracking
Murphy says that ActiveCampaign allows them to track their student activity. "For example, Master Your Medics has a monthly subscription option. The app helps us to pay attention to how much our students are using our services; the less they use them, the more likely that they're going to cancel their membership. We use ActiveCampaign with Thinkific to see how often they're signing in and engaging with the content," he says. 
For Reagan Pannel, owner of business consultancy Leanscape, connecting ActiveCampaign with Thinkific has allowed for greater insight into the customer journey. He says, "When people register their interest, we use ActiveCampaign as the tool that would convert people into using our products. Then, once they've gone through one of the courses and we know that they've completed it, we know where they are in the journey and can encourage them to take more courses or go up to the next level. Without ActiveCampaign and Thinkific, we would have had minimal automation and a ton of data searching."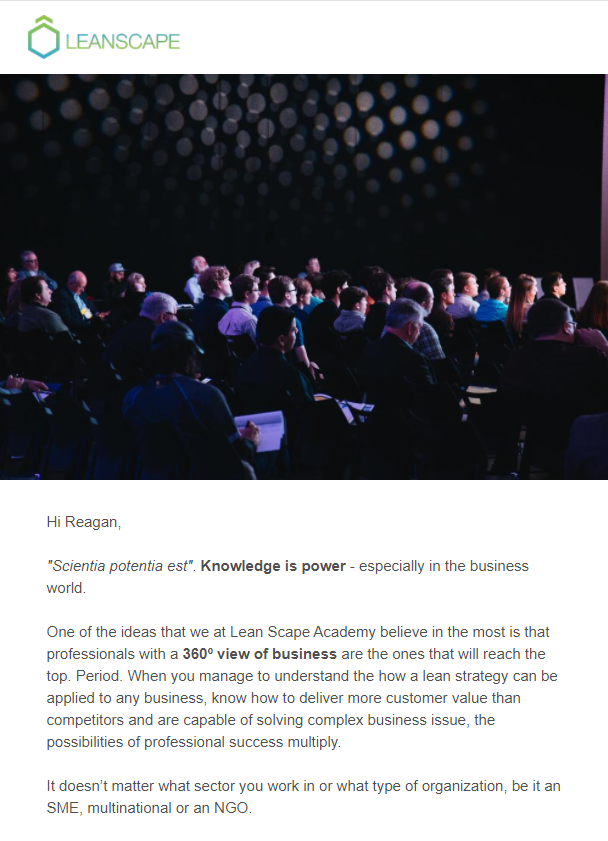 App: ConvertKit

Lead generation
Business coach and founder of The Power Collective Kyshira Moffett needed a way to generate leads. Often collaborating with other creators to sell course bundles, she didn't want to lose out on the leads of those generated from those purchases. Instead, she integrated Convert Kit into her Thinkific site to add purchasers to an email funnel that redirects them back to her business. 
"It's been great because I can then send an automated message thanking them for buying the bundle and enrolling, and encourages them to stay connected," says Moffett.  
Moffett believes in the power of using content to differentiate yourself as an online course creator.  She recommends leveraging Convert Kit to help instill trust in your audience and increase your reach. 
"Have a free introductory course that kickstarts an email funnel in Convert Kit. That way, your audience can continue to get to know you," she says. "Everybody's market is saturated and we all have to do a little bit more to help our audiences get to know us. There's opportunity within content that we already have to do that."
Easy setup
According to Moffett, integrating the ActiveCampaign and ConvertKit apps in Thinkific took just a few seconds. "The apps page is really simple; it's clear how to copy and paste different codes and get everything set up. And I'm not the biggest expert in anything tech-related."
Dotto also found the integration process of apps offered in the Thinkific App Store straightforward. "You can go in and see your tags and your structure. It's easy to make assignments and see where you're at. That's something I appreciate."
Advice from creators: How to grow your audience
By using the apps in the Thinkific App Store, Moffet says you can better speak to your target customer. "Intentionally curate content based on the insights gained from your apps," she says. "Speak to their pain points and the decision-making rationale that they have in regards to those pain points."
Dotto echoes Muffet's thoughts, adding that by using the information gained from Thinkific's analytics, you can tweak your content and ensure that you're providing value. "You need to limit your content and only focus on answering the main questions that people ask. Pay attention to your analytics and see what and how much people are consuming in your course. Use that to inform your content creation in the future" he says. 
"I think having a clear plan for the journey you want your customers to go through is a good idea," adds Pannell. "Don't get too excited with all the wonderful Thinkific features too fast."
If you're interested in growing your audience, learn more about how the Thinkific App Store can help you.