The face of how we work and learn has shifted dramatically in the last few months due to the ever-evolving COVID-19 global pandemic. With social distancing timelines remaining indefinite, many organizations have moved online to support and engage their audience in a new way through online education. 
To help entrepreneurs and businesses with this transition, we're excited to announce Thinkific Live Lessons – our Zoom integration!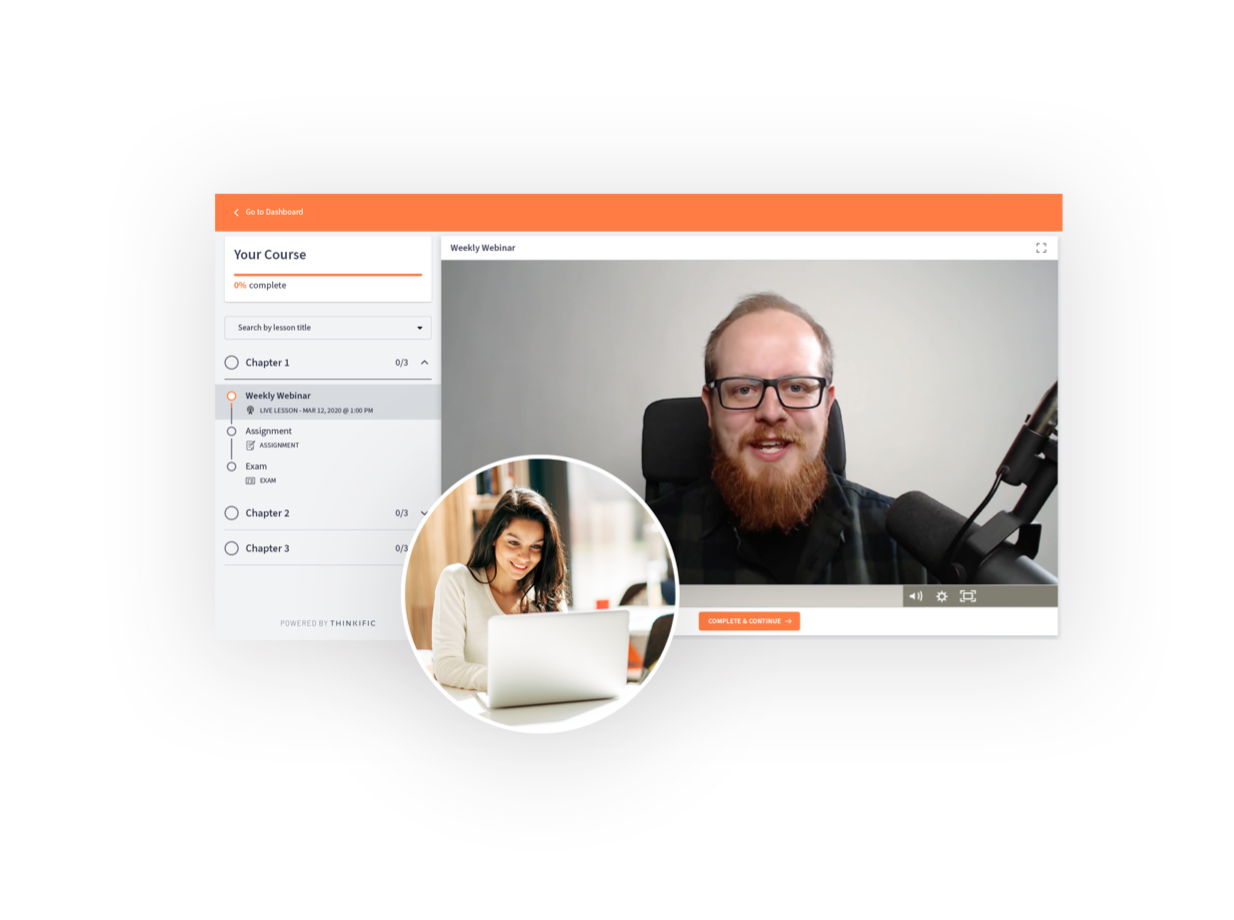 Introducing Thinkific Live Lessons
By combining Zoom's video and webinar capabilities with Thinkific's powerful and easy-to-use online course builder, you can now host live video lessons and webinars directly within Thinkific. 
We've made setup simple. Within a few clicks, you can schedule and deliver interactive video lessons. No technical skills required.
Most importantly, this blended learning experience enables you to connect with your audience directly, creating a more engaging and meaningful learning environment.
"With Thinkific's new Live Lesson feature, it makes it easier than ever to connect with your audience and deliver live training or coaching. Best of all, since your audience does not have to leave the member area, they will be more engaged and highly focused on you."ROB GALVIN, Thinkific Expert
Live Lessons is an opportunity for: 
Entrepreneurs and Small Businesses:

Live Lessons is an ideal way to quickly move your expertise online, stay connected with your audience, and keep your business running.

Educators:

Whether you're educating a handful of students or hundreds, Live Lessons provides your class with a blended learning experience to match your teaching style.

Coaches

: Easily t

ake face-to-face training online by combining

the engagement of a live session with the structure and ease-of-use of Thinkific's course builder.

Employee Training

: With the move to remote work, keeping your staff engaged and informed is more important than ever. Quickly create training materials that are accessible, no matter where your team is.
Support during the public health crisis
Whether you're looking to reach a university class of hundreds, a fitness class of fifty, or provide a one-on-one coaching session, Thinkific Live Lessons can support your needs to adapt. 
Live Lessons will be available on Pro plans and above but are currently available on all plans until January 7, 2021, to help everyone through these times of economic uncertainty. 
---
Start engaging your audience with Thinkific Live Lessons now.