At 41 years old, life coach, YouTuber, and spiritual mentor Mina Irfan, "The Universe Guru," considers herself a multimillionaire.
Her Thinkific courses — which cover a range of topics like money, business, and relationships — bring in $350-400k a month.  "Five years ago, there's no way I thought we'd be making that much money," she tells Thinkific. "It blows my mind that we can make this amount of money through digital products."
But the success of her online course business, The Universe Guru, didn't happen overnight. 
After enduring a traumatic upbringing, Irfan lived her whole life in survival mode. When she became an adult, she described being in a constant state of hustle; although she was making over $250k per year and had 'entrepreneurship in her blood,' she was constantly self-sabotaging her own success, whether through failed relationships or losing all of her money.  In her late twenties, she says she hit rock bottom. "I was a single mom. My marriage had ended terribly. I had a little toddler. And I was hustling, making tons of money, but somehow always broke. None of it made sense," she explains. 
Overcoming her past 
She finally started to ask herself the deeper questions and began experimenting with the Law of Attraction — a new age philosophy that suggests positive thoughts bring positive things into one's life. This philosophy completely changed her life, including the way she interacted with money, people, relationships, and herself. 
But the biggest thing that changed from this way of thinking was her desire to create a safe, stable environment for her son. "I hadn't had that growing up myself," she shares.
She decided she wanted to enter a healthy relationship where her son had two parents who could pay the family's bills. In 2008, she met and married her second husband. For the first time in her life, this new marriage provided her with the freedom to be a stay-at-home mom. "I'd never not worked," she says. "It was the first time I had free time."
Starting a blog
With this newfound freedom, she decided to start a blog called The Universe Guru in 2010. When her sister suggested she turn her blog into a YouTube channel in 2011, she dove head-first, using livestream content as a way of sharing what she was learning and giving others advice.
"It was like love at first sight," she describes of her experience using YouTube for the first time. "I felt like this was what I was put on the planet to do."
"I didn't know what I was doing, and I was making dumb videos at the beginning," she continues. "But just getting two views and having someone comment on it made me feel purposeful."
Success – her own way
But she didn't monetize her channel right away, nor was that the goal. For the first five years, she gave advice for free, and made only $50 per month from AdSense. 
After gaining momentum on her channel, she started offering life coaching in 2017. Later that year, she launched her first course. Now, she has over 30 Thinkific courses and a second YouTube channel, Million Dollar Babes, which talks about money and metaphysics. She also hosts in-person intensives all over the world, regularly launches private masterminds, and even sells merchandise. Plus, her channel is sponsored by BetterHelp and Ombre. "I love having multiple streams of income," she says. 
Irfan didn't follow a typical path to success, though; after hiring mentors and coaches to help her, she realized that much of the advice she received conflicted with her own value system. She says she kept coming back to the idea that if her work felt like a 'job,' then she couldn't do it. "I've been repeatedly told that I do everything wrong," laughs Irfan. "But anything that doesn't feel like freedom to me makes me choke up," she says.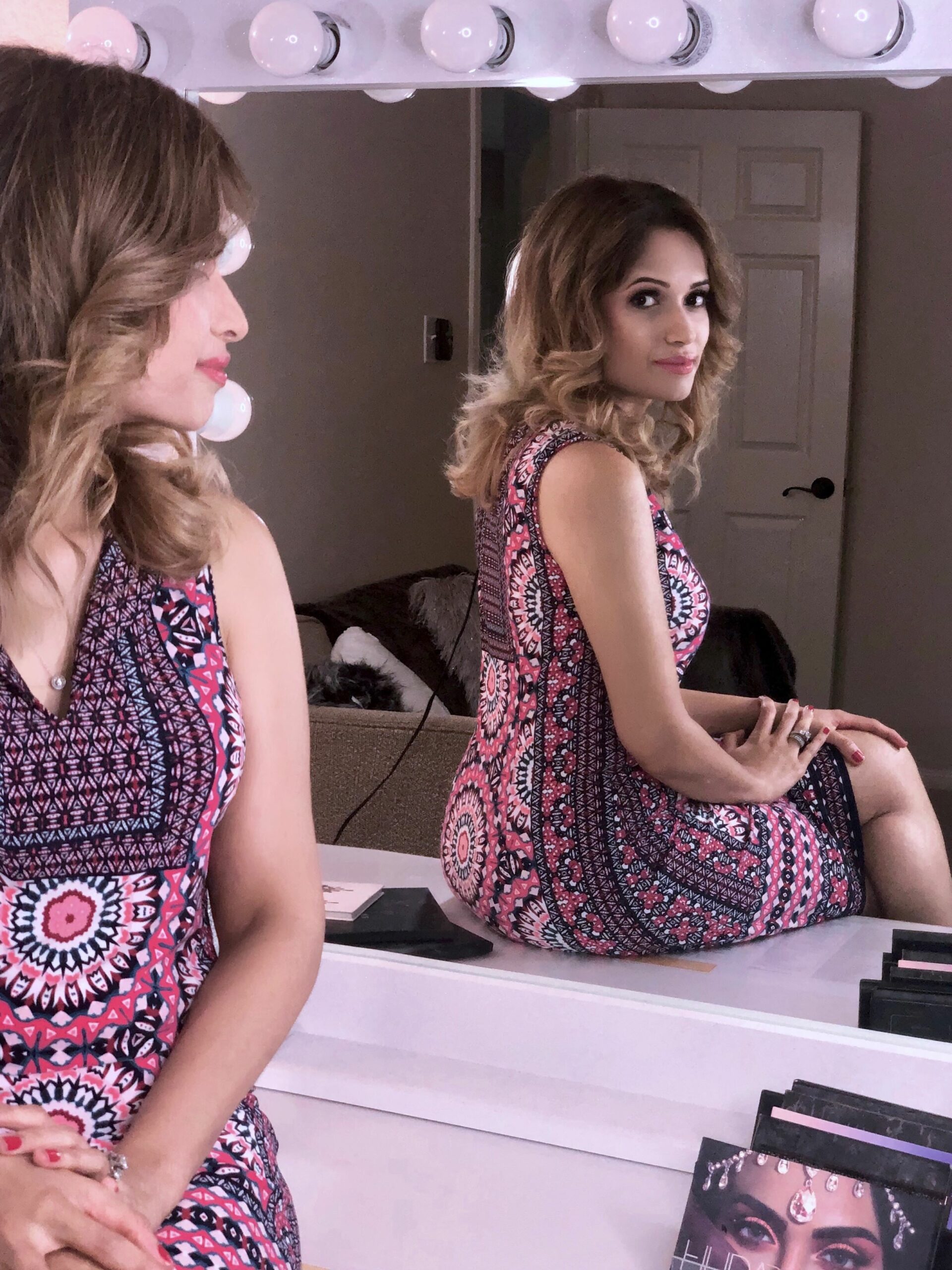 In fact, her desire to create a life of freedom is what's led her to her online course business' wild success. "I learned at age 19 that I don't do well in a regular job," she says. "My life is better when it's full of creativity."
The four stages of consciousness
Her process walks women through four stages of consciousness, which she's coined as the Basic Babe, the Self-Aware Barbie, the Million Dollar Babe, and the High End Divinity. 
She developed these four categories during one of her meditations. "I'd already been coaching and had several programs when it dawned on me that all of my clients, including me, were following these patterns," she explains.
The overarching goal of her courses is to help women have more money, bliss, pleasure, and inspiration. She does so by marrying spirituality, science, and inner work to help people move past fixing symptoms and instead get to the root of what they need to change in order to manifest what they want in their lives. "I want women to know that living their best life is a way to be in sacred service to others," she shares.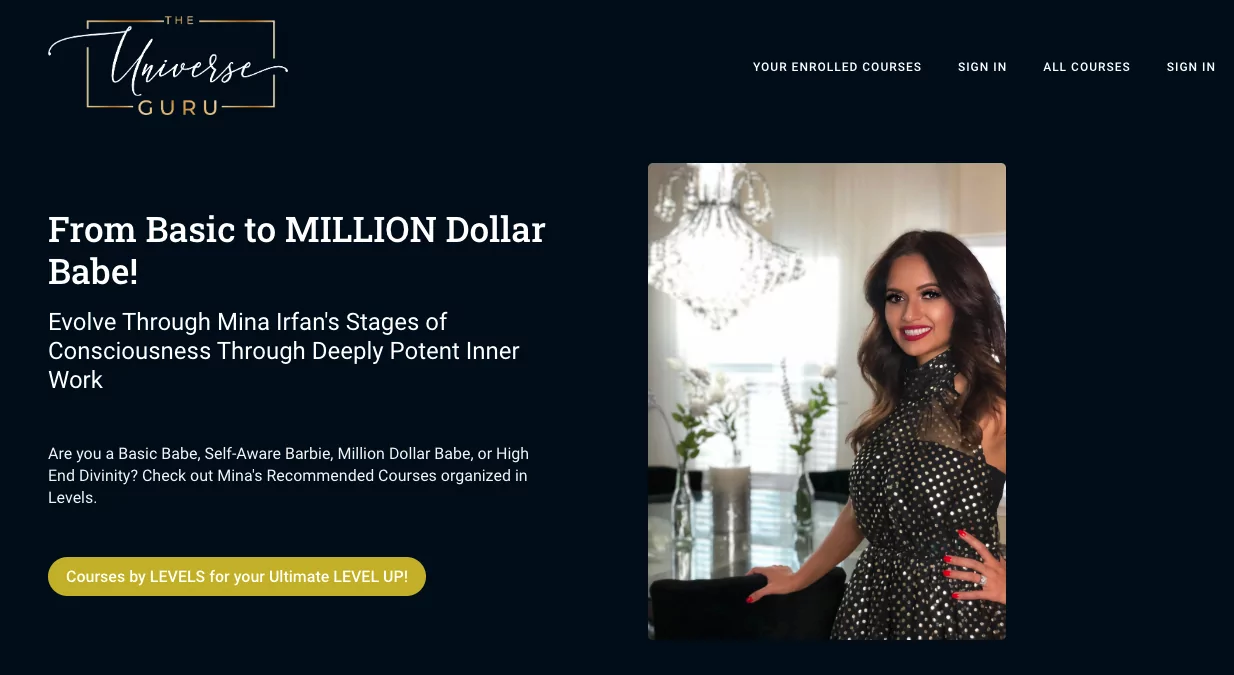 Creating from her own experience
Irfan creates her online courses as a result of her own inner work practices, such as journaling and meditation.
"I have to go through what I'm teaching before I teach it. I have to be an example for my students."
When Irfan gets an idea for a course, she creates it within seconds. After journaling or meditating on the idea, she'll make a simple sales page with the course name, description, and concept. Once the sales page is created, she'll do a livestream YouTube video to sell it. "My audience is simply buying the concept; the course is just a price, a name, and a start date," she says. 
In the next few days, she updates the sales page when ideas come in; she will add a tagline, determine the number of modules, and fine-tune the copy. Her course is offered in a live format over Zoom, and available afterwards in the form of digital recordings.
Targeting a diverse audience
She says her audience is diverse; 90 countries are represented, with people between the ages of 19 and 70. "I've been told I need to get more clear on my audience, but I've always been clear on who I am," she shares. 
Her students are single moms, entrepreneurs, CFOs, or CEOs, yet they each share one thing in common: the desire to live their best lives and do inner work. For this reason, she doesn't speak to one type of woman, but rather caters to the multitude of different women that exist. "I simply show up and share my journey," she says.
According to Irfan, she built her audience at a 'snail's pace;' she didn't have an email list or even an Instagram account until a couple of months ago. "I've been loving Instagram stories, but honestly, I feel most at home with Youtube," she continues. "It's the main place I've shown up for the past 11 years."
Gaining influence
While some of her clients have over a million YouTube subscribers despite only having a channel for a year, Irfan says that her relatively small following brings in a huge amount of revenue; with 78k followers on her main channel, The Universe Guru, and only 7k on her second channel, Million Dollar Babes, she makes multiple six figures every month —- consistently. Plus, she says her monthly income is only increasing, despite her following growing slowly. 
She's come to realize that it's not about the amount of followers someone has, but rather the influence someone has over their followers.
"You can't cash in followers. For example, cat videos go viral, but no one's buying anything. You have to ask yourself if people are moved by your message and your voice. The more I claim myself, and the deeper I go with my message and my voice, the deeper my influence becomes."
Selling authentically
Irfan makes her sales process as simple as possible. She doesn't have any fancy funnels; people simply find her through the YouTube algorithm or through word of mouth. 
When they find her on YouTube, they click on her course links, which she shares in each video description.  In the videos themselves, she may mention a course launch or upcoming enrollment period. "I simply tell people, this is who I am, this is what I'm talking about, and if you want in, here's the link," she says.
According to Irfan, people gravitate towards her because of her authenticity; she curses, doesn't follow any rules, and isn't 'suited and booted.' "People are tired of that," she says. "We've seen professional TV ads and know what it's like when someone is just trying to sell you something."
In fact, she says that a 'sales-y' approach can repel potential students. She believes that creators need to be genuinely excited about what they're selling — and do so with authenticity. "Create stuff that you love and that you want to shout from the rooftops."
Increasing revenue
Irfan's courses vary greatly in price; some are sold as single courses for $17 and others are sold in bundles for $18k. She even offers a 'university bundle' option, where people can buy all of her courses for 50% off the total price. Plus, since adding Thinkific's Order Bumps — which is a way to offer additional products to students during their checkout experience — her sales have increased.
Her team is made up of freelancers and her family; she hires her kids and husband to help her with daily tasks, such as planning intensives, answering emails, and doing customer support.
Advice for creators
Irfan warns people to not make content for the sake of making content. "Make sure you're an artist before you're an entrepreneur," she says. "It's easy to get caught up in the things you're supposed to do. But your art is what people are actually paying for."
When asked if she would have done anything differently when building The Universe Guru online course business, she says she would have spoken her message with more confidence earlier on.
I had this innate fear of success because of my past. If I could have done it all over again, I would have owned and activated my voice – quicker."
From her own experience, she recommends that creators stay true to their voice, even if their message won't resonate with some people. "The more you water down your message, the less people can feel your heart," she says. "Instead of having a bunch of people follow you who are neither here nor there, speak your truth. You're going to upset people no matter what you say and do. I wish I'd been okay with that sooner."
Irfan is a true testament to the fact that when we listen to our inner voice and honor the creativity and lifestyle we want to create, we can bring our dreams to fruition. "There is no outside secret to success," she says. "A true mentor is someone who brings you back to your core, authentic self."
"I was very confused about my place in the world and my purpose. Now, my journey has inspired thousands of women to change their lives around relationships, money, and business. I now see why I had to go through what I went through. I like the person that I've become."