In the world of content creation, YouTube is a popular launching pad for many creators. But relying solely on YouTube monetization can be risky. From unforeseeable revenue cuts to an unpredictable algorithm, the platform's constraints are real. So why not explore beyond the YouTube universe and give YouTube monetization alternatives a try?
There's a galaxy of alternatives out there, each with its own monetization models and features. In this article, we'll help you explore the vast digital cosmos by identifying some of the most popular YouTube monetization alternatives and how to pick the right one. But before taking off, let's begin with why diversifying your monetization strategy is not only a smart move but a necessary one.  
Skip ahead here:
Why you need YouTube monetization alternatives
Exploring YouTube monetization alternatives
Comparison table of key features
Choosing the right YouTube monetization alternatives
Why you need YouTube monetization alternatives
Asking "how to get monetized on YouTube" and crossing that threshold is a significant milestone for every YouTube creator. But putting all of your monetization eggs into one big red play button basket is never a good idea. Here are 5 reasons why exploring YouTube monetization alternatives is a must-do. 
Greater revenue share

– YouTube keeps about 45% of the ad revenue you generate. Some creators might not mind because the platform gives you unprecedented access to billions of users and essentially provides unlimited video hosting for free. We get it. But half of your revenue is not a tiny piece of the pie. Other platforms will let you keep more of what you generate, which can mean more money for other things.
More control over content and community

– While YouTube can get you in front of billions of viewers, it's not the best at fostering community. That's where platforms like Patreon, Thinkific, and Circle come in. Finding monetization alternatives isn't just about discovering new ways to make money, it's also about finding ways to deliver more value. 
More monetization models

–

Despite what many people think, monetization doesn't start and end with ads. Over the years, YouTube has added monetization

tools like shopping

, channel memberships, super chat, and super thanks, but these still only scratch the surface. Alternative platforms can help you monetize in more ways, like subscriptions, memberships, courses, and donations.
Fewer distractions

– As a search engine and social media platform, YouTube works hard to keep its viewers from leaving the platform. The more videos it can get you to watch, the more ad revenue it generates. That can be great, but it also means your viewers' screens are swamped with attractive thumbnails and catchy headlines, likely leading to other channels. A space dedicated to your content, and only your content, won't encourage viewers to leave unless you specifically design for it.
Less dependence on an algorithm

– YouTube's algorithm is unpredictable. Even the best content creators have no idea what the next YouTube algorithm will hold, only YouTube engineers do. That means an unexpected update could cause your

views to skyrocket

or plummet. And a decrease in views likely means a decrease in revenue. By diversifying your monetization strategy, you put less importance on the YouTube algorithm and build a stronger financial foundation that's less likely to come tumbling down with a single update. 
While YouTube can undoubtedly play a huge role in your overall content strategy, it's clear the platform has its pros and cons. With the reasons for exploring YouTube monetization alternatives behind us, let's look at some of the best options.
Exploring YouTube monetization alternatives
These are the seven best YouTube alternatives for earning money
Thinkific is a popular course creation platform that YouTube creators often use to help monetize their expertise. The user-friendly platform will let you create a custom website for your content, incorporate live lessons and events, and host community spaces for your viewers. As for your video content, Thinkific offers unlimited video hosting on all plans, so you don't have to worry about running out of space or paying for more.
Key features

Online course creation

Custom website builder

Available marketing integrations

Mobile app

Community creation



Earning potential
Compared to other platforms on this list, Thinkific is incredibly affordable. The course creation platform offers 4 plans: Free ($0), Basic ($36), Start ($99), and Grow ($199). All plans include community features, unlimited students, and customer support. 
Regarding monetization models, creators can offer one-time sales, memberships, pre-sales, coupons and discounts, free trials, bundles, and more. They also boast a 0% transaction fee, which means creators can start selling their video content on the Free plan without any transaction fees or monthly plan payments, making your earning potential virtually limitless.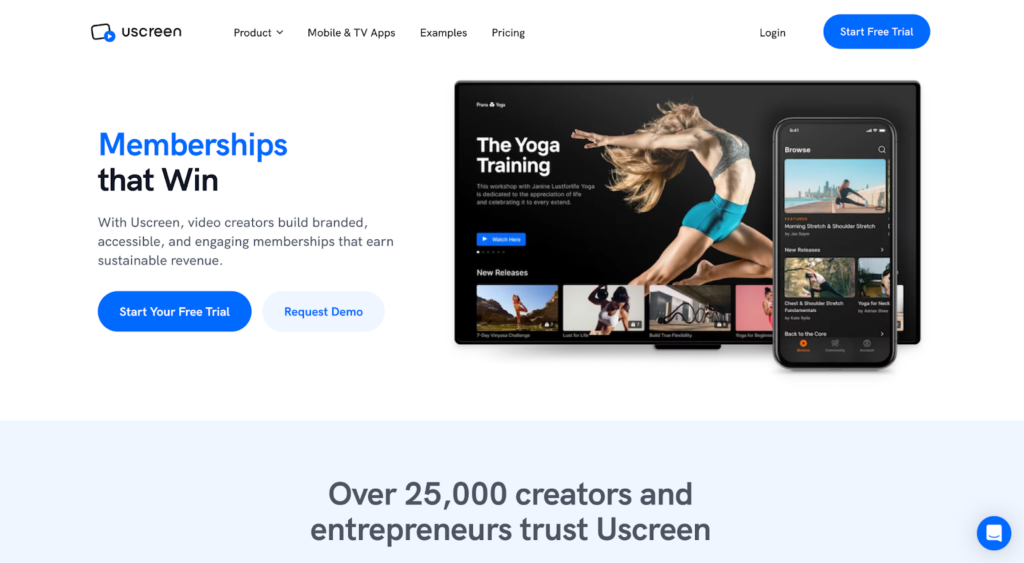 Uscreen is a live-stream-focused platform tailored specifically for video content creators. Uscreen lets you host and share content with a custom website and over-the-top (OTT) apps. Integrated email marketing and app notifications also help you inform your community of your current offerings. 
Live stream regularly? Uscreen lets you create a catalog page showcasing your upcoming live streams so users can pre-register. All live streams feature live chat and are automatically recorded so viewers can access them on demand as soon as you wrap up. Uscreen is a comprehensive, user-friendly platform combining content distribution and viewer engagement, perfect for creators seeking alternatives to YouTube monetization.
Key features
Video on demand 

Live streaming

Community tools

Marketing integrations

Video analytics



Earning potential
Uscreen offers two self-serve plans, Basic and Growth. The Basic plan is $79 per month, and the Growth is $159 per month, each without the annual subscription discount. Unfortunately, Uscreen does limit video storage to 50 hours for Basic users and 150 hours for Growth users, so you may find yourself removing old videos or paying for additional storage once you reach the limit.
When it comes to actually monetizing your content, Uscreen excels. Creators can offer custom subscription plans with different billing cycles. And to encourage new signups or reward loyalty, you can also offer free trials and coupons. When creating a new live stream, creators also have the option to make that live stream available to subscribers, one-time paid viewers, rental fees, or all of the above. Overall, we think the earning potential is pretty high here.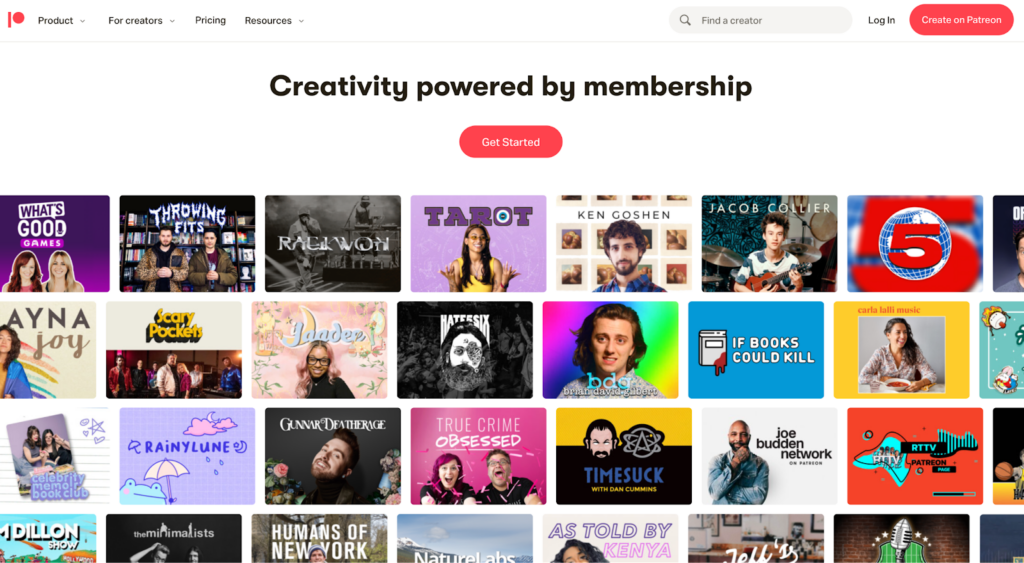 Founded in 2013, Patreon is a tried and true monetization platform for video content creators. Using the custom creator page, you can create a space that represents your unique brand. Patreon also offers comprehensive analytics, so you can understand your members and how they interact with your content. 
Like Thinkific, Patreon understands the importance of engagement. The platform lets you engage with your patrons through posts, direct messages, and email. The platform also understands the importance of mobility, so you can manage your business anywhere from within the Patreon mobile app. And with unlimited app integrations, you can use the platform with your favorite marketing tools, streamlining your workflow.
Key features
Membership tiers

Community features

Flexible payout options

Creator app
Earning potential
Patreon offers its services without any upfront costs, so you can get started today without handing over your hard-earned money first. As for pricing, Patreon provides three plans. But rather than charging a flat rate, you're charged a percentage of your monthly revenue on the platform. Those percentages are 5%, 8%, and 12%. 
As a creator, you can offer gated content, member-only live streams, and limited-time offers. Still, Patreon limits creators to a subscription monetization model, meaning there are no one-time payments, installments, pay-per-views, or rentals. On the bright side, once you start earning money on the platform, Patreon allows you to pay yourself whenever you want, using direct deposit, PayPal, or Payoneer to distribute your funds. All in all, we think your earning potential with this platform is great, even if your monetization methods are limited.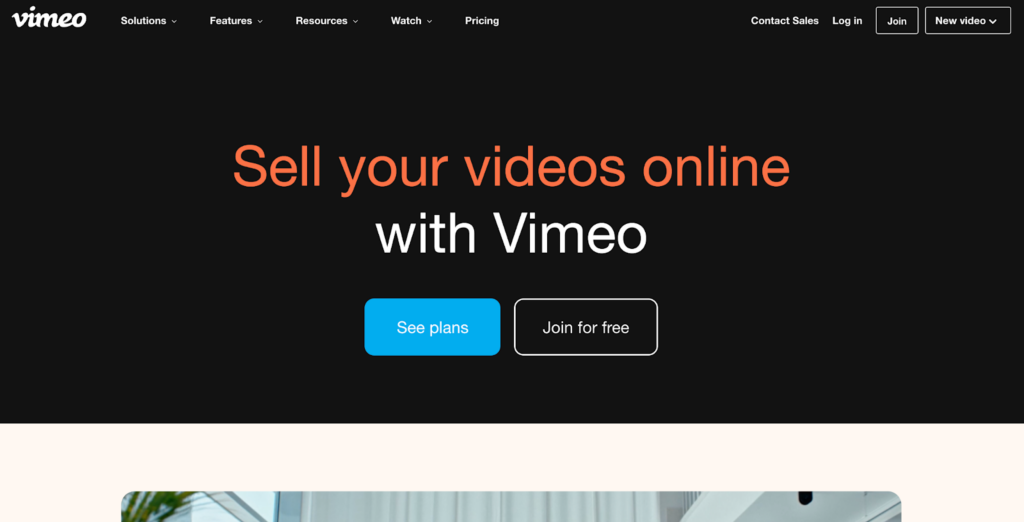 Vimeo is a video-first tool, making it a strong YouTube alternative for monetization. This service lets you add custom branded video content to an existing website, so you can keep viewers right where you want them. 
Don't have a website? Not a problem. Vimeo also lets you create a custom OTT app to sell your content and host live events, and it works with most major operating systems. Vimeo takes the technical hassle out of maintaining the mobile app experience by handling the maintenance and development for you; all you have to do is design it.
Key features

Live streaming

Subscription video on demand

Video analytics

Privacy settings 

Marketing integrations

Custom video player



Earning potential
Vimeo offers three affordable, self-service plans: Starter ($12), Standard ($20), and Advanced ($65). The only plan offering a month-to-month subscription is the Start plan, which costs $20 per month.
Video creators can offer free trials, free-to-view content, seasonal coupons, promotions, and even gift subscriptions. Vimeo also allows some plans to include Q&As, polls, and chats in their content. However, it's worth noting that while Vimeo is compatible with a new or existing website, you can't build your website directly through Vimeo like you can with Thinkific or Patreon. For that reason, we think Vimeo has serious earning potential, but it also has some challenges we can't ignore.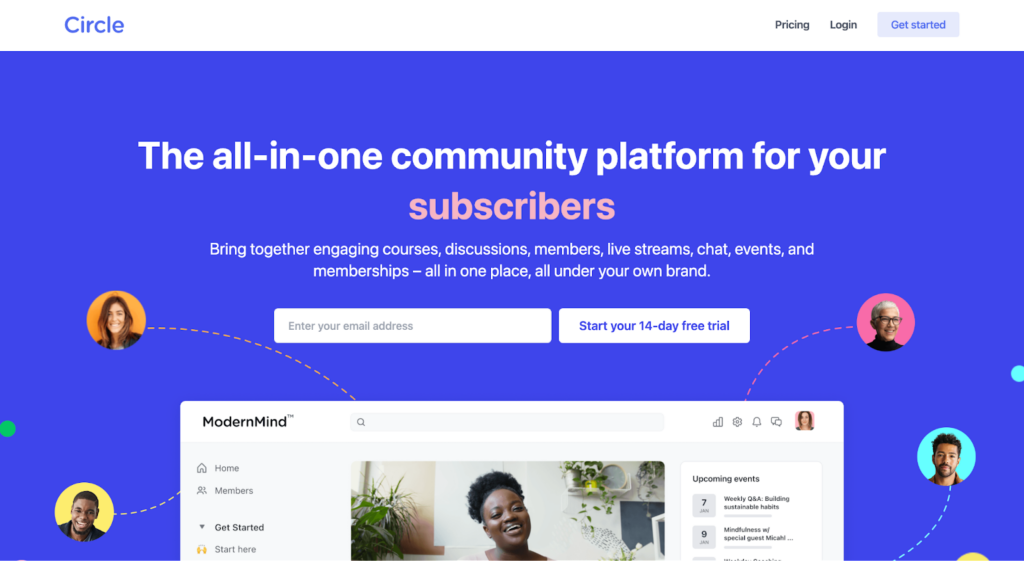 Founded in 2019, Circle is new to the scene. Circle is a community-focused platform that brings your viewers to you while also bringing them together like never before. While you can't create your own distinct website using this platform, its white-labeling features allow you to create a custom experience tailored to your brand's style. 
Within your community, your audience can access all of your content, including live events, organized discussions, private spaces, and rich posts. A member directory allows your audience to create customized and detailed accounts, so they can connect with you and each other on a deeper level. The platform also integrates with many popular tools, like Slack and MailChimp, so your workflow isn't interrupted. 
Key features
Community-focused platform 

Membership monetization model

Marketing integrations and more

Direct messaging

Segmented, organized groups

Member management analytics



Earning potential
Circle offers three self-serve plans: Basic ($49), Professional ($99), and Business ($219). The Basic plan is limited to just 100 members, but all other plans offer unlimited members. Also noteworthy, Circle limits attachment storage to 10GB for the Basic plan, 100GB for the Professional plan, and 250GB for the Business plan. While this isn't great for creators with an extensive content library, Circle does integrate with other services like Vimeo for external video hosting. 
Monetizing on Circle is easy. All you have to do is connect your Stripe account. Once you do that, you can offer paid memberships, recurring subscriptions, gated access, upsells, free trials, coupons and discounts, tiered memberships, and more. The monetization opportunities are almost limitless. And because Circle is focused on community, emphasizing your relationship with your community members, we think your earning potential is high.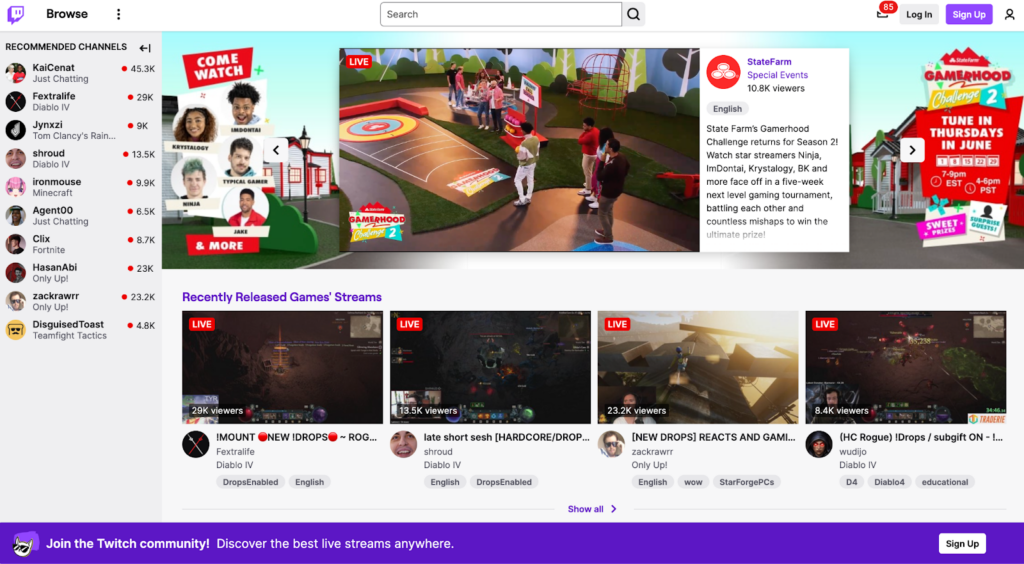 Twitch is a live-stream-focused platform that allows you to deliver a more personalized experience than YouTube. What started as a streaming platform for gamers has evolved into a streaming platform for creators of all kinds. Today, you can find exercise enthusiasts, teachers, performers, and more on the Twitch platform.
Creators can earn through ads, viewer engagement, donations, and subscriptions. However, the ability to monetize your content isn't entirely in your hands. First, you'll have to reach certain milestones and get accepted into one of two Twitch programs for monetization. 
Key features
Live streaming 

Ad, subscription, tipping, and affiliate revenue

Connect with other creators and communities
Earning potential
Setting up a Twitch account is free and you can start streaming immediately. However, to monetize your content, you'll need to reach Affiliate or Partner status, similar to how YouTube monetization and YouTube shorts monetization work. Both tiers monetize through subscriptions, viewer interactions, ads, and donations. And the higher-status, Partner, enjoys extended VOD storage and more free channel subscriptions for family and friends. 
To earn Affiliate status, the first monetization tier, you must stream at least 8 hours over 7 days, averaging 3 views, while gathering 50 followers within a 30-day period. The Partner program has much harder requirements. For this tier, you'll need to stream 25 hours over 12 days, averaging 75 viewers per stream over a 30-day period. 
While Twitch is certainly not a replacement for YouTube, it offers a similar monetization path with even more opportunities for earning and engagement than YouTube. For this reason, we think it's a great alternative and compliment, but your earning potential will likely be higher with other platforms on this list, depending on your niche.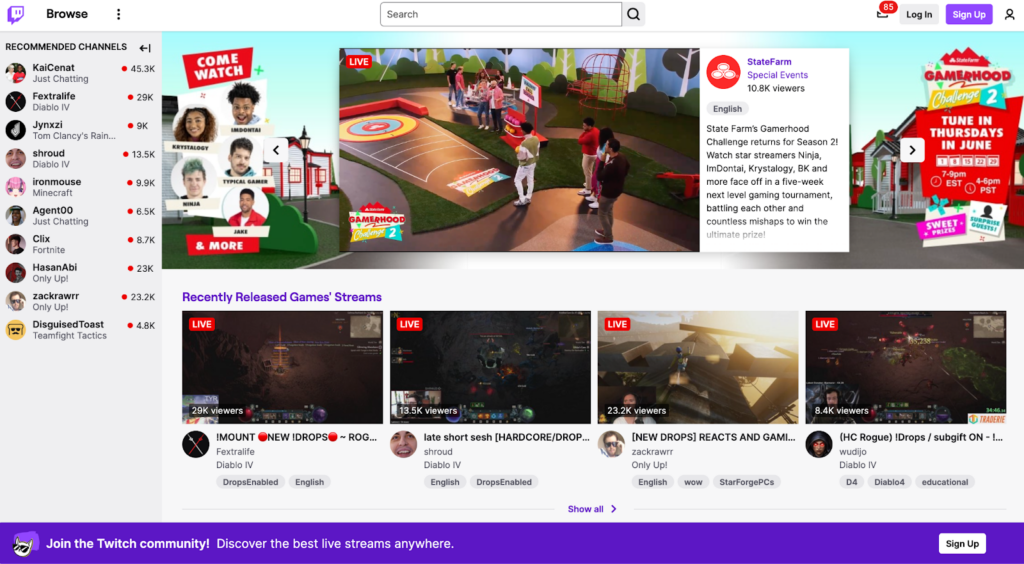 Facebook is a social media platform that's likely already integrated into your content strategy. However, Facebook's for creators lets you take regular content creation on its platform to the next level. This tool allows you to manage, bulk upload, publish, and schedule your content on Facebook (and Instagram). It features an easy-to-use interface and integrates with existing Facebook groups seamlessly. 
Key features

Fan subscriptions 

Ad revenue

Live broadcasting

Mobile creation tools



Earning potential
Facebook for creators layers functionality onto an already useful platform, making it a great YouTube alternative for earning money. As a Facebook creator, you can earn money with ads on Facebook reels, in-stream ads, subscriptions, branded partnership content, and more. 
You can customize subscriber benefits to align with your brand style and foster community. These benefits can include additional, gated video content, private posts, subscriber-exclusive Q&As and polls, and more. The fees applied to subscriber transactions can vary from 0% to 30%, depending on the payment method, so beware. Overall, we think Facebook for Creators is an awesome alternative to YouTube monetization, especially if your audience is already active on the platform.
Comparison table of key features
Even though these seven platforms just scratch the surface, we've covered a lot of info. So here's a comparison table with a breakdown of each platform's most important features.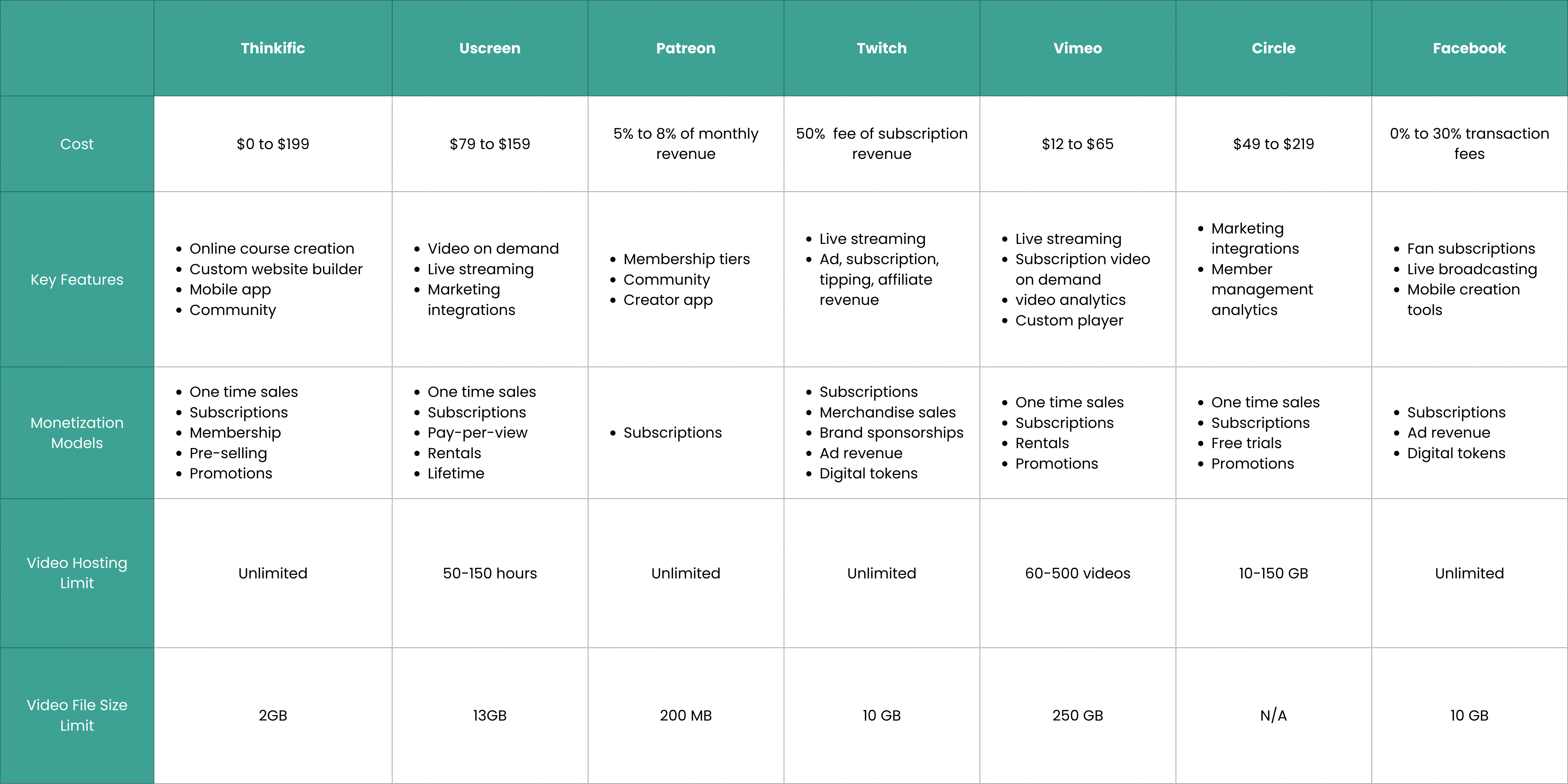 Choosing the right YouTube monetization alternatives
We've given you a lot to think about in this exploration. So to help find the right landing spot, let's take a look at how to choose the right YouTube alternative for monetization. As you look at possible alternatives for your content, ask yourself these 6 questions:
Who is your audience?

If you haven't figured out

who your target audience is

, now's the time to do so. Different platforms attract different audiences. Consider where your target audience is most likely to be and what platforms will work best with your content. For example, Twitch might be perfect for you if you're in the gaming niche.
Are there enough monetization options?

Some platforms only offer one monetization option. Others offer several ways to monetize your content. Take a moment to

understand which monetization methods

you'd like to utilize and what your audience would use. For example, if your content is in a higher price range, you'll probably want a platform offering payment installments. 
Is your content compatible with the platform?

All of the alternatives to YouTube monetization we've listed accommodate video content. Still, it's important to consider how many videos you need to post and how large the file sizes are. Will you be posting several hour-long videos? Or a series of 2-minute videos? Different platforms have different limits on both video count and file size. Make sure the platform you choose will work with your content. 
Can this tool grow with your business?

As you ask yourself these six questions, consider what the future of your business looks like too. While you might not need to host more than a few videos today, what will next year look like? Or, maybe you aren't currently offering online courses. Does that mean you won't in the future? Keeping monetization methods on the table will help you avoid a stressful and tedious platform move later.
Are the policies overwhelming or straightforward?

As a creator expanding from the YouTube universe, adding new policies and procedures to your content creation mix can only make your daily work more complex. Is that something you're ready for? If not, then take a look before landing on a new platform. How does the new platform explain its policies and help creators navigate them?
Are creators supported?

This is one of the most important questions to ask. Support can look different for every creator, so take a moment to examine what kinds of support are offered. For example, call, chat, email, or phone support are all popular options. But don't forget other alternatives like Facebook groups, Discord forums, YouTube channels, blogs, and resource libraries. What kind of support do you need to feel comfortable? Answering this question before you run into challenges may save you a lot of trouble. 
Diversifying your content monetization strategy is an essential step for creators. Relying on one platform for all of your income, regardless of which platform it is, is dangerous. Of the seven YouTube monetization alternatives we've shown here, each presents unique opportunities for revenue generation, community engagement, and content control. Which will you choose? The digital cosmos is big and full of potential; it's time to set a course and explore!