Customer Education at Scale
Customer education can help drive your company's success
A solid customer education program can help drive adoption, reduce churn and ease the load on your support teams. 
Discover how Thinkific Plus enables you to leverage the power of customer education to fuel your company's growth.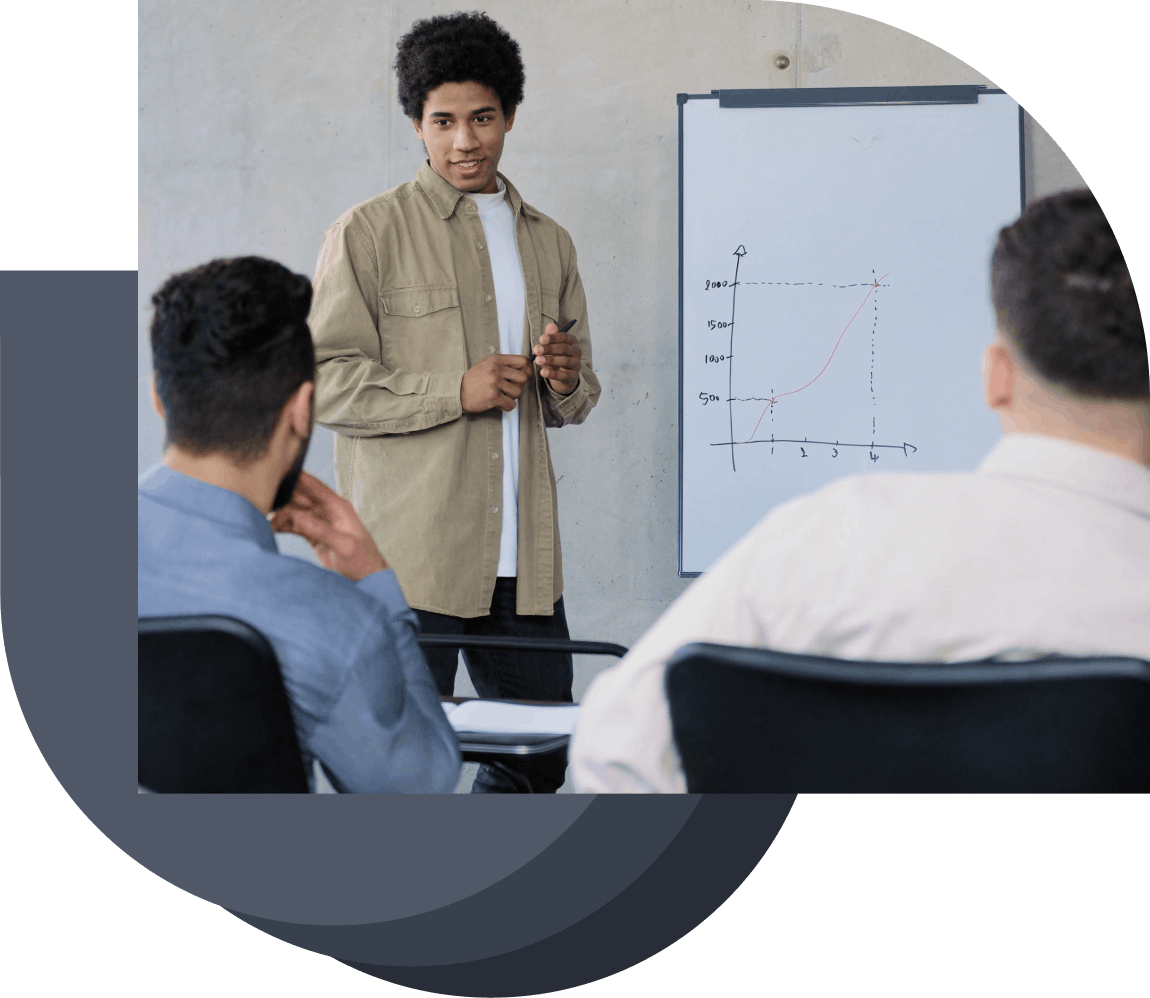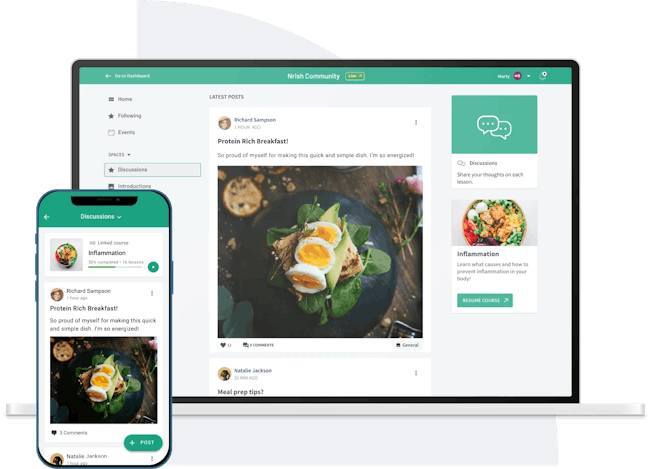 Designed to delight. Engineered to engage.
We built our platform — and our reputation — around delivering learning experiences that keep students engaged. Leverage features that legacy systems often lack, like rewards, communities and your own branded mobile app.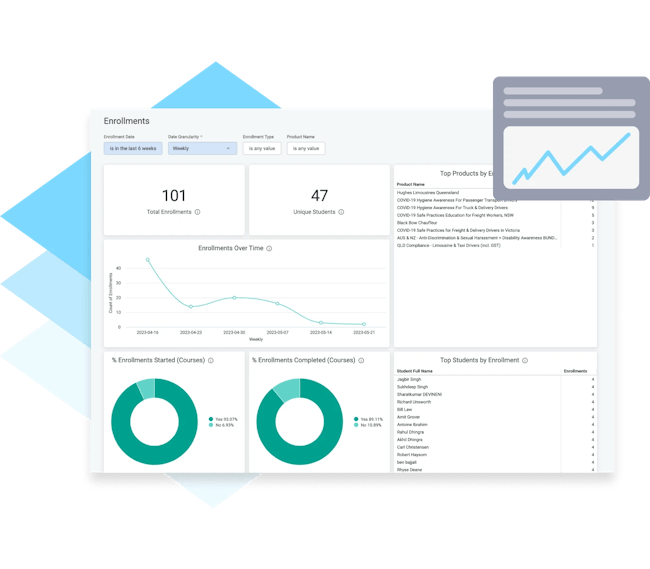 Measure your impact. Prove your ROI
Thinkific Plus has analytics and reporting features that make it easy to show your impact on key business goals. Track engagement, revenue, and demonstrate your impact on metrics like churn and adoption rates.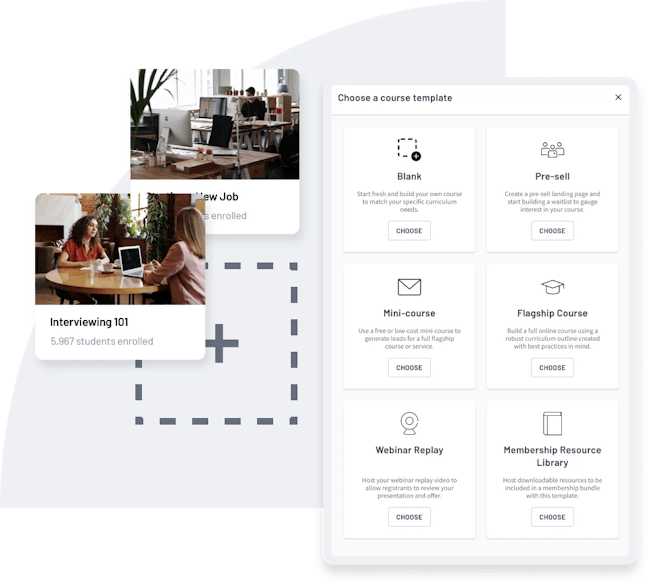 Launch quickly. Win sooner.
Thinkific is remarkably easy to use, so your team can launch and grow projects without developers or designers. 
Launch courses in weeks, with our drag-and-drop course builder and templates. Chalk up early wins with help from your dedicated Launch Team.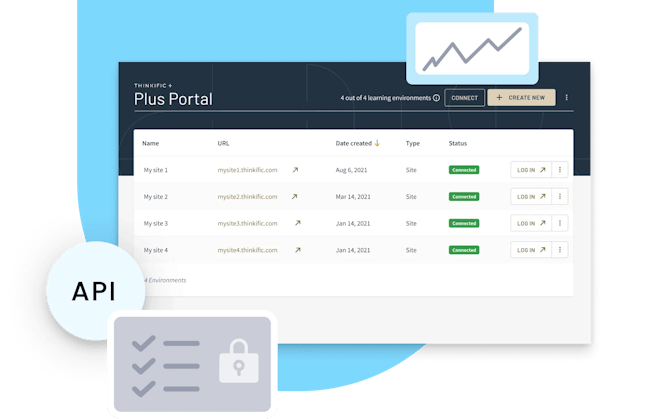 Grow fearlessly. Scale safely.
Thinkific Plus is designed to scale with you as your customer education programs grow and evolve. Unlimited course admins and group analysts make it easy to let other teams run their own programs. Multiple sites let you expand to new user cases
Key customer education features
Dedicated Success Team
Launch and scale your training programs with the support of a dedicated team behind you.
Unlimited Admins
Grow unrestricted with unlimited site admins, course admins, and group analysts.
Multiple Environments
Manage unique environments with multiple sites to support different products or use cases.
Advanced Customization
Create seamless user experiences with white-labeling, SSO, CSS customizability, and open API.
Open API & Apps
Design the best experiences for your students with our robust API and apps.
Enterprise Reliability & Security
Trust that your user data and content are safe with reliable and secure cloud hosting. SSL certificates are included.
White-Labeled Mobile App
Get a custom mobile app for your online courses and communities built, published, and maintained by our team of experts.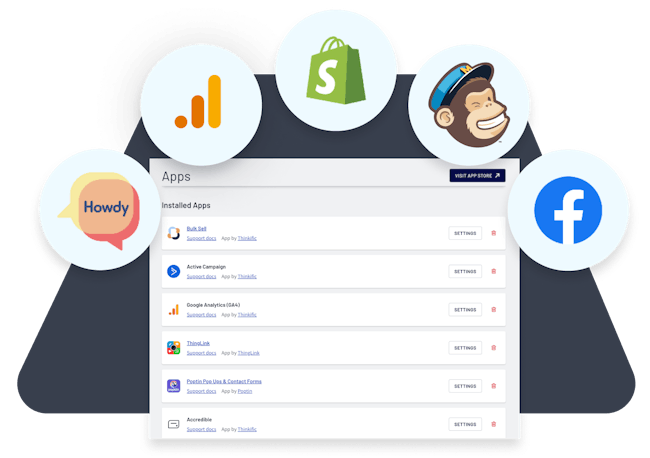 Customize your academy with click-and-connect apps
Thinkific Plus offers 100+ third-party apps and integrations. So you can connect with the tools you already trust while creating the learning experience you want — without needing designers or developers.
Scale with confidence, in an ecosystem built for growth
Customer education enables you to have an outsized impact on your company's success with the team and talent you already have. Talk to one of our reps to learn how Thinkific Plus lets you leverage the power of customer education to fuel your company's growth.
Speak to us