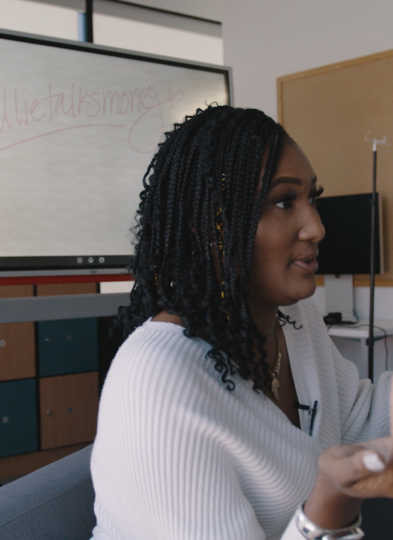 Monetizing her knowledge to recover from personal challenges
How it began...
Ellie Diop had built an impressive career as a director of sales in corporate America. She was making big financial decisions for her company, with serious potential profits and losses on the table.
But like so many other hardworking people, she learned firsthand how quickly the "security" of a traditional nine-to-five can disappear. "My journey to starting my business is different than most people expect," she says. "I was laid off from my job, and shortly after that, I got a divorce."
Ellie was suddenly without income — and as a mother of four, she had serious financial responsibilities to live up to.
"I moved back home to my mom's house," she remembers. "My youngest two are twins, and when I moved in with my mother, they were babies, still nursing. Being in that situation is really what pushed me to start my business."
Ellie was facing an uncertain financial future. But she knew her skills, experience, and knowledge were valuable. She'd just need to find a different way to monetize them that worked with her new life.
QUICK STATS
3,000+
STUDENTS
7 FIGURES
IN REVENUE SINCE JOINING THINKIFIC IN JANUARY
6+
COURSES
"I wrote down all the things I knew how to do, all my experience. What I learned working a nine-to-five, and everything I knew about business finance. I looked at how I could give those skills directly to the marketplace, as a coach." Ellie Diop, Founder and CEO, Ellie Talks Money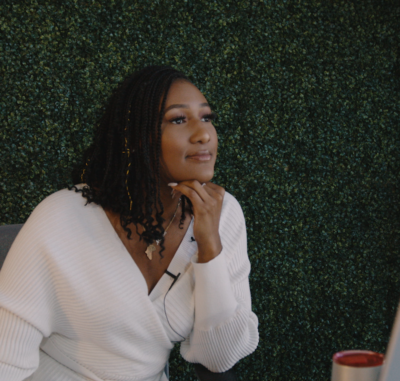 Getting clear on her value
She started with an activity she now recommends to every participant in her programs — she listed out all the knowledge and skills that make her valuable.
This is a crucial activity that she still recommends to all aspiring entrepreneurs. "Using your skills to build a business really comes down to what I like to call monetizing yourself," Ellie says.
"What are some things that people in your life are always asking you for advice on? If they need help, there are probably other people in this world who will pay you for that same advice."
After Ellie got clear on what she had to offer, she wasted no time getting started. Taking her $1,200 government stimulus check, she founded an LLC, set up her social accounts, and subscribed to content creation tools like Canva. Armed with confidence in her own knowledge, she was ready to start building her community.
Educating Entrepreneurs At Scale
THE OPPORTUNITY
When Ellie first started monetizing her skills she was still selling her time by offering one-hour coaching calls. 
"The calls were about $40 for an hour of coaching," she says. "As a mom with limited time, who was trying to make money, this was not sustainable. I needed to share this information in a more direct way, and reach multiple people per hour."
Online courses were the clear solution. Ellie started out on e-commerce platform Gumroad, with affordable courses in the $15-20 range. 
Nearly 50,000 people purchased courses in her first year alone! 
That's when Ellie realized she wanted to create a more polished, interactive experience, and create better outcomes for her students. 
"Those first courses had a really special place, and allowed my brand to grow quickly," she remembers. "But considering the amount of revenue that I achieved, I wanted to give my students a higher-quality experience."
"I was really grateful so many people purchased from me, and I wanted to level up. I wanted to make sure students were not just getting great information, but a great course experience. That's what led me to Thinkific Plus."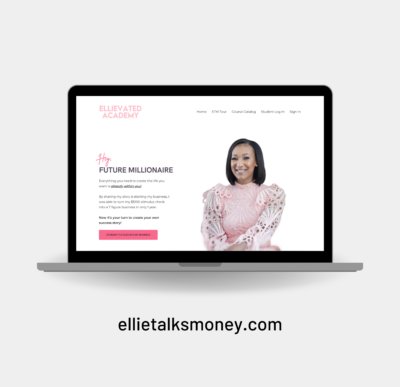 An elevated student experience
THINKIFIC PLUS AS THE SOLUTION
When Ellie was choosing her new platform, student experience was her top priority. She wanted a solution that would allow her to make her website and landing pages beautiful, interactive, and on-brand.
"I really wanted my academy to be a branded experience," she says. "I've been able to do that with Thinkific Plus."
"My early products were really just a screen recording of me teaching class," she says. "Now, I'm able to have a lot more interaction, and that's why I've rebranded Ellie Talks Money as an academy. It's a very modular experience, with students actually taking a quiz to graduate to the next module."
Now, Ellie's business education is much more engaging and polished. But these in-depth, highly interactive courses don't just better support Ellie's brand — they mean better results for students.
"At first, some people might have bought the product, but never opened it," she says. "But now, I'm able to focus on ensuring that we have high completion rates, because I want students to gain from the information. The courses have definitely become more in-depth. There's a lot more accountability built in, and that's produced better results."
Reaching more customers and increasing revenue with online courses
BUSINESS GROWTH WITH THINKIFIC PLUS
Ellie has earned over 7 figures in revenue since launching her academy Ellie Talks Money using Thinkific in January of 2022! 
She's reached and surpassed her goal of using her knowledge to support her family — while uplifting other entrepreneurs.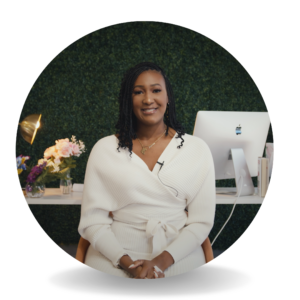 More sales, more students 
One key way Thinkific Plus has boosted Ellie's sales is through branded, customizable landing pages. 
"When I was using my former platform, landing pages were just visit, check out, and buy," she says. "But by adding video, pictures, and visual interactions before the user enters their card number, it really adds to their confidence before they purchase. And that's definitely helped with our conversions." 
A thriving community
Using Thinkific Plus has also grown Ellie's community, both online and offline. Because her students have a good experience — and see good results — they're likely to stick around long term and keep engaging in Ellie's online community.
That real-time social proof has paid off exponentially for Ellie's brand. "Now, we have more students finishing the classes and actually applying the content," she says. "They're sharing their results — how their businesses have grown, how they've gotten hundreds of thousands of dollars in funding, how they're making $15,000 a month."
Personal, consistent support 
Thinkific Plus' industry leading Customer Success team helps Ellie make sure she gets all the value she possibly can from Thinkific Plus. Her academy has a dedicated Customer Success Manager, Nova, who answers all her team's questions about how to make the most of the platform.
"Even in our first couple weeks on the platform, Nova was really helpful in giving us an overview of what we have, and how to integrate other tools we rely on, like ClickFunnels and Stripe," Ellie explains.  
"You feel like you're a part of this larger team," she continues. "Even though this is solely my business, it's really nice to feel like Nova and the rest of the team are on board, cheering me on."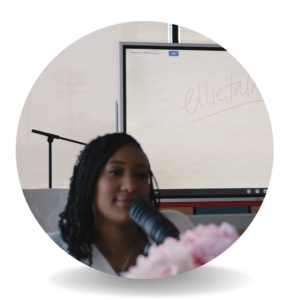 "At first, my 'why' was really focused on finding a way to provide for myself and my family. Now, it's about supporting other entrepreneurs out there, especially women and entrepreneurs of color. I want people to see that you can start from challenging beginnings, and through entrepreneurship, really turn your whole life around."Eliza Diop, Founder and CEO, Ellie Talks Money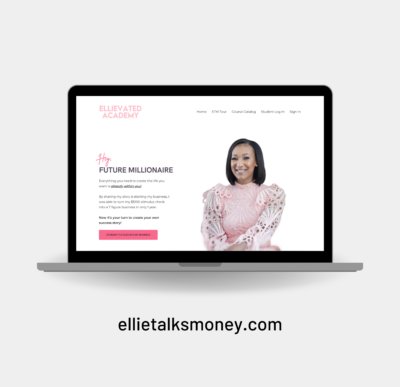 Ellie Talks Money's entrepreneurship lessons
Entrepreneur Ellie isn't just sharing the knowledge she gained in the corporate world — she's also a self-made entrepreneur. That's why some key lessons from Ellie's academy are strategies she relied on when building her knowledge commerce business from the ground up.
Overcoming imposter syndrome: "To beat imposter syndrome, I would advise anyone to double down on that list of all the knowledge and value you offer," Ellie says. "It's about really getting comfortable with and continuing to look at your experience and accomplishments. Saying — yes, I've helped people do this. This is a part of my track record. I'm qualified to talk about it."
Consistency is the cheat code: Her second piece of advice is to just keep going. "When I was starting, I didn't make a lot of money for the first four or five months," she says "Those moments are when a lot of entrepreneurs stop. But those challenging months are when consistency matters the most. "It doesn't matter where you're starting from," Ellie continues. "It doesn't matter how much money you have. It just matters how consistent and disciplined you stay."
Ellie Talks Money's favorite Thinkific Plus features
Dedicated Customer Success Team
ONGOING SUPPORT
On the Thinkific Plus plan, Creators work closely with a team of dedicated Customer Success Managers (CSM) to help make the most of the platform. Your CSM is deeply involved with the inner workings of your business and over time, will work with you to set actionable goals and objectives."I think one of my favorite experiences that I've had so far on Thinkific would be the recognition and check-ins with Nova, my Customer Success Manager. I don't normally check my sales dashboard daily. I might check it monthly or even quarterly only because I just want to stay focused. But what I've loved receiving from Nova are these little emails that say, "Hey, your sales are doing amazing," that's really nice to hear."-Ellie Diop, Ellie Talks Money
Flexible Payment Options
BUILT-IN FEATURES
With Thinkific, your payment experience is just as customizable as the rest of your site.With built-in selling features like Order Bumps, you can suggest complementary products that your customers might like, offer split payments or subscription options, and let customers pay with whatever method they prefer. Ellie loves using split payment features to make higher-priced courses more accessible, and suggests value-add products like coaching sessions at checkout.
Site builder
SITE PAGES
Thinkific's Site Builder lets you quickly build a beautiful, customized website including homepage, product pages, and additional pages containing any content you'd like. As a course creator, you can create on-brand sites (including custom pages) with ease, no coding skills required.Grow your site like Ellie did with by adding a homepage, beautiful landing pages, an instructor bio page, testimonials page, and many more.