Today it's easier than ever to build a brilliant blog thanks to the wide range of blogging tools available to Creator Educators – many of which are designed for complete beginners and first-timers.
But when you're starting a blog for the first time, it can be tough to know which tools are going to help you grow and which tools are just a distraction.
To help you separate the useful tools from the overrated ones, we've put together our top list of blogging tools for beginners with everything you need to start and succeed in the world of blogging.
Here are our top recommendations – including the best tools for content planning, editing, SEO, and much more.
Click the links below to skip ahead.
Related: The Complete Blogging Guide for Beginners
35 best blogging tools for beginners
Best blogging tools for beginners
Building your blog
Content ideas
Planning and scheduling
Writing your content
Optimizing your content
Images and design
Marketing your blog 
Collaborating with brands and creators
Best blogging tools: Building your blog
If you're creating a blog from scratch, you'll need to find a reliable, user-friendly site builder and hosting option for your website that can be adapted and customized to suit your needs. Here are some of the best blogging tools to help you build a blog you can be proud of.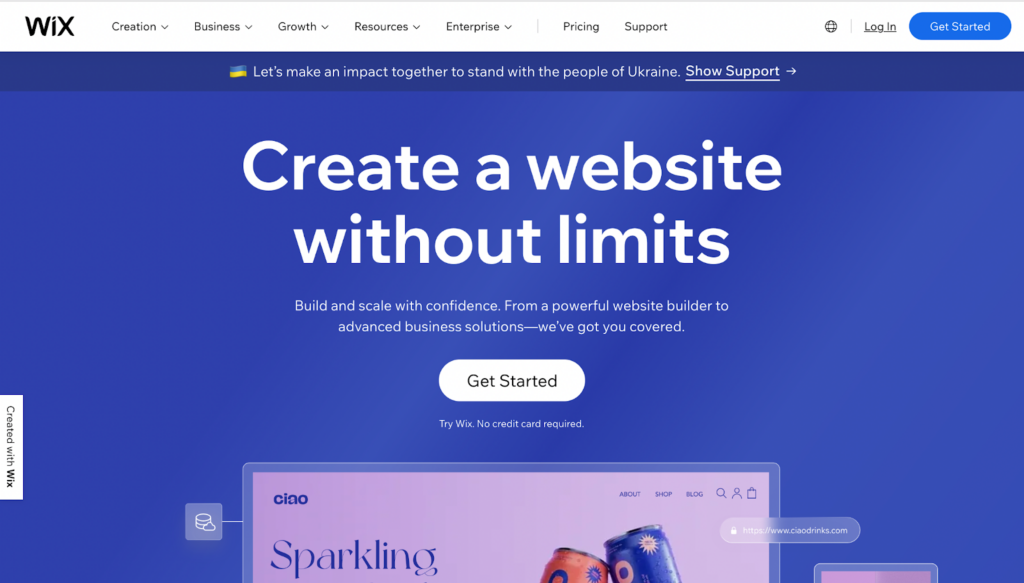 Tailored to beginners, Wix offers new bloggers all the essential tools you need to build a professional and polished website. They have a wide range of professional templates to choose from, as well as user-friendly tutorials, and a super simple drag-and-drop editor to help you get your site up and running in a matter of hours. Wix also includes basic SEO tools to help you optimize your blog and improve your search ranking.
Key features
Rich text editor: Style your text with quotes, links, bullets and more

Mobile-friendly: Write and edit posts and manage comments from your mobile

Add multiple writers: Grow your blog into a publication by adding extra writers for collaborating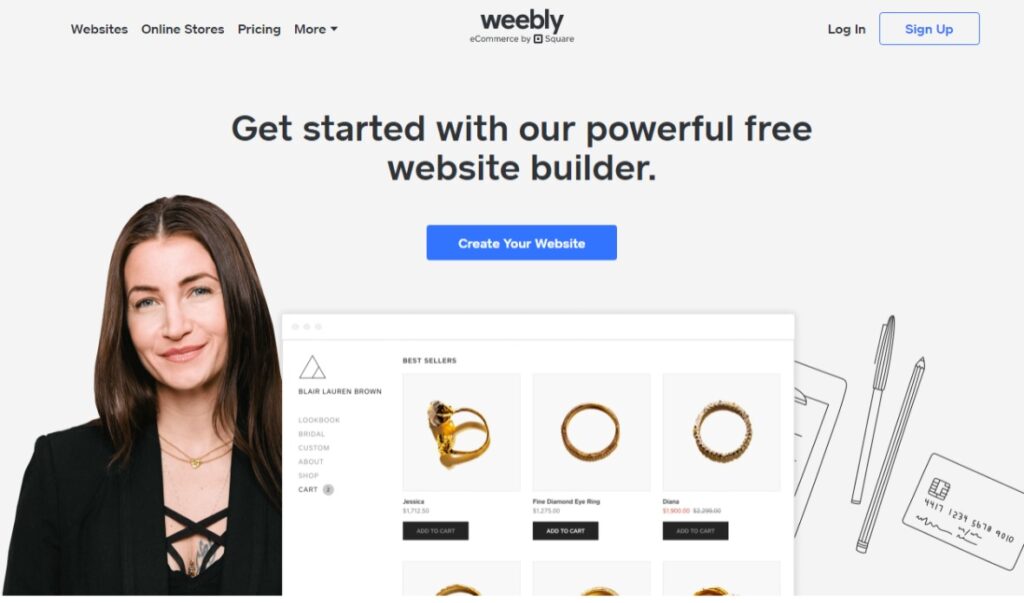 An all-in-one platform for building a website and a blog, Weebly is super easy to use for first-time bloggers. There's no learning curve involved – simply use their library of out-of-the-box themes to build your blog and get started. There are over 50 free designs available to choose from and over 350 free and paid apps to help enhance your site and allow you to do more with your blog and your business.
Key features
No code site builder: Build your blog with library of ready-made templates

Unlimited storage and unlimited website pages: Make your site as big and complex as you need

E-commerce features: Build your own online store – even on free plans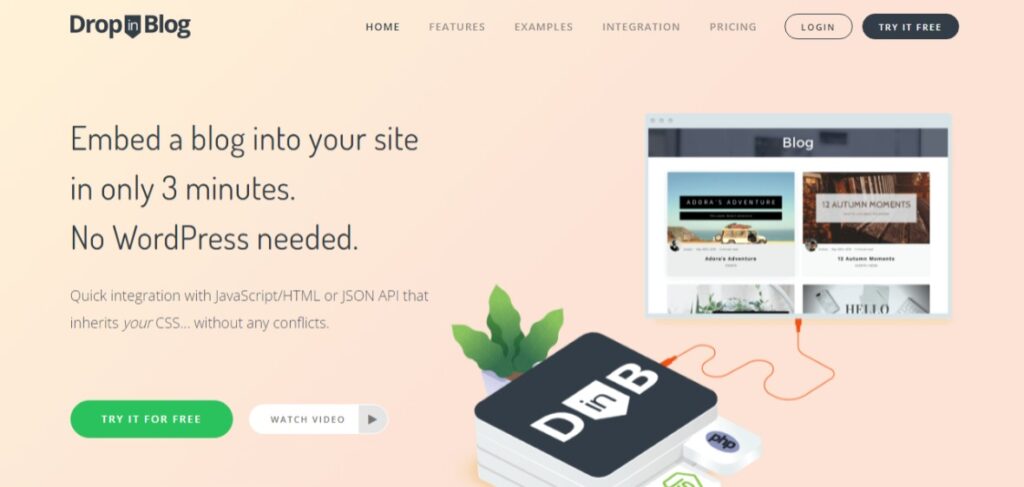 If you already have an existing site, DropInBlog lets you add a blog in minutes. Rather than going through the hassle of building a blog from scratch, DropInBlog automatically integrates with your current site's layout and themes. The built-in SEO analyzer also monitors the SEO of every blog post as you type, so you can write content that ranks higher in searches. Another cool feature of DropInBlog is the ability to add YouTube and video to your blog posts to create multi-media posts.
Pro tip: Find the DropInBlog integration in the Thinkific app store to transform your existing Thinkific site into a powerful blog.
Key features
Built-in SEO analyzer: Get a score for your blog content to help improve your search ranking

Automatic integration: DropInBlog automatically uses your site's current layout, colors, design, and more.

Schedule posts: Write your content in blocks and schedule publishing for a later date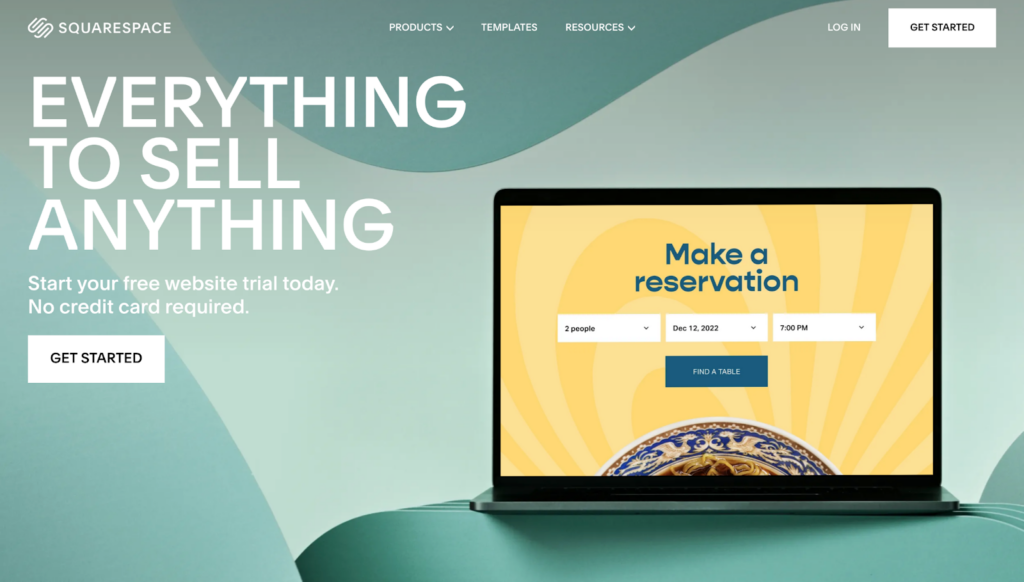 One of the best known website builders around today, Squarespace is tailored to entrepreneurs and small businesses. It's designed for people with limited or no coding experience and it's streamlined to make the process of creating your blog as seamless and straightforward as possible. Choose from a range of design-led templates to help set up your blog and build your brand.
Key features:
Wide range of templates: Choose from a library of stylish pre-built templates

Unlimited storage space: No limit on storage so you can build the blog you want and need

In-depth how-to guides: Use SquareSpace's guides to help you learn the basics of SEO, blogging best practices and more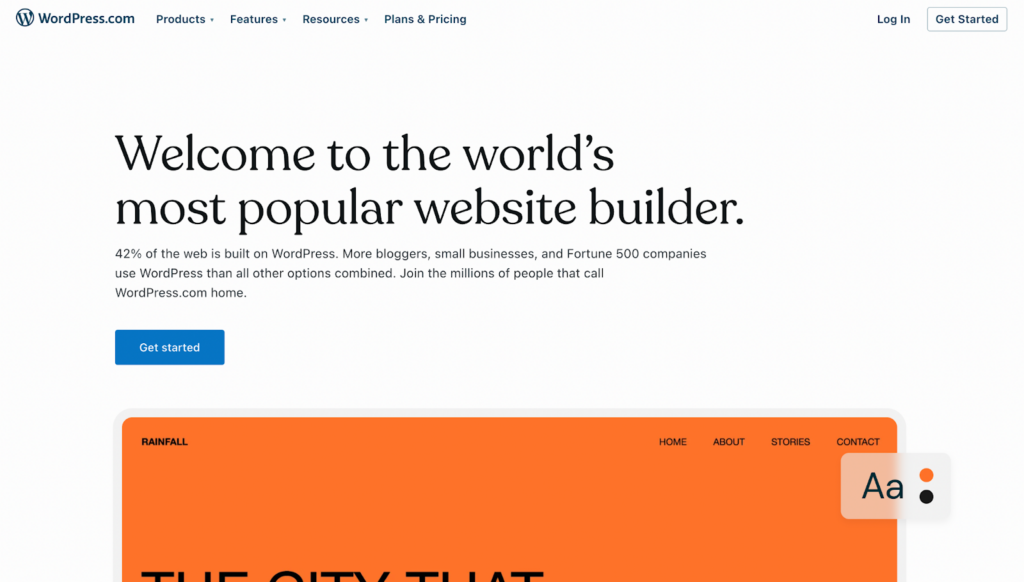 If you have more experience with creating and designing websites and you're ready to build a blog, WordPress is a great option. While it's more complex than other platforms in this list, it's also more powerful – with WordPress you can create whatever blog your heart desires thanks to the wide range of plugins on offer. That functionality is one of the top selling points of WordPress and one of the reasons it's so popular with creators.
Key features
Total control: WordPress gives you complete control over every tiny detail of your blog and website

SEO-friendly: Everything you need to ace your blog's SEO

Wide range of plugins: Add extra functionality to your site with plugins to boost your build an online store, create paid memberships and more
Best blogging tools: Content ideas
Stuck for blog content ideas? Whether you're a complete beginner or a seasoned blogger, it can be hard to find inspiration for new blogs. These blogging tools can help you to search out killer content ideas that will get your blog noticed and build your reputation in your niche.
If you want to know what questions people are asking, check out Quora. This crowdsourced Q&A and discussion platform lets users ask and answer questions on a huge range of topics – and you're pretty much guaranteed to find relevant threads in your chosen field. For bloggers, this can be a great way to generate fresh content ideas by helping you find topics and questions that your target audience are interested in. Search for your keywords, find discussion threads, put the topics in a spreadsheet and then use the next tool in this list to inform which ones you actually write about…
Key features:
Free to use: Simply sign up for an account and get searching

Connect with real people: See what your target audience are interested in learning about and engage with them in discussion threads

Wide range of topics: Find questions and answers on a huge range of subjects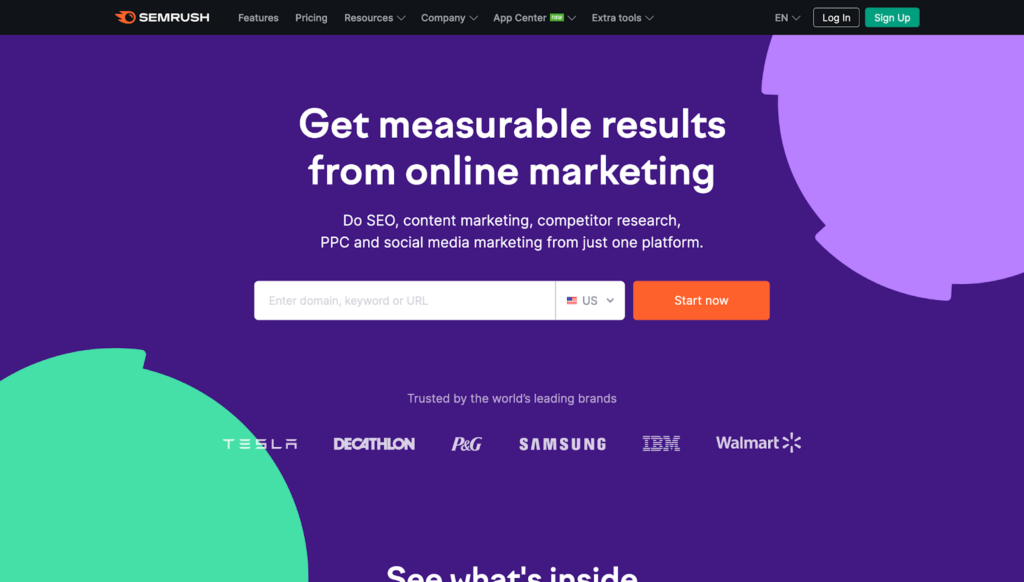 A top SEO tool for bloggers to have in their tool-belt, Semrush is ideal for keyword research, keyword rank tracking, traffic analysis and more. While Semrush can seem complicated for complete beginners, once you've mastered the basics it can seriously level up your blogging game. 
Use Semrush to identify long-tail keywords and find the keyword difficulty – including the top competitors that you'll need to outrank to get your content seen on search engines. This tool can also help you create a comprehensive content strategy, including choosing what your pillar topics and topic clusters should be. 
Key features:
Comprehensive SEO tool: All the features you need for your blog's SEO

Find long-tail keywords: Identify which keywords you should be aiming to rank for

Site audits: Find out how your blog is performing right now and what you need to do to improve
Google has a whole suite of great blogging tools for beginners – and Google Trends is one of them. This straightforward tool lets you see the topics that people are searching for right now and use it to explore ideas for new posts and topic clusters. Compare groups of items to see their popularity and how the search volume is fluctuating, you can also filter by location and/or time period for more refined results.
Key features
Real-time search tracking: See what people are searching for

Compare topics: Group topics to see what's most popular

Filter by time or location: Refine your search for different locations and time periods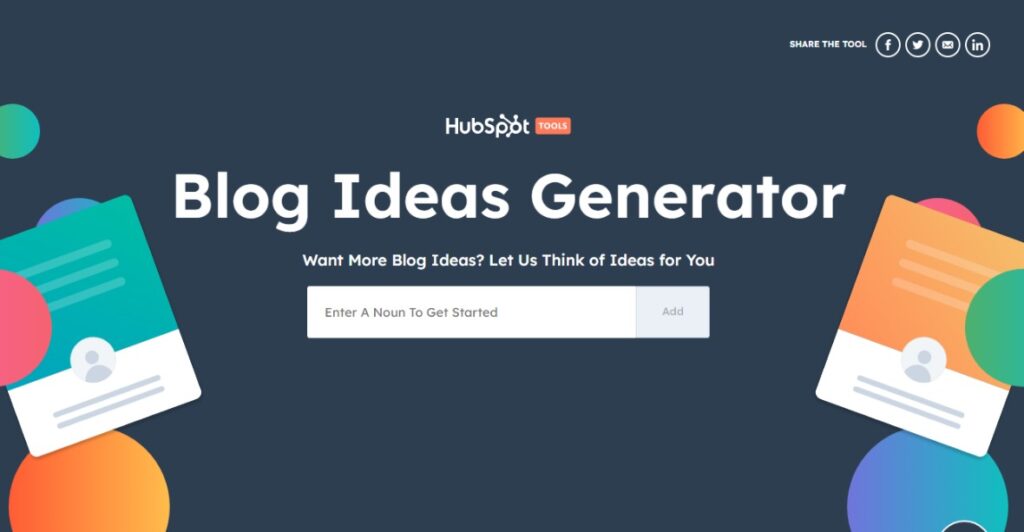 If you're stuck for ideas or you've run out of inspiration, try the Hubspot blog topic generator. This simple tool is ideal for beginner bloggers – enter up to 5 nouns into the search tool and get a week's worth of blog post titles instantly. Use this tool to help you come up with your content strategy and then dive deeper into the topics with a keyword research tool like Semrush.
Key features
Generate content ideas instantly: Get a list of catchy blog titles to work with

Super simple: This blog topic generator is extra beginner-friendly and easy-to-use

Free tool: No sign up or payment needed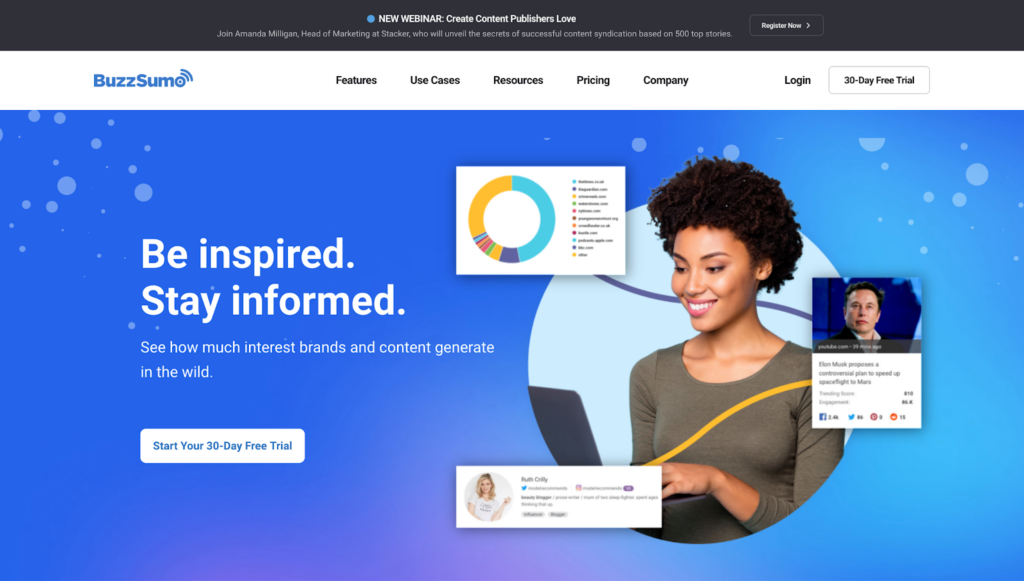 BuzzSumo's simple search tool helps you generate blog topic ideas using social media – input a topic and see exactly what content is performing best on social media at the moment, as well as who's already got authority on that topic and ideas for what you should be focussing on for best results. You can also use this tool to choose how best to promote your content once it's written and to monitor your blog's performance over time.
Key features
Track content performance: See what's performing well in specific niches

See social media trends: Use BuzzSumo search to see which topics perform best on which social media platforms

Generate content ideas: Get inspired for new content ideas that are tailored to your target audience
Best blogging tools: Planning and scheduling
To help you keep track of your content ideas and what you need to be writing and when, it's a good idea to take advantage of the range of blogging tools that are tailored to content planning. From calendars to drag-and-drop notes apps, these are the best options available to help keep you organized – no matter how busy your schedule gets.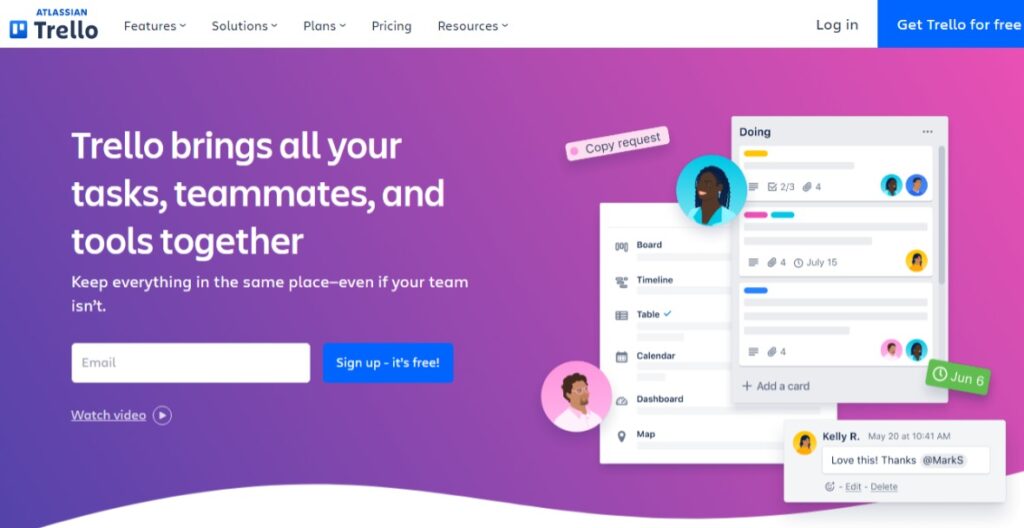 Keep your content ideas organized with Trello – an easy-to-use, intuitive, and satisfying app that lets you drag-and-drop your notes into different categories. Create a color-coded card for every blog post you want to write, including the title, notes and any extra research or images too. Add due dates, checklists, and group your content ideas however you like – e.g. according to where they are in the content creation process or who is working on them.
Key features
Visual organizer: Make cards for every blog post with added attachments and notes

Easy collaboration: Suitable for solo bloggers and whole teams of writers

Group content: Categorize and group content according to topic, due date, writers and more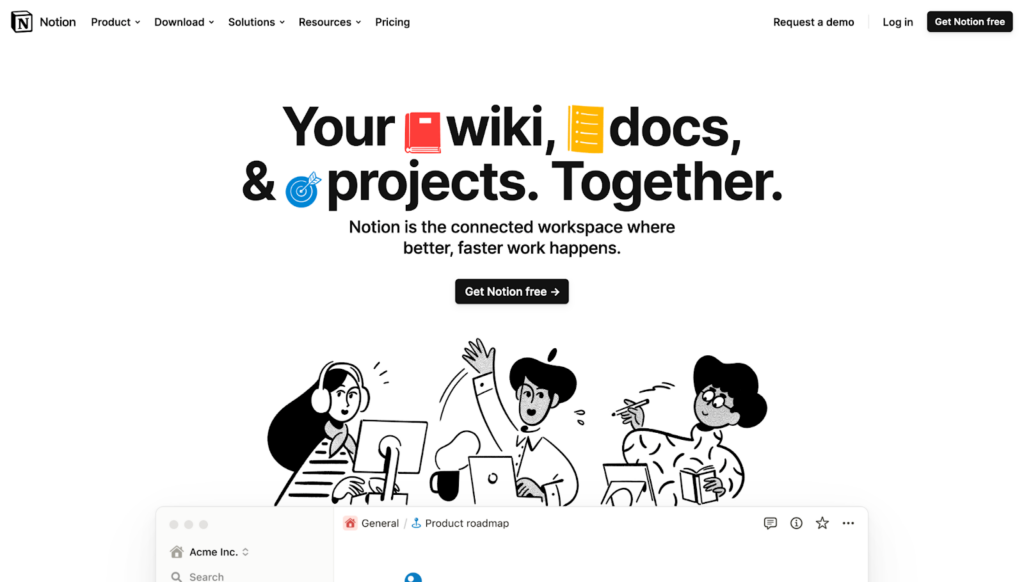 This content management system is designed to help you create shareable blog posts with headings, text, images, and even videos to build the blog you want. Gather your content in one place with projects, doc drafts, a content calendar, and all the information and notes you need to create your blog posts. And if you have more team members working with you in the future, you can add them to your Notion so they have access to all your content too.
Key features
Create a blog dashboard: Gather everything you need to run, promote and organize your blog in one place

Map your content creation: Use Notion for your whole content creation process from ideation to publishing and beyond

Build a content calendar: Use Notion's table-building features to create a content calendar and schedule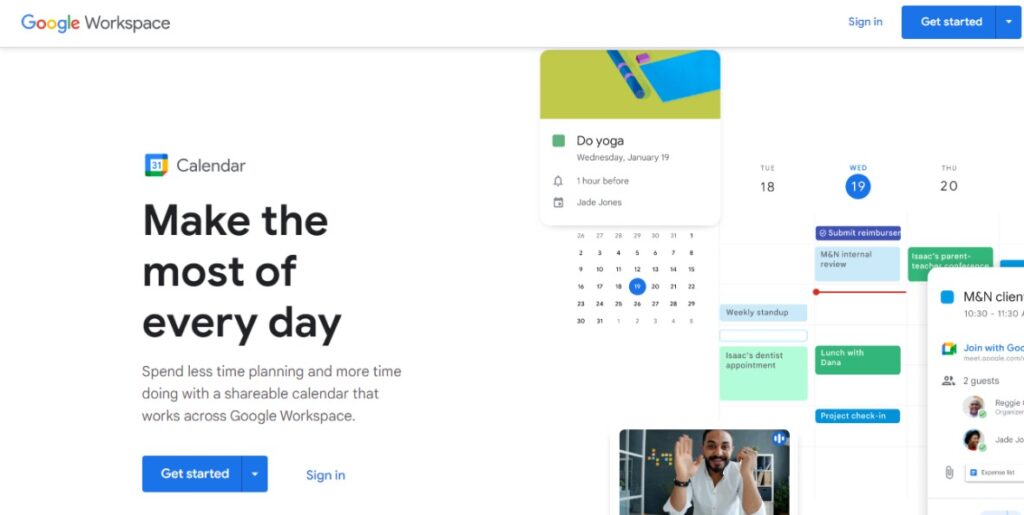 One of the top blogging tools for beginners is something you probably already use every day – Google Calendar. This tool is ideal for mapping out your content schedule and keeping your content creation process on track. Bring all your calendars into one place and access them from any device and any location. This tool also lets you add specific tasks, due dates, check boxes, and share your availability with other users.
Key features
Plan your content schedule: Map out what you need to do and when

Sync your calendars: Bring all your calendars into one place

Add specific tasks: Set due dates, write notes and mark tasks as completed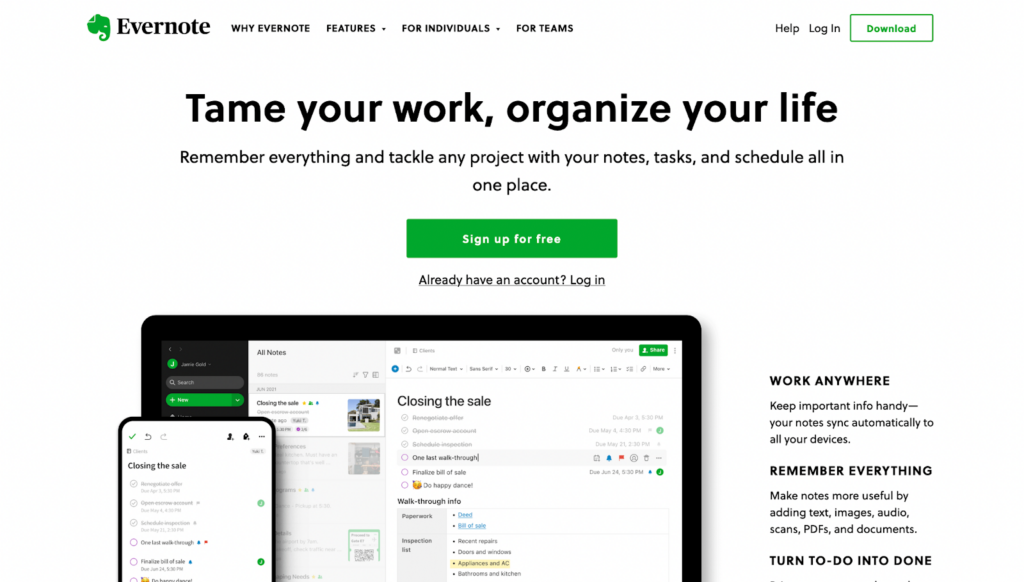 Level-up your note-taking game with Evernote and bring all your ideas, inspiration, and information into one app. Use Evernote to create and assign tasks, including due dates, flags, and reminders to keep yourself on schedule – even when things get hectic. Evernote also includes a scanning feature so you can keep all your paper documents on your mobile for easy access.
Key features
Organize your notes: Add text, photos, files, and links and take advantage of powerful keyword tagging

Scan documents: Go paperless with a mobile-friendly scanning feature

Connect Google Calendar: Keep track of notes, meetings, and your content calendar through Evernote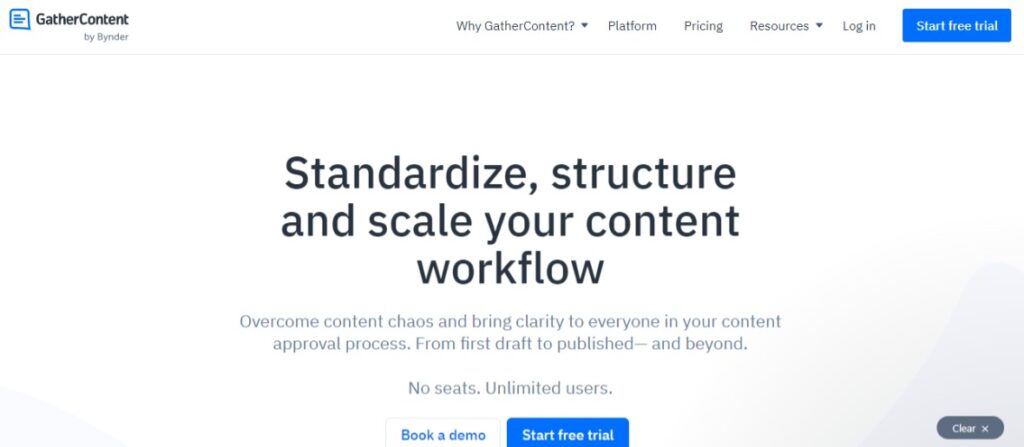 Designed for big organizations with multiple stakeholders, GatherContent might not be the first tool you think of for beginner bloggers. But the truth is, this powerful platform is great for Creator Educators who want a comprehensive overview of their blog and website structure, topic clusters, and post planning, even if they're just a team of one. GatherContent is designed to manage complex and chaotic projects – so it's got everything you need to help you map out your content and keep track of all your notes, drafts, and planning in one place. 
Key features
Create a content hub: Keep track of all your content, ideas, and notes

Choose content types and structure: Use pages and content types to map out your website structure with drag-and-drop fields

Make detailed notes: Add word and character limits, notes, links and more to help streamline your blog writing process
Best blogging tools: Writing your content
To have a successful blog, you need to have top quality content! Use these top blogging tools to help you write your blog content more efficiently – and then edit it to make it even better.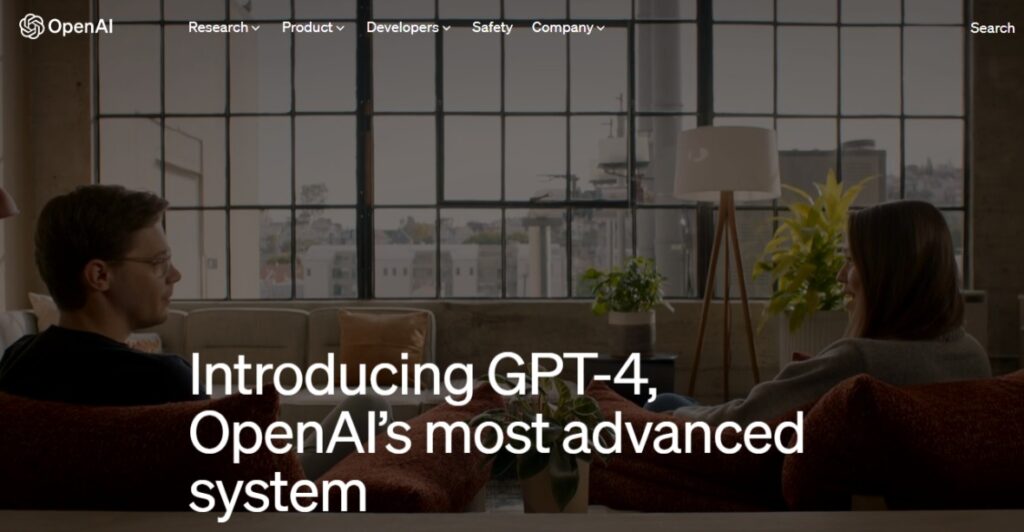 One of the most talked about tools right now, ChatGPT is ideal for beginner bloggers who want to take advantage of its impressive range of functions. It can help you plan, outline and write your blog posts in a fraction of the time it would take to do each task manually and its completely free. Use ChatGPT to help you think up new content ideas, write comprehensive outlines, and even draft your blog content. Just make sure you customize and edit the drafts to make it more engaging, entertaining, and more human!
Key features:
Easy to use: Input a question or task and get the results you need instantly

Create eye-catching post titles: Ask ChatGPT to come up with title and blog ideas for you

Comprehensive tool: Use it to plan, write and edit your content in record time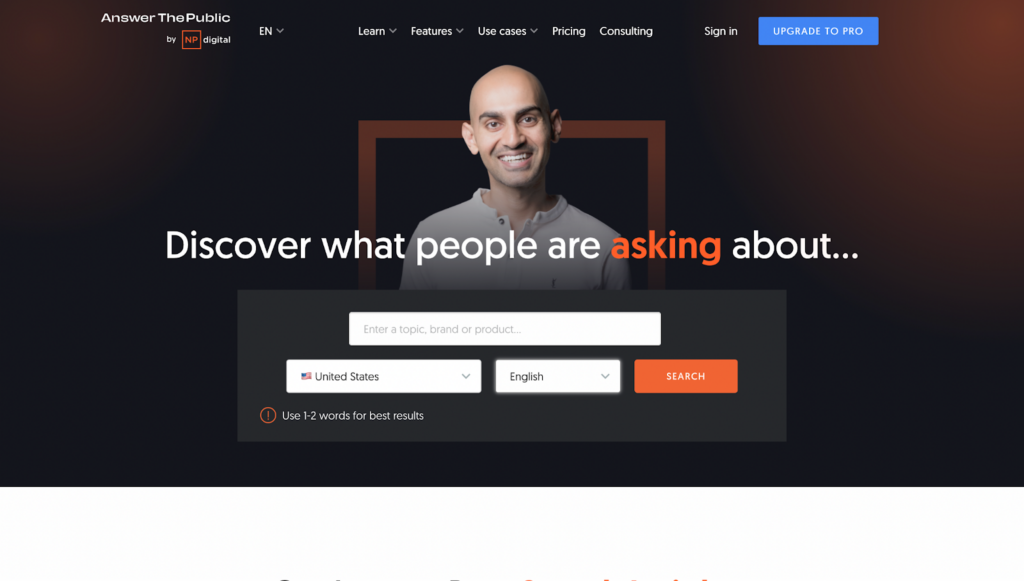 Whenever you're writing blog content, use this search tool to help you find the questions people are actually asking – and answer them! Answerthepublic.com is really useful for generating blog post ideas, shaping your outlines, and informing your FAQs. It's also ideal for beginners as there's no learning curve needed, just input your topic or keyword, choose a language and location, and click search to get a list of questions.
Key features:
Generate content ideas: Use this tool to inspire your blog post topics

Create an outline: Look at the questions people are asking on your topic and use them to write your outlines

When it comes down to actually writing your blog posts, Google Docs helps to make the process easy and efficient. This ideal blogging tool for beginners lets you edit your content from anywhere and across any device – so you can start writing on your laptop and switch to editing on your mobile before publishing on your tablet! Jot down ideas when you're on the go and Docs will save your work instantly. It's also easy to collaborate with other writers and editors – add comments, track your changes and generate shareable links instantly.
Key features
Mobile-friendly format: Write and edit your posts on the go

Collaboration tools: Easily comment, edit and share with collaborators
The Hemingway app is an easy way to edit your content and make it the best it can possibly be. This tool highlights overly complex or long sentences and prompts you to shorten it, split it, or edit to make it more reader-friendly. It also flags up unnecessarily long words, passive voice, and weakening phrases. And it's extremely easy to use.
Key features
Flags basic writing mistakes: This tool picks up on common errors to make editing easy

Suggested changes: Color-coded visuals help you know how and what to edit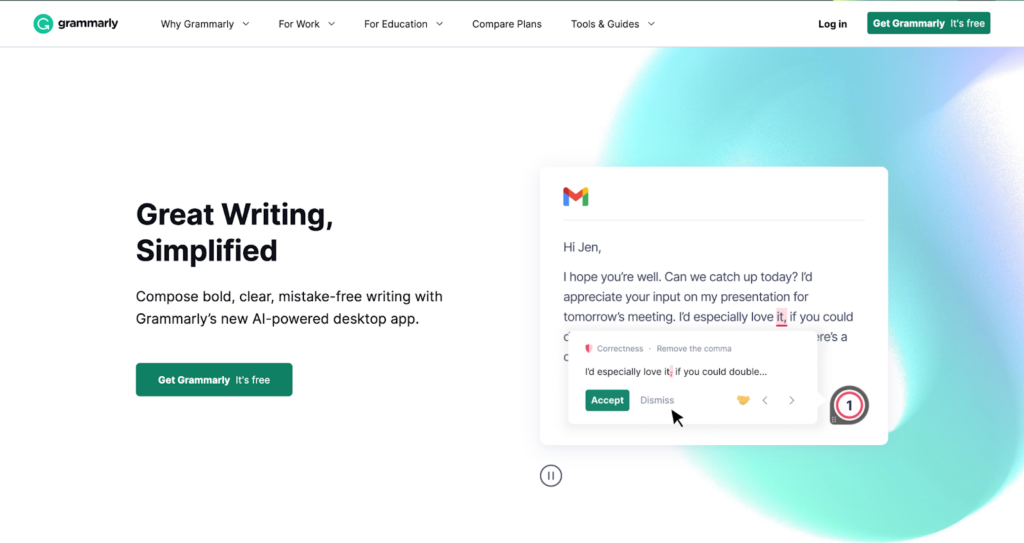 One of the best known text editing tools around, Grammarly scans your blog posts to identify any irregularities and errors. We all miss small details – especially when you've been working on the same piece of content for days – so use this beginner-friendly tool before you hit publish to make sure your writing is error-free and looks professional. If you're including academic citations in your content, Grammarly takes care of that too.
Key features
Grammar checker: Check your writing for grammar and spelling mistakes

Scan for plagiarism: Make sure your work doesn't get flagged

Citation generator: Automatically format citations in APA, MLA and Chicago
Best blogging tools: Optimizing your content
If you want to get found on Google and other search engines, you'll need to optimize your content to help boost your ranking and get more eyeballs on your content. These top blogging tools are ideal for beginners who don't have a lot of experience with SEO and need a simple way to optimize every post.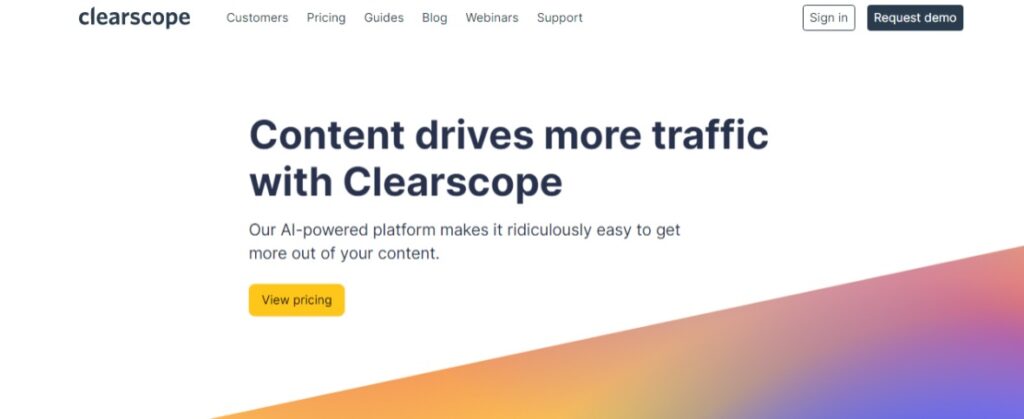 Focused on content optimization, Clearscope has a wide range of features to help you make sure your posts are SEO-friendly. Use Clearscope to generate a list of keywords for your chosen blog topic, as well as examples of how you can use those keywords in your content. To help you improve and create better content, this tool will also grade your writing and give you suggestions of how to improve for SEO purposes, so it's ideal for first-time bloggers who don't have a lot of experience with SEO. 
Key features
Get SEO recommendations: Find out which keywords to use and how often to use them

Content refresher: Generates ideas to help you optimize existing articles

Example usage: Get examples of how to use certain keywords in your writing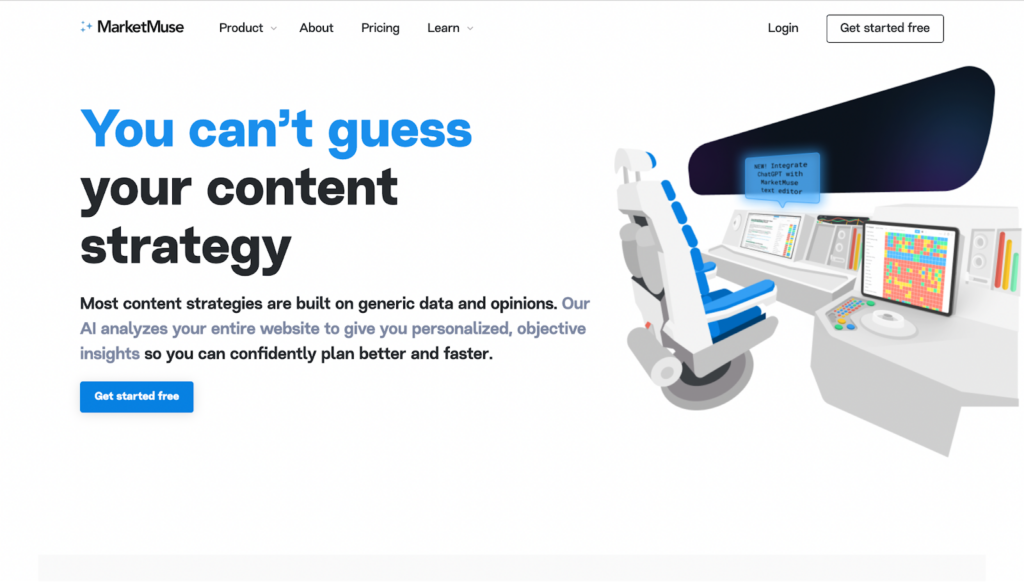 This AI-powered content optimization tool provides content creators with personalized insights into how to improve their content. If you're a beginner blogger, this tool is really useful to help you to identify what you need to focus on to optimize your existing blog content and which keywords you should prioritize to give yourself the best chance of ranking in searches. MarketMuse also analyzes gaps in your competitors' content so you can get a clearer idea of where to direct your time, energy, and resources to build authority in your niche.
Key features
Automatic content briefs: Generates content briefs to help structure your blog posts

Comprehensive keyword research: Suggests keywords that you have the best chance of ranking for

Competitive content analysis: Identify gaps in existing content to inform your content strategy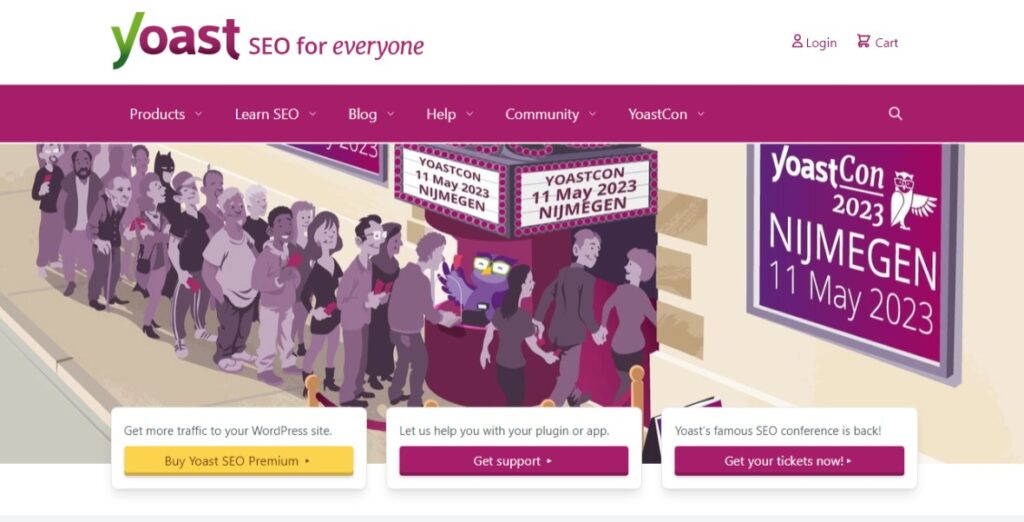 If you're building your blog on WordPress, use YoastSEO to help your site perform better in searches. This WordPress plugin has everything you need to ace the SEO game, including suggesting related keywords, synonyms, and different word forms to help make your writing sound more natural. You can also use the interlinking tools on their Premium plan to improve your site structure – another insider SEO trick.
Key features
Interlinking tools: Take a data-driven approach to interlinking on your blog

Related keywords: Make your writing flow with suggested keyword synonyms

Meta description and title tag optimization: Help your blog posts get seen on Google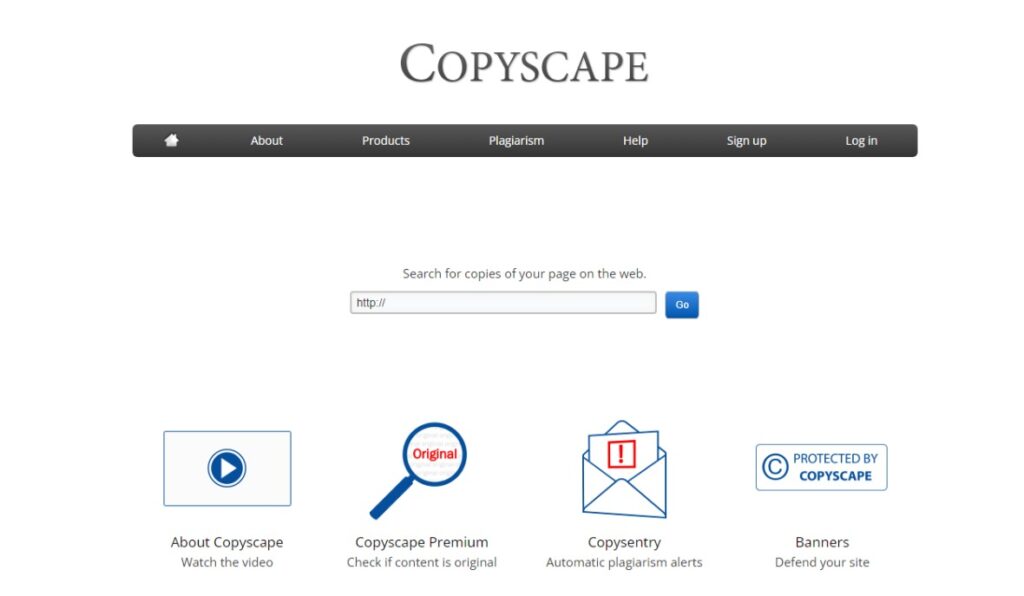 A simple and effective plagiarism tool, Copyscape helps you check if your content is original to avoid negatively impacting your SEO. This is especially useful if you're using copywriters or guest bloggers to contribute content to your blog – use Copyscape to make sure that none of their content has been copied or stolen from your competitors. Copyscape also lets you see who's copying your content on the web, with an automatic email alert to flag up whenever duplicate content is found.
Key features
Check content for plagiarism: Instantly scan content from writers and guest bloggers to make sure it's original

Email alerts: Get automatic alerts if someone steals your content

Free to use: No subscription needed
Best blogging tools: Images and design
The best blogs combine engaging written content with beautiful design and images. To help bring your writing alive, use these top blogging tools to source images, create interesting visuals, and craft eye-catching branded content.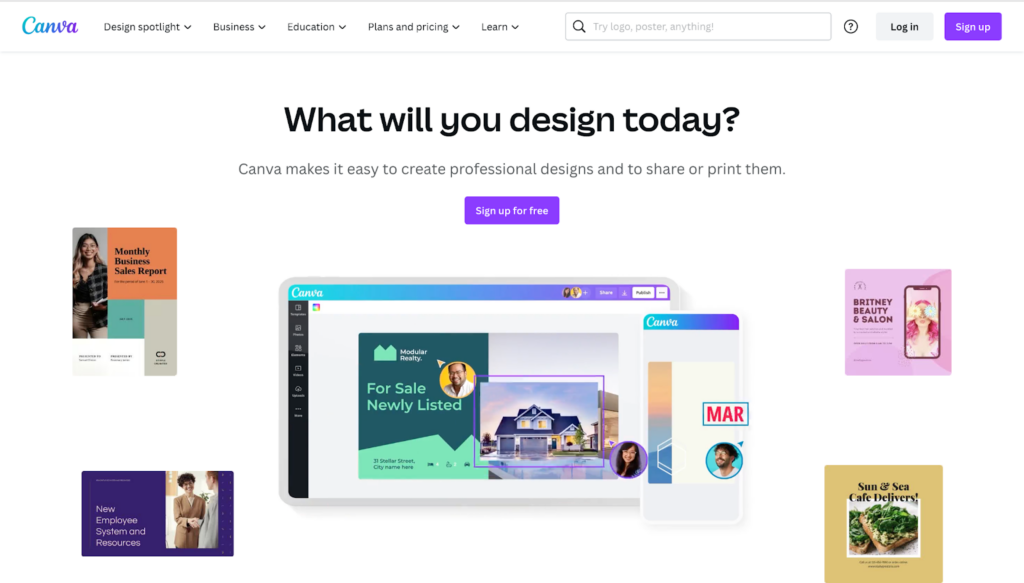 Known for its user-friendly design, Canva is an ideal tool for beginners looking to create design-led infographics, downloadable resources and branded content. Get access to over 600,000 templates to help you speed up the visual content creation process – and make everything a touch more stylish. Use Canva to design your blog, create lead magnets, edit videos, create social media content, and more.
Key features
Choose from 600k+ templates: Create exceptional content extra fast

Create custom brand templates: Design and archive your branded templates to save time in the future

Auto-save: Never worry about losing your designs again, as long as you're connected to the internet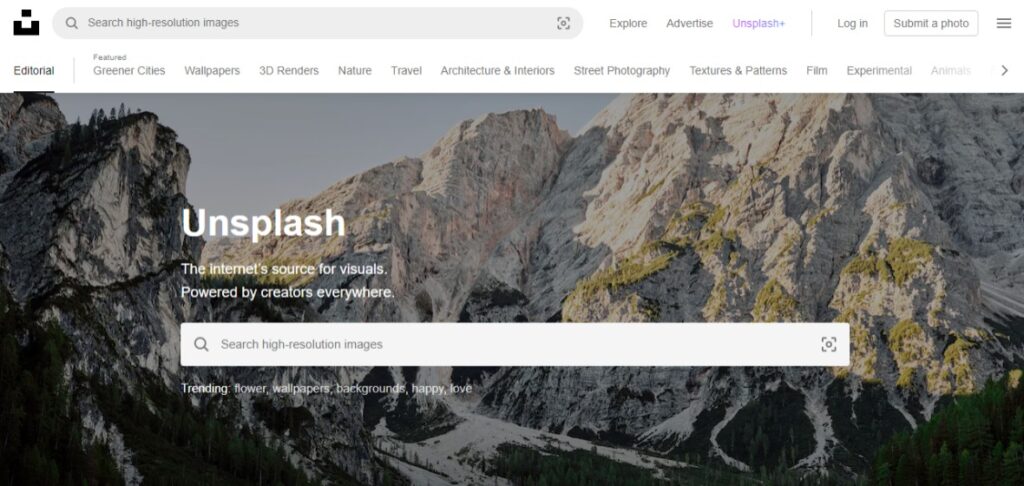 There are loads of stock photo sites to choose from but Unsplash is ideal for creators looking for something a little different. You're less likely to see Unsplash images on competitors' sites – and all the content is free to use for commercial, personal, and editorial projects.
Key features
Multi-device access: Download images wherever you are

Fast download speeds: No delays on your downloads to keep the creative process flowing

High-quality images: Get professional-quality photos for commercial and editorial use

With over 2.8 million high quality images to choose from, you'll probably be able to find the image you need for your content on Pixabay. Pixabay also has a library of videos, music, illustrations, sound effects, and more, so you can use it to enhance your blog in a range of creative ways – and it's all royalty-free!
Key features
Range of content: Find images, video, music, and more

Copyright-free media: Use Pixabay content without need for permission, even for commercial purposes

Free to use: Zero fees or hidden costs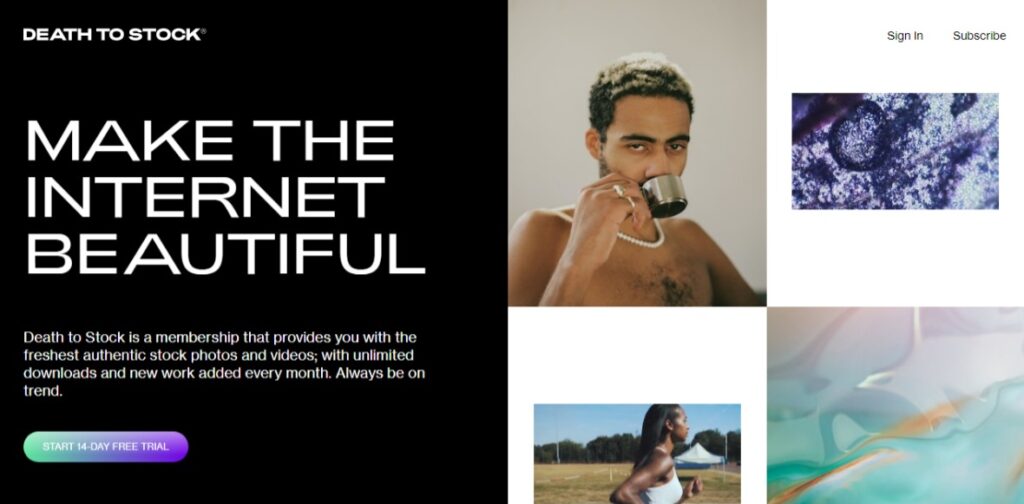 Designed for creators looking to make their content stand out from the crowd, Death To Stock is a membership site that gives you access to authentic and new stock photos and videos every month. A subscription also gives you unlimited downloads, so there's no worry about running out of images.
Key features
Unlimited downloads: Access as many images and videos as you need

100+ new content added every month: There's fresh work being added all the time so you'll never use the same image twice

Quality controlled: Images all taken from DTS's global artist network
Best blogging tools: Marketing your blog
To make sure all your amazing blog content gets seen by the people who matter, you need to work on marketing your blog and distributing your content.. That means taking advantage of the best blogging tools for marketing your blog – including platforms for email marketing, social media marketing and other handy tools.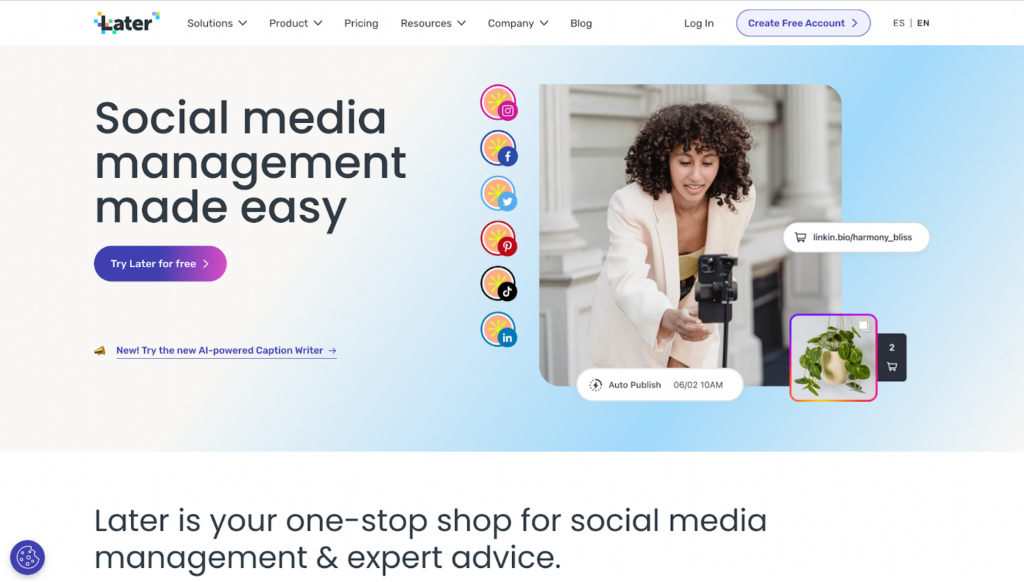 For entrepreneurs and Creator Educators, it can often feel like there aren't enough hours in the day to do every task. When it comes to keeping on top of social media posting, it can be especially hard to remember what you're supposed to be posting and when – especially when you're busy focusing on your blog content. This is where social media scheduling tools like Later can be really useful. 
Later lets you bulk schedule your posts ahead of time, so you can take care of all your content at the start of the month and then forget about it. Know that your posts are going to go out when planned to promote your blog and use the built-in analytics tools to track your content performance across multiple channels.
Key features
Plan and publish in advance: Schedule your posts to go out automatically

Analytics data: Track content performance across all your social channels

Link in bio tool: Optimize your bio link with a mini web page to give followers access to specific blog posts and landing pages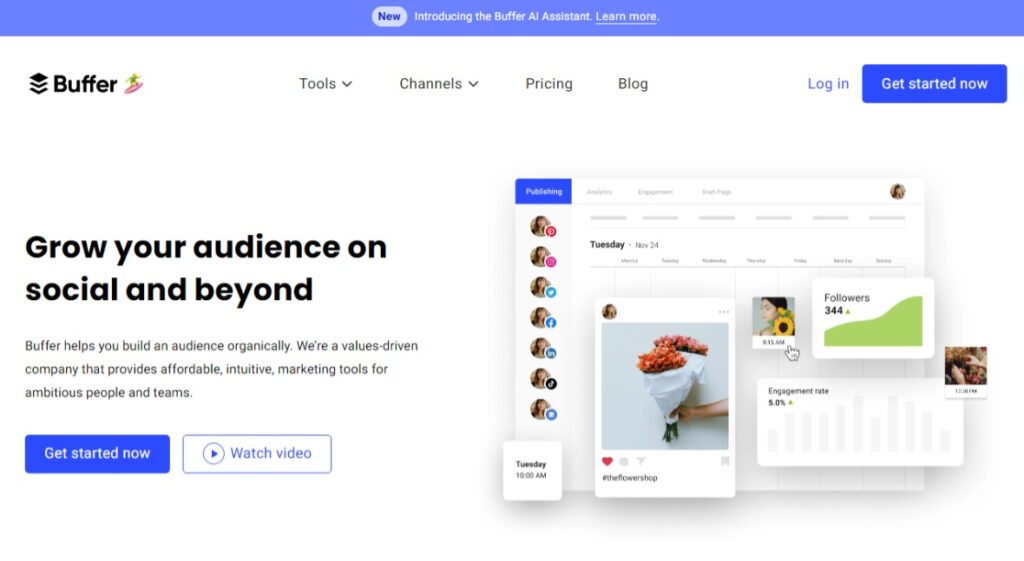 Designed for content creators and small businesses, Buffer has all the features you need to grow your audience organically using social media. For bloggers, Buffer is ideal for scheduling and publishing your content to your social media channels to help drive more traffic to your site and generate a buzz – without the need for specialized marketing knowledge or experience. This tool integrates with Instagram, Twitter, LinkedIn and more to help you boost engagement and grow your business across multiple channels.
Key features
Schedule social posts to multiple channels: Distribute your content across multiple platforms with one tool

In-depth analytics: Get insights into what's working and what's not in your social media strategy

Bulk schedule content with slots: Set a posting time for all your posts and see what's happening in Calendar view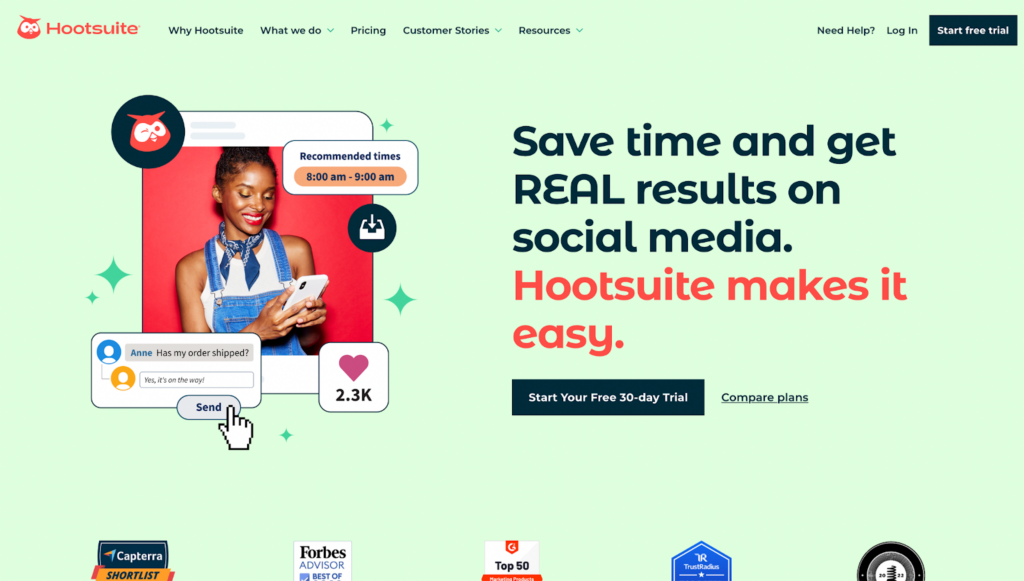 Beginner-friendly Hootsuite is another great tool to help you market your blog content, with features to help with creating, scheduling, and publishing your content and paid ad campaigns on all your social media channels. Hootsuite's new AI-driven caption generator can even help you to write post captions and come up with fresh content ideas to make your life that much easier.
Key features
OwlyWriter AI: Use their AI-driven caption generator to write posts and inspire new ideas

Bulk scheduler: Plan hundreds of posts in advance

Multi-channel functionality: Schedule and publish posts across multiple social networks

If you're promoting your blog via email, MailChimp is a really useful tool to have up your sleeve. Set up MailChimp to automatically share new published posts to your subscribers to increase your readership and get more eyeballs on your content – you can also customize your email templates to make them more eye-catching and branded. In-built analytics tools let you track open rates, conversions, and more to keep track of your email campaigns and see what content your audience is loving.
Key features
Customizable designs: Edit and personalize your email template designs

Email list segmentation: Segment your audience to send campaigns to specific people for better results

Analytics and reporting: Use built-in analytics to track email campaign performance
Best blogging tools: Collaborating with brands and creators
To grow your blog – and your audience – it helps to start collaborating with other creators and bloggers as soon as possible. This is a great way to offer your readers more variety and build strong partnerships with other brands to help open up your blog content to more people, while also welcoming a wider range of ideas and perspectives on your blog. Here are the best blogging tools to help you collaborate more efficiently with more creators. 
If you want to find brands and other bloggers to work with but you haven't built up a strong social media following yet, Mailshake can help. Mailshake is designed specifically for cold-emailing to help you send personalized emails in bulk – and increase your chances of getting read and receiving replies. This tool is tailored to helping you build connections faster and easier. 
Key features
Personalized emails: Send cold emails in bulk to build your network and find collaborators

Detailed analytics: Track open rates, click rates and more

LinkedIn automation: Send messages automatically on LinkedIn to expand your reach across multiple channels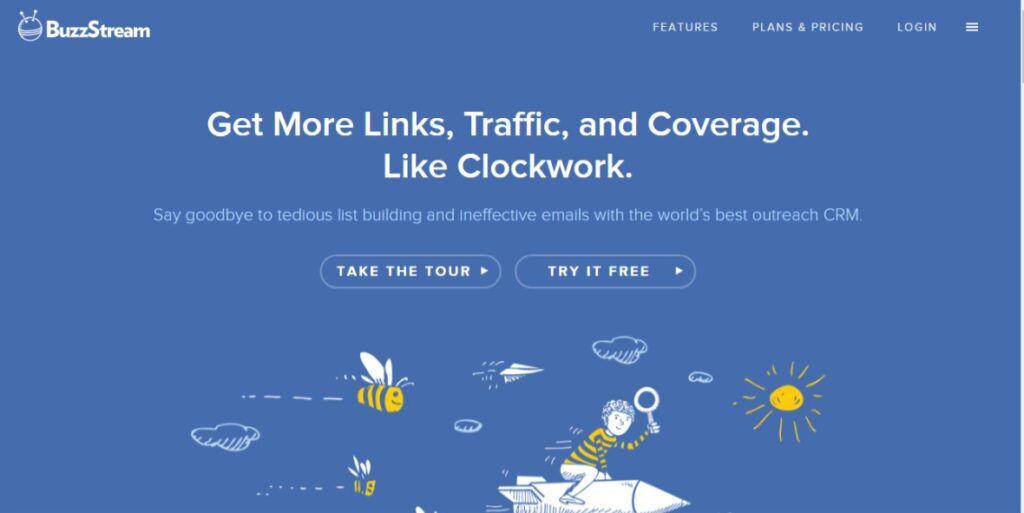 To build relationships with other creators and brands, try Buzzstream – an end-to-end platform designed for outreach activities, including building your email list, sending emails, and making data-driven decisions on who to target. Buzzstream finds the contact information for prospective brands and collaborators to help you build your database and drive more traffic to your site. 
Key features
All-in-one outreach platform: Makes collaboration seamless and streamlined

Pitch to influencers: Build lists and find influencers and brands to collaborate with to promote your content

Automate link building: Automatically gather website metrics to build links and speed up your research process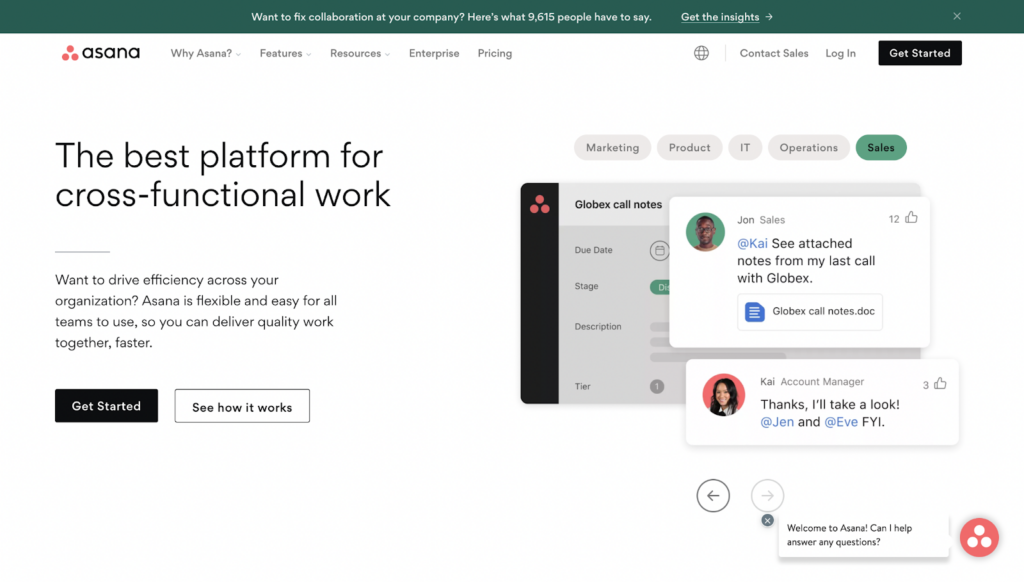 If you're working in a team or managing multiple writers for guest posts, Asana is a really helpful tool to keep track of what's happening with every project. Add tasks and checklists to monitor each stage of the content creation process from planning to publishing. Asana also includes direct messaging and commenting features to make communication easier, without the need for a separate app or platform.
Key features
Communication tools: In-built messenger, comments, and tagging features

3 project views: Choose from a list, board or calendar view to see your content strategy at a glance

Simple status tracking: Monitor what stage each blog post is in and update the status as you go
Ready to build your blog and your business?
Starting a blog from scratch requires focus and patience – but with these blogging tools you can make the process easier and more efficient. From content planning and creation to search engine optimization and social media sharing, these blogging tools can help you stay organized, on track and focused to help you grow your blog and your business.
Try Thinkific for free today to create a beautiful website and kick-start your journey as a Creator Educator.