In a world where everyone is scrambling to hop on the newest social media trend, it's easy to forget how powerful (and essential!) an email marketing strategy is for business.
With a $42 return on every $1 you spend, email is still the most effective channel for generating revenue. 
In 2022, most emails will be opened on smartphones, allowing you to reach your ideal customers directly. Also, people are more selective about who they let into their inboxes, which makes them less cluttered than channels like social media. With the right email marketing strategy, sequences and funnels, you can drive customer engagement for your business, create additional revenue streams, and continuously drive sales.
So, you can breathe a sigh of relief that your business doesn't need to constantly hop on every TikTok dance trend to acquire new customers.  By focusing on key email marketing activities like building your email list, nurturing subscribers, and building conversion funnels, your business has the opportunity to continuously generate leads and drive sales—even if you don't have a large team or budget.
In this post, we're sharing the most effective email marketing strategies for businesses looking to generate leads and revenue so you can start nurturing and converting customers. 
Here's what you'll learn:
Strategies for Maximizing Email Marketing Campaign Performance
Every email marketing strategy starts with a marketing automation platform. You can not only execute all critical email tasks from one window, but the right platform will also ensure you stay compliant with email regulations.
How To Select the Right Email Marketing Platform
If you're overwhelmed by the sheer amount of email marketing platforms available, it's understandable. Marketing technology is an exploding industry, expanding 24 percent over the past two years with a whopping 9,932 solutions ranging from analytics to video platforms. 
If your business is looking for a new email marketing automation platform, here's how to make the selection process easier so you can get back to focusing on growing your revenue and acquiring new customers:  
Consider your unique business model and goals first.
Ask yourself and your team what you want to get out of your email marketing automation platform and how you will likely use it now and in the future as your business or organization continues to scale. 
Common marketing goals for automation include:
Acquiring more high-quality leads

Creating upsell and cross-sell opportunities

Preventing leaks from your sales funnel

Boosting the lifetime value of existing customers

Building more advocates and loyal customers
Narrow down the Marketing Automation options with the features you need
Use this handy checklist as you do your own research or meet with different vendors. 
Functionality: Is there one email marketing function you need to be done really well? Or do you need support across multiple different marketing tasks? Does the platform deliver on your must-haves?
Customizability: How much control do you want over the design and layout of your emails? Will you be relying on pre-built templates? Or do you need advanced customization?
Management: Do you need a platform that a single person or lean team can operate? Or do you have a bigger marketing team with a dedicated resource who can manage the system and your contact data?
Simplicity: Do you have the time and resources to learn a more robust system, or do you need an out-of-the-box solution you can start using in minutes? Do you need a drag-and-drop editor? Or would you rather dive into the HTML code?
Ease of use: Is the interface intuitive, clean, and easy to navigate? Can you easily find the tools and options you need to do your job?
Reports: Do you need reporting in real-time? Does it capture the metrics that are most important to your business? Are reports run automatically or do they require manual work?
Niche: Does an all-purpose system include the metrics and features you're looking for? Are there options built specifically for your industry that better understand and support the unique tasks and reporting needs that you have?
Price: What tiers of pricing are available? How is pricing structured – by the number of contacts, message volume or flat-rate subscription? What added features cost more? How will pricing change as you grow in size?
Scalability: Do you have room to grow into the platform if you need to add new features in the future? How will it accommodate your audience as it grows?
Support: Are customer support staff responsive and knowledgeable? How can you contact them – by phone, email or chat? Do they offer self-support options like tutorials and guides?
Integrations: How will your marketing automation software fit into your existing tech stack? How can you connect it to existing platforms like your CRM or your website?
Capturing Email Subscriber Info With Email Form Fields
The most fundamental step in any email marketing strategy is collecting email addresses and subscriber information to build your email list. Your marketing automation platform will automatically compile these subscribers so that you can begin building relationships with them! 
What is an email form?
You'll collect email addresses via an email form (also known as an opt-in form) that collects information from subscribers. Email forms are a very secure way of collecting information from your prospects and customers, and they're one of the main building blocks of your marketing.
What are form fields?
You can use several forms within your email marketing strategy, but the most simple forms include two fields: one for their name and another for their email address. Depending on your strategy, you can create email forms that require as much information about the subscriber as possible.
Which form fields should you include?
The more fields you include on your email form, the more information you'll get on your customer, which allows you to market to them more effectively. 
For example, suppose your course is about helping busy professionals with productivity. In that case, you can include form fields that ask about their lifestyle, like the size of their family and what industry they work in. The information you gather from these fields will allow you to tailor your emails and promotions to topics that pertain to them based on their answers.
Be careful not to make your forms too long and detailed. Often, people are too busy to fill out lengthy forms. Some people may be uncomfortable sharing personal information. To get more people into your marketing funnel, you should prioritize a frictionless process while considering user experience.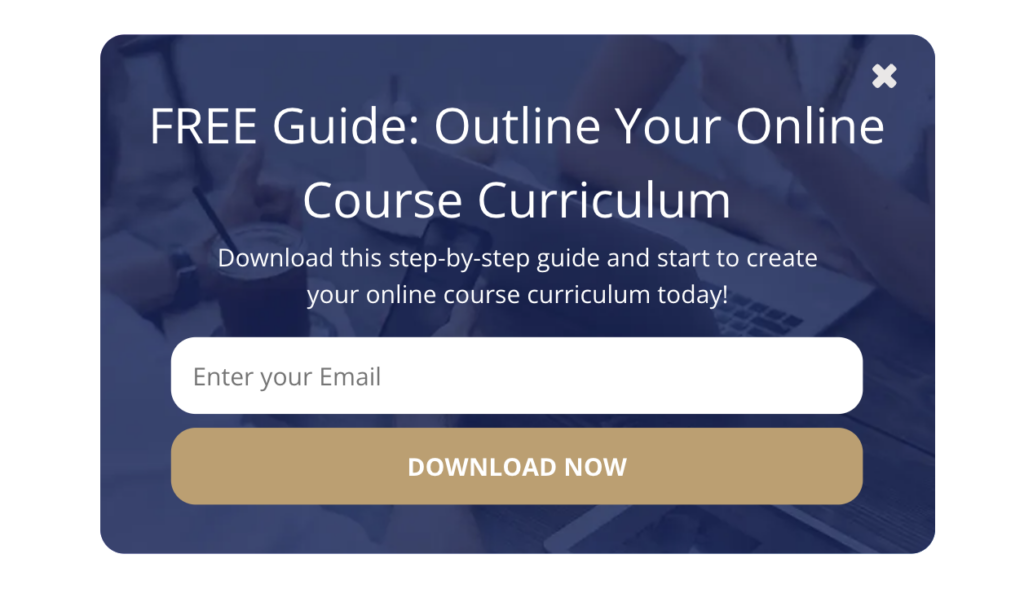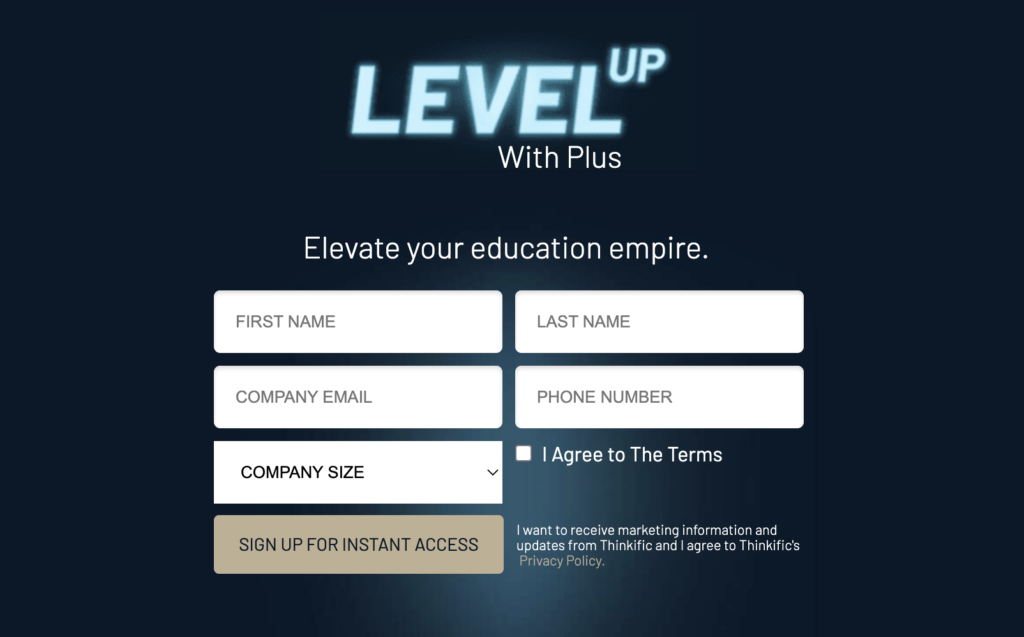 Designing Your Emails for Campaign Success
The way your audience experiences your emails is critical to the success of your marketing efforts. How your emails look, how easy they are to read, and how they're structured all impact deliverability, click-through, and open rates.
Here are email design best practices that will ensure your marketing emails are nurturing your audience and converting: 
Choose one topic and CTA per email
One of the most common mistakes marketers (especially course marketers) is covering too many topics and sharing too much information in an email. To avoid confusing or overwhelming your readers, each of your emails should have one clear message and one clear request. If a topic you're covering is complex, consider breaking the emails into an anticipation-building series.
Keep your email length between 50-125 words. 
While not every email has to stay beneath this word limit, you should make your emails as succinct as possible. The shorter your email is, the more likely it will be read in its entirety.
Keep the most important parts of the email at the beginning
People spend an average of ten seconds reading marketing emails. In other words, readers are not patient enough to read all the way until the end to get what they need from your email. You have to hook them by front-loading the most important info so they can get value from your emails, even when they're short on time.
Make your email readable with line breaks and visuals 
Write for readability. Break text into paragraphs that are no longer than three sentences. Use headings and bulleted lists to make your content easily skimmable. Add visuals like pictures, infographics, gifs, and memes to grab attention and keep your audience reading.
Stick to simple colors
Choose just one or two colors for your emails.  Typically you'll use your brand colors. The fewer colors you use, the cleaner your design will look, preventing the reader from being distracted from the content.
Email Copy: Tips for Writing Conversion-focused Emails and Funnels
So, what do you write in your marketing emails to inform, inspire, and convert your audience into paying customers? The key is not to jump right into writing. First, you need to understand the core philosophy and marketing goals behind the emails you write. 
An email marketing strategy usually has two main goals:
Inbound Marketing

Outbound Sales
In other words, your email marketing strategy will either nurture subscribers who are already in your funnel or grab new people's attention and turn them into warm leads or customers.
What is the key to writing emails that get opened, read, and clicked? Writing great marketing emails doesn't require creativity or journalistic talents to nurture and convert your subscribers. The point of email copywriting isn't creativity, and you don't have to be a wordsmith to get great results. Here are the three main ingredients of a compelling email:

Speaking directly to your target audience

Including curiosity-inducing subject lines

Concise body content with one specific goal
Here's how you can incorporate these three winning ingredients into your email copy:

Step 1: Understand your ideal customer persona/profile (ICP)
Before you begin writing any marketing material, you must first understand who you're writing for. 
How well do you know your target audience? 

What do they care about? 

What single action do you want them to take after reading your email?
Step 2: Create subject lines and headings that hook readers 
Writing attention-grabbing headlines isn't as mysterious as it sounds. A hook-worthy headline is simply one that can catch the reader's eye amongst a sea of other marketing emails. 
Here are ways to ensure you're writing subject lines that give your emails the best chance of being opened:

Write three to five subject line options so you can A/B test and pick the winners. (Disclaimer:  you'll probably want to A/B test click-through rate over open rates due to the iOS 15 update that skews open rate data —more on that below).

Keep the length to fewer than 50 characters.

Include personalization when possible: "The sweetest word in the English language is one's own name." Your email form will automatically capture their name, and your marketing software will most likely auto-fill it when you add a command like "[First_Name]" 

Keep the tone conversational: Avoid language that sounds like a canned marketing email. Use contractions like "you're" instead of "you are." Use emojis to lighten things up. 

Pay attention to subject lines that caught your attention: Copywriters and marketers keep a "swipe file" handy, where they can quickly screenshot or save good copy or ads for inspiration.
Step 3: Be conscious of words that trigger spam filters
While these words are not a guarantee that your email will go to SPAM, it's good to be aware of them. As you troubleshoot click-through rates and deliverability in the future, it's helpful to understand how these words could impact your results. 
According to ActiveCampaign, SPAM filters tend to flag words that are associated with:
Scams

Gimmicks

Schemes

Promises

Free gifts
Examples of common SPAM words and phrases are:

#1

100% more

100% free

Additional income

Be your own boss

Financial freedom

Free Consultation
Did you know?
ActiveCampaign's category-defining Customer Experience Automation Platform (CXA) helps over 145,000 businesses in 170 countries meaningfully engage with their customers. The platform gives businesses of all sizes access to 500+ pre-built automations that combine email marketing, marketing automation and CRM for powerful segmentation and personalization across social, email, messaging, chat and text.
Learn more: You can directly integrate ActiveCampaign with your learning management platform using Thinkific. Explore ActiveCampaign on Thinkific's App Store
Revenue-generating List-Building Email Marketing Strategies
Growing your email list should be a top priority because email can be your most profitable sales channel. Your warmest, most engaged potential customers/students will come from your email list. With email marketing revenue estimated to reach almost 11 billion by the end of 2023 (Statista), your ability to reach as many potential customers through their inboxes is critical.
So how do you grow your email list? It all starts with offering your audience something of value in exchange for their email address. We're bombarded more than ever with promotions, ads, and spam, and people are paying more attention to ways to cut down on digital overwhelm. Therefore, people won't hand email addresses over easily—we have to create enticing offers. 
And that's where lead magnets and gated assets enter the chat.
Creating a Gated Asset (Lead Magnet) To Entice New Subscribers
A lead magnet is a freebie or giveaway that contains information your target audience wants. Also known as a gated asset, common examples in B2B are ebooks, quizzes, guides, cheat sheets, checklists, templates, and swipe files. 
To attract email subscribers, you need to promote your lead magnet constantly. Keep it front and center on your website's home page, and offer it on a separate landing page you can send traffic to via LinkedIn thought-leadership posts or during podcast interviews.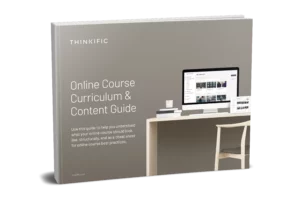 ---
💡 Create and publish a lead magnet funnel in minutes with Thinkific Funnels
Leveraging our AI powered funnel, build and publish a landing page to offer a free digital download to your prospects in return for their email addresses.

---
How To Choose The Right Lead Magnet For Your Business 
How will you know which lead magnet is right for your business? Think about the problems your audience wants to solve, and the content format they're most likely to consume. 
For example, a busy sales professional struggling to book meetings doesn't have the time to read a 30-page ebook, so they're most likely to download cold emailing scripts and templates. A chief marketing officer might be accustomed to reading industry publications, so creating something for the way they consume information will be most effective.
Examples of free gated assets that will entice subscribers:
Cheat sheets

Workbooks

PDF guide

Audio / Video training

Challenge

Quiz

A free online course: Offering free online courses to your prospective customers is a great way to gain trust and demonstrate value and drive conversions. 
How To Build an Engaged Email List of Potential Customers 
Now that you've created your opt-in-worthy lead magnet, it's time to create a strategy to drive traffic to it. Here are some steps you can take to build an engaged email list of potential customers:
Display your opt-in form in several key places throughout your website

Pop-up bar / pop-up box

Side-bar

Mid-way and end of a blog post

All of your social media channels

Drive social media traffic to your gated asset's landing page

Facebook

Instagram

TikTok

YouTube

LinkedIn

Promote your gated asset within your audio and video content

Podcast

YouTube

Webinars / Masterclasses / Free training

Drive traffic to your gated assets via paid ads

Facebook / Instagram ads

Google PPC ads

YouTube ads

Podcast sponsorships ads

Interviews and press
Pitch yourself or a representative for your business as a podcast guest for shows within your industry. Interview opportunities put you in front of a fresh audience within your niche and help you establish thought leadership, which is key to growing your subscriber base. At the end of the interview, you'll have the opportunity to promote your brand, which is a perfect time to mention your free lead magnet.
Sponsored blog posts
If you're in the finance space, you could find a personal-finance writer with a large readership to publish a blog post about your business, product or brand. This will usually involve paying a one-time fee. Links to your gated asset will be included throughout the post. Influencer marketing, sponsorships, and affiliates.
Influencer Marketing
Influencer marketing is popular in B2C and lifestyle brands but also valuable for B2B brands. Influencer marketing means using the social endorsement of well-connected influencers to promote a product or service more authentically to gain trust.
Joint webinars, round-tables, or fireside chats
Co-host a webinar with other businesses and industry-adjacent thought leaders with a large audience. These are best if they're not your direct competition. All of the emails collected will be added to your subscriber list.
Quick Tips for Keeping Your Emails Compliant
Email marketing regulations exist to prevent spammers from gaining people's email addresses without their permission and sending unsolicited emails. If you're using a reputable email marketing automation platform, you're most likely already complying with these rules, but you still want some general awareness so you can avoid fines.
Here are some simple ways to remain compliant when emailing your list:
Ensure you've gained permission to email the people on your list with a

double opt-in.

Don't use misleading header information.

Use disclaimers that notify the reader that this is a marketing email or ad.

Include your address.

Always include an opt-out link that allows subscribers to no longer receive future emails from you.

Honor opt-out requests promptly (your marketing platform should do this for you automatically).
A Step-by-Step Email Marketing Strategy For Lead Generation 
Even if your marketing team is lean, you can use the following steps to create compelling emails that build a loyal subscriber base for your business. 
Step 1: Segment your email list
Segmenting your emails means dividing your email subscribers into groups based on certain criteria. You could separate your email based on demographics, forms they filled out to join your email list, and activities like clicks and opens. 
Segmenting is critical to maintaining a healthy and engaged subscriber base because it allows you to personalize your emails based on what your audience members want to know versus sending the same message to everyone.
Try this strategy:
With more data than ever at our fingertips, marketing automation allows you to send your subscribers timely emails relevant to their interests. Allow subscribers to self-segment with a questionnaire.
For example: If your business or company offers online courses to generate revenue, depending on your industry and course topic you may not want to send "101" content to subscribers looking for more advanced techniques. Consider making one of your welcome emails a survey that asks the subscriber what type of information they'd like to consume based on their journey.
Step 2: Create (and test) automated email sequences and funnels
Every successful lead generation and conversion strategy relies on automated funnels and sequences to lead prospects to become paying customers—on autopilot.
An automated funnel is the steps you guide your leads through to convert them into customers at the end. Your automated funnel will include email marketing, social media, and landing pages.
How to set up automated sequences
Welcoming each person individually when they opt-in to your email list would be impossible, which is where your marketing automation platform's 'autoresponder' feature comes in. 
When someone opts into your email list, your marketing automation platform automatically sends them a sequence of emails over a predetermined period based on the rules you define. Automated sequences are the best way to nurture your audience on autopilot!
See It in Action: Ecommerce Course Funnel Snapshot
Let's say you're an Ecommerce company running a webinar promoting your course on eCommerce success tips. To promote your webinar, you'd schedule some promotional tweets or LinkedIn posts leading up to the webinar date. These social posts will drive traffic to your registration page, where they'll fill out their information to register for the free webinar.
After registering for the webinar, your marketing automation platform will internally tag them as "interested in eCommerce' and 'registered for webinar.' Instead of just waiting for them to attend the webinar, you can create an autoresponder sequence that goes out to those tagged leads. This sequence will include valuable content relevant to eCommerce, further nurturing them and increasing your webinar's conversion rate.
Even if some leads don't convert from your webinar, providing valuable content will keep them on your email list, where you'll continue to nurture them with other automated sequences. This creates an engagement loop that makes them sales-ready for your next promotion.
Step 3: Set up email triggers
Triggers command your marketing platform to send a specific message to a specific person on your email list. Your platform will operate under "if/then" rules that look like this: If a potential buyer downloads our how-to guide, then they will automatically begin receiving our weekly educational emails on the same topic.
Triggers make for a more personalized customer journey—the opposite of those mass 50% off emails you get from your favorite clothing brand. According to Smart Insights, triggered emails reach 71% higher open rates and 102% higher click-through rates than general email newsletters.
Step 4: Set up contact tags
 As discussed above, segmenting is the best way to send relevant, tailored emails that get opened and clicked. Tags are one of the easiest ways to segment your list.
For example, you could segment your audience based on the form they filled out to become an email subscriber. In other words, your tag will answer the question, 'how did they get on my email list?' and tailor the content to it.
Marketing automation can help segment your lists automatically by tagging subscribers according to the links they clicked on.
Step 5: Practice Good Email Hygiene With List Scrubbing
After putting so much work into building and maintaining your email list, the thought of intentionally removing subscribers might sound like blasphemy—but… According to OptinMonster, one-third of your subscribers will never open, let alone click through your emails.
Therefore, you must periodically "scrub" your email list. Email scrubbing means removing unengaged subscribers from your email list so that you can market to people who want to receive your emails. Be sure to scrub your list a few times yearly to keep your email reporting accurate and maintain your sender reputation score.
You don't want the time, effort, and resources you invest in email marketing wasted on subscribers who don't want to hear from you. Also, most email marketing platforms charge you based on how many subscribers you have, so technically, scrubbing your email list ensures you're not paying for people who never read or click your emails.
Using Email Marketing Data and Reporting To Test Your Lead Generation Campaigns
When it comes to successful marketing for your business, there are no "right answers," just strategies that have been tested and refined. Tracking and reporting are a must when executing any email marketing strategy.
By gathering data, you can form logical conclusions about what you'll change, where to invest more money, and what tactics you'll try next. 
You should perform the following tests throughout your marketing activities:
A/B testing 
Email A/B testing, also known as split testing, is when you compare two different versions of an email (version A and version B) and see which one performs better. Version A and B are sent to two segments of your email list. Then, the version with the highest open rates or more click-through rates (aka the "winning version") gets sent to the rest of your email subscribers.
Which parts of your email will you be A/B testing? 
Email subject lines

From name (sender name)

Email content

Design

Send time
Reporting: Email KPIs To Pay Attention To
Your email marketing platform may provide a bunch of marketing metrics. To prevent  overwhelm and help make marketing decisions quickly, focus on these critical metrics:
Click-through Rate: Is the percentage of subscribers who click links in your emails. Click-through rates are one of the best indicators of your email list engagement. A "good" click-through rate varies based on industry, so it's essential to know your benchmarks.
Conversion Rate: Tells you how many people took you up on your email's offer. If you send an email promoting an upcoming webinar, your conversion rate would be the number of subscribers who registered for the webinar. The conversion rate is another key metric because it indicates how successfully your emails generate leads.
Bounce Rate: Is the total number of emails sent that could not be successfully delivered to the recipient's inbox. Too high of a bounce rate

or a rising bounce rate could indicate issues with your sender reputation.

List Growth Rate: List-growth rate measures how fast your email list grows. Subscribers will naturally unsubscribe from your emails over time (which is good if they're not the right fit), so it's important to add new subscribers continually. Calculate list growth rate by taking the number of new subscribers minus the number of unsubscribes, dividing that by the total number of email addresses on your list, and multiplying it by 100.
Open Rate: Open rate (the number of people who open your emails) used to be one of the most straightforward email metrics to track and gauge the success of your campaigns. However, this is no longer the case as of 2021. When Apple released its iOS 15 update, it introduced a new "Mail Privacy Protection" feature that:


Automatically loads all images from emails

Hides IP addresses and the location of email recipients
This update means that all of your email subscribers that have iOS 15 devices (iPhones, iPads, Apple Watches) will appear as opened whether they did or not. Since Apple iPhones are roughly 48% of the U.S. smartphone market, and most people read emails on their phones, open rates are inflated and not as accurate.
While you can still use open rates to gauge marketing success, click-through rates and the other metrics mentioned above should take precedence. 
The Bottom Line on Maximizing the Performance of Your Email Marketing Campaigns
Marketing campaigns don't have to be complex or costly to create an engaged audience that is ready to engage with the content you send. In fact, by creating and promoting a value-packed gated asset such as an online course, you can steadily grow and nurture a subscriber base full of potential customers you can market to. That's how Hootsuite generated over 450,000 leads:  By educating students and customers on how to use social media through their Hootsuite Academy.
Fill your marketing funnel by providing education at scale for your target audience with Thinkific Plus. 
Thinkific Plus makes it easy to generate leads and transform them into customers by offering high-value education at every stage of the customer journey. It's so simple to use, that you can focus on generating demand—not worrying about technology. You also get a team of people seriously dedicated to helping you leverage learning to land and nurture more leads.
Let Thinkific Plus help you generate more leads—not more work.
Learn more about Thinkific Plus, and book a call with our solutions team to try it today.