If you have your own online course, odds are you've tried a multitude of different strategies to market it and drive sales. But you don't need to get too complicated – one of the most effective strategies out there is also the simplest: email.
Hands down, email marketing is the most cost-effective way of converting leads on your website, with an ROI of around 122%. The majority of consumers respond to email, with an estimated 66% of online customers making a purchase as a result of a marketing email.
So how do you successfully leverage email to generate more sales for your online course? Here's a look at the 3 critical phases of an email marketing strategy, with tips on how to target cold, dormant, and current contacts to get more sign-ups.
1. Build and Segment Your Email Database
Building Your List
Obviously, before you can use email to market your course, you need an email list and ways to continuously add new prospects to it. Your email list should have 3 distinct groups:
Cold contacts – those who have never purchased a course from you
Win-backs – those who have purchased but have gone dormant
Existing customers – those who have recently purchased
There are multiple methods you can use to gather information and add prospects to your list. Some of the most popular include:
Purchasing Lists
This is a personal choice and, for some, buying lists is a good way to kick-start an email campaign, as long as you're transparent and offer a clear "opt out." (Just be aware that since the EU implemented its new GDPR laws on data privacy, you'll need to be careful in garnering EU consumers' details).
Email finder tools such as Voila Norbert let you search for and verify those email addresses and integrate them with your CRM (e.g. Salesforce or HubSpot). You can also expand your list to include contacts' social networks, companies, and job titles to help you further target your outreach.
Using Pop-ups
Pop-ups aren't for everyone, but there's no denying their effectiveness. Unlike the often-overlooked sign-up form, they're more flexible in terms of when, where, and how they appear.
Using your analytics, determine the optimal time to fire a pop-up for increased chance of sign-up. Pop-up triggers might include:
Time on page (pop-ups appear after a certain number of seconds)
Page scrolling (determine the amount of scrolling that fires the pop-up)
Exit intent (the user moving the cursor towards the tab close)
Different audience types (first time visitors, existing customers)
Tools such as Justuno or Sumo will help you automate and design your pop-ups. Consider your heading, benefits, and CTA in demonstrating enough value to warrant a sign-up.
Static forms are still valid, but remember to keep form fields to a minimum, asking for just a name and email address.
Creating Valuable Content
Your content, particularly your blog, is a powerful lead generation tool. You can also use your blog to offer "bonus" content such as whitepapers, webinars, or course modules, all in exchange for an email address.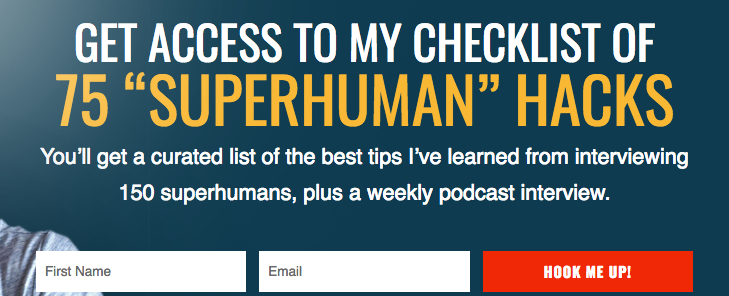 Social Media
Facebook Custom Audiences can help you resurrect older contacts. By integrating an email list into your Facebook Business account, you can retarget them with ads to lure them back to your site.
Your social media can help promote lead generation offers or directly encourage sign-ups to your mailing list. Sign-up CTAs at the top of your Facebook Business profile are another good tactic.
Your Existing Email Marketing
Using your current email marketing campaigns to share high-quality content, you can encourage recipients to forward the email by clicking the social button "email to a friend."
Segmenting Your List
The process of list building is ongoing, so it's important to segment your list from the start to simplify the next phase of the process. There are multiple ways to do this, such as by demographics, geographic area, past purchases, or interests. For a helpful framework, check out Mailchimp's Audience Segmentation guide on how to segment your contacts and improve your marketing campaigns.
2. Perfect Your Email Content and Sequence
Once you have a wide-ranging list of contacts, structure your emails to encourage as many course sign-ups as possible. It's crucial to target your emails to each segment of your list in terms of:
How your email is structured (the content, the subject line, the offer, the CTA)
The automated sequence of emails you send
Cold Contacts
Cold contacts are the trickiest to send emails to. You're trying to appeal to those who, most likely, have never heard of you.
Both your subject line and the content of your email determines whether it will be read and if the recipient will click through to your course sales page.
The Before-After-Bridge (BAB) technique is useful for this purpose. Start by setting the scene of the recipient's current situation, highlighting relevant pain points. Then describe what it could be like to have the problem solved, and then bridge the two with the solution, e.g. your online course.

Tips for sending emails to cold contacts:
Demonstrate why you're connecting
Keep subject lines short, non-salesy, and personalized
Add value to the email using high-quality content
Provide a clear CTA with an offer (e.g. 25% off your first course)
Offer a free taster course or a preview of the upcoming paid course
Win-backs
Your win-back emails are fundamental to your whole campaign, as these are arguably the most important segment of your database. The cost of acquiring a new customer is 5 times higher than the cost of retaining an existing one. According to Marketing Metrics, if a customer has made 2-3 purchases, then they're 54% more likely to buy from you a third time.
Tips for sending win-back emails
Use personalized subject lines
Send an enticing offer, demonstrating what they're missing out on
Offer an incentive for signing up for your online course
Use available data to determine the best times to send your emails
Existing Customers
Your current customers are relatively easy to stay in touch with. You don't want to bombard them with emails but rather keep them informed of your existing and upcoming courses while they're still warm.
Newsletters are a great way to send out valuable content. Include links to and previews of your upcoming course with its key benefits, along with customer incentives for inviting a friend to sign up.
Automating Your Workflows
Integrating your email software (e.g. MailChimp or Mailshake) with your website is the first step. You then need to consider your automated email sequence for each of your segments.
Think in terms of a 5-stage email sequence for an upcoming course:
Introduce and engage – lay out the problem your course will help solve
Share key insights – give them free information about your niche to build trust
Offer your solution – how your course will solve their problem
Answer any questions they may have
Present your final pitch
3. Optimize Your Landing Page
Your course landing page plays a crucial role in turning your hard-earned leads into valuable customers. It's important to pay attention to your layout, content, and wording to encourage the most sign-ups possible.
Enticing Headline
Your headline is key to grabbing attention. Now's not the time to be cryptic; say exactly what the course is all about.
Your Opening Story
As we discussed earlier, set out the "before" part of the story, demonstrating the need your course will fulfill.
2-3 Clear Benefits
Don't go into lengthy detail about the course here, but give a bullet list of key benefits the course will offer your customers. A "bonus" benefit adds perceived value.
Pricing
Be upfront about the price of your online course and any available discounts or bonuses.
Customer Endorsements
If you have customer testimonials, then make sure you showcase them. People are much more likely to make a purchase with social proof.
Clear CTA
Your CTA must take center stage and be placed above the fold.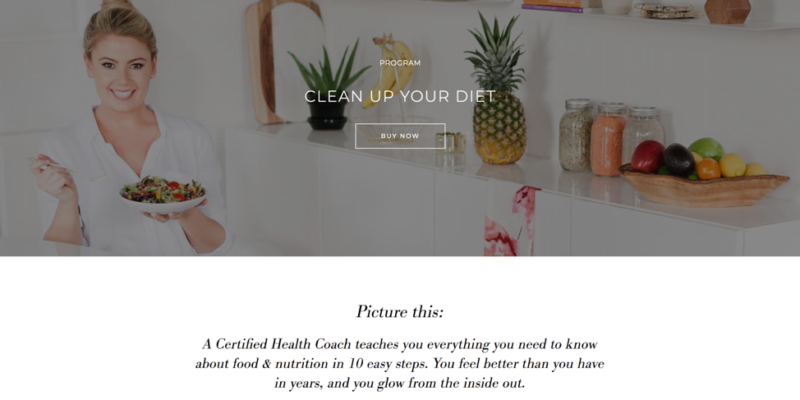 Using email to increase sales to your online course takes a strategic approach. From building your email list, to targeting your emails and optimizing your course page, it involves much more than just firing off a few emails and hoping for the best. But by using the tactics discussed above, you'll start to see your contacts list grow, and, in turn, generate more interest from prospects – and more sales to your online course.
How to Leverage Email Marketing to Sell Online Courses @sujanpatel #emailmarketing #teachonline #onlinecourses
Click To Tweet
Do you have an online course? What other email strategies have you used to drive more sales? Share in the comments below:
---
Sujan Patel is a partner at Ramp Ventures & co-founder of Web Profits. He has over 14 years of marketing experience and has led the digital marketing strategy for companies like Salesforce, Mint, Intuit and many other Fortune 500 caliber companies.