There has never been a better time to build a business selling online courses. By 2027, the global e-learning market is estimated to reach an enormous $521.8 billion (Research and Markets), signalling an enormous potential.  Millions of people are purchasing online courses, inside and outside of the traditional education system, in order to upgrade their knowledge and skills.
Skip ahead:
It comes as no surprise that in response to this demand, entrepreneurs and subject matter experts from all over the world have started creating and selling online courses to share their knowledge with others.
At Thinkific, we've felt the effects of this demand first hand as thousands of individuals and organizations have started using our platform to create online courses.
Creating an online course is just one part of building an online course business. Building a business is the other part.
But let's be real here. If you ask ANY type of business owner if it was easy for them to build their business, they will tell you that it wasn't.
Rome wasn't built in a day, and neither is an online course business
At the beginning of 2017, I watched a close friend of mine open his own barbershop. It took him 3 months of renovations and tens of thousands of dollars just to get his barbershop ready for him to welcome his first customer through the front door. (I was his second customer, by the way. Someone else beat me to the grand opening by about 5 minutes!)
For my friend, those 3 months of preparation work was just the beginning. During the next 6 months after his grand opening, he worked 7 days per week to build up his clientele and recoup his startup costs before he started hiring more barbers. Why did he do this? Because that's what it took to start his own barbershop. 
What does this have to do with building an online course business?
The point of this story is that it takes a lot of work upfront to build a business. It doesn't happen overnight and building an online course business is no exception. There is a lot of work you will have to do, both before and after you create your course, in order to be successful.
Unfortunately, most course creators give up on their business before putting in the work required to ensure they will be successful. They stop digging for gold before they experience the big payoff that makes all the hard work worth it.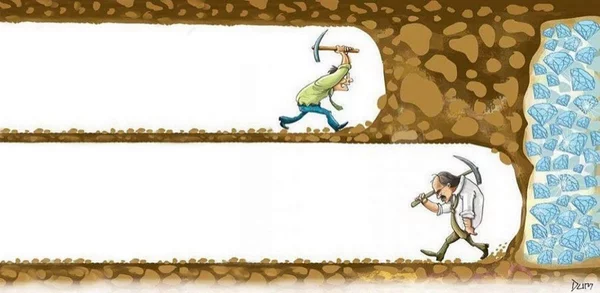 Even though it takes a lot of work to build a successful online course business, there are plenty of other people that have done it before (check out our customer stories to see some examples). 
With that in mind, we reached out to more than 40 successful entrepreneurs and online course creators. These people have literally built their careers by sharing their knowledge with others, many of them selling millions of dollars worth of training programs and online courses throughout their careers.
After reviewing all of the valuable insights these online course creation experts and entrepreneurs shared with us, we managed to distill the process of building a successful online course business into 8 specific steps (well, more like phases, since each one of these phases has several steps involved).
In this guide to building an online course business, we'll be sharing these 8 steps with you.
8 Steps to Building a Successful Online Course Business
Before we jump into Step 1, there is something very important that you need to understand:
By itself, an online course is NOT a business
Without an online course to sell, you can't exactly build an online course business. But creating your online course is just one part of building your business. Your online course is your product. It's not your entire business.
As you can see from the graphic below, a typical online course business has many other parts as well: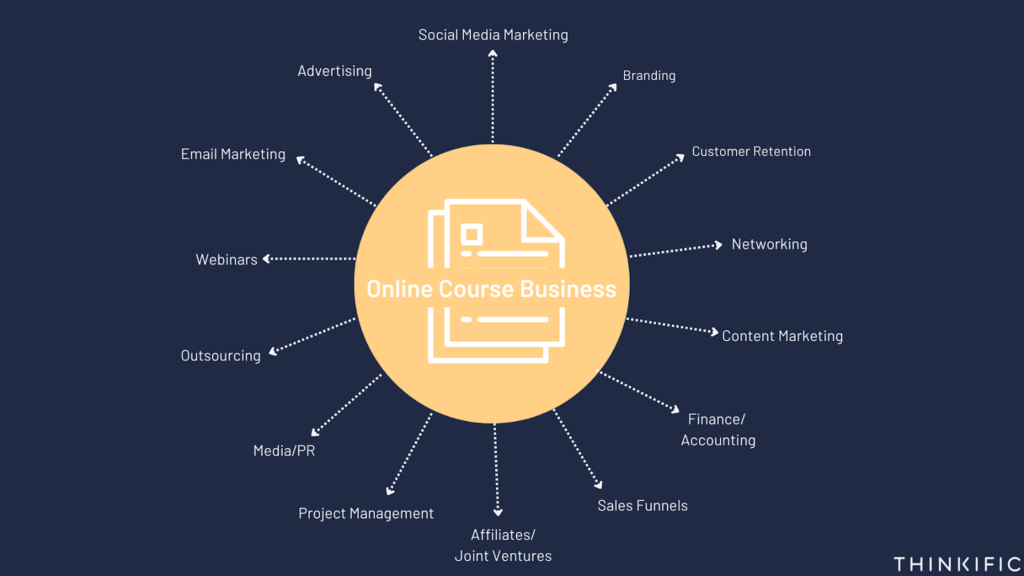 This may surprise you, but creating an online course isn't even the first step in the process of building an online course business. Out of the 8 steps we're about to go through, creating a course is Step #6.
You're welcome to skip steps 1-5 if you want to, but I would advise against it and here's why:
If you jump straight to creating a course without strategically choosing a topic to teach (Step 1), creating a business model (Step 2), and validating demand for that topic (Step 3), you could end up creating a course that no one wants to sign up for.
Secondly, if you don't build your brand (Step 4) and audience (Step 5) before you launch your course, you won't have a way to stand out among your competition or have an audience to promote your course to.
Even if you have the "perfect" course created today, without a compelling brand and an audience to promote it to, it will be very difficult to generate sales. No sales = no business.
So to save yourself many hours of effort and (potentially) thousands of dollars in course creation and marketing costs, don't skip these steps.
Deal?
Okay, let's dive in…
Step 1: Decide what to teach
The first step in building an online course business is deciding what you will teach. What topic do you want to become known for? What topic are you expert enough to teach to others?
To be an expert at something, you just have to know more about your topic than the person you are teaching. That's it. To that person, you're an expert. Don't overthink this.
Choose your course topic
Between the combination of your life experience and your professional experience, there are likely several topics that you know enough about to create a course on.
To help narrow down a specific course topic, we recommend completing the following exercise:
On a piece of paper, draw 2 vertical lines to create 3 columns. Label the first column Passions & Interests. Label the second column Skills. Label the third column Experience & Achievements.
Like this:

Next, start adding as many things as you can think of to each column (aim for at least 20 per column).
Once you've done this, identify the top 2-3 topics where your passions/interests, your skills, and your experience/achievements intersect.
For example, if you like science fiction (passion/interest), you're a great writer (skill), and you've written several science fiction novels (experience/achievement), then "how to write a science fiction novel" is a viable topic to consider teaching to others.
"You've been given a talent, you've been given a gift, you've been given experiences in your life that are here to serve others."
Identify a specific target audience
Once you've identified a specific topic to teach, the next step is to identify a specific target audience (aka a target market) that is interested in that topic.
Don't make the mistake of thinking that your topic (and therefore your course) will appeal to everyone. If you try to create a course that appeals to everyone, it will likely appeal to no one. I know it's counter-intuitive, but trust me on this.
To give you an example, one of our customers (Lizzie Lasater) is a yoga practitioner and instructor. When she decided to create online courses, naturally, she decided to start teaching yoga online 
Instead of creating courses to teach people how to practice yoga (a very broad and highly competitive topic) she decided to narrow her target audience to other yoga instructors (more specific). With other yoga instructors as her target audience, she created courses that are specifically about how to become a better yoga teacher.

Step 2: Create a business plan for your online training business
Once you have decided on what to teach and have sufficient clarity about your course topic, it is time to get your business plan ready. 
A business plan or business model is a formal blueprint describing how you will structure, manage and market your online course business. It is important to create one as it helps to ensure that your online course business will remain competitive and financially successful in the long term. 
You can choose one of the many software tools to create a standard business plan or use a regular spreadsheet or word processing software.
Now, as every business is different, their business models can vary drastically. However, certain aspects remain common to most companies. 
Here, we have laid out what you must include in your business plan:
Describe your business
A business description is needed to clearly state the purpose of your business, your target audience, and how you plan to deliver your products and services. 
When drafting it, you must be as objective and concise as possible regarding the nature of your online course and how it intends to help the target audience. 
Make sure to highlight if you will deliver your courses only online or offline. It also helps to state if your courses will be instructor-led or delivered through other e-learning methods. 
Identify your marketing strategy
Once you describe the nature of your business, the next step is to put together a marketing and sales strategy. 
Describe the strategies you will use to market your online course and how you plan to implement your email marketing, social media marketing, and other organic methods. 
In addition, you need to plan to allocate a budget for your paid advertisements and online marketing if you decide to opt for pay-per-click ad programs. 
Hiring and team management
While many online course creators choose to run their own shows, many opt to hire virtual assistants or full-time employees for help. Others choose to delegate tasks to freelancers or third-party vendors. 
Make sure to describe how you plan to delegate the tasks you cannot do. It is always a good idea to outsource tasks that do not require your intervention to save time for those that require your expertise.
Business operations
This section of the b-plan states how your day-to-day business activities will be structured and managed. 
You can include your course content, operational hours, telecom and IT-related necessities, insurance, etc. The more concise your operations section, the better ground it makes for you to validate your plan later. 
Finances
Every business requires money to run, and online businesses are no exception. In addition to the marketing and advertising expenses mentioned above, you will also need to factor in infrastructure, technology, hiring, etc. Remember to also describe what you plan to sell and how you plan to monetize your business. 
With this, make sure to have a detailed budget plan and allocate your resources to different expenses fairly. However, be careful to ensure that your budget is within what you can commit to and it does not make you feel overstretched. 
Please note that in addition to your online business course, you may also add other income streams such as selling ebooks, offering paid talks, etc. 
Two financial calculations you should consider initially are:
Gross Profit Margin: This is the number of courses you sell minus the cost of running your online course. It can be represented as a percentage. 
Gross Profit Margin = (Net course sale revenues – cost of running your online course) / net course sales x 100
Selling, General and Administrative (SG&A) Ratio: This figure tells you the percentage of your online course sales revenue used to cover your operational expenses. 
SGA = [Selling + General + Operational (Administrative) expenses] / Net online course sales revenue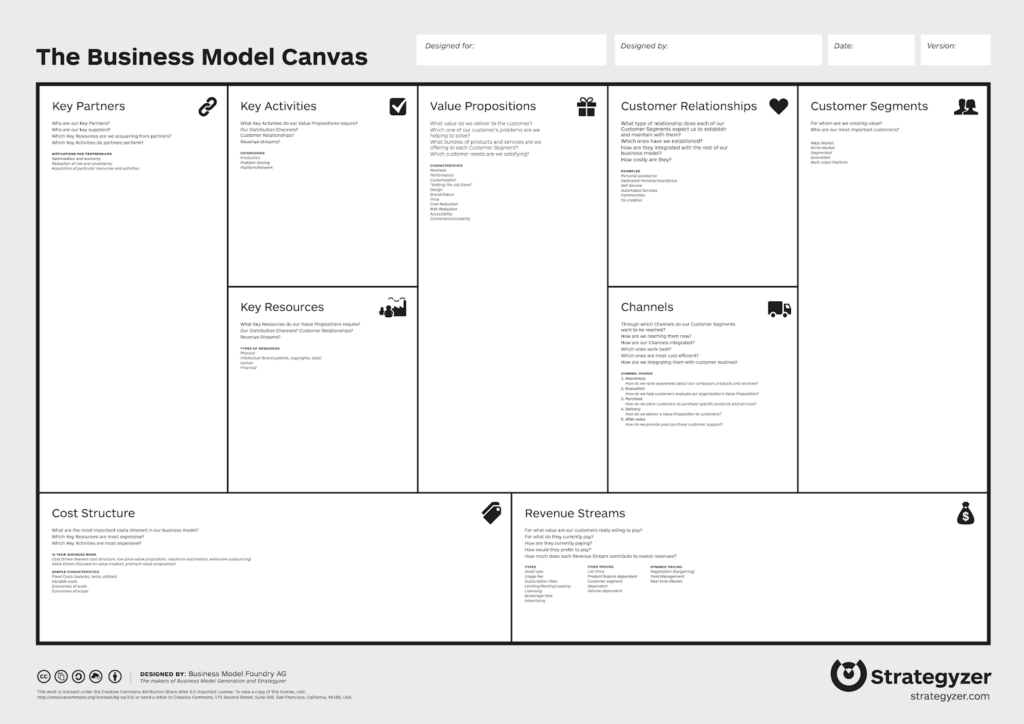 While we have described the essential aspects of a business plan, it also helps to follow the structure of a formal Business Model Canvas.  This concept was popularized by Alexander Osterwalder in 2005 and consisted of nine building blocks. These include key partners, activities, resources, cost structure, revenue streams, value propositions, customer relationships, channels, and customer segments.
Step 3: Validate market demand
Once you've identified a specific topic to teach and have your basic business plan blueprint in place, the next step is to validate the demand for that topic.
As a course creator it sucks to spend several weeks, maybe even months (or years?!), creating an online course about a topic that you find out there is no demand for.
It's a lot more efficient to validate demand for your course upfront before you invest time, effort and money creating a course.
Here are 2 ways you can validate the demand for your course topic:
Research your competition
See if you can find other people or companies that are selling courses and other forms of training about your topic (or a similar one), or who serve your target audience.
Bestselling books on

Amazon

Other online courses

Popular blogs and forums

Top podcasts on

iTunes

In-person seminars, conferences, workshops

Online events (virtual summits,

webinars

)

Networking groups on

Meetup

Coaches and consultants
If you can't find anyone that is profitably teaching your topic to others, that is a red flag that there isn't enough market demand for that topic to justify creating an online course (or building a business). Competition is usually a proof of market demand.
What if there is no competition?!
On the rare occasion that you can't find any competing products or services about your topic, that could mean one of two things:
There is demand, but no one is serving that market yet (rare), or

There is no demand, and you should pick a different topic
Either way, there are still two more steps you should take before you pull the trigger and decide to create (or not create) your course.
A great way to gauge demand for your topic is to use Google's Keyword Planner to see how many people are searching for your topic per month. The higher the search volume, the higher the demand.
"Do not be afraid of competition. Their very existence validates that there is demand for the problem you're trying to solve or for a solution to it."

– Greg Smith, CEO of Thinkific
Ask your target audience what they want to learn
If you have access to your target audience, whether online or offline, the best way to find out what they want to learn (and would be willing to pay to learn) is to ask them directly!
Here are a few ways you can ask your audience what they want to learn:
Ask your list of email subscribers

Ask your fans/followers on social media

Ask your past and/or existing clients
With each of these options, you can send people a link to a survey, ask them open-ended questions directly, or ask them to have a quick call with you.
Another way is direct outreach (aka cold calling) to your target audience by phone, email or social media. Do this in a polite, non-spammy way of course.
See how many people are searching for your course idea on google
Engaging in keyword research is a great way to identify a course topic that can possibly sell like hotcakes, without directly asking your audience.
Keyword research essentially helps you to understand what people are looking for online by keying in terms on Google or other search engines. 
To conduct keyword research on topics that may interest your audience, you can use specialised tools such as
SEMRush
or
Ahrefs
. 
Irrespective of the tool you choose to use, here is the basic framework to engage in keyword research:
Identify your seed term, which would be an umbrella term for your course topic. 

Type in "course" + your seed term.

Get specific and find a niche area that has not been covered by other course creators but has a high search volume.

Check out this tool to identify search volume

Continue to search and eliminate topics that are not feasible or interesting. 
For example, if you wish to start an online course on gardening, type "gardening course" in the keyword search tool. You will see multiple results with different search volumes. These results will help you get more specific. For example, you may find that "gardening courses in semi-arid regions" is a possible course topic with a decent search volume. 
Alternatively, you can also use our
search volume too
l to discover popular course topic ideas. 
Remember: If you can't find anyone that wants to learn the topic that you're thinking of teaching, you should probably move on to another topic.
If you can't find buyers before you create your course, you probably won't find any after either!
The ideal scenario is you choose a topic that there is obviously a demand for (proven by competing products and services about that topic), but nothing that is for your specific target audience.
Facebook marketing, for example, is a broad topic with strong market demand (proven by all of the blogs, books, courses, consultants, seminars, etc. about this topic).
Now, assuming we want to create a course about Facebook marketing, let's see what topics we come up with as we hone in on a specific target audience:
Topic 1:

Facebook marketing 101

(very broad)

Topic 2:

Facebook marketing for business owners

(more specific, still pretty broad)

Topic 3:

Facebook marketing for local businesses

(not bad)

Topic 4:

Facebook marketing for real estate agents

(very specific)

Topic 5:

Facebook marketing strategies to get more listings

(ding ding ding, we have a winner!)
If you are a real estate agent and you want to learn how to use Facebook to get more listings, which course topic is going to appeal to you the most? Which topic would you pay the most money for? Probably #5, because it is the most specific. It is exactly what you want to learn.
"The easiest way to know what to do is listen to what people are asking for and then give that to them."

– JJ Virgin, Celebrity Nutritionist & Fitness Expert
Step 4: Create a compelling and unique brand
Once you've decided on a specific topic to teach, it's time to start building your brand.
Don't jump straight to getting your logo, website, and business cards designed. Those things do play a role in representing your brand, but they are not the starting point.
The starting point to creating a compelling and unique brand is making a conscious decision about how you want to be positioned in your industry. Branding is about positioning.
Your brand should position you as the go-to expert on your topic. Unless you're positioned as an expert and a trusted authority on your topic, it will be hard to convince someone to buy a course (or any product or service) from you.
Even though we're told not to, we do judge a book by its cover. Think of your brand as the "book cover" for your business.
Be strategic with your positioning
The biggest mistake that people (and organizations) make with their branding is trying to appeal to everyone. Don't do that. Be strategic with your positioning.
Build a brand that appeals to your specific target audience. Don't try to appeal to everyone, because everyone is not your ideal customer/client.
Here are some questions to consider as you create your brand:
How do you want to be positioned and perceived in your marketplace? What do you want people to think of when they think of you? Who do you want to attract? Who do you NOT want to attract? What do you stand for? What do you stand against? Why do you do what you do?
When your target audience is searching for information about your topic, you want them to find you and immediately feel like they've come to the right place. They should feel like they've found the exact person (or company) that can help them overcome a specific problem or achieve a specific outcome.
"A great brand starts with understanding who you are, what you stand for, understanding your marketplace and understanding your positioning."

– Re Perez, CEO of Branding For The People
Identify your Unique Value Proposition
An exercise that we recommend all course creators complete is creating a Unique Value Proposition (UVP). Your UVP is what will help you differentiate yourself from your competition.
To create your UVP, answer these questions:
Who do you help?

What do you help them do?

Why is that beneficial for them?
Once you have the answers to these questions, tie them together in a single sentence.
To give you an example, one of our customers Ellie Diop aka Ellie Talks Money, is a business coach with a proven track record that helps you scale your business and have financial success. Pretty good UVP right?
Here is a screenshot of her website's homepage: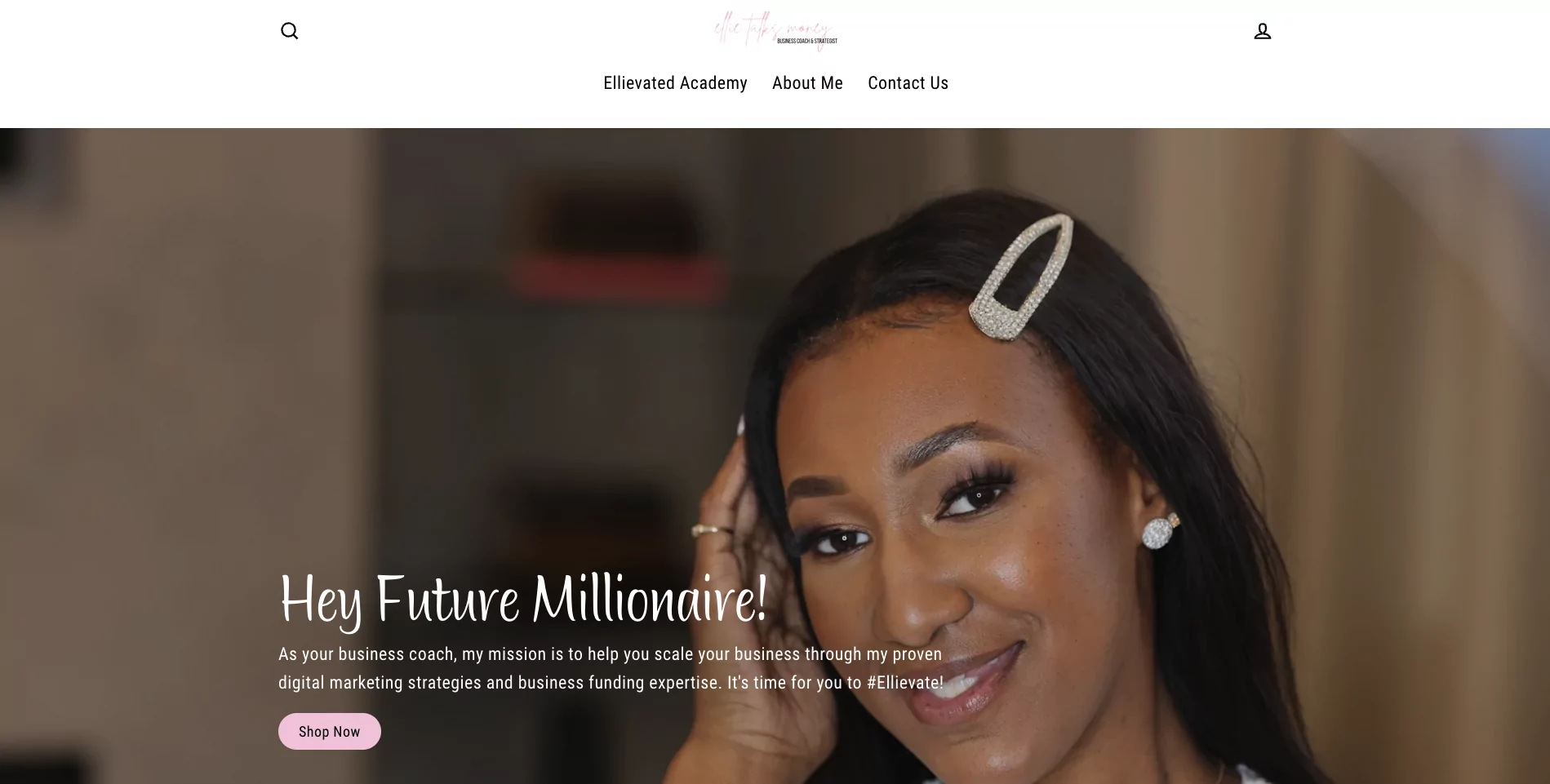 As you can see, anyone who visits her website will be able to instantly figure out who she is, what she does, and who her target audience is. She has a clear and compelling personal brand. If you're someone who wants to improve your business and reach financial success, it's obvious you've come to the right place. 
Good branding makes your target audience feel like they've come to the right place.
Step 5: Build your audience
Once you've decided how you want to be positioned in your market, it's time to start building your audience.
Your audience is the sum total of all the people that you have the ability to communicate with through various distribution channels (your blog, social media, email list, personal network, etc.).
Why is it important to build an audience?
Without an audience that knows, likes, and trusts you, it will be very difficult to sell your course for the simple reason that you don't have anyone to sell it to!
So the sooner you start building your audience, the better.
"Online courses are the wave of the future. They can help expand my content and message into places and countries that I have yet to physically visit. Online courses have boosted my income and helped me share my message with a much larger audience."

– Andrea Beaman, Health Educator & Author
Related: How to Create Epic Content Your Customers Will Love
How to define your target audience
It helps if you follow a systematic framework to define your target audience. Some useful steps to that end include: 
Ask your current customers

Get details on demographics like age, gender, location, etc.

 Understand their needs and pain points

Analyze the solution they're hoping for

Create a customer avatar
Download our detailed step-by-step guide for audience research
Size is important (but not the most important)
The size of your audience is important, but not as important as you might think. The obvious benefit of having a large audience is the ability to reach more people. If you have 10,000 fans on Facebook, for example, your posts will probably be seen by more people than if you had 1,000 fans (all else being equal).
But the size of your audience is not as important as the relationship you build with your audience.
It's more valuable to have 100 people on your email list that open and read every email you send them than it is to have 1,000 followers on Twitter who rarely see your Tweets or engage with you in any way.
When it comes to building an audience, loyalty and engagement are the most important.
Here are some of the most common ways that online course creators are building their audience:
Social media
Set up profiles and/or pages on the social network networks that your target audience spends time on. You don't need a presence on every social media network. Choose the top 2-3 that make the most sense for you and focus your efforts there. Share your content, join relevant groups, start your own Facebook group, and engage in conversations. The goal here is to build real relationships with other people that are interested in your course topic.
Read More: Social Media Marketing Guide: Uncracking the Code for Course Creators
Content marketing
Publish free content about your course topic as often as you can. Free content helps you build trust and authority in your industry. Common types of content that you can create are articles, videos, podcast episodes, images, and infographics. All of these help to increase traffic to your website and exposure for your business.
The more content you publish on your website and other platforms (like YouTube), the more likely your target audience will find you as they are searching for information about your topic.
Read more:
Publicity & PR
One of the quickest ways to build your audience is to get in front of existing audiences. Writing articles for popular publications in your industry, getting interviewed on podcasts, and getting featured in traditional media (TV, radio, newspapers, print magazines, etc.) are all great ways to increase your exposure and build authority in your industry.
Networking & joint ventures
Build relationships with other experts and influencers in your industry. It doesn't happen overnight, but building mutually beneficial relationships with others can lead to a number of opportunities including guest blogging, interviews, joint ventures, partnerships, and customer referrals.
Public speaking
Reach out to event hosts and organizers of conferences and seminars that your target audience attends. Offer to give a presentation on your topic. Some events will even let you sell your course directly to their audience, in exchange for a percentage of your sales. A major advantage of public speaking is you have the undivided attention of everyone in the room during your presentation, and that can be very hard to get online.
Email marketing
When it comes to marketing your online course (or any product or service online for that matter), email marketing is hands down the most effective way to generate sales. An email list of people that have expressed interest in your course topic and have given you permission to communicate with them will likely be your most valuable asset as an online course creator.
Start building your email list as soon as possible. Stay in touch with your subscribers by sending them helpful emails and links to your content on a regular basis. This is a great way to earn their trust before you ask them to buy from you.
Paid advertising
Even with a modest budget, paid advertising can be a great way to grow your audience. By utilizing advertising platforms such as Facebook, Google, YouTube, Twitter, and LinkedIn, you can target people based on specific criteria including demographics, interests, search terms, job titles, and more. In fact, many of Thinkific's most successful customers have been using Facebook ads to grow their audience and generate consistent leads and sales for their online courses.
"Consistency is what did it for us. Doing something every week, at least once a week, helped us get better really, really fast because we were putting in the time and putting in the practice."
– Jordan Harbinger, Author & Podcast Host
Step 6: Create an online course
Creating an online course is definitely one of the more exciting steps in this entire process, but it can also be the most time consuming one if you're not careful.
Most people spend several weeks (or months, depending on the course) creating their online course. Other, more experienced course creators have perfected this process and can create an entire online course in one weekend.
But regardless of how long it takes you to create your course, the process that you go through will most likely look a lot like this:
Choose your course title and subtitle. 

Ensure that your topic has high demand in the market

Ensure that the learning outcomes are stellar

Gather material for your online course content

Create a lesson plan (aka course outline) and choose your lesson types (audio, video, text, etc.)

Identify the best ways to deliver each of your course modules

Film, record, and edit your online course

Set up your online course, including a website

Choose a

price for your course

Create a sales page

and focus on marketing your course
Instead of going through each of these steps in more detail right here in this article (which would make it way longer than it already is!), I'm going to share a few of the most important lessons we've learned about course creation from the experts we interviewed.
Want to create an online course business, but unsure of where to start? Use Thinkific for free and get free training!
Or sign up for our free mini series that will teach you how to profitably create and sell an online course in just a week.
Create a "Minimum Viable Course"
A concept that has been popularized by American writer and entrepreneur Eric Ries in his book Lean Startup is the concept of a Minimum Viable Product (MVP).
An MVP is a development technique used by organizations (especially startups) in which a new product is developed with sufficient features to satisfy early adopters. The final, complete set of features is only designed and developed after considering feedback from the product's initial users.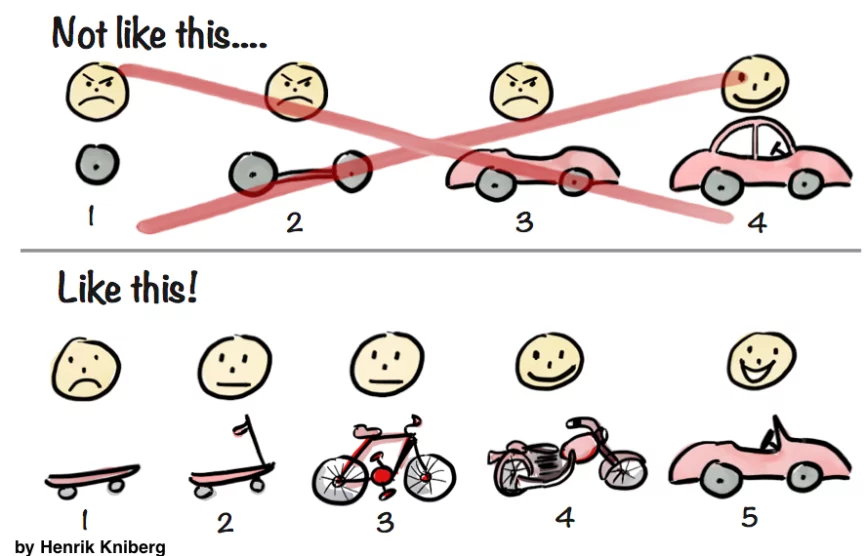 Applying this concept to creating online courses, that means that you should not try to create the perfect course the first time. Instead, create a Minimum Viable Course (MVC).
Here's why…
The problem with trying to create the "perfect" course before you show it or sell it to anyone is that "perfect" is a very subjective term. What you think is perfect is probably not the same as what your customers/students think is perfect. Even if it is, your course does not have to be perfect in order to be valuable.
Perfectionism has stopped more people from creating and launching their online courses than anything else. Don't let this happen to you. If your course (imperfect as it may be) is good enough to help someone, then it is good enough to publish. Done is better than perfect.
Create your MVC as quickly as possible so you can publish it and get real feedback from real students. Based on their feedback and other important data (such as course completion and engagement rates) you can remove training, add training, and make revisions to your course to make it better.
"Don't be a perfectionist because the world can't wait for perfect. Get it done, get it out and get it sold. It's not a book so you can always revisit it periodically but your number one priority is creating a transformation in your clients, so keep your focus there."

– Shazzie Love, Business Strategist
Course length ≠ course value
Read More: How to decide on the ideal course length?
Another big mistake to avoid is trying to teach everything that you know about your topic in a single course. Doing this will most likely result in a super long course that your students won't complete and that takes a ridiculous amount of time to create in the first place. Wrong approach!!
Your online course is the shortcut
The purpose of your course is to teach your student how to get from Point A to Point B as quickly and as efficiently as possible. It's the shortcut.
Your online course is the shortcut. Help your students get from A to B as quickly as possible.
You absolutely should not overwhelm your students by brain-dumping everything that you know about your topic into your course. Your course should be as short as possible without sacrificing the key concepts in your training.
Don't create 8 hours of training if you can teach your students what they need to know with 3 hours of training. As long as they learn what you promised to teach them, they won't complain that your course was "too short". Instead, they'll probably thank you for not wasting their time with fluff or filler content.
Related: How to Create Epic Content Your Customers Will Love
Launch to a small test group first
Another important lesson we learned from the experts we interviewed is not to launch the first version of your course (your MVC!) to your entire audience.
Instead, you should promote your course to a small segment of your audience at a lower price than what you eventually want to charge for your course. If you do promote your course to your entire audience, consider imposing a limit on the number of students that can enroll in it. Once you hit your goal, you temporarily close enrollment for your course.
This strategy is often called a beta launch (similar to pre-selling). The goal of this type of launch is to get your course into the hands of a small number of students who will "test" your course. In exchange for accessing your course at a reduced price, you ask your students to provide you with feedback to help you improve the course and testimonials to use in your future marketing.
Based on the feedback from your students, you can make changes to improve your course. When you have a revised version of your course that is better than the first and positive student testimonials to use in your marketing, you re-open enrollment for your course and sell it a higher price.
If you're ready to start marketing your course, check out these 55 online course marketing ideas here.
Step 7: Focus on customer success
Okay, let's pretend that you've already completed Steps 1 to 5.
You've decided what topic you're going to teach. It's not too broad, and it appeals to a specific target audience.

You've validated market demand for your topic. Thousands of people around the world are interested in it, and they're already spending money to learn it.

You've crafted a compelling brand. You are known in your industry as an expert on your topic. When your target audience finds you, they trust that you can help them.

You've built an audience. You have followers on social media. You have people on your email list. You have relationships with other experts in your industry. You've been featured in other publications, podcasts, and media outlets.

You've created an online course. And after promoting your course to your audience, you are proud to say that you have customers. Your business is generating revenue.
Even though it is a HUGE accomplishment to get this far (and yes, you deserve to celebrate at this point!), there is still work to be done.
Acquiring customers is just the beginning. Now your job is to deliver on the promise you made to your customers.
Think of any local business you are a customer of. A restaurant. A nail salon. A coffee shop. A convenience store.
These businesses don't stay in business because they are constantly attracting new customers. They stay in business because their existing customers come back more than once, often bringing their friends and family with them. This same rule applies to your online course business.
"We're not in this business just to get people to buy our stuff. We want them to see the change and the impact and create the success stories."

– Nick Unsworth, CEO of Life on Fire
It's a lot cheaper to keep a customer than acquire a new one
If you are constantly investing in marketing and promotion to attract new customers, but you're doing nothing to ensure the success of those customers, it will be very difficult (and expensive!) for you to build a profitable and sustainable business.
When a customer purchases your online course, this should not be the end of your relationship with them. This should be the beginning.
Your customers should be so thrilled with the training and overall experience that you provide to them that they purchase additional courses from you in the future, and they tell others about your courses too.
Related: The Top Customer Success Strategies Used By Successful Companies
Here are a few ways you can increase your student engagement and retention rates:
Gamify the learning experience
Create incentives and offer rewards to your students for achieving specific milestones in your course.
Related: Gamification in Training: The Complete Guide to E-Learning Gamification [2022]
Help your students be accountable
Pair them up with an accountability partner, offer 1-on-1 or group coaching calls with your students, or create a private group or discussion board for them to interact with each other.
Appeal to different learning styles
Don't create training that appeals to just one learning style. Utilize different media types to deliver your content (text, video, audio, worksheets, quizzes, etc.).
Create small, bite-sized lessons
Shorter lessons are more likely to be completed by students than longer ones. If it takes you a while to teach a specific concept, try breaking up the concept into several shorter lessons.
Related:
Send reminder emails to your students
If you notice that a student isn't accessing or completing the training in your course, send them a polite reminder email to re-engage them. Show them that you care.
Step 8: Scale your business
The final step in building a successful online course business is to scale your business by creating systems and/or hiring people to ensure that it continues to grow.
According to Greg Smith, CEO of Thinkific, you should only scale something that works.
The 76 steps that came before this one are your chance to do just that. To prove that your online course business works. Once you have a business that works, it's time to shift from spending the majority of your time working in your business to working on it.
This is accomplished by creating systems and hiring people to handle the repetitive, day-to-day tasks involved in running your business. The goal is to free yourself up to focus the majority of your time on activities that move your business forward, such as:
Building your audience

Building your network

Creating

sales funnels

to acquire new customers

Creating additional courses and/or services to sell to your customers
Here are a few of the key lessons we learned about scaling an online course business from the expert we interviewed:
1. Automate repetitive tasks
Identify the tasks in your business that are highly repetitive and not the best use of your time as an entrepreneur. Document the process for those tasks and delegate them to someone else, or use technology/software to automate that task for you. Every repetitive task that you automate today buys you more time to focus on other activities tomorrow.
"The way you multiply time is by spending time on things today that give you more time tomorrow."

– Rory Vaden, Southwestern Consulting
2. Build a team as early as possible
To grow an online course business to 6 or even 7 figures in annual revenue and beyond, you're going to need some help. Very few entrepreneurs are able to build successful and sustainable businesses without a team of people to help them make it happen. There is simply too much to learn and do, and not enough hours in the day for one person to do it all.
"If you want to go fast, go alone. If you want to go far, go together." – African Proverb
Hiring a virtual assistant or a personal assistant is a great starting point. From there, consider hiring help for other areas of your business including content creation and editing, marketing and advertising, branding, accounting, etc. These do not have to be full-time employees. Many course creators have teams that consist of freelancers and independent contractors from around the world.
Related: How to Hire a Virtual Assistant (An Entrepreneur's Guide To Outsourcing)
3. Tie your business to a greater purpose
Sharing your knowledge by creating online courses is a great way to empower others through education and move humanity forward. But creating online courses is certainly not the only way to make a positive impact in the world.
There are countless organizations that are doing incredible things to make the world a better place. By partnering with other organizations and tying your business to a greater purpose, you ensure that as your business grows, so does the impact you make in the world.
"Whether you're in the non-profit structure or the for-profit structure, you have a tremendous opportunity to use business as a force for good."

– Adam Braun, Founder of Pencils of Promise
---
This article was originally published May 2018, and refreshed with new information November 2022.