What sets successful companies apart from their competitors isn't just the quality of their products and services, it's the experience they provide to their customers.
Today's most successful companies are committed to understanding the desired outcomes of their customers, and they're designing experiences to help their customers achieve those outcomes. In other words, they're focused on customer success.
What does this mean for your business?
Well, if you're focused on creating high-quality products (or services) at the expense of creating a customer success strategy, you may soon find your company struggling to attract and retain customers. In fact, a recent study study by Walker predicts that customer experience will overtake price and product as a key brand differentiator by 2020.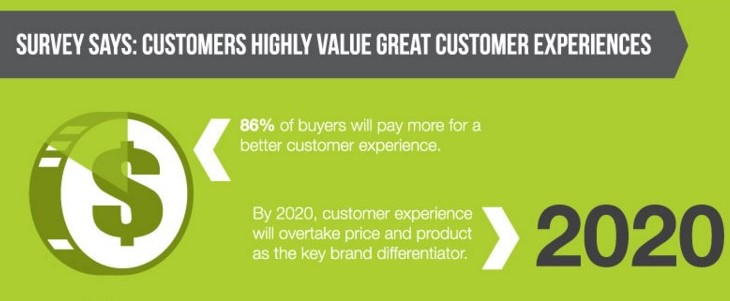 Customer success should be your top priority
According to Forrester Research, 72% of businesses say that improving customer success is their top priority, and understandably so. When you design an experience to help your customers achieve their desired outcome with your product, they stay with you longer, spend more money with you, and refer other customers to you more often.
Whatever problem your product solves or helps someone achieve, it's important to remember that it's the result that your customers want. To your customers, your product is just a means to an end, and likely just one of many alternative options that promise to help achieve the same result.
As former Harvard Business School Professor Theodore Levitt once said: "People don't want to buy a quarter-inch drill. They want a quarter-inch hole!"
So while acquiring new customers is important, supporting your customers is even more important, and vital to the growth and profitability of your business. If you don't help your customers get the result they want with your product, they likely won't remain your customer for very long.
But don't make the mistake of thinking that helping your customers succeed is strictly the responsibility of your support team. Customer support is just one piece of the customer success puzzle.
As you'll soon learn in this guide, it takes more than just a great customer support team to help your customers succeed.
An effective customer success strategy requires supporting your customer at every step in their journey to getting the result they want, beginning before the sale is made and sticking with them until they achieve their desired result.
With that in mind, we reached out to dozens of successful companies to find out what they're doing to help their customers achieve success with their products and services. We've compiled their top strategies in this guide, along with insights from several entrepreneurs, CEO's, and Customer Success Managers that we spoke with.
To skim the highlights, download our Pocket Guide to Customer Success. Otherwise, continue reading.
The Difference Between Customer Success and Customer Satisfaction
Although they're closely related, customer success and customer satisfaction are not the same things.
Customer satisfaction is defined by how well your product or service meets your customer's expectations.
Having satisfied customers is certainly a worthy and profitable goal for any company. According to a recent customer support statistics report by Groove, the probability of selling to an existing happy customer is up to 14x higher than the probability of selling to a new customer.
The problem with focusing exclusively on customer satisfaction is that it completely disregards whether or not your customer has ever used and extracted value from your product yet.
The definition of customer success:
According to Customer Success Consultant Lincoln Murphy, customer success is when your customers achieve their desired outcome through their interactions with your company. Therefore, a customer that has not yet achieved their desired outcome with your product can technically still be classified as a satisfied customer.
At Thinkific, for example, our product is a software platform for creating and selling online courses. One of the metrics we look at to determine if a customer is achieving success with our platform is their number of active enrollments (students enrolling in their online courses). If a customer is actively enrolling new students into their courses, this tells us that the customer is getting value from our product. They're using it for what it is intended to help them achieve.
If a customer still hasn't published a course, or published a course but isn't actively enrolling new students, this is a red flag that they're not yet getting the value from our platform that they intended to when they first started using it. Ironically, when we survey these customers to ask them what they think of our platform, their feedback is often very positive:
"I love Thinkific! I just haven't created a course yet…"
"Your platform is great, I created my first course! But I don't have any students yet…"
Technically, these are satisfied customers. But since they're not yet achieving their desired result with our product (to have students taking their courses), they are not successful customers. And since we charge recurring subscription fees to use our software, these unsuccessful customers are the ones that are most likely to cancel their subscriptions.
Don't be fooled by customer satisfaction
Just because your product has met or exceeded their expectations doesn't mean that they have achieved their desired result with it yet. Satisfied customers are not always successful customers.
As you can see below, there are different degrees of both satisfaction and success. The goal of your customer success strategy should be to help as many of your customers as possible reach a high level of satisfaction and success with your product.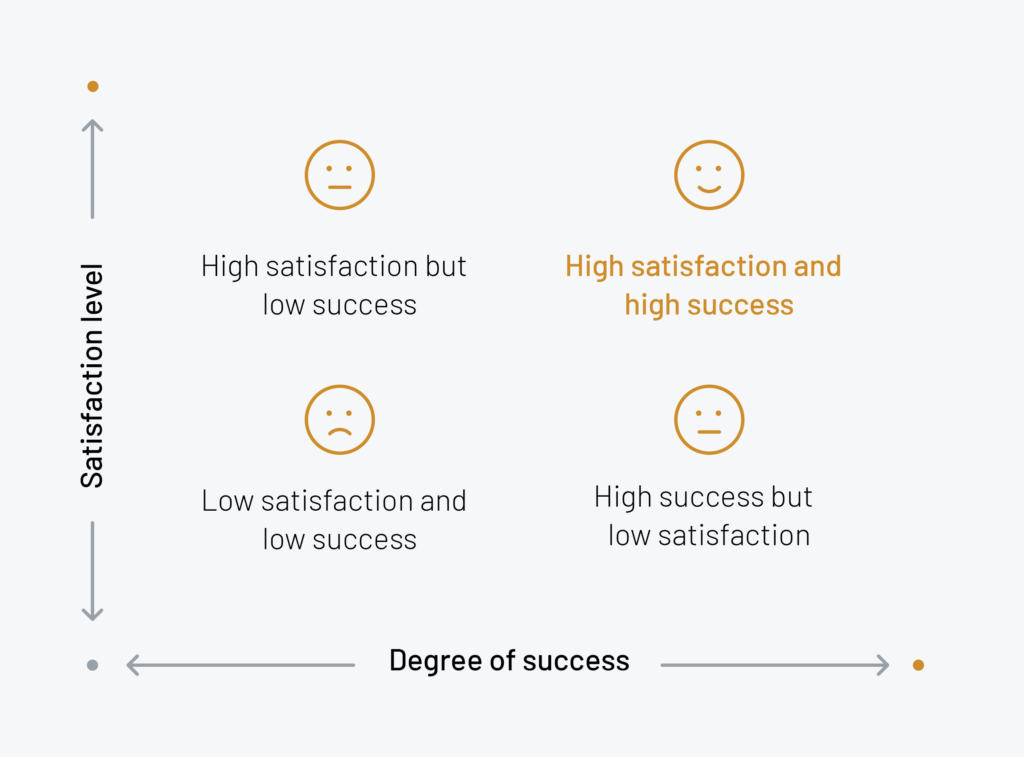 Okay, now that we've got the difference between customer satisfaction and customer success cleared up, let's dive into some of the top strategies for helping your customers achieve success.
The Top Customer Success Strategies Used by Successful Companies (Complete Guide)
Click To Tweet
Strategies For Increasing Customer Success
Having a thorough understanding of the result your customer wants to achieve, and why they want to achieve it, is the first step to mapping out an appropriate experience to help them achieve success.
That experience begins before they buy from you, in the sales and marketing stages, and continues all the way until your customer achieves the result they want.
"The focus is on all of the interactions your customer has with your company; starting at the earliest touch points of marketing and sales, moving through closing and onboarding, and continuing through their entire lifecycle with you."

– Lincoln Murphy, Customer Success Consultant
Setting Your Customers Up For Success Before The Sale
In this section, we'll look at a few customer success strategies that can be implemented before your customer buys from you.
1. Target the right customers
Helping your customers succeed with your product begins with targeting the right customers.
This is where having a detailed Ideal Customer Profile to share with everyone in your company, especially your sales and marketing team, comes in handy. If you haven't created one yet, check out Hubspot's guide to creating an ideal customer profile here.
"In the early days, I fell into the trap of communicating broadly to my customers. It was easier and less time-consuming. But it helped no one. People are different and want to be engaged with differently. Only through customer personas and journey mapping did I build better customer relationships."

– Russel Lolacher, Customer Relationship Consultant
Your goal is not just to target customers that are ready, willing, and able to use your product, but also to identify upfront which customers have the highest probability of achieving success with your product. Lincoln Murphy calls this your customer's success potential.
According to Murphy, there are 6 criteria to help you assess a customer's success potential:
Technical fit: what technology will they need to use or acquire?
Functional fit: what features and functionality do they need?
Resource fit: do they have enough resources to invest (time, money, energy, etc.)?
Competence fit: do they have enough expertise (or willing to acquire it)?
Experience fit: are you able to give them an experience that is appropriate for them?
Cultural fit: do their beliefs, morals, attitudes, etc. match those of your company's?
Armed with a thorough understanding of your Ideal Customer Profile, your marketing team can create campaigns and messaging that speaks directly to those ideal customers, and your sales team can step in to help qualify (or disqualify) a prospect before selling to them.
"Our Sales & Marketing teams work extremely closely with our Customer Outcomes team to qualify future customers ahead of the close. We build out Success Plans very early and we have an outcome-focused sales process. We have definitely turned down more than one paying customer because we knew they wouldn't be successful."

– Nick Mehta, CEO, Gainsight
2. Publish free content to educate your target audience
Joe Pulizzi, the Founder of Content Marketing Institute, defines content marketing as the marketing and business process for creating and distributing relevant and valuable content to attract, acquire, and engage a clearly defined and understood target audience – with the objective of driving profitable customer action.
When done strategically, publishing free content is a great way to attract customers to your business as they are searching for information about your product, service, or industry. When you educate your prospects before you sell to them, it equips them with the knowledge that increases their chances of success.
"We deliver an enormous amount of content to help our customers be successful, even before they engage with us."

– Shep Hyken, Chief Amazement Officer, Shepard Presentations
HootSuite, a social media management and marketing dashboard, for example, offers several social media marketing courses at HootSuite Academy. These free online courses help to teach their target audience how to use social media effectively. In doing so, they attract their target audience with their free courses, and they also increase their chances of achieving their desired results using HootSuite's product.

"We need to understand customer goals to achieve our goals. In the beginning of a relationship, customers are trying to educate themselves, get smarter and make the best decisions. Companies that are getting a bigger piece of the pie are focusing on delivering value, not "selling" – and earning consideration by helping customers to achieve their goals."

– Jeanne Bliss, CEO, Customer Bliss
Related: Check out our blog post on kickstarting your Customer Education program
3. Show examples of successful customers for social proof
Social proof is a powerful motivator. When a prospect can see proof that other people have purchased and achieved success with your product, they are more likely to purchase it. Use social proof to your advantage by showing off your successful customers.
Publishing case studies about your customers is a great way to accomplish this. Give your target audience the opportunity to see other people who are just like them using and achieving success with your product. Testimonials (especially video testimonials) are also very effective.
Self-Publishing School, for example, is an online training company that teaches first-time authors how to write and self-publish their first book. On their website you'll find a page titled "Student Success", dedicated entirely to showcasing case studies and testimonials of customers that have successfully written and published a book after completing one of their training programs: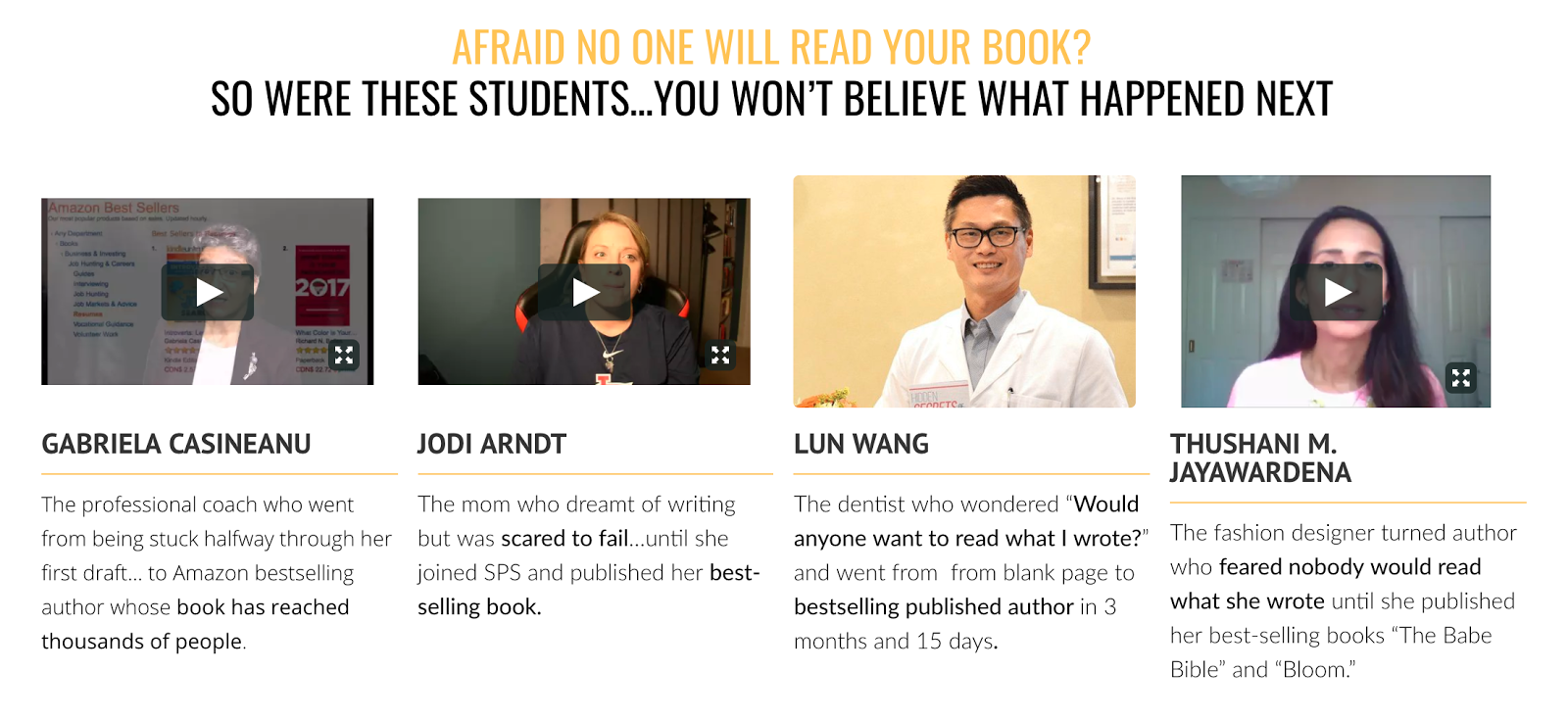 Customer Success Strategies During The Sales Process:
Here are some strategies you can use during your sales process to help qualify your customers upfront and set them up for success with your product.
1. Don't try to sell to everyone (be selective)
One of the greatest advantages of knowing who your ideal customers are is knowing who they are not. Instead of trying to sell to everyone (something you'll likely regret later on), be selective in your sales process. Collaborate with your salespeople to develop a thorough qualification process for new customers.
At Typeform, for example, they've chosen not to have commission-based compensation for their sales team. This ensures that when a sales rep signs up a customer, they are doing so because they truly believe that Typeform is the right product for them, and not because they will earn a commission.
"At Typeform, the sales team falls under Customer Success. As a result, the sales team is very focused on bringing in the right type of customer, building trust, and delivering value to potential customers during the sales process. The sales team does not work on commission so we do not create the "wrong type of incentive" to bring customers in if Typeform is not the right fit for them."

– David Apple, VP of Customer Success, Typeform
2. Help your customers qualify themselves
If your customers are able to buy from you without speaking to a salesperson, include enough information in your product descriptions and sales pages to help them qualify themselves. Without misleading them, help them decide on their own if they're a good fit for your product.
"At Reforge we are very selective about our customers. Everyone needs to apply for our programs and go through a selection process. We do this because we want to be confident that our product can help solve their problem. We can't solve everyone's problems immediately so the key to creating a good experience for the customer is making sure we are selective and set the right expectations. Having a very high "hit rate" on solving their problems creates word of mouth and other positive effects for the business."

– Brian Balfour, Founder & CEO, Reforge
The Top Customer Success Strategies Used by Successful Companies (Complete Guide)
Click To Tweet
3. Clarify your customer's goals upfront
Clarifying your customer's goals with them upfront during the sales process. Doing this helps you to determine if your product is an appropriate solution for them (sometimes it isn't, and that's okay).
At CTS Service Solution, for example, they often discover during this process that their product is actually not the appropriate solution for their customer. By disqualifying them upfront, they help to prevent valuable time and resources from being spent trying to help someone that should not have become their customer in the first place.
"We do a thorough discovery process which begins with understanding the customer's needs and – this is key – helping the customer understand what it is they truly want. Often, customers are not sure what their specific objectives are. By helping them define their focus, we can steer them towards the solution that is most beneficial. If that solution is us (it isn't always), then we've maximized the chances for a successful relationship at the outset."

– Adam Toporek, President, CTS Service Solutions
Understanding what your customer's specific goals are, in order of priority, also helps you to provide them with relevant training and resources to help them accomplish their goals as quickly as possible.
"It's essential to think of the customer journey from the customer's perspective, not your perspective. For example, most companies approach implementation from a checklist of what we need to get done to declare victory. Instead, think of what a customer expects to accomplish during implementation. It doesn't change the checklist; it reformats it and allows you to deliver results that truly matter to customers."

– Wynne Brown, Director of Customer Success, Seal Software
Strategies for Successful Customer Onboarding
Onboarding is the process of welcoming a new customer and helping them to familiarize themselves with and start using your product. If you're not there to guide your customer immediately after the sale is made, they may begin to feel buyer's remorse.
"Be there after the sale is closed. With B2B or service-based businesses, there is a key window of time after someone buys from you where they are waiting on you to take them by the hand and walk them forward. Whether it's a formal onboarding process or just active communication, helping to guide your customers from the beginning can pay big dividends in ensuring their success."

– Adam Toporek, President, CTS Service Solutions
With that in mind, here are some specific strategies you can use to improve your customer's onboarding experience:
1. Personalize the onboarding experience based on your customer's goals
The more you personalized the onboarding experience is for your customer, the better. Clarify their goals upfront, and then provide them with training that is specific to their goals.
Personalizing the onboarding process is one of the go-to customer success strategies used by the Customer Success team at Moz. Here's what their Customer Success Manager told us:
"My team offers getting started webinars and 1:1 personalized walkthroughs to introduce customers to Moz and show them how to accomplish their individual goals with the product. The walkthroughs and webinars we deliver to help customers get started with Moz contribute to lowering churn rates and increasing customer lifetime value. We also build in-app tours and messaging campaigns to proactively educate customers."

– Ellie Wilkinson, Customer Success Manager, Moz
In many cases, personalizing the onboarding experience for a customer can be automated. By surveying your customer upfront, for example, you can trigger specific training and/or content to be shared with them based on their responses.
"On trial signup, we have a progressive profile survey where we learn more about the customer and can target support, content, and marketing to their needs."

– Kasey Bayne, Director of Marketing, Olark
2. Help your customer get immediate value from your product
With software and training products especially, helping your customers get immediate value from your product is critical. When a new customer gets immediate value from your product, they are more likely to continue using it.
Identify a "quick win" that your customer can accomplish with your product, and create an onboarding experience that helps that achieve that quick win as soon as possible.
"The faster you can help customers understand and extract value from your product that is in line with their business goals the stickier and more successful they'll be."

– Jeff Gardner, Director of Support & Customer Success, Intercom
At Thinkific, we know that if a new customer creates at least one lesson for their online course, they are more likely to create and publish a complete online course than those who do not. Knowing this, we encourage all new customers to upload content to their course and create their first lesson, and we show them how easy it is to do this.
When a new customer gets value from your product, no matter how small, it creates positive momentum. The opposite is also true. If a customer begins using your product and experiences frustration, they might just give up using your product entirely.
"You have to simplify the path and start it before the customer purchases your product. They need to feel confident about the journey they are about to embark on before they sign the dotted line. Once they do, the path needs to start quickly and maintain velocity through the customer lifecycle. That means staying ahead of the customer and anticipating their needs. "

– Emilia M. D'Anzica, VP of Customer Engagement, Customer Scale Associates
3. Identify and articulate key milestones in your customer's journey
Identify all of the steps that your customer needs to take in order to achieve their desired result with your product.
Articulating these steps to your customer upfront provides them with a clearly defined and measurable pathway to achieving success, and it also helps them track their progress as they complete these steps.
Make sure you provide the necessary training and resources to implement each step. There should be no confusion as to how to use your product to achieve their desired result.
"A poor onboarding experience is hard to come back from and is the fastest way to lose a customer. However, it's critical to actively think about the entire customer journey – define it, map it, document it. A strong onboarding doesn't stand on its own, it needs to be the launching pad that drives customers towards greater adoption and success down the road."

– Paul Philp, Founder & CEO, Amity
Long-Term Strategies for Customer Success & Retention
Once a customer starts using your product,
1. Increase your customer support response times
A simple, yet highly effective way to show your customers that you care about their success is to respond to them as quickly as possible when they ask for help.
According to a recent report by SuperOffice:
41% of companies do not respond to customer service emails
90% of companies do not acknowledge or inform the customer that an email has been received
The average response time to handle a customer service request is 15 hours and 17 minutes
As you can see from these statistics, most customers don't have super high expectations from a customer support team. This is good news. This means that responding to your customer support inquiries quickly will likely be a pleasant surprise to your customers.
We recommend responding to all customer support emails as quickly as you can (within the first hour, if possible). Even if the person that responds to their inquiry doesn't know how to help them, the simple act of letting them know that their email has been received and that someone will help them as soon as possible goes a long way.
2. Challenge your customers with a new way of thinking
Look for opportunities to educate your customers, or even challenge them with a new way of thinking when appropriate. If they're asking for guidance on how to do something a certain way, and you know of a better way, use that opportunity to educate them.
When a customer asks you how to do something, seek to understand why they want to do that. In many cases, by understanding their motives, you'll be able to recommend an alternative course of action.
"Your job, if you're a customer success manager, isn't to make friends with your client, and not even necessarily to "satisfy" them. Your primary job is to push your client, challenge them, and get them to think, in order to make them more successful."

– Don Peppers, Customer Experience Expert
3. Get everyone in your company to speak with customers 
Getting everyone in your company, regardless of their role or department, to spend time responding to customer support inquiries or speaking to customers on a regular basis is a great way to help everyone in your company to better understand and relate to your customers' needs. In doing so, your employees will be better equipped to improve and/or create products, services, and experiences based on the feedback they receive from customers.
DealDash, for example, requires every employee in the company to speak with a customer at least once per week. During these weekly phone calls, employees ask for feedback and try to find out what they can improve to make the DealDash experience better for their customers. The feedback received is then taken into account by the rest of the team, which often results in changes to the product.

"Customer service shouldn't just be A department, it should be the entire company."

– Tony Hsieh, CEO, Zappos
4. Don't wait for your customers to ask for help (be proactive)
Responding quickly to your customers when they ask for help is important, but that doesn't mean that you can't proactively offer support to your customers before they even ask for it.
In some cases, someone in your company will spot a problem with your product before one of your customers does. When that happens, we recommend fixing the problem before a customer discovers and complains about it.
That being said, even when your customers are experiencing a problem with your product doesn't mean that you're going to hear from them. According to Groove, for every customer who complains there are 26 customers who don't say anything. Instead of vocalizing their frustrations to your support team, they simply stop buying from you and/or cancel their subscription.
Proactively reaching out to customers is a great way re-engage customers that are potentially unhappy or on the verge of quietly disappearing, never to buy from you again.
Gainsight, a customer success management software, for example, uses their own software to create a Health Score for all of their customers. At any given time, they are able to predict the likelihood of a cancellation based on specific data and indicators. When they notice signs of an inactive or unhappy customer, they take proactive steps to engage and support them.
"We build out a Health Score in Gainsight for all of our customers. It's an aggregate of usage data, support data, subjective inputs, and many other factors. When it's Green, we know a customer is healthy and a good expansion/renewal opportunity. When it's Red, it's predictive of churn, and we can take proactive steps to improve the health of the customer and mitigate risk."

– Nick Mehta, CEO, Gainsight
The Top Customer Success Strategies Used by Successful Companies (Complete Guide)
Click To Tweet
5. Send renewal reminders with special incentives
If you charge a recurring subscription fee for your product, then increasing your retention rates is one of the biggest keys to increasing your customer's lifetime value.
With longer-term subscriptions (such as annual subscriptions), your customers can sometimes be caught off-guard when they're charged their renewal fee without a receiving a reminder beforehand. Instead of catching them by surprise by not reminding them of their upcoming renewal, use this opportunity to reward them for renewing their subscription. Offering an exclusive discount or additional bonuses/perks are both great ways to reward customer loyalty when it's time for them to renew their subscription.
"Whether it's high touch or low touch – we leverage the power of automation. We use our own product to set up early warning systems and methodically mitigate signs of churn. This helps our Customer Success Managers keep an eye on their entire customer portfolio and use their time efficiently and proactively. Early warning systems ensure you're never dropping the ball but they also improve the customer experience by allowing you to engage your customers at critical journey points."

– Paul Philp, Founder & CEO, Amity
6. Create automated feedback loops
Feedback loops are a great way to collect feedback from customers, learn more about their needs, and improve your products and customer success strategy accordingly. They can also be completely automated, resulting in a consistent influx of valuable feedback from your customers.
Most feedback loops are set up using automated emails that are triggered by a specific event such as closing a support ticket, purchasing a product, finishing a course, etc.
HubSpot Academy, for example, sent me the following email shortly after completing one of their certification programs. I took a few minutes complete their survey, and I assume they'll use my feedback (along with all the other feedback they've received) to improve future certification programs.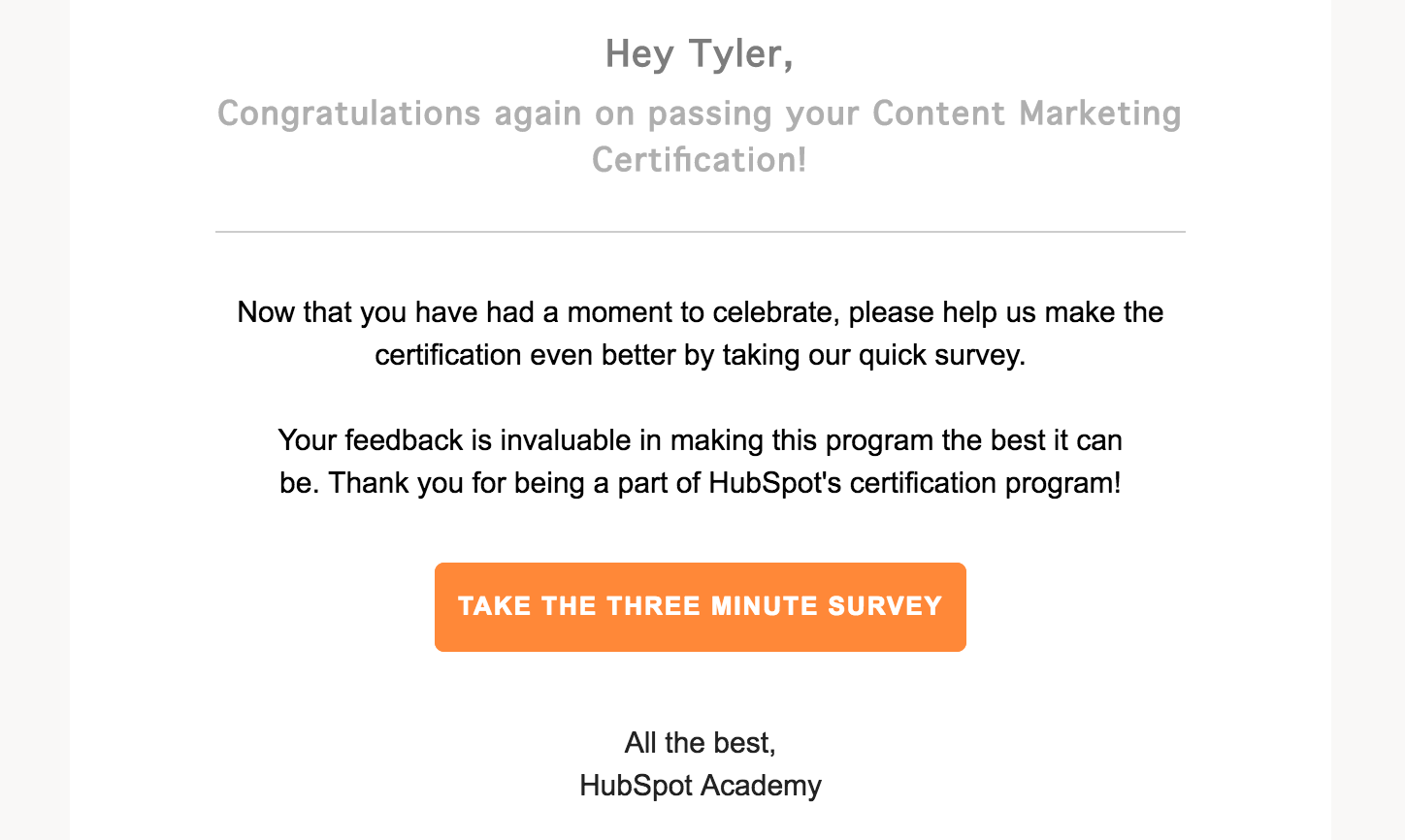 AdSkills, a company that sells online advertising courses, has taken it one step further by rewarding their customers a discount on their next purchase in exchange for their feedback:
"We've automated our feedback loop. We have an email which goes out 30 days after the sale, which is triggered by our shopping cart. This particular request for feedback is incentivized, in that users are offered a 20% coupon – good for a discount on any of our courses. The way users qualify for that coupon is to simply jump on a video call with our team. We include a Calendly link in the 30 day email, allowing users to schedule their own calls with our team. So we've automated the outreach, and we've automated scheduling of the calls. We're always happy to receive feedback via video and simple email, but it's hard to beat the insights we can get by taking the time to talk directly to our customers."

– Graeme Sutherland, Director of Platform Development, AdSkills
7. Schedule periodic check-ins with your customers
For ongoing services and subscription-based products, consider scheduling periodic check-ins with your customers. As your customer's goals change or evolve, their need for specific products and/or features may change. Scheduling periodic check-ins with them can help you monitor their changing needs and identify additional ways to serve them that are not yet being utilized.
"One of the best methods for retention I have found is continuing to add value after the sale. For periodic services, stay in contact, provide free information or even information products, and make sure to check in once in awhile. For ongoing services, check in periodically to make sure everything is going well and to see if the customer's needs have changed. Silence is a retention killer."

– Adam Toporek, President, CTS Service Solutions
8. Involve your customers in your product development
Sometimes your greatest source of ideas for new products and/or product features come directly from your customers. For that reason, it's important to have a way to collect, organize, and prioritize incoming suggestions from your customers.
Let your customers know that you appreciate their suggestions. When your customers see that you actually follow through on creating products and/or features that they asked for, it helps to instill within them a sense of pride and ownership of your product, knowing that their feedback contributed to its development.

"Don't find customers for your products, find products for your customers."

– Seth Godin, Marketing Expert & Best-Selling Author, Seth Godin
Never assume you know what your customers need. Just as the needs of your business will change over time, so too will the needs of your customers. To continue serving them, you'll need to adapt and innovate regularly.
"An important component of preventing churn is the need to always be aware of how your customer defines success. It will change over time, so ensuring that you're in sync regularly is important. Don't assume you know either. It needs to be explicitly discussed regularly."

– Andrew Marks, Co-Founder, Success Hacker
9. Use segmentation to identify your most valuable customers
As your business continues to grow and you collect more and more data about your customers, you'll be able to recognize specific patterns among that data. Customers that spend the most money with you and require the least amount of support, for example, will likely have different characteristics than customers that spend the least amount of money and require the most amount of support.
As you collect this data, you can start to organize your customers into specific segments. Since different segments will require different levels of support, you can use this data to refine your customer success strategy and allocate resources more effectively.
At Typeform, for example, they segment their customers based on retention rates. This helps them to understand which type of customers have a higher lifetime value compared to other types of customers. These customer profiles are relayed to their marketing team, who will then adapt their marketing initiatives to attract more customers that match that profile.
"The Customer Success team at Typeform segmented the retention rate of customers based on company size, function, location, use case, etc. Based on this analysis, we were able to create several "ideal customer profiles" which historically have a higher lifetime value (LTV). This data empowers the Marketing team to spend more money on our best profiles (because we know they have a higher LTV), and as a result, they can focus on bringing in more sticky customers. It's a win-win."

– David Apple, VP of Customer Success, Typeform
10. Encourage your customer to reach out to you before they cancel
When one of your customers decides to cancel, we recommend encouraging them to reach out to you before they make their final decision. Whether via a phone call, live chat, or email, make it easy for them to get in touch with someone from your team.
This doesn't mean making it difficult for them to cancel. It's the decision to cancel that should be difficult for your customers, not the process.
"We did some research and found that many customers were canceling because they hadn't discovered a feature of our products. In addition to working to improve feature discoverability, we've recently introduced a small amount of friction in the cancellation process to give a customer a chance to talk to a human in real time just to make sure they're not missing anything."

– Jeff Gardner, Director of Support & Customer Success, Intercom
The Top Customer Success Strategies Used by Successful Companies (Complete Guide)
Click To Tweet
What to do when a customer cancels
Even when you and your team do your absolute best to help your customers succeed, there will still be times when a customer decides to cancel their subscription or stop buying from you.
Sometimes they cancel for reasons that are beyond your control (such as a change in needs or circumstances), but regardless of their reason for canceling, the best thing you can do is try to learn from the experience.
"If the customer cancels we ask why and improve the product or help them get back."

– Petr Pinkas, Customer Success Hero, Feedly
Set up automatic cancellation surveys
As you're probably well aware, some customers have no problem telling you why they no longer want to use product or service. Others are not as vocal and need to be prompted to share their feedback. A great way to learn from those customers is to set up automatic cancellation surveys.
After someone cancels and/or refunds their purchase, ask them for open-ended feedback. At a minimum, we recommend asking them for feedback on your product, and secondly, on their overall experience and interactions with your company.
In some cases, you could even survey your customers as they're about to cancel, as Callie Willows, Co-Founder of The Membership Guys has done:
"We used to have a cancellation survey sent via email if someone canceled their membership but then implemented a pre-cancellation survey instead which has been really effective and given us much better information. It also then enables us to tailor our cancellation pages (and any win backs) to the different reasons given. When they click the cancel link in their account it takes them to a quick form where they select their reason, then based on the reason it changes what they see next. We also ask in the cancellation confirmation email for any feedback."

– Callie Willows, Co-Founder, The Membership Guys
Questions to ask yourself after you lose a customer:
After you lose a customer, here are some questions you can use to reflect on the experience and make any revisions to your product and/or customer success strategy as you see fit:
Were they the right customer (did they fit your ideal customer profile)? What was their success potential?
Could you have done a better job of qualifying or disqualifying them before they bought from you?
Could you have given them better training and support after their purchase?
Do they no longer have a need for your product/service?
Do they still have a need for your product/service but switched to a competitor? If so, why?
What did you learn from losing this customer, and what (if anything) will you change to help prevent other customers from canceling?
"Customer Success is a constantly evolving process. Don't be afraid of trying new things. Make sure when you do, you've clearly defined the objective and the metrics you're going to use to measure success."

– Andrew Marks, Co-Founder, Success Hacker
Customer success is an evolving process
As we discussed at the beginning of this guide, a great product or service is no longer enough to stand out in a crowded marketplace.
No matter what industry you're in, your customers likely have plenty of options available to them. Consequently, having a customer success strategy is no longer a luxury – it's a necessity.
If you don't create an experience to help your customers achieve their desired results with your product, you may soon find yourself losing market share to a competitor that does.
And remember: just because you create a customer success strategy today, doesn't mean that it will be as effective tomorrow. As your business continues to grow and evolve, so will the needs and goals of your customers.
Your customer success strategy is not something to be created once and then set aside. Helping your customers succeed is an iterative and never-ending process.
There isn't a customer success playbook that will work for every company. It's up to you and your team to design your own. If something works well, keep doing it. If something doesn't work, try something else.
Make the success of your customers your top priority, and everything else will fall into place.
"Most SaaS companies think there's a one size fits all playbook they can adopt to magically reduce churn. In reality, most things you'll try won't work, but when it does work, it's worth it. We've iterated many times and are constantly tweaking our health score models and playbooks to improve our processes. The biggest mistake to avoid is giving up on Customer Success. Only a truly customer-centric company understands that Customer Success is always a work in progress."

– Paul Philp, Founder & CEO, Amity
The Top Customer Success Strategies Used by Successful Companies (Complete Guide)
Click To Tweet
What strategies are you using to increase your customer success? Let us know in the comments below!