The power of personalized video in student onboarding
 Do you know what the average course completion rates are for online courses? 
 If you guessed anything over a mere 15%, you'd be wrong. 
According to industry studies, online course completion rates are, on average, anywhere from 5% to 15%. 
 So, how is it possible that course creators like Tracy Phillips from Video Script Success and Jacques Hopkins from Piano in 21 Days consistently have course completion rates greater than 80%?
Well, that's an answer built up of many little answers. They've built deeply engaging courses. They listen to their students for feedback and ideas on how to make it better each time. They also make the course fun throughout, have built thriving communities, and host live Q&A sessions. 
But, there's one more secret behind their unparalleled course completion rates.
Ready for it?
Both of these course creators leverage the power of personalized video onboarding for their cohorts of students.
Why video onboarding is a dream for course creators and students
Video onboarding massively accelerates the time it takes for your audience to go from intrigued sign-ups to fanatically loyal customers. Course creators like Tracy and Jacques love sending video onboarding videos for a few key reasons.
Onboarding videos help students feel like you're talking directly to them, allowing for the creation of more profound, meaningful connections between you and your students.

Videos help skyrocket the motivation of new students and help them feel a sense of greater community with other peers, especially when you highlight success stories from other students.

Emails with videos have

higher open rates and engagement rates

than text-only emails.

Receiving a video is a big deal! Personalized onboarding videos add that personal touch that is so rare among most email communication. 
Great examples of successful onboarding videos
 There are tons of opportunities to leverage video during onboarding journeys. Let's dive into just a few examples to help paint a picture. 
Employee Video Onboarding
Think about it. A new employee shows up to work on their first day, and is ready to start their onboarding. How do you want them to feel walking away? Excited, welcomed, motivated… but also that they made the best decision of their life joining your team.
To help create an exceptional onboarding experience that helps them feel supported and keen to get started, a compelling video onboarding journey is more important than ever. Gone are the days of sending massive PDF documents for new team members to parse through alone at home. Instead, these new members expect to get a sense of their team's culture, work ethic, and protocols succinctly—and video helps you do just that.
Curious to see a compelling onboarding video in action? Let's check out this great employee example from the folks at Cirrus Logic.
 Cirrus Logic was ranked as one of the top 15 Best Workplaces in Technology and Great Place to work scales in 2016. Not surprisingly, their company culture video inspires authenticity, creativity, and flexibility—all portrayed without any words. This onboarding video highlights a wonderful company culture with a myriad of creative quotes created by employees themselves. These authentic quotes are welcoming, supportive, and display honest values that showcase deep relationships between team members.
If you're thinking about introducing video onboarding for new employees, here are some tips:
Make your videos authentic, engaging, and interesting

Showcase real effects of your company culture on your employees

Set a narrative of inclusivity and excitement to your onboarding videos for new employees 

Include to-the-point information about your internal policies (e.g., IT and workplace policies and procedures) 

If your company has a large workplace, include an interactive, virtual tour of your workspaces and other essential facilities. You can easily use

ThingLink

, an app available in the Thinkific App Store, to bring this idea to life in no time. 

Think big and show your new employees that you want to help them advance their new career by talking through their 30/60/90 day onboarding plan
Customer Video Onboarding
When it comes to a customer making a purchase, the customer onboarding experience can be taken to a whole other level. Instead of merely sharing helpful information through text and adding a call-to-action, you can create deeper engagement with your audience, turn customers into brand advocates and drive more revenue with onboarding videos.
Let's look at one of Trivago's customer onboarding videos for inspiration. 
 If you are not familiar with Trivago, they specialize in hotel search and comparisons to provide users with the best deals available. When using Trivago for the first time, it might be confusing or even difficult for some users. To make the platform easy to understand, the company made a short but informative video explaining how to use the service to search for the best deals. It covers the whole process from the ground up and simplifies all the stages towards getting the best deals.
 When creating a customer onboarding video, remember these key tips: 
Put yourself in your customer's shoes from start to finish

Showcase the value that your solutions offer throughout the video

Use simplicity over complexity and conciseness over length 

Break down advanced concepts by using the "customer language"—avoid sales lingo! 

Create several customer onboarding videos tailored to each of your customer segments
Thinkific Student Video Onboarding 
Investing a little time and effort into designing a robust student onboarding experience will generate returns both in the short and long term. With some imagination and willingness to take time to record a video, you can create deeper and more trustworthy relationships with your students so that every signup becomes a repeat course purchaser. 
Tracy's approach with video onboarding clearly has an impact on her students. Her onboarding videos have helped catapult her Facebook community signup rate from 7% to 55%.
Let's take a look at how Tracy welcomes her new students (just click the image below).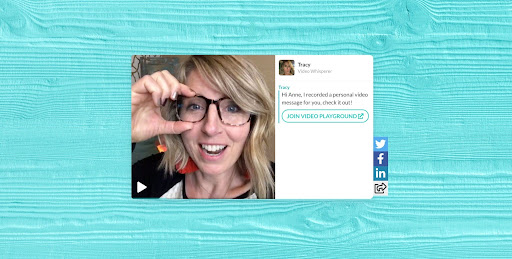 Tracy's new students are blown away with her onboarding videos and regularly reply with unmatched enthusiasm.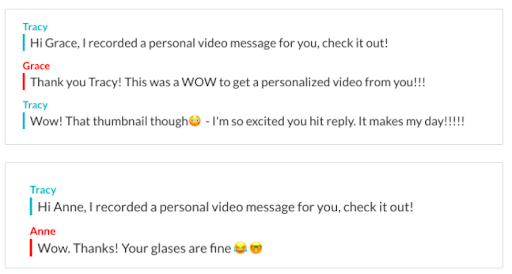 Here are some best practices to keep in mind when sending an onboarding video to new students:
Be honest and authentic. Your students want to meet the real you. 

Have fun with the process and try different approaches. Ditch the script!

Celebrate the imperfect. You don't need perfect lighting, makeup, or a professional backdrop. The reality is, when you show an authentic, non-airbrushed to perfection self, people connect to you even more strongly.

Include a call-to-action. Let the recipient know how they can take action. How do they book a call, give a review, or join your community?

Bond with them. Talk about the reason why they reached out and show them you understand their pain. After that, reinforce to them how you can help.
Tools to help you create onboarding videos
To maximize your onboarding videos' success, consider using easy-to-use tools to create more versatile videos in a fraction of the time it would take you on your own. 
When reviewing the tools available to you, make sure to look for these features. They'll make your videos as engaging as possible. 
Creating searchable videos with a fast-forward option

Quizzes that you can add to your onboarding videos to boost engagement

Rich personalization options so you can tailor your videos to specific audiences

Features that can help create, distribute and promote your onboarding videos seamlessly

CTA button integration, so you can include CTAs, links, and other useful resources to your videos
Creating & editing them
Even without expensive equipment, you can create high-quality, resourceful onboarding videos. There are many tips & tricks to boost your videos and make them more immersive, engaging, and comprehensive. 
For example, you can create a good-quality DIY video recording in home conditions. By utilizing natural lighting, following recommendations to purchase a budget microphone, and understanding simple yet effective video recording set-ups, you can go very far! 
Furthermore, everyday software like PowerPoint or Google Slides can be transformed into rich onboarding material by simply adding voice over slides.
Here is some additional guidance on creating & editing your onboarding videos:
If you want to create powerful online courses, then follow

these tips

to discover the best equipment and software for that purpose

Try to automate where you can—your time is as valuable as your students' time! 

Enhance the format of your existing onboarding materials. For example, if you have many documents with helpful information or procedures for new employees, you can use

text to speech tools

to transform text into easily consumable audio
Managing the whole process 
Bonjoro is an email video tool that integrates easily with Thinkific. Available in the Thinkific App Store, Bonjoro allows you to easily record and send personalized videos at just the right time to boost engagement and course completion rates. With Bonjoro, your onboarding videos will help create loyal, returning customers and distribute your video message with great integration options.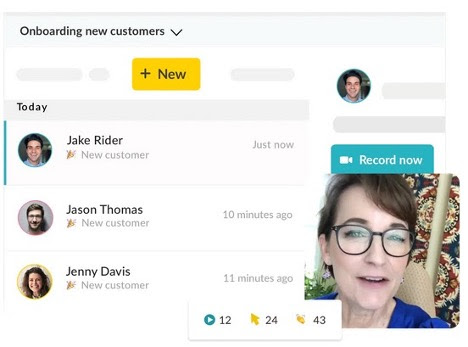 You can use Bonjoro to create simple, informative onboarding videos that convert and support your onboarding process. Some of the most powerful features available to course creators like you are:
Easily add CTAs alongside your videos that make it super easy to book a demo, give a review, complete a survey, or purchase a product! 

Customer subdomains that give you the ability to add your company, team or product name into the landing page URL where your videos are played 

A mobile app that makes it easy and quick to send personal videos on-the-go

Cool messages templates that drastically shorten the recording process and decrease the editing process to a simple click. 
With Thinkific and Bonjoro, you can combine the best of both worlds–a powerful online course platform with the ultimate video onboarding experience. In under 2 minutes, you can integrate the two platforms together and start automating the process of creating and sending onboarding videos to new and existing students.
Are you ready to take your course to a whole other level? Try creating your very first video onboarding journey today with Bonjoro. And, psst—Thinkific course creators get 15% off!