Technology has come a long way over the past few years, and fortunately, it doesn't take a lot of equipment or software to create an online course. And you don't have to break the bank to get everything you need either. Whether your budget is a few hundred or a few thousand dollars, it is definitely possible to create an online course that your students will love.
After checking in with our community of online course creators and other members of the Thinkific team, I've compiled a complete list of the most popular equipment and software that people are using to create their online courses.
I've organized all of these recommendations into specific categories (microphones, accessories, screen recording programs, and so on). And within each category, I've listed the recommended products/programs in order from least expensive to most expensive.
Before you dive in, I will say that you absolutely do not need the best and most expensive equipment and software to create an online course. Most of the successful online course creators that we've spoken to all created their first course using pretty basic and inexpensive setups.
Related: Learn how to set up a DIY home video production studio for cheap
Once they launched their first course successfully, they used some of their earnings to purchase higher quality equipment, and from there, they recorded new content for their course, recorded new courses, or both.
Deanne Love from HoopLovers, for example, recorded her first course in a park using her iPhone. With the revenue she earned from her first online course, she purchased more equipment that she used to re-shoot her video lessons and later to create more courses for her audience.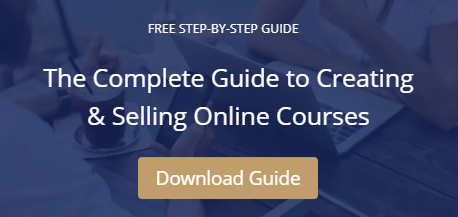 So if you're about to
create your first online course
, don't feel compelled to spend thousands of dollars on equipment and software in order to get started. It is more important to actually
create your online course, publish it and get feedback
from your students
than it is to wait until you have all the best equipment before you record anything.
Once your first course is created, you can always circle back and re-record your lessons, add new lessons, or create an entirely new course with a higher production value. Stepping stones, stepping stones.
Looking for something specific? Skip to a section below:
Okay, let's dive in…
Best equipment and software recommendations for creating online courses. #teachonline #edtech
Click To Tweet
Microphones
Whether your course lessons are audio only, voice-over slides/screen sharing, or live video, it is very important to use a good microphone to record your voice. Even if you have great content, if your audio quality is poor, your student's learning experience will suffer.
Bottom line: use the best microphone you can afford. Do not use the built-in microphone in your laptop or mobile phone.
You should also know that most professional microphones are either dynamic microphones or condenser microphones. Dynamic microphones are great for drowning out background noise. condenser microphones tend to pick up everything, so only use them if you are in an enclosed space with minimal background noise while recording.
Here are several microphones that we recommend:
1. Logitech – H390 USB Headset with Noise Canceling Microphone
A cost-effective headset and microphone combo that you can use both for recording your online courses, and for listening back during the editing process. The headset connects to your computer via USB for audio recording and playback.
Skype and Discord certified microphone with extremely clear audio and a stylish retro design. Great for taking audio quality to the next level but still not breaking the bank.
Professional quality microphone with a headphone jack for easy listening. Also includes technology to only pick up sound directly in front of the microphone which minimizes external noise. Best for solo recording.
A hand-held microphone that comes with a stand for a hands-free option. Includes USB and XLR outputs as well as a headphone jack for real-time sound monitoring. Great for voiceover, or other solo recording.
Stylish microphone with 4 different sound options for optimized audio pickup whether you're recording alone, or with others. A true multi-purpose microphone great for recording any kind of audio for your online course.
A slightly more pricey option on this list, this is a professional broadcast microphone for perfect audio every time. Best for solo audio recording, this microphone boasts anti-distortion technology and a tight polar pattern.
Lavalier Microphones
Lavalier microphones (sometimes called lapel microphones) are microphones that you use specifically for recording live videos. For example, if you speaking directly to a camera and don't want to have to hold a microphone up to your mouth while you're speaking, you would use this type of microphone. You can clip these microphones to your shirt where they will barely be visible by the camera, and have complete use of your hands while you're speaking.
Here are a few options:
1. PoP Voice Professional Lavalier Microphone
An extremely cost-effective choice with an 18-foot cord to plug into your device for recording. Connects via headphone jack and works with most devices. A good choice for getting started with lapel microphones.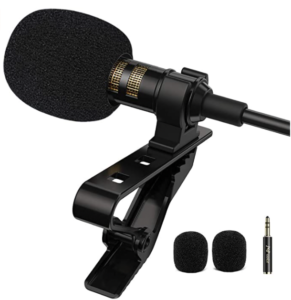 2. Rode smartLav + Lavalier Microphone
Professional grade lavalier microphone with discrete design. This is a great choice if you're looking for broadcast-quality audio for your online course. 
3. Rode RodeLink FM Wireless Filmmaker System
If you're looking for a wireless option, this lavalier microphone from Rode is a good choice. The battery life is approximately 30 hours, with easy to use transmitter and receiver. 
---
Launch your online learning product for free
Use Thinkific to create, market, and sell online courses, communities, and memberships — all from a single platform.

---
Microphone Accessories
Regardless of which microphone you use, I recommend purchasing a few accessories to help increase your audio quality. Foam balls and pop filters help prevent that popping sound that occurs when air that is pushed out of your mouth hits the microphone.
If you're recording your course from a desk, microphone scissor arms will help you adjust the height of your microphone (so you can sit up straight or even stand up while speaking into it). Shock mounts help to minimize the sound of thumps and bumps. Foam wedges help to reduce echoes in whatever room you do your recording in.
Foam balls help reduce bacteria and spit on your microphone as well as interference noise. This one fits a regular hand-held microphone. Make sure the one you choose will fit your microphone type.
Use this filter for reduction of lisping or popping in your recordings. This model features a universal mount, so it should work with most online course recording equipment.
3. Suspension Boom Scissor Arm
This microphone holder attaches easily to your desk so you can adjust your mic to exactly where you want it while recording.
This shock mount and pop filter combo reduces vibration as well as unwanted disturbances in your audio recording. It fits most microphones and includes a universal adapter for simple set up.
5. Acoustic Panels Studio Foam Wedges
These panels work to reduce noise in your recording space. Dampen external noise, as well as improve acoustics for your online course recording. A great solution for busy homes to achieve on-the-fly noise proofing.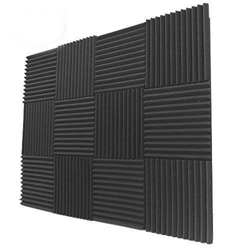 Headphones
Headphones come in handy during the editing process when you'll want to be able to hear the audio that was recorded for each of your course lessons. They are also great for when you record interviews with other people. When you're interviewing someone, you should be listening to them through your headphones and speaking into your microphone.
Here are a few headphone options:
Very comfortable padded headphones. Excellent for deep audio work with natural sound reproduction and aggressive noise isolation.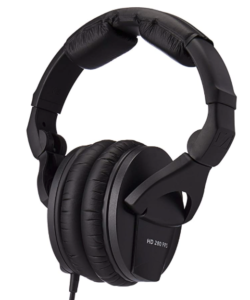 2. Sony ZX Series Wired On-Ear Headphones
A fantastic choice for those on a budget, these headphones have lots of bang for their buck. They are lightweight with a wide frequency range, so you aren't sacrificing sound quality.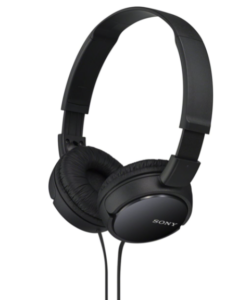 3. Bose QuietComfort 45 Wireless Headphones
If you're looking for a wireless option, these Bose headphones have superior sound quality with effective noise cancelling to block out outside noise. Keep in mind that wireless headphones may have slightly more latency than a wired option when choosing your headphones.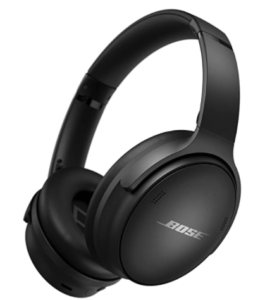 Screen Recording
An alternative to recording live videos for your course lessons is to record your computer screen as you work your way through a slideshow presentation (aka voice-over-slides), or while you demonstrate some sort of technical task, like teaching someone how to use a software program, for example.
Here are some popular screen recording programs:
Screencast-O-Matic offers a simple interface for video recording. Their screen recorder product is free to get started with but requires an upgrade to access the video editor.
ScreenFlow prides itself on its high-quality screen recording, whether you are recording one or multiple screens at one time. This software is specifically for Mac computers.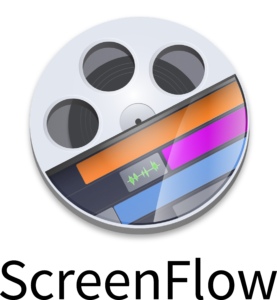 Camtasia offers a free trial and an intuitive interface for simple screen recording. The full version includes a video editor.
Video Recording
Many online course creators record live videos for their video lessons. This can be accomplished with a mobile phone (like an iPhone, for example), but for a higher video quality, you may want to invest in a digital camera or webcam for any live lessons. I've listed several options below:
1. Logitech C922x Pro Stream Webcam
 A fairly cost-effective webcam that features 1080p HD video at 30 frames per second. A super option for streaming.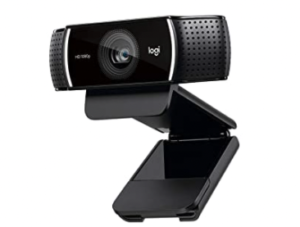 Built-in wifi for easy sharing of footage makes this a convenient camera for online course filming. The Rebel is a great beginner DSLR with 1080p HD video.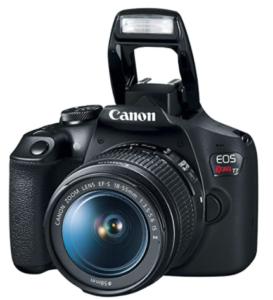 3. Fujifilm X-T200 Mirrorless Digital Camera with Lens
This investment is perfect for those looking to level up their video footage to professional quality. It boasts impressive 4k video capabilities with stabilization, color correction, in-camera editing and more.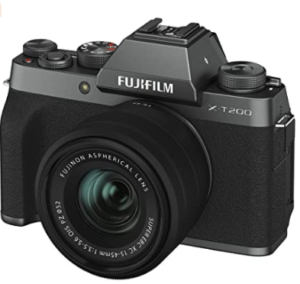 Lighting & Accessories
Once you've purchased your microphone and camera, you'll probably want to grab a few accessories to help you to maximize the quality of your recordings. Here are a few accessories that will come in handy as you record your course content:
A mount to attach to your tripod so you can easily switch from camera to phone when filming.
2. Demetory Ring Light for iPhone
This ring light has 3 color modes, and clips directly onto your iPhone for basic flattering lighting.
3. AmazonBasics Lightweight Tripod
This tripod comes with a bag for carrying or storage and is adaptable to fit most cameras and phone mounts. 
4. Logitech Wireless Presenter
Extremely easy-to-use presenting tool for hands-free presentation. Includes clicker and laser pointer.
5. LimoStudio Photo Video Studio Light Kit
This kit includes reflector umbrellas and lighting, as well as stands and a case for transportation or storage. This is a fantastic equipment option to ensure your online course footage is well lit even if you're filming in darker spaces.
Audio and Video Editing
Once you've recorded your audio and/or video content, you're probably going to want to edit those recordings before uploading them to your online course. This is a process that can be outsourced or delegated to a professional, but if you want to do it yourself, here are some popular editing programs:
Audacity is a free audio editor that is compatible with all operating systems. A great choice if you want to get started editing audio.
iMovie is compatible with iOS and Mac devices. The platform includes audio and video editing with support for adding text or filters to your footage.
This software is compatible with Mac computers and boasts impressive specs for professional-level video editing. You can try it for free before committing to the paid version.
Premiere Pro is regarded as the professional standard for video editing. A wonderful option if you're somewhat familiar with video editing and looking for professional-quality videos.
What equipment and software are you using to create your online course?
Well, that pretty much sums up the most common equipment and software that our community is using to create online courses.
Remember, you do not need the best and most expensive combination of equipment and software in order to create your course, especially if you're creating an online course for the first time.
Everything I recommended in this post requires time and effort to learn how to use. When you're first starting out, it is more important to actually create a course that helps others than it is to create a course with the highest possible production value. Creating content that adds value to the lives of your students should be your main priority.
Related: How to Create Epic Content Your Customers Will Love (Complete Guide)
Do the best you can with what you have. You can always buy more equipment and software to play with later.
Did we miss anything? Do you have any favorite equipment or software that is worth recommending?
Join our facebook community and let us know!
---
Launch your online learning product for free
Use Thinkific to create, market, and sell online courses, communities, and memberships — all from a single platform.

---
Best equipment and software recommendations for creating online courses. #teachonline #edtech
Click To Tweet
This post was originally published in 2017, it has been updated as of February 2022.