As a course creator, you're an expert in your field. That may be art, business, science — or anything in between. But to create truly effective and engaging online courses, you also need to become somewhat of an expert in education and understand how people learn. Only then will you be able to develop a course packed with materials and activities that will delight your students and help them get the most out of your classes.
Instructional design is the science of designing great learning experiences. It can help subject matter experts become successful online course creators (and respected, memorable teachers). So, if you're new to course creation or looking for some fresh ideas on how to make your courses more effective, instructional design models might be the answer!
Keep reading to learn about the 10 most important and well-known instructional design models, and find out how they can help you build an online course your audience will love.
Skip ahead here:
What is instructional design?
Instructional design is the practice of designing, creating and delivering learning materials and programs. It can be applied to both physical and virtual education, including online courses. 
The goal of instructional design is to help educators create experiences that facilitate learning in an efficient, effective, and engaging way. 
What are instructional design models?
Since the 1950s, educational scientists and psychologists have developed several instructional design models. 
Each includes a unique set of guidelines that organize creating educational experiences into a streamlined and scalable process based on best practices backed by research.
Here are the 10 models we'll cover in this article:
How can instructional design models help online course creators?
If you're not a seasoned educator, learning about instructional design can seem daunting. But it's an essential step in developing a successful online learning experience.
Understanding the basics of instructional design can help online course builders:
Create better learning experiences.

Following a proven process to design your course will equip you with best practices for creating learning materials and activities that help students acquire and retain new knowledge or skills (and do so in an engaging, enjoyable way). 

Save time.

Instructional design models take the guesswork (and trial and error) out of course creation. Following a set of guidelines developed and tested by renowned educators will help you get to the best possible outcome with the least effort. 

Get inspired.

Instructional design models can help you come up with ideas for educational materials and activities — not just course basics and lesson plans.

Grow your business

. Positive student experiences will result in good reviews, returning customers, referrals, and improved bottom-line results.
Related: These Instructional Design Storyboard templates will help you put these models into action for your own course.
---
10 Instructional design models online course creators should know
1. Bloom's Taxonomy
Bloom's Taxonomy is an instructional design model created by American educational psychologist Benjamin Bloom in 1956. 
Bloom designed the model to measure his students' learning progress. He created a hierarchy that reflects the "depth of understanding" — or, in simple terms, a pyramid of learning.
According to Bloom's Taxonomy, there are 6 essential stages of learning:
Remembering 

Understanding

Applying

Analyzing

Evaluating

Creating
The order of these stages is crucial. The model assumes that you can't understand a concept if you can't remember it. You can't apply it if you can't understand it — and so on. Remembering facts is the basis of all learning. Creating (a system, a product, a piece of art) is the most advanced skill in Bloom's Taxonomy. 
How can Bloom's Taxonomy be applied to online course design?
Each level of Bloom's pyramid comes with a series of verbs that describe the actions a student should be able to complete by that stage.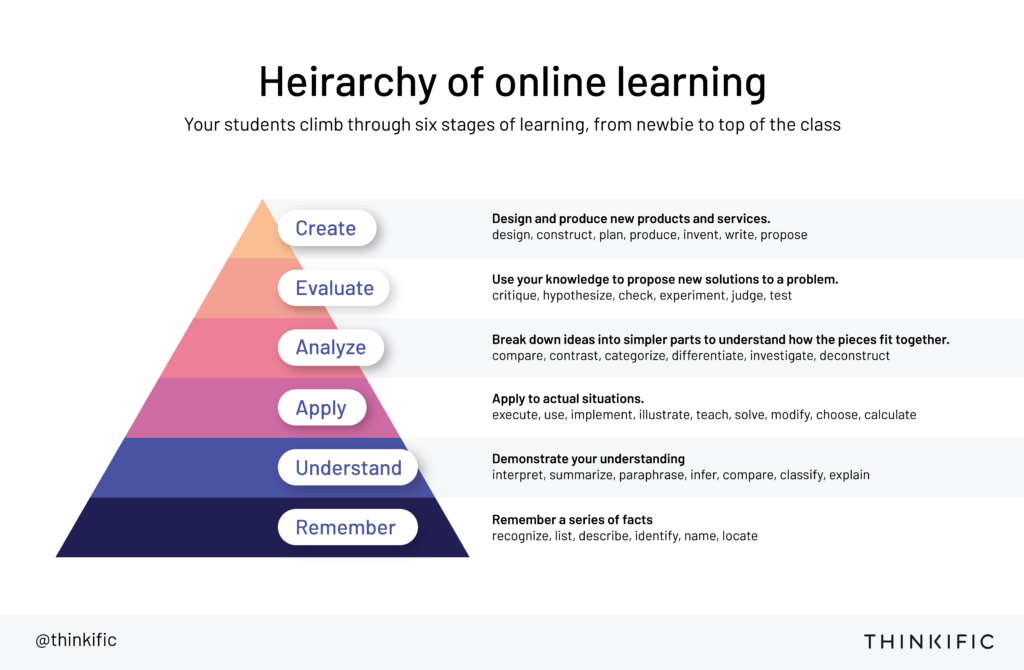 For example, the Understand stage of learning is complete when a student can interpret, summarize, paraphrase, infer, compare, classify, or explain the subject matter of a course. 
These verbs will help you design two of the most important elements of your course:
Learning objectives

, a.k.a. what your students should know — or be able to do — after each stage of your course or by the end of it. 

Activities, exercises, and tests

that will help you and your students systematically work towards those objectives.
Read more about Bloom's Taxonomy:
Find specific examples for how you can apply this instructional design model to your online course in our in-depth guide:
Bloom's Taxonomy: A Crash Course For Online Course Creators
.
2. Gagné's 9 Events of Instruction
The 9 Events of Instruction is an instructional design model created by American educational psychologist Robert Gagné.
Gagné's theory organizes the learning experience into a complete, 9-stage process that supports learning and retaining new knowledge or skills. 
This instructional design model splits the process of learning up into 3 essential stages focused around the delivery of instruction (e.g., a lecture or presentation):
Before presenting the instruction
While presenting the instruction
After presenting the instruction
Each stage consists of 3 events of instruction:
BEFORE

you present the instruction

Event 1

Gain the learner's attention

Event 2

Tell them what they are going to learn

Event 3

Stimulate the recall of prior learning

WHILE

you present the instruction

Event 4

Present the instruction

Event 5

Guided practice

Event 6

Independent performance

AFTER

you present the instruction

Event 7

Provide feedback

Event 8

Assess performance

Event 9

Extension and transfer
Note how delivering the instruction is only one out of nine steps. It is the central one — but the optimal learning experience also requires the other eight events. Relying solely on your instruction can make it difficult for students to acquire and retain the knowledge or skills you are teaching.
How can Gagné's 9 Events of Instruction be applied to online course design?
Gagne's instructional design model pretty much equips course creators with a course outline template. 
Working around the 9 Events of Instruction, you can plan your course from start to finish, making time for everything from a course introduction, through presentation and individual exercise, all the way to feedback and grading.
3. ADDIE 
ADDIE is an instructional design model developed at Florida State University in 1975.
This popular model's name is an acronym that stands for the 5 steps of instructional design:
Analyze

Design

Develop

Implement

Evaluate
Originally, the framework was hierarchical. The design of the learning process started with an analysis (e.g., of the audience or the market fit for an educational program) and ended with a post-implementation evaluation of the final, fully developed training. 
Over time, it morphed into more of a loop. Teachers and course builders who follow the ADDIE model can use the 5 steps over and over again, ultimately coming up with a fine-tuned, optimal course design.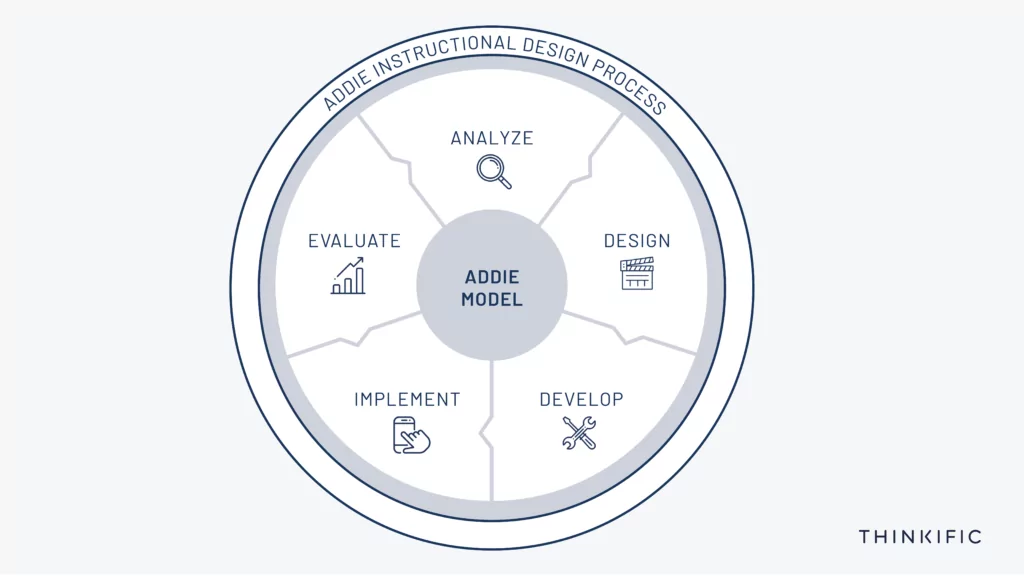 How can ADDIE be applied to online course design?
ADDIE is an excellent framework to follow if you're just starting out as a course designer and want to organize the steps you need to take to efficiently develop a great learning experience. 
The 5 ADDIE steps translate very well into task lists and can be used to break down the course design process into bite-sized, easy-to-tackle items. We recommend using ADDIE to map out all of your tasks in a project management tool like Trello or Asana.

The model's looping, iterative flow can also help seasoned course creators set up a system for finding areas for improvement and implementing tweaks based on student feedback.
Read more about ADDIE: What Is the ADDIE Training Model? (With Examples)
4. SAM (Successive Approximation Model)
SAM stands for Successive Approximation Model. This theory was designed by the behavior science professionals at Allen Interactions as an alternative to ADDIE. 
Similar to ADDIE, SAM is an iterative, agile approach to instructional design. The steps laid out in the SAM model can (and should) be repeated to create an effective course. SAM and ADDIE both include analysis as an important step to continuously refining the teaching program.
Within the SAM framework, two models exist: SAM1 and SAM2. 
SAM1 is best suited for small teams and projects, like solo entrepreneurs planning an online course. It's a simplified version of ADDIE that only consists of 3 (repeating) steps:
Evaluate 

Design

Develop
SAM2 is better for larger teams and projects. It breaks down the instructional design process into 3 phases: Preparation, Iterative Design, Iterative Development. The phases align with a project timeline that goes from Information Gathering to Gold Release.

Read more about SAM (Successive Approximation Model)
---

Launch your online learning product for free

Use Thinkific to create, market, and sell online courses, communities, and memberships — all from a single platform.

---
5. Merrill's First Principles of Instruction
Merrill's First Principles of Instruction is a model created by American education researcher David Merrill.
Merrill's goal was to figure out the essence of instructional design. Through his work, he identified and named the universal principles that are common to all effective instructional design models. 
The 5 principles of instruction are:
Task/Problem-Centered

. A teaching program is successful when it's centered around real-world problems or tasks that students can relate to. For best results, instruction should include a series of problems or tasks, ordered from the least to the most complex. 

Activation

. Successful courses and teaching programs should engage and activate the students' prior knowledge or learning patterns.

Demonstration

. Successful courses should demonstrate knowledge in a way that relates to the real world and the real problems or tasks students face in it.

Application.

Within a successful training program, new knowledge or skills should be applied to solve relatable, real-world tasks.

Integration

. Successful courses encourage students to find ways to integrate their new skills or knowledge into their life.
How can Merrill's First Principles of Instruction be applied to online course design?
Merrill's model is a distilled list of good practices for planning an effective online course. As such, it can help you plan all aspects of your course, including:
High-level course objective (

What real problems will this knowledge help my students solve?

)

How you present the content of your course (

Do my lectures and slides demonstrate knowledge in relatable, real-world contexts?

)

Activities and exercises (

Do the exercises within my course resemble the tasks my students perform in real life, e.g, at work or in school?

)
6. Action Mapping
Action Mapping is a visual approach to instructional design developed by American training designer Cathy Moore.
The model was created to address the challenges of designing practical business training. It consists of 4 essential building blocks:
A measurable business goal

at the center of the training curriculum

A series of actions

required to reach the goal 

Practice activities

designed to teach students how to perform the actions

Information

essential to carry out the activities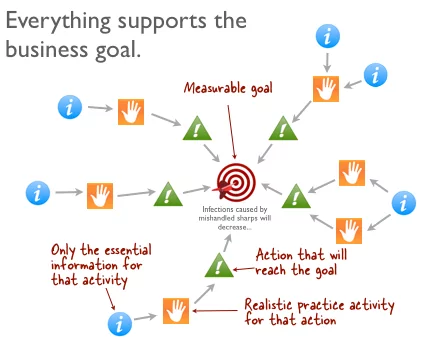 How can Action Mapping be applied to online course design?
Even though Action Mapping was designed with businesses (and business objectives) in mind, it can help any course creator come up with a course outline focused on a measurable outcome (new knowledge or skills) rather than an action (completing the course). 
Following this goal-centric instructional design model will help you put your students' best interest first and design a truly effective and "noise"-free course that only includes the information needed to develop the desired skills. 
7. Dick and Carey Model
This instructional design framework, also known as the Systems Approach Model, was developed by Walter Dick and Lou Carey in 1978. 
The Dick and Carey Model assumes that all elements of the learning experience form an interrelated system that defines the outcome of training. These elements include:
The instructor

Students

Instructional materials and activities

The teaching techniques

The learning environment
In this model, the training design process consists of 10 steps:
Identifying the goals and objectives of the training
Instructional analysis

. In this step, you determine how familiar your target audience already is with the subject of your course.

Analysis of the learners and contexts

. This can mean audience research and/or creating personas to better understand your potential students' needs, goals, and motivations.

Defining performance objectives

. In this step, you decide how you will assess whether your students are progressing in your course. This can mean defining a baseline for the knowledge or skills students need to take away from your instruction.

Developing tools of assessment

. e.g., quizzes and exercises.

Developing an instructional strategy

. In this step, you define

how

you will deliver your course.

Developing instructional materials

, e.g., a presentation or other visuals that will accompany your lecture.

Formative evaluation

. During this pre-launch step, you collect feedback about your course, for example, from a focus group. 

Revisions

. If your formative evaluation reveals areas for improvement, you should make the necessary changes before your course goes live.

Summative evaluations.

During this post-launch step, you evaluate the effectiveness of your course. You can do this by testing your students on their newly gained knowledge or skills, running satisfaction surveys, etc.
Steps 2 through 9 should be repeated until you reach an optimal, ready-to-launch version of your course.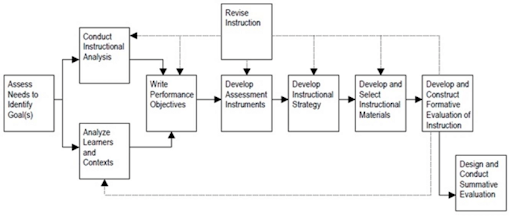 How can the Dick and Carey Model be applied to online course design?
While this instructional design model consists of more steps than most covered in this article, it could be a good fit for first-time course designers. 
The Dick and Carey model begins with thorough market research (instructional analysis, the analysis of learners and contexts). Even just following this extended list of steps once will help new course builders get into the good (and ultimately time-saving) habit of analyzing market needs before putting work into developing the content of their course.
8. Kemp Design Model
Also referred to as the Morrison, Ross, and Kemp model, this framework was developed by American instructional design researcher Jerrald Kemp. 
Nicknamed the "holistic" approach, the model names 9 key elements of instructional design:
Specifying the goals of the instructional program

Researching learners

Identifying content relevant to the subject matter of instruction and analyzing tasks and exercises that will support the stated goals and purposes

Making the instructional objectives known to the learners

Sequencing instructional content within each class for logical learning

Designing an instructional strategy that will help students master the objectives

Planning the contents of instruction (lectures, presentations) and delivery

Developing evaluation instruments (e.g., tests and quizzes)

Picking resources and activities to support learning
While this model bears similarities to the Dick and Carey model, the sequence of steps is represented as a circle rather than a line: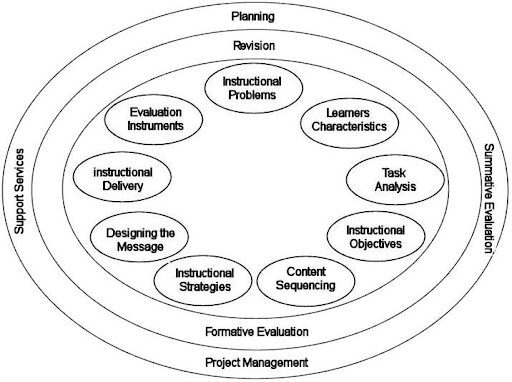 How can the Kemp Design Model be applied to online course design?
Following the Kemp Design Model can help course builders focus on the fact that all aspects of course design are equally important.
This model also includes "content sequencing" as a step of instructional design, forcing educators to take a close look at whether the way they order information within a course or program is optimal for learning. 
9. AGILE and Rapid Prototyping
With roots in IT, the Agile methodology was adapted as an instructional design model by instructional design strategist Conrad Gottfredson.
The Agile framework has 5 key elements:
Align.

Analyze the market need for your course.

Get your team on board and agree on goals and objectives.

Get set.

Gather the knowledge and resources necessary to build your training program. Plan your project timeline and assign tasks.

Iterate and Implement.

Build out a prototype of your course. Revise existing prototypes.

Leverage.

Make optimal use of your project resources, including people, technology, and data.

Evaluate.

Have an assessment strategy in place and apply it to each prototype your team produces.
Rapid Prototyping aligns the Agile framework with the 3 essential steps of the course design process: design, development, and evaluation. 
In this approach, course builders produce course prototypes (sample, scaled-down models of the final product). Then, stakeholders (including educators, designers, developers) evaluate each prototype and create revised iterations until they reach a desired outcome (a.k.a. a user-friendly, engaging and effective training). 
This translates to 3 repeatable steps to designing a learning program:
Prototyping

Reviewing

Refining
How can Agile and Rapid Prototyping be applied to online course design?
Agile and Rapid Prototyping is a good fit for larger teams and projects. This instructional design model can help projects with multiple stakeholders move forward in a fast and resource-efficient way. So, if you're working with content writers, graphic designers, and videographers to produce your course, this approach might work great for you. Using Agile lingo, once the team is "aligned" and "set," designers and developers can produce deliverables in small, frequent batches. You can then review and refine as you go. 
On the other hand, if you're a solo course creator, working with prototypes will add more work to your plate and complicate the process rather than streamline it.  
10. 70-20-10
The 70-20-10 model of learning and development was created by McCall, Lombardo, and Morrison at the Center for Creative Leadership. It identifies three ways in which people learn, and assigns weight to each of them. 
According to the model:
70% of knowledge comes from

experience, experiment and reflection.

20% of knowledge comes from

working with others.

10% of knowledge comes from

formal, planned learning. 
How can 70-20-10 be applied to online course design?
This model was developed to help employers effectively train employees to perform better and progress in their roles. It does rely on tasks and interactions specific to the workplace: work itself and interactions with coworkers, managers, and subordinates. And while you might not be able to replicate those experiences within your online course, you can still work the basic principle behind the 70-20-10 model into your outline. 
Make sure about 70% of your course focuses on the practical application of knowledge. This can mean analyzing examples or solving problems. 20% should be guided learning: think group conversations, brainstorms, or activities in breakout rooms. 10% should be self-study: reading or "homework."
Tips for picking the best course design methodology
Mix and match
If one ultimate, end-all instructional design model existed, this article would be very short. But that's not the case.
All ten approaches covered above were developed by renowned educational psychologists and researchers, and all have their pros and cons. When working on your instructional strategy, don't hesitate to pull from more than one model. 
For example, you can use the Action Mapping framework to define your course's objective (the "measurable goal"), plan exercises ("practice") and outline your lecture ("essential information"). You can then apply the SAM model to evaluate your course post-launch, and design and develop improvements if necessary.
You can also combine elements of these theories with teaching frameworks and best practices that aren't necessarily full-fledged instructional design models, like:
Don't stress
Remember that instructional design models are theoretical, in-a-perfect-world approaches to designing a learning experience. They are supposed to guide course builders like you through the process and make your life easier — not harder.
Don't obsess over getting the methodology right. Treat the theory as a means to an end, the end being a course that works for you and your audience. Follow the guidelines lined out by the model that speaks to you best, but don't worry if you skip a step or two. As long as you end up with a course that attracts students and leaves them happy, you've done well.
Test and iterate
An online course is only as good as the knowledge or skills its student take away from it. And you won't actually know how effective your course is until real people complete it and give you feedback. 
Even if you're not intentionally following an iterative instructional design model like ADDIE or SAM, remember to check in with your students on a regular basis to reevaluate your course. Then, make edits to the training program whenever you identify a new area for improvement.
So, there you have it — the 10 most widely acknowledged instructional design models. Now, it's time to put all this theory to work and design a course that will leave your students smarter — and coming back for more. 
Package your knowledge into an effective and engaging online course with Thinkific. Get started for free. (No tech skills required. Your amazing expertise and a grip on instructional design are all you need!)
---
This article was published April 2022 and was updated June, 2023 to include more resources.
References
Akbulut, Yavuz. "Implications of two well-known models for instructional designers in distance education: Dick-Carey versus Morrison-Ross-Kemp." Turkish Online Journal of Distance Education 8.2 (2007): 62-68.

Johnson, Samantha J., Deborah A. Blackman, and Fiona Buick. "The 70: 20: 10 framework and the transfer of learning." Human Resource Development Quarterly 29.4 (2018): 383-402.

Jung, Hyojung, et al. "Advanced instructional design for successive E-learning: Based on the successive approximation model (SAM)." International Journal on E-learning 18.2 (2019): 191-204.

Kemp, J. (1985). The Instructional Design Process. New York, NY: Harper Row.

Merrill, M. David. First principles of instruction. John Wiley & Sons, 2012.

Moore, Cathy. "A fresh look at instructional design webinar webinar presentation: Cathy Moore." (2010).

Willeke, Marian HH. "Agile in academics: applying agile to instructional design." 2011 Agile Conference. IEEE, 2011.