In the early stages of planning an online course, you might find yourself staring at a blank sheet of paper, scratching your head, wondering where to begin. After all, so many moving pieces go into course design — starting from the very architecture of your lessons, through activities and exercises, all the way down to filming your course content.
That's precisely why many educators use storyboarding to streamline the process. A storyboard can help you plan out your entire course, down to the smallest details, while keeping the big picture and your overarching goals in sight.
We've put together 7 customizable eLearning storyboard templates that pull from the most widely acknowledged instructional design models. Use them to organize your course planning around proven instructional theories and stay on top of best practices from the very start.
Keep reading to find out which storyboard is the best for your needs and how to use the templates.
[Skip to download the templates or download them here👇]
What is instructional design storyboarding?
Instructional design storyboarding is the process of mapping out the core elements of a course, webinar or lecture in a process outlined by a specific instructional design model.
If you're new to instructional theory, you might be wondering what that means. Let's get some definitions out of the way.
What are instructional design models?
Instructional design models are frameworks developed by psychologists and educational researchers that organize "creating instruction" (e.g., building an eLearning course) into a streamlined process that follows research-based best practices.
By taking the guesswork out of the course design process, instructional design models help educators create learning experiences that deliver results. On a high level, this means helping students acquire and retain new knowledge or skills. From a business perspective, the implications of effective learning can include good reviews, returning customers, referrals — and improved bottom-line results.
Related reading: 10 Instructional Design Models Every Course Builder Should Know
What is storyboarding?
Storyboarding is a planning technique that has its roots in movie production. Originally, storyboards were used to pre-visualize sequences of events in motion pictures and animations.
In education, storyboarding helps plan the contents of a course, lesson, lecture, or any kind of learning experience. It can help prioritize information, arrange the elements of a training program into a logical sequence, map out video materials, plan audio narration, and more.
So, summing up, instructional design storyboarding relies on instructional design models to guide the process of putting together a course or class.
Learn more about other types of storyboards in our complete guide: How To Create An Elearning Storyboard [Plus Templates]
Why should you use an instructional design storyboard?
Creating a storyboard may sound like adding an extra step to the course development process. But it's like using a good project management tool — it will ultimately save you a lot of time and arrive at optimal solutions without the trial and error.
Relying on an instructional design storyboard template will help you:
Keep your training focused on research-backed best practices
Hit all the important points in your audio and visual materials
Simplify production and post-production by lowering the chance that you have to go back and reshoot things.
Plan exercises, quizzes, and activities that facilitate the retention of new knowledge and skills.
How to use our instructional design storyboard templates
Below, you'll find 7 templates for instructional design storyboards.
To use the template, simply print it out or grab a copy of ours! Once you have a printout or digital copy of the template, fill out the empty fields following the prompts in italics.
7 free instructional design storyboard templates
1. Bloom's Taxonomy storyboard template
Bloom's Taxonomy states that there are 6 consecutive steps to mastering new knowledge or skills:
Remember
Understand
Apply
Analyze
Evaluate
Create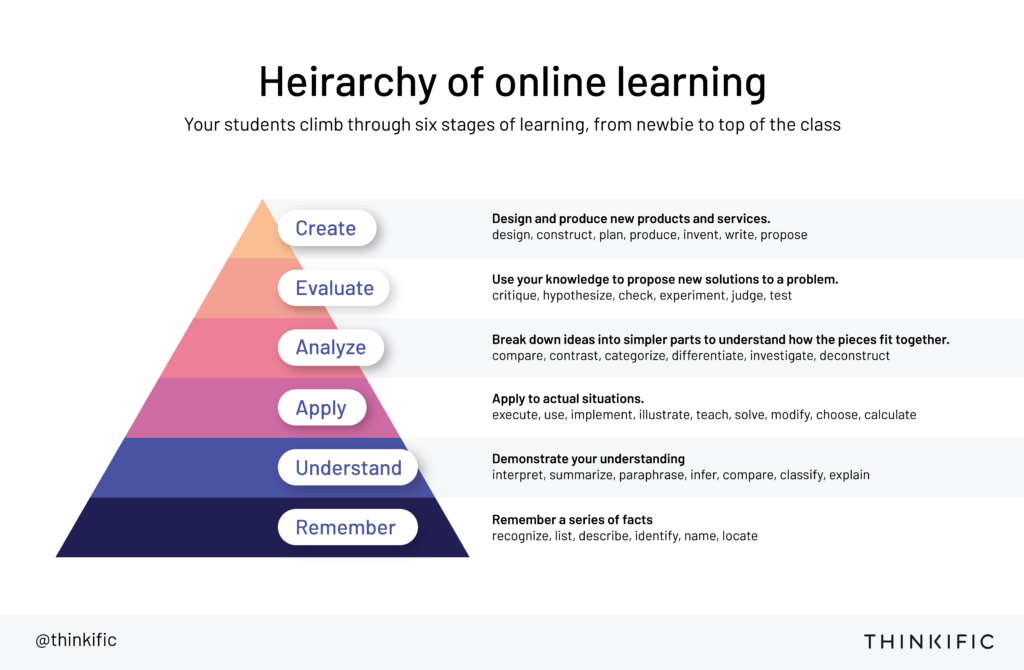 Use this template to:
Define the scope of what your students are supposed to remember, understand, etc.
Plan activities that will support each step.
You can then plan your modules and course materials around these clearly defined learning objectives and exercises.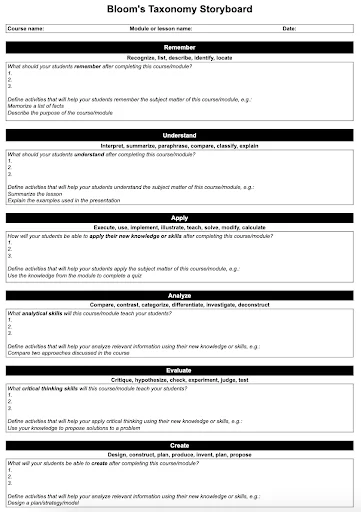 Learn more about Bloom's Taxonomy: Bloom's Taxonomy: A Crash Course For Online Course Creators
2. Gagné's 9 Events of Instruction storyboard template
Gagné's instructional design model breaks effective learning into a set of 9 "events" that happen across 3 stages (before, during, and after the delivery of instruction):
Gain the learner's attention
Tell them what they are going to learn
Stimulate the recall of prior knowledge
Present the instruction
Guided practice
Independent performance
Provide feedback
Assess performance
Extension and transfer
This storyboard template will help you plan talking points, activities and teaching strategies for each step.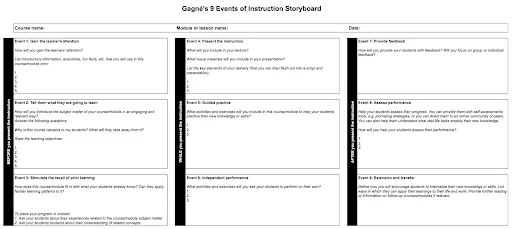 Learn more about Gagné's 9 Events of Instruction: How To Use Gagné's Nine Events Of Instruction To Make Learning Stick

3. ADDIE storyboard template
ADDIE is a popular instructional design model that outlines 5 steps of instructional design:
Analyze
Design
Develop
Implement
Evaluate
This template will help you plan and organize your pre-and post-launch tasks within your course development project. It will also remind you to plan for a post-launch analysis and work towards optimizing your eLearning program even after it goes live.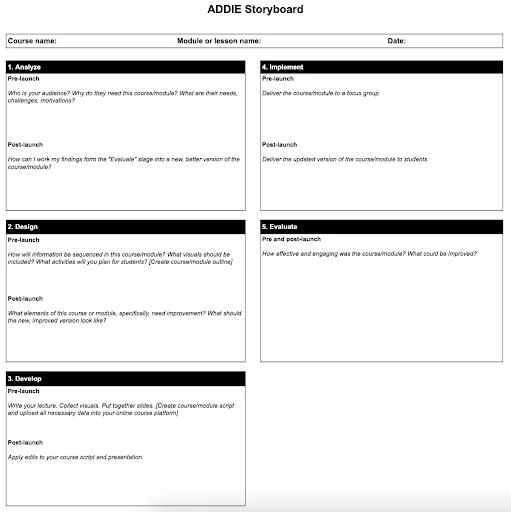 Learn more about ADDIE: What Is the ADDIE Training Model? (With Examples)

4. SAM storyboard template
SAM is a simplified version of the ADDIE model of instructional design. It names 3 repeating steps to developing a successful training program:
Evaluate
Design
Develop
Use this template to map out the tasks you will need to build your course and continuously refine it.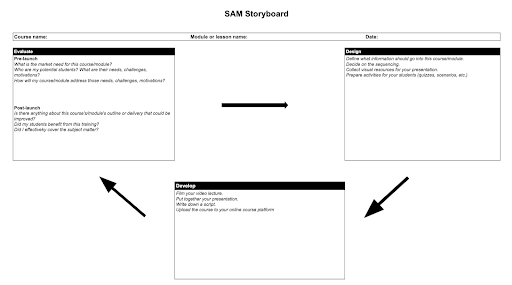 5. Merrill's First Principles of Instruction storyboard template
Merrill's First Principles of Instruction is a model that outlines the 5 universal principles common to all effective instructional design models.
The 5 principles of instruction are:
Task/Problem-Centered
Activation
Demonstration
Application
Integration
Use this template to:
Map out the real-world problems and tasks you will base your course around.
Define how you will tie your course in with your student's prior knowledge.
Plan the activities, exercises and talking points that will support each principle.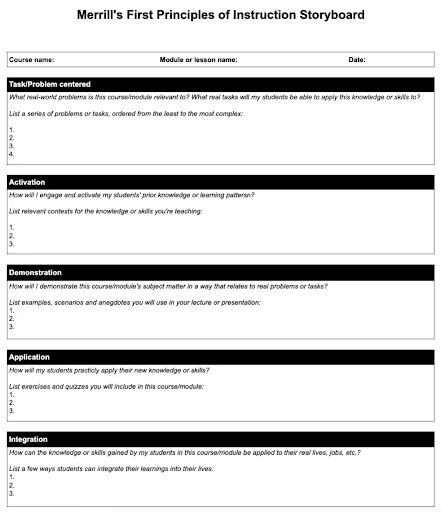 Learn more about Merrill's First Principles of Instruction: Merrill's Principles Of Instruction And How To Use Them in Elearning
6. Action Mapping storyboard template
Action Mapping is a model that breaks down effective training into 4 building blocks:
A measurable business goal
A series of actions required to reach the goal
Practice activities designed to teach students how to perform the actions
Information essential to carry out the activities
Use this template to:
Define an overarching goal for your course.
Plan practice tasks and activities.
Build scripts for your audio and visual materials around information essential to your goal.

7. 70-20-10 storyboard template
The 70-20-10 model of learning and development identifies three ways in which people learn and assigns weight to each of them.
According to the model:
70% of knowledge comes from experience, experiment and reflection.
20% of knowledge comes from working with others.
10% of knowledge comes from formal, planned learning.
Use this template to define objectives and activities relevant to each category.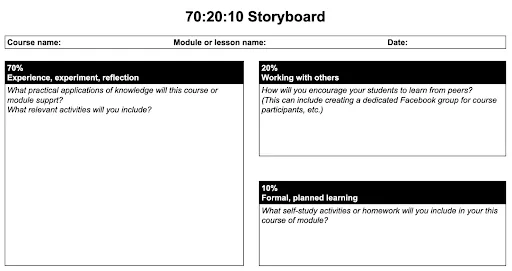 Conclusion
There you have it — 7 ready-to-use instructional design storyboard templates. Use them to create a logically structured and effective online course that will help your students learn new things (and help you grow your eLearning business).
Once you map out your course, easily build and market it with Thinkific. Get started for free. (No tech skills required. Your expertise and storyboards are all you need!)

This article was originally written January 2022, and was updated November 2022 to be even more useful!