Think back to the first time you thought of your business idea. Remember that rush of excitement? That I-can't-wait-any-longer-to-get-started passion? Here at Thinkific, we hear about these stories a lot—and they're exactly why we keep pushing out resources to help course creators along their journey! From our popular Fast Track Training course to blog posts written by experts in their fields, we're here to provide guidance and motivation at every step of the way. 
But for a lot of course creators and entrepreneurs, the passion they once felt can start to fade when they run into that first task on the launch to-do list that either isn't their forte or requires time that they just don't have. 
Take logo design, for example. Your logo is how you differentiate yourself against your competition and is often included in nearly every piece of content you create. How many course creators also happen to have experience designing professional logos, though? 
Or what about adding the custom features you can see so clearly in your head to your Thinkific site? Again, not all of us have the coding chops to build in new functionalities, but the look and feel of your website remain essential to converting traffic into your next students. 
What's a course creator to do? Well… 
Introducing the Thinkific Store on Fiverr
We're thrilled to announce a new solution for course creators looking to launch their dream course businesses faster and tackle these obstacles with ease—all while remaining budget-friendly.
In partnership with Fiverr, we've launched a first-of-its-kind marketplace that features talented freelancers ready to help you with virtually any task on your launch to-do list, from designing a custom website, developing your brand, email marketing, SEO, social media marketing, and so much more. 
Get support with budget-friendly projects today.
As the number of passionate course creators on Thinkific continues to climb, so has the demand for easy-to-access, professional support. While the Experts Marketplace remains the top destination for your largest & most complex projects, the new Thinkific Store on Fiverr helps you easily find the help you're looking for on specific, smaller-scale projects.
How does it work?
The Thinkific Store on Fiverr is easy-to-use and trustworthy. Every project a course creator can get help with features a clear breakdown of the pricing tiers, the skills & expertise of the freelancer, turnaround time, and reviews. In short, everything you need to know to make a decision on which freelancer is right for you. 
It's going to give so many more users access to Thinkific Agency Partners who can help them get their courses up and selling in half the time it would take them on their own.
Tameka Allen, Thinkific Agency Partner and Online Course Consultant
Thinkific Agency Partners are one-to-one service providers who you can turn to for unparalleled expertise in providing design, setup, or content creation services for your individual Thinkific sites. Until now, course creators have been able to connect with Agency Partners through organic conversations in Thinkific's closed Facebook Group. They can also access premium support in the Experts Marketplace. Experts are the highest tier of Agency Partners. These experienced professionals have worked with at least 10 Thinkific clients and are typically at a higher price point accordingly.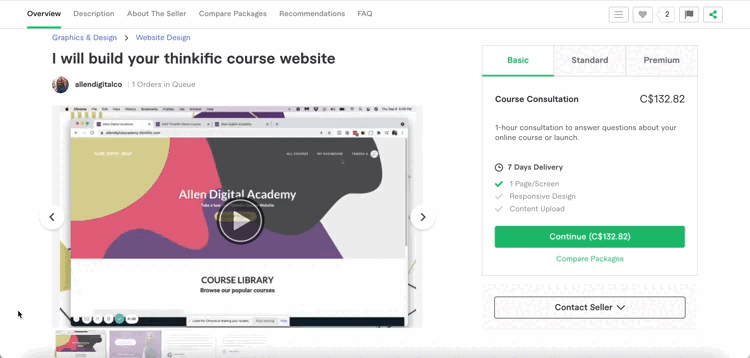 With the Thinkific Store on Fiverr, course creators can easily find Agency Partners, like Tameka, as well as a large pool of other talented freelancers to help them launch their course at hyper speed while remaining within their budget. 
Discover a freelancer to help you.
Real course creators are already leveling up their businesses 
As course creators tap into the freelancer support available, they're able to move onto the next step of scaling their course business even faster. Take one of the reviews from Thinkific Agency Partner Cygnus_M's Fiverr profile:
"I have worked with Cygnus on several projects now and have always been extremely satisfied with his work. I will be ordering more [projects] from him again and again. It's great to have someone with his knowledge and abilities to handle the digital tasks that are so time-consuming and often confusing for me. Thank you, Cygnus, for another outstanding project!"
Thinkific Expert Yasaf Burshan also lists specific, budget-friendly projects on his Fiverr profile. With decades of experience building technical integrations, Yasaf helps course creators add time-saving and impactful automations into their business, like advanced auto-responders and custom chatbots. 
"I'm excited about the launch of the Thinkific Store on Fiverr because it puts me in front of more customers who wouldn't get a chance to work with me otherwise, so it opens up even more opportunities for me and them both," shares Yasaf. 
Thinkific course creators are already reaping the benefits of his support:
"Yasaf has an impressive eye for detail and provides extensive thought before delivering a high-quality IT solution. This is the second job I have hired him for and I won't hesitate to hire again!" 
Course creators can customize the package they pay for
Whether you're looking for digital resources to push you in the right direction or a comprehensive 1:1 consultation call, every project on the Thinkific Store features three pricing tiers with specific levels of support provided. After all, you should only pay for what you need help with! 
For example, Thinkific Expert Linda Reed-Enever offers must-have course planning templates for as little as $6.64 based on her fifteen years of marketing and course creation experience. If a course creator is seeking more hands-on guidance, she can also help plan your entire course over a one-hour session.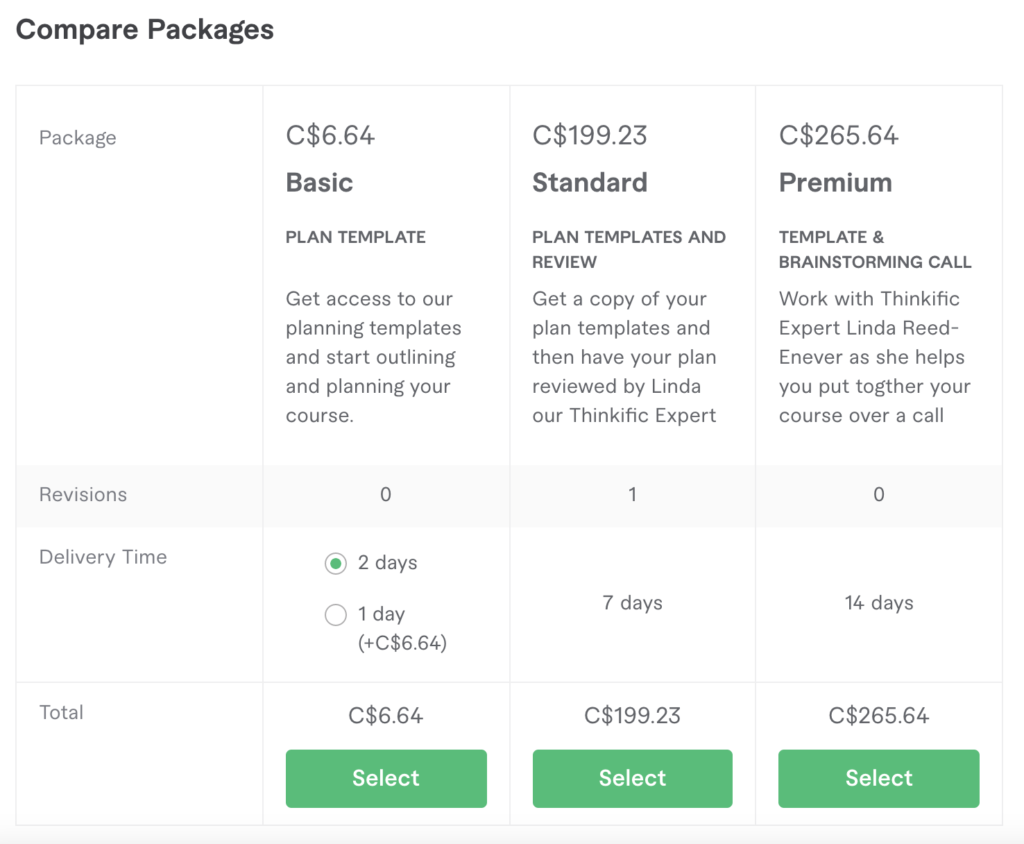 For many course creators, a plan template put together by an experienced professional like Linda is all they need. Take it from this testimonial from a real course creator:
"The course plans are great. They have a lot of detail and help you drill down to the core of your course. Linda Reed-Enever knows how to help you get the most out of your online courses. She is an expert in the field of Marketing, PR and online courses. Can't wait to put the product into use."
Are you ready to dive into the Thinkific Store on Fiverr? We can't wait to see your dream course business come to life—faster than ever.