If you haven't heard by now, channel partners are valuable resources for growing your business, increasing sales, and meeting customer needs faster. But successful partnerships tend to take work, education, and a thoughtful onboarding program.
Like employee and customer onboarding, channel partners need a foundation to best understand your product and effectively sell it to their customers.
The good news: channel partner onboarding templates and LMS partners can make this a super simple process.
In this article, we'll discuss:
Why channel partner onboarding is important

What the onboarding process looks like

Steps for creating your onboarding strategy (with a downloadable channel partner onboarding template!)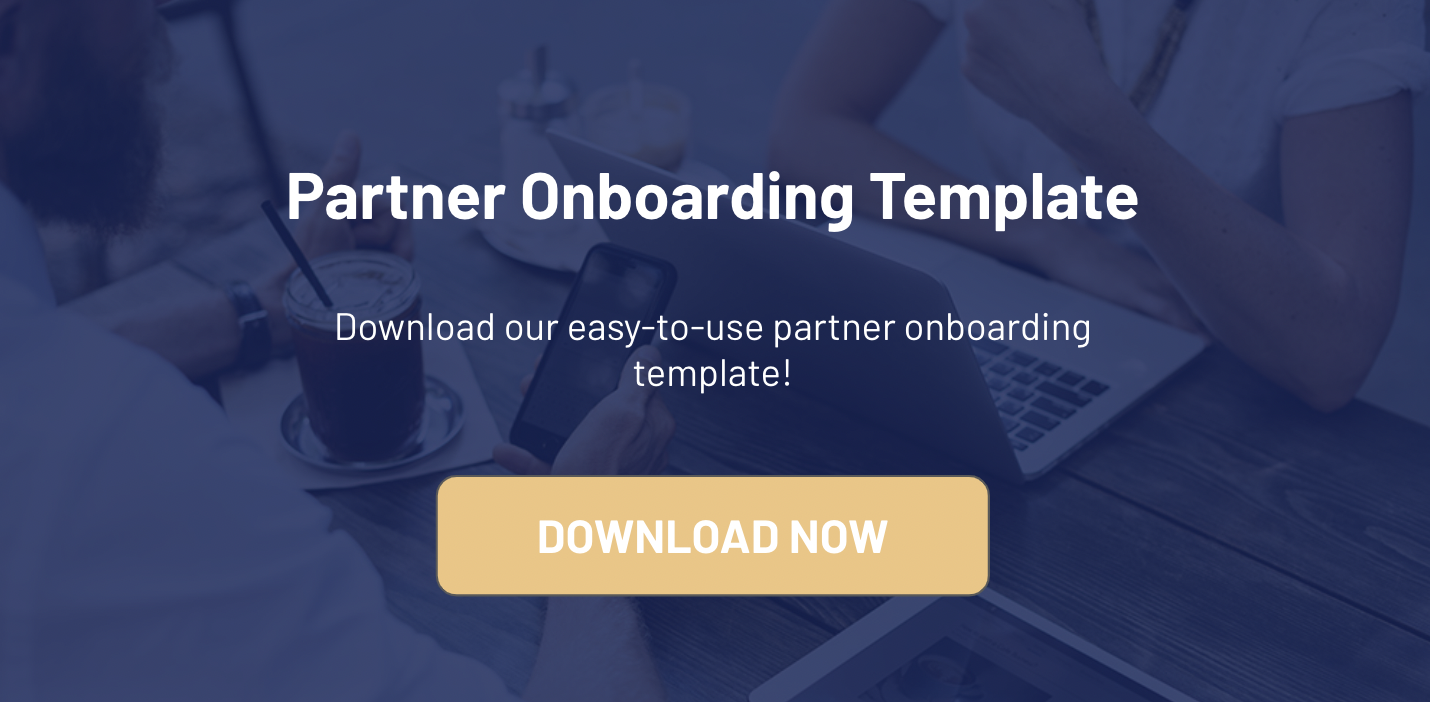 Why is a channel partner onboarding strategy important?
First, let's start with the basics – why partner onboarding?
Channel partners have significant customer buying power. No matter if you're distributing your product through a retail, wholesale, or agency channel, your partners have the means to influence purchases based on their product knowledge.
Without channel partner onboarding and education, untapped revenue quite literally will walk out the door.
Here are three reasons why channel partner onboarding strategies are important:
Sets partners up for success.

Providing channel partners with the right product know-how can accelerate successful customer interactions.

Ensures across-the-board compliance.

Misalignment on brand guidelines and other compliance-related activities causes a lot of headaches. Proper partner onboarding ensures consistency in branding, compliance, and messaging from the beginning.

Activates growth at scale.

When onboarded correctly, channel partners are a surefire way to accelerate company growth. They can articulate your differentiated value proposition, provide real-time support, and get your product into customers' hands faster.
Understanding the channel partner onboarding process
Did you know that channel partners can take more than a year to become profitable for your business? This means time is of the essence – and so is the need for a productive onboarding strategy.
Let's start with the four main phases of an onboarding process:
In

discovery

, you and your channel partners collaborate on existing processes and procedures. You gain a better sense of the partner's strengths and weaknesses – and where onboarding can elevate their capabilities to sell your product.

During

documentation

, you provide your partner with the materials they need to sell to customers. These essential documents can include sell sheets, best practices, marketing assets, and support information.

Then, you launch

enablement training

, where your channel partners are onboarded to your company, products, brand, and customers. The training also reinforces your value proposition and messaging schemes, so your partner is confident in selling your product over a competitor.

Finally,

feedback

is the critical stage in which you gather insight used to continuously improve your onboarding program.
book a call with our sales team
Success Factors: Getting your channel partner onboarding strategy right
Creating a channel partner onboarding strategy can be a bit daunting at first. In fact, you may already be asking yourself any (or all) of these questions:
Where do we start?

What information should we include in the channel partner training?

What are we trying to achieve?

How can we make this easy for our partners?
These questions are a solid first step! Also, because we've been around the channel partner training block a time or two, here are some of our best practices:
Set goals for the program
Before embarking on any new training strategy, it's essential to know what it is you're trying to achieve. Do you want to better support your partners with more hands-on training? Amplify sales growth? Reduce customer churn?
No matter what your aim is, write them down and remember to check in on your goals along the way.
Conduct a gap analysis
Different partners face different challenges. Which is why it's smart to start your onboarding journey by tapping into their specific needs with a gap analysis.
By going directly to the source, you can identify:
Knowledge gaps

Inconsistencies

Common mistakes or misunderstandings

Product shortcomings
All of which should be addressed in the onboarding information.
Consider the nuances of various partners
Working with a variety of channel partners means their onboarding experiences might look different from one another. If you partner with a combination of distributors, independent dealers, independent sales agents (ISA), service delivery partners, or others, consider creating onboarding courses tailored to their needs. 
Identify essential internal stakeholders
Now, it's time to look internally. Pinpoint internal stakeholders that will play a key role in developing, managing, and distributing the onboarding program.  
Likely internal stakeholders to consider are:
Channel managers

Technical experts

Product managers

Sales trainers
Streamline your training delivery
Getting your onboarding program into the hands of your partners is easy with a learning management system (LMS) partner, like Thinkific Plus.
With a tool like Thinkific Plus, you can create your launch timeline – no matter how aggressive – with your dedicated Customer Success Manager. The platform is easy-to-use when creating courses from scratch and when uploading your existing lessons.
LMS's are also great tools to automate the communication and delivery process. Once you have your courses in place, Thinkific Plus allows you to drip your content on your own time and easily host multiple Thinkific sites each tailored to your specific partners' training needs. 
Partner education in action: Meet CommentSold


CommentSold
is a SaaS and e-commerce platform that uses Thinkific Plus to organize and implement their partner training and engagement strategy. Through their customized Thinkific website they are able to attract new partners and offer certification courses, share product updates and information, and distribute sales materials to their existing partner ecosystem. Learn more about CommentSold and check out their unique partner education platform
here
.
Follow up
Once your channel partner onboarding program is off the ground, don't take your foot off the gas just yet!
Remember to set 30/60/90-day check-ins to follow up with your channel partners. These check-ins are valuable ways to learn how the programs are or are not helping them understand, message, and sell your product to customers.
Get started with a channel partner onboarding template
Templates are some of the best tools to get an onboarding program started from scratch. In fact, we created a channel partner onboarding template that you can download and customize based on your specific needs.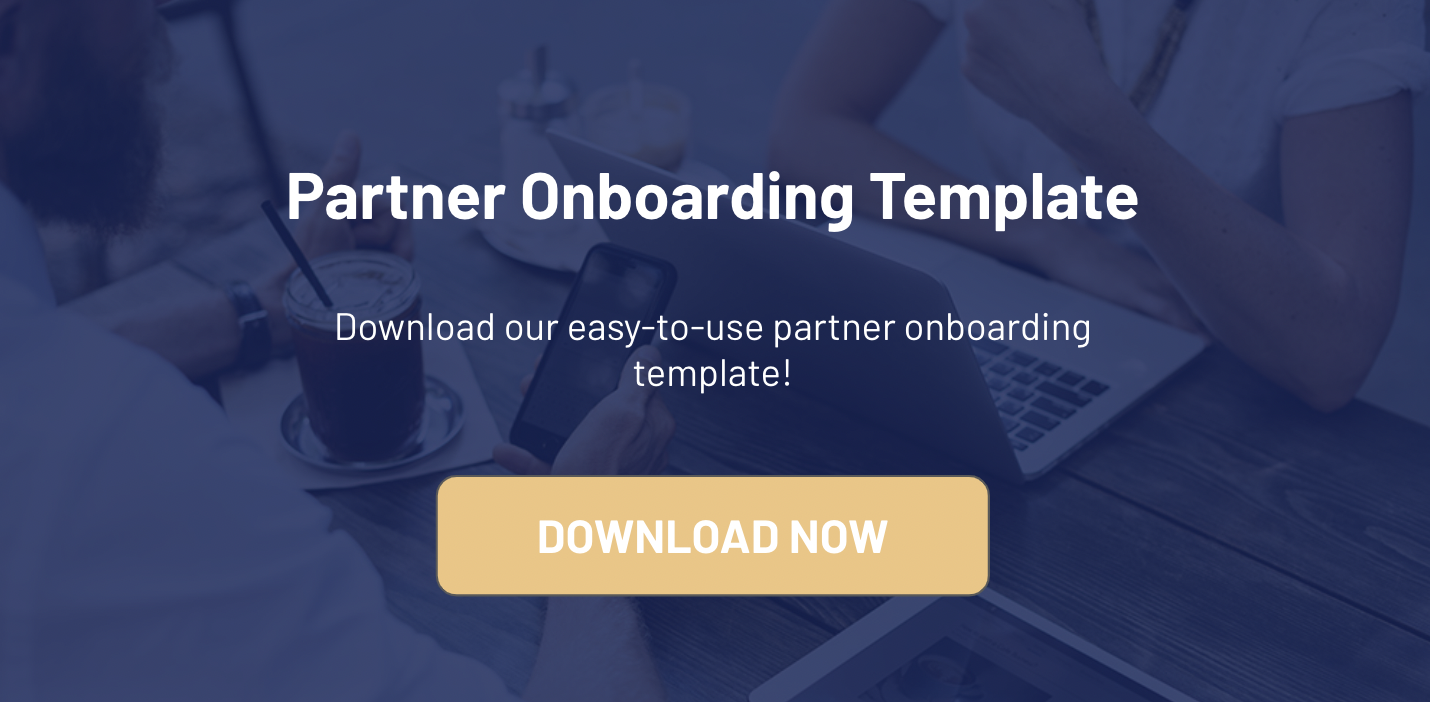 Or, if you're ready to take the reins, a first step would be creating an onboarding program checklist. Here are some essential milestones to check off as you go:
Gather the basics, such as partner name, status, product line, and pricing

Identify internal and external stakeholders

Collect existing documentation, including brand assets and marketing materials

Review and include helpful information from customer education

Create module content

Develop communications strategy

Provide systems training, as applicable

Launch campaign

Revise, revise, revise
Kicking off your journey with our channel partner onboarding template will ensure you're off to a running start. But, no matter your preference, remember to make your program knowledgeable, flexible, and open to feedback.
Ready, set, go!
Now that you have your channel partner onboarding template, you're ready to streamline your program on an LMS platform. Book a call with the Thinkific Plus team today to learn how we can help!