If you have an employee training program in place, you've likely spent a lot of time and energy (maybe even a little blood, sweat, and tears) getting it into the hands of your employees.
But now that it's launched, what do you do?
Given how important training programs are to employee development and business performance, you'll want to make ongoing changes that drive long-term impact and boost the ROI of your program.
(While actually running the training, developing new programs, all the while proving ROI of your programs.)
Enter: An easy way to keep track of employee training progress that your trainees work through the training.
Keeping track of your employee training program and employee progress is essential in constantly getting and doing better.

In this article, we'll cover everything you should know about employee training tracking, including:
Let's get started.
Why track employee training?
Before getting into the nitty-gritty of the various ways to track employee training, it's important to understand why you'd want to do it in the first place. 
Employee training programs take a lot of effort to create, but they generate enormous value for both business and employee development. 
By tracking employee training, you're capturing the program's success while also keeping a pulse on areas of improvement to make the experience even more engaging.
Other benefits of tracking employee training include:
Capturing important stats and metrics
When using employee training software, companies can easily track important metrics, such as:
Total hours of training

Average course scores

Employee engagement

Training effectiveness

ROI
With all the data pulled into a central location, you can begin picking up on patterns that will help you improve your courses, content, and employee training performance.
Want more information into specific metrics you should be capturing? A whole section on what to track is coming up.
Enhancing employee engagement
Did you know 40% of employees who receive inadequate job training leave their positions within the first year? Considering SHRM reports the average cost-per-hire is $4,129, that's a staggering amount of money going out the door because your employee training program wasn't up to snuff.
So, what can you do about it? 
You can stay ahead of it by making sure employee training is accessible, engaging, and informative. When employees feel that they're being invested in with quality training opportunities, they'll be more motivated to stay with the company and do their job as effectively as possible. 
Signaling opportunities for improvement
Launching your course can sometimes feel like your last step, but don't take your foot off the gas just yet. By tracking employee training, you'll find pockets of opportunity for continuous improvement based on what the data tells you.  
Here are some questions to ask yourself when looking to improve training courses:
Are employees passing the courses and therefore retaining the information?

How long is it taking employees to complete a specific course?

Are employees getting stuck on a certain question that's impacting their pass rate?

Is everyone passing the course, indicating the content is too easy?

Are there some pieces of training that no one has elected to take yet?

Are there more ways to interact with employees throughout the training? 
Based on the answers to these questions, you might have what you need to make your content even better.
Keeping the company compliant
Every business has to abide by the industry and government regulations they operate under, and many companies keep up with their compliance measures through employee training tracking. 
Staying in compliance makes everyone happy – and so does having the right tools for keeping a record of employee training.
Let's take a look at the three most common ways companies track employee training. 
Related: The Top 7 Best Corporate LMS To Deliver & Manage Your Training
Top 3 employee training tracking software options
It can be challenging not knowing where to start when keeping up with your employee training program. Here are some popular tracking software tools that can give you helpful insight into how your training program is doing.
Learning Management System (LMS)
LMS platforms are tools that bring online learning to life. LMS platforms can be used for employee training and education by providing a one-stop-shop for building, designing, marketing, and hosting training courses.
LMS platforms, like Thinkific, also give you access to robust data and metrics captured from built-in employee training tracking capabilities. 
When using Thinkific, you can easily track employee training by:
Keeping up with student progress percentages

Digging into your Activity Feed for each student

Reviewing quiz and survey results

Looking at video analytics

Combing through student discussions
Thinkific's easy-to-use, scalable platform has everything you need to track employee training to make informed decisions on how to develop your program. Not entirely convinced yet? See how MyTutor uses Thinkific Plus to track their tutors' progress.
Project Management Tools
Another common way businesses keep track of employee training is through project management tools, like Asana.
Asana is a project management system that helps you assign, track, and communicate about employee tasks – helping teams stay organized no matter their location. Use Asana or Jira to assign and track your employee training deadlines and milestones.
At Thinkific, we use Asana to schedule the onboarding and training tasks for our new hires [before sending them to our own Thinkific online academy to complete their training modules.] 
Google Sheets / Excel
If you're just getting started with tracking your employee training metrics, you've probably already considered using Google Sheets or Microsoft Excel. And you're not alone! 
Both Google Sheets and Excel are familiar platforms that can help you quickly assign training tasks, and capture a running log of your employee training progress.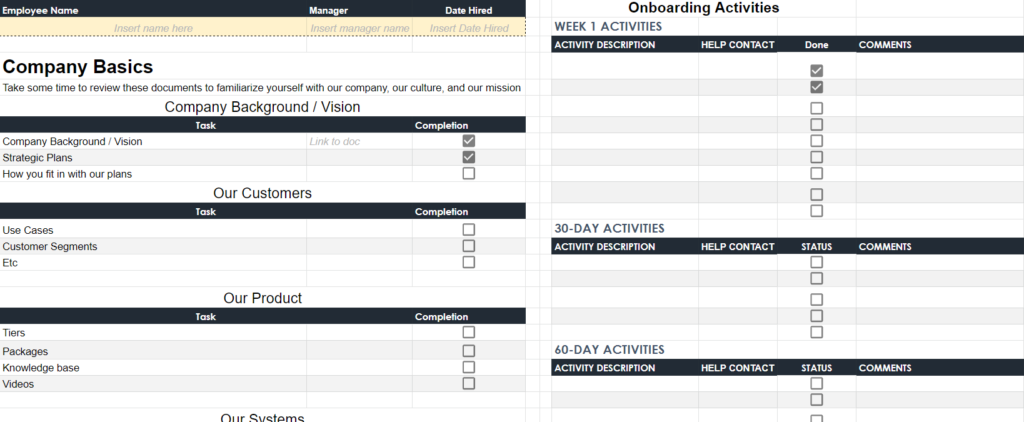 We created an employee tracking spreadsheet template that you can copy and repurpose for your own needs. So if you're not quite ready to take on more complex employee training tracker software, start with our easy-to-use employee training tracker template.
To use this template, just make a copy for yourself, fill out your employee's training tasks in phases, with a link to the training, and a tickbox to check when completed.

Know what to track for
Now that you know why it's important to track employee training and what the most popular tracking software tools are, you need to know what it is that you're tracking for. 
Here are some standard metrics and statistics to look for when you're tracking employee training.
Employee training hours
One of the easiest ways to capture employee training success is by collecting two types of training hours:
Total number of training hours

Time employees spend engaging in each course
The total number of hours can help set a baseline for employees as they progress within the company. But, because total hours don't go past the surface, tracking engagement hours (i.e., time spent taking quizzes, tests, surveys, etc.) can help you better understand how much time an employee is spending actually learning the content. 
Completion rates
Tracking for training completion rates captures how often employees are successfully finishing your training course. It can be an extension of capturing employee engagement hours with your training courses, seeing as uncompleted courses signal low employee enthusiasm. 
For example, courses with a higher incompletion rating are probably losing employee interest somewhere along the way. Find out the most common section where employees fall off in the training and overhaul your content with more engaging information.
Overall assessment rates
Assessment rates, or pass/fail rates, show how simple or challenging your courses are. Assessment rates are helpful when tracking compliance training that may need to be passed along to someone else. 
Other useful insight from assessment rates includes:
Knowing which courses are too challenging or which courses are too easy

Seeing which courses employees have passed and should therefore be able to apply what they've learned 

Identifying new development areas once an employee has passed a certain area of training
Pro tip: Couple up pass/fail rates with time spent on the course. If you have an employee that passes every time but flies through the content, it may not be engaging enough. 
Feedback data
Finally, one of the best forms of tracking employee training is going straight to the source. Ask for employee feedback, either in the course or afterword. Direct employee feedback helps you better understand what works, what doesn't work, and what could make it a more fun learning experience. 
Course feedback data provides both quantitative and qualitative insight into how the courses are going. Using Thinkific, you gather feedback through:
Pre- and post-course surveys

Open feedback discussion loops 

Quizzes and test
The more you implement employee feedback into course adjustments, the more engaging the experience will be for your team members. 
Related article: Learn five easy steps to set up your employee education program and support your staff better with Thinkific Plus.
Ready to get started?
Given the value tracking your employee's training progress has on making your training program a big success, the time to start your tracking journey is today.
While tracking employee training can feel overwhelming when you don't have the right employee training tracking software, don't let that stop you from getting the data you need. 
At Thinkific, we not only help customers build interactive online education and training courses, but we also help them capture their successes every step of the way.  Book a call with us today to get started!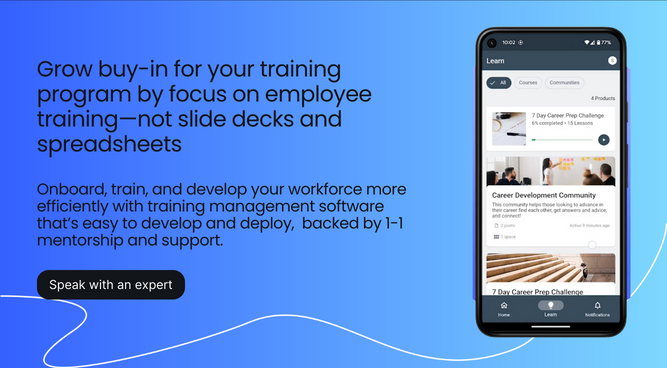 This article was originally published December 2020, and was refreshed in July 2023 to be even more useful!