In rocky economic times, it's more critical than ever to keep your employees on the same page. In the wake of events like the Great Resignation, mass layoffs, and the new hybrid workforce, employee engagement and satisfaction are more critical than ever to your business' success.
As a result, employee education and retention strategies are the hottest trends right now for most companies. In fact, in the next 12 months, 60% of HR leaders expect to invest more in employee retention, while virtual tools will become increasingly popular for sales training and coaching. 
Implementing the right LMS for these initiatives reduces costs, makes operations more efficient, and retains valuable talent. This guide will help you choose an LMS that's easy to use, reliable, and cost-effective. 
Skip ahead:
Summary of top LMS platforms for corporate training
Platform
Best for
1. Thinkific Plus

G2 Score: 4.7 out of 5

Companies overwhelmed with onboarding growing teams

2. Talent LMS

Budget-conscious small to mid-size businesses that need an easy-to-use platform

3. iSpring Learn

Companies that need a user-friendly platform to train international and distributed teams 

4. Litmos

Global companies that need to keep remote teams on the same page

5. Docebo

Companies that want to create strong team cultures with social learning

6. Learn Upon

Companies that need high-quality onboarding experiences that give their brand a competitive advantage

7. Workramp

Companies overwhelmed with onboarding growing teams
---
Try using this LMS feature comparison evaluation checklist to help compare Learning Management Systems you're interested in:
---
Why Use a Learning Management System for Training Employees?
With a learning management system (LMS), you can reduce training costs while still delivering high-quality employee education programs. In addition, you can further drive down expenses by improving performance tracking capabilities through an LMS, which increases efficiency and scalability. 
The following are just some of the many benefits of implementing an LMS for training companies:
Better learning outcomes
Learning management systems (LMSs) use gamification to engage learners by turning learning into a game with incentives, rewards, or points. Gamified learning experiences make your content more engaging for employees, which increases the likelihood of successful completion rates.
Thorough learner evaluation
Through an LMS, you can track which employees are completing courses, how long it takes them to complete them, and what retention rate students have after completing a course. You'll be able to administer quizzes and tests to evaluate how well your employees have retained vital concepts. This ultimately allows you to create more robust educational materials.
Increased Accessibility
A mobile-friendly LMS makes it easier for employees to receive training, regardless of location. In addition, completion and participation rates increase when you give your team the option to learn on their own time. Not to mention, employees will be grateful to fit learning into their schedules without having to come into the office and away from other commitments. 
A mobile-friendly LMS also ensures that necessary updates are made available instantly instead of requiring manual updates that are easy to delay or forget. As a result, all employees have access to accurate, up-to-date information at all times, which increases compliance levels.
Reduced training costs
An LMS saves your business time and money by reducing manual processes like registering learners, printing documents, and sending out emails with course information. An LMS streamlines and automates the entire training process, from content delivery to evaluation and reporting. 
Increased program effectiveness
With LMS reporting tools, you'll quickly identify strengths and weaknesses in your training programs so you can improve employee development while increasing overall productivity, engagement, and job satisfaction. In addition, the right LMS will give you the customizability you need to meet their specific needs without relying on third-party providers or developers.
Features To Look For in the Best Learning Management Systems
When selecting an LMS for your training business, looking for an enterprise-level platform explicitly designed for b2b companies that provide corporate training is essential. In addition, you're looking for a solution that allows you to easily create engaging courses and assessments, track user performance, and monitor learner progress, all within a single platform.  
Make sure that you choose an LMS with the following features:
Easy Course Creation
Your platform should have simple drag-and-drop tool capabilities that allow you to create courses and new content quickly. Drag and drop features are perfect for scalability because you can develop training solutions for large and small projects. In addition, your LMS should provide tangible cost savings by allowing you to create courses in-house rather than outsourcing content development to third parties.
Automated Assessments & Reporting 
Grade tests automatically without manually entering scores into spreadsheets or other systems. You can monitor user performance, engagement levels, and other vital metrics using analytics. 
Pro tip: Some LMS vendors may require you to integrate with third-party tools to generate reports and track learning progress, so make sure you choose a platform with baked-in reporting capabilities.
Community and Collaboration
Many LMSs offer virtual classroom environments where you can give lectures and allow students to interact with each other in real time. Social learning features within your LMS will shift learning from a one-sided experience into a collaborative, two-way exchange. Interactive, communal learning experiences drive student engagement and connection that your students will pay for and stay for. 
Mobile Accessibility 
Make sure you choose an LMS with mobile accessibility, which increases employee training and compliance. Accessing learning materials from any device allows you to deliver training quickly, efficiently, and cost-effectively, regardless of the location of your employees.
Mobile access makes learning convenient for your employees since they can access training whenever and wherever they prefer. In addition, it allows you to create engaging materials that are always up-to-date, so your training is as effective as possible.
Top 7 LMS Recommendations for Training Companies Compared
Technology is crucial in delivering learning experiences that yield high employee engagement and performance. The right LMS can make or break your training program. But with so many options out there, how do you choose? This guide will help you select the best LMS for your training goals.
Thinkific Plus (geared toward enterprises and scaling companies) is everything growing businesses need to create a high-performance company culture. It's perfect for businesses that want to create customized courses quickly and easily without having to deal with complicated coding or design issues. Best of all, Thinkific Plus is cloud-based, so there's no software installation necessary—all you have to do is sign up for an account and start creating courses in minutes! 
Best for

: Enterprise companies and entrepreneurs that want to scale and need an LMS that will grow with them
Price Range: Ready to make an informed decision on your next LMS? Request a call with Thinkific Plus experts today to discuss pricing options and get a live demo. Elevate your online learning with Thinkific Plus – your success, our expertise.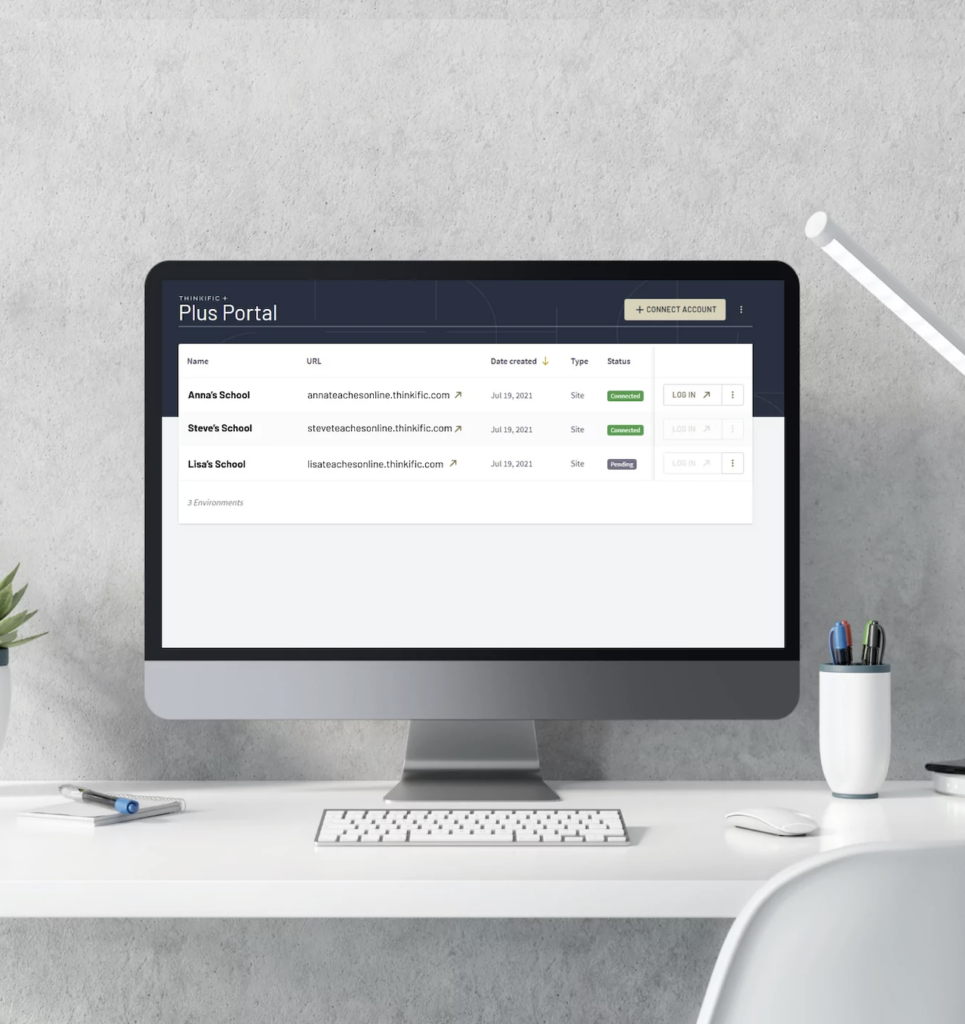 Thinkific Plus Key Features 
In-app store that allows maximum customizability for your courses
Thinkific Plus integrates with all the apps you rely on to power your business. Enhance the employee experience and keep engagement high by integrating your course with apps like Zoom, Mailchimp, and Player Snips to enrich the learning experience.  
B2B group management and unlimited administrators
Having unlimited admin access allows your organization to customize the platform to meet the needs of each user. In addition, with automated updates and notifications, you'll be able to manage user accounts and update content more flexibly. 
Thinkific Plus Communities allows you to offer exclusive members-only content, live lessons, events, and coaching to complement your online courses. So, in addition to total control over your content, you gain insight into your target audience while your students get a more positive learning experience.  
Thinkific Plus Reviews 
G2 Score: 4.7 out of 5
 Conclusion
Thinkific Plus is *actually* easy to use, unlike many enterprise-grade training platforms. Your team can focus on creating the best training outcomes without worrying about complicated coding. You'll also benefit from faster learning, more staying power, and less overload on your learning and development staff. Your plan to scale should include Thinkific Plus if you know growth will be in your future!
Training organizations and businesses can use TalentLMS as an affordable yet powerful solution for delivering online courses. It includes automated course creation tools, custom branding capabilities, and comprehensive reporting options so administrators can track student progress easily. 
Best for:

Budget-conscious small to mid-size businesses that need an easy-to-use platform
Price Range:

Free Trial

Starter: $69/month

Basic: $149/month

Plus: $279/month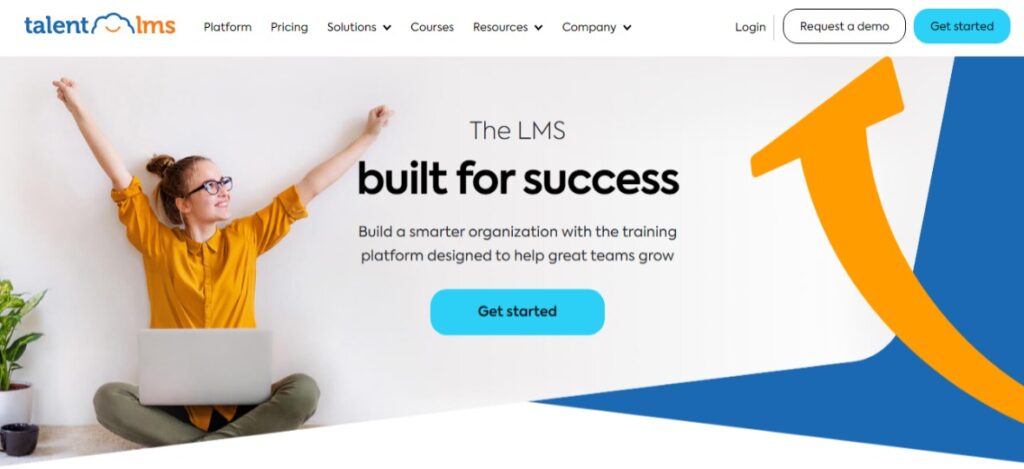 Talent LMS Key Features
To guide your employee's growth, you can easily set up detailed learning paths and completion rules. Additionally, you can organize group-related courses into categories so learners can easily find what they're looking for. 
Keeping employees engaged and connected when you can't be face-to-face is critical. Host video conferences, leave feedback, start discussions, and send messages quickly. 
Real-time custom reports, dynamic dashboards, training infographics, and exportable Excel sheets let you track training from every angle. 
Talent LMS Reviews 
G2 Score: 4.6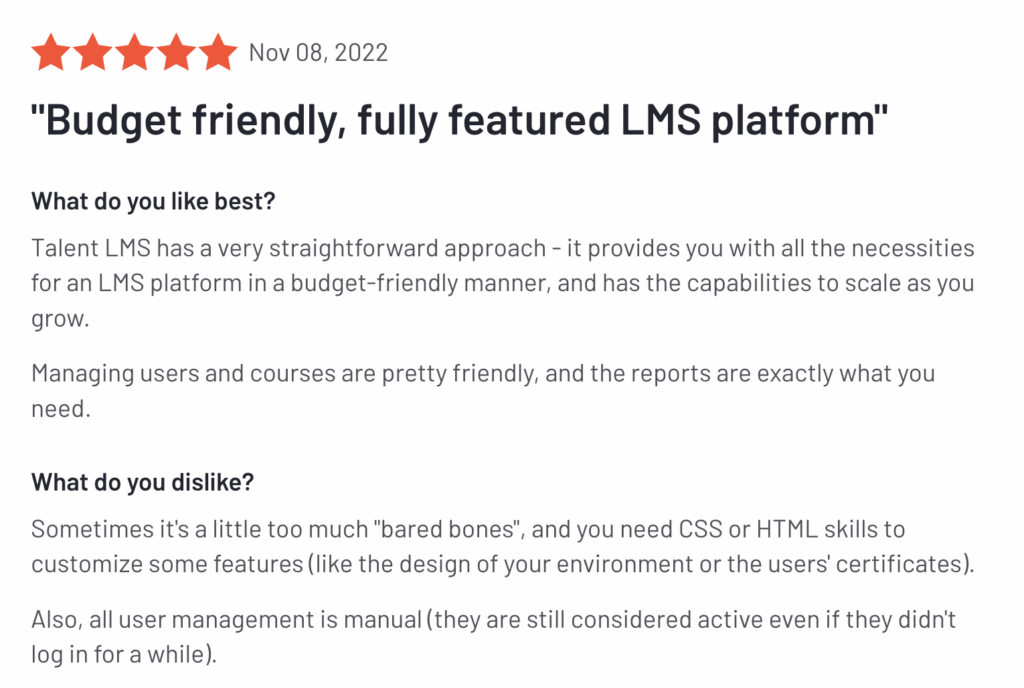 Conclusion
HR leaders short on resources and time will appreciate TalentLMS because it's everything you need without all the bells and whistles. Team members responsible for training love how easy it is to publish their existing content on the platform. You should consider TalentLMS to get your courses up and running quickly. 
With iSpring Learn, you can launch company-wide training in less than a day. With no installation necessary, it's one of the most accessible training platforms. With iSpring, you can quickly onboard and upskill employees. Best of all, you can scale your training program using one robust platform with automated features like deadline reminders and reporting. 
Best for:

Companies that need a user-friendly platform to train international and distributed teams 

Price Range

: 

500 Active User: $2.82/user

300 Active Users: $3.00/user

100 Ative Users: $3.66/user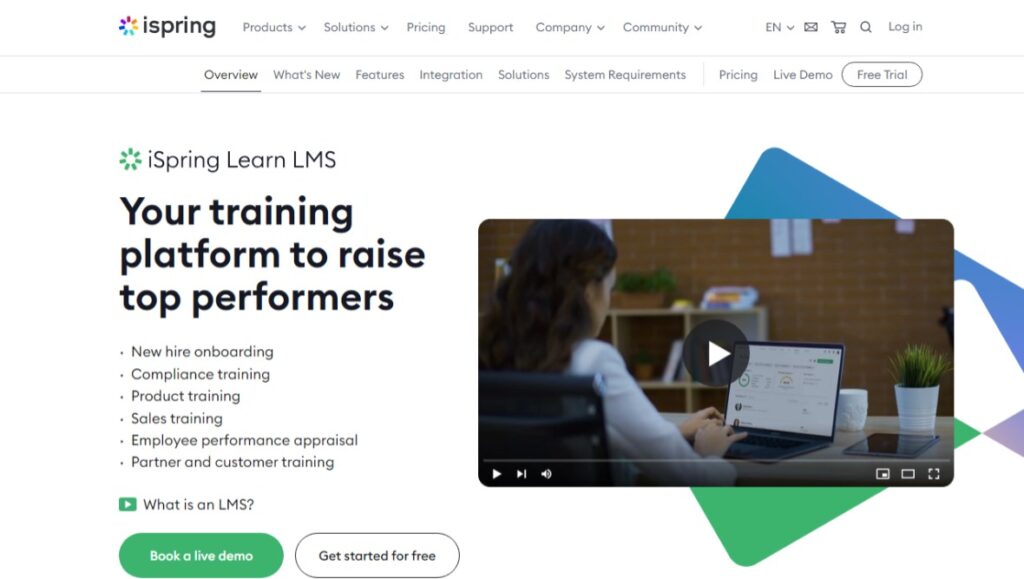 iSpring Learn Key Features
Because iSpring's platform notifies learners about new assignments and deadlines, you won't need to bug them to complete training. Instead, training becomes set it and forget it with email reminders that include customized due dates and convenient links to learning materials. 
Customized learning tracks and assignments
iSpring Learn combines courses, assessments, and other training materials into step-by-step learning tracks. For example, you can create a two-week program for trainees or a half-year learning track for sales managers and then automatically assign courses to selected employees. 
Longreads content creation
Publishing training materials takes a click, regardless of whether you are creating from scratch or using existing content. By adding headlines, text, images, and videos, then formatting the text, your course is ready to go.
iSpring Learn Reviews
G2 Rating: 4.6 out of 5

Conclusion 
For companies that don't want to chase down their employees to complete training, iSpring is an excellent option. The ability to customize training due dates is one of the most popular features, which prevents the need for tedious oversight and administrative work. However, the incompatibility of the course authoring tool with Mac devices may be a nuisance to some users. Also, some users have commented that the analytics and reporting aren't the most intuitive.
Litmos is a cloud-based learning platform that makes training accessible from anywhere, 24/7, on or offline. With 35+ pre-configured languages and disability-friendly features, learners can choose their language and gain equal learning opportunities, eliminating learning barriers. In addition, ready-to-access, compliant course materials give your team access to current relevant materials on leadership and management, communication, and interpersonal skills.
Best for:

Global companies that need to keep remote teams on the same page

Price Range

: Contact sales for custom pricing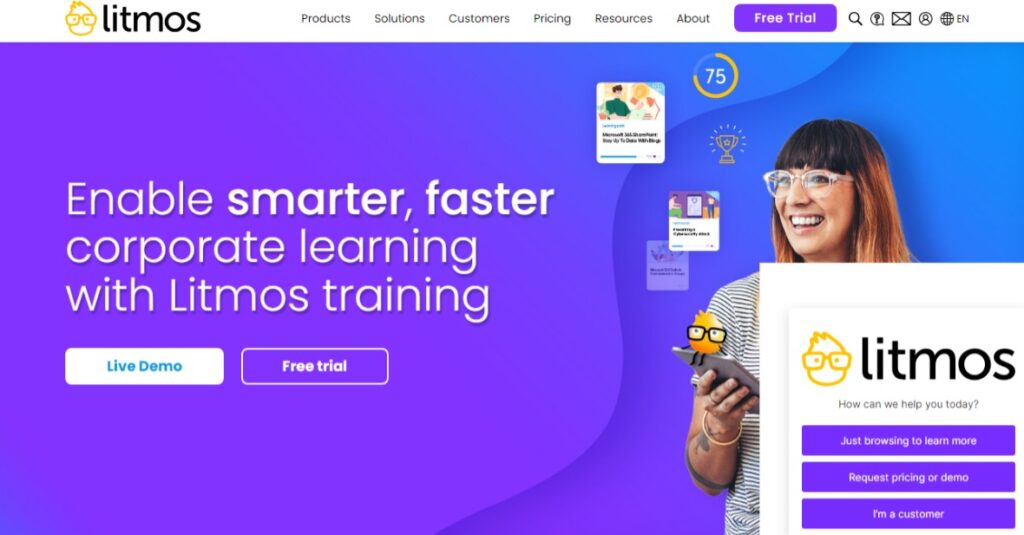 Litmos Key Features 
Measure your employees' knowledge by allowing them to record and upload videos of themselves demonstrating their learning.
Your coaches or managers can assess videos, or AI can make assessments based on keywords (to use and not use) and speech rate. 
Enhance your team's engagement and motivation by awarding achievements, points, and badges. Engage employees in friendly competition and encourage them to complete more courses to make it to the Leaderboard.
Rapid implementation via integrations
You can deploy Litmos in minutes by seamlessly integrating it with your other systems, such as CRM, ERP, or HR, using any of 50+ connectors or the API. 
Litmos Reviews
G2 Score: 4.2 out of 5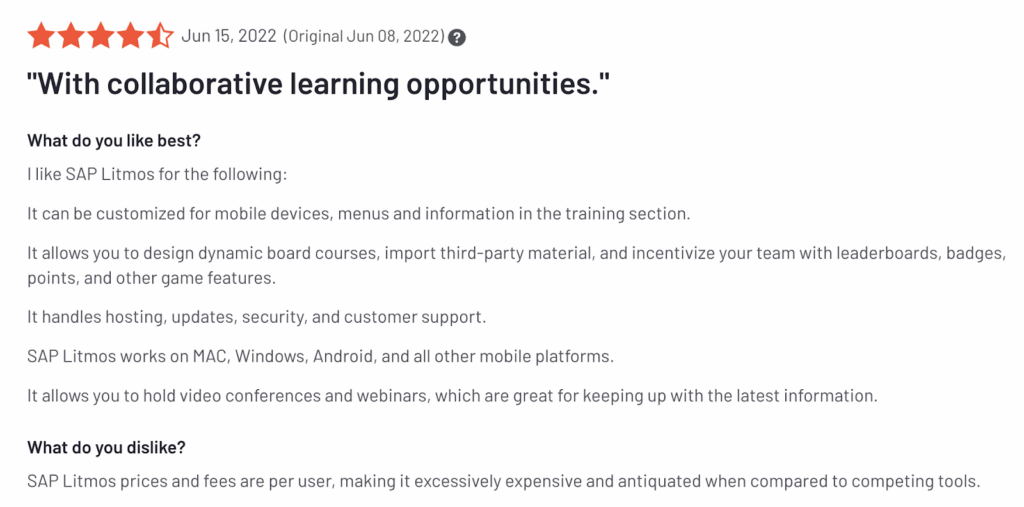 Conclusion
Litmos is one of the leading LMS platforms in the market. Founded in 2007, Litmos has been acquired by heavy hitters over the years, such as Callidus Cloud and SAP. With 130 million users worldwide, Litmos is available in 35 languages and has robust functionality. Litmos is for you if your goal is to keep your global teams connected or if you're an enterprise looking for corporate training.
With Docebo, you can empower employee development and keep them engaged with top-notch training materials. This LMS makes it easy for companies to develop an always-ready workforce by making training accessible. With features that bring employees together, like Docebo Discover, Coach & Share, your teams can tackle training together and gain a sense of camaraderie from the learning experience.
Best for:

Companies that want to create strong team cultures with social learning

Price Range

: Contact sales for pricing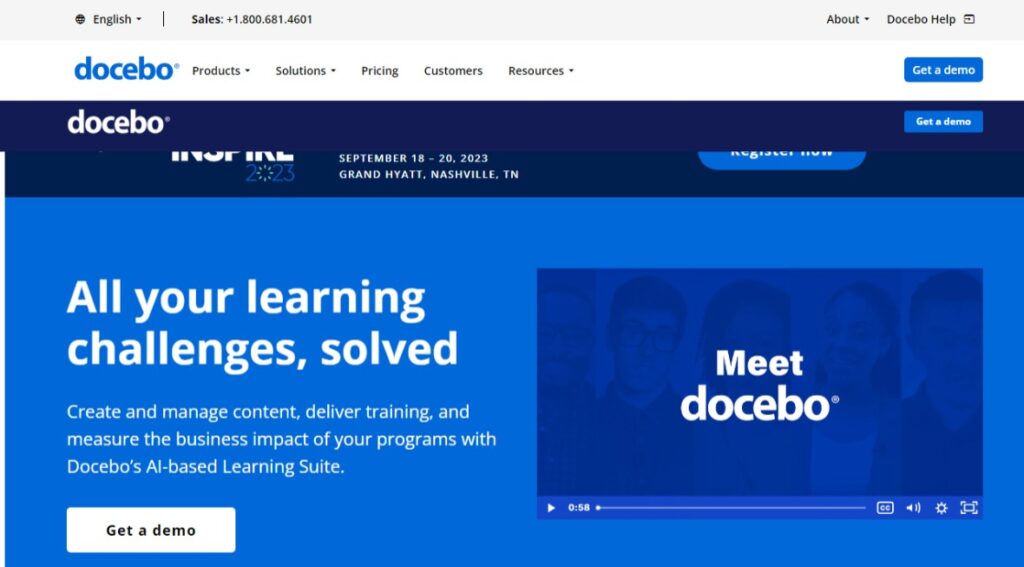 Docebo Key Features 
Docebo's social learning features encourage knowledge sharing, drive collaborative learning, and let thousands of employees get their questions answered in real-time.
Learning baked into workflows
Weaving in learning opportunities where your employees are already working drives product adoption and eliminate distraction. Docebo aims to stop "context switching" (toggling back and forth between screens and apps) that interrupts deep work. 
Controls give admin rights to managers so they can manage tasks while maintaining control of the platform. For example, you can set up automated updates and notifications for changes to ensure that your team is always aware of new features and how to use them. 
Docebo Reviews
G2 Score: 4.4 out of 5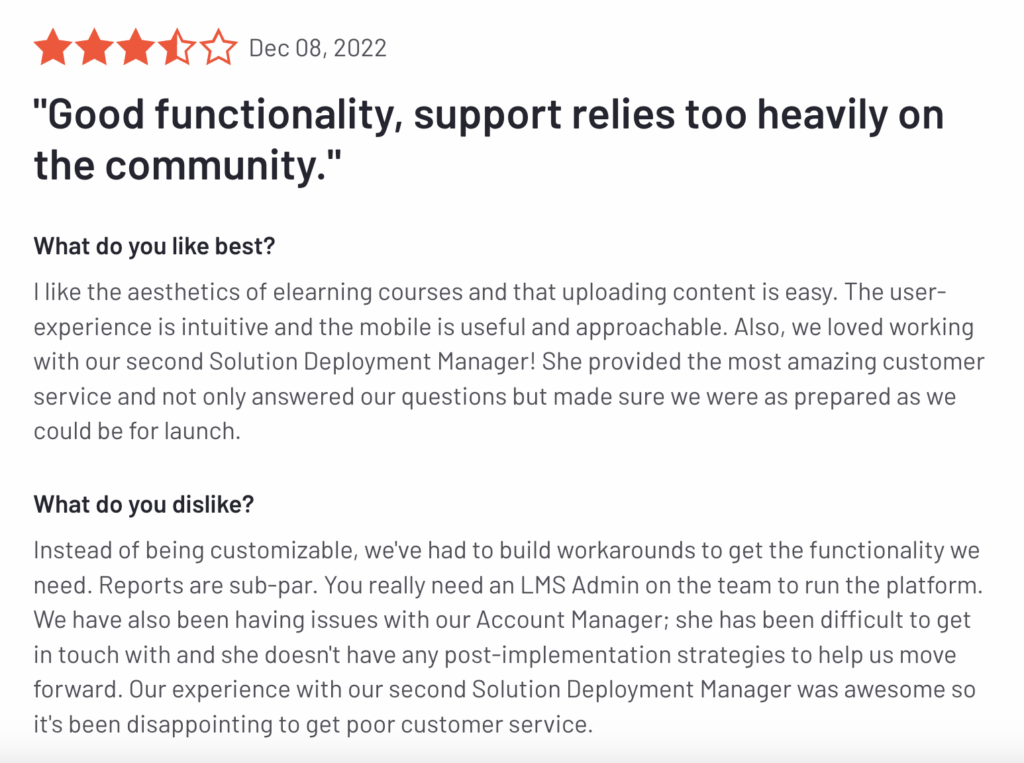 Conclusion
Docebo walks the walk when it comes to their core value of togetherness. In a time when culture is key to employee engagement, Docebo's strength is creating a collaborative learning culture. Docebo allows you to deliver high-quality training materials, so your company becomes known for offering employee growth opportunities that keep them engaged. 
LearnUpon automates tasks that make your Learning & Development department more efficient and productive. With the easy-to-use interface, users can enroll themselves in self-paced training courses. Users love the bulk upload feature, which lets you add thousands of users simultaneously. By grouping learners and showing them only relevant content, you can provide a tailored learning experience. 
Best for:

Companies that need high-quality onboarding experiences that give their brand a competitive advantage

Price Range

: Contact sales for a custom quote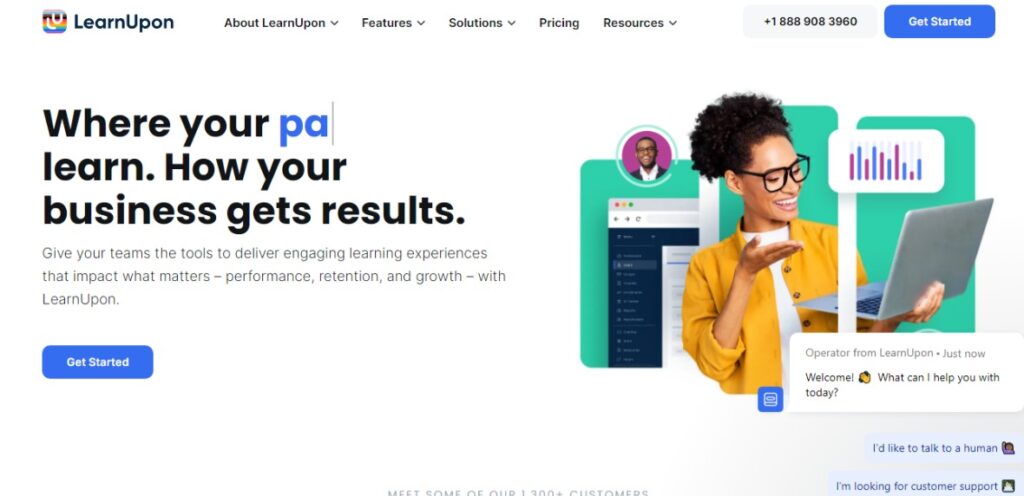 Learn Upon Key Features
Portals (instances or environments) let you set up training differently for your target audiences. You can uniquely brand and white label each portal for each audience with no technical expertise
User Management and segmentation
With bulk uploads and APIs, you can manage large numbers of learners while organizing users according to their attributes. In addition, segmenting allows you to tailor relevant content to each group while making it easier to pull group-specific reports to monitor progress.
Learn Upon Reviews
G2 Rating: 4.6 out of 5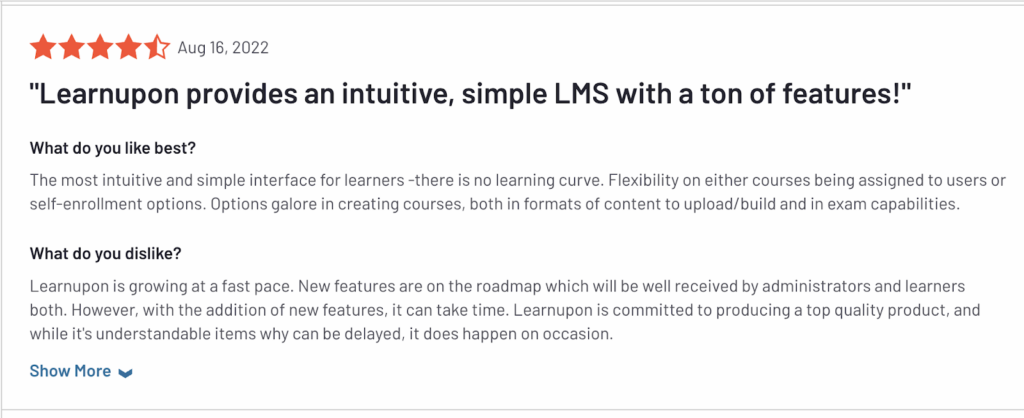 Conclusion 
Users find this LMS incredibly well-rounded and appreciate LearnUpon's dedication to  constantly improving the platform.  Customers praise the quality of Learn Upon's customer service team and appreciate the ease of use that allows new users to immediately begin getting value from the platform. One of LearnUpon's big advantages is their catalog feature, which offers course suggestions, based on collective learner activities.
With Workramps' LMS, you can deliver the best-in-class onboarding experience that your employees will rave about. Blended Learning is now easier than ever. Combine instructor-led training, live events, and on-demand guides to build robust L&D programs. Using the Workramp LMS, you can create a truly agile workforce and scale confidently and quickly.
Best for:

Companies overwhelmed with onboarding growing teams

Price Range

: Contact sales for custom pricing.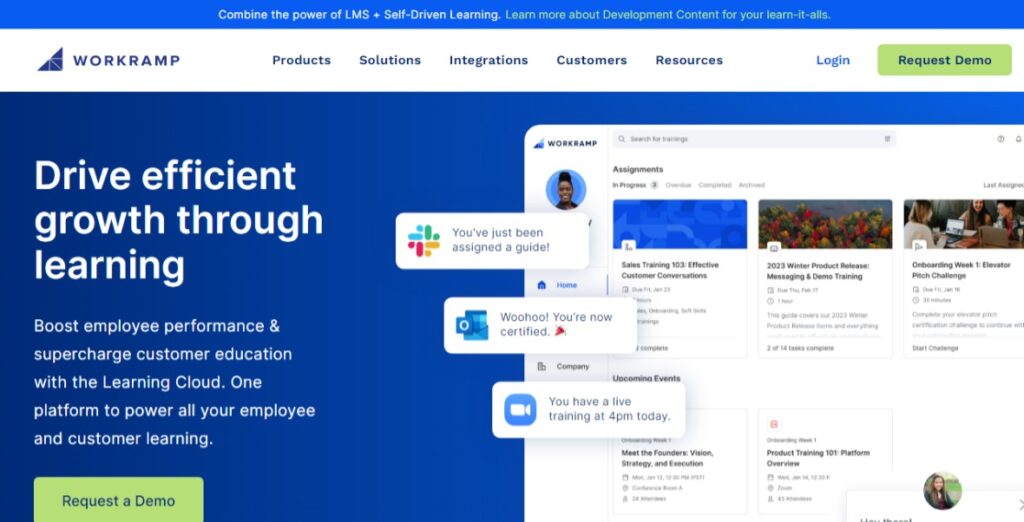 Workramp Key Features 
All in one, multi-use LMS
Workramp is a multi-use platform that enables sales, compliance, training, and customer and partner education all in one place. You can create content at scale and quickly deploy your training to internal teams, customers, and partners on a single platform. 
Customer education and certification
Increase product adoption by educating your customers with assessment tools. Certifications motivate learners to expand their skill set and level their proficiency in their field. 
Compliant E-signature verification
You can quickly and securely collect, store and access electronic signatures for compliance training and HR documents. 
Workramp Ratings
G2 Score: 4.4 out of 5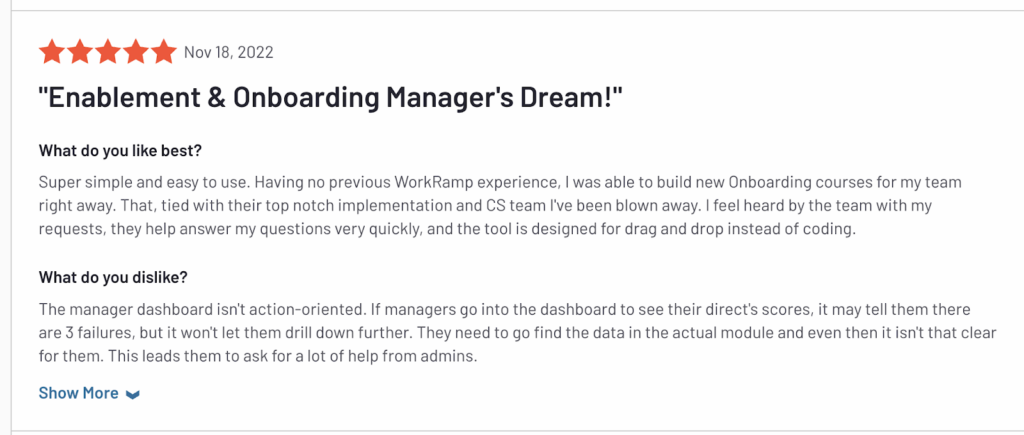 Conclusion
Workramp's easy-to-use interface makes it easy for growing companies to onboard and train their employees quickly. Unlike other tools, Workramp does not have a high level of customizability and control, so keep that in mind when evaluating it. Remote teams love their comprehensive video assessment tools and attached rubrics.
The Bottom Line on Choosing an LMS for Training Companies
Choosing the right Learning Management System is critical for reducing training costs while delivering high-quality programs. When choosing an LMS for your training company or business, consider factors like pricing, ease of use, security features, scalability potential, and reporting capabilities. 
You need easy course material authoring tools to get your courses up and running quickly and to provide your team with the most current information. Incorporate community and camaraderie into the learning process to increase engagement and satisfaction for your team and create a collaborative company culture. An LMS with robust evaluation tools and multi-device accessibility will improve employee learning and performance. 
---
Try using this LMS feature comparison evaluation checklist to help compare Learning Management Systems you're interested in:
---
Conclusion
Thank you for exploring these LMS options with us.
Making the right choice is crucial for your online learning success. If you're ready to take the next step and get personalized guidance, pricing details, and a live demo, don't hesitate to reach out to our experts.
Request a call with a member of our Thinkific Plus solutions team today, and let us help you unlock the full potential of your online learning journey.